Smart businesses today recognize the unbeatable advantages of outsourcing. They can focus on their core competencies while experts take care of functions such as IT, consumer outreach, and finance. 
Marketing, too, is among the key functions that have benefited from outsourcing. Companies can follow best practices, profit from expertise, and access the latest technologies to win and retain customers.
According to a recent survey:
37% of small businesses currently outsource a business process.

These include accounting (37%), IT services (37%), and digital marketing (34%).

52% of small businesses plan to outsource business processes in the future.

Their reasons for this are to increase efficiency (24%) and to receive assistance from an expert (18%).
When it comes to marketing, there are two broad models. You can use a normal outsourced model for paid marketing, or you can hire dedicated PPC marketers. With targeted pay-per-click campaigns, you can see measurable and result-driven outcomes.
Which one of the two should you adopt? Here are five factors to keep in mind.
1. Time Savings
With both an outsourced model and a dedicated team model, businesses save valuable time. They can focus on what they do best while the outsourced experts create paid marketing campaigns to generate leads and promote conversion.
However, with a dedicated PPC marketers team, the usage of time becomes even more optimized. This is because the team develops a thorough knowledge and understanding of your company's consumers, and what needs to be done to promote to them. 
You can hit the ground running without dealing with the hassle of extended on-boarding and training. You simply work with them to share your vision and create the strategy. Then, it's entirely up to the team to implement it successfully.
Thus, with social and search engine marketing, for example, the dedicated team can simply go ahead and develop result-driven campaigns for your approval, instead of waiting for a go-ahead to start. You will also not be dependent on a few individuals who may be working on other projects, but have the dedicated services of an entire team at all times. 
2. Expertise on Demand
Paid marketing today needs knowledge of several disciplines. These include content planning and creation, social media, website design, automated activities, and more. Such marketing also involves SEO strategies, Ad auctions, and campaign performance analysis. 
A dedicated team will consist of several skilled experts in all of these areas. It will be led by an experienced project manager who will seamlessly tie it all together. Think of it as a form of single-window specialization for your convenience.
With a normal offshoring model, you will also have access to experts, but these could be available at different times, with varying degrees of skill. This could well lead to some more effort on your part in getting the big picture.
3. Defined Accountability
A dedicated team can be thought of as an in-house department of your own organization. As such, there will be systems in place to ensure results and feedback. Marketing models, such as pay-per-click activities, can be analyzed after they have run, and then judged against yardsticks.
Such data monitoring and pre-decided results mean that a dedicated team is completely responsible for outcomes. They will, therefore, display better commitment than with a normal outsourced model.
Greater accountability is also built into a dedicated structure because of controlled quality systems and attention to vital security aspects. Often, such features will not be present with normal outsourced models or with freelancers. 
The levels of accountability, in that case, could be unevenly distributed or even limited. This is not a situation that any senior manager will be comfortable with.
4. Stable Partnership
As we've mentioned, a dedicated PPC marketers team functions as an in-house department, which means you have the ability to build a long-term relationship with a group of experts who will be as committed to your business growth as you are.
With a little scheduling, the right communication tools, and making use of overlapping hours, even the issue of different time zones can be minimized. And because the group is single-minded, they will also be able to make full use of the time available. 
Treat the team as essential partners in your enterprise, and they will go out of their way to demonstrate trust and commitment. With greater partnership and knowledge of your operations, paid marketing efforts will become even more effective.
5. Enhanced Productivity
One of the key reasons behind outsourcing is greater productivity that is linked to greater expertise. With a clear objective and results in mind, you will have to spend less time in training, recruitment, and managing.
However, when the team is not dedicated to your project, optimum productivity cannot be guaranteed. This is because, as sought-after experts, they will have other demands on their time.
A dedicated team overcomes this by entirely focusing efforts on your marketing activities. You get an end-to-end marketing solution for website development, lead generation, social outreach, pay-per-click campaigns, and more.
In this way, with a needed skill set and the necessary competencies, a team of hired dedicated PPC experts will bring about a significant boost in productivity. 
Flexibility is another aspect of productivity, and with a dedicated team, you can scale up or down, depending on current needs. You won't have to rethink the whole operation, and neither will you have to spend valuable time in acquiring more resources.
This is a significant advantage, especially with a fast-moving activity such as paid marketing. Seasonality and changing customer demand can be easily capitalized on.
The Dedicated Uplers Advantage
Research shows that generating traffic and leads is seen as the leading marketing challenge for companies. At Uplers, we're well aware of this and have the paid marketing experience and expertise that are required to get results.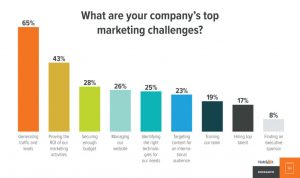 Get in touch with us today, and give us a chance to demonstrate how our dedicated PPC marketers can make a big difference to your marketing efforts.