Top 5 Things To Consider Before You Hire Offshore Developers
Kevin Oskow
April 23, 2020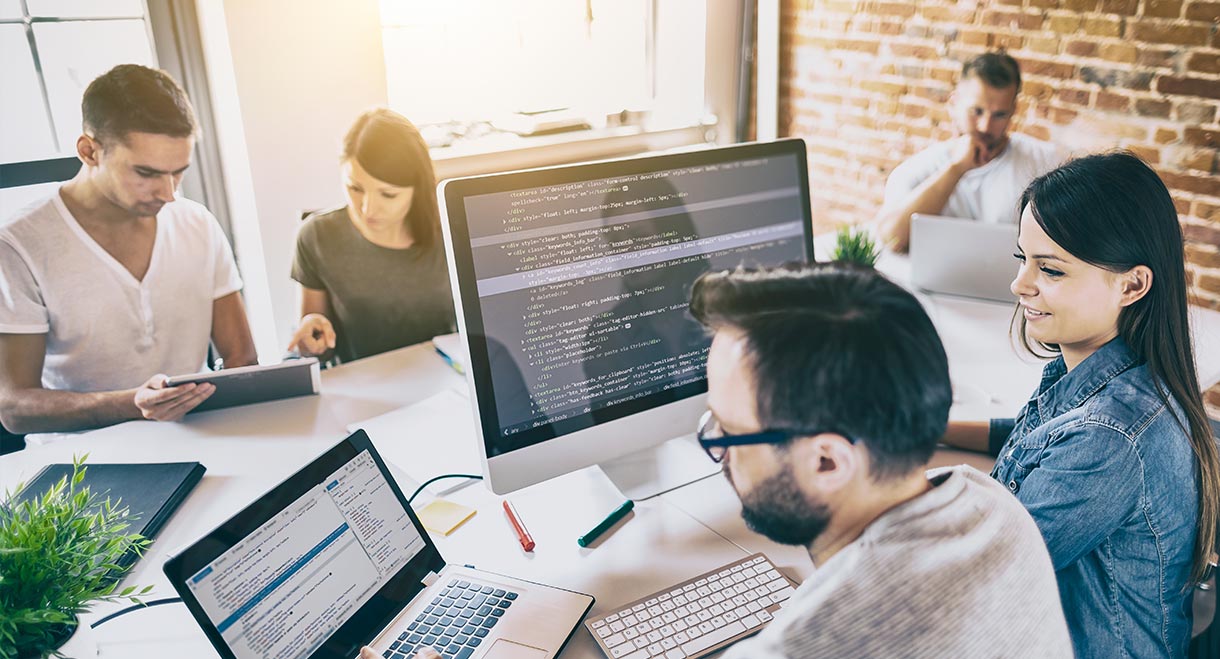 Looking for offshore developers? Keep these tips in mind to make it a rewarding experience.
Fortunly informs that 54% of companies worldwide use outsourced partner support to reach customers. As high as 78% of them are happy with their outsourcing partners.
Why Outsource?
The global market value of outsourcing reached US$ 92.5 billion in 2019. Two key factors drive this growth:
Cost-Efficiency

: Outsourcing specific business tasks are considerably less resource-intensive than getting them done in-house.

Access to talent

: Outsourcing allows ready access to available talent, which saves time and resources by cutting out the entire hiring and onboarding process.
5 Critical Factors To Consider
There are different outsourcing models. Offshoring is the most preferred one among them. The two drivers are most effective when you hire offshore developers.
To make your offshoring experience a memorable one, follow these clinchers:
1. Geographical Location
Your outsourced development team needs to be located in a country with world-class infrastructure for delivering the services you seek. For instance, the partnership might become difficult if your partner lacks adequate high-performance internet access. 
Choose a country that has an existing and thriving business relationship with yours. That indicates your offshore partner is likely to have a cultural orientation about the business atmosphere in yours. That's a huge plus. 
English is pretty much the language of international business dealings. Check the country's English proficiency before you hire offshore developers there. You wouldn't want a language barrier in your communications.
India tops the global outsourcing destination list for any kind of IT requirements. Web development included, of course.
India now ranks 63rd among 190 countries in the World Bank report on ease of doing business. In Tholons' Services Globalization Report 2019, India tops the list of digital nations. The score breakup (on a total of 1) is as follows: 
Talent, Skill, and Quality: 0.91

Cost and Infrastructure: 0.80

Business Catalyst: 0.79

Digital Innovation: 0.72
In the A T Kearney Preferred Location list of 2019 also, India ranks first with a total index score of 7.06. 
The following graph represents the global offshoring preferences. The "Already there" legend stands for the surveyed companies that have an existing relationship with a particular country.
2. Company Stability and Reliability
Once you've zeroed in on the country, you need to check the company's profile before you make a decision. We recommend partnering with a company rather than with an individual freelancer if you need ongoing development support. 
The stability and reliability factors of a company are critical to ensure that your project does not suffer because of issues at your offshore partner's end. 
Use the following yardsticks to measure a company's stability and reliability:
Check the annual financial statements for three consecutive years to check for the company's growth profile. Investigate both net income and revenue growth.

Check the company's financial health by exploring the debt/equity ratio.

Check how long the company has been in business. 

Check the company website carefully. Look for customer reviews. 

When you begin the initial communications, ask for customer references. Ask for their contacts to be able to speak to some customers directly. 

Inquire if the company has experience of working for clients in your country. That will indicate a pre-existing idea about the business culture in your country. That's an advantage for sure.

Investigate the company's cyber-security commitment and history. You wouldn't want to risk a security breach.
3. Human Resource and Talent Pool
Access to global developer talent is one of the main reasons you have decided to offshore in the first place. You have to probe the actual human resource and the skill-sets a company can offer. 
Check whether the company actually has in-house staff with the required skills ready to work for you. If their policy is to hire freelancers when they get a project, you should better look elsewhere. 
This is critical. The Mercer-Mettle Report 2019 on India's state of talent acquisition reflects the following: 
100% of small businesses (1-500 employees) reported talent acquisition to be a challenge

90% of the medium-sized companies (501-1000 employees) said the same.

So did 67% of the large companies (more than 1000 employees)

Technology, internet, and electronics are among the industries that reported talent acquisition as a challenge.
The PWC CEO survey report 2019 also reflects that 79% of CEOs globally are concerned about the availability of the right kind of digital talent. 
How To Check If The Vendor Has The Human Resource That You Need
Ask for online interviews with the staff member/s who will be working for your project. 

Organize to have their skills tested on-the-job. Get them to work on something while someone from your side oversees that. There are online platforms to facilitate such a process. 

If the company has personnel who have worked for clients in your country before, it will be beneficial for you to have such members in your team.
4. Industry Understanding
Just as a prior idea about the business practices of your country is an advantage, so is industry understanding. 
Different industries have different needs. Check if the company and the offshore developers they propose for your development needs have the experience of working in your industry before. 
This is not mandatory. However, if they do have exposure to your industry, that will be of considerable advantage to you.
5. Cost Efficiency
This is the other major factor behind your decision to hire offshore developers. Calculations of how much cost-cutting you'll be able to achieve are definitely important. 
However, it may not be cost-effective in the long run to choose the company offering the least expensive terms. Cost efficiency needs to balance expenses and quality. Compromising quality to cut costs is not good business practice. 
We present two tables below. The first one reflects the average hourly rates for developers across popular offshoring destinations. 
The second one presents a more detailed breakdown of the average hourly rates for developers across tiers if you adopt the dedicated team model in offshoring. Full-time employee in the second table implies an offshore dedicated team employee, not an in-house team member.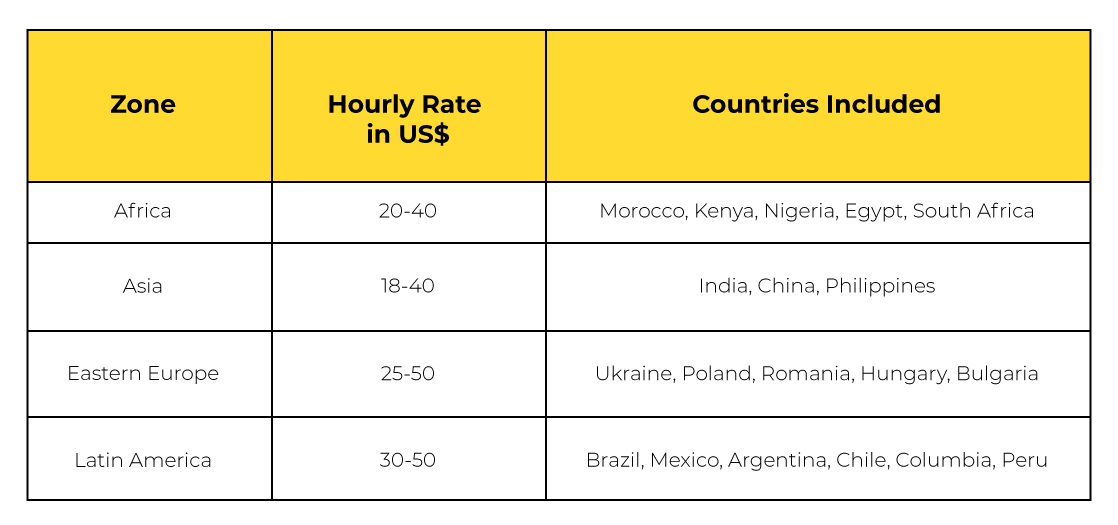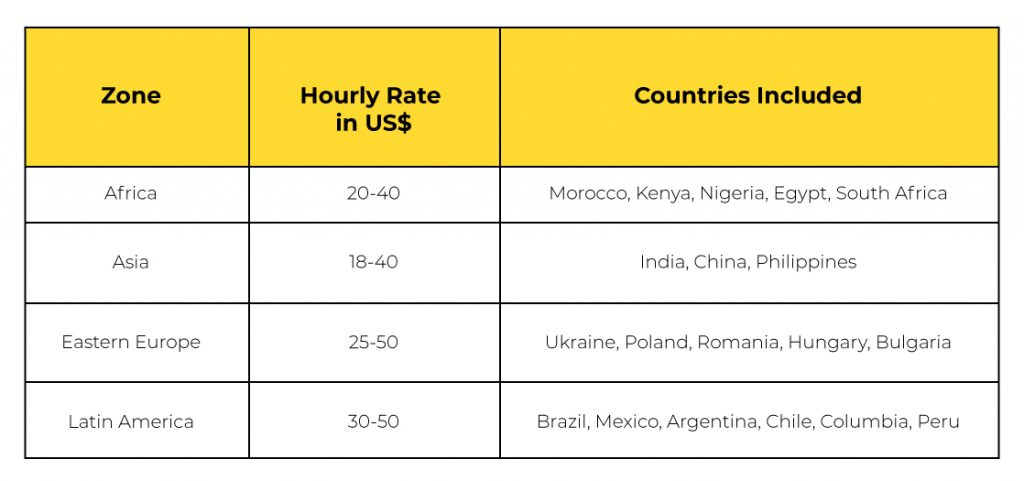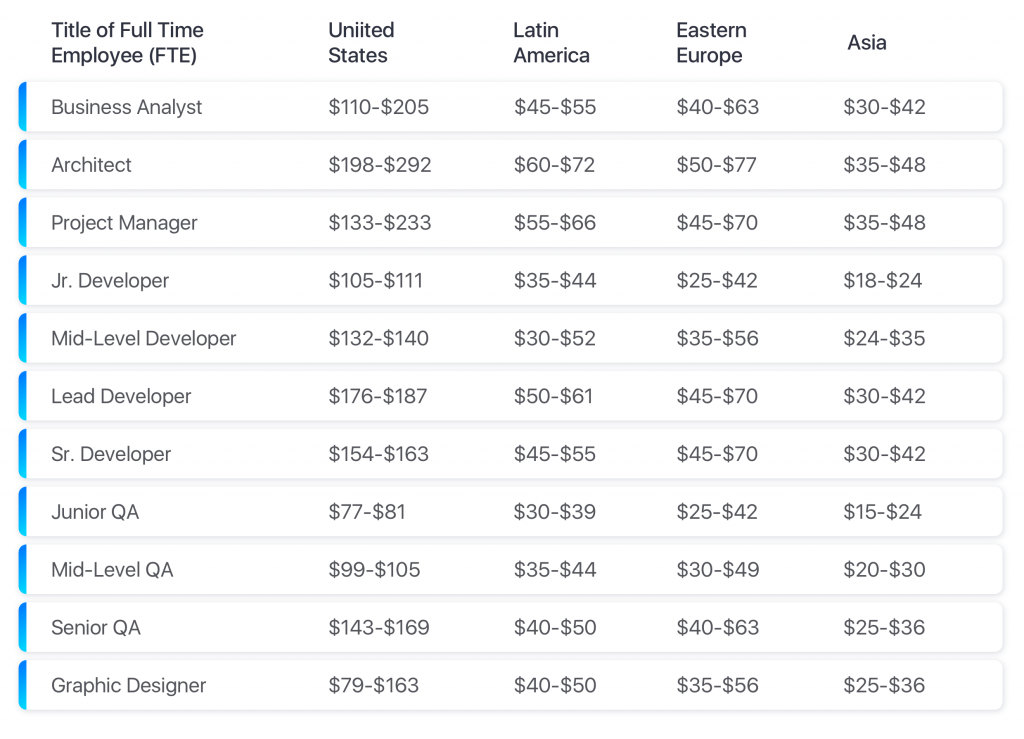 What Kind Of Partnership?
Just as there are different models of outsourcing, there are varying partnership models in offshoring also. Do you have a short-term need of developers for one particular time-bound project? A project-based contract with an offshore vendor may be all you need. 
However, if you need long-term development support over a period of time, the dedicated team model is possibly your best option. 
A dedicated team is like your own in-house team without the recruitment and onboarding hassles. Also without the heavy overheads. You get a readymade team of your choice. You also get the authority to retain monitoring and oversight control. But you remain free from the need to micromanage. 
You cannot possibly ask for anything better.