Resume Writing Tips: How to Craft an Impressive Resume
Niharika Sinha
July 25, 2023

5

Minute Read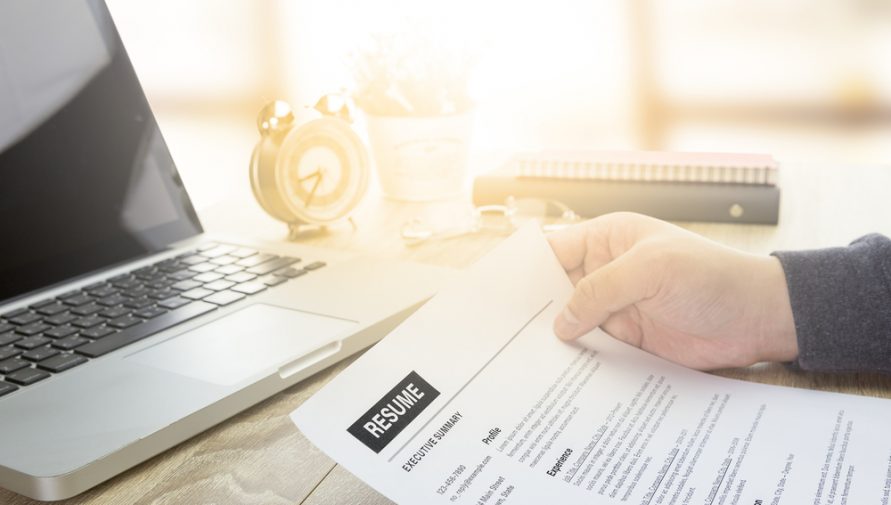 You're browsing various job boards and portals and coming across a perfect job opportunity that matches your skills and experience. 
This could be the career break you've been waiting for! 
When you're about to click the 'Apply' button, the doubt clicks in! 
" There would be many candidates applying for the role who would be more experienced than me" 
" Is there a chance of me scoring an interview?"
Sure, hundreds of candidates would be applying for the job, and some may have more experience, but the key is to outperform them and shine through the crowd of applicants. 
And how do you do that?
By creating a resume that stands out.
Your resume is your best friend when applying for jobs. It is the first document employers see when they connect with you. So whether you're looking to level up your career and work with international clients or planning to rejoin the workforce after a gap, you're at the right place. This blog will talk about:-
Tips on effective resume writing

Skills to include while crafting your resume

What not to include in your resume
Tips to
write an effective resume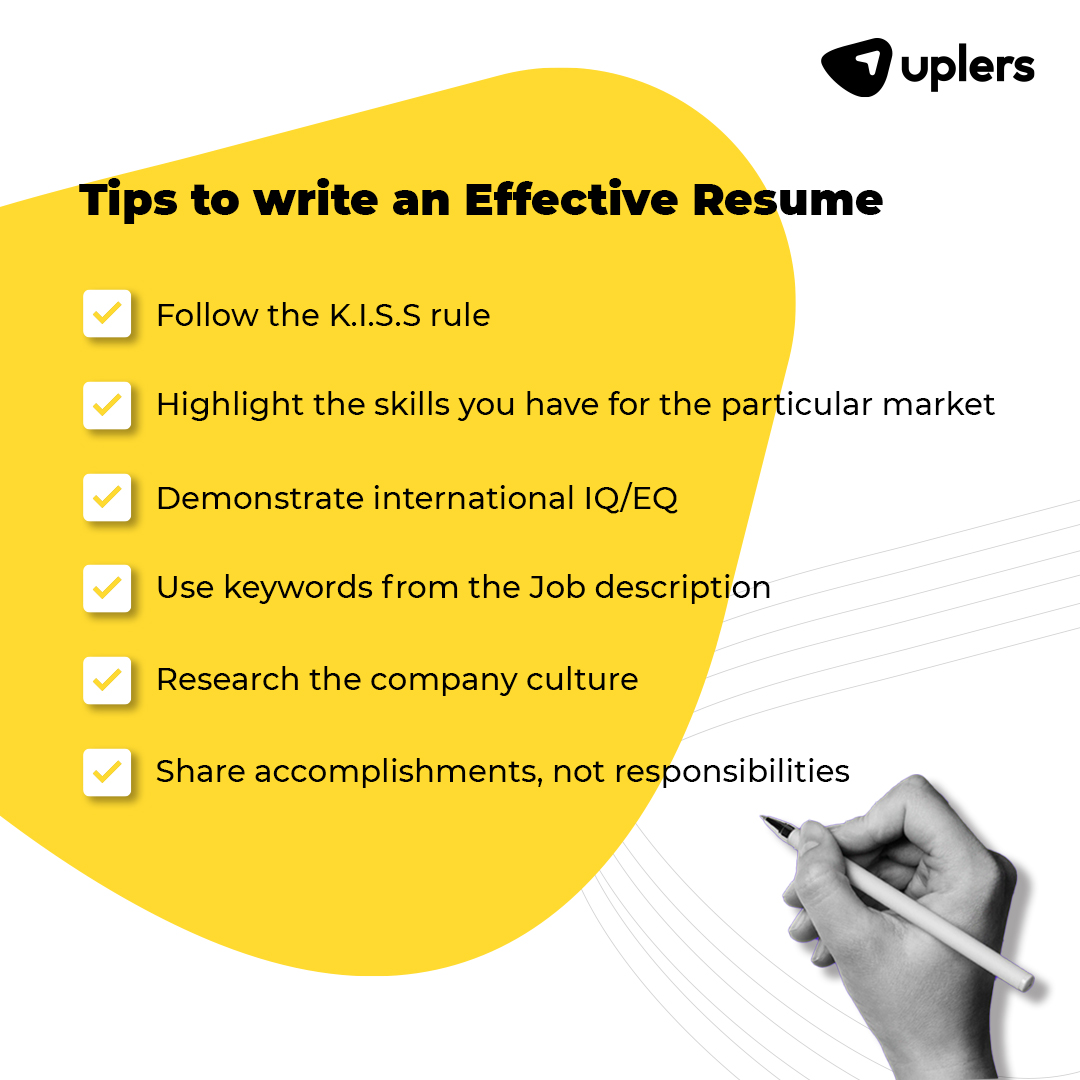 A resume is the most crucial document you submit in a job application. It's the first opportunity to present yourself to the employer, and as they say, a first impression is the last impression. Therefore, you should do everything possible to make a solid first impression.
Keep it short and simple – When it comes to job application resumes, the general rule of thumb is to follow the K.I.S.S (Keep it short and simple) principle. Hiring managers and recruiters look at resumes for only six seconds. Therefore, keeping it brief and to the point and including only the recent and relevant experiences is essential. While your one- or two-year stint in your last organization might have taught you a lot, mentioning every detail on the resume is unnecessary. Include only the facts – skills, and experience relevant to the job you are applying for. 
Highlight the skills you have for the particular market – Highlight and hone in on the skills that you think are relevant to the market in which you are applying for jobs. This calls for some research as you will have to check the skills that recruiters are currently looking for and match them to your experience to effectively showcase that you have the necessary skills and expertise to perform in this role. 
Demonstrate international IQ/EQ – The ability to work in a cross-cultural environment with people from different backgrounds is an essential skill that global companies look for. Therefore, the resume must include skills such as cross-cultural communication, understanding of other cultures, the ability to work across time zones, leadership, calm temperament, and teamwork. But simply stating those skills won't do the trick. Make sure to back it up with instances/experiences that prove the point.
Use keywords from the JD – One of the easiest ways to get the recruiter's attention is to use the job description as a guide. Hiring managers use certain words/phrases in the job description, and when they see those exact words or phrases in a resume, it instantly attracts their attention, and they want to read it further. Also, for big companies using ATS for managing applications, using keywords helps get through it. Customizing your resume for each job you apply for may be time-consuming, but it can make a lot of difference in your search and may even be the deciding factor in you landing the interview call.
Research the company culture- It's always worth going the extra mile in your professional resume preparation journey. Take the time to go beyond the job posting or JD and research the company. Check out the company's website to get some insights about its culture, events, etc. Try and link these with your skills/experience in your resume. It is a surefire way to grab the recruiter's attention and secure the interview call. For instance, if the company is involved in many CSR or charitable activities and you have done a project/ internship with an NGO or been a part of volunteering initiatives, adding that to your resume will instantly establish the connection and earn you some brownie points. 
Share accomplishments, not responsibilities – When you list your experience, frame it in a way that sounds like an accomplishment. For instance, if you've managed a team of four people, don't just say it like 'managed a team of four people' but go so far as to say what you accomplished with that team of four, like increased revenue 1.5x, instances when your team exceeded targets, etc. If you and your team worked through a slump, say how you managed to sail through, the efforts you took, etc. That's what the recruiters are looking for. The more you can quantify it, the higher the chances of grabbing the recruiter's attention. 
Check out how Uplers can help you build a strong profile for the international market!
Mistakes to avoid in your resume
With just a few seconds to hook the recruiter, here are some mistakes you should be mindful of while writing a job application resume.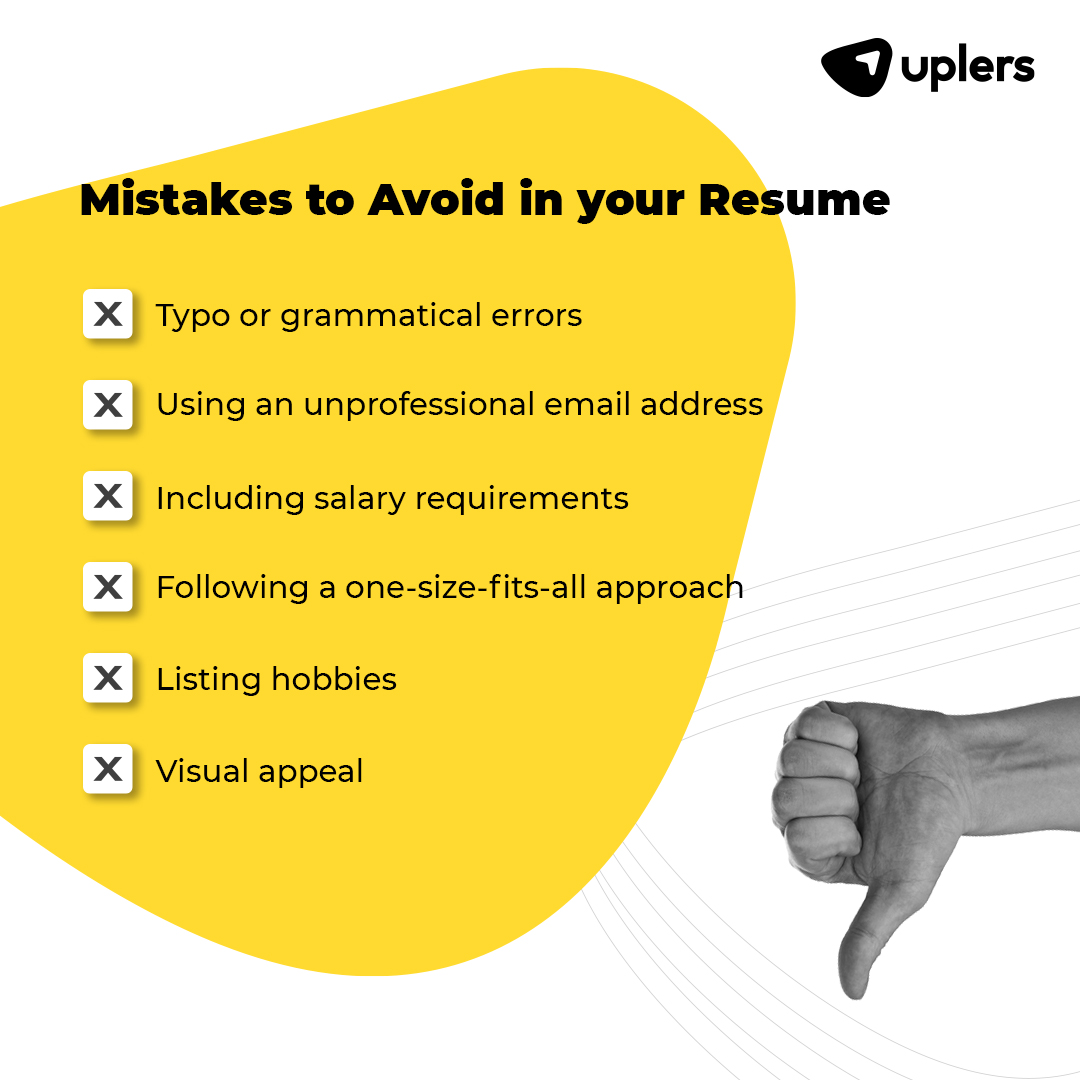 Typo or grammatical errors – Your resume should be free from all typographical and grammatical errors. Ensure it is well formatted with proper spacing and paragraphs so it's easy to skim through. Sending a well-written, clean resume is a sign of professionalism. Tools and software can help you with the task, or you could also ask a friend to go through it for a third-eye view.
Using an unprofessional email address – Make sure to provide a professional email ID in the resume- one just with your first name and last name or some variation. Refrain from using quirky, funny characters. If you don't, create one solely for job correspondence, but the email ID on your resume should appear formal and polished. 
Including salary requirements – Many people mention their salary expectations on their resume. Do not do that. While it is essential in job consideration, keep it for later stages- during the interview or the final HR round when the HR sends out an offer letter. Even then, before just stating your expectations or requirements, refer to the salary guides  for more specific information about your location, industry, and experience. 
Following a one-size-fits-all approach is the most common mistake that most job seekers are guilty of committing. Creating a generic resume and using that in all job applications. A good idea would be to tailor your resume to specific job requirements that clearly show your enthusiasm for the role you're applying for and tell the employer how you are a good fit. 
Listing hobbies – You need more time and space to list your qualifications and experience, and cramming hobbies into them can save time. Unless, of course, you have specific ones that are relevant to the job you're applying for. For instance, if you're joining a sports organization and love playing certain games, you could mention that. Avoid generic ones like cooking, reading books, watching movies, etc.
Visual appeal – That's not to say you should include graphics or images in your resume. When we say visually appealing, the resume should be easy on the eyes. For instance, If your resume has long paragraphs with all text, it will give the employer a headache. Structure your summary properly with bullet points, subheadings, etc., so it's easy for the employer to glance through it and understand what it's all about.
Creating an effective resume can be time-consuming and tricky, but you can show off your skills and experience to the employer and tell them what you are worth, so invest time and effort into it. Let's say it's your marketing document, and you have to sell yourself to the employer. You have to get it right. Follow the above tips and suggestions, and you'll be well on your way to landing your dream job. 
Also Read: How to Ace Interviews With Global Companies