How to Hire Remote Developers? – Tips on Hiring Remote Employees
Aabha Tiwari
November 10, 2022

10

Minute Read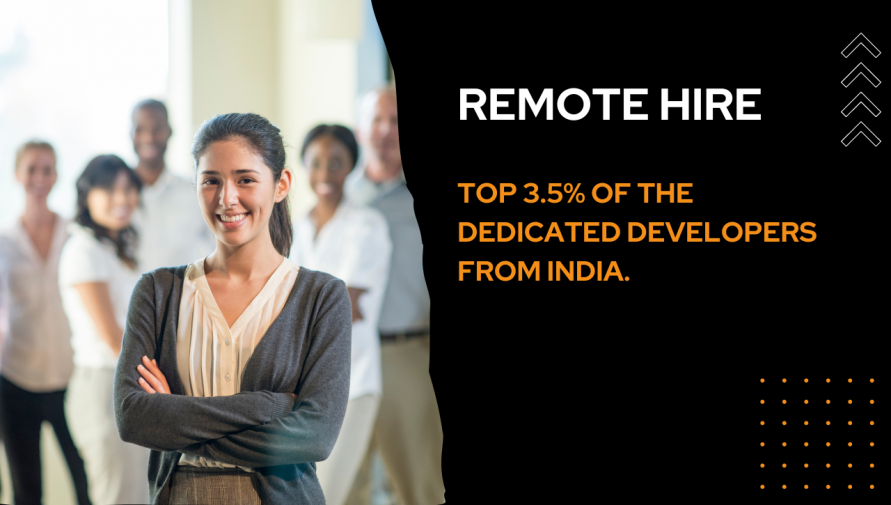 The core foundation of any tech-based company is building a team of skilled and expert talents. Whether a start-up, agency, or enterprise, businesses require a team of expert developers who aim to deliver their best efforts and ensure that they set the benchmark with every move. 
Post-covid, remote working style has revolutionized the way businesses operate in the USA and around the world; and not just that, hiring managers, recruiting and core departments of the companies are now looking at a new way of hiring, i.e., remote hiring. 
Remote hiring has challenged the traditional method of hiring, not just by offering a flexible way of working and increased productivity but also by an innovative way of targeting a whole untapped market of talents.
With this, rightfully hiring remote employees can be overwhelming for many MarTech and product-centric companies who have never attempted to hire remote employees or have restricted methods of hiring a remote developer. 
With the considerable change in the digital space and innovation taking up the pace,  many companies, their CTOs, and entrepreneurs have started to think out of the box. 
They are inclined towards hiring remote developers, where India has begun to mark its firm foot. Before we move ahead, why don't you read some of our related resources on hiring remote developers? 
Tips on finding WordPress Remote Developers with Ease 
Looking to Hire a Remote ReactJS Developer? Remote screening tips when hiring 
Remote hiring Google Ads experts: Tips on skills, their must-haves, and essential interview questions 
This blog aims to shed light on the challenges of remote hiring developers, solutions, and a curated guide on hiring the 'right fit' for your company. But before this, let's discuss the advantages first. 
Hire Remote Developers: Key Value Propositions 
More than 20% of companies in the USA and Canada (before COVID) were outsourcing their software development project needs through remote hiring (post-COVID, now the metric stands at 43%). 
There are multiple advantages of hiring remote:
Getting access to a large talent pool

Eliminating unnecessary competition

Cost advantages

Acquiring skills from the advanced IT infrastructure 
"More than the cost advantage, it is getting the power of skills and knowledge from wherever you want; the market to get these skills is huge- setting up a process to hire and manage remote hiring is the biggest key now," says  Yelp CEO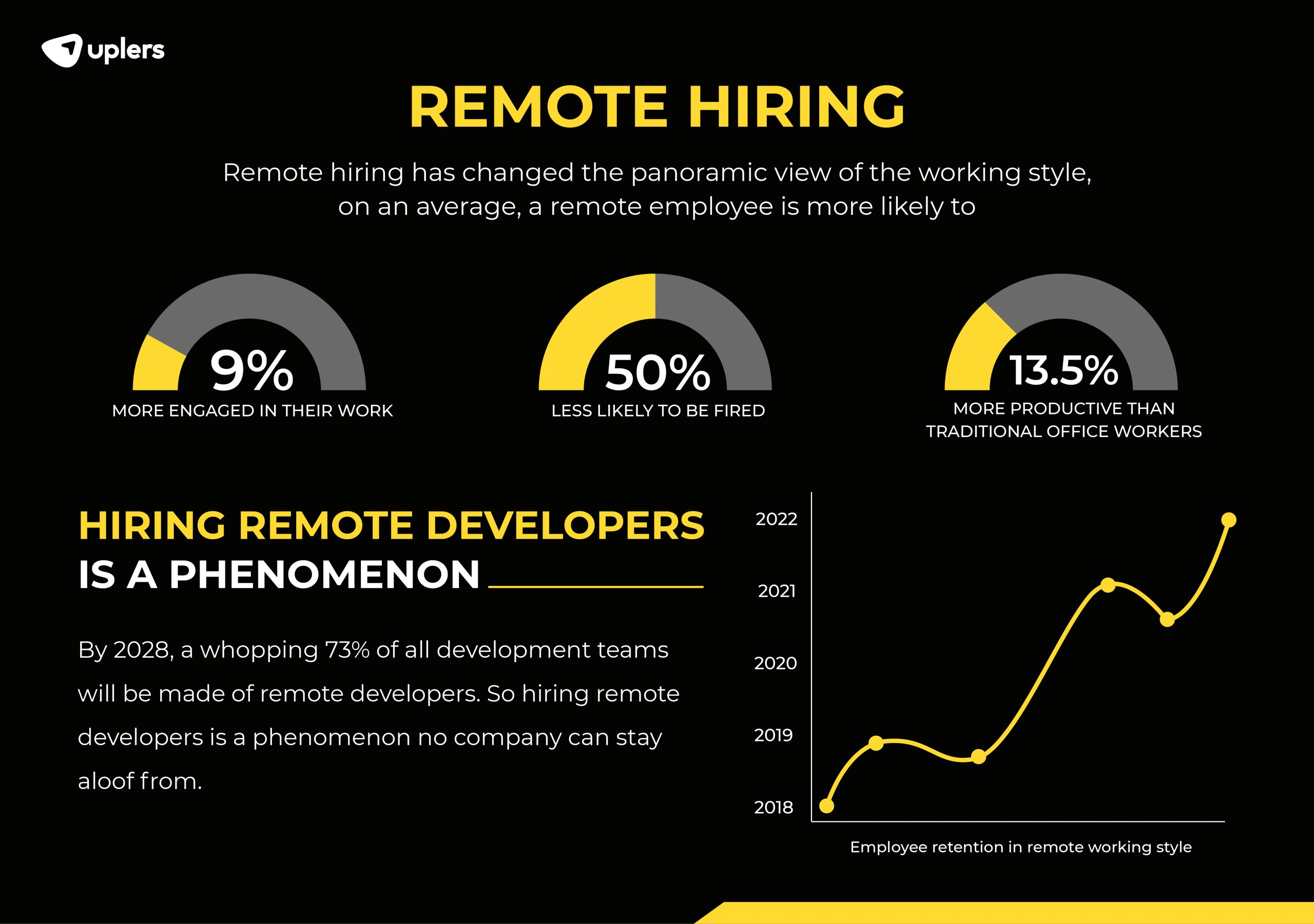 Benefits of Hiring Remote for Employers 
Remote hiring serves benefits to both the employer and employee- some of the major ones are: 
You get access to a broader and untapped pool of experienced talents across various skills.

When you choose the right way to

hire dedicated developers from India,

you save up to 

40% on costs

without compromising quality. 

Remote hiring serves as a bridge between the higher demand for hiring and the restricted supply. Expanding the boundaries increases the chances of hiring the right fit for the position, and the company grows by 60%, an overall 45% improvement in the retention rate. 

Sticking to an on-site working structure limits flexibility. When you hire remote developers, the flexibility in timing gives them more control over their work; hence the potential for maximum productivity can be achieved. 

Experienced employees are looking for organizations that are comfortable with adaptability and understand the concept of work-life balance. 
Benefits of Hiring Remote for Employees
Remote employees spend less time commuting, thus, maximizing the working hours considering employees can immediately start working as the day commences. 

Experienced employees are now looking to get hired by companies that operate on flexibility and adaptability, looping in the whole concept of work-life balance. 

All thanks to remote work culture, it has opened gates to many opportunities, aiming at skill upgrades and enhancing nurturing of the whole process. 
Why are Tech Companies Now More Interested in Hiring Remote Developers?
The idea to hire remote staff offers entrepreneurial advantages and helps companies gain a competitive edge within the market.
When companies move ahead with the notion to hire a remote team, it is more about accepting the reality of the present situation in compliance with the preferences of skilled employees.
They want more structured, productive hours, work-life balance, better opportunities, and a well-managed system. 
Besides ease, hiring remote dedicated developers from India for your software development needs has fuelled the onset of process-driven remote hiring.
We know you still have doubts; let's talk about why companies are now remote hiring developers in the USA, and so should you. 
1. Pacing Development
Remote teams have the flexibility to work round the clock (as they belong to different time zones). 
With that, they come with much less distraction than the on-site, with unwanted breaks and a hyper-active work culture. 
2. Flexibility and Productivity
When you hire a remote developer, they follow a specific work schedule, giving you more time to focus on core business areas. 
It is a win-win situation for both; employees and employers to focus on what they have been assigned to do. 
3. Away from Distractions
Many surveys have contrarily concluded that remote developers are more likely to be productive than people working in offices.
When companies create a structured process for managing remote employees, productivity skyrockets and significantly improves lower resignation rates and (burned-out) leaves.
4. Capable of Getting More Skilled Talent
When you hire dedicated developers from India remotely, you save 40% on the total cost of the recruiting process. 
Indian developers are more likely to adapt than in-house or locally hired USA developers.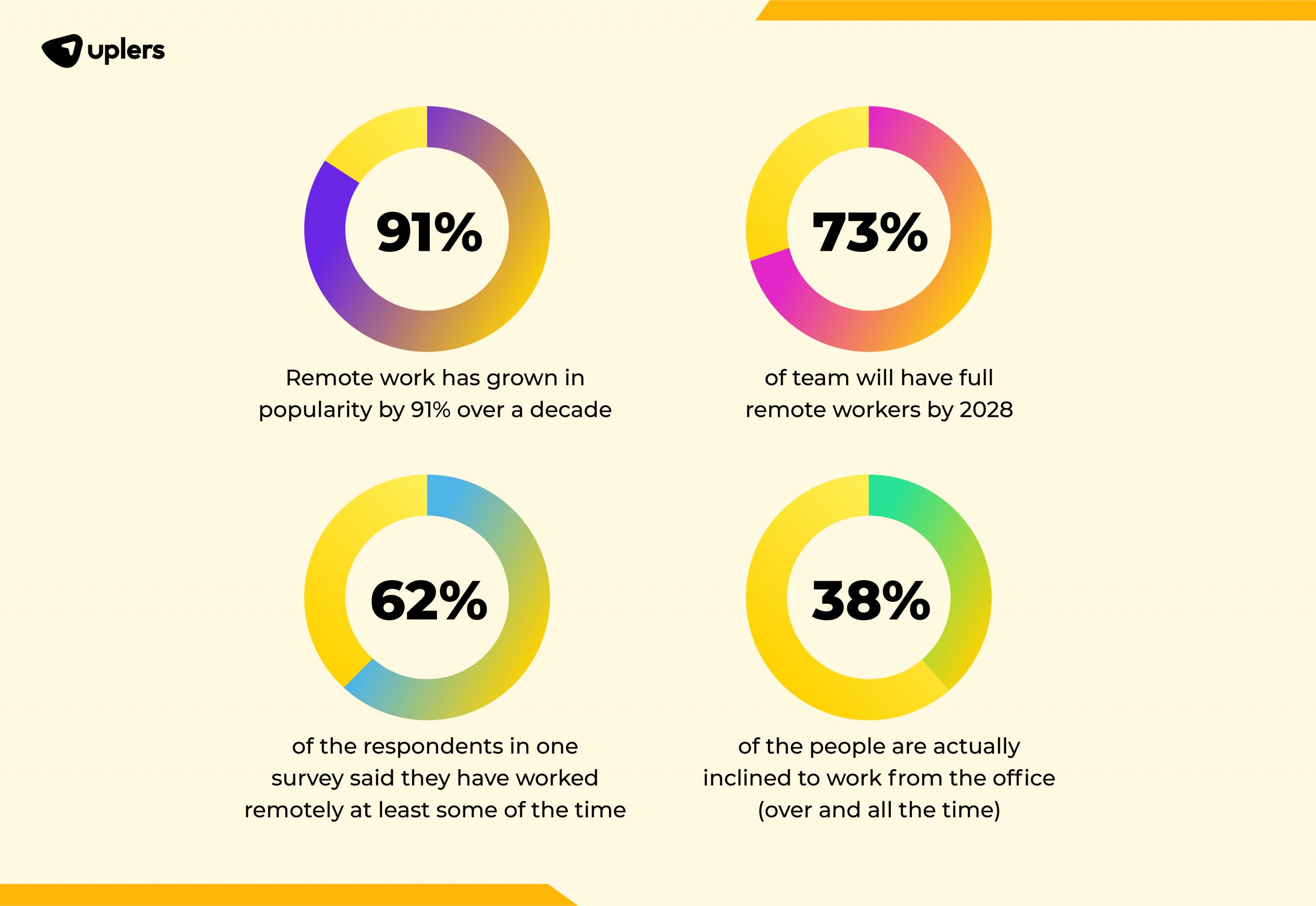 Challenges of Remote Hiring [+Listed Solutions] 
Hiring remotely definitely provides agility to a growing company and future-proofs their business resilience! However, in order to leverage the full benefits of remote hiring and successfully overcome its accompanying challenges (such as haywire on-boarding and ambiguous ways of communication), it is crucial to follow a few key steps! 
We are listing out a few issues on possibly what challenges can occur when you hire remote employees with more practical solutions.
1. Creating and Managing Practical Job Descriptions
40% of hiring managers in the USA, the UK, and Canada find curating a functional job description merely because they lack technical knowledge about the position they are hiring for.
Poorly curated JD isn't just an unprofessional look for your company; you also waste thousands of dollars and months in interviewing the wrong candidates, lowering your retention rate, and escalating your openings frequently (creating a bad rep of your company in the market and to the potential hires). 
What would a perfect job description look like when hiring a remote developer? Read these…
WordPress Developer Job Description, Skills, Roles & Responsibilities
9 Key Python Developer Resume Shortlisting Tips for Hiring Managers – How to Shortlist the Best!
ReactJS Developer Job Description: Role, Responsibilities, Skills, Salary
2. List Out All the Information of the Required Opening
From experience, required skills, clarity on salary (and then compare it with the market rate), academic requirements, and technical expertise. 
When jotting down those details, it is essential to be practical and don't overwhelm the JD with 'should-know-all' qualities.
Try to drill down on the exact requirements and ask for flexibility (work on what is a must-have and what can be adjusted as part of the training process; post-hiring). 
3. Fix The Stages of Interviews
6 out of 10 candidates have agreed that multiple and repetitive steps of interviews led them to lose interest in the company (a prevalent scenario when hiring experienced developers).
Here hiring managers play a crucial role in deciding how (and with whom) stages of an interview should be conducted during hiring of remote developers. 
It should be based on the number of experience a candidate has: 
Fresher to 2 years of experience
It is recommended that candidates between 0-2 years should not appear in more than 3 stages of the interview. 
This can consist of an initial HR round, interview with the person who laid out the requisition (comprising the technical round), and final round. 
3 to 5 years of experience 
For remote developer candidates between 3-5 years, their initial round with HR should be more precise (as to their expertise, their niche, and interests in moving forward).
Under this category, screening plays a big role in minimizing the multiple rounds for the interview. 
Technical and personality-check stages should be well-rounded with direct questions that align with the company's goals and attributions.
Usually, candidates of this category also manage the team; the personality test measures their temperament, working under pressure, experience handling diverse groups, and interdepartmental collaboration experience.
5 to 10 years of experience
Remote Developers applying under this category are experienced; they know the market and might have even applied to your competitors. Hence, keeping the process crisp and to the point is crucial here.
Keeping unnecessary stages and multiple rounds with the same manager (or different, for example, with the department head, project manager, and then the CEO) does nothing but confuse and waste the candidate's time and efforts. 
For candidates between 10 to 15 years, let the HR department clarify the initial questions of the first round. 
Do market research, involve the person who laid out the opening and ask away in the first round of the interview; try to gauge as much technical expertise as possible in the second round, along with the personality check.
Here, it is recommended to keep the third round with the core members of the company (as they will probably be working closely with them) and a final round on formalities and processes. 
4. Understand Your Development Needs
Hiring managers can only help if the project managers clarify why and on what terms the hiring should be (and this clarity will also help you decide on salary, number of experience, and filtering round). 
Are you hiring to replace an employee? 

Do you want to increase the strength of your company? 

Is it more like a helping hand to the present work condition, or do you want someone who can turn around the whole process and make it smoother and more driven? 

Do you require more youth appeal to your team, or in dire need of an experienced key player? 

Are you looking for your own replacement? 
Asking such questions will guide you in understanding the job description you should be making and the type of candidates you should be interviewing. 
5. Screening Process
Before anything, it is important to know about moving ahead with the right resumes. 
This is the most crucial step; hence, understanding the nitty-gritty of the position is the utmost priority.
Apart from the usuals, one should also consider their experience, specializing in technical expertise, skills, and relevancy in the field, along with other aspects like communication skills, team management, and multi-project handling.  
For more information on screening techniques, you can read these…
Core Communication Skills to be Screened When Looking for Java Developers
Things You Should Know Before Hiring Angular Developer
Top 10 React JS Developer Skills to Screen While Hiring
6. Hiring Help
It is important to choose the right platform when hiring remote software developers and  Uplers bridge the gap between global companies and the untapped market of the talents.
We are helping global tech companies easily remote  hire pre-vetted top 3.5% of the dedicated developers from India.
Step-by-Step Hiring Guide With Uplers
Uplers has pioneered its way in curating the most skilled and expert talent pool of more than 50,000 pre-vetted tech professionals across all skills.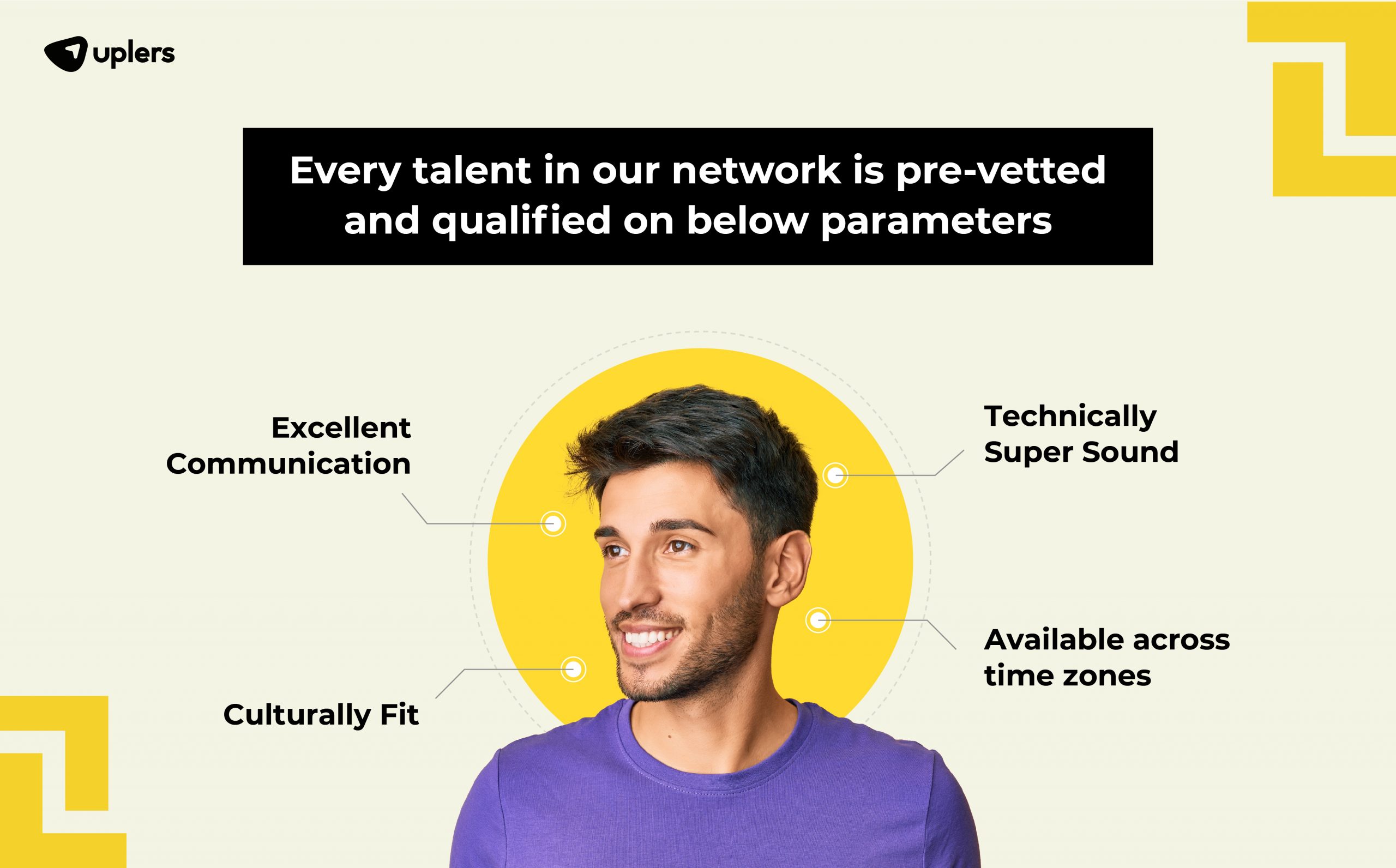 Once you figure out the details on hiring:
1. Share the JD: You share the complete job description with us, consisting of roles & responsibilities, must-have skills, relevant experience, and area of expertise.
With this, we'll also ask specific behavioral questions to ensure that we find talent with not only technical skills but also someone who matches the vibe and culture that you have in your company. The more information you share, the better matchmaking we will be able to do for you.
2. Finding the Right Fit: In the next 48 hours, our experts match the 'right fit' for the job by playing the crucial role of a matchmaker.
We share the shortlisted resumes, and only when you finalize the ones you want to move ahead with (after sharing your date and time slots) we schedule the interview with the candidate.
You interview them and give us your feedback and events where you want talents to take any additional assessment to better judge their technical capabilities.
In that case, you can share your tests, and the candidate would be more than willing to complete them.
3. Interview and Hire: Assess the candidate until satisfied and provide us with feedback whenever you are ready. 
As the talents are pre-vetted against their communication skills and technical capabilities, we reduce the guesswork and the probability of a wrong hire.
4. Onboard and Manage: Once you confirm the talent, Uplers ensures all the legalities and contracts with the talent, provides a smooth onboarding, and helps you manage the talent.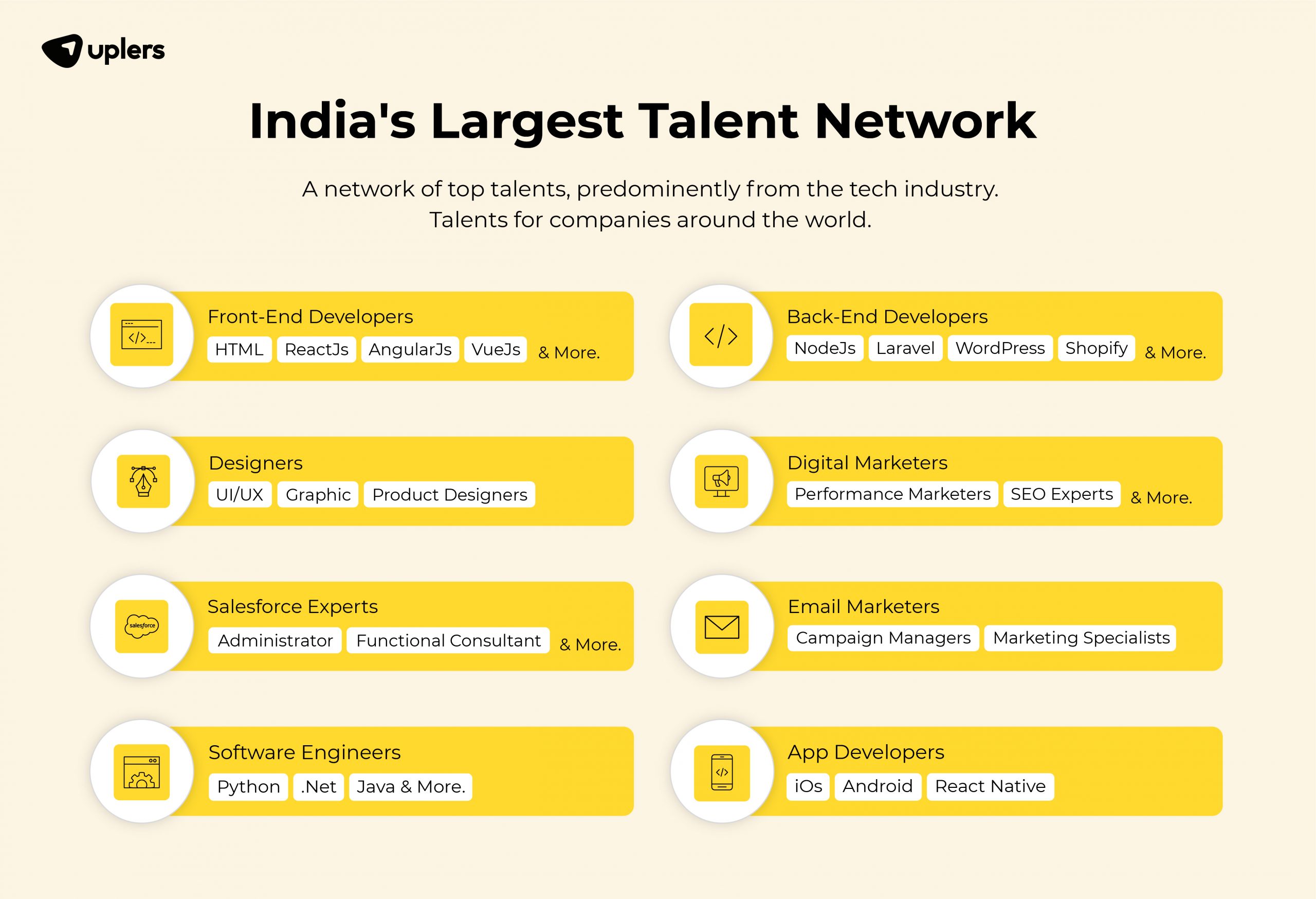 Still Questioning, 'How to Hire Remote Developers?'; Uplers Makes It Easy!
Uplers is an effective hiring platform that helps remote-first companies  hire remote Indian developers from a network of 50,000+ talents, pre-vetted against their technical capabilities, language proficiency, and behavioral skills. 
With this, we ensure that the companies who interview with the talents from our pool don't feel obligated to hire unless they are 100% confident and happy with the talent—giving you a platform of "No-risk trial" forefront. 
FAQ's
Q1: What is the hiring process for a remote job?
A: Book an appointment with our experts at Uplers, and we'll reach out to you soon. Let us know your requirements and your preferred expertise and experience level. We will shortlist the best talent for you that meets your needs.
Q2: How can I hire remote employees in India?
A: Hire talent from Uplers with just 4-simple steps. We aim to help global companies like the US, UK, AUS, NZ, and EU to hire Indian talent remotely for their global project. Uplers certified talent is pre-vetted against their excellent communication and technical skills. With our stringent process, only 3.5% out of thousands of resumes we receive monthly make it to the pool. We assure you will meet with the talent who will scalably and culturally- fit your project. 
Q3: What are the 5 best practices for the recruitment process?
A: 1. Ensure that the job post should be enticing enough to attract the potential candidate. You should mention the relevant information that you look for in a talent.
    2. Leveraging employer branding by creating an attractive website that ultimately shows the company's vision and mission to your applicants. 
    3. You should maintain a level of engagement during the hiring process. For this, you make sure to have a great hiring strategy and assessment tools.
    4. Create a large talent pool. The talent pool is essential as it helps in sourcing the best talent for a required job opening.
    5. Choose a reliable outsourcing platform to hire remote talent. Platforms like Uplers offer access to a large talent pool, 2X employee retention,  and more. You can also save up to 40% on recruitment costs. 
Q4: What is one of the most challenging issues for hiring in 2022?
A: Attracting the right candidate is one of the biggest challenges recruiters face in 2022. The reason is that recruiters choose traditional hiring over remote hiring. Companies that hire remote talent from Uplers meet with the top 3.5% of tech talent at cost-effective rates.
Get Informative & Insightful Articles delivered to You Monthly