Recruit Talent Remotely: Global Tech Companies are Profiting by 40% Through Remote Hiring
Aabha Tiwari
October 20, 2022

7

Minute Read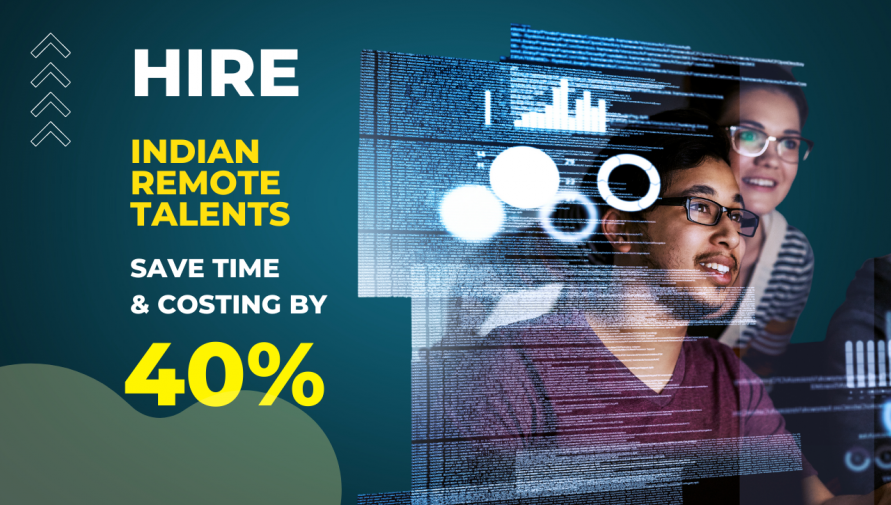 9 out of 10 recruiters agree that finding top talent for the listed job is hard. Hiring managers spend more than 20 hours a week just screening and sifting through the resumes, with more than 50% of candidates not passing through the first round of interviews while recruiting talent remotely. 
The undeniable fact is that when local/native talents lack expertise and required skills- expanding boundaries for hiring developers remotely is the best solution. 
Post-December 2020, more than 30% of global tech companies are now recruiting top talent remotely. There's no shortage of talent; all you have to do is look for the right places. The question arises, 'how to hire top Indian Talents?',
Prominent companies like Amazon and Intel have acknowledged that rejecting the idea to hire remote tech workers and conforming to traditional hiring have cost them losing talents.
Why Should You Recruit Talent Remotely? 
Call it talent crunch or talent saturation, the problem with the unidirectional approach to hiring is real.
More than 69% of the companies have reported that the shortage of talent, overflow of market talents, and restricted location contributed to the failure to recruit the right talent.  
With remote hiring, you are targeting the untapped area of hiring talents with refined skills and expertise in web & software development, digital marketing, app development, Google ads, and designers.
However, before you validate your skepticism about remote hiring, managing the employees, and scaling their productivity.
Let's look at some challenges recruiters face when recruiting talent locally. 
Challenges of Hiring Talent Locally 
9 out of 10 hiring managers have agreed that hiring within a specific geographic area limits the talent pool. So when you recruit for talent from a restricted skilled list, you might be hiring someone who is the best from the lot, but not really who is the best fit for the job. 
The Gap Between The Demand And Supply 
When hiring top talent, the competition is fierce; either several recruiters contact the excellent candidate, or there are so many good candidates; you don't know who is the best fit for your organization. Overall, chasing them in either situation is time and money-consuming. 
Ah, the good ol' factor of time and money. For recruiting the right talent you don't want to spend months to fill one position, also the money that gets invested in those prolonged hiring and work delays.
Reports suggested companies lose up to 35% of their total revenue due to the halt in projects and poor retention rate due to wrong and stagnant hiring. 
With more millennial and Genz in the market, their aspirations differ from work and life. They no longer just want higher salaries but also more flexibility, better work-life balance, less time in commute, and polished perks. 
Best Practices for Hiring Top Talent: Why is Remote Hiring The Solution? 
Flexible working is the new preference; good candidates now want to be valued for the quality of their work rather than the volume. 
Geography is no longer an issue when you remote  

hire talents

. Global talent pools are accessible.

Less time spent on commute maximizes the working hours as employees immediately start working as the day commences. 

On-site work limits flexibility. But, with remote work, you have the freedom to change your schedule as per your needs. Skilled employees are looking for organizations that are comfortable with adaptability and understand the concept of work-life balance. 

Hiring top talent

remotely can save up to 40% of the total budget, not just on the infrastructure and on-site facilities but also on the salaries, without compromising on the quality. 
How Uplers is Making the Difference in Remote Hiring 
Uplers is positively bridging the gap between India's top tech talent and Global companies through top talent recruitment remotely. As a globally recognized outsourcing and staff augmentation company, we are making remote hiring of the most skilled tech talents for global companies radically easy for them. 
Uplers assists global companies in hiring the most skilled talents matching their requirements from their talent pool of the top 3.5% of professionals.
With their transparent process, remote hiring from Uplers helps you save 50% on cost compared to in-house talents. 
Uplers Talent Solution: Understanding Uplers' hiring process 
With Uplers Talent Solutions, businesses can hire the best remote workers from India- more quickly, effectively, and for affordable pay.
How to Recruit Top Talent: Uplers' Vetting Proces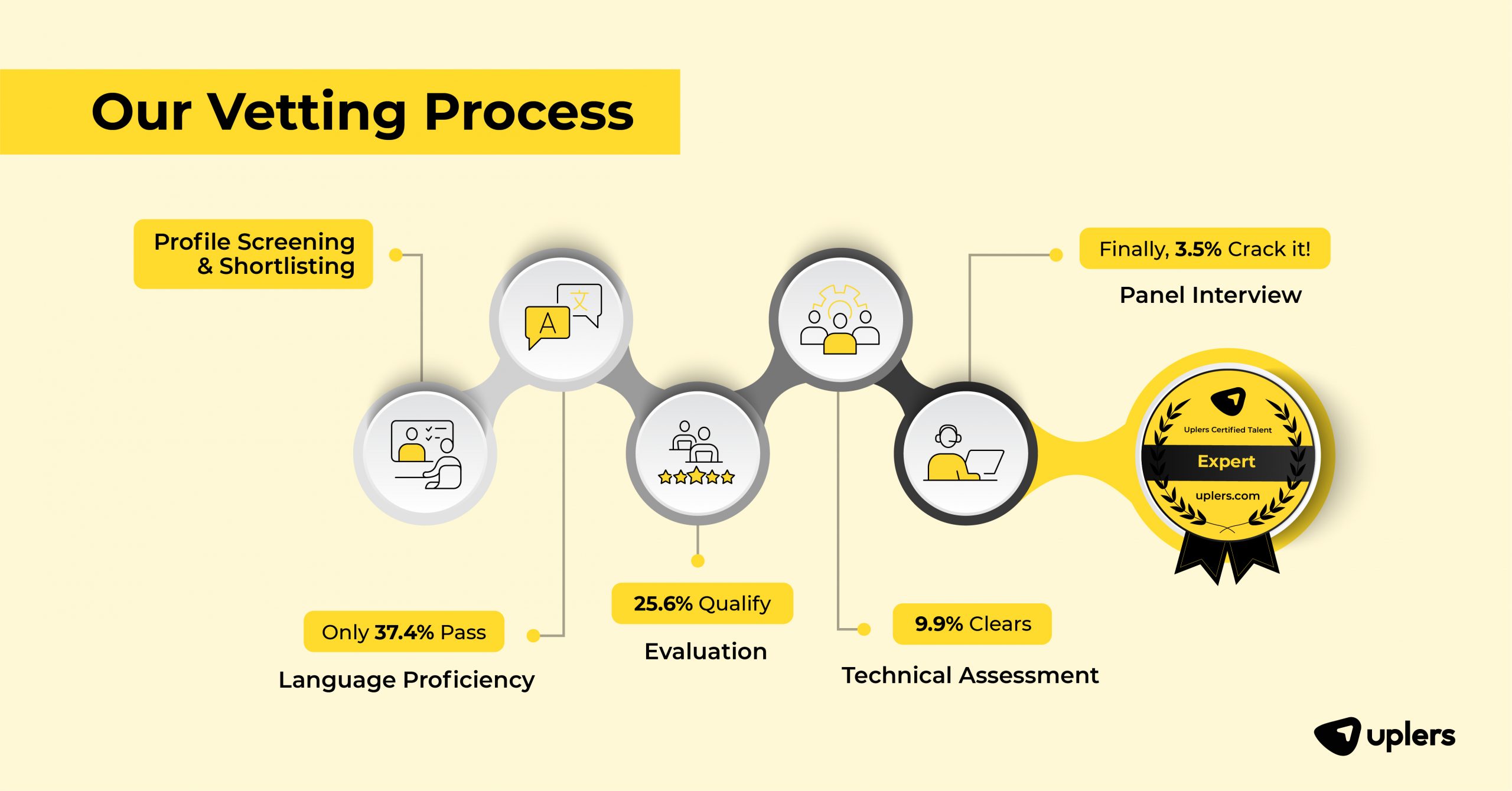 Vetting is the crucial stage of recruiting new talent; we know hiring the right talent can be a gamble- they can either be an asset to the company or turn out to be the wrong match. 
Uplers' vetting process reduces this ambiguity and enables these tech companies to hire right, every time. With more than 10,000 applications we receive monthly, less than 3.5% of the talents make it to the pool. This is how stringent the vetting process is. 
We use thorough technical assessment and evaluation procedures incorporating actual exams and theoretical knowledge.
Here is our regular procedure that every talent must follow; only those who meet the requirements are invited to an interview with you.
Online Assessment Platform for Hiring: Importance of Our Vetting Process 
How Uplers' Vetting Process is Helping You Get Hired?


96.5% of candidates filter out in the process. 

Our vetting process eliminates the need for HR to check for cultural, language, and background checks. 

No reliance on technical recruiters 

Around a 75% reduction in doing the guesswork for the recruiters

5X increase in the chances of the right hire. 
Why Are Global Companies Recruiting Talent From India?
Why India? India is a powerhouse of skilled tech talents. 
Major countries are facing a shortage of skilled talent with the rapid increase in demand. 

Companies now prefer to hire outside their locations to find the better fit for the job. 

Whereas India has surplus talent, its friendly relations with other countries make it the safest and most obvious choice to recruit remote talents. 
What Makes Indians The Top Choice For Technology Giants Around The World For Remote Hire?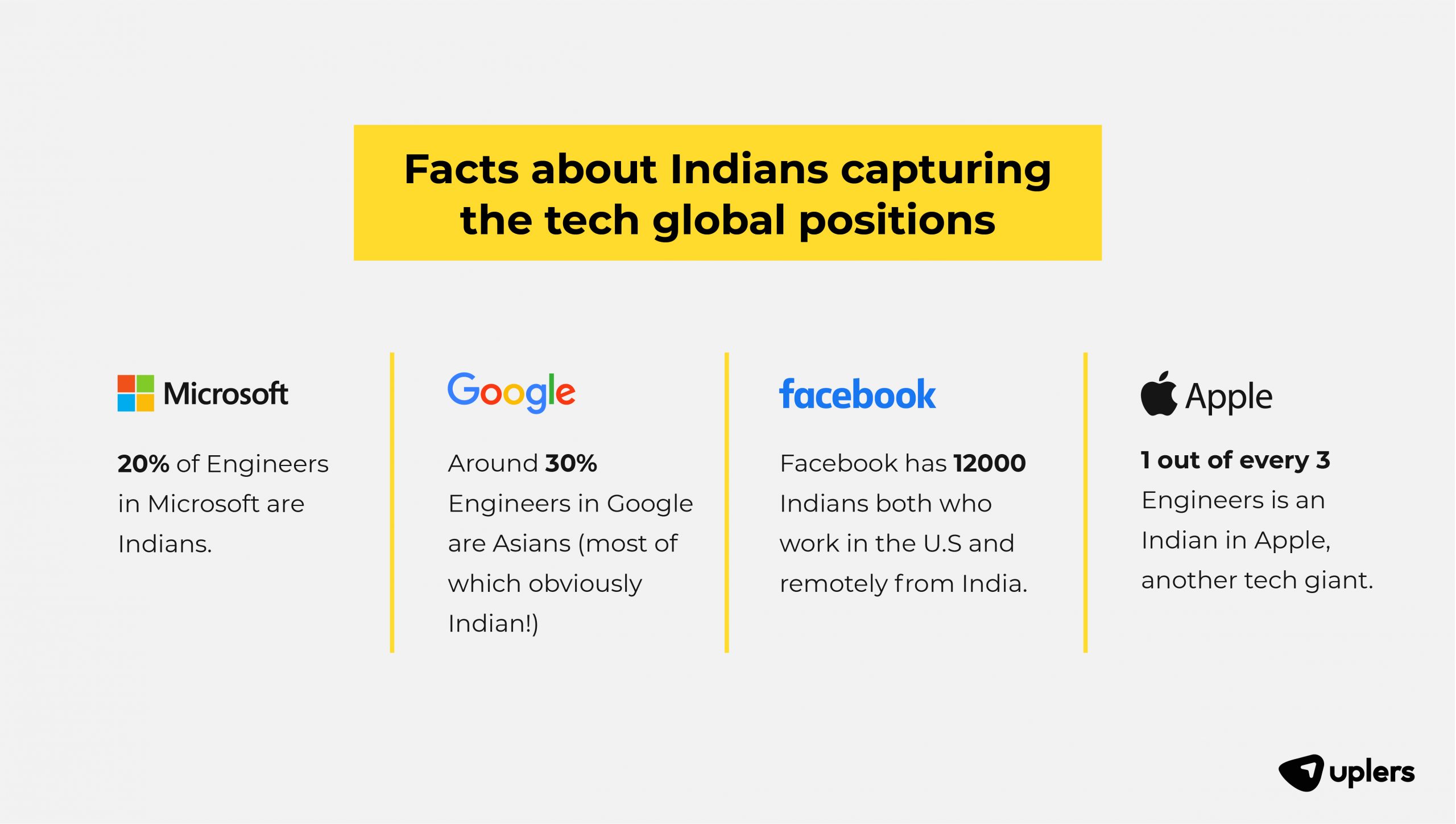 Quality talents to hire 
India has quality tech talents, and remote talents have opened up opportunities for companies to recruit skilled and experienced talents without the hassle of moving from one place to another. 

Biggest tech giants like Google, IBM, Microsoft, Hubspot, and FedEx have Indian talents up the hierarchy, making them the top preference to

recruit for talent

in the marketplace. 

Indian talents are resourceful, adaptive, smart, and hardworking- making them thrive at work. 6 out of 10 companies prefer hiring Indian talents over other nationalities. 
Cost advantage 
The talent market is limited, so every recruiter is fiercely competitive about hiring and retaining talent. 

Companies are giving additional perks and hiking salaries to cope with this competition. This gives a sour taste to everybody, as offering more- has no end. 

Small-and-large scale companies are now

hiring top talent

in bulk since India has surplus talent. As a developing country, you can hire Indian talent at an affordable offering; due to conversion rate and compensation. 
What makes Indians the top choice for technology giants around the world?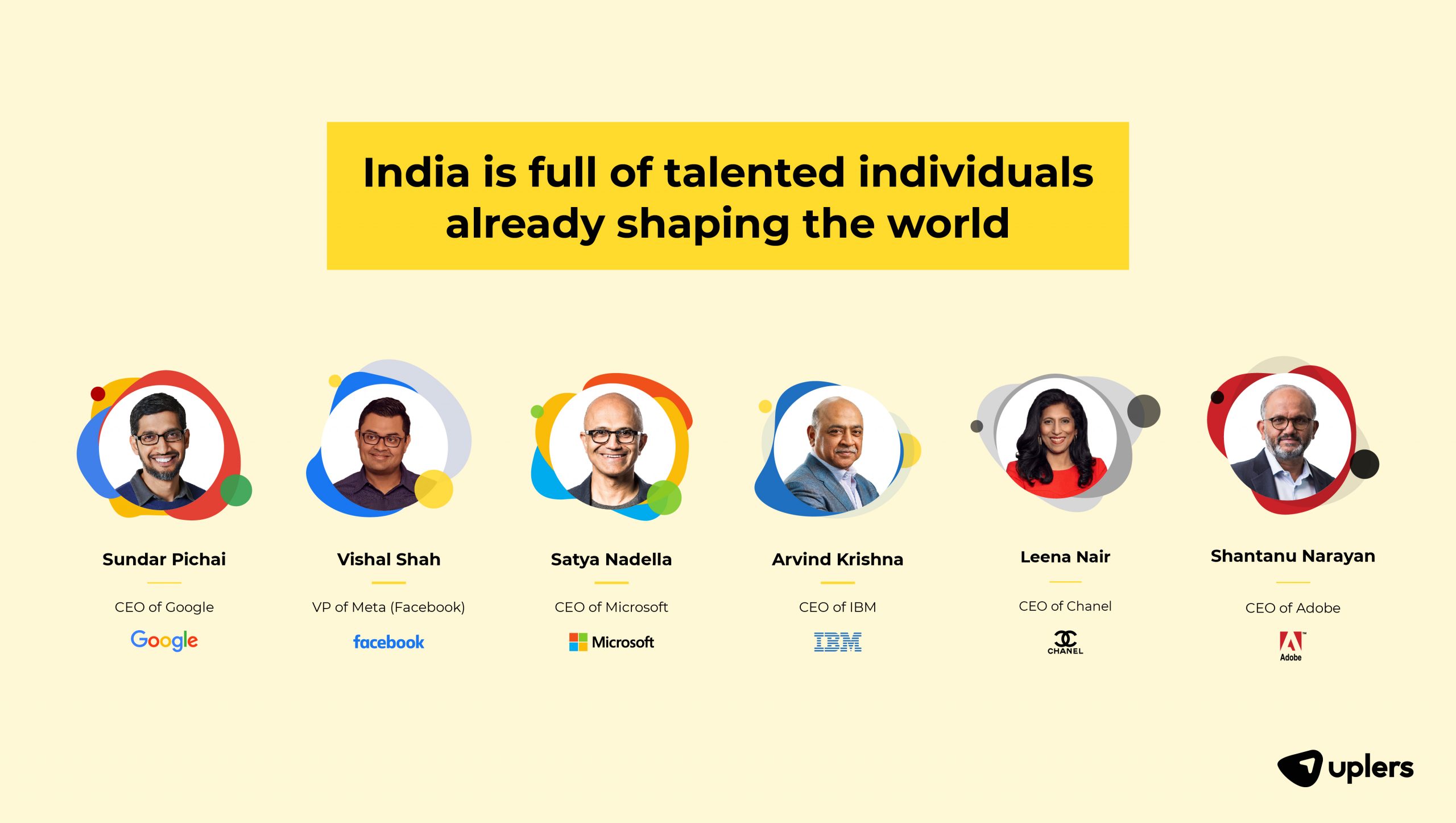 It is reported that Indian workers commit 37.2% more than their foreign counterparts.

Indian talents are proven to have a higher retention rate when compared to other parts. 

Indian talents are smart, from schooling to professional grades; they are more dedicated, committed, and high-values.
Why is Uplers the Most Sought-After Choice to Hire?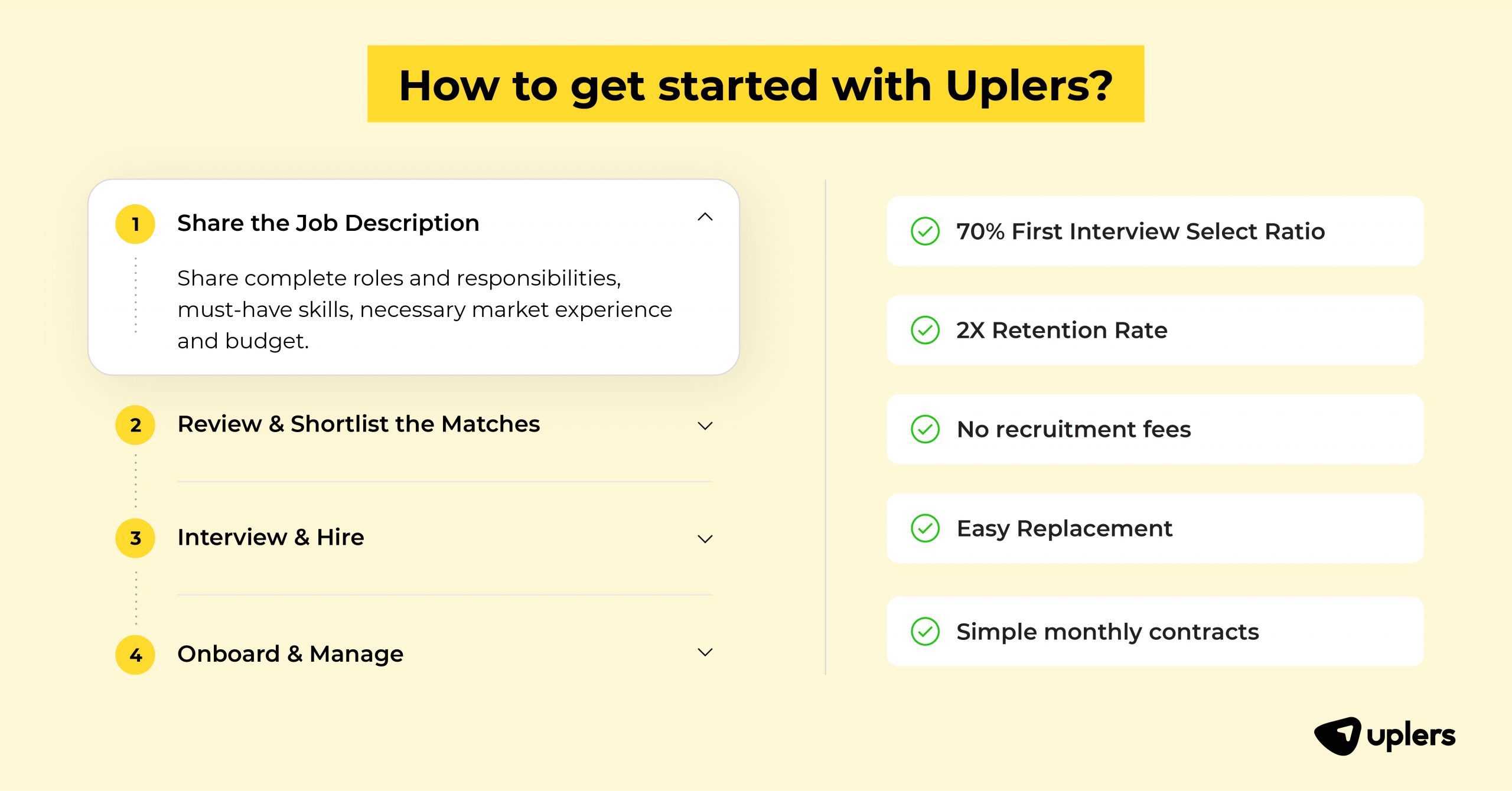 Uplers: Source, Vet, Match, and Manage 
Sourcing 
We attract talents in India through the top 3 super attractive benefits.
100% Remote Role

Global Company Exposure & Culture

High Earning Opportunities
Vetting 
With our process, we aim to screen through our stringent vetting process based on the- 
Language proficiency

Technical capabilities

Behavioral skills.
Matching 
Our process ensures that we match the screening with the job requirement through our skilled matchmaking process, finding the best candidate for the job. (We have a 70% First Interview Select Ratio)
Managing 
Uplers take care of all the employment contracts, payrolls, IT support, HR support, etc.
You can hire remote for the following skills and expertise: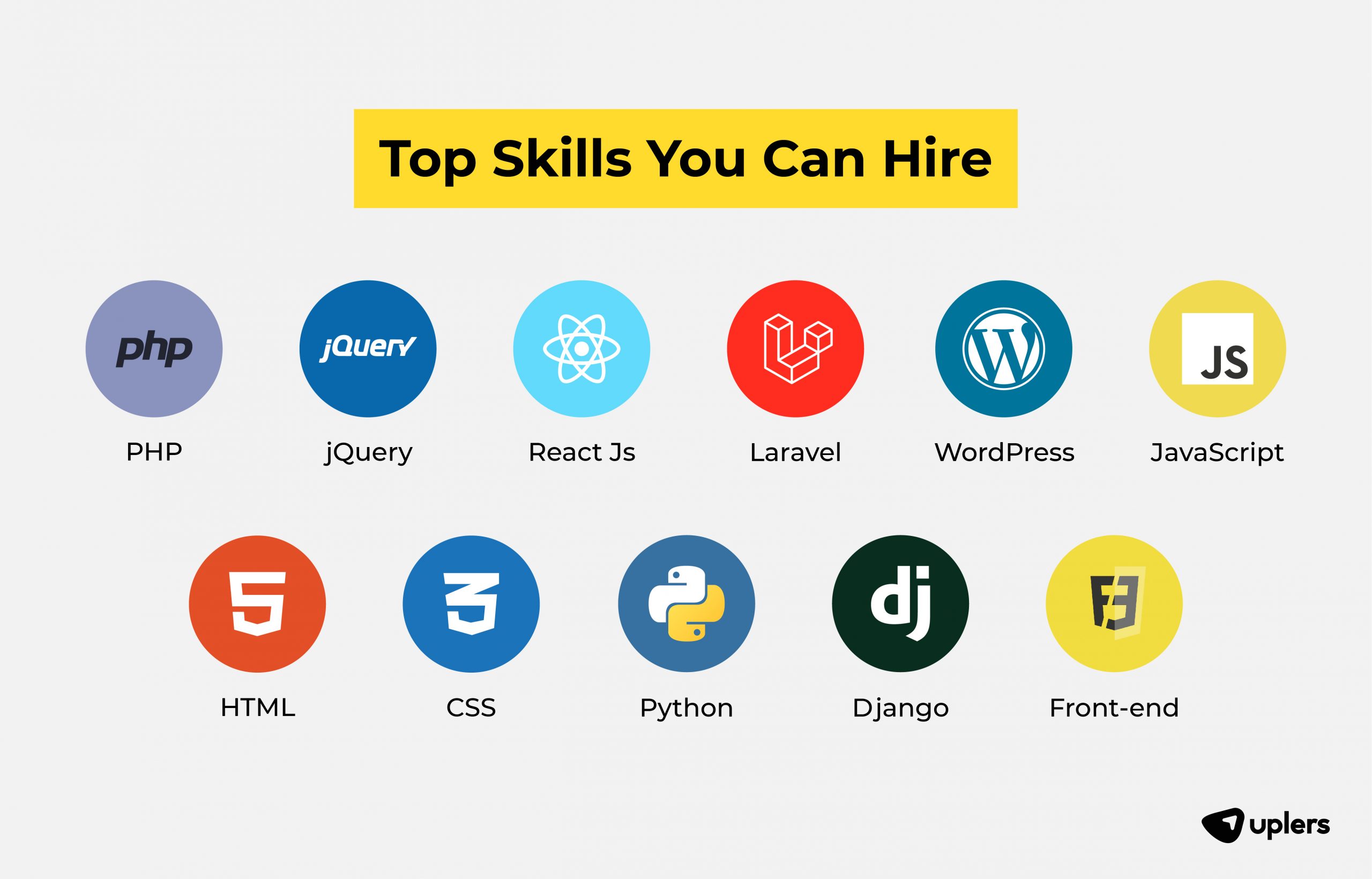 Conclusion 
Businesses should step back and redefine their approach to finding top talent. Uplers, through a curated pool of experienced and vetted professionals, make it easy for the global workplace to get the best candidate who is the best fit for the job. 
So, when you recruit talent from Uplers; you get assistance with the following:
Faster sourcing:

Hire within 48 hours after sharing your requirement. You don't have to source and screen- Hire directly. 

Save on salary:

When you hire from Uplers, you save up to 50% on wages without compromising quality. 

Right talent for the fit:

You get access to the pool of more than 50,000+ pre-vetted talents for the exact needs. 

Easy onboarding and support:

Uplers take care of all the formalities like Payroll, administration, and IT support to ensure that the candidate is ready to start from day one. 

No-obligation interview:

There is no obligation or compulsion to hire the candidate we suggest for an interview. We will suggest other options if you're not satisfied with the list of offered candidates. 
For more information on fulfilling your hiring requirements, contact us now. 
Get Informative & Insightful Articles delivered to You Monthly