Top 15 Must Have SEO Skills in Your SEO Expert
Siften Halwai
August 21, 2023

6

Minute Read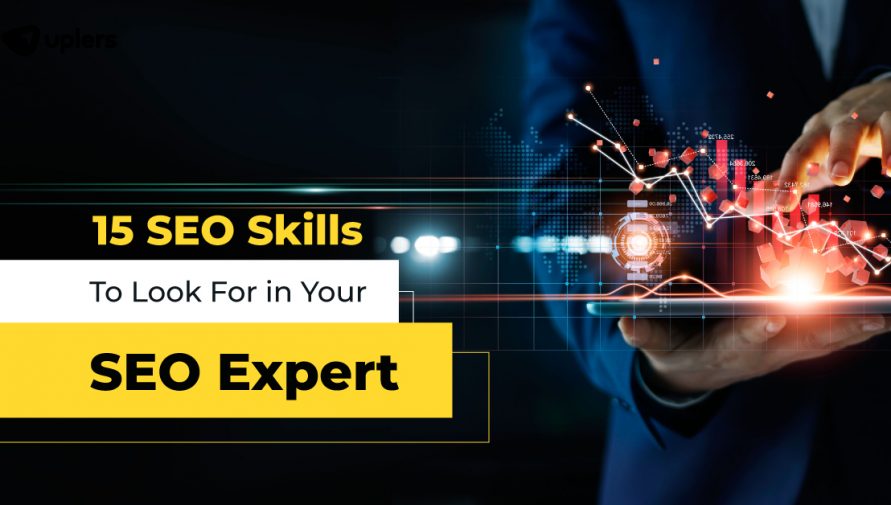 A lot of art and science goes behind Search Engine Optimization (SEO) as we increasingly depend on it for business growth. Owing to its dynamic nature, SEO skills have become a necessary tool for every digital marketer.
But what does it mean to master SEO? What SEO skills can get a simple website to attract, engage and convert traffic into leads?
SEO becomes effective when there is a mixture of technical understanding, strategy, and knowledge of human behavior. It is more than just algorithms and keywords. SEO is about providing genuine solutions to the questions of your audience.
Through this article, we will go through all the essential SEO skills that an SEO professional needs to get. We'll be identifying the top SEO skills, discussing their importance, and learning how to develop SEO skills.
If you are an SEO expert, SEO campaign manager, or content marketer, don't forget to save this blog post for future reference. To begin with, we briefly see how to improve SEO skills and also cover the top skills required for SEO executives.
Why are SEO Skills Important?
In today's digital landscape, SEO technical skills can get you better online visibility. Strong ranking and presence can be quite powerful tools for any business today. They are almost mandatory to grow your online presence and rank on search engines. But why exactly are these skills so crucial?
Having SEO skills give you a deep understanding of the inner workings of search engines. They allow the decoding of complex algorithms and processes which help websites get noticed. Optimizing your website according to these algorithms can help you get a better ranking.
SEO specialist skills are about understanding people. They're about understanding a user's psychology and figuring out the keywords they use. They must be able to find precise answers to their questions.
Understanding this can allow you to create good content that can resonate with you. This would also mean that the users will stay, explore and engage with your website longer.
Moreover, advanced SEO skills are the key to standing out in the vast digital ocean. Even a well-designed website with great content can fail to get visibility if it does not have strong SEO. A website with basic content and design but strong SEO can outperform it on search engines.
But the benefits of SEO skills don't stop at visibility and traffic. They also include user experience, a better-navigated website, and engagement. They can help transform casual visitors into loyal customers. This can lead to a higher conversion rate which then translates to increased revenue.
Thus, SEO skills bridge the gap between businesses and their target audiences. They offer tools that can make a website's digital presence more powerful than ever.
Top required skills for SEO specialists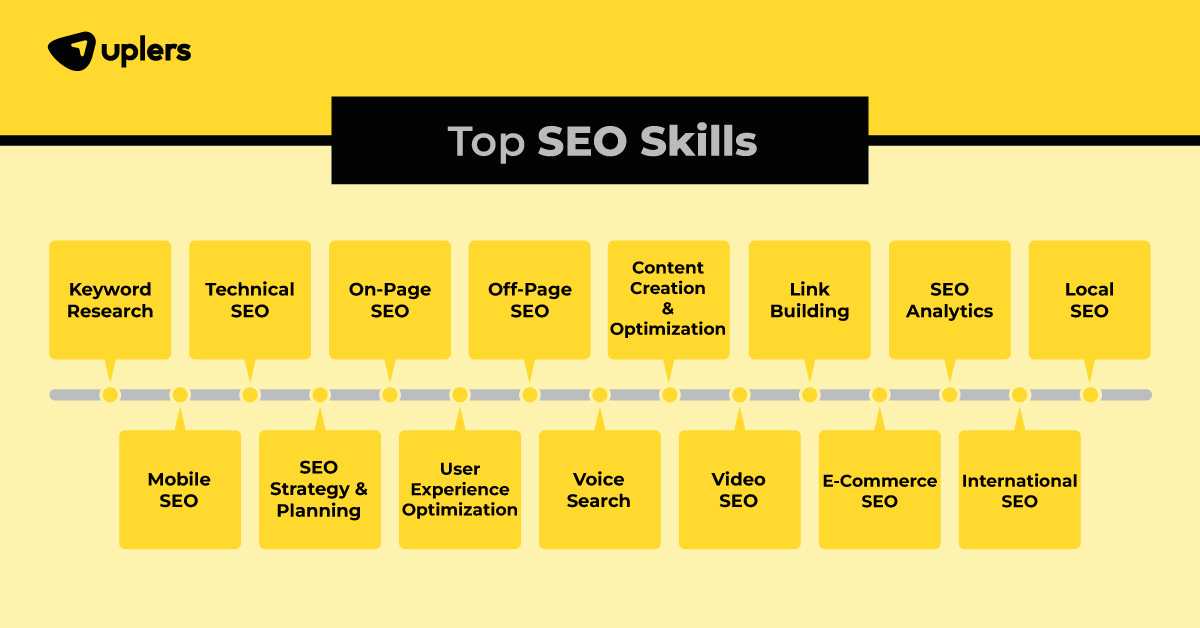 If you are looking to hire SEO expert, you must know of these important SEO skills that an SEO professional must have:
Keyword Research:
The foundation of any successful SEO strategy lies in effective keyword research. It is important to understand the intent behind the use of every popular keyword in your niche.
What are your potential customers searching for?

What kind of language do they use?

What questions are they asking?
By thinking along these lines, you can tailor your content to meet the needs of your target audience. This would attract more traffic to your website altogether.
Moreover, it is also important to do regular competitor analysis. Always look out for what keywords your rivals are targeting. That way, you can identify opportunities better and rank higher.
Technical SEO:
Apart from content and keywords, SEO also includes some technical aspects of a website. With technical SEO, your website can understand your content and improve its visibility.
This includes URL structure, site speed, mobile optimization, XML sitemaps, and more. Search engines generally favor websites with strong technical SEO and smooth user experiences.
On-Page SEO:
On-page SEO-optimized content and HTML source codes of every individual page on the website. It includes things like title tags, header tags, keywords, meta descriptions, URL structure, etc.
Every page of your website is an opportunity to attract and engage visitors. A strong on-page SEO determines how much you extract out of all the opportunities.
Off-Page SEO:
All the activities away from websites to enhance the ranking fall under Off-page SEO. It involves various strategies like social media marketing, influencer marketing, link building, and more.
Off-page SEO helps you build credibility with search engines. It basically shows them that your website is a reliable and valuable source.
Content Creation and Optimization:
In the world of SEO, content is king. If you know how to create high-quality, optimized content, you have mastered a crucial SEO skill. For creating optimized content, one needs to learn to use keywords naturally within the content pieces.
Your audience must be able to resonate with your content and hence, it has to be engaging enough. Further optimization by adding relevant visuals within the content is always a good idea.
Link Building:
Link Building is the process of getting other websites to link back to your website. It is one of the most important technical SEO skills today. Search engines use the links in your website content to discover new web pages and that directly affects the ranking of your page.
Having effective link-building can increase your website's visibility and authority with search engines. However, it is also important to prioritize quality over quantity. Always try to build links with credible websites which are relevant to your field of work.
SEO Analytics:
SEO is a lot more than just strategies from the books. Technical skills required for SEO also include tracking, analysis, and refinement of those strategies based on data by google analytics. These SEO analytics include tracking organic traffic, bounce rate, conversion, etc.
These SEO analytics measure the impact of the SEO strategy. That helps the SEO expert to see what's going right, and what isn't and also look for the scope of further improvement.
Local SEO:
Local SEO is extremely important for businesses that operate in a specific geographical location targeting a specific set of audiences. For such businesses, attracting location-based traffic is the main objective of SEO. Local SEO allows businesses to connect with consumers in their vicinity, improve credibility and increase website visibility.
Mobile SEO:
With more and more people having access to the internet, mobile SEO has become a necessary SEO skill. This includes optimization of websites for mobiles, page speed, and user experience. Search engines always favor mobile-friendly sites.
SEO Strategy and Planning:
SEO is a long-term, well-thought strategy rather than a one-time project. It requires the development and execution of an effective SEO strategy to meet your SEO goals.
A strong SEO strategy includes keyword research, competitor analysis, content planning & link building.
User Experience (UX) Optimization:
User experience matters the most when it comes to SEO. A good user experience is a result of the mobile-friendliness, navigation, content layout, and loading speed of a website.
Improving the UX can help your website rank higher and get more engagement which is the key to more conversion. Search engines naturally favor websites with a smooth user experience.
Voice Search SEO:
Ever since digital assistants like Siri and Alexa have stepped foot into the industry, the importance of voice search has increased.
Voice search SEO requires an optimization strategy for voice queries as well as text queries. They're both different from each other and require individual focus. Voice search SEO emphasizes natural, conversational language and answers specific questions.
Video SEO:
SEO has the power to turn regular videos into exceptional ones by increasing their visibility. Video SEO skills can give you a significant edge over the competition. It involves the optimization of video titles, descriptions, tags, and video sitemaps.
As the consumption of video is increasing every day, having video SEO skills is the need of the hour.
E-commerce SEO:
E-commerce SEO is a necessary SEO skill if you are running an online business. It includes optimization of product pages, management of user reviews, and security of the website.
It can help you be more visible to your customers, increase revenue and create a unique identity in the online marketplace.
International SEO:
International SEO comes into play when a business is operating in many countries. It includes optimization of the website for different languages and countries. This makes reaching your target audience easier, no matter where they are!
Conclusion
These 15 SEO manager skills can definitely help you drive your website to success. Remember – with great SEO skills, comes great visibility and with great visibility, comes great traffic!
With that said, are you currently looking to hire skilled SEO manager with advanced SEO skills? If so, you can hire experienced, quality talent via Uplers in less than a week and save significant hiring expenses.
With a network of 200,000+ top-tier, pre-vetted talents, Uplers promises hassle-free solutions for your hiring needs. With a proven record of successfully hiring for global brands, Uplers is a leading reliable name in the industry.
All in all, SEO is a bridge that connects you with your target audience and hence, it has to be strong. Your website and its content have to be visible as well as valuable enough for your audience. Always keep the human element in mind along with the technical aspects of SEO. And speaking of humans, you know where to find the ones with the best SEO skills!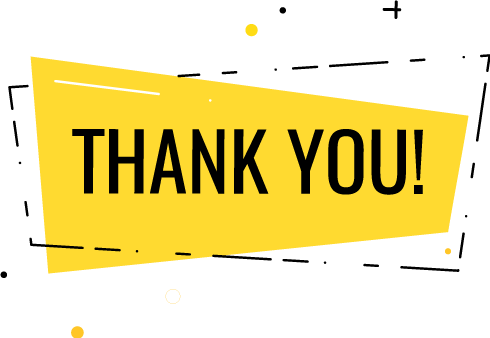 Thank you for submitting the details!
We will keep your information safe. Feel free to contact us with any questions at hello@uplers.com
Please check your email for next steps shared by Robert.