SEO Specialist Salary in the United States – 2023 Updates
Siften Halwai
July 4, 2023

8

Minute Read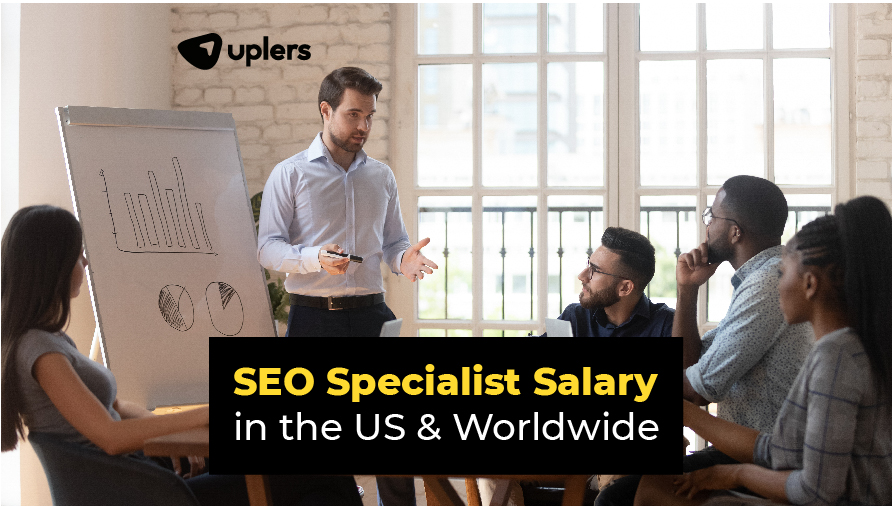 An SEO specialist is a sought-after career choice. Globally, there are over 8700+ jobs vacant for an SEO analyst on LinkedIn alone. If you are looking to hire a qualified SEO specialist and want to learn about what is an SEO specialist salary, this guide is for you.
We will do a deep dive into the actual numbers and understand what the average SEO specialist salary in the US, India, and other countries is.
We will also look at the freelance SEO salary, and the average salary of an SEO specialist in India, learn about the SEO hourly rates, and explore the various parameters that affect the salary in general.
But first, what does an SEO specialist do?
An SEO specialist is a force behind successful websites. They help ensure that when customers search for something on the internet, the brand's website shows up.
An SEO specialist uses various tools and strategies to make websites more accessible for search engines to understand. This includes having the right content, images, keywords, links, etc., and using on-page SEO, off-page SEO, technical SEO, and other parameters that search engines like Google typically like.
Hiring an SEO expert from India also makes sure that website is organized well, easy to use, and performs well so that the site can gain more traffic (and, by extension, profits). 
Factors that affect the SEO specialist's salary
When it comes to understanding how much an SEO specialist makes, there are several factors at play. Some common factors that can impact an SEO analyst's salary include the following:
Experience
Experience plays a significant role in determining the SEO specialist's pay. Professionals with a proven track record and several years of experience will command higher salaries due to their expertise and in-depth knowledge of search engine optimization. 
Skillset and Specialization
Specific skills and specialization within SEO can also affect seo experts' salary levels. An SEO strategist's salary will be higher for specialists who excel in technical SEO, content optimization, link building, and local SEO due to their specialized knowledge and abilities. 
Here are the top skills needed for an SEO specialist:
On-page optimization
On-page optimization involves optimizing web pages to improve their visibility and ranking in search engine results. It includes keyword research, meta tags optimization, content optimization, URL structure, internal linking, and user experience improvement.
Off-page optimization 
Off-page optimization focuses on activities performed outside of your website to enhance its online reputation and authority. It includes building high-quality backlinks, social media marketing, influencer outreach, guest blogging, and online reputation management.
Technical SEO 
Technical SEO entails understanding and implementing technical elements to improve website performance and search engine visibility. It includes website speed optimization, mobile optimization, crawlability and indexability, XML sitemaps, robots.txt, structured data markup, and handling duplicate content issues.
Keyword research 
Keyword research to understand search volume, engage in competition analysis, use long-tail keywords, and leverage keyword research tools effectively.
Analytics and Reporting
Analytics and reporting, which includes being proficient in using web analytics tools such as Google Analytics to track website performance, monitor user behavior, and measure the effectiveness of SEO strategies.
Content strategy development
Content strategy development and understanding target audience needs, creating high-quality and optimized content, conducting content gap analysis, and incorporating keywords strategically.
Familiarity with SEO tools 
Familiarity with the best local SEO tools to streamline the work and gain insights. These include keyword research tools (e.g., SEMrush, Ahrefs), rank tracking tools, backlink analysis tools, and technical SEO auditing tools.
Adaptability and continuous learning 
Adaptability and continuous learning by staying updated with the latest algorithm changes, industry trends, and best practices through blogs, forums, industry publications, etc.
Pro tip: While these skills are important, it's also essential to look for a candidate with a strong work ethic, critical thinking abilities, excellent communication skills, and leadership skills.
Industry and Company Size
The industry and size of the company an SEO specialist works for can also influence their salary. SEO professionals working in highly competitive industries or for large enterprises may receive higher pay for a greater impact on the company's online visibility and bottom line.
Plus, these companies may have a higher profit margin, leading to better salaries.
According to Glassdoor, the top-5 paying industries for an SEO specialist in the United States are:
Industry 
SEO Specialist Salary (Per Year)
Salary Insight

1.  Pharmaceutical & Biotechnology

$83,535

15% higher

than other industries

2. Human Resources & Staffing 

$76,227

7% higher

than other industries

3. Information Technology

$71,554

1% higher

than other industries

4. Management & Consulting

$69,458

2% lower

than other industries

5. Media & Communication

$69,028

3% lower

than other industries
Geographic Location
Another factor that majorly affects the SEO expert's salary is geographic location. Areas with a higher cost of living or strong demand for SEO expertise often offer higher salaries to attract and retain top talent.
Plus, you may need to consider the local tax rates when determining the SEO specialist's salary based on location.
Here are some of the highest-paying cities for SEO specialist salaries in the United States: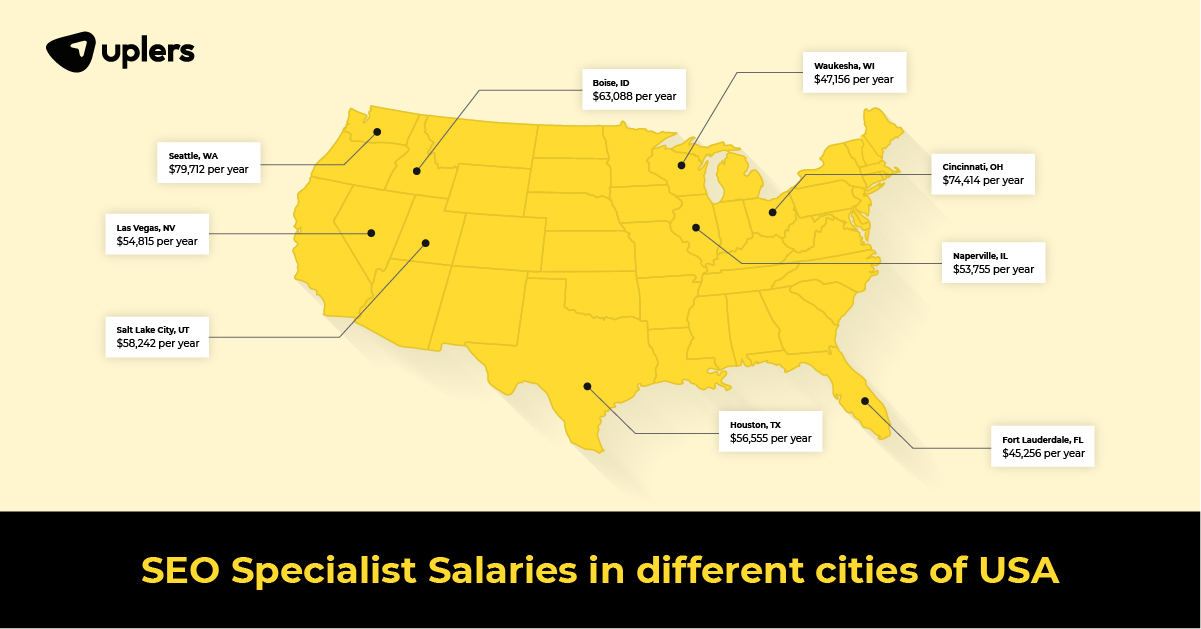 Plus, metropolitan areas and regions with a robust digital economy generally have higher salary ranges.
Education and Certifications
SEO is one field that is constantly evolving. Considering the pace at which the trends change, your 4-year degree may become dated by the time you graduate. This is why formal education and certifications are key and can positively impact an SEO specialist's salary.
In this field, having relevant certifications from recognized organizations or completing SEO-related courses can enhance an SEO specialist's marketability and earning potential.
Here's the education level for SEO specialists: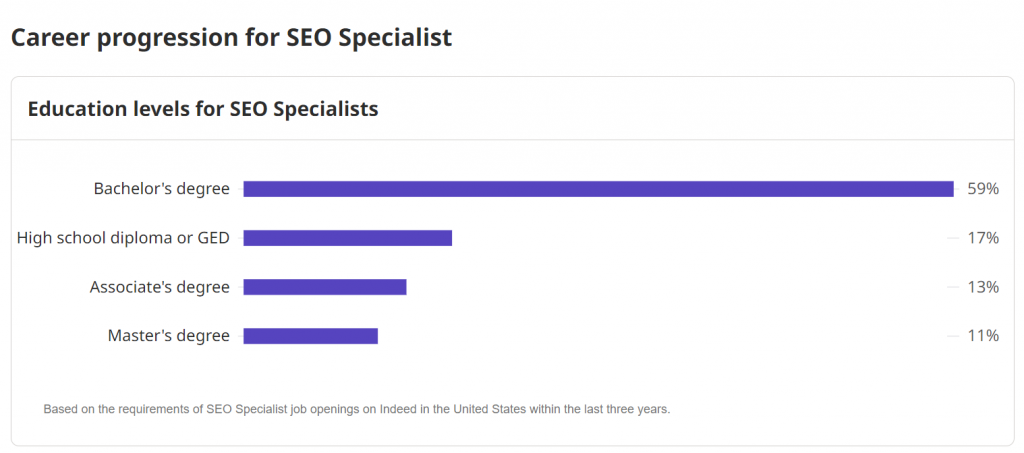 Get a bachelor's degree in marketing, communication, or business. Alternatively, get the required experience in a related role to be eligible for an entry-level SEO position. Other useful tips include:
Learning the fundamentals of SEO by taking free courses or a digital marketing course, attending boot camps, etc.

Building a portfolio and actively using SEO tools such as analytic software and keyword tools

Applying for internships to get on-hands experience

Staying updated with the latest SEO trends at all times
Job Responsibilities
The scope of an SEO specialist's job responsibilities can affect their salary. Professionals who handle a broad range of SEO activities, such as keyword research, on-page optimization, technical audits, and analytics, may command higher compensation compared to those with more limited roles. 
As a skilled SEO specialist, make sure to master the following skillsets:
Link building

Keyword research

Meta tags

Critical thinking

Web coding

Web analytics

Content writing
Performance and Results
Demonstrated results and a track record of success in improving organic search rankings, website traffic, and conversions can lead to higher salaries. SEO specialists who can provide evidence of their impact on business growth and prove why your business needs professional SEO services are often highly valued and can negotiate higher compensation packages.
Pro tip: To get a more accurate and contextual idea of the latest SEO specialist salary, research industry trends, consult salary surveys, and consider local market conditions.
SEO specialist salary in the United States
Let's now look at what the numbers tell us for an SEO specialist's salary in the US:
Indeed:

Indeed

claims that the average SEO job salary is around $57,448 per year in the United States.

Zip Recruiter

: Another employment platform,

Zip Recruiter

predicts that the average SEO specialist salary in the United States is $57,609 a year: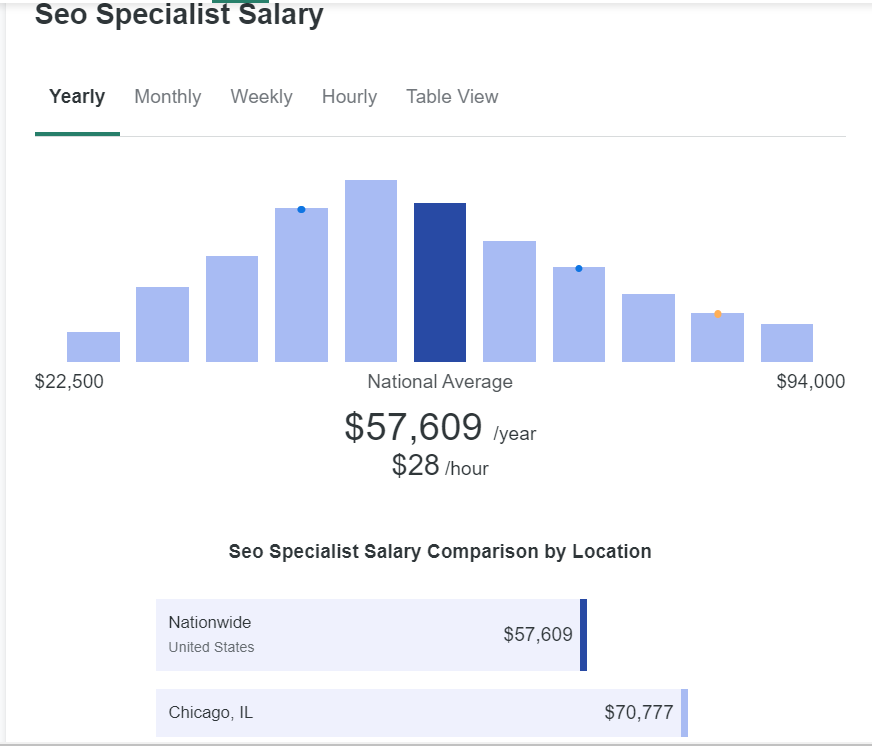 Talent.com:

Talent.com

further suggests that the average

SEO

specialist salary in the US is $60,000 per year or $28.85 per hour.
Note that the salaries stated above will differ based on experience. An entry-level SEO specialist's salary will be lower than an experienced SEO strategist salary.
SEO specialist salary in other countries
Let's now look at the search engine optimization specialist's salary from a global perspective:
Important takeaways:
The SEO specialist's salary within cities/states in countries will vary depending on the cost of living, local tax, demand for SEO services, and more.

SEO specialist salary will also vary significantly based on experience, industry, and skills.
What's the ideal remote SEO specialist's salary?
According to ZipRecruiter, the average freelance SEO salary in the United States is $65,435 a year. Here are the top ten cities in the US that pay the highest search engine optimization salary for a specialist who works remotely:
| | | | | |
| --- | --- | --- | --- | --- |
| City | Annual Salary | Monthly Pay | Weekly Pay | Hourly Wage |
| 1. Federal Way, WA | $80,300 | $6,691 | $1,544 | $38.61 |
| 2. Santa Clara, CA | $78,655 | $6,554 | $1,512 | $37.81 |
| 3. San Francisco, CA | $78,186 | $6,515 | $1,503 | $37.59 |
| 4. Washington, DC | $76,977 | $6,414 | $1,480 | $37.01 |
| 5. Los Angeles, CA | $76,806 | $6,400 | $1,477 | $36.93 |
| 6. San Jose, CA | $76,079 | $6,339 | $1,463 | $36.58 |
| 7. Fremont, CA | $75,684 | $6,307 | $1,455 | $36.39 |
| 8. Marysville, WA | $75,182 | $6,265 | $1,445 | $36.15 |
| 9. Oakland, CA | $75,098 | $6,258 | $1,444 | $36.11 |
| 10. Jersey City, NJ | $74,950 | $6,245 | $1,441 | $36.03 |
Important takeaways:
These ten cities have average salaries higher than the national average.

You may have some candidates who may be willing to change their location as a Work From Home SEO specialist to advance economically in their career.

When chalking out the right pay, consider the cost of living as an integral factor.
SEO specialist salary based on experience and skills
In this section, we will learn about what is the average salary for an SEO specialist with respect to experience and skills. Here's a breakdown of the average SEO specialist's salary in terms of experience:
Experience Level
Skills Requirements
Pay (Per Year)

1. Entry-level SEO specialist salary

Require up to two years of experience

Expected to perform tasks such as:

keyword research

site audit

on-page SEO

using analytical tools

On-the-job learning is common 

2. Mid-level SEO specialist salary

Typically requires 2-5 years of experience

Expected to work independently with SEO tools and implement as well as monitor SEO strategies

3. Senior Level SEO specialist salary

Requires 5-8+ years of experience in SEO or SEO-related roles

Expected to:

have advanced SEO knowledge

drive robust SEO strategies for the organization 

report SEO performance to clients and stakeholders

manage a team with the job title "Head of SEO"
Unsurprisingly, the more experience candidates have, the higher their salaries will be. 
SEO salary by job roles and responsibility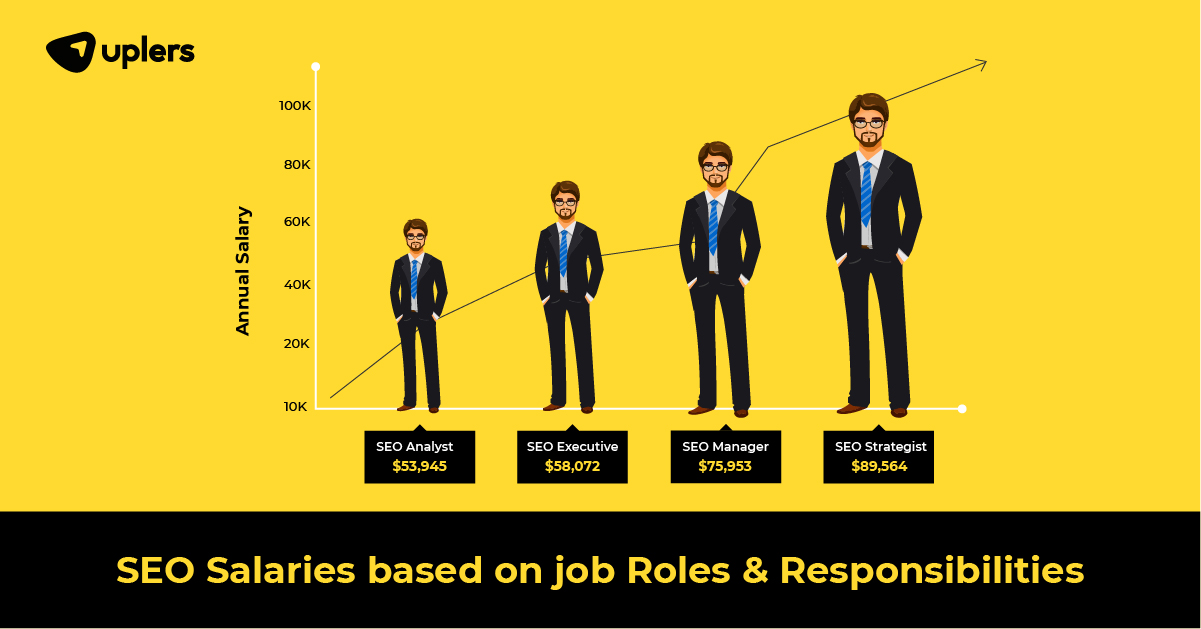 As is with any job, the SEO salary also differs with different titles and candidates' career progression. Here's a snapshot of the average salaries of SEO professionals in various roles and capacities:
Job Title
Role & Responsibilities
Salary (Per Year)

1. SEO Manager

Manage an organization's SEO research efforts to guide the digital marketing team's campaigns

Improve content on the company's website, social media pages, etc.

Focus on driving brand awareness, reaching global audiences, and increasing sales

Offer technical expertise and knowledge to better inform SEO strategy and marketing campaigns

2. SEO Strategist

Design, coordinate, and implement an SEO strategy for a digital marketing team

Alternatively, they can work independently on a freelance basis for an individual

Analyze previous campaigns and research current SEO algorithms and trends so that they can be optimized for maximum efficacy

3. SEO Analyst

Increase relevant traffic to the brand's website

Analyze website performance data

Stay up-to-date on constantly evolving SEO trends

Research and help the digital marketing team to tailor the organization's content, including website, blog, and social media posts, to convert leads into customers

4. SEO Executive Salary

Offer significant SEO and digital marketing management experience and expertise

Manage the SEO team in identifying techniques and strategies required to increase an organization's website traffic
The big question: "Is SEO worth the investment?"
An SEO specialist can unlock the true potential of your website.
They analyze new search engine trends and updates to keep your website visible in the literal sense. Additionally, they execute SEO strategies that are aligned with the company goals and can boost your bottom line. They are adept at using specialized tools to monitor your website's performance and optimize it at every stage of the company's growth.
They are also responsible for researching the right keywords, understanding your target audience's intent, and keeping a close eye on the competition to help you build a loyal customer base while making a solid buck.
Given that 93.12% of all searches happen on Google, ranking higher on the platform requires a specific skill set, current knowledge, and technical expertise—all being specialties of an SEO professional. So, take the time to understand your brand's SEO goals and hire the right talent to tap into a new world of (profitable) search dominance.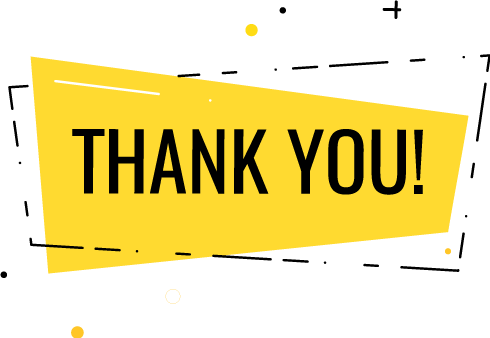 Thank you for submitting the details!
We will keep your information safe. Feel free to contact us with any questions at hello@uplers.com
Please check your email for next steps shared by Robert.