Hire WordPress Freelancer: Pros, Cons, Challenges, & Alternatives
Siften Halwai
December 5, 2022

9

Minute Read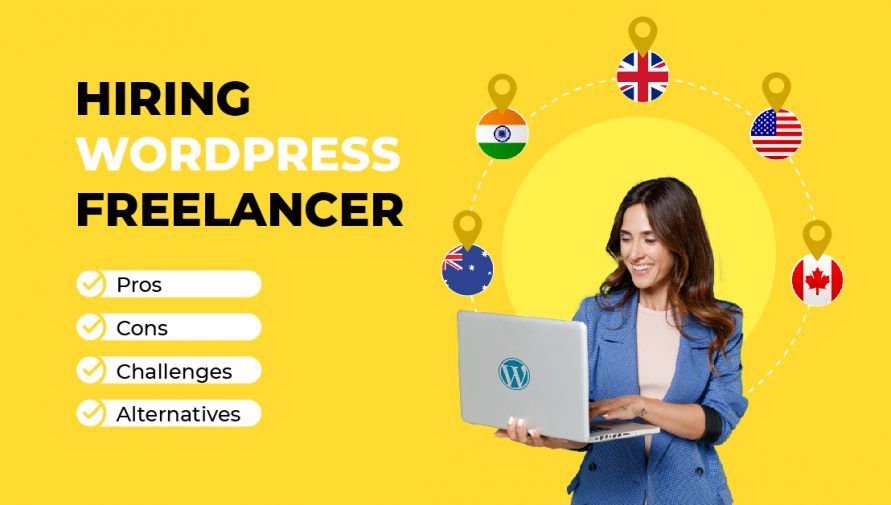 Building a fine and dandy business website from the bottom up or refining the existing web pages can be daunting for web developers. Meet the perfect hood for any and every type of website: WordPress! Whether you are looking to develop a simple corporate website, a blog, a Q&A site, a travel site, a job listing site, a portfolio site, social networks, or even an e-commerce store, hiring WordPress freelancer can relieve you from all the busy work and help you fetch more time for other business priorities.
You can have a squeaky clean website without touching a single line of code with the expertise and skills that a freelance WordPress developer brings to the table. 
In this blog, we will gain a comprehensive overview of the job role, advantages, disadvantages, challenges, and alternatives of a WordPress Freelancer. Let's cut right to the chase!
Who is a WordPress Freelancer?
A freelance WordPress developer is a self-employed individual who offers professional WordPress development services to clients for a predetermined fee, typically for a short term.
They are talented in creating, designing, maintaining, and solving the problems of WordPress websites. By using the WordPress platform, the freelance WordPress expert can use templates or themes along with programming languages like HTML for agile development of design solutions. 
A WordPress freelancer can be a front-end developer, back-end developer, or full-stack developer who are expert in developing content using the online Content Management System (CMS).
These professionals are in high demand in the existing digital landscape to build competitive websites, take care of your digital assets, drive traffic, keep your audience informed, maintain contact with your clients, and reach out to prospective leads. 
Pause! We know what you are thinking. Why hire WordPress freelancer? Let's take a look at their roles and responsibilities to find out. 
Pro Tip: If you are unsure of how to best leverage the best features of the WordPress ecosystem such as its Content Management System, plugins, UI/UX, etc., you might want to hire a WordPress consultant.  
What does a WordPress Freelancer do?
A WordPress freelancer works for multiple clients on multiple project requirements offering a range of services such as website design, website development, plugin development, online marketing, etc. The most common aspects of the job role that can't be overlooked are: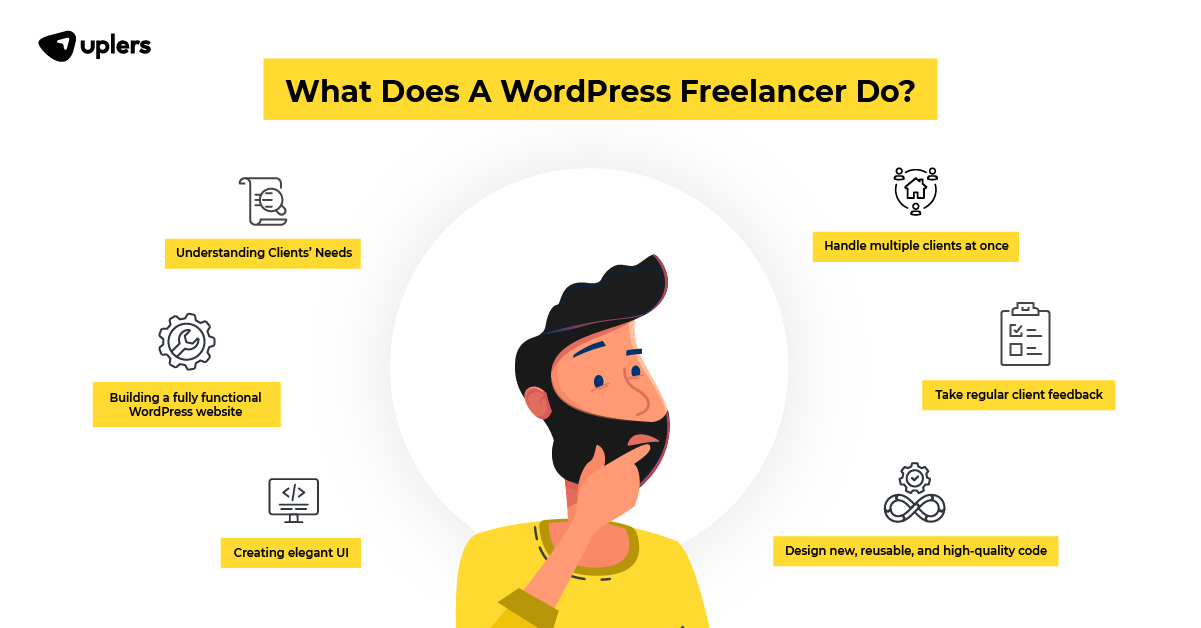 Thus, preparing a well-laid-out WordPress developer job description is essential. 
Since every situation is bilateral, before you hire freelance WordPress developer, weigh the pros and cons of your hiring decision. Let's dive deep into these specifics.
Advantages and Disadvantages of Hiring a WordPress Freelancer
If you are thinking about hiring a WordPress freelancer, many questions might be buzzing in your head. You might have a lot of factors that need to be considered, such as being unable to decide how to hire them, what should be the hiring budget, etc. Therefore, the following list of benefits that a freelancer WordPress developer offers can help you decide better:
Advantages of Hiring a WordPress Freelancer
We could go on with the advantages of a WordPress freelancer,  but evaluating the disadvantages before you conclude is equally crucial. So, let's take a glance at the cons:
Disadvantages of Hiring a Freelance WordPress Developer
This is not it! There are several challenges that a freelancer hiring poses for recruiters. Check them out.
Challenges in Hiring Freelance WordPress Developer 
Though it may appear simple, hiring the wrong person for the job can cause many problems. There are several challenges that you will encounter when you hire a freelance WordPress developer, some of which are as under: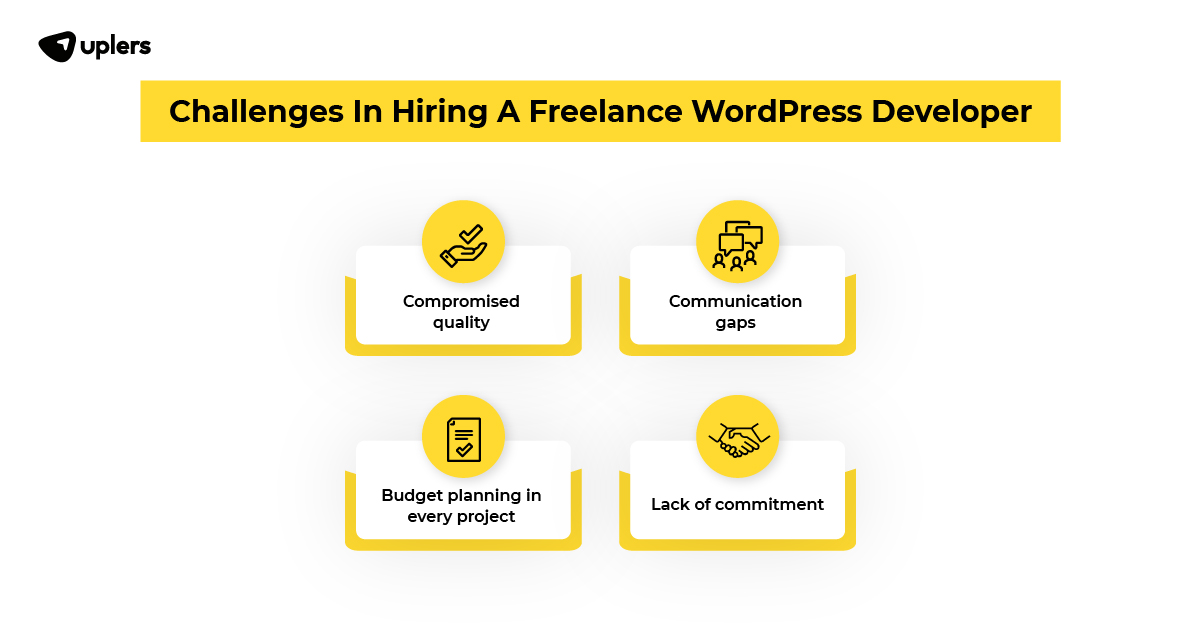 In light of the above-discussed points, you must play smart and safe by deciding on a WordPress freelancer alternative to avoid any delays in the project delivery.  After all, precaution is always better than cure!
Also read: WordPress.com vs WordPress.org –  Find the Best Choice for your Business.
What is the Best WordPress Freelancer Alternative?
If you are looking for a long-term recruitment model and need a WordPress developer for an indeterminate period, remote hiring should be your choice. Hiring remote WordPress developers can be the best WordPress freelancer alternative. 
WordPress powers more than 43% of websites globally, with 64% of the total market share. An average WordPress freelancer salary ranges between $20 and $100 per hour, according to UpWork, a leading global freelancing marketplace. 
You may also be interested in reading: Average WordPress Developer Salary in the USA And Around The World
The role of a WordPress developer is relatively large in expanding your brand awareness, boosting sales, and doubling your revenue with qualified leads. Thus, you need to be extra cautious when you hire for such an eminent role. To find a WordPress freelancer, many resources specialize in matchmaking the right candidate.
Although the demand for WordPress freelancers is booming, the rise in remote hiring numbers has revolutionalized the recruitment market by leaps and bounds. WordPress developers are increasingly opting for remote working, which has also become a preferred mode for hiring globally.
If your project is short-term with limited updates required or if there is a stringent deadline for a significant site-wide update, you can opt to hire freelancers. But, if you are looking for long-term support and regular website maintenance, finding a WordPress website designer remotely to hire can be an ideal solution. 
Top 4 Reasons To Hire Remote WordPress Developers Over Freelancers
Here are some of the reasons why a remote WordPress developer is the best alternative to a freelance WordPress developer: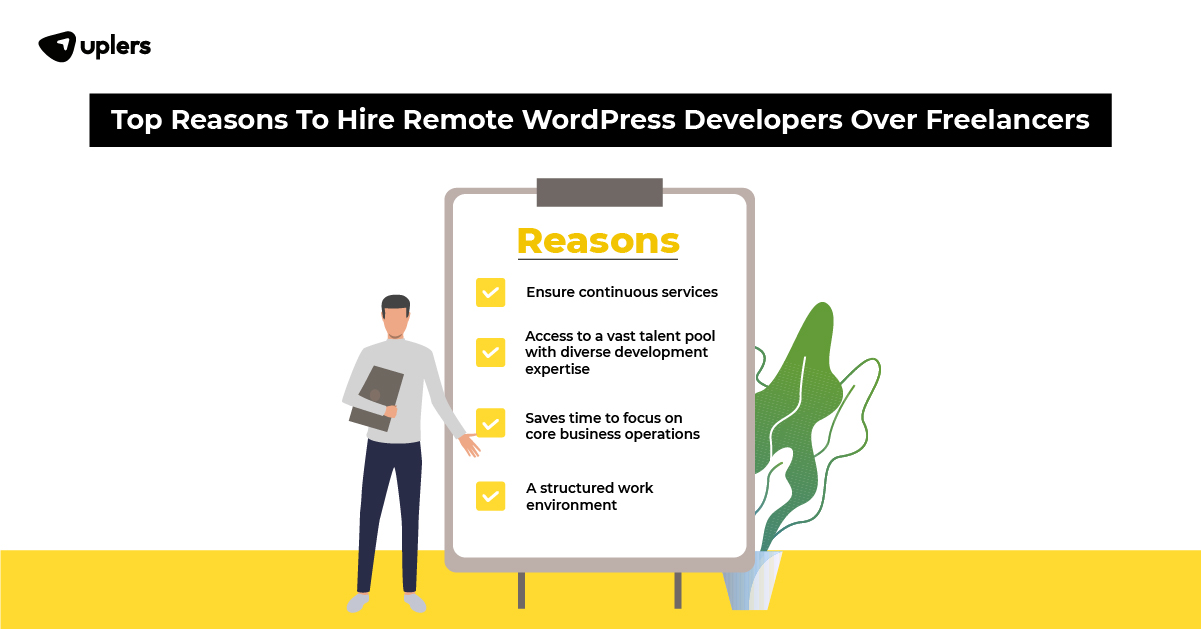 1. Ensure continuous services
Change is an imperative aspect of every business. When you hire a team of remote WordPress developers, you can ensure their availability at any given point to make the required changes or improvements. Also, as remote teams operate from different time zones, designing your website or blog can continue around the clock.  
2. Access to a vast talent pool with diverse development expertise
When you hire remote WordPress developers, your hiring options become as broad as a barn door. You can choose the best candidate from a pool of international talent that brings the latest skills and technologies. When you have an opportunity to work with skilled and talented WordPress developers, it enhances your development capabilities. 
3. Saves time to focus on core business operations
Hiring a WordPress freelancer is for a temporary time frame, after which you need to take over. You miss out on your other development windows when you focus on one aspect. Therefore, hiring a remote WordPress developer who dedicatedly works for your website development gives you more time and money to focus on other business decisions that require your attention. 
4. A structured work environment
An in-house team often works in an unstructured environment where there are ad-hoc tasks that need to be prioritized and several distractions. This causes delays in the project deadlines. However, with remote work culture, WordPress developers tend to be more productive as they enjoy a healthy work-life balance working from their convenient location at their convenient time. 
Are you still skeptical and confused about whether to hire WordPress freelancer or a remote WordPress developer? The subsequent comparison section might provide you with a better overview. 
Hiring a Freelance WordPress Developer Vs. Remote WordPress Developer
CATEGORIES
WORDPRESS FREELANCER
REMOTE WORDPRESS DEVELOPER
Skillset

A WordPress freelancer works with a limited skillset in a specific niche as they have multiple projects to handle.

A remote WordPress developer takes up different types of projects and thus have a broader skillset. 

Knowledge

Limiting the projects to a specific niche, their knowledge is also limited. 

Remote WordPress developers work across a domain of services and thus have extensive knowledge.

Experience

A freelance WordPress developer has relatively less experience in all WordPress aspects. 

Remote WordPress developers are experts with years of professional experience in the field. 

Quality

Freelancers work as per their convenience for a short-duration and thus might have distorted work quality.

With constant feedback and suggestions, the work quality is superior.

Pricing

A WordPress freelancer salary is based on project or hour with an average payout of $40K to $150K annually. 

Irrespective of the number of projects, the global average salary oof a remote WordPress developer is around USD 60,648/annum.

Availability

WordPress freelancer is generally hired for a short tenure based on the project need and timeline. 

A remote WordPress developer works dedicatedly for your organization, either part-time or full-time.

Security

Freelancers are independent employees. Thus, you can't rely on them to maintain the confidentiality of your business information.

A remote WordPress developer is bound by a Non-disclosure agreement to maintain confidentiality.

Output

When you

hire WordPress freelancer,

their responsibility is complete once they submit the project.

A remote WordPress developer ensures that the end output satisfies the client.

Timeline

As freelancers work on several WordPress projects; they don't have a proper timeline for project delivery.

Remote WordPress developers draw a flowchart of the projects and follow the guidelines to deliver right on time.
Closing Remarks
After carefully examining the advantages, disadvantages, and challenges of hiring a WordPress freelancer, you might be able to conclude the following: Hiring a freelancer can be a smart decision if your WordPress project is short-term and requires services for a limited time. Although, for long-term projects, it's safe to say that remote hiring could be a viable option.
Are you unsure of the best platforms to hire remote WordPress developers? Or are you worried about the extensive remote hiring process? Think no more and snug as a bug in a rug with Uplers as your talent partner.
Uplers is the largest talent network that offers a one-stop hiring solution for remote talent. You can choose from a pre-vetted pool of the top 3.5% of talent shortlisted after rigorous skill evaluation and assessment tests. 96% of the unfit candidates are filtered out, and the best profiles are matched. 
A 5X speed of hiring remote WordPress developers with up to 40% savings on hiring costs is just a step away with Uplers! 
FAQs
Here are some of the frequently asked questions about Freelance WordPress Developers
Q1:How much does it cost to hire a freelance WordPress developer? 
A: The rates that a WordPress freelancer charges can vary based on criteria like the number of hours put into the project, project requirements, the level of customization required, the project delivery deadline, whether you need advanced plugins or tweaks to a theme, etc.
If you want to hire a WordPress pro with competent skills and expertise, the hourly rates can vary from $15 to $40+. 
Q2: Should I hire a Freelance WordPress Developer? 
A: Hiring a freelance WordPress developer completely depends on your project scope and requirements. If you need short-term assistance with a particular aspect of your WordPress website development, hiring a freelancer is a more viable option. They carve out their specific niche and take up multiple projects to enhance their knowledge in the same domain. 
Q3:Why should I hire a remote WordPress Developer?
A: Remote hiring is the best option if you need a specialized skill set to ramp up your WordPress development and stay under budget efficiently. The best alternative to WordPress freelancers is a remote WordPress developer. When you hire remote developers you can have access to a wide talent pool that comes with vast experience, skills, and expertise.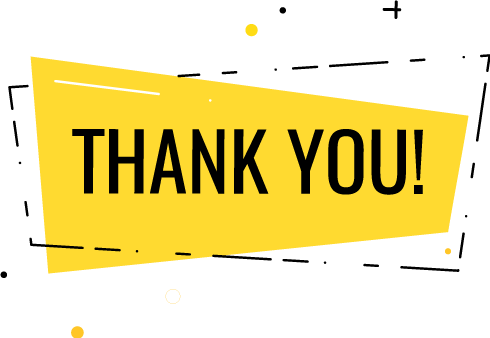 Thank you for submitting the details!
We will keep your information safe. Feel free to contact us with any questions at hello@uplers.com
Please check your email for next steps shared by Robert.