Everything You Need to Know About WordPress Plugin Developer
Aayush Gupta
May 18, 2022

7

Minute Read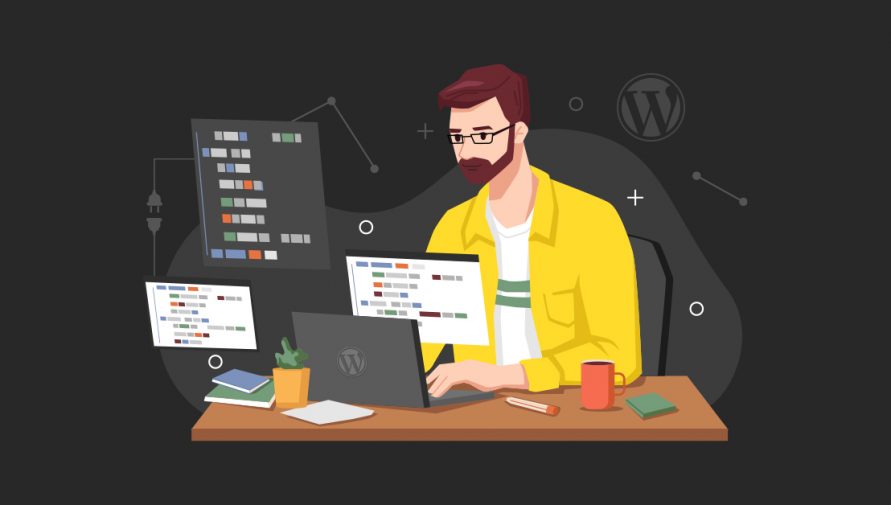 Try searching for 'build WordPress plugin' on Google. You'll notice bucket loads of information on how to create your first WordPress plugin. For beginners, the sheer amount of data available is demotivation enough. If coding is not your cup of tea, might we suggest a simpler alternative? Hire a plugin developer instead. With 43.3% of all websites being powered by WordPress on the internet, not bringing your A-game is like signing a death wish for your website.
Before you begin the hiring process, it is good to get your basics in place. Start by understanding who is a WordPress plugin developer and what WordPress plugin developers do. In this handy guide, we will decode everything you need to know about WordPress plugin development. Let's get to it straight away.
What is a WordPress Plugin?
A WordPress plugin is simply a piece of code that you 'plug' into your WordPress website to improve or add a specific feature to your website. A plugin works like a tiny app in the background, performing a set of specialized actions and tasks.
Note that there are the best WordPress plugins for nearly every element on the website—from contact forms to SEO. In fact, according to estimates, there are over 59,000 free plugins available on WordPress today!
So, what's the purpose of these plugins? Well, you can choose to improve the visual elements of your website. You can tighten its security. You can also enhance your website's user experience or performance with a custom plugin. Remember that these plugins are powerful enough to make small tweaks (like adding a Facebook share button) or drive big ones (such as converting your WordPress site into a full-fledged online store).
Bonus: Here are the top-8 WordPress plugins that are most popular and widely used:
This brings us to the next most important question:
Who is a WordPress Plugin Expert?
Think of a professional WordPress plugin developer as someone who has mastered the art (and science) of WordPress plugin development. Yep, you read that right. With all kinds of skills, WordPress plugin development is also a hands-on skill that is mastered over years of practice with on-field, real-life website projects.
Do You need a WordPress Plugin Developer?
The biggest question that circles most WordPress website owners is whether they should hire a WordPress developer or not. A fair question. After all, once you sign up for a WordPress account, you will have access to thousands of pre-built website templates, aka WordPress themes.

Source: Manaferra.com
So, coming back to the real question: Do you need a WordPress plugin developer? The short answer — Yes.
Here are five compelling reasons why you should hire a WordPress plugin developer:
1. Knowledge
A seasoned WordPress developer is an expert in all things in WordPress. They can understand your customized needs, eliminate key friction points, and help you to deliver a unique and personalized experience. They can also guide you on specific and relevant functionalities to add to your website and elevate the user experience. WordPress boasts over 1 billion-plus plugin downloads: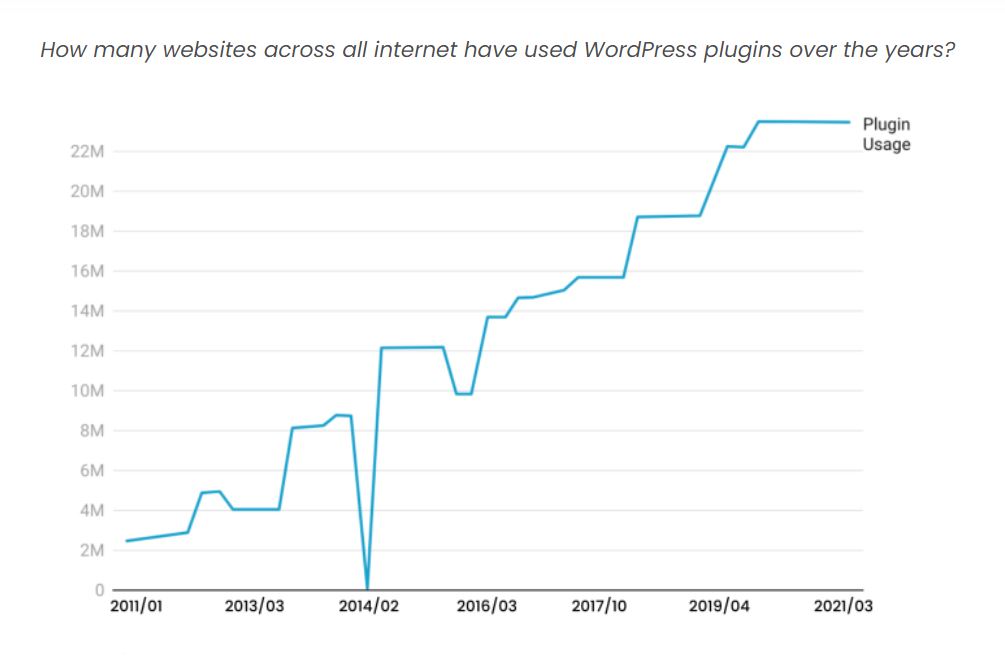 Source: manaferra.com
This data shows that WordPress plugin usage is skyrocketing. And to cope with the highly increasing demand there is definitely a need for WordPress plugin developers and WordPress plugin experts.
2. Specialized Skills
Many WordPress plugin developers offer highly-specialized skills which can be useful for your website. For instance, say you want to improve your website's performance. It makes sense to hire a back-end WordPress plugin specialist.
3. Quality Over Quantity
Another advantage of hiring a WordPress expert is that they will focus on integrating quality plugins into your website instead of multiple plugins with no clear end value. Your WordPress developer salary will also be dependent on the quality of work, experience, and skills of the developer you hire.
4. Improved Functionality
Here's a handy tip: If you love the design-related aesthetics of your website but have an issue with its background performance, it's a good idea to leverage the services of a WordPress plugin expert. They bring to the table clean and speedy code that's built to eliminate all kinds of performance and optimization issues.
5. Heightened Security
Another rock-solid reason why you should hire plugin developers is foolproofing your website's security. While free templates and themes are great to use, they're also often poorly coded and can quickly become a security threat. This is where a certified WordPress plugin developer comes in handy. They will plug in the security gaps with clean code and mitigate risks along the way.
WordPress plugin developers can bring your theoretical ideas to life with seamless ease, on-point customization, and reduced friction and/or effort. With over 708 million WordPress websites being active globally in 2022, creating a standout WordPress website can become a herculean task. Popular global brands such as NFL, NBC, and CNN use WordPress as their preferred CMS.
However, before hiring a developer, you must have a clear idea about the WordPress developer job description. You must know a WordPress developer's roles and responsibilities so that you can hire the best talent for your business.
How to Choose a Custom WordPress Plugin Developer?
Zeroing in on a WordPress plugin developer requires some amount of grunt work. Here are a few tips to consider when working with a professional WordPress plugin developer:
Tip #1: Think Long and Hard About Your Budget and Custom WordPress Plugin Development Requirements.
You must always remember that there is a cost to develop a WordPress website and its plugins. The costs of working with an expert outweigh the next-to-zero costs of using a pre-built plugin/theme.
Depending on your business goals and requirements, a WordPress plugin developer may cost you anywhere between $15 to $150 an hour (and upwards). So, consider your budgetary requirements before you take the plunge.
Pro tip: If you don't need elaborate changes to be made to the website, don't hire a WordPress plugin developer. Instead, comb through the functionalities available in the current theme repository and add features as needed.
Tip #2: Think About your Deadline.
The next critical element to consider is the kind of time you have for your website changes. If your website design is complex or if your requirements are extensive, you'll need to leverage a professional's services. This will add a considerable amount of time to the overall deadline (as opposed to downloading and installing a plugin).
Tip #3: Focus on the Developer's Quality of Work.
Over 661 new WordPress sites are popping up daily on average.
You'll find plenty of WordPress plugin developers in the freelance marketplace. But finding quality WordPress developers with a high standard of work ethic might be an uphill task. This is why it is critical to do your homework and understand where you're going to source quality talent. When hiring the developer, make sure to ask the following questions:
What does their charge look like?
What kind of work have they done in the past? A portfolio of work is a must-have for WordPress plugin developers that showcase their strengths and capabilities.
What kind of experience have they amassed over the years? Have they worked on multi-dimensional projects?
Do they have any references that you can reach out to?
What kind of communication do they prefer (be it email, SMS, phone, and so on)?
Tip #4: Think About the Type of Questions the Developer will Ask You.
On the flip side, your WordPress plugin developer might have a stream of questions that they may need clarity on. These include understanding the:
Scope of the project
Intended outcome(s) of the project
Specific functionalities that need to be added from scratch or improved
Timelines and budget
Pro tip: You should also be able to communicate the end goal of your vision for the project. The clearer the vision, the speedier and more effective the outcome will be. 
Where Can You Hire a WordPress Plugin Developer?
If you are wondering about how to hire a plugin developer or where to begin, consider Uplers as a worthy candidate. The brand's mission is to "connect global remote opportunities with the deserving tech talent of India."  Currently, UTS boasts 200 digital marketing, 250 web development, 150 marketing automation, 75 software development, and 125 UI/UX design experts in their talent pool.
With UTS, you'll have instant and continuous access to India's top tech talent. What makes this model revolutionary is the thorough evaluation of talent via a customized vetting process. The company reviews each talent's technical, functional, and communication skills.
Currently, only 3.5% of the talent qualifies post-assessment, ensuring clients get the best of the best WordPress talent available in the market. Once the assessments are complete, Uplers Talent Solutions schedules an interview with a global company to take the deal forward.
The Bottom Line
Whatever your end goal, hiring a WordPress plugin developer is always a sweet deal. It allows you to improve your website's technical functionalities without compromising aesthetics or security.
If you are looking to hire a WordPress plugin developer, get in touch with our team. We'd love to have a chat about your business requirements. Let's get you the best-in-class professional WordPress development services that your website deserves.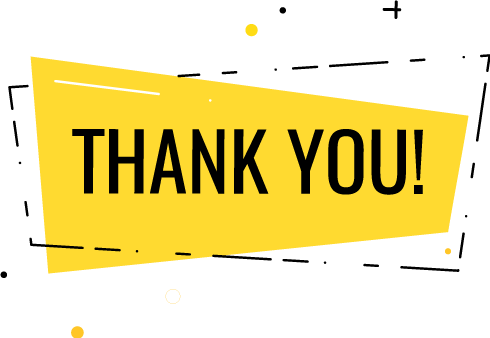 Thank you for submitting the details!
We will keep your information safe. Feel free to contact us with any questions at hello@uplers.com
Please check your email for next steps shared by Robert.