Outsourcing to India vs. Outsourcing to LatAm, East Europe: Report Analysis on Where Global Companies Would Benefit More in Hiring the Right Talent
Nayantika Srivastava
August 28, 2023

8

Minute Read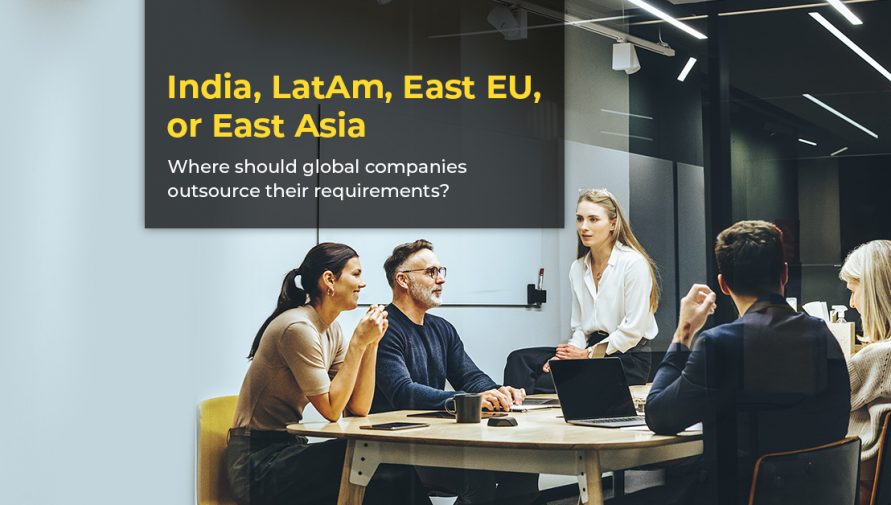 According to reports from NASSCOM and International Data Corporation, 62.5% of global digital and tech companies from US/UK/NZ/AUS/EU were outsourcing to India between 2018-2022. This is a significantly high rate of outsourcing compared to LatAm (28.6%), East EU (42.4%) and East Asia (49.8%). 
Evidently, the demand for Indian talents amongst global digital and tech agencies has been rising consistently over the years. The biggest factor behind this success is the country's promising digital marketing industry, which was valued at almost $4 million in 2022 and the churning rate of Indian digital professionals every year with a strive for global exposure and growth. Experts have found that 15% of Indian professionals are working in the digital sector in the US and by 2025, it will increase to 20%. 
Some stats on India's relevance on digital hiring and its progressive growth: 
Every year, India produces 5 million digital and tech talents and of which 1 million are highly-skilled, vetted professionals with some or the other working experience with global companies, compared to 2.3 million in LatAm, 1.5 million in the East EU, and 650,000 in East Asia. 
As per a report from the US Department of Commerce, in 2022, India accounted for 17% of digital and tech roles originating from the US. In 2025, it will be 20%. In contrast to 12% for Latin America, 15% for Eastern Europe, and 24% for East Asia. 
Havas, Omnicom, Ogilvy and WPP are a few major digital agencies that prefer leveraging Indian talents and skills over others. 
The layoffs of 2021 had a notable impact on digital agencies, as they began

outsourcing to India

increasingly. From startups to industry giants, the appeal of Indian professionals as a cost-effective solution became evident while maintaining a high caliber of skills within a remote setup. During that period, Indian IT exports grew by 11.8% in 2022 despite the global economic slowdown. This growth was driven mainly by US and European demand, serving as a strategic response to mitigate the potential repercussions of the impending "21-'22 recession. 

Another data point comes from a report by LinkedIn, which found that the number of job postings for Indian tech workers in the US increased by 102% in 2022. This was the most significant year-over-year increase for any country in the world.

In 2022, due to intense geopolitical factors influencing the preference for talents from Latin America and East Asia, there was a noticeable shift in favor of Indian talent. This shift occurred because of India's substantial skilled talent pool, their ready availability, and the convenience offered by the country's laws and regulations.
Worldwide human talent shortage: Indian talent in surplus 
While the growth numbers of the global tech/digital industry are impressive, digital and tech agencies across the globe are dealing with an alarming rate of talent shortage. While the demand for digital talents has grown with time, the supply of suitable candidates has not kept pace. Hence, finding skilled and reliable talents has become a major hiring challenge for global digital agencies.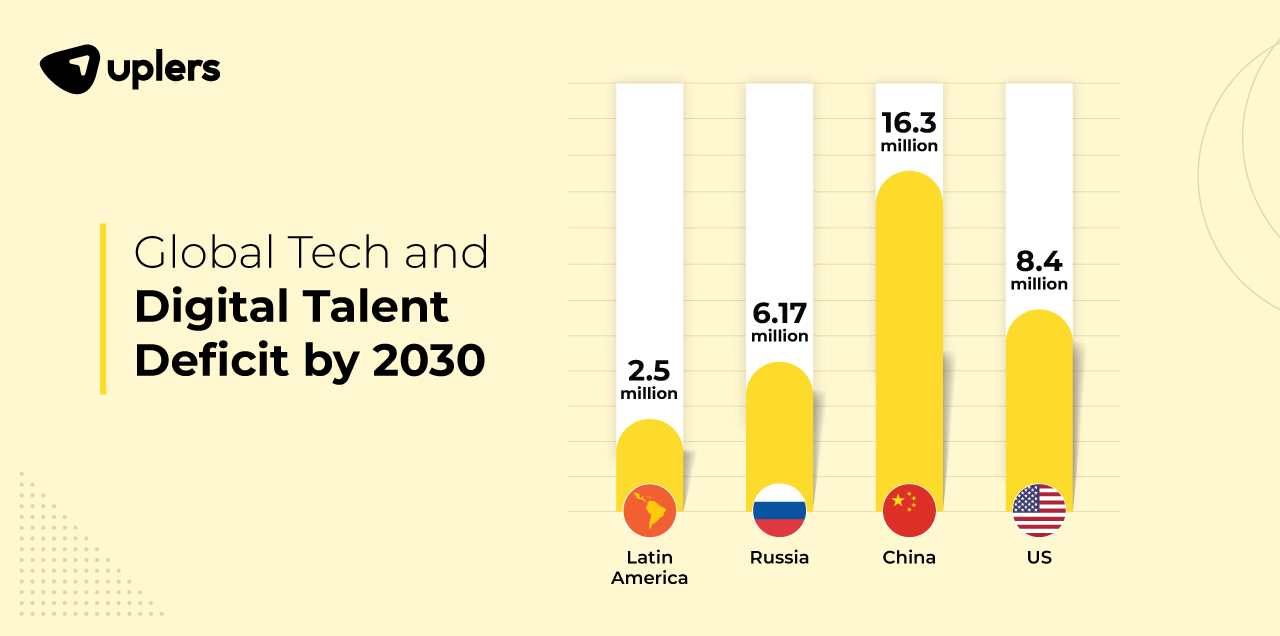 Amidst this shortage, India is the only country with a contrasting landscape – surplus of tech and digital talents. As of 2023, India has 2.5 million surplus talents for content creation, social media, software development and other tech/digital roles. 
How surplus human tech talent in India is impacting the global hiring digital & tech industry? 
US digital agencies prefer hiring LatAm talents, or EU agencies hiring from the east EU only for two reasons: 
Closer time difference 

Cultural familiarity/ Convenience to distance 
However, these two factors are a mirage of convenience which global employers must realize. A closer proximity may give a neighborly vibe, does it guarantee  getting the right fit?  Furthermore, a cultural familiarity does not always translate in the work environment, as at the end of the day, businesses need a productive, collaborative, and dedicated/skilled talent. 
Another important factor is that major LatAm countries like Brazil and Argentina are about to face a shortage of 1.4 million digital and tech professionals in 2030, which does not make them a reliable long-term talent sourcing region.
India, on the other hand, has witnessed immense growth in its digital and tech talent population. The country has a total of 11 million professionals for IT and digital services, all dedicated to work for global companies and lead the innovation of tomorrow. This willingness to excel in their career has motivated Indian talents to become remote ready, culturally adaptable, technically proficient, and adjust with the time zone difference. 
Digital Industry Comparison: India vs LatAm vs East EU vs East Asia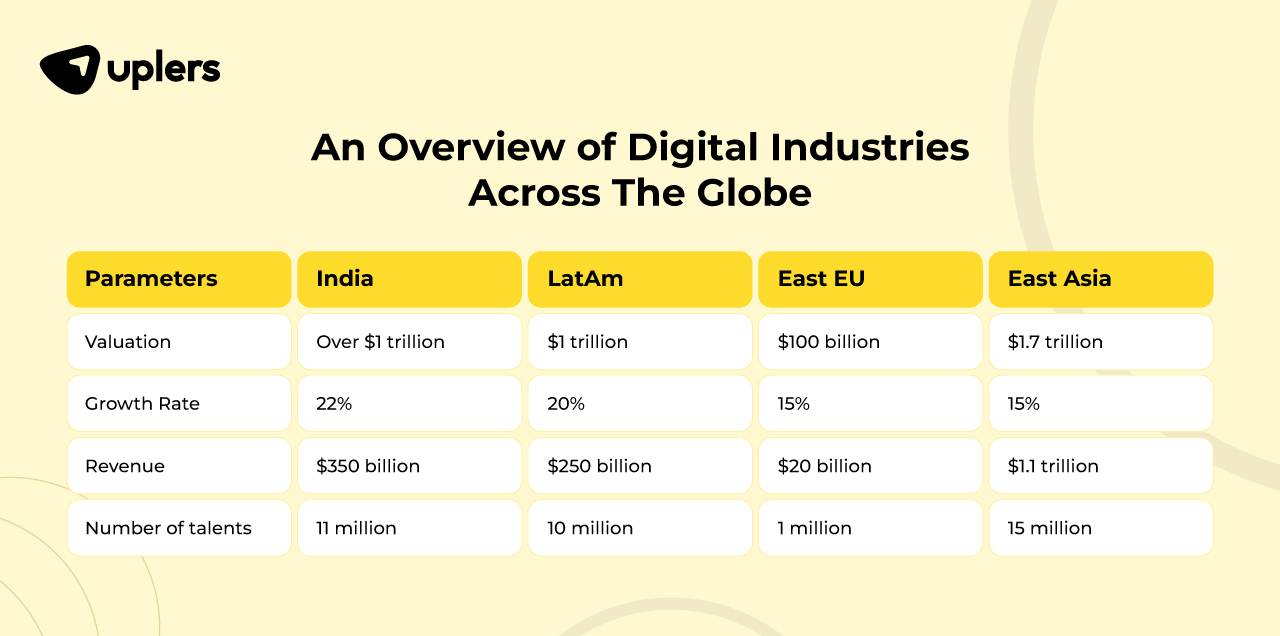 Apart from these numbers, there are several factors that position India as the ideal source of tech and digital talents. 
The country has the youngest population in the world, with 66% under the age of 35, compared to 58.4% in LatAm, 44.2% in East EU, and 34.7% in East Asia. 

The young population of India is now more ready than ever to be a part of global companies and contribute towards exciting developments in the tech and digital space. 

75% of Indian tech and digital talents upskill every year to meet the needs of the evolving industry, stay relevant in the job market, and earn global exposure at a large company.
Companies are inclining towards Indian talents more than ever, and upon this, many hiring platforms have realized the need for  deeply-vetted Indian talents. Looking simply at LinkedIn, Naukri, and other recruitment and staffing agencies will give you surface level information about the talent, and if you recruit one, you don't even know if he's the right-fit considering there's no guarantee if he has been vetted in the process.  Modern hiring platforms in India are going beyond the traditional recruitment methods to source and vet the best talents suitable on the basis of their technical proficiency, communication skills, cultural adaptability, and remote readiness. Hence, it is time to move over from generic recruitment solutions and partner with customized hiring facilitators.
Going Beyond Stereotypes: Debunking Myths About Indian Talents 
As evident from the statistics above, India is the most preferred talent hub for global digital and tech companies. HubSpot, Accenture, Google, Microsoft, Ogilvy, are a few big names who extensively rely on Indian talents. Despite such success, there are a few misconceptions regarding Indian talents which send the wrong narrative to global employers:
Myth #1: "I found the ideal talent in India but how can I get things done with a 12-hour time difference?"
Fact: Indian talents are willing to work in different time zones, even late-night shifts, if it gives them an opportunity to work on their desired skill sets in a global digital agency. This is because Indian talents are driven by their eagerness to learn and grow in their fields. Therefore, a good job opportunity, nurturing work culture, better pay, and remote opportunity outweigh the time-zone factor while choosing an employer.
Myth #2: "Indian talents are only low cost, do not expect high work quality"
Fact: Hiring from India can be overwhelming for any global employer. The sheer number of talents, the massive applications for any job role, and the cut-throat competition to  onboard top talents  are a few things every employer has to deal with while hiring in India. Recruitment agencies and staffing providers can only gather applications without vetting them for particular organizations. With all these obstacles, it is very difficult to find high-quality talents.
In such a case, it is best to partner with a reliable hiring platform which can source the right talents for the job role, vet the candidates for professional and cultural fitment, and assist in onboarding compliantly. This way, employers can find the talents who are productive, adaptable to company culture, flexible to time zones, and contribute toward the business goals.
Myth #3: "Indian talents are very deferential to authority"
Fact: Google, Microsoft, IBM, Deloitte, Adobe, WPP, Dentsu International, and many more large-scale and influential companies are led by Indian-origin talents. Building next-gen technologies and innovative solutions is not possible with yes men, rather with resourceful and visionary experts. Indian talents have the skill and capability to power the success of global tech and digital companies, which is why they are in such high demand.
Indian Talents – What The World Thinks of Indian Talents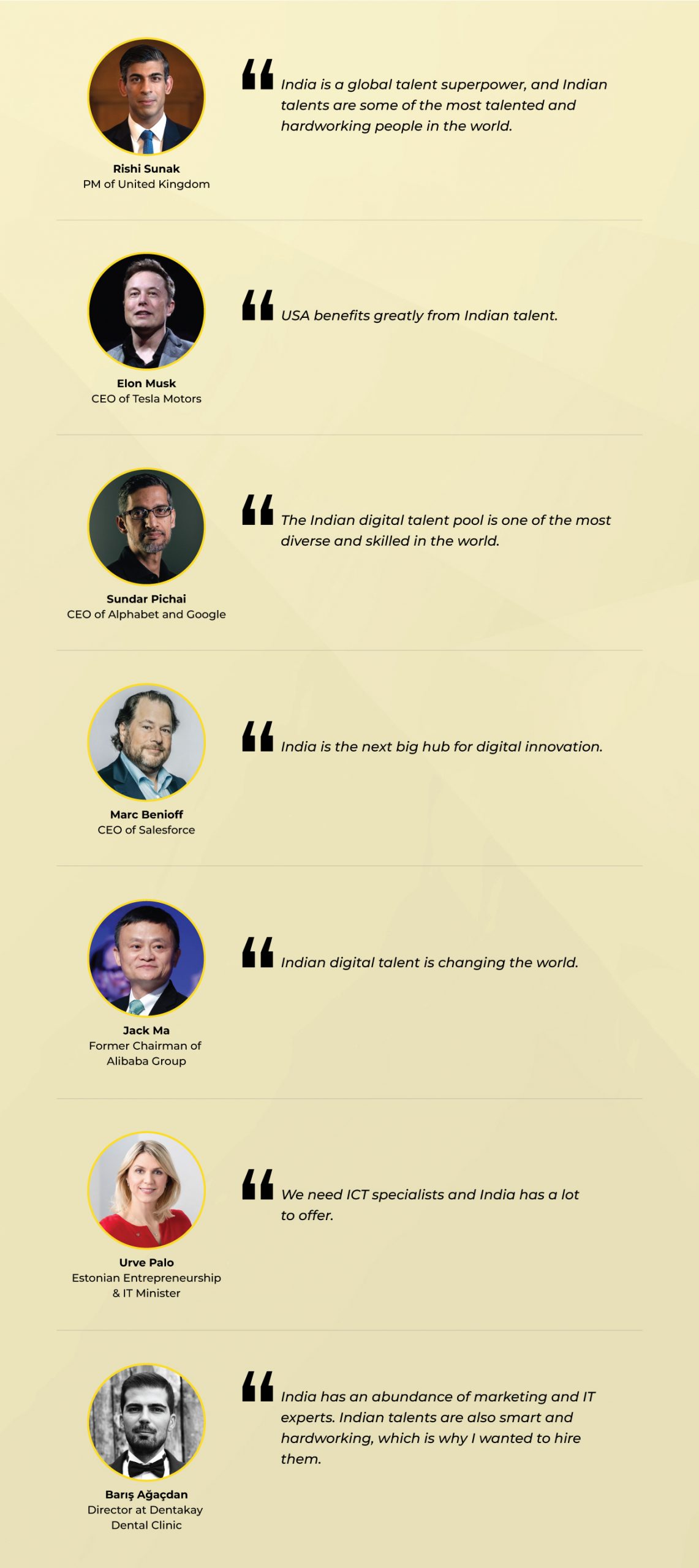 Brill Media and Incubeta, two major digital agencies hired talents from India and found them productive, culturally-adaptable, contributing to the business goals. Indian digital talents exceeded their expectations and they look forward to hiring more remote talents from the country.
Contributing Factors to the Growth of Indian Talents
 
1. Political Affluence With Other Nations
India shares a positive geo-political relationship with the majority of countries. The United States, Russia, France, and Japan are a few close aides who share economic and geopolitical ties with India. As a result, it is easier for businesses to explore Indian industries and talents without worrying about the impact of global politics.
The tense international relations between a few countries in 2022 disrupted operations of several businesses, compelling them to look at other nations with a peaceful political background. India emerged as the most preferred region, owing to its affluent global relations and easy-to-comply laws and regulations. 
2.  The Impending Talent Crisis In Other Regions
According to multiple surveys, LatAm, East Asia, and East EU will face a total talent shortage of 7.5 million talents in 2023, which will rise to 26.2 million by 2030.The factors behind this revelation are the growing adoption of digital technologies, increasing demand for tech and digital skills, and lack of supply of qualified talents in these regions. On the other hand, India is expected to generate a talent surplus which will be crucial for the talent acquisition needs of global employers.
3. The Most Preferred Outsourcing Hub in the World
65% of US companies, 65% of EU companies, and 70% of Australian digital agencies preferred outsourcing to India during the 2022-23 recession. This highlights the resourcefulness and value addition of Indian talents during a time of shrewd cost-cutting and mass layoffs.
4. Resilient Economic Growth and Talent Development
While several countries were dealing with the recession in 2022 and early 2023, India continued on its way to growth and development. The country's GDP grew by 7.2% in FY23, at a time when other developed nations were falling into recession. In the talent production side, 2 million new talents were generated in 2022 and 2.5 million are expected in 2023. This trend is set to follow, as the global factors and the country's astute economic policies are safeguarding any impacts of recession on the talents.
Indian Talents Are Paving Their Way to Global Digital Companies 
The pandemic in 2020 prompted tech and digital companies to adapt their talent acquisition strategies  and start hiring remote employees. In the following years, remote hiring outgrew from an adaptive measure to the new normal by providing better access to skilled and cost-effective talent and multitude of other benefits. It also helped global employers in tapping into the Indian talent pool, which has a surplus of young, qualified, and culturally adaptable candidates. Even during recession, the US and EU companies relied on Indian talents while managing their balance sheet.
The message is clear – India is on its way to suffice the hiring requirements of the world, thanks to its progressive economy and investment on producing skilled talents. Therefore, it is time for businesses to leverage the growing pool of Indian talents and fuel their success.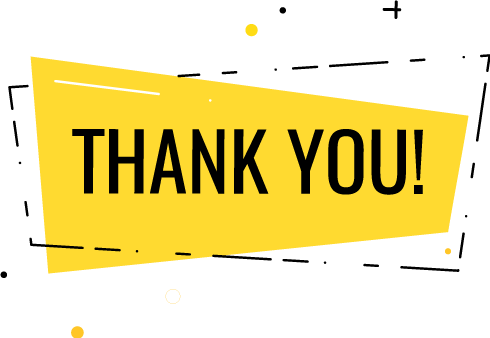 Thank you for submitting the details!
We will keep your information safe. Feel free to contact us with any questions at hello@uplers.com
Please check your email for next steps shared by Robert.