Global Recession Affecting US, EU, Australia, and New Zealand: How To Be Recession Resilient?
Aabha Tiwari
July 27, 2023

6

Minute Read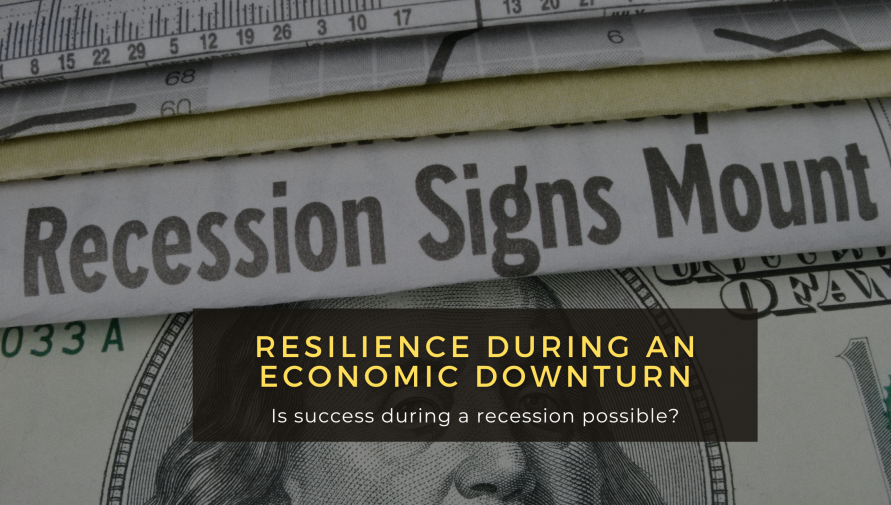 In 2022, when the US was dealing with recession, other countries pulled up their socks to avoid similar fate and end up in a global recession. However, the damage to the biggest economy of the world trickled down to other nations as well. In 2023, the European Union (EU) and New Zealand are officially in recession, while Australia is on the verge of it.
The EU's Gross Domestic Product (GDP) shrank by 0.1% in the first quarter of 2023. A revision of the last quarter of 2022 made matters worse, as the result was a contraction of 0.1%, instead of the forecast of 0%. The two successive contractions of 0.1% mean the region went into a recession, impacting the cost-of-living crisis and the soaring energy prices. This puts immense pressure on the European Central Bank, which has been implementing interest-rate hikes to contain inflation.
The EU recession impacted eight countries, including Germany, the union's largest economy. The largest contraction was in Ireland at 4.6%. Other countries include Lithuania, the Netherlands, Estonia, Hungary and Greece.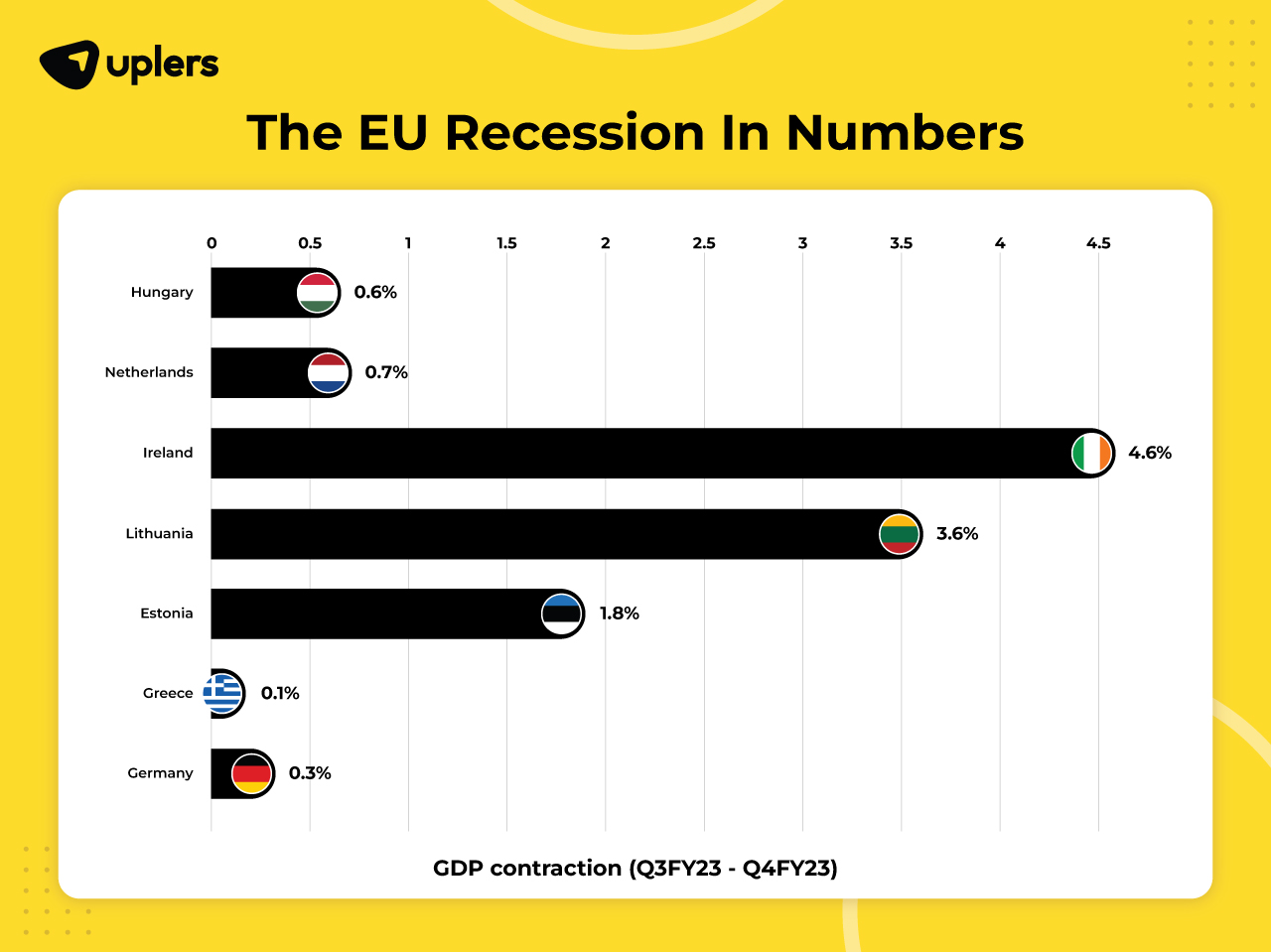 Fortunately, the economic performance did not harshly impact the hiring aspirations. The employment rate grew slightly from 0.3% in Q3FY23 to 0.6% in Q4FY23. This underlines the determination of businesses to continue their growth story and refusal to give up in the face of adversity.
The countries down under – Australia and New Zealand, have a similar story. New Zealand's GDP contracted by 0.7% in Q3FY23 and 0.1% in Q4FY23. Australia, on the other hand, grew by only 0.2% in the first quarter of FY23. Experts are crediting the rising prices and interest rates for the global recession 2023, which impacted consumer spending.
As the global recession impacts two major regions, its tremors will be felt in the hiring space. With rising costs, companies will be compelled to build a leaner workforce and limit their investment on top talents. 
With that, businesses are going to stay open. Even in the 2022 US recession, it did not indicate the closing down of the working sector but a restrictive outlook on working capital. For organizations that have chosen the laying off the path- cost-cutting is their most significant component. They still want their businesses up and running, but what they are looking for (to put in a box); is 'talents that can reduce their costs' and a similar approach is being observed in the EU, Australia, and New Zealand.
How Businesses Responded To The
Global Recession 2023
In the EU, companies are expected to hire only 1% in 2023, less than half of the level in 2022. The layoffs are a result of aggressive hiring when e-commerce boomed during the pandemic. However, companies started the layoffs to tackle the inflation concerns, rising energy costs, and surging interest rates.
Decades-high inflation and the cost-of-living crisis meant companies had to take the harsher road. The 2023 tech recession saw an unprecedented mass layoff from several companies.
Australia recession saw 150,000 people laid off in 2022, and 2023 has been no different. The tech recession led to 45,000 layoffs in the first week of this year, within both small and large-scale companies.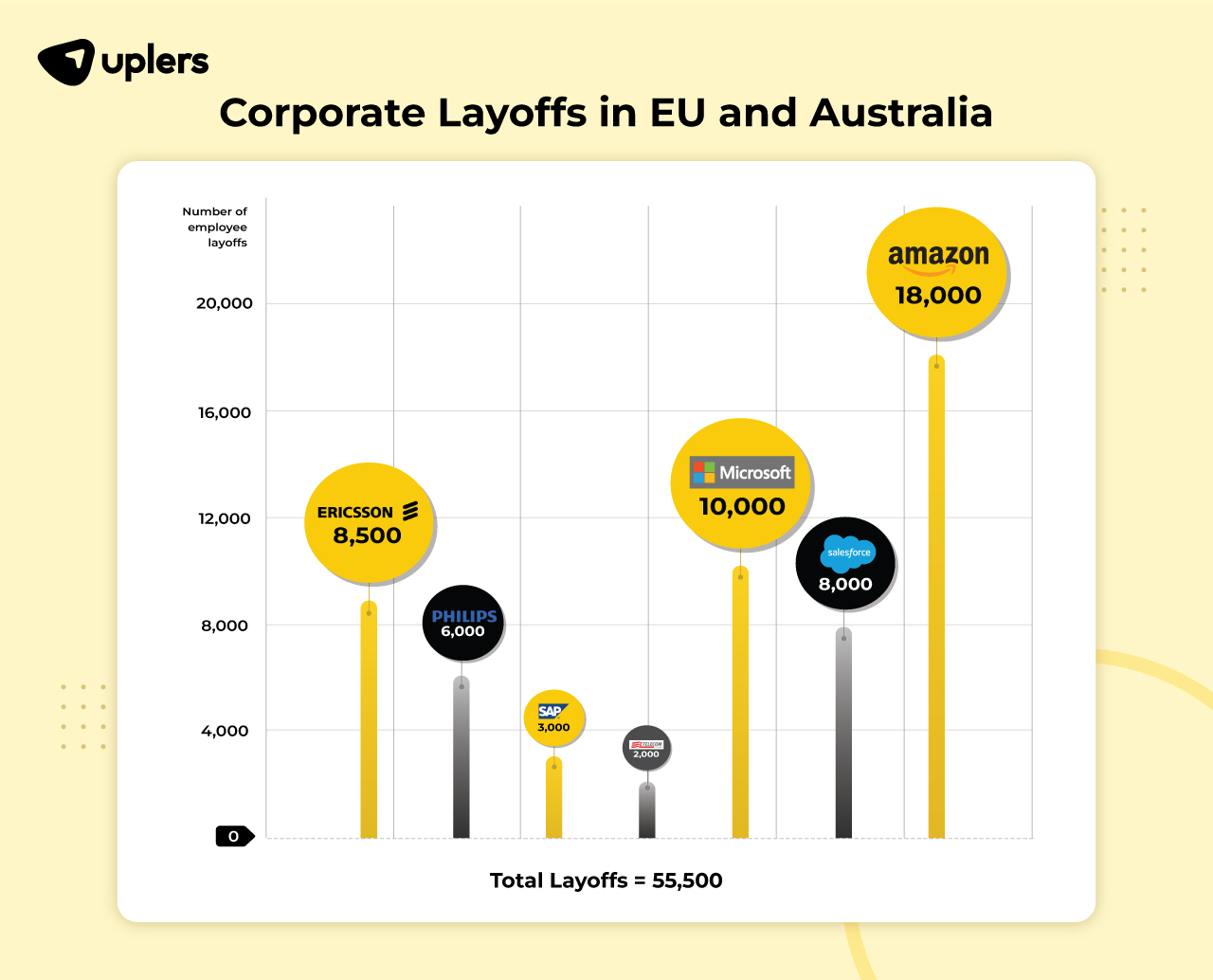 The numbers are scary, but mass layoffs during global recession have become a trend since the last two years. There are three crucial reasons behind this step:
Financial Crunch
Cost cutting is the biggest reason for layoffs, as businesses try to manage their books amidst the daunting tech recession. Employee salaries and benefits are one of the largest expenditures in a company, which is why stakeholders constantly reduce their workforce and are looking for alternatives to get the job done without paying hiked payouts i.e. hiring remote tech professionals   from India, LATAM to manage costs.
Employee Redundancies
Change in job titles, overstaffing, and outsourcing, can often lead to staff redundancies. Overstaffing during a peak quarter can result in higher organizational costs and layoffs in the future, which has been the case in several organizations. 
In the US, 21% of companies opted to hire remote tech talents in India, LATAM, and East Asia, and reduced their cost by 17%. This is a more reliable way to expand without denting the finances. Furthermore, the growth in remote hiring has also led to increased participation of EOR companies and hiring platforms.
Mergers And Acquisitions
When two business entities merge to become a new entity, stakeholders often restructure the company by changing job positions, departments, and staff requirements. To accomplish this, businesses trim their workforce and decide on how many employees to retain and how many to lay off.
To Hire Or Not To Hire During A
Global Recession
? – The Big Question
A hiring decision involves numerous factors, such as the supply and demand of services, competition levels in the region, and the state of global recession. When interest rates and inflation soar, it becomes more challenging to maintain the business and retain employees.
As Australia is inching towards recession, the employers remain resilient to avoid layoffs. Instead, 75% of Australian employers are planning to increase their permanent headcount, while 63% plan to add new remote positions in the next twelve months. 
Setting up remote teams is the best solution to tackle the global recession and the tech talent deficit. A distributed setup allows employers to handpick their recruits from talent-rich and cost-friendly regions, which means better productivity and more scalability.
Evidently, employers are making other business changes rather than resorting to reduction in jobs.
"Despite fears of a recession, the job market is expected to remain strong in 2023, especially for specialized professionals with in-demand skills. Where employers were once paying huge amounts to get staff through the door to meet surging demand for their skills, now they are making less 'panic hires' and shifting their focus on boosting the productivity of their existing employees. At the same time as 'right-sizing' their businesses, heavy goal setting off the back of 2022 has seen many businesses set ambitious growth targets, meaning headcount is necessary in achieving those growth initiatives" – Nicole Gorton, Director, Robert Half
Here are a few tips that can help you navigate the recession and hire sensibly: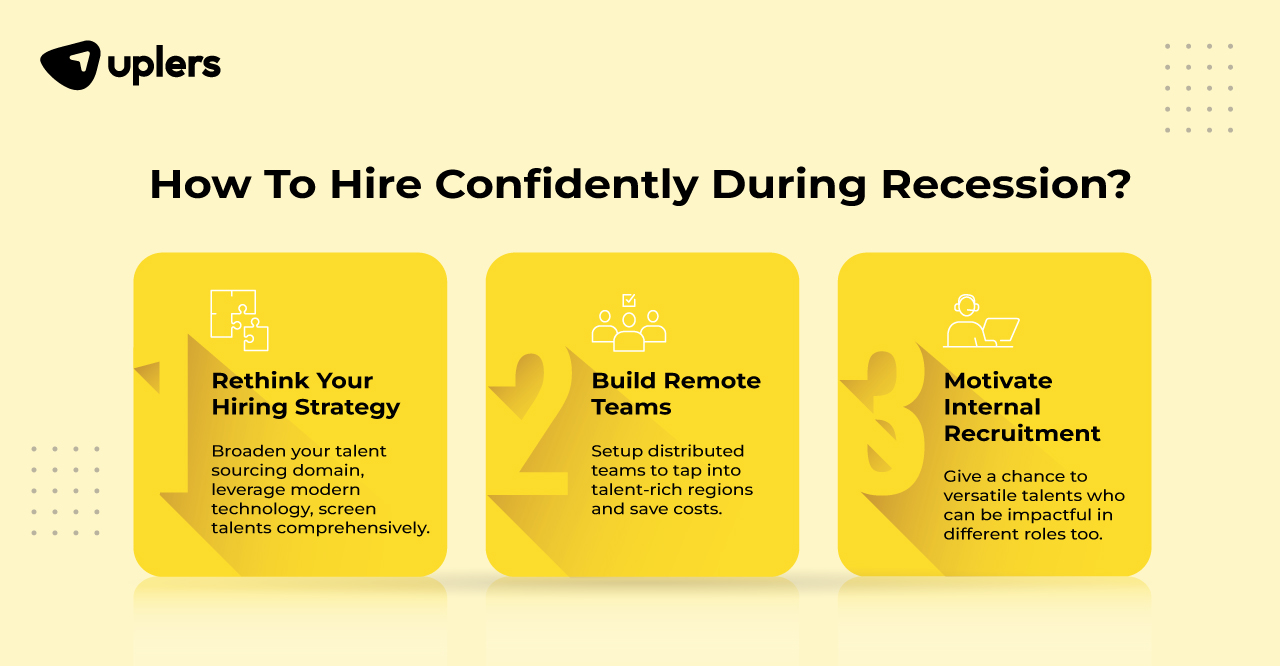 Rethink Your Hiring Strategy
Your talent acquisition methods should be widened during a global recession. Traditional methods and longer hiring cycles will only increase your costs. Instead, you should integrate technology to ensure mundane hiring tasks are not handled by employees, invest more on your screening process, and hire only the necessary amount of talent.
Build Remote Teams
Remote teams can help you in cutting down expenditures significantly without any layoffs. In 2023, remote working is no longer a novelty and several companies have built distributed teams by hiring top talents from cost-effective regions. For example, you can save 40% by hiring Indian remote tech talents.
Motivate Internal Recruitment
 While looking to fill a job profile, check if you have a worthy talent in your organization. Many employees go above and beyond in fulfilling their duties and upskill to future-proof their employment. It is a master stroke to hire such talents in a different role where they have a similar impact.
To counter layoffs due to redundancies, employers are depending on "quiet hiring". Voted by Gartner as one of the nine workplace trends of 2023, quiet hiring involves moving employees to a different department instead of laying them off. It is a reliable way of dealing with immediate hiring needs by expanding the responsibilities of the employee and providing a valuable upskilling opportunity.
Strategic Hiring Is The Key To Building Resilient Teams During
Global Recession 2023
During a global recession, it may be tempting to freeze hiring completely. While it will save you some amount in the short term, it can also be a big mistake. Employers planning for long-term success hire consistently over long periods. The investment on top talents during tough economic situations can separate you from the competitors and enable you to better serve your customers. Hiring and retaining your best employees will further enable you to attract the best talents, establishing a strong company culture and a reliable hiring strategy.
Several global employers are aggressively hiring remote tech talents from India, to upscale efficiently and deliver their business goals. The abundance of tech talent, the lowest demand-supply gap in the IT industry at 21.1%, and many other factors make India the perfect source for recession-resilient hiring. 
Right now, setting up remote teams is the best way to tackle the testing economical times and the growing global talent deficit. It also allows you to upscale by hiring from budget-friendly and talent-rich regions. For instance, hiring remote tech talents from India is 10x faster and 40% more cost-effective.
Read our guide on the salaries of the top Indian tech talents to discover the pay scales in the country and align your hiring budget accordingly. The guide provides an in-depth discussion on the hiring patterns in the country, so you can hire more confidently.
Talk to us and find out how Indian remote talents can be the key to your hiring and business success.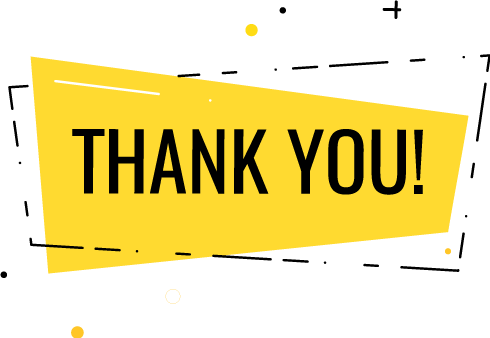 Thank you for submitting the details!
We will keep your information safe. Feel free to contact us with any questions at hello@uplers.com
Please check your email for next steps shared by Robert.