How to Hire Remote Developers from India: A Guide for Global Recruiters
Aabha Tiwari
November 10, 2022

8

Minute Read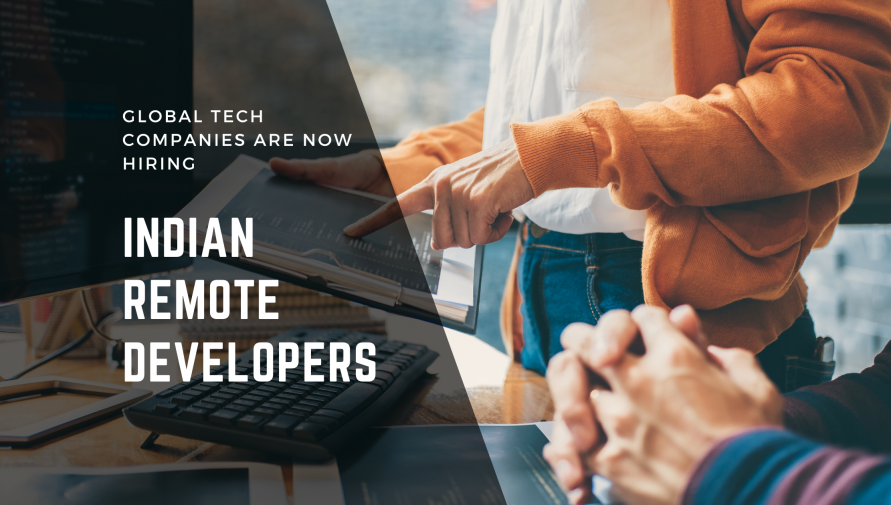 The word "remote hiring" gained prominence during the pandemic in 2020. As businesses adapted to the new normal, they realized the opportunity to save costs and build a dynamic workforce by hiring remotely. Furthermore, remote hiring enabled them to reduce operational costs and expand their hiring domain globally, especially in the tech industry.
In 2023, remote hiring in the tech industry is considered a strategy to fully realize a company's potential to acquire top talent and build a cost-effective workforce, especially when it comes to hire remote developers.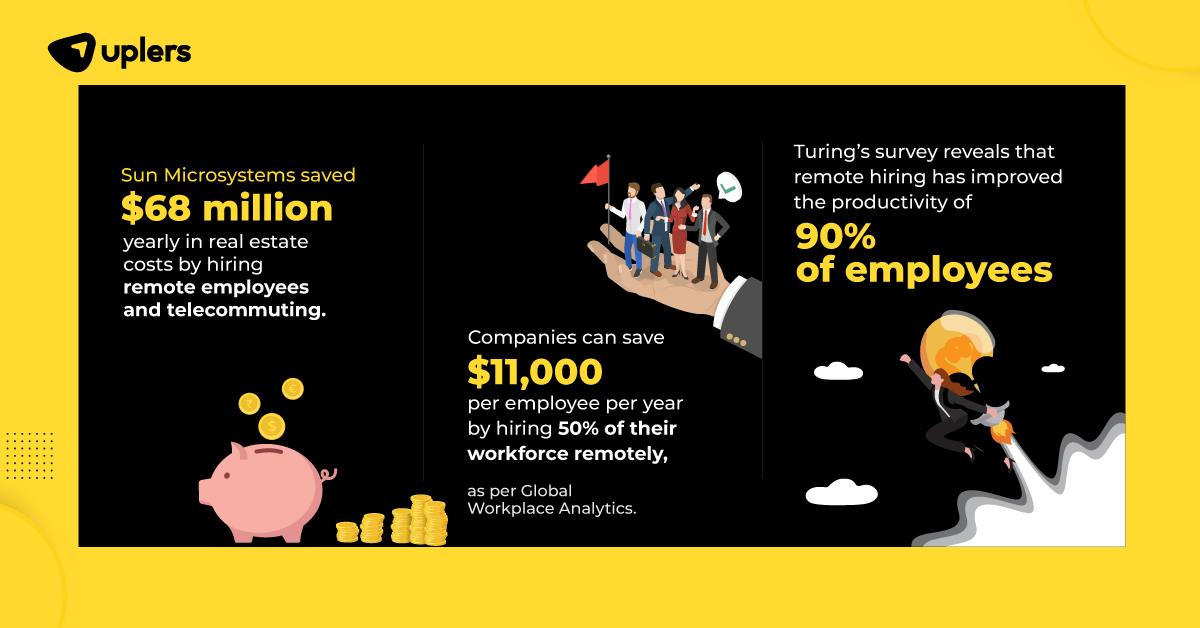 Thus, remote hiring is necessary for employers looking to optimize their workforce and tap into global talent, especially India, across all job roles. Hiring remote developers, for example, has grown from 19% in 2019 to 86% in 2022. If you are looking to hire remote developers, below are some benefits and a step-by-step hiring process you should follow.
Hire Remote Developers: Key Value Propositions
"More than the cost advantage, it is getting the power of skills and knowledge from wherever you want; the market to get these skills is huge- setting up a process to hire and manage remote hiring is the biggest key now." – Jeremy Stoppelman, Yelp CEO
Hiring remote developers unlocks the recruitment capability of organizations and helps them build a diverse and empowered workforce. Companies can save massively by searching for ideal candidates in talent-heavy countries for a particular job role and improving their global appeal.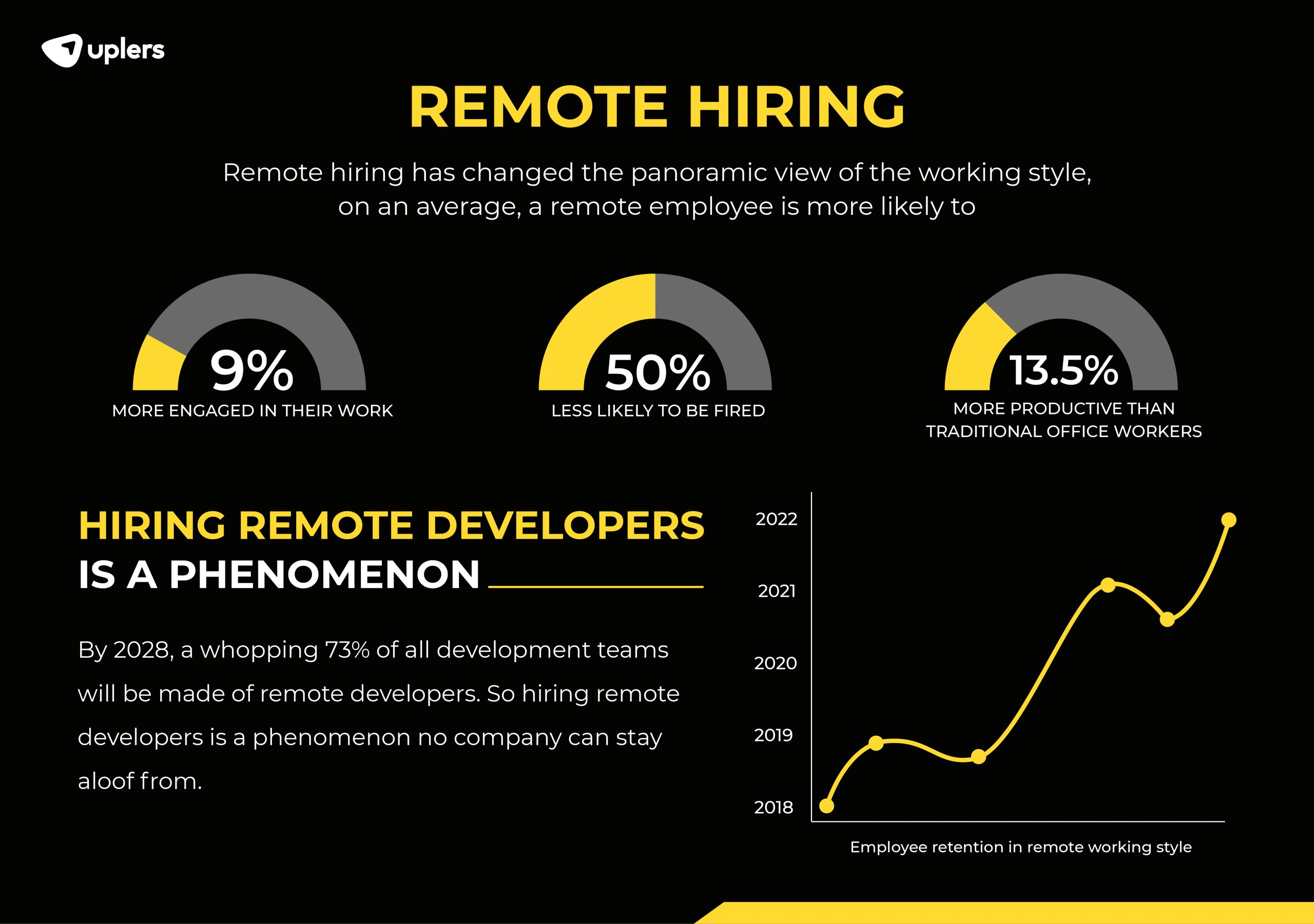 Remote hiring has swiftly become the new normal in various industries, including IT. With 86% of software developers already working remotely, it showcases the widespread adoption of this work style. Furthermore, statistics predict that by 2028, a staggering 73% of development teams will be hired remotely, solidifying the shift toward this practice.
You might be interested in reading more about Why Traditional Hiring Methods No Longer Work
Why Go The Remote Way – Benefits of Hiring Remote Developers 
Organizations that hire dedicated remote developers reap an array of benefits, as explained below: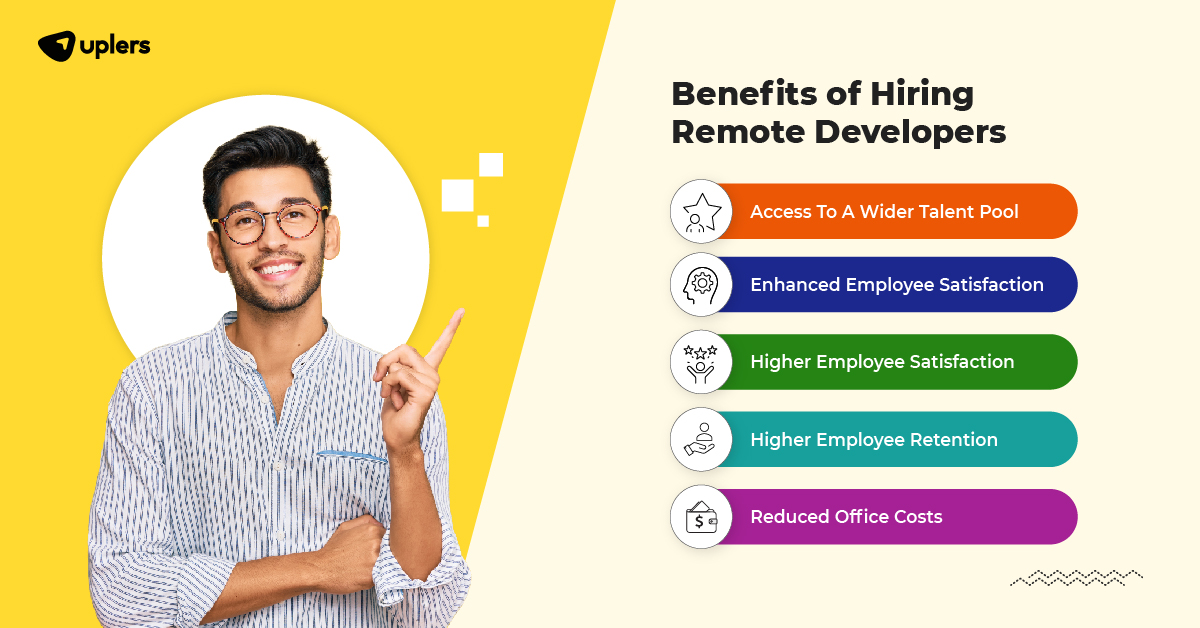 1. Access To A Wider Talent Pool
You are not confined to geographical boundaries while hiring developers remotely; this is your chance to leverage the best global talent available. A remote setup allows you to widen your talent search across the globe and find the right talent for your specific requirements.
As you search for remote talent, you can find highly qualified professionals in central hubs and less dense areas with lower living costs. This distinction helps design a competitive compensation package that rivals the local organizations.
2. Enhanced Employee Satisfaction 
Studies reveal that an impressive 97% of remote workers report enhanced job satisfaction, as reported by Buffer. Remote hiring reduces stress and enhances productivity, with remote employees found to be 13% more efficient.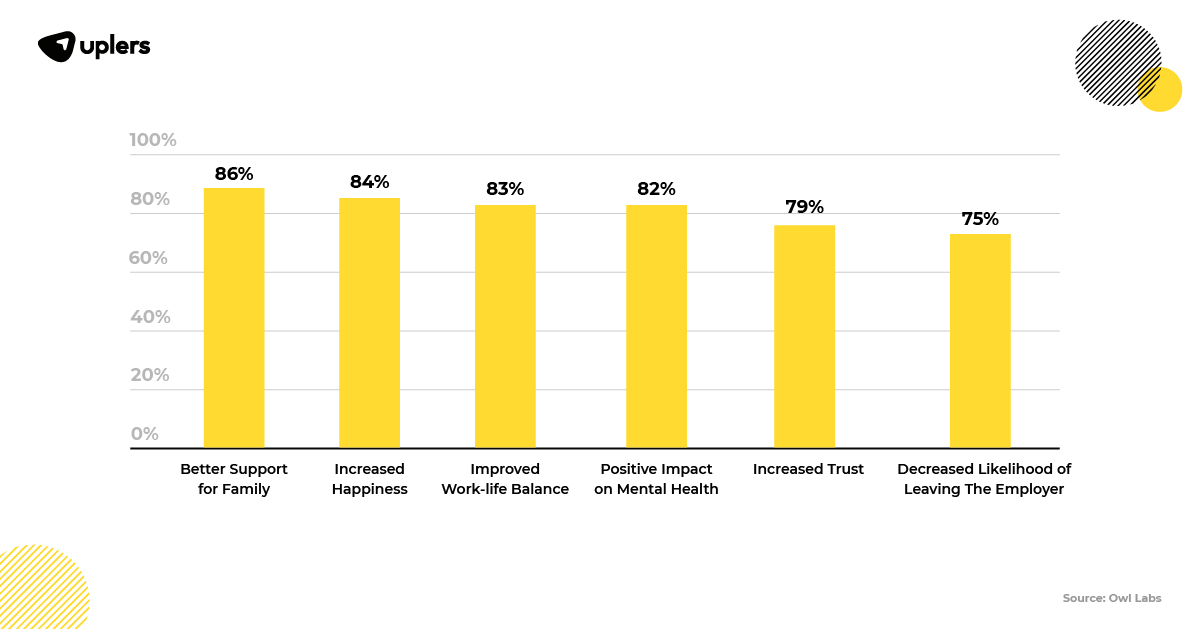 Moreover, remote hiring fosters diversity and inclusivity, improving employee well-being. A survey conducted by Owl Labs found that 83% of remote workers experienced reduced stress levels and a better work-life balance. These compelling statistics underscore the positive impact of remote hiring on employee satisfaction.
3. Higher Employee Retention
Businesses seeking to bolster employee retention rates have discovered the transformative power of hiring remote developers. Remote hiring has multiple benefits, including enhanced job satisfaction, increased flexibility, and improved work-life balance, fostering a positive culture that nurtures a dedicated and efficient workforce. 
According to a survey conducted by Slashdot, 40% of software engineers express a strong desire to work exclusively in a remote setting. In comparison, 21% would consider leaving their jobs if required to return to the office. These statistics highlight the growing preference for remote work and emphasize the importance of accommodating such preferences to ensure higher employee retention rates.
4. Reduced Office Costs
One of the most important benefits of hiring remote developers is the minimal office costs in the balance sheet. These costs include:
Utilities and Rent:

No office space, so no rent and utilities costs

Food

: No onsite employees means no expenses on onsite kitchen

Cleaning Services

: Zero maintenance costs on an office when employees are working from home

Taxes

: No property taxes on the office space
 Factors to Consider Before Hiring Remote Developers 
There are a lot of factors that influence the hiring process of remote developers. The following points elaborate on everything you must consider before making a hiring decision: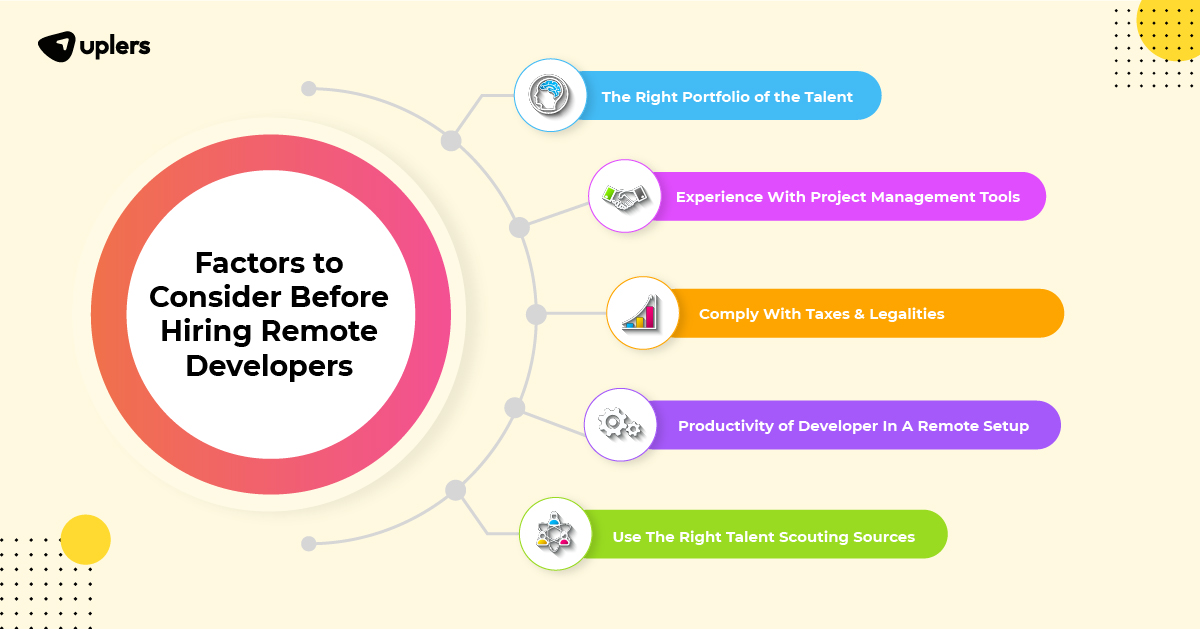 The Right Portfolio of the Talent
Before you hire remote software developers, you must specify the type of programmer you are looking for in your job description. Is the role for a front-end developer or a back-end developer? Do they need expertise in Python, Java, or any other language? Do they have to oversee software, security, or quality assurance?  The job description must answer all the above-mentioned questions. 
After receiving the applications:
Check if the

remote developer

has the relevant credentials and experience

Check the kind of projects they have handled in the past

Derive the candidate's specialty and technical skills based on their work history.
Experience With Project Management Tools
Setting up a remote team means working with project management tools. Distributed teams converse and collaborate on tools like Trello, Basecamp, and Asana to keep their team updated on the tasks and save time on reporting. If you come across developers without remote work experience, you will need to train them. It will also help them in managing workload with minimum monitoring.
If the remote developer has never used such tools, ask them how they collaborated across departments in their previous organization. Assign them a project to test their comfort in using a particular tool. The test will also give you a good idea of whether the candidate can adapt to your organization's workflow.
Productivity of Developer In A Remote Setup
Monitoring the productivity of your remote team of developers is a big challenge. Professionals in a remote setup have more control over their work-life balance but are still accountable for finishing projects on time and attending meetings when necessary. 
Consider the following three parameters before setting up a remote team of developers:
Flexible Hours
The time difference between remote developers and the larger team can be a major obstacle in project coordination. To counter this, it is advised to offer the team members flexible work hours to synchronize and stay cognizant of their tasks.
Time-tracking Tools
Unlike in a physical office, remote work does not allow you to look over a desk and check if your team is on top of their work and how many people have turned up for work. To solve this challenge, you can rely on time-tracking tools and use their reports to check your team's productivity.
Assessing Performance
Hire remote software developers, and explain what they are expected to achieve in a specific timeline. These KPIs can help you track their progress and value addition to the organization. To enhance the remote hiring process, it is essential to incorporate regular one-on-one meetings with team members. These meetings serve as a platform to provide feedback, address challenges, and foster professional growth. As remote developers upskill and increase their value, the organization benefits from an improved work environment and enhanced productivity.
Use The Right Talent Scouting Sources
There were 26.8 million software developers in 2021, which is anticipated to grow to 45 million by 2030. The availability of developers in a remote setup is not an issue. However, the trick lies in finding the right professional qualified for the position and with the necessary skills to excel. There are numerous platforms where you can find remote software developers – GitHub, Stack Overflow, Fiverr, and Hashnode. These forums are filled with developers who flex their coding skills and solve complex problems for each other. You can also search for remote developers on platforms such as LinkedIn, one of the most trusted professional socializing networks.
4. Comply With Taxes and Legalities
Organizations must comply with domestic and global labor laws to hire dedicated remote developer. Most countries demand a local entity to hire and onboard local talent. If setting up a local entity is too tedious, consider partnering with an Employer of Record (EOR).
After you hire remote web developers, you must provide them with the mandatory benefits prescribed by the labor laws. Furthermore, you must deduct the right amount of taxes and submit them to the relevant authorities.
Failure to comply with these regulations will result in hefty fines and legal hassles, which can tarnish your reputation.
You might also like to read: Skeptical about hiring Indian developers? Know 10 reasons to hire.
How to Hire Remote Developers
With Uplers- A Step-By-Step Hiring Guide
Thinking of hiring remote developers? Think of Uplers. We have mastered the remote hiring space in India, with a pool of 50,000 pre-vetted professionals ready for onboarding.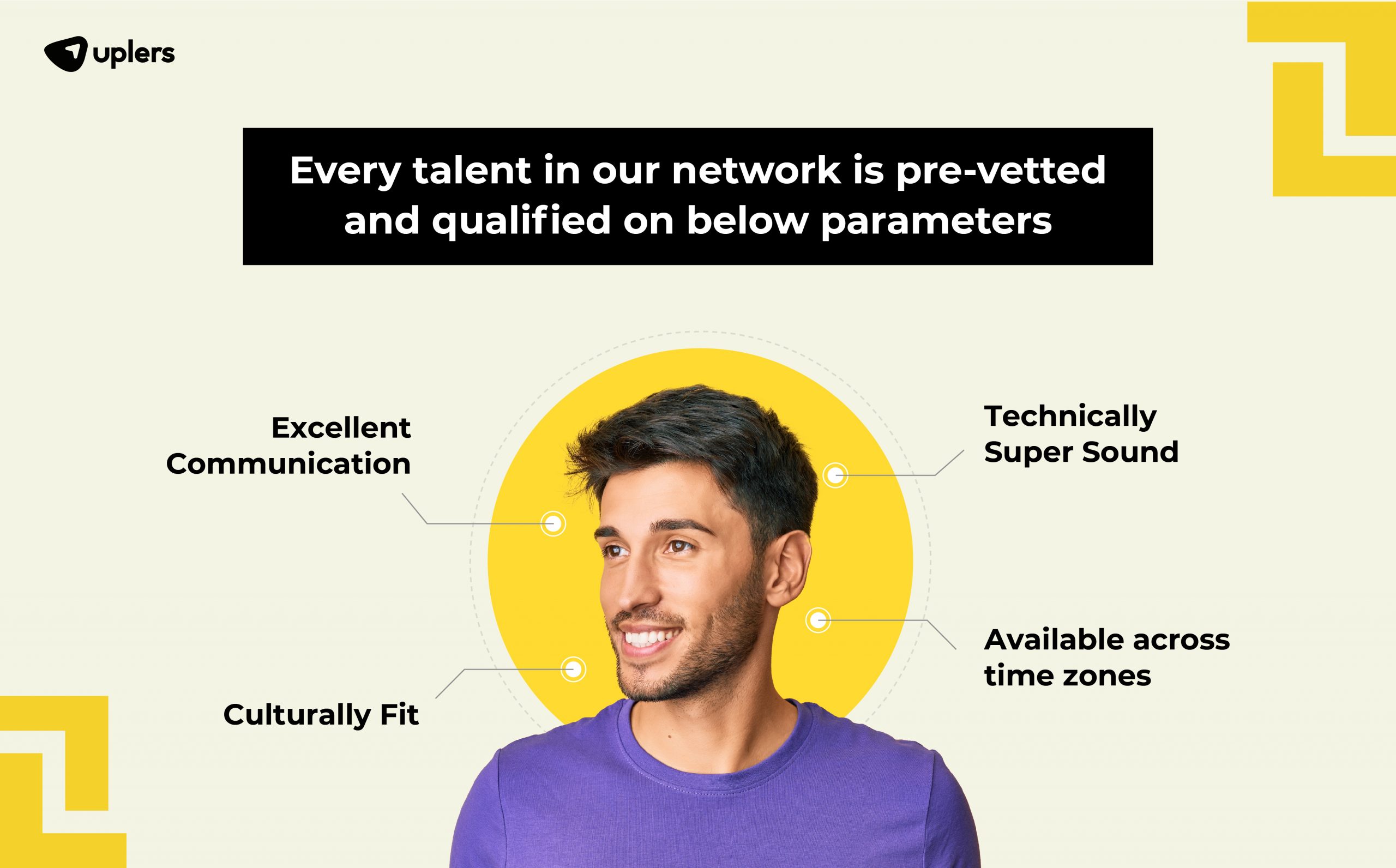 Once you are clear about the candidate's qualifications and skills, you need to:
1. Share the Job Description
Draft a job description that includes the roles & responsibilities, must-have skills, required experience, and area of expertise for the remote developer. Define these elements as clearly as possible so the candidate can understand the expectations well. Once you share the job description, we will look for technically and culturally fit candidates for your organization.
2. Find the Right Fit
Our talent matchmakers will find the 'right fit' for the job role, shortlist the skilled remote developers, and share their resumes with you. Once you finalize the profiles from your end, we will schedule the interview at your convenient date and time.
3. Interview and Hire
Conduct interviews with the candidates and share your feedback. Our stringent vetting process ensures that the remote developers you find from our network are all technically sound, culturally fit, and ready to join as soon as possible. This helps reduce the guesswork from your end in judging the candidate's capabilities.
However, you can notify us if you want to include additional assessments before you hire remote software developers.
4. Onboard and Manage
Once you confirm the candidate, Uplers oversees the legalities and contractual formalities with the remote developer to provide a smooth onboarding and managing experience.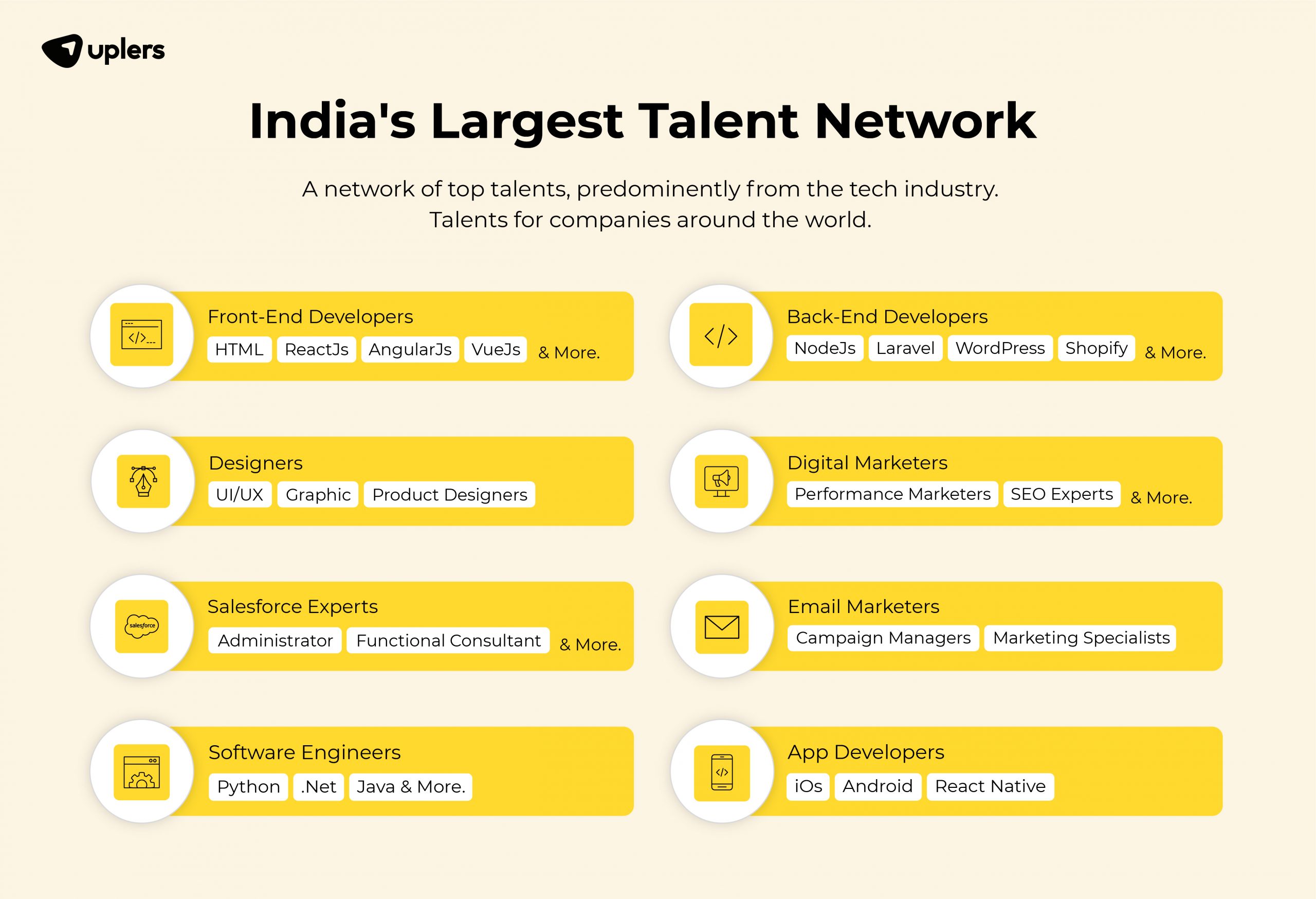 Revolutionize Your Hiring Process: Expert Tips for Hiring Top Remote Developers!
Companies should hire remote software developers and optimize their workforce to meet global standards. However, a Workable survey reveals that employers face several challenges while hiring candidates remotely, including training difficulties (37.4%), a lack of applications (13.5%), and reduced internal personnel for recruitment (11.5%). However, hiring remote developers can help overcome these challenges and provide access to a diverse and skilled workforce. 
At Uplers, we offer a platform that connects you with the top 3.5% of talent well-suited for job roles with varying complexities. Our platform can make it easier for you to hire remote developers and enjoy the benefits of a remote workforce. So if you're looking to hire remote developers, Uplers is here to help you overcome the recruitment challenges and find the right talent for your team.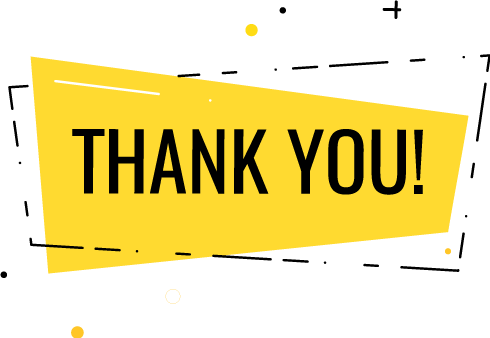 Thank you for submitting the details!
We will keep your information safe. Feel free to contact us with any questions at hello@uplers.com
Please check your email for next steps shared by Robert.