Things You Should Know Before Hiring Angular Developer
Aayush Gupta
April 6, 2022

10

Minute Read
Hiring the right angular developer is the most crucial step if you plan to build an enterprise-level web application with an exceptional outcome. 
Angular is the most preferred and popular Javascript (Angular) framework as it gives a wider set of features and high functionality.
Organizations are increasingly favoring it as it has the potential to push large extensible web applications. 
From Forbes, PayPal, Sony, or Netflix, these internet giants use AngularJS as their programming language to build their web applications. 
Many Angular development companies are on the prowl to hire the best in the industry, and hiring managers are ruthless in leveraging the right skills from the right candidate. 
So, the most important question is, 'how do you hire the right Angular Developer without losing your sleep?'. 
If you hire an angular developer with extensive knowledge and competence, you can develop profitable and successful products. However, it is not as simple as it appears.  
To find the ideal expert for your needs, you must first understand certain key professional characteristics. Furthermore, interpersonal characteristics are critical. 
But before that, let's brush up the basics. 
Understanding Angular: What is Angular?  
Angular is a framework for developing mobile apps that is popular among developers because it is open source. The Angular framework gives developers all of the tools they need to create single page applications.
The Angular language is regarded to be client-side as well as browser-side. This framework has several inbuilt tools that make it self-contained. Form validation, administrative decisions, routing, and other variables are most useful.
Angular Web Development: What does an Angular Developer do?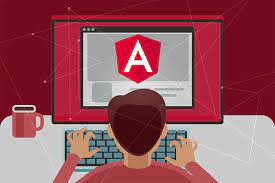 An Angular Developer handles the following roles and responsibilities:
Using best practices to create a streamlined user experience and a first-class codebase.

Designing modules and components that are self-contained, reusable, and testable.

Ensuring that the file system, logic, and model have a clean dependency chain.

Making Angular project technical and design decisions most aligned with the business goals.

Using Angular best practices, design and offer value-adding features and functionalities for users.
How to choose an Angular Developers: Angular Developer skills 
Finding the right team of developers after deciding to build a front-end app with Angular is the most challenging part. Experience and knowledge are two of the most sought-after attributes among Angular developers. 
When evaluating a project's success, it's important to examine how capable they are of integrating Angular with other technologies. It's also important to consider the developer's ability to write code efficiently while conserving resources. 
For angular software development, the following are some talents to think about:
1. Should know about CLI & Javascript
The first Angular package a developer should install using NPM is the Angular CLI, or Command Line Interface (Node Package Manager). The key tool for Angular installation is NPM, which aids in installing necessary web development packages.
2. Should have expertise in debugging & testing
Testing and debugging are key abilities for Angular developers. In addition to their code, developers may need to deal with code created by others. As a result, programmers must be able to recognize and repair errors.
3. Should be well-versed with Typescript
TypeScript is a new object-oriented programming language that makes large-scale web applications more manageable. Many large open-source projects and frameworks use typeScript, including Angular.
4. Should be able to use the right stack
It is critical for front-end engineers to be familiar with several frameworks. Angular developers, for example, must be aware of different back-end frameworks that are compatible with Angular, such as Node.js and Spring Boot.
Similarly, the online app framework Express for Node.js has complete TypeScript compatibility and npm (Node Package Manager), enabling Angular CLI to give superior scaffolding.
5. Should have knowledge of version control
Version Control Systems have several benefits. One of the essential benefits is that it streamlines the development process. It's also a lot easier to manage code, ensuring that everyone is on the same page. The most incredible thing is that new team members may look over previous code to avoid making mistakes.
6. Know how to use a RESTful API
HTTP requests are used in RESTful APIs. As a result, hiring engineers familiar with this type of API is critical. Your Angular developers must be familiar with it because a RESTful API may be accessed via POST, GET, PUT, and DELETE requests. They should also be able to read and apply documentation effectively and understand how to configure routing paths.
7. Expert in Git
Git is a version control system that maintains track of all project changes. It may resurface if you delete or alter the code or tinker with something. Git is beneficial to Angular web developers since it allows them to experiment with code while testing their ideas.
Apart from the above mentioned skills, there are several other Angular Developer Skills, Roles, and Responsibilities that one should be aware of before hiring.
Angular Developer Jobs: Whom should you hire as an Angular developer?
With a JavaScript framework as broad and distinctive as Angular, prioritizing applicants with practical expertise who can rapidly grasp project needs is more important than ever.
Angular experience is essential. You should check whether the candidate's knowledge is entirely based on books and tutorials, or if it has evolved due to working with the code."
Levels of Angular Developers: As per their Experience 
In terms of YoE (Years of Experience), Angular developers have 0 to 15 years of experience. The list is below, along with some pertinent information for each category. 
Note that we gathered information on each role from various legitimate and trustworthy sources, including LinkedIn, Glassdoor, Indeed, Betterteam, Monster, and others.
Associate Angular Developer
0 to 1 year of experience as an associate frontend/software/full stack developer. 
Writing code based on design concepts and patterns. 

Providing internal assistance for multiple departments. 

Following software development procedures. 

Documenting and collaborating with project teams. 

And solving other project-related difficulties is just some of the responsibilities.
Level 1 Angular Developer
1–2 years of experience as a software developer (Level 1). 
Designing software, implementing, testing,  debugging, and participating in various software development life cycle stages are all their responsibilities. 
Apart from building software, the Software Engineer also provides support and typically reports to the project manager.
Level 2 Angular Developer
2 to 3.5 years of experience as a software developer. Level 2 responsibilities are essentially the same as level 1, but additional independence, ownership, and contribution to the project's overall infrastructure.
Level 3 Angular Developer
3.5 to 5 years of experience as a senior angular developer. 
Analyzing system needs and demands, building software solutions for them. Analyzing system flow. 

Data utilization and procedures. 

Engaging in troubleshooting and advising on the software development life cycle are some of their responsibilities.
Lead Software (Angular) Developer
5–7 years of experience as a lead software developer. Taking ownership of the entire project and thoroughly examining it is among the responsibilities. 
A lead angular developer goes through an analytical process to meet the system's requirements. 
After understanding the application's needs and design, a lead software developer is expected to construct the detailed design structure.
Principal software developer
7–9 years of experience as a principal software developer. 
The detailed design and day-to-day management of a software development team are his/her responsibilities. 
This involves providing guidance and assistance with software and hardware components, implementation, and delivery.
Senior Principal Software Developer
9 to 11 years of experience as a Senior Principal Software Developer. Generally know as senior Angular Developer.
Designing, coding, and debugging software are among the responsibilities. A senior principal software developer's responsibilities include improving the performance of existing software and maintaining and upgrading it. 
One of the most important aspects of a senior principal software developer's work is mentoring and assisting other engineers.
Software architect
11 to 15 years of experience as a software architect. Interaction with clients, product managers, and developers to conceive, model, and give basic models and designs that can be built are among the responsibilities. 
Meetings with new or current customers may also be part of this function. A software architect must regularly evaluate the code to assure the design's quality by reducing complications and emphasizing clarity.
Angular developer interview: Angular developer job roles and responsibilities 
However, this does not imply that the Angular experience must be the culmination of several initiatives. After all, a young JavaScript developer should not be expected to do such a thing.
During a well-organized Angular developer interview, less experienced Angular programmers can demonstrate their solid comprehension of the principles underpinning Angular. 
When interviewing, one should concentrate on common challenges in large projects rather than knowledge that can be memorized.  Does the candidate know how to test Angular apps or grasp the RxJs rule?
It's worth employing screening tools to examine the candidate's coding skills and provide them with typical difficulties during actual Angular development. 
Assess the candidate's soft skills and development talents to determine if they will be a productive member of your team. To determine these skills you can check the list of top angularjs interview questions for freshers and experienced candidates along with their answers.
Angular Developer Salary: A rough estimate 
In the United States, a junior Angular web developer earns $97,500 a year, or $50.78 per hour. A senior angular developer earns $139,043, or 72.41 per hour, and a mid-level Angular developer earns $112,460, or $57.67 per working hour.

Salary for Angular front-end engineers is determined by their level of experience, working hours, and location. 
Consider their budget before hiring a developer, compare developer salaries in different locations, and check expert availability in the desired region.
The World's Average Angular Developer Salary
For angular development service, the highest-paid Angular software developers are in the United States, Australia, Western Europe, and Israel. 
A junior Angular developer is paid $97,500 a year, a senior expert is paid $139,043, and a mid-level Angular developer is paid $112,463.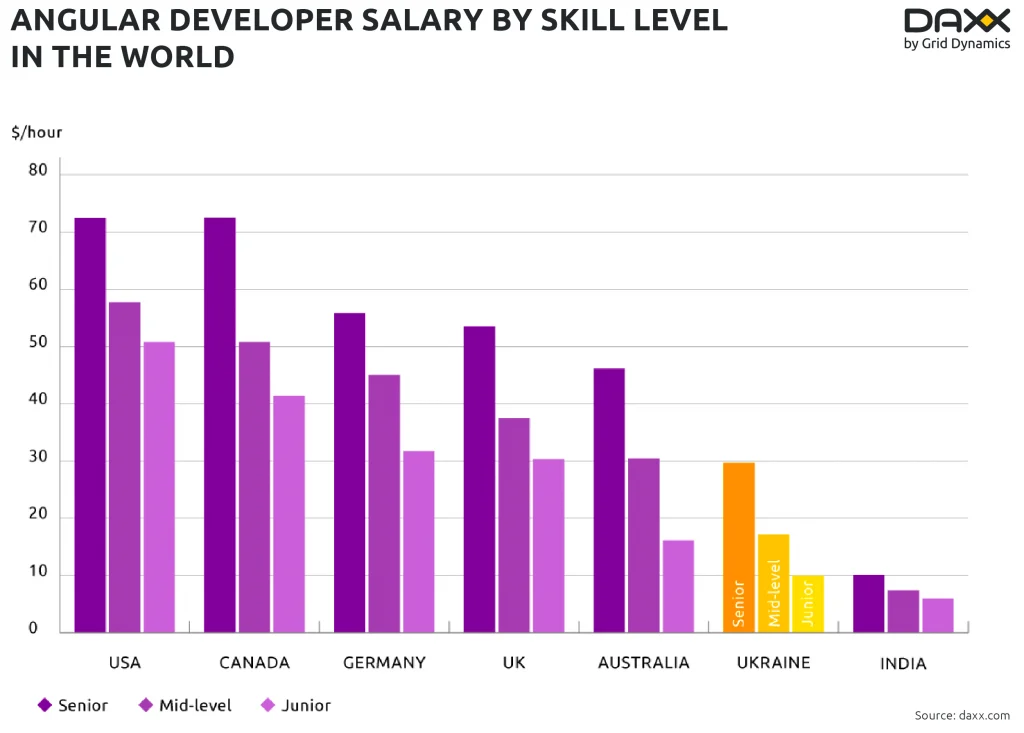 Source: Daxx
Salaries for Angular Developers in India
With Indians grabbing the US market, prominent CEOs of giants share the same ethnicity; maybe it is time to utilize them more efficiently without letting these two factors come between hiring and using them for their skills. 
One thing is sure about India's software industry: the software development industry is increasing and has made substantial progress since the 1990s. 
This advancement has undoubtedly resulted in a wide range of job opportunities in the Indian sector, with Software Engineering ranking first. 
As the rivalry between firms grows, India's average Angular engineer salary is steadily rising.
(Realistic) tips on hiring Angular Developers 
Here are some additional hiring suggestions for angular developers:
Prepare yourself for hiring
Before you start looking for an Angular developer to assist you in building a web app, prepare yourself. 
You do not need to be an expert in Angular to hire one. It all comes down to knowing precisely what you're searching for ahead of time. 
As a result, make a list of the following items before you start the hiring process:
Firstly understand the project's scale. 

How long will the project take to reach its completion stage? 

The number of programmers you would like to hire? 

Exactly how much time would you like to spend in the hiring process? 

Understand the experience range that you wish to hire for

Know your budget for hiring
Once you've put down all of these factors, you'll have a decent idea of how, when, and why you'll need an Angular developer.
Prepare a job description (JD) 
After you've jotted down all of the pertinent information, you should be able to:
How many Angular developers are you looking to hire? 

Do you need a full-time developer or freelancer? 

How many years of experience should a developer have? 
Next, build a job description for the Angular Developers you want to hire. Make sure the tasks and roles are well-written so that candidates know exactly what they'll be doing on the job. 
The job description will also help you evaluate how Angular developers contribute to your future expectations and requirements.
The job description should cover the following items:
A brief description of your job along with the job title 

Responsibilities in the Workplace

Benefits and Skills Provided Required 

Qualifications and Skills

Background Information on the Company
Further you can figure out some of the companies or can use our handpicked list of top angularJs development companies for 2022 and beyond.
Ways and Platforms to Hire Angular Developers
There are multiple ways in which you can hire an angular developer. Some of them are:
Freelancing Platforms
There are multiple platforms such as Fiver, Upwork, or freelancer from which you can hire a freelance angular developer. Here you can get a resource for your part-time or contract basis short-term projects.
The downside of these platforms is that they do not guarantee that the candidate you choose will have qualified skills or knowledge. Thus it is preferred for non-professional and essential level development.
Recruitment Agencies
Recruitment agencies can help you with finding the talent as per your requirements. You can hire them on a contract basis or full-time, depending upon your needs.
But these agencies may take 3-6 months to find a potential resource that matches your requirement. And the further recruiting process may add even more time resulting in your project's delays. 
Also, they charge a handsome amount for single recruitment.
UTS (Uplers Talent Solutions)
One of the modern and most efficient ways is to hire resources from a pre-vetted pool of talents. Uplers is one of such platforms which gives you access to best-in-class pre-screened talents in a cost-effective way.
This platform simplifies hiring by connecting you with the right hand-picked talents. They help you from screening to interviewing and onboarding the candidate in just a few simple steps. 
These steps are:
They collect your requirements.

They shortlist the exact talent for you.

You conduct the interview.

They onboard and provide the support for hiring.
Whether you are a startup, SME, ISV, or an established enterprise, this modern hiring method is suitable. In the last few years, UTS has helped numerous organizations hire their required talents, set up their remote teams, and help them grow and manage their business to the next level.
Not only this, but UTS offers other benefits such as:
Find the talents quickly

Time and Cost Saving

Top 3.5% talent access

No quality compromisation

Better security & Compliance

No recruitment fees

100% satisfaction

On-boarding and hiring support 
One of the best ways to get access to the best talent is hiring remote employees. 
Uplers has a pool of talented professionals, and you can choose the best candidate you evaluate to be suitable for your requirements. This candidate will work exclusively for your company and your projects, saving you 40% on the salary without compromising the quality. 
Final Thought
If you're looking to hire an Angular developer, your experience will be smoother if you keep the above mentioned things in mind. With the right skill set, they can help you create from single-page applications to enterprise level products that are user-friendly and efficient.
At Uplers, we assure the best results with our Angular development experts. Connect with us today, and we'll help you find the best Angular developer who will make sure your goals and expectations are taken care of! 
If you're a company looking for skilled Angular developers in India, we can connect you to the right candidate! Click here to Hire AngularJs Developer in a few simple steps.
Get Informative & Insightful Articles delivered to You Monthly