Angular Developer Salary in the USA and Other Parts of the World
Siften Halwai
November 9, 2022

9

Minute Read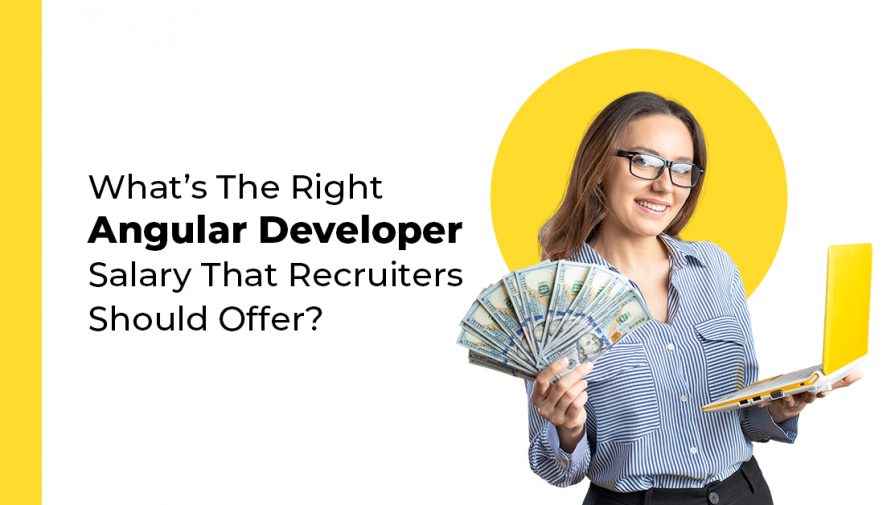 Setting the right salary expectations is the starting point of an employer-employee relationship. And no matter which part of the world you are working in, the last thing you need is to overpay an employee or be underpaid by an employer.
IT services are becoming more diverse in range in the current market. With more languages, skills, and roles opening up, wages are also seeing a sort of revolution. There are different pay packages for every technology in different countries.
Software developers, irrespective of their geographical location, are among the better-paid workforce globally. Since people's lives and businesses are becoming increasingly dependent on technology, technical experts are in high demand.
One such lucrative technical job profile is that of an Angular Developer. Angular specialists use this platform to create single-page applications, mainly for real-time user interaction.
Angular development, as a career, is quite popular among the younger generation. Hence, it is smart to be aware of the Angular Developer salary structure around the world.
But before we dive into how much you should pay an Angular professional, let's discuss why this job is in demand.
The Demand for an Angular Developer
Angular developers builds web applications that are robust and highly responsive, just how modern users prefer them. If you want a dynamic app for your company that has high speed and performance, you should hire an Angular Developer. A list of pre-prepared AngularJS developer Interview questions will act as an cherry on the cake.
Angular is one of the most used JavaScript frameworks globally, occupying a fifth place among the most popular web frameworks for developers. As of 2022, 20.39% of all web developers use Angular.
This framework currently powers hundreds of thousands of websites around the world, including Gmail, Microsoft, PayPal, Samsung, etc. Hence, the Java Angular Developer salary range is one of the highest globally.
Angular development is preferred by website owners and enterprises for many reasons.
It is easy to learn and use, with HTML attribute as the template language.
It has an organized code structure.
It is highly efficient and dynamic in performance.
AngularJS framework can be used for projects of all sizes and scales.
It enables effective cross-platform development for web and mobile applications.
The development time is low, so it controls the budget.
It can handle large volumes of data without crashing.
Angular produces high-quality apps with smooth user experience for businesses.
It is easy to identify and solve development problems.
All these factors make Angular development one of the most sought-after skills in the present market. This, in turn, positively impacts the AngularJS Developer's salary.
Factors Influencing an Angular Developer's Salary
Much like other job roles, the average Angular Developer's salary depends on many factors. This may include position, years of experience, work timings, nature of the project, location of work, and so on.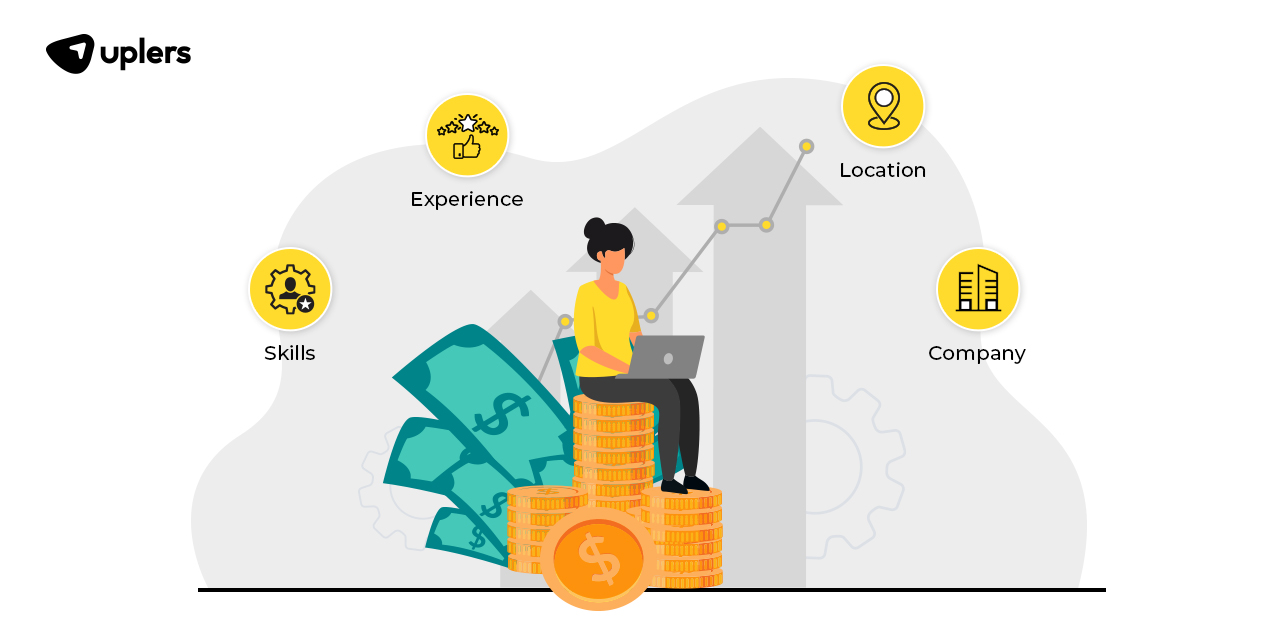 Every company has a benchmark for setting their employees' salaries, so the entire idea is subjective. However, there are ways to determine the range of Angular Developer average salary in different regions of the world. That is by considering the four most important deciding factors.
Skills
Needless to say, the skillset of a developer is an important determinant in their salary negotiations. For instance, an Angular front-end developer's salary is different from someone working at the back end. Similarly, Angular full stack developer salary is generally higher than other roles as they are expected to possess holistic development Angular Developer skills both at the front- and back-end.
To make sure you are in the race, update your skills regularly. Be aware of the latest trends, developments, and updates in the Angular.js world. And most importantly, work on a variety of Angular projects to develop your skills and drive up your AngularJS Developer salary further. This brings us to the next factor.
Note:- Here is the detailed guide on Angular Developer Skills, Roles, and Responsibilities that you should look for while hiring.
Experience
As you gain experience, your salary will also increase. The Angular Programmer salary structure is largely dependent on your years of experience in the industry. And experience is not just measured in time. If you have worked on unique or advanced projects in your career, that is also considered experience and will drive up the AngularJS Developer salary you can seek.
Most companies around the world value real-world experience in Angular development. So, keep at it and work on various projects while you acquire more skills to withstand the competition.
Location
Geographical location is also a factor in determining the salary of an Angular Developer. Different countries have different Angular web developer salary packages. For instance, an Angular Developer salary in USA is more than someone based in, say, India or Ukraine.
How you work also decides how much you will get paid. Someone working remotely for the same role might have a lower AngularJS Developer salary than an onsite developer. This is because costs like rent and transportation are cut out in a remote role.
Company
Lastly, the company you are working for decides how much AngularJS Developer salary to offer. Hence, the applicant should check out the hiring company's budget and average salary structure before interviewing for a job.
Companies offer different pay packages in different locations and job roles. It is better to have a clear understanding between the prospective employer and employee while taking on an Angular developer role, be it full-time or freelancing.
Note:- Here is the list of Top AngularJS Development Companies to Hire from.
Average Angular Developer Salary
The average salary for an Angular Developer varies across the world. It is influenced by the overall salary market of the country, demand for Angular jobs, additional education or certification of the developer, and so on. Apart from that, It is very important to check if your hire has sufficient knowledge of Angular VS AngularJS or not to eliminate unnecessary competition in the market.
On average, the Angular Developer's salary per hour may range between $20 to $45. Based on available data, Angular developers in the Philippines, Ukraine, and India get the lowest average salaries. On the other hand, programmers in North America, Israel, West Europe, and Australia get paid the highest amounts.
In the middle lies the Eastern European markets of Poland, Romania, and so on. They get an optimal AngularJS Developer salary amount for Angular 2 Developer, Angular 4 Developer, and full stack Angular Developer.
Angular Developer Salary Based on Different Locations
An average Angular Developer salary, as we discussed earlier, depends on several reasons. But location is one such factor that cannot be controlled by an employee. Most employees, irrespective of how experienced or talented they are, fall within the boundaries of the salary range of their country or state.
Hence, it is important to be aware of the average salary an Angular Developer can expect in different locations.
All amounts mentioned in the table are the average base pay in the country, mentioned in US dollars, for better comparison.
| | |
| --- | --- |
| Location | Angular Developer Salary (p.a.) (US dollars) |
| USA | $93,314 |
| UK | $57,703 |
| India | $6,500 |
| France | $49,674 |
| Ukraine | $3,310 |
| Philippines | $8,207 |
| Canada | $62,358 |
| Germany | $60,363 |
| Japan | $34,606 |
| Singapore | $48,551 |
| Poland | $22,886 |
| Australia | $62,914 |
Clearly, the United States pays Angular Developers the highest, of which the Angular Developer salary in NYC is one of the most lucrative. The average AngularJS developer salary in New York City may be around $98,696 annually.
This is followed by Australia, Canada, Germany, and the United Kingdom. So, the Angular Developer salary in the USA is the highest in the table, followed by the Angular Developer salary in Australia.
These figures are followed by the Angular Developer salary in Canada, which is close to the range of Angular Developer salary in Germany. Not far behind is the Angular Developer salary in the UK. Other European countries like Poland and France pay somewhere in the middle range.
The Angular Developer salary in India is among the lowest in the world, accompanied by Ukraine and the Philippines. Statistically, Asian countries (like India, Philippines, Japan, etc.) provide a cheaper talent market globally, which is why many freelancers and remote workers are hired from these countries.
Angular Developer Salary Based on Experience
In this case, also, the AngularJS Developer salary packages based on experience are very subjective to the job role and location. For reference, let's discuss the experience-based gross annual income of Angular developers in North America.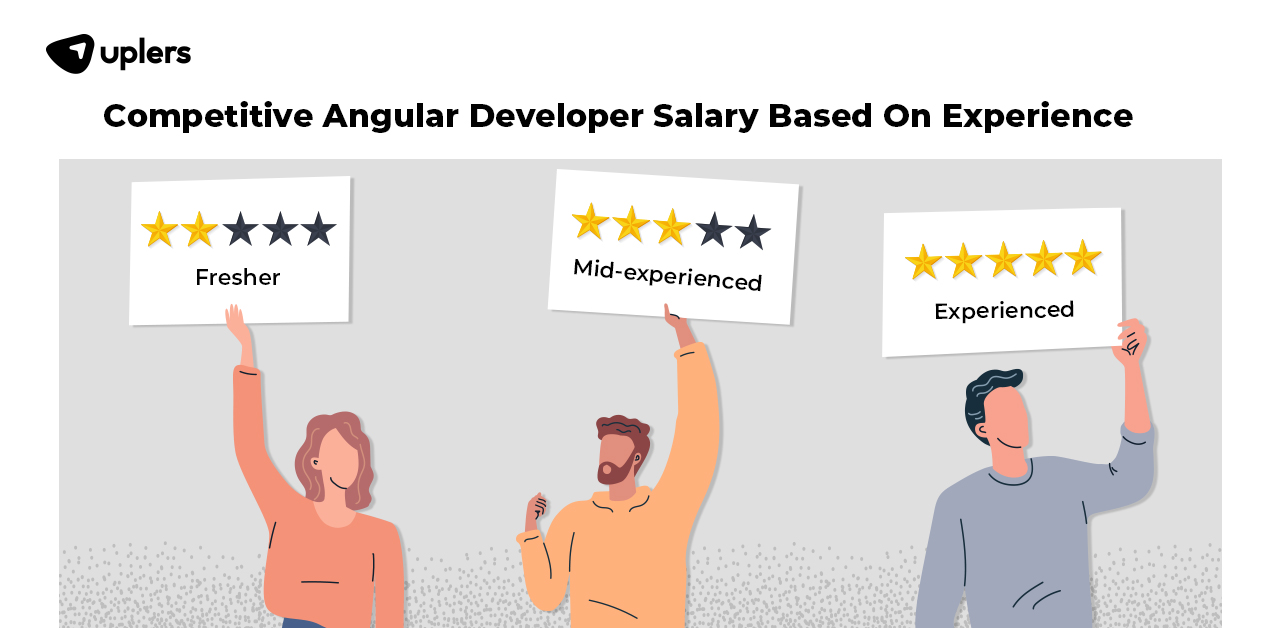 There are a few roles to be considered here:
Angular Full Stack Developer
Angular Software Developer
Angular Front-End Developer
Angular UI Developer
For each of these roles, the average Angular Developer salaries depend on the years of experience. 
| | | | |
| --- | --- | --- | --- |
| Job Role | Junior Developer Salary in North America | Mid-Level Developer Salary in North America  | Senior Developer Salary in North America |
| Angular Full Stack Developer | $89,750 | $106,500 | $137,750 |
| Angular Software Developer | $86,500 | $102,500 | $130,750 |
| Angular Front-End Developer | $79,500 | $98,250 | $129,500 |
| Angular UI Developer | $81,750 | $99,750 | $126,250 |
Fresher/Junior
Freshers or junior developers are obviously paid the least since they are at the beginning of their careers. These are the Angular developers having one to three years of experience.
In the US, an Angular Developer's average salary for a fresher is around $89,750 p.a. In India, a junior Angular Developer salary is around ₹4,85,000 annually.
The junior Angular Developer's salary can be increased with relevant degrees, certifications, and work exposure.
Mid-Level
Mid-level Angular Developers have experience between three to six years. They are considered more skilled than freshers and hence have higher pay packages compared to the entry level Angular Developer salary.
In North America, a mid-level full-stack Angular Developer earns around $106,500 annually. In India, the average salary of Angular developer who have a  mid-level experience in Angular field earns around ₹8,50,000 per annum.
Experienced/Senior
Experienced or senior Angular Developers are the highest paid in this field. These are professionals with more than six years of experience.
In the North American market, a senior full-stack Angular Developer earns an average of $137,750 per year. The senior Angular Developer salary in the Indian job market is around ₹11,10,000 annually.
Angular Developer Salary Based on Angular Versions
Another determinant for an Angular Developer jobs salary is the Angular version you work on. There are several Angular versions, such as 1 (AngularJS), 2 (Angular), 4, 5, 6, 7, 8, 9, 10, 11, 12, and 13. AngularJS uses JavaScript Frameworks, whereas Angular 2 uses TypeScript.
A mid-level Angular 2 Developer in the US earns around $117,000 per annum. An Angular 4 developer of the same experience range may earn around $93,000 annually. Similarly, Angular 6 developers earn about $81,000 on average.
To sum it up, the average base salary of an Angular 2 developer in the United States is higher than that of an Angular 4 developer. A little lower in the salary range are Angular 6 software developers.
Angular Developer Salary Based on Job Type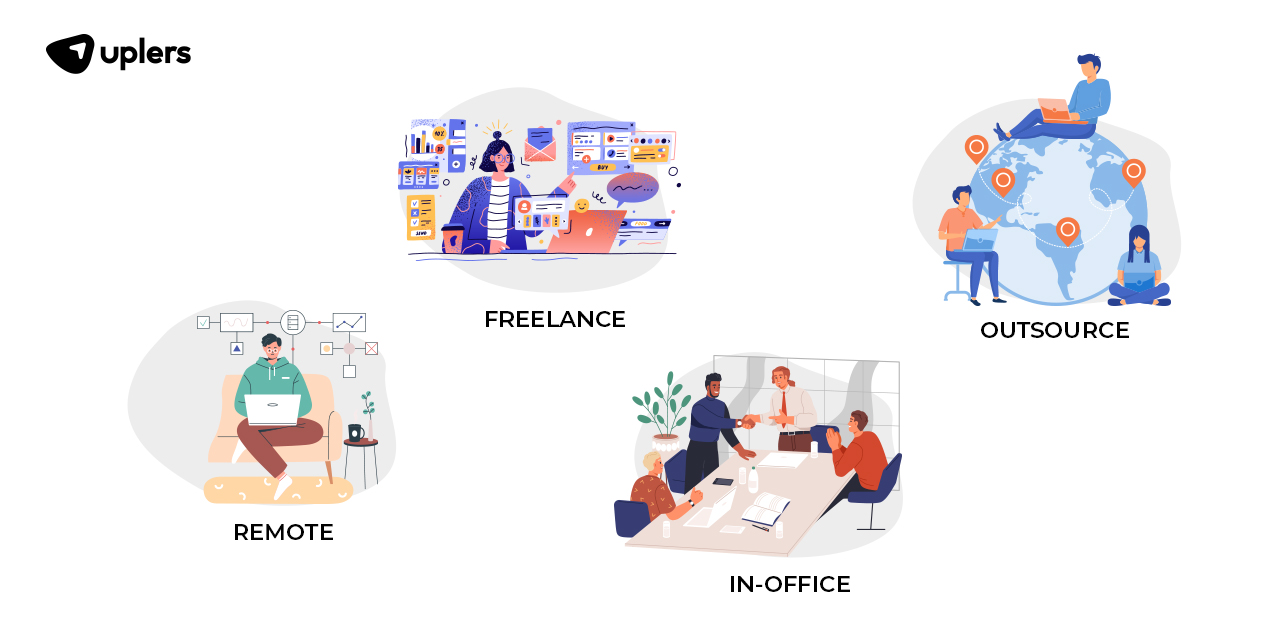 The last factor to influence AngularJS Developer's salary is the job type. Your job type dictates the work hours and type of employment. For instance, an Angular Developer can be employed with a company on a freelance basis or as a remote worker, outsourced resource, or in-house employee.
In each case, the salary structure is slightly different. Let's check out the salary ranges in the United States and India.
| | | |
| --- | --- | --- |
| Type of Job Role | Average Salary Per Annum (USD) | Average Salary Per Annum (INR) |
| Freelance Angular Developer | $99,153 | ₹4,50,000 |
| Remote Angular Developer | $87,657 | ₹6,79,000 |
| Outsourced Angular Developer | $85,363 | ₹5,00,000 |
| In-house Angular Developer | $103,826 | ₹8,50,000 |
You can also decide on an Angular Developer hourly rate for shorter or freelance projects.
Resources to Hire an Angular Developer
There are several ways to find talented AngularJS developers for your company, depending on the skills required, budget, and seniority level. Apart from the conventional ways of hiring, like advertising your listing on the company website and job sites, you can opt for a smarter hiring route.
Hire AngularJS Developers for your company through talent recruiting platforms like Uplers for an easy onboarding process without tedious vetting on your part. Uplers finds you the top-performing professionals around the world for your Angular project. You just have to interview the shortlisted candidates and hire the best fit without having to handle any pre- or post-hiring responsibilities.
This way, you can skip the sourcing woes without compromising on security, compliance, or talent. You can also stick to your decided AngularJS Developer salary package while searching for the right talent.
FAQs
Here are few popular frequently asked questions that might help you in make the right decision.
How much do Angular Developers earn?
An average front end Angular Developer salary in the United States is about $113,277 per year as of October 2022 whereas an Angular Developer earns between ₹1.9 Lakhs to ₹9.6 Lakhs per annum in India.
What is the ideal Remote Angular Developer Salary to hire from India?
An Angular Developer's annual salary in India is around $3000 offered by Uplers is the ideal salary to hire angular developers from India.
Is Angular better than React?
React is most suitable for creating dynamic UI components in mobile and web applications, including single-page apps. Angular, on the other hand, works perfectly for applications that require large volumes of data handling. This means Angular is better suited for your application than React if the app is enterprise-level and consists of complex functionalities.
Is Angular front-end or back-end?
AngularJS is a JavaScript front-end development framework used to build single-page applications. It is an open-source platform that lets you build web applications with a dynamic and responsive user interface.
Which language is used in Angular?
Angular 1 or Angular JS uses JavaScript, whereas Angular 2 is written in TypeScript. TypeScript is the recommended language because it has a lower amount of bugs and can refactor your code easily.
Is Angular still relevant in 2022?
Angular is highly relevant in 2022. It is one of the most popular JavaScript frameworks in the technology market, with 20.39% of web developers working on this framework. It is also the fifth most used web framework in 2022 globally. This is why the Java Angular Full Stack Developer salary around the world is highly competitive and well-structured.
Conclusion
Angular Developer salary rates around the world offer you a wide range of choices while hiring an Angular professional. You can choose a developer from your country for in-house work or opt for a remote worker from any part of the world.
Angular development is only expected to gain more popularity with time, making it one of the most highly-demanded skills in the software industry. So, to harness its power, ensure you match the salary expectations of skilled Angular developers and make informed decisions for your job opening.
The goal is to optimize the Java Angular Developer salary package so that you can make a profitable hiring decision based on your project costs and required skills. Contact Uplers to help you make the right hiring decision and do all the legwork to find you the right fit.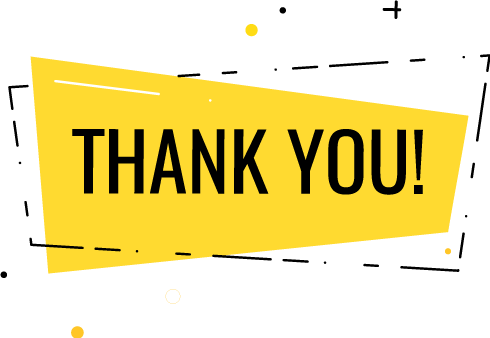 Thank you for submitting the details!
We will keep your information safe. Feel free to contact us with any questions at hello@uplers.com
Please check your email for next steps shared by Robert.