How to Find and Hire WordPress Expert and Developer With Ease
Aayush Gupta
May 12, 2022

12

Minute Read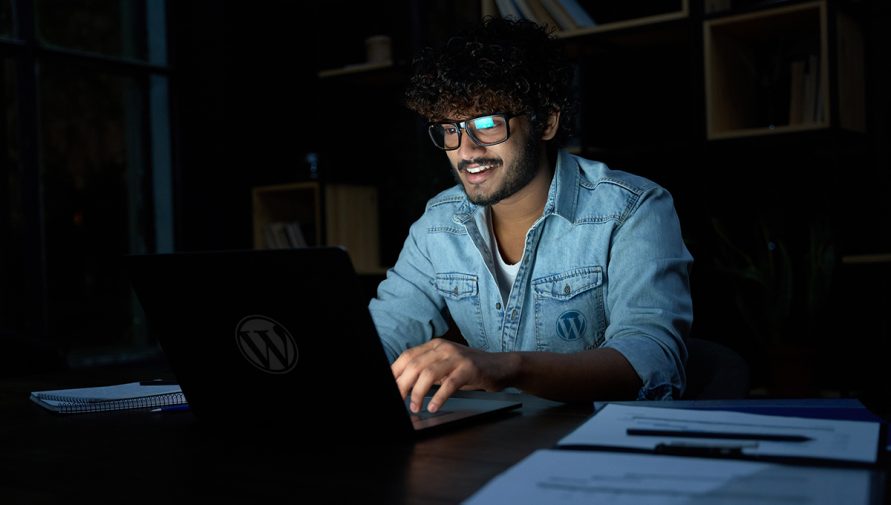 What do 43% of global websites have in common? You guessed it, it is WordPress! And if you were to just focus on Content Management Systems (CMS), WordPress occupies a lion's share of the market at 64%! In simple words, WordPress is HUGE. One can even say that it is a towering lighthouse lending direction to businesses in reaching their goals. However, the problem starts when a WordPress expert comes drawn to this lighthouse, like moths to the flame.
Unlike other industries, where talent shortage is a genuine problem, WordPress experiences quite the opposite. There are just too many WordPress developers! After all, WordPress was designed to be easy, the WordPress community is helpful and thriving, and developers from any background can adapt to work on WordPress. This must be a good sign, right? On the contrary, it's not!
As any recruiting manager who has worked with a saturated market knows, with high volume comes quality issues. Accordingly, you are more at risk of making a bad hire. Which is going to cost your company time and money.
So, how does one go about navigating these challenges to pick the best of WordPress experts? Well, here's an elaborate guide just for you!
Types of WordPress Experts
If this is your first time hiring WordPress experts, it would be best to familiarize yourself with the different types of WordPress developers that may cross your path. The following is a quick refresher: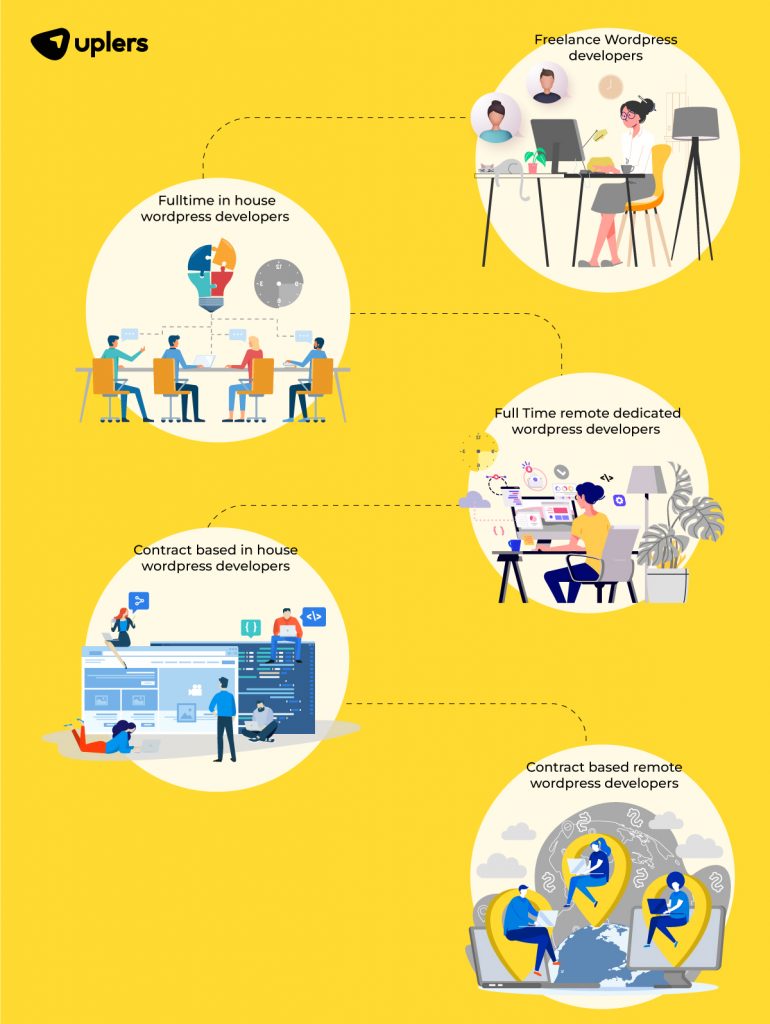 Freelance WordPress Experts
As the name indicates, a freelance WordPress expert is a self-employed developer who works without intermediaries. They will work with you on a project-to-project basis and will charge you a flat-rate fee, hourly fee, or retainer. You can find such talent on freelancing platforms or by referrals within your network.
Hiring a WordPress freelancer works out to be cheaper, and you get access to a wealth of options. However, it could also add to your responsibility of vetting talent while still subjecting the project to a certain amount of risk.
Full-Time In-House WordPress Experts
These are dedicated WordPress experts that the business has recruited. They are a part of your staff, operate from within the office, and enjoy all the employee perks and benefits that your company extends to its workforce.
With full-time, in-house WordPress experts, you can be sure that your project is in good hands. They will work on creating custom and branded solutions, work solely on your project, and be readily available. However, hiring a full-time, in-house WordPress developer can prove to be expensive as you will have to compensate them even if you are not availing their services. Plus, the requirement to physically attend the office means that you will have to hunt for WordPress developers near me, limiting the talent pool.
Full-Time Remote Dedicated WordPress Experts
Since geographic location can be an issue while hiring full-time, in-house WordPress experts, opting to hire a remote WordPress expert makes more sense. They function much like a dedicated WordPress expert, except that they do not have to show up at work.
As such, they offer the same benefits while mitigating location issues. Further, even though they are still on your payroll, they can prove to be slightly more cost-effective as it is a remote position (as 61% of employees would rather choose a pay cut than work from the office!). Some may complain that communication can pose to be an issue while working with a remote developer, not to mention that the problem worsens if they are located at a different time zone. However, it is not an insurmountable issue given the options available for synchronous and asynchronous communication and the widespread adoption of the same. As such, even if the teams are spread across geographies and time zones, they can still work collaboratively.
Contract-Based In-House WordPress Experts
Contract-based, in-house WordPress experts are recruited through third-party agencies. These agencies test and evaluate the skillset of their teams and offer you their services on a contract basis. Resultantly, your developers are ready to get working from the word go. The costs would be easier on the pocket while you still enjoy a good degree of control over the WordPress development project. However, you will still have to provide infrastructure to the WordPress developers as they will be working out of your office space. Also, maintaining culture against workforce heterogeneity can prove to be a challenge.
Contract-Based Remote WordPress Experts
Against all the different types of WordPress experts discussed so far, contract-hiring a remote WordPress web developer appears to be the holy grail! You get instant hiring, scalable teams, flexibility, control, project guarantee, access to wider talent pools, and moderate costs. You also do not have to deal with providing infrastructure to remote workers as they will work on their own devices. As for the management and coordination of remote developers, you won't have to worry as much about it as the third-party agency would often step in to assist. The only tangible disadvantage would be finding a reliable talent agency that can balance everything.
Freelance WordPress Developer vs Dedicated WordPress Developer
From the above description of WordPress experts, the differences between freelance and dedicated WordPress developers may seem obvious. Regardless, here's a quick table to summarize the same:
| | |
| --- | --- |
| Freelance WordPress Developer | Dedicated WordPress Developer |
| Engaging a freelancer can take time as recruiters have to source and vet talent | Quicker turnaround times as the sourcing and vetting are left to recruitment agencies |
| Could be working on multiple projects | Only works on company projects |
| Can offer generic solutions | Will work on custom solutions |
| Works out to be cheaper but commission charges can accrue, especially for larger projects | Costs are moderate as most agencies charge a very nominal fee |
| Can bailout in the middle of a project, which can jeopardize it | Agencies often offer a replacement in the improbable event that talent leaves a project midway |
| It can get tough to manage a freelancer and have control over the project | The agency operates as a nodal point of contact, which makes control and management easier |
| Failure rates are high | Failure rates are low |
| Intellectual property and project confidentiality could be at risk | Since developers sign non-disclosure agreements and agencies enforce them, project confidentiality is maintained |
| May only offer WordPress development services | Can expand offerings to development, designing, maintenance, and beyond |
Remote WordPress Developer vs In-House WordPress Developer
Let us also go over the differences between hiring a remote WordPress expert against an in-house one:
| | |
| --- | --- |
| Remote WordPress Developer | In-House WordPress Developer |
| Access to global talent pools | Recruitment is limited to co-located talent |
| Even if you are to reimburse the WordPress expert for services like the internet, it still works out cheaper | Can prove to be costly as you have to invest in infrastructure. Plus, you will have to offer a transport allowance for in-house WordPress developers |
| Control and management can be an issue | Since they come under direct supervision, project control and management are not an issue |
| Team bonding, communication, and collaboration can be challenging | Teams can work together seamlessly |
| Remote workers are found to be more productive and proactive | In-House WordPress programmers can easily fall prey to burnout and inefficiency |
| Teams are more flexible during black swan events | Teams will face severe disruption during black swan events |
At this juncture, you may have a clear idea of the kind of WordPress specialist you wish to hire. In the next section, we take a look at where to find a WordPress developer.
Top 5 Platforms to Find and Hire Full-Time WordPress Experts and Developers
If you are looking to find a WordPress expert for occupying a full-time position, the following are a few reliable sources:
WordPress Jobs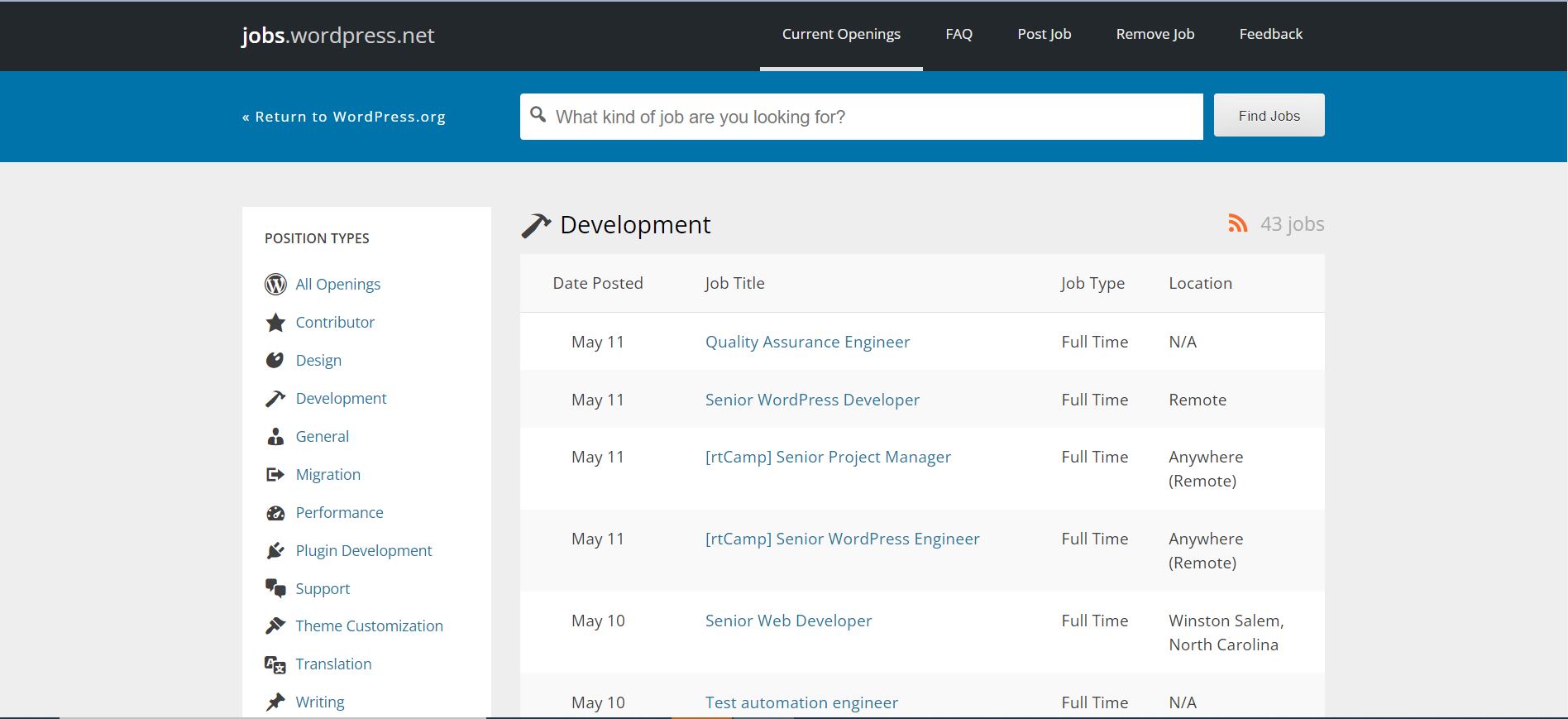 Source: WordPressJobs.Net
As the official WordPress jobs listing portal, WordPress Jobs can be a great place to start your search for WordPress experts. The moderators of the page review every posting before publishing it, and the listings are active for a period of 3 weeks (21 days). Listings can be classified on the position types, such as WordPress design, development, performance, migration, etc. You can also list requirements for WordPress-associated jobs, such as writing, translation, support, maintenance, etc. Given the reputation of WordPress Jobs, you can be assured of finding top talent. However, do bear in mind that you will have to vet talent yourself before hiring them.
Uplers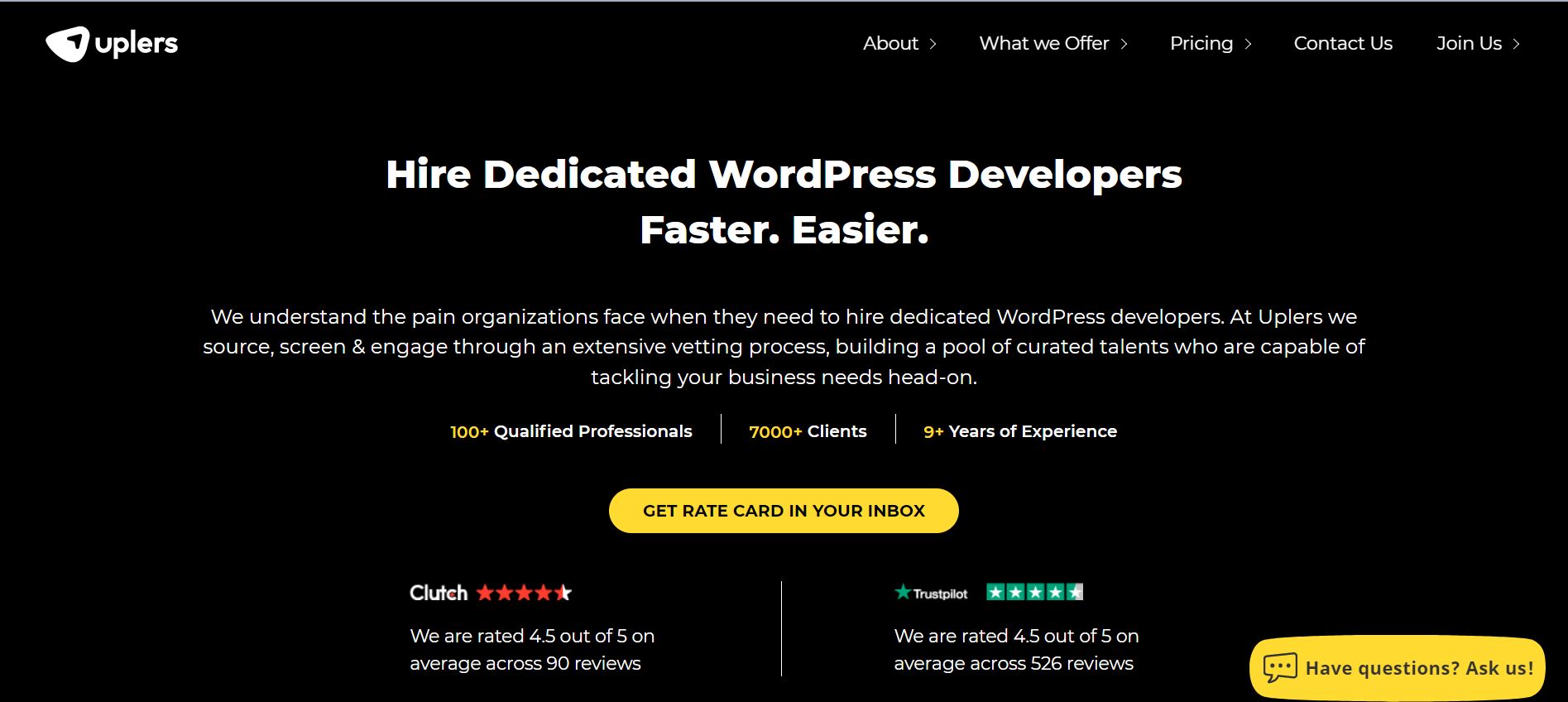 Source: Uplers.com
Uplers understands your project requirements and offers a directory of qualified, pre-vetted WordPress experts. The list will contain the credentials of the eligible WordPress specialists according to the service type, such as WordPress website developers, designers, WordPress Plugin Developers, consultants, and more. You can then filter through the list based on skills, experience, location, budget, etc. Such a top-level view with granular control allows businesses to find talent that is a good fit for their organization.
Once you have shortlisted the candidates of your choice based on their profile, Uplers sets up a no-obligation interview where you can interact with the developer and assess their skills. After you have made your choice, you can directly start working with the WordPress developer, while Uplers is readily available in the background to aid and assist. Plus, WordPress development is not the only service offered by Uplers. You can benefit from the bouquet of digital services for all your IT requirements!
WPHired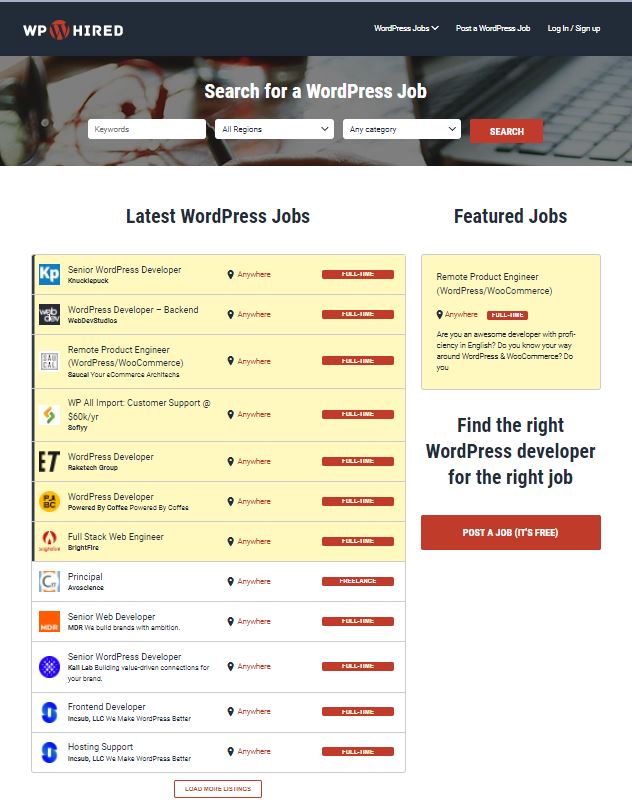 Source: WP-Hired.com
Launched by Jerome Degl'innocenti, a WordPress evangelist, WPHired is one of the earliest WordPress job boards that went live in 2010 – that's over a decade of existence! This early headstart has given the platform the opportunity to connect with a variety of developers. And if you are looking to hire talent for a low-cost project, WPHired can come in handy, seeing as it largely caters to the requirements of small businesses. However, just because it is relatively affordable, it does not mean that you will have to compromise on quality. You will still find WordPress experts who are worth their weight in gold.
Smashing Jobs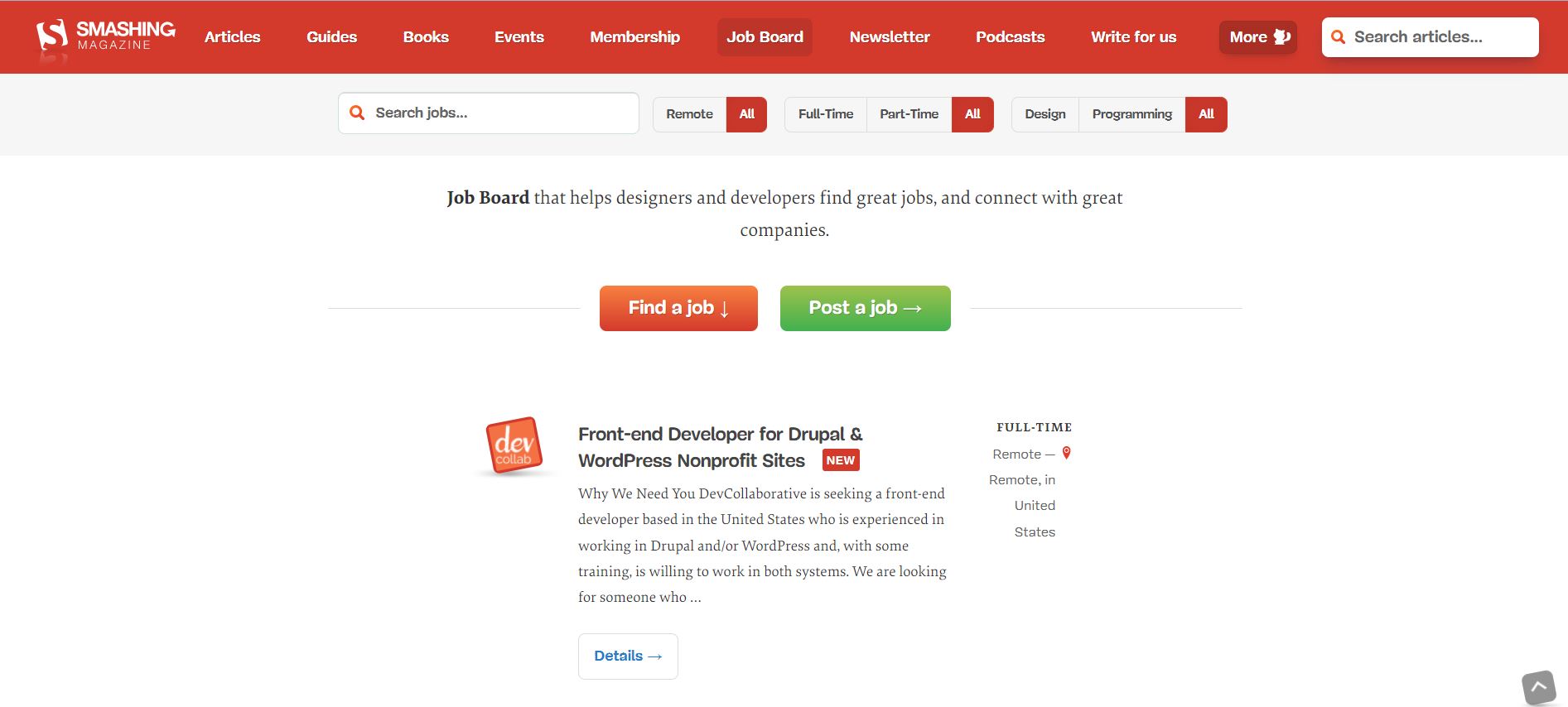 Source: Smashingmagazine.com
Smashing Magazine is like a holy book of developers. And seeing the traction that it has gained in the past few years to build a sense of community, it makes sense that the platform offers solutions to match businesses with talent and vice versa. Cue Smashing Jobs. The cost of listing ranges between $75 to $225 for freelance and full-time jobs, respectively. Since the listing has been live for 60 days and the website draws traffic of more than 4 million users per month, you can be assured of snagging some of the best WordPress experts from here. Given these benefits, it comes as no surprise that big tech companies like Amazon, Activision, and Tesla Motors recruit from Smashing Jobs.
Angel List
Source: Angel.co
Angel.co used to be the playground for technocrats, entrepreneurs, and startups. So, if you fit any of these categories, you don't need an introduction to this portal. The platform has now expanded to allow job listings too. Apart from finding talent, you can also come across third-party agencies that offer WordPress development teams for hire. It allows you to fine-tune the search based on various parameters such as location, industry, experience, etc.
Top 5 Platforms to Find and Hire Freelance WordPress Experts and Developers
If you have planned on going down the freelance route, you can find a credible freelance WordPress expert on the following sites:
Freelancer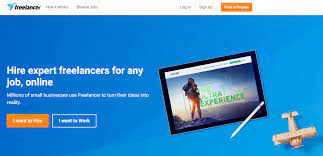 Source: Freelancer.com
Freelancer is a popular online job marketplace. You can use this platform to connect with a vast community of freelancers (beyond WordPress web developers, designers, programmers, etc.). However, you are responsible for posting listings, reviewing profiles, and selecting the right candidates, which means that you will have to do all the legwork and the due diligence before making the hire. Further, given the popularity of this platform, the quality of freelancers available can really vary from meh to extraordinary. As such, it will be exhausting to find the WordPress expert you need within the timelines.
Upwork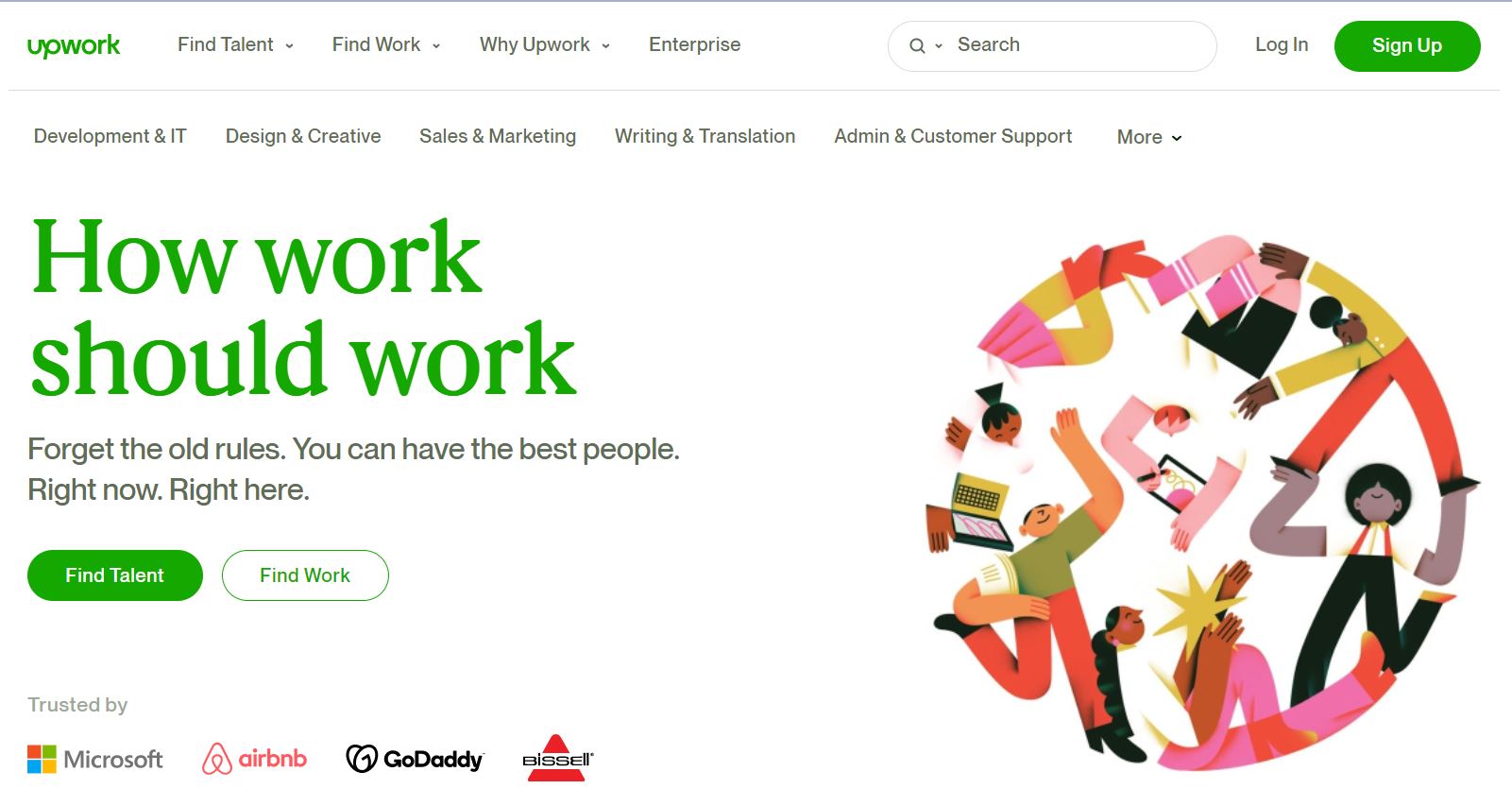 Source: Upwork.com
Upwork is essentially Freelancer – but on steroids. As a result, you can see higher views on your job listing, more responses, more options, and WordPress experts who can outdo each other. The hyper-competitive environment is not for faint-hearted recruiters. Especially since you are once again responsible for carrying out due diligence while engaging a WordPress freelancer from Upwork. So, if you are prepared to be knee-deep in applications and dig through it all to find appreciable talent, then it is worth the consideration.
Toptal

Source: Toptal.com
Toptal boasts of allowing companies to hire from the top 3% of freelance talent. Such a lucrative headline is sufficient to have recruiters flocking to it for their diverse requirements. Not just WordPress experts, or tech experts for that matter, but you can also engage financial gurus to steer your business. Of course, since the platform puts a lot of work into screening candidates, and only the best of lot make it through, the prices are not low. Strangely, you might find the same freelancer available on other platforms for a lower cost! So, you might want to cross-reference the costs if you wish to cash in on some savings.
Codeable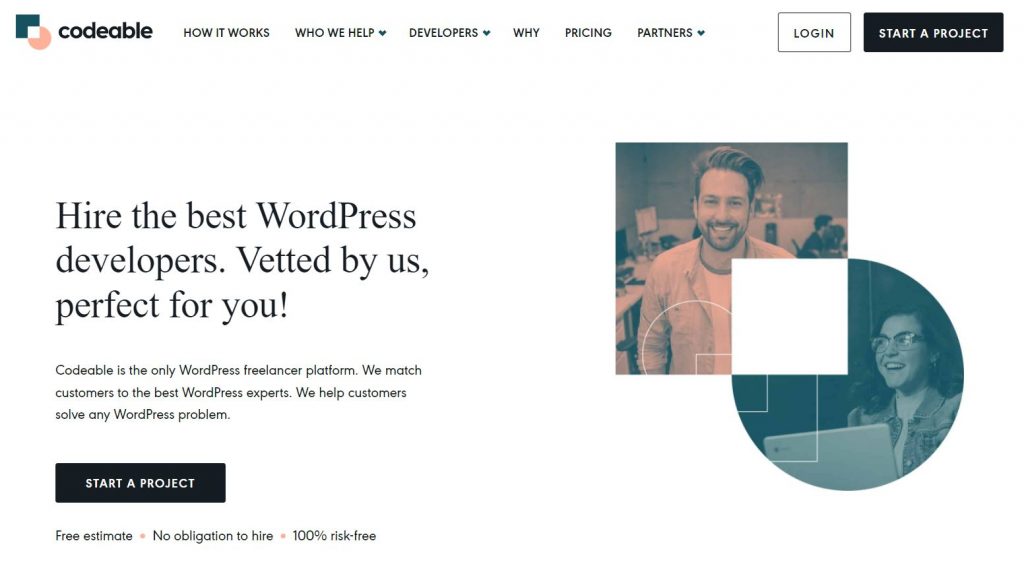 Codeable is a WordPress-centric talent engagement platform that works with only the best freelance WordPress experts. Its focus on WordPress ensures that you will easily find WordPress specialists for all your business requirements without having to search far and wide. However, the professional, well-groomed talent that you get off of Codeable will also attract professional rates, so expect to pay a minimum of $70 per hour, which means that long-drawn projects are bound to get pricey.
People Per Hour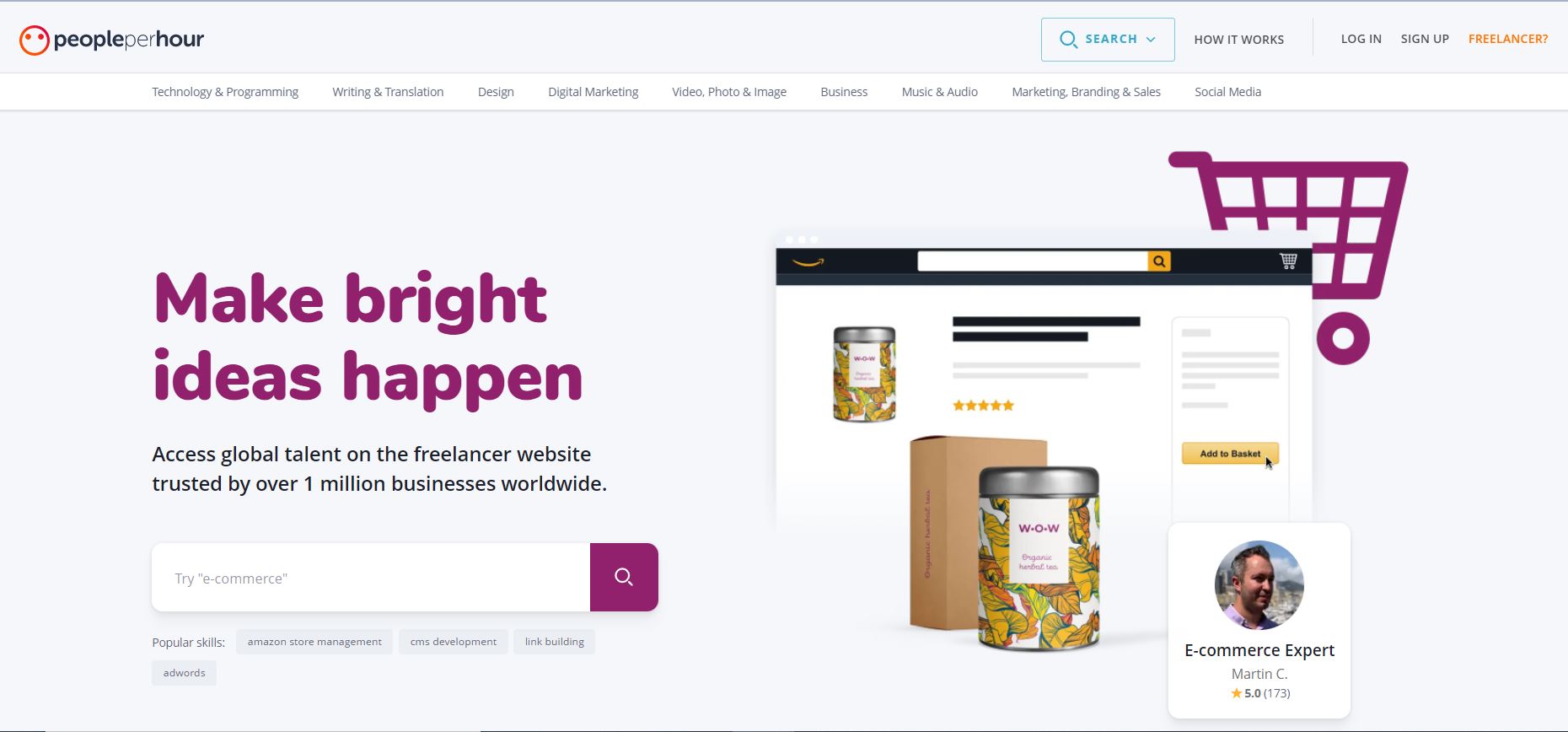 Source: Peopleperhour.com
While People Per Hour follows the same freelancer marketplace approach as Freelancer, Upwork, and Fiverr, the contests (aka Hourlies) make the model more interesting. The entire process, from posting jobs, connecting with freelancers, and paying for the hours worked, is seamless. Apart from connecting with the global talent base, People Per Hour can help you seek local WordPress developers who can possibly become a regular fixture in your office if you were to have an in-house team!
Tips to Find and Hire the Best WordPress Experts
If you wish to eliminate the guesswork and bypass the trial and error method of hiring WordPress developers, the following are a few tips that will help:
Eyes on the Prize
As seen already, certain WordPress projects, such as designing, customization, plugin development, etc., may require niche skills. As such, the last thing you want is to find WordPress experts, only to have them politely back out at a critical stage. Hence, rather than keeping a broad goal, try to keep it as specific as possible so that you do not lose focus of it.
Prepare a Project Outline
Once you have a single goal in mind, you need to plan for it. At this stage, it would be best to prepare a project outline containing the objectives, project scope, deliverables, resources, timelines, etc. Documenting these specifics will set expectations right from the start, even before you engage talent and kick off the project – which is the best form of risk management. If you have a project manager on your team, you can always seek their input here.
Craft a Detailed Job Description
Now that the expectations have been laid out, it will be easier for you to create a job description that aligns with the requirement and reflects the key roles and responsibilities of the WordPress expert. Make sure that the listing is clear, easy to understand, and unambiguous.
Keep a List of Questions
Recruiters cannot be masters of all subjects for which they hire (or they wouldn't have to look elsewhere in the first place!) As such, noting down a list of questions to ask during the interview can help you vet talent as per your requirement. You can even involve a seasoned WordPress developer as an interview panel member to grill them on technical topics.
Paid Trial Tasks
If you are not in a hurry to onboard and start working with a WordPress developer, you can give the shortlisted candidates a paid trial task to assess their skills. After all, their performance in a practical, professional setting would speak volumes about their eligibility – more than their profiles or CVs. It also helps you make a more befitting offer that is proportionate to their skills.
Look for Reviews
Whether you follow a DIY approach to engaging a freelancer or want a dedicated WordPress expert on your team, performing a background check on the individual, or the agency should be on top of your list. Look up reviews, search their socials, and ask for referrals, recommendation letters, portfolios, or case studies to verify their credibility.
Discuss Communication
Communication would play a central role in your project's success, especially if you have remote WordPress developers on your team. As such, layout a plan on how you plan on sustaining synchronous and asynchronous communication, along with a list of preferred tools and channels.
Plan for Updates
You would require frequent updates from the WordPress developer (or teams). And so, it would be best to set the cadence right at the start. Depending on the project length and complexity, you could go for a daily update or a monthly one. Further, you can also dictate the form and format of these updates (sprint meetings, presentations, reports, etc.) so that you can pick a common language.
Draw Up a Contract
Once you have ironed out all the details and mutually agreed upon the terms of recruitment or engagement, it is only a matter of setting such information in stone in the form of a contract. A contract, whether between a freelancer, full-time employee, or agency, safeguards your interest and ensures that you at not left thrown in at the deep end in the middle of a mission-critical project. So, insist on a contract.
Conclusion
Finding and hiring WordPress experts is no easy task. However, a little guidance and direction can go a long way in charting these territories. With the information shared above, you can proceed confidently to hire WordPress developers who are a right fit for your organization, deliver to expectations, and are easy on the pocket. What more would you want?
Get Informative & Insightful Articles delivered to You Monthly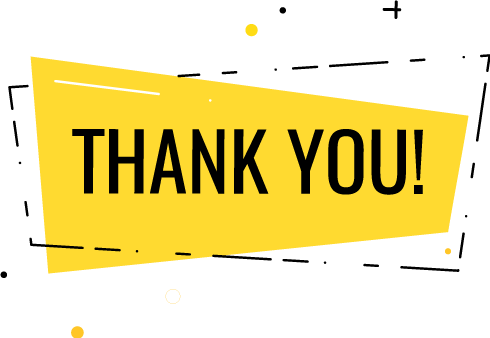 Thank you for submitting the details!
We will keep your information safe. Feel free to contact us with any questions at hello@uplers.com
Please check your email for next steps shared by Robert.