Winning the Talent Race: Key Talent Acquisition Strategies for Hiring Indian Remote Talents in 2023
Ayushi Awasthi
February 16, 2023

6

Minute Read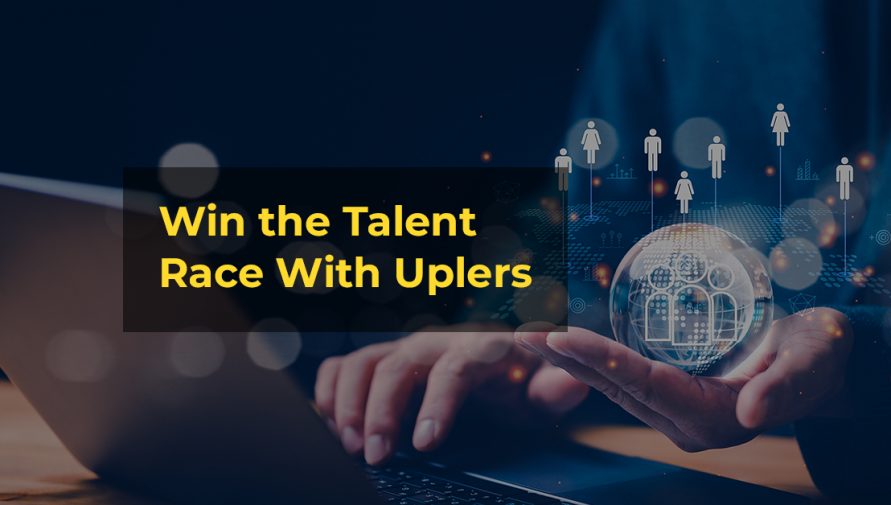 Many people believe recruitment and talent acquisition are the same thing, which is not true. Recruitment is done for niche job roles and volume hiring for immediate vacancies. On the other hand, talent acquisition is a strategy deployed by HR experts to acquire the best minds in the job market, as per the business's current and future staffing needs.
Reports suggest that a bad hire can result in 80% of employee turnover and cost a company 30% of the hire's annual salary. The key to avoiding such mistakes is a reliable talent acquisition strategy that aligns with your organization's culture and goals.
In this blog, we will discuss the common hiring challenges employers face in acquiring top talents and the talent acquisition strategies that can help you establish a productive workforce.
Common Challenges in Talent Acquisition
Before we talk about the strategies, let us discuss the most daunting challenges impacting talent acquisition today:
1. The global tech talent deficit
Currently, 81% of organizations are facing a major shortage of "power user or developer" tech skills. This shortage is expected to grow to more than 85 million talents by 2030, leading to a potential loss of more than $8 trillion annually.
2. Slow hiring processes
 A slow hiring process can lead to delays in decision-making, impact operations, and hamper employer branding. Moreover, top talents usually have multiple offers in hand, which increases the need for swift hiring and an optimized hiring process.
3. Identifying top talents
 A top talent is defined by several attributes beyond skills, education, and experience. The lack of knowledge surrounding what constitutes a top talent and how to find them will hamper the talent acquisition efforts.
4. Preferences of the GenZ workforce
The tech-savvy GenZ generation prefers organizations that promote digital collaboration, stay on top of technology trends, and offer flexible working options. Hence, businesses with traditional hiring processes and workflows have to evolve for better chances of hiring GenZ talents.
So how can you mitigate these challenges and hire top talents efficiently? Let's find out.
Best Talent Acquisition Strategies
for Hiring Indian Remote Talents
Today India has the most abundant tech talent pool in the world. The country consistently produces top talents every year and remains the best solution to the global tech talent shortage. Apart from being skilled, Indian remote talents are global-ready, adaptable to various cultures, and open to working as per different time zones. But the challenges mentioned above can make it difficult for any global employer to find the right fit.
To overcome these obstacles and tap into the Indian remote talent network, deploy these seven talent acquisition strategies: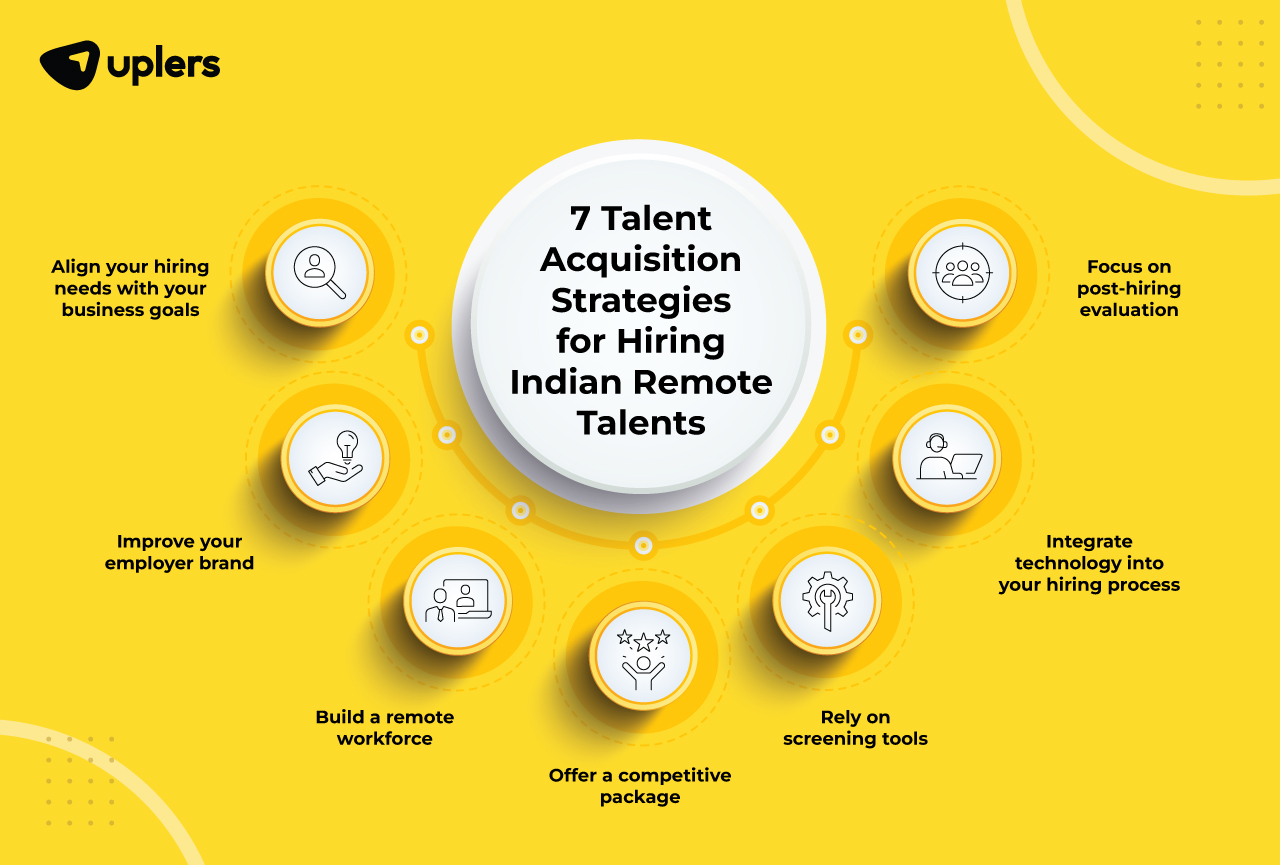 1. Align your hiring needs with your business goals
Evaluate your business goals for the next five years and list down the potential vacancies that may arise. For example, if you are planning to launch new software, you will need more skilled tech talents. Now you need to prepare a talent acquisition plan that targets the top skills for the job profiles from budget-friendly regions.
2. Improve your employer brand
Good employer branding is extremely important to hire the best talents and plays a crucial role in talent acquisition strategy. It helps you promote your positive work environment, the well-being of employees, and the career growth you offer. Today, top talents look at the online activity of potential employers before deciding on a job proposal. Popularize your social media profile with team pictures, fun announcements, and employee appreciation posts to improve your employer brand.
3. Build a remote culture
16% of global employers have shifted to a fully remote setup, while 82% of Indian talents prefer remote work. These numbers highlight the growing demand of the dynamic work style. From an employer's perspective, remote hiring will help you target a larger talent network. You can look for talents in different time zones with vibrant cultures, which can help you build a diverse workforce across the globe.
4. Offer a competitive salary
An attractive compensation package is understandably one of the important factors for top talents to join a company. Hence, it is vital to conduct thorough research on the salary trends of the target region and offer a lump sum amount (including perks) that appeals to the top talent.
If you are wondering how much you should be paying top Indian tech talents, check out our guide which lists down the salary range for various tech roles, categorized as per experience level.
5. Rely on screening tools
A comprehensive vetting process powered by screening tools can help you look beyond the resume of talent and better understand their suitability for a job role. It will also help you narrow the huge number of applications to a manageable pool of the most qualified candidates. They can prove to be a valuable part of your talent acquisition best practices.
The following screening tools can help you improve your hiring process and reduce turnover: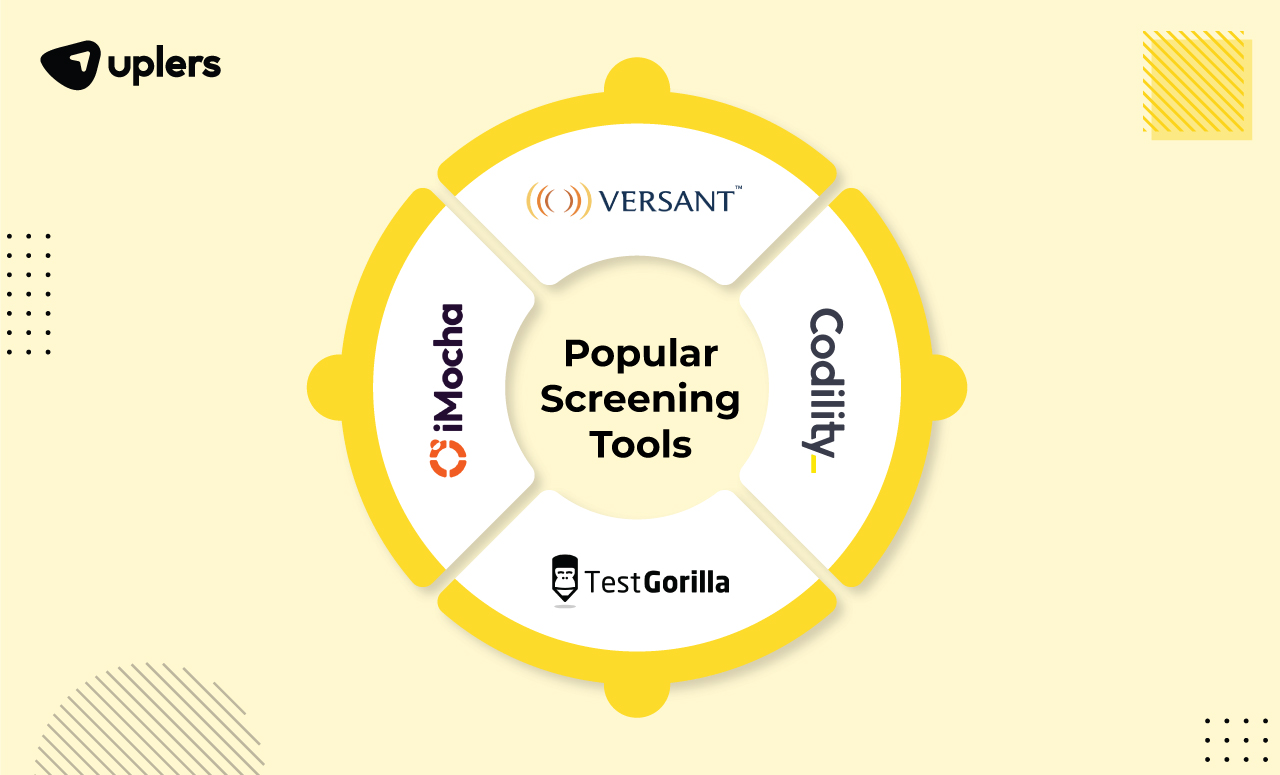 Versant: A popular English language assessment tool that evaluates the candidate's reading, writing, speaking, and comprehension abilities.
Codility: An online platform that offers coding challenges and assessments for developers.
Test Gorilla: Assists in evaluating a range of job skills, that include coding skills, digital marketing, critical thinking, etc.
iMocha: Another tech evaluation tool for tech profiles, consisting of ten questions in areas like statistical and data layers, computation layers, etc.
You can choose to utilize these tools yourselves or leave it to Uplers' vetting process which also uses these tools to fully assess a candidate's abilities.
6. Integrate technology into your hiring process
Research indicates that top talents are usually hired within 10 days of being in the job market, while the global time to hire average is 36 days. To ensure a faster process and quick decision-making, you must optimize your hiring process by integrating it with modern technology. 
Today, Artificial Intelligence and Machine Learning are capable of complementing your hiring efforts by matchmaking the right profile for a job role. You can also use an Application Tracking System (ATS) to track the number of applicants for every vacancy and oversee their progress during the hiring cycle. Ultimately, you will be able to reduce your time-to-hire and fast-track your talent acquisition programs.
7. Focus on post-hiring evaluation
Since talent acquisition is all about finding the right fit for your organization, your efforts do not end once you have hired a candidate who passed all the screening and interview levels. It is necessary to constantly review their work performance and team bonding, for at least 30 days to be sure about the hiring decision.  By incorporating this approach into your global talent acquisition strategy, you instill confidence in your hiring decisions and establish a robust and efficient hiring process that transcends geographical boundaries.
How Uplers is Helping Global Companies in Their Talent Acquisition Efforts
Uplers is redefining how global companies hire Indian remote tech talents. Our robust digital platform delivers a seamless hiring experience and matchmakes the ideal fit for your organization from our large network of pre-vetted talents. We are the most reliable partner to superpower your talent acquisition strategies.
How do we do it? Our 5-step hiring process highlights our efficiency and expertise in finding ideal talents for your organization: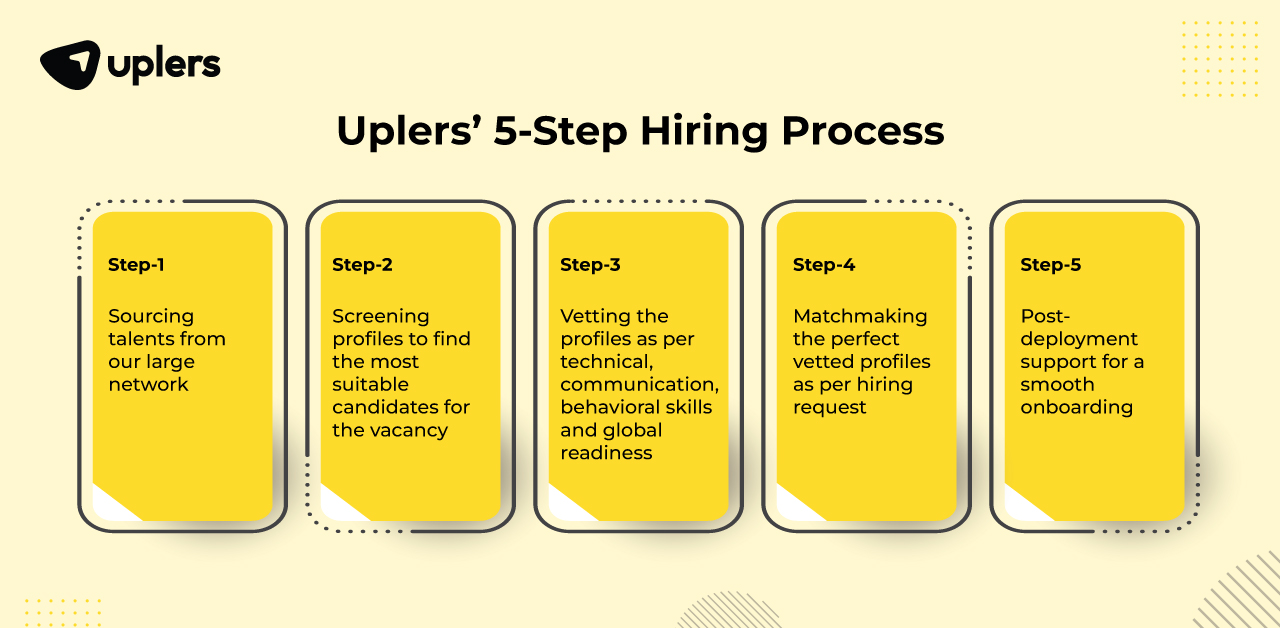 Furthermore, our trademark vetting process is at par with the international standards of the top companies around the world. Out of 10,000 applications per month, only 3.5% clear our stringent tests, which include language proficiency, aptitude evaluation, technical assessment, background check, and panel interview. Read this blog to find out how we are building a massive network of top Indian talents for global employers.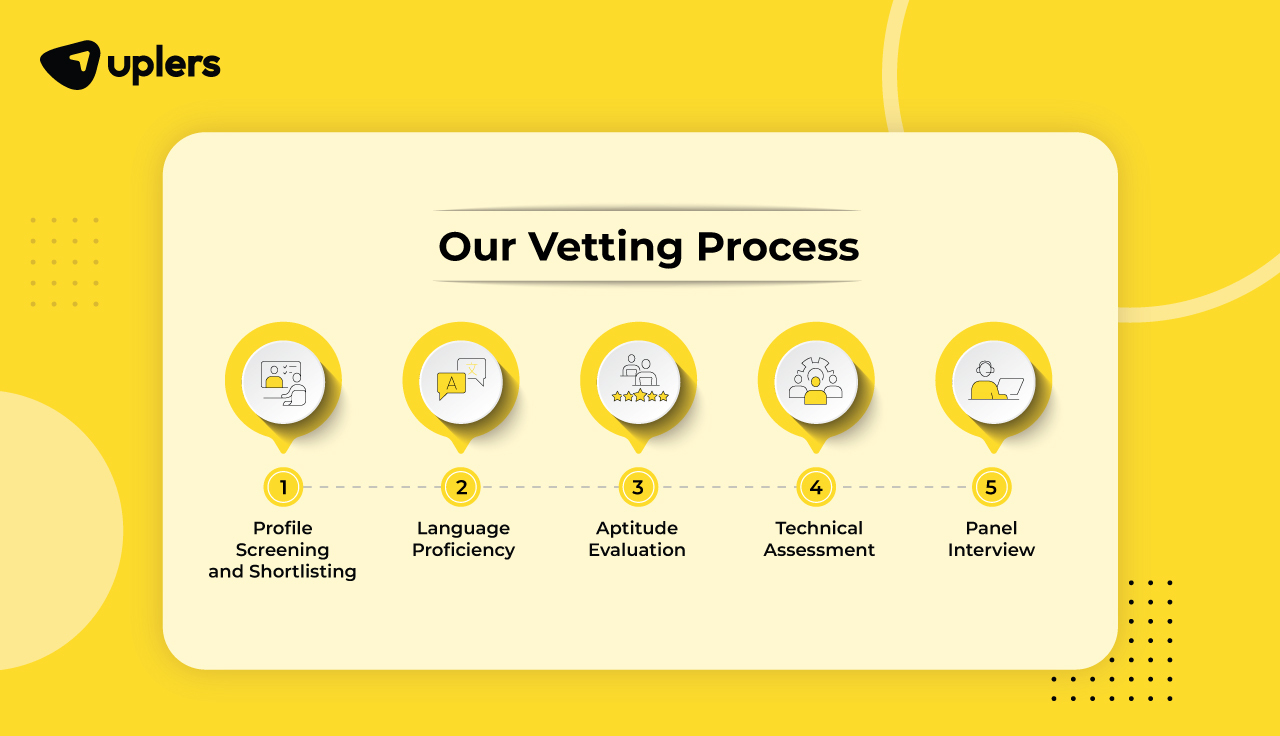 Post-deployment, we assign a dedicated Talent Success Coach (TSC) to the hired talent, to facilitate smooth onboarding and ensure strong communication with the employer. 
Connect with us to learn assistance in talent acquisition management while remote hiring from India.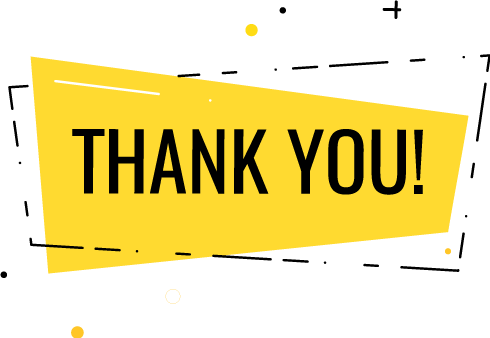 Thank you for submitting the details!
We will keep your information safe. Feel free to contact us with any questions at hello@uplers.com
Please check your email for next steps shared by Robert.