Top Talent Acquisition Strategies For Successful Indian Remote Talent Hiring in 2023
Shreya Srivastava
February 16, 2023

7

Minute Read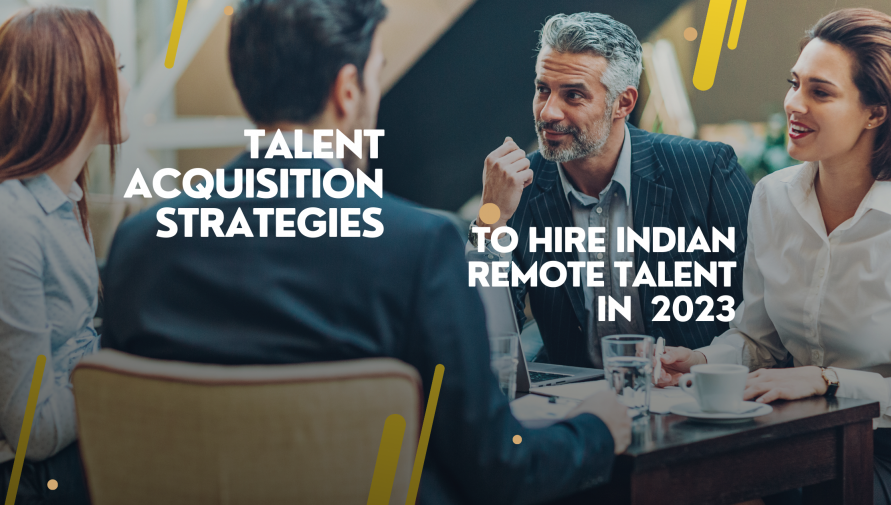 Make smart hiring decisions to find the right talent on the first try! A bad hire can result in 80% of employee turnover and cost a company 30% of the hire's annual salary, which can be expensive, with an average cost of USD 4000 per hire.
An effective talent acquisition strategy can help you hire Indian remote talent who aligns with the organization's culture and goals, leading to a longer-lasting commitment.
Uplers is a unique remote hiring platform that offers access to a pre-vetted pool of the top 3.5% of remote tech professionals from India, allowing businesses to hire 10x faster and more efficiently.
Our blog covers the top talent acquisition strategies that Uplers has developed over the years to help businesses establish a productive workforce and remain competitive.
Talent Acquisition Strategies
for
Better Hiring
in 2023
To discuss the top recruitment strategies for the effective hiring of Indian remote talents, let's take a deeper look at the talent acquisition life cycle and discuss the best strategies for each phase.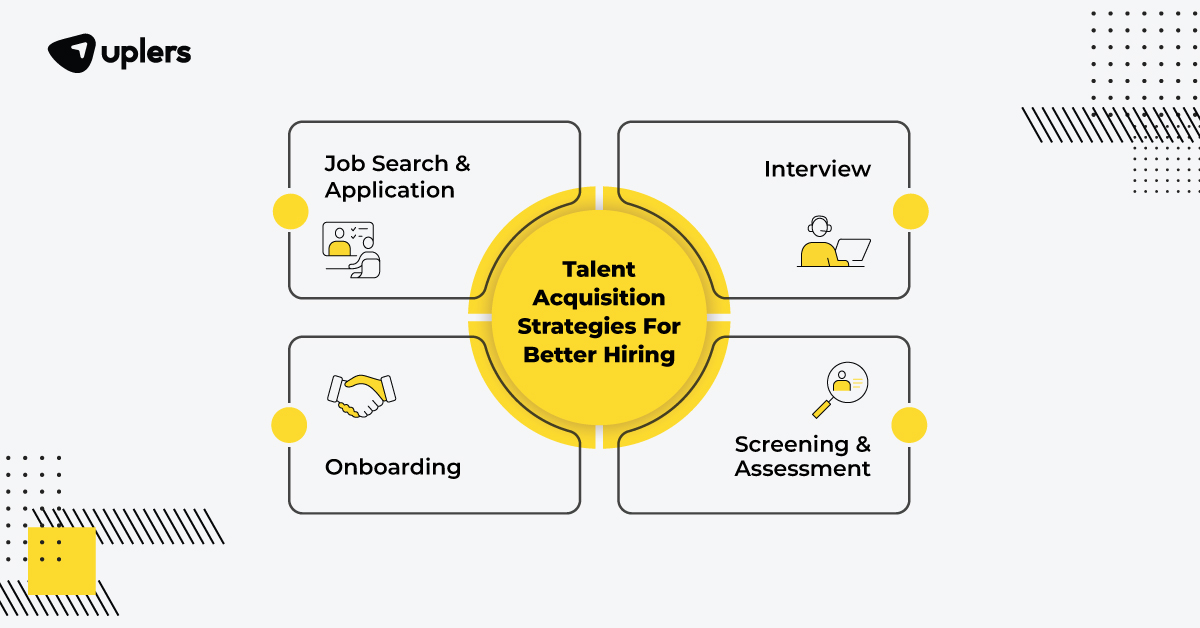 Phase 1: Job Search and Application
The first step for seamless talent hiring is an effective job description. Therefore, the job description must be clear and concise yet mention all the essential information the candidate might be looking for. Mention the list of must-have qualifications you'd want the candidate to have, and mention the compensation and benefits, as it is one of the first things that Indian remote talents look for in a role. 
For more help on JD optimization and posting, click here.
It is important to find someone with not just the required technical skills but also someone who matches the vibe and culture of the company.  
Phase 2: Screening and Assessment 
We now come to the most crucial and important stage in the recruitment process. Remote job postings receive a huge number of applications from far and wide. Thus, sifting through them becomes a tedious task and, thus, calls for out-of-the-box recruiting strategies. 
Screening and vetting is a process of narrowing down the huge number of applications to a manageable pool of the most qualified candidates. From scanning through hundreds of resumes, and reference checks to handling sensitive data and performing background verification, the process can be intensive and time-consuming. 
Yet, it is arguably the most crucial phase in the recruitment life cycle as it helps recruiters save valuable time and resources by weeding out unqualified applicants that are neither skilfully qualified nor culturally suited to the position applied for.  Therefore, organizations need to have a standardized screening and vetting process as one of the strategies for talent acquisition. 
Uplers recognized this challenge early on and came up with a standardized vetting process as part of their employee recruitment strategies that allows them to thoroughly vet candidates to curate a network that comprises the top 3.5% of talents of the Indian talent pool.
Uplers receives around 10,000 applications every month, but 95.6 % of candidates are filtered out in the vetting process, and only the top 3.5% make it to the talent pool. 
An effective vetting process should compromise of the following steps for Indian remote talent hiring: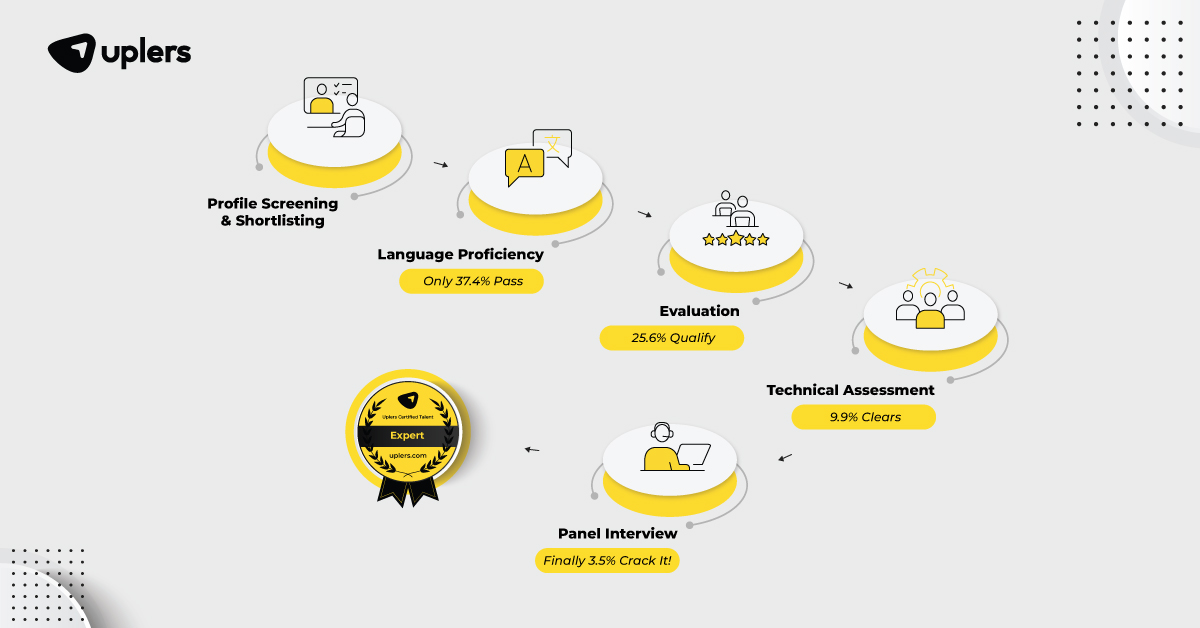 Profile screening 
The process begins with reviewing applications thoroughly against the minimum criteria for each role, their professional journey, and holistic background checks to verify that the candidate is who they claim to be. As part of their unique talent hiring strategies, Uplers does this while accepting talents into the pool to save the businesses the hassle later on. Only 37.4% of talents pass the first stage! This process is tedious and therefore, a lot of organizations leverage digital platforms like OnGrid to offer background verification services. 
2. Language Proficiency 
Effective communication is vital to building a thriving remote working culture and thus, automatically becomes a key part of your Indian remote talent acquisition strategy. For this, Uplers requires every candidate applying to be a part of its talent pool to go through a communication assessment test that evaluates the candidates' reading, writing, pronunciation, and fluency of speech to ensure that the candidate can communicate effectively with international clients. Versant is a leading AI-powered automated language assessment tool commonly used at Uplers and by companies across the globe as part of their talent hiring to make better hiring decisions. The test is stringent and evaluates the overall communication ability of the candidate. 
3. Aptitude Evaluation
Aptitude evaluation helps evaluate a candidate's likelihood of success in an organization based on their core mental abilities like critical thinking, logical reasoning, and problem-solving ability. It helps understand how the candidate would fit into different work cultures and environments and thus, has an important place in strategic talent acquisition.  The aptitude assessment at Uplers comprises a written test with practical scenario-based and IQ questions. This helps evaluate which candidates are likely to thrive in most work cultures and environments. Only 25.6% of candidates manage to get through this stage at Uplers and go to the next round. 
4. Technical Assessment
Technical skills are critical and determine the candidate's ability to perform in the given job. Uplers also requires its talents to pass through a stringent role-based technical assessment on Codility to evaluate the candidates' technical skills in order to join its talent pool. This ensures that the candidate has the technical capability needed for the job. Thus, technological assessment is a placed among best employee recruitment strategies commonly used by companies across the globe. 
5. Screening Tools
Ensuring that the candidate is the right fit for the role takes precedence in recruitment in 2023. Therefore, it is paramount that strategic talent acquisition isn't just about screening candidates based on resumes or technical skills alone but assessing them based on their personality, cognitive ability, and experience. There are pre-employment assessment tools that automate the screening process to help recruiters make an informed decision free of any biases about a potential remote candidate. 
Here are some screening tools used by Uplers and also by companies across the world to increase the chances of the right Indian remote talent hiring and reduce turnover: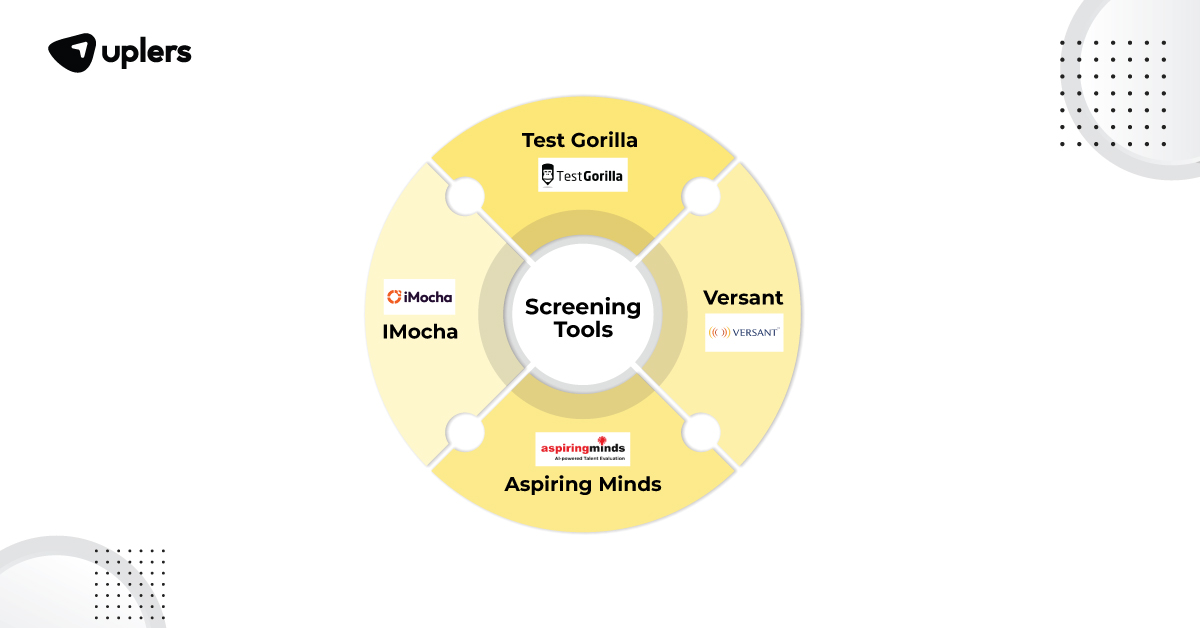 Versant

– It is a common English language assessment tool that evaluates the candidates' overall communication ability like reading, writing, speaking, and comprehension to ensure that candidates can communicate with international clients.

Aspiring Minds

– It is a pre-employment platform that offers a wide variety of assessments for cognitive ability, personality tests, job simulations, and more. 

Test Gorilla

– With a battery of tests designed to evaluate everything from coding skills, and digital marketing to more general skills like critical thinking and more.

IMocha

– Another tech evaluation tool for tech profiles such as Front-end, NodeJS, software engineer, and more. It is a 20-minute test consisting of ten questions in areas like statistical and data layers, computation layers, etc. 
Phase 3: Interview 
This brings us to the next stage in the recruitment process – Interviews. An interview shows how skilled the candidates who look good on paper actually are. The resume tells you everything you need to know about the candidate's experience and background, but an interview reveals their enthusiasm for the role. You want to hire Indian remote talents who have the necessary skills and knowledge and can show why they want the job. Conducting multiple rounds of telephone and video interviews would be a good idea. A telephonic interview can help you gauge the applicant's communication skills. In contrast, a video interview will give you important cues about the candidate's personality, body language, and overall fitment for the organization. 
Here are some of the proven remote interview tips for effective Indian remote talent hiring:
Test the technology / platform being used to virtual interview beforehand and let the candidate know about the same so they can be prepared.

Build a rapport. As a recruiter, you must make the candidate feel comfortable. Begin with small talks about their location, weather, etc., before jumping right into the interview.

Take advantage of screen sharing to show or tell candidates about the project or role and how they could contribute differently. 

Ask questions that need their answers in the candidate's resume. Save time by asking what you cannot learn from the resume. 

Ask hypothetical questions to understand the candidate's personality, behavior, etc. 

Talk about your organizational culture, teams, etc., so the employees can understand what it would be like to work at your organization.
Phase 4: Onboarding
According to  HR Cloud data, businesses with organized onboarding result in a 60% increase in the year's revenue. Companies that invest time and money in successfully onboarding their new hires see many positive organizational changes, including higher retention, employee engagement, high productivity, and low turnover. Onboarding is about getting the new hire acclimated to the new environment, introducing the team and other members of the organization, day-to-day life in the company, and documentation requirements. 
Collaborative training activities, social learning, and connecting new hires with mentors and coaches they can learn from are the out-of-the-box recruiting strategies commonly adopted by companies for successful onboarding. 
Companies partnering with Uplers for remote hiring from India enjoy complete assistance from Uplers right from hiring to documentation and onboarding of the talent to ensure a smooth transition. 
Making The Best of Key Talent Acquisition Strategies
As we continue to tread through an uncertain climate throughout 2022-23, businesses need top Indian remote talent to innovate and compete in this fiercely competitive world. Therefore, Indian remote talent acquisition strategies in 2023 should focus not just on talent acquisition but on talent retention as well. The best recruitment strategies will have candidate experience and candidate engagement at it's nucleus.
However, due to resource constraints and a lack of understanding of market trends, many businesses need help to develop effective hiring strategies. Little wonder that more and more companies skip the hassle and get in touch with a progressive recruitment partner like Uplers to fulfil their remote hiring needs.
Get Informative & Insightful Articles delivered to You Monthly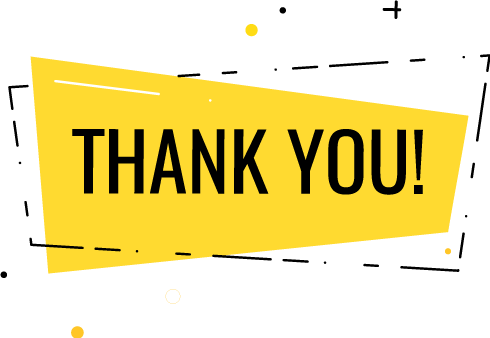 Thank you for submitting the details!
We will keep your information safe. Feel free to contact us with any questions at hello@uplers.com
Please check your email for next steps shared by Robert.