Remote Onboarding: How To Onboard Indian Remote Talents
Shreya Srivastava
February 22, 2023

10

Minute Read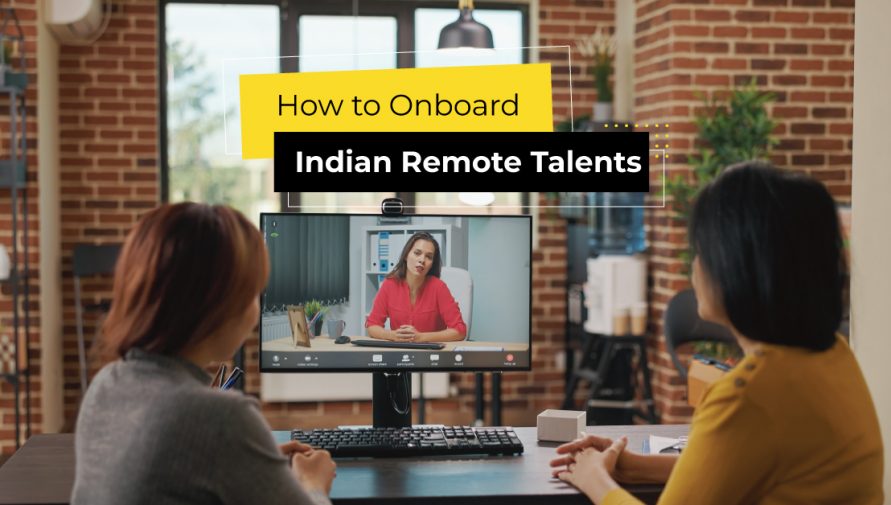 "A strong onboarding experience ensures that 69% of workers remain with a firm for three years."
– SHRM
If you're looking to hire remote talents from India, it's important to have a solid remote onboarding process in place. When you bring on new employees, you want to ensure they feel welcomed and connected to your organization.
Trust us, it pays off! 
When companies invest in improving the onboarding experience, they typically see increased engagement, quicker proficiency, and lower employee turnover rates. Whether you're working in person or virtually, a thoughtful remote onboarding process can make all the difference.
But first, let's get started with the basics: what's the big deal with remote employee onboarding, anyway?
The process is necessary, especially as more people are less likely to stay at a job long-term. Nearly 20% of employees leave their positions within the first 45 days, which is pricey and detrimental for any organization. This fact becomes even more alarming considering that disengaged employees in the US cost their employers $450 to $500 billion each year, it's no wonder onboarding programs are so important. 
Let's break down the approach to remote onboarding, demonstrate what you should expect at each stage, and how to avoid some major mistakes.
During the remote onboarding process, a new hire is educated about the company's culture and is also engaged in the company's ethos. In this way, they get a better understanding of their role within the organization and a sense of belonging, which directly impacts their loyalty.
The remote onboarding process should help new hires to:
Identify their roles and responsibilities

Get familiar with the online platforms

Get to know the company culture and policies

Get to know the team
Besides all these things, an excellent onboarding process is a friendly and thoughtful gesture towards new hires. 
"A positive employee onboarding experience increases the likelihood of that person remaining by 82%". 
–Sapling HR
An effective onboarding process for Indian remote talent ensures three-fold benefits: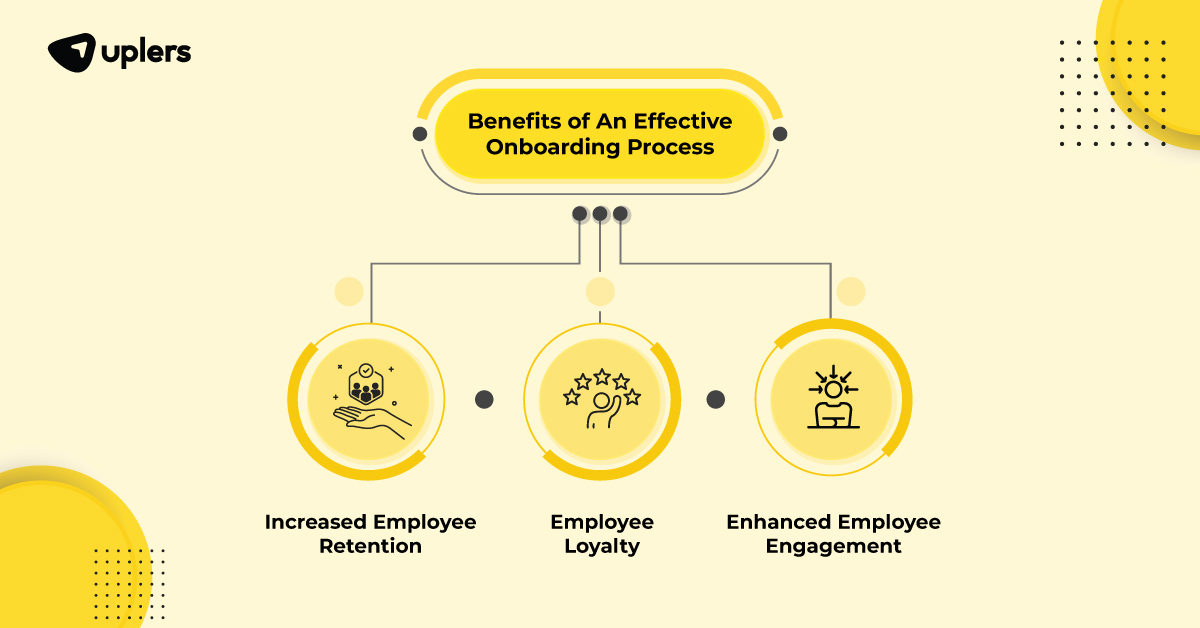 Employee retention:

A quick start gives the

newly hired Indian remote talent

early comfort and confidence — making them feel welcome and helping build confidence that this is the company they want to stay at.

Employee engagement within the company:

It's important for new hires to get to know their team managers, the other team members they'll be working with, and even the company leaders. This is key to building solid relationships throughout the organization from the get-go.

Employee loyalty toward the company:

Keep

your new Indian remote talent in the loop about company policies and any updates or changes that may arise. By doing so, you're making them feel like a valued part of the team, which can go a long way in building strong, long-term loyalty. Treating new hires like family is key to fostering a positive and productive work environment. 
This brings us to the key practices that will help you achieve these!
Best Practices for Onboarding Remote Employees: Tips to Onboard Indian Remote Talent
"70% of team members who had exceptional onboarding experiences say they have "the best possible job." 
While onboarding Indian remote talents, it is crucial to make them feel welcome. Thankfully, virtual onboarding through a computer screen can be as effective as traditional onboarding if planned and prepared properly. Let us look at the best practices for onboarding remote employees.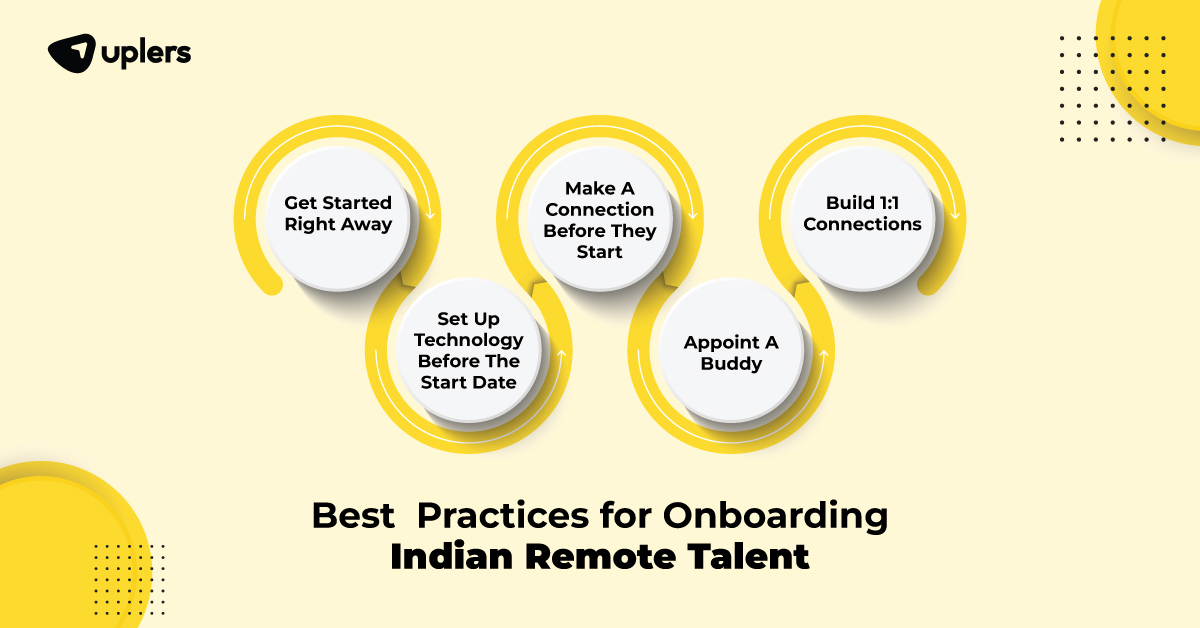 An onsite job's early day comforts, like quick bonding with colleagues in the hallway or new bosses taking them out to lunch, aren't available in a remote setup. It is also likely that a new employee joining the organization has yet to experience an entirely virtual onboarding process. Make a plan to minimize first-day nerves and help new Indian remote talent gain confidence by implementing various talent acquisition strategies.
Appoint a buddy for the new Indian remote talent
In onboarding remote employees, one must assign a 'buddy' for the new Indian remote talent you have hired. The onboarding liaison can proactively reach out to the new employee before the first day and establish themselves as the unique individual's go-to person. This will help the new Indian remote talent feel comfortable on their first day on the job. As the culture can be different in global companies, it is advisable to assign an individual to whom the new Indian remote talent can ask questions.
Make a connection before they start
After an Indian remote talent accepts a job offer, find ways to make them feel welcome. Send a welcome package filled with company products with a warm welcome note to new employees' homes.
Set up technology before the start date
An IT session is a must in a remote setting and is considered one of the best practices for onboarding remote employees. Offer the new Indian talent a session with IT to show them how to use different tools pertaining to your business in order to remain connected and work productively from home. Best to do this before the start day, so the new employees are fully present and comfortable on the first day at the job.
With remote hiring from India becoming a trend and small talk missing in remote work spaces, it is encouraged to have virtual meetups where the new Indian remote talent can interact with their teammates and get to know them better. In addition to one-on-one meetings, having your new hire begin attending group discussions from day one can help this person gain a deeper understanding of how work gets done.
Some companies set up a "shadow week" in which the new hire attends a wide variety of team and stakeholder group meetings, even those that may feel less relevant to that new hire's core responsibilities.
Getting off to a strong start creates momentum in the remote onboarding process. But if the beginning could be better, it breaks the new employee's confidence and leads the organization to question the wisdom of the hire or even lead to the new hire losing faith in the company.
Onboarding should be the beginning of an ongoing development process that continues to build the employees' cultural alignment, relationships across the organization, and performance in their roles beyond the first 30 days.
How Long Should Remote Onboarding Take?
According to a typical rule of thumb, an employee's remote onboarding should take between two weeks and three months, depending on their role, responsibilities, and seniority. On the other hand, if a company wishes to delegate the tedious onboarding process to the experts, then one can always turn to Uplers for the service.
Uplers Makes Remote Onboarding Much More Effortless
After the Indian remote talent is confirmed, Uplers sorts all the legalities and contracts to ensure smooth remote onboarding. A talent success coach from Uplers remains to ensure that the client and talent engagement is to par and they can be as transparent as possible.
#30-day Replacement: Uplers give the option to keep the talent on trial for 30 days. If the company's vibe doesn't match the talent, there is always an easy option of replacing it with another talent.
#Easy Cancellation: In an unfortunate event, if you don't need the talent anymore or if there are constant performance challenges, you can opt for engagement cancellation by giving a 30 days notice period at any given time.
Tried and tested!
You might be interested in reading: Top 9 Hiring Challenges [+ Solutions] Faced When Hiring Remotely From India
How To Onboard A New Employee Remotely
:
Onboarding of Indian Remote Talents 
Virtual onboarding involves orienting and training new members, as well as equipping them with the necessary tools to commence their work and become valuable contributors to the company. The onboarding process begins even before the new hire commences work and may last anywhere from three to twelve months. Prior preparation is essential, and a few things need to be pre-boarded.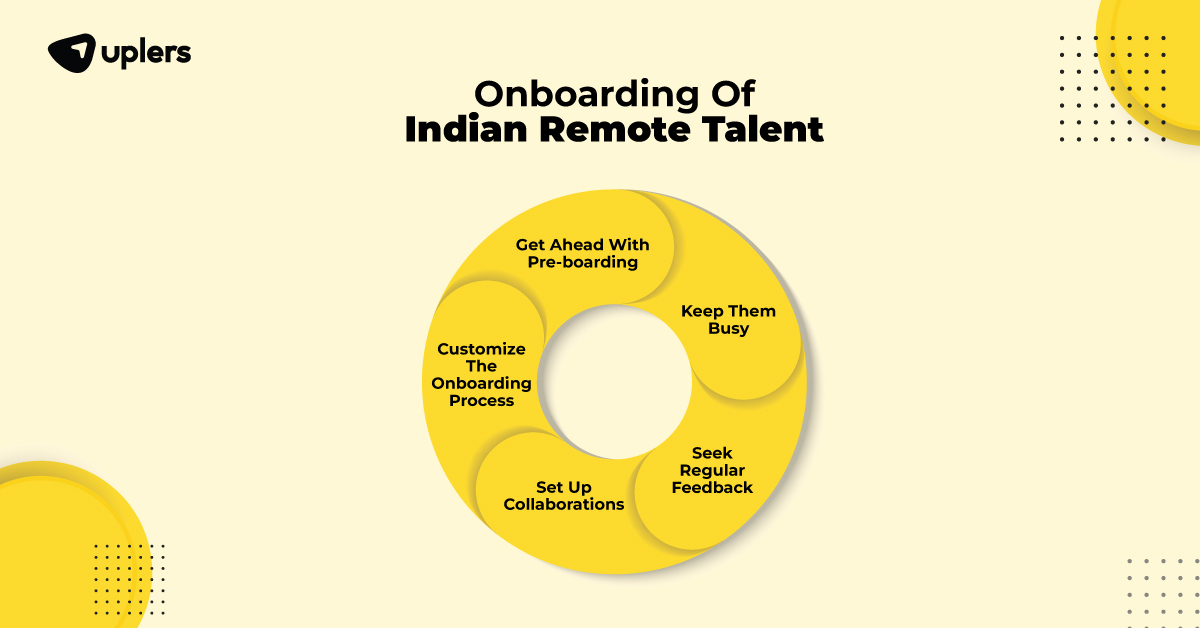 Get ahead with pre-boarding
The first impression is key. So when the company gets a new Indian remote talent onboard, they should start setting up for a successful onboarding before their joining date. 
Reach out to the new hire, connect, provide them with the tech tools, and help them log in to all the necessary platforms before their first day.
Additionally, preparing a comprehensive new hire orientation PowerPoint presentation tailored to their role and responsibilities can greatly enhance their understanding of the company's values, culture, and expectations. 
Collaborations in the initial days
Once the pre-boarding step is done, it is necessary to set up some collaborations within the company for the new Indian talent before the remote onboarding process commences. This step will help them bond with the team and other company members.
It is not only about building connections with future teammates but also about getting up to date with everything necessary. So, collaborate with other teams to share their knowledge to help the new hire get to speed. 
With a learning platform, the company can design some learning modules for the new talent. Also, feedback channels should always be open, so if they have a doubt, they can easily approach the respective team member.
It's much easier to create onboarding content if it is divided among different teams. HR or L&D teams work less, others are more involved in the process, and new Indian remote talent have more chances to interact with all departments.
Customize the onboarding process for each hire
Remote onboarding should be collaborative, engaging, and tailored to the specific needs and expectations of each hire as outlined in their application, cover letter, and interview.
Everybody's new talent will be different. It is best to be flexible and let the new hire absorb information at their own pace. Some of the learning material will also need to be tailor-made for each new hire. This will allow them to make a great base in the organization and have clarity going forward.
In a remote setting, one can feel ignored and lonely! Hence, it is important to keep nudging the new Indian talents. Keep them active and interactive. To help keep people focused and engaged, use checklists of onboarding activities, and don't be afraid to give people the occasional nudge. It's one of the great onboarding ideas for remote employees!
This can be as simple as giving them onboarding reminders and making a checklist. Keep them engaged with introduction calls, and get up-to-date calls.
It is always suggested to get regular feedback from the newbie. It helps the companies refine their remote onboarding process on the go. Be sure to check in with your new hires about their onboarding experience. Try to understand how the process is helping them, what's working, and what needs work. In the initial days, it is required to check in daily with the new hire, but later it can be spaced out as per requirements. Constructive feedback helps the organization identify any issues or shortfalls nice and early, increasing new hire engagement and motivation.
Onboarding Ideas For Remote Employees: Checklist for Indian Remote Talent Onboarding  
While remote onboarding, the organizations should focus on three key dimensions:
Corporate onboarding

Technical onboarding

Social onboarding
By using this integrated approach, firms enable their employees to stay and thrive.
You might be interested in reading: Remote Interview Questions To Ask When Hiring From India: A Guide For Global Companies
Corporate Onboarding
Throughout the initial year, it is crucial for organizations to support newly hired individuals in acclimating to the company's values and standards. The manager responsible for hiring should conduct formal conversations with them at strategic intervals, covering topics such as the company's history and brand, the criteria used to evaluate performance, and the ways in which growth opportunities manifest.
Technical Onboarding
With remote settings, it is important to have technical support throughout. Having clear technical remote onboarding guides, such as which software the company uses, how to use particular software, and how to keep in touch with their teammates, is necessary for the new hire.
Social Onboarding
 Build a sense of community. In a remote setting, it can be difficult to build a strong bond with the new Indian remote talent. Encourage them to interact in the initial days with the other company members to break the ice to make it easier to collaborate in the future. 
If a company follows this checklist, the remote onboarding process can be hassle-free and will help build a strong foundation.
Here is a checklist you can follow while onboarding an Indian remote talent: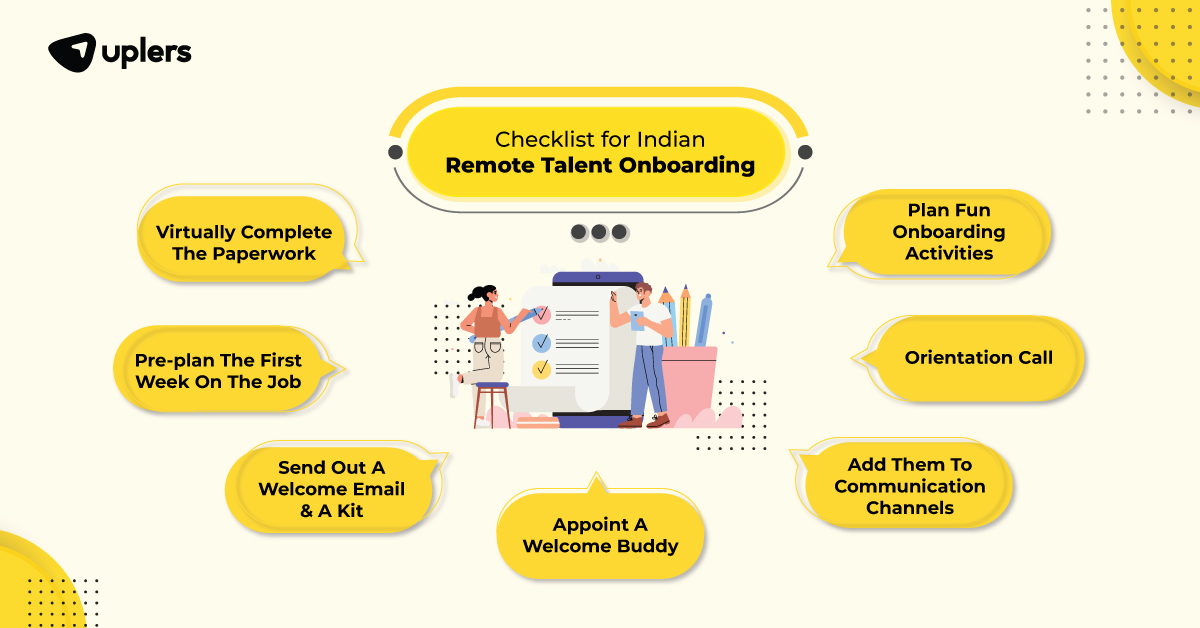 Virtually complete the paperwork
The remote onboarding process can be tedious. Make the hiring process easier by using an e-signature tool so employees can view, edit, and sign tax documents, contracts, and agreements from home.
This will help keep track of all the essential documents digitally and a bonus of saving paper!
Pre-plan the first week on the job
It can be overwhelming when a new employee joins any company. It is suggested to pre-plan the calendar with the to-do lists for the new Indian remote talent so that they start at a good pace. One should schedule activities such as video calls and frequent check-ins to ensure they don't feel overlooked.
Send out a welcome email & a kit
A welcome email sets the tone for onboarding, so include things they need to know before their first day. Provide the agenda, the link to the initial video conference, and any other pertinent information, such as access to the company intranet, the day before they start via email.
To engage Indian remote talents and make them feel valued and appreciated, it's a good idea to send them a welcome kit. The welcome kit can include things like a company handbook, information on company benefits, etc., and can include a unique gift like a virtual voucher which can be used to buy lunch on their first day.
A remote job can be isolating, so assign a welcome buddy to your recruit. This will help them settle in and become productive sooner by having a go-to person to meet with regularly.
Add them to communication channels
Online communication is essential in a remote work environment. Don't let the new Indian remote talent miss important messages or updates by adding them to all the proper calendar invites, email groups, and messaging apps.
Make sure there is an orientation call set up for your Indian remote talent. Share all about the company with its rules and regulations on the call.
Plan fun onboarding activities
It is important to add some fun elements to the virtual onboarding process; otherwise, it gets boring for the new employee. You can add games, such as online bingo, puzzles, and riddles, to make the onboarding an exciting experience.
Are You Ready To Create A Seamless Remote Onboarding Experience?
The organizations that have had the most success with virtual onboarding have taken the time to step back and redefine their process. They've asked themselves, 'How do you foster authentic connection in a virtual environment? How do you re-create culture virtually? How do you ensure that knowledge transfer is happening?
It's essential to check in with your new hires about their onboarding experience. Find out how the process works for them, what's working, and what needs improvement.
By asking a mix of specific and open questions, organizations can make it easy for new hires to offer detailed and constructive feedback. This helps the firms identify issues or shortfalls early, increasing new hire engagement and motivation.
Constantly evaluating and improving the remote onboarding process will help organizations retain their Indian remote talents with ease.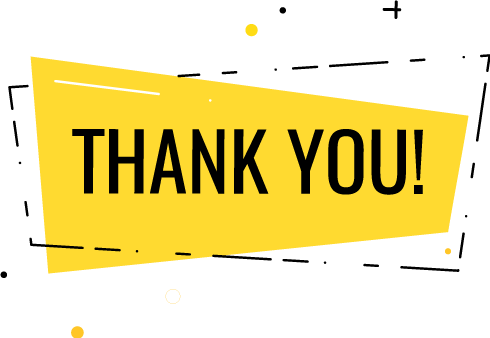 Thank you for submitting the details!
We will keep your information safe. Feel free to contact us with any questions at hello@uplers.com
Please check your email for next steps shared by Robert.