Top 9 Hiring Challenges [+ Solutions] Faced When Hiring Remotely From India
Nayantika Srivastava
April 19, 2023

10

Minute Read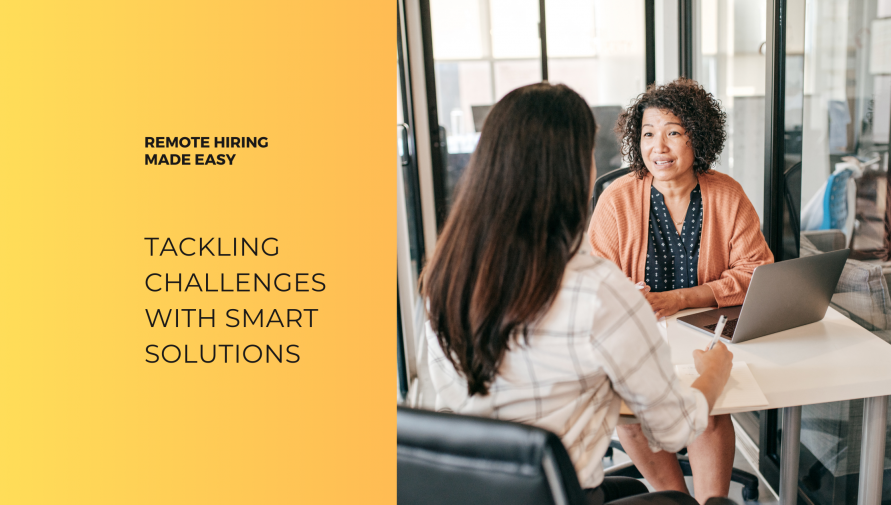 As the remote hiring landscape evolves with the advancement of technology- global recruiters and their teams continue to encounter hiring challenges in attracting and engaging top Indian remote talent. Despite us sitting in 2023, organizations still need help identifying and hiring the right talents for their growth. 
"It has always been a daunting task; we've moved on the traditional policies of hiring- we no longer (probably after 2020 and seeing how easy and cost-effective it is to hire by expanding horizons) just hire talents from on-site, but hiring remotely- the right talents with the current job market landscape can be an overwhelming experience". says the hiring manager of a tech firm. 
"'Organizations now want to operate with a leaner team and apparently tighter budgets, but the pressure to hire the 'right talent' remains the same." says another recruiter of an IT firm. 
Along with this, recruiters encounter many challenges that can be difficult to navigate when hiring the right fit talent for the company. However, there are strategies that one can use to overcome these common hiring challenges. 
Don't worry; we have got you covered! Let us explore the recruitment challenges and solutions when hiring Indian remote talent. 
Understanding the Concept of Recruitment Challenges 
Recruiting, as demanding & challenging as the task might be, takes time and effort in identifying and selecting the best talent; while also avoiding the wrong hire, prominently focusing on a reasonable timeframe. 
However, building a meaningful talent network that aligns with an organization's objectives is often easier said than done. 
As we dive more into this article, we will shed light on the recruitment challenges and provide insights on overcoming them.
Top 9 Recruitment Difficulties Faced by HRs When Hiring Remotely From India: 2023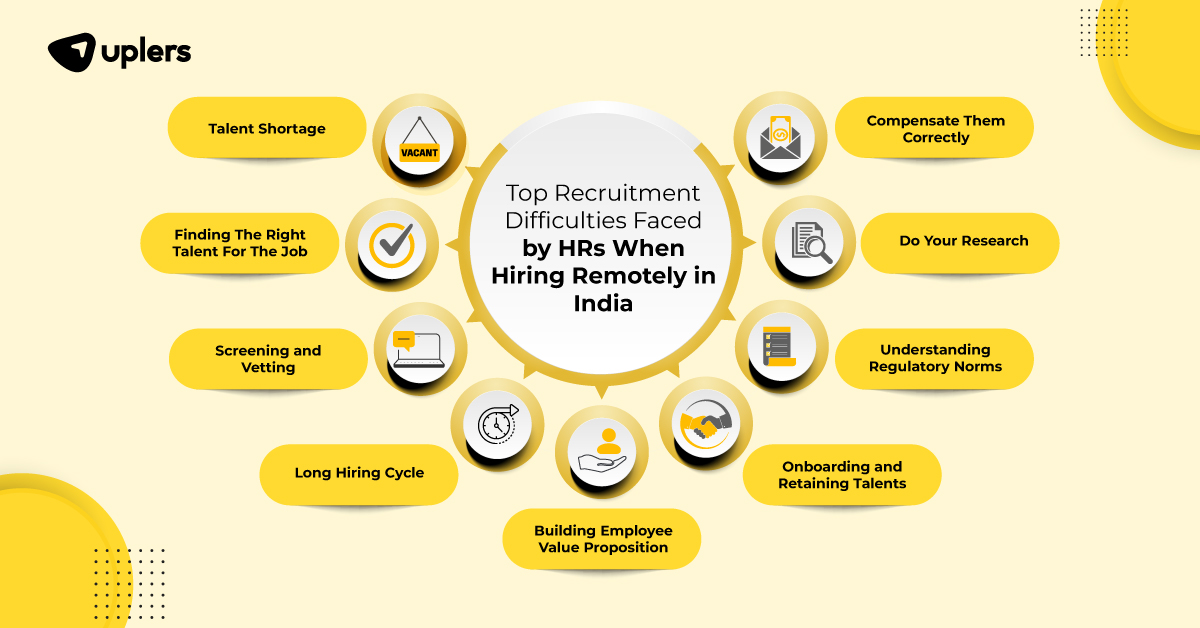 The job market is tough and evident- call it a talent shortage or talent crunch. Companies with a unidirectional approach to hiring face a shortage of qualified candidates, an oversupply of unskilled candidates, and geographical limitations that hinder their ability to attract the right talent. 
A new study indicated that by 2030, there would be a tech talent shortage of over 85 million people, leading to $8.5 trillion in revenue losses for industries across the globe. This tech talent shortage, if left unchecked, will become the biggest recruitment challenge for major global enterprises. The United States is estimated to have a shortage of more than 6 million tech talent, losing $162 billion in revenue. 
With that, to tap into the right profile of the talent, recruiters, and organizations or on a frenzy to lock in for the position; or else the opening flows around for an extended period of time, doubling up on the acquisition cost. 
Finding The Right Talent For The Job 
"Finding the right fit is challenging, go above and beyond the way you think about hiring and its process"- says CEO of a tech company. 
As a hiring survey stated, 9 out of 10 recruiters will agree that recruiting the right talent for the listed job is challenging.
Not just that, hiring managers, on average, spend more than 20 hours a week screening and sifting through the resumes, as more than 50% of candidates do not move through the first round of interviews.  
Over 69% of companies have cited these factors as hiring problems to successful recruitment.
Screening And Vetting The Qualified Talent When Hiring 
The vetting process can be challenging as verification and cross-checking the information demands local sourcing and ground operators, which can exacerbate the hiring issues. 33.1 % of hiring managers have voiced their struggle to find a suitable candidate in a remote environment. 
Struggling with standard background checks, budgets, & legality turnaround time for every activity is not evaluated. Workflows that are optimized and responsive to the candidates- All these create a hassle when hiring talents. 
Recruiters thrive on filling the positions for job openings to avoid delayed operational and financial costs associated with the vacancies. With this, a specific position needs time to hire the right fit, which can be an overwhelming experience. 
The root cause can be the demand-supply gap of qualified candidates, making it challenging for hiring teams to identify and secure the right candidate before they are employed elsewhere. This is one of the many hiring challenges recruiters face in their efforts to find top talent.
Building Employee Value Proposition 
"You need to build a strong employer brand for candidates to trust in you for their jobs"- Maximilian Wühr, (Forbes 30 under 30 founder and Co-founder of FINN) believes strongly in building a strong employer brand. 
Companies face up to a 50% reduction in resume quality due to a lack of digital presence, improper information, poor reviews, or insignificant space coverage. 
Do Your Research, Be Flexible 
As a company, you need to understand the challenges in recruitment and how the hiring module has changed from hiring global talents to choosing the right country and ways to hire them. 
If you stick to your rigid old ways of hiring, you are not just losing the talent panoramic skill circle but also time and money- with that, when you choose to hire remotely from other countries like India– selecting the right form of hiring i.e, offshore recruiting partner, is essential. 
Not just the recruiting team but the company itself has to have a flexible approach towards hiring and research on how to do it- or else, this might eventually lead to losing on the right fit. 
Compensate Them Correctly 
This is the crucial point most recruiting managers have expressed- "It's tough to gauge the market when it is about compensation; companies lose suitable candidates more than 50% of the time when they reach that funnel stage". 
Recruiters usually have worked along with the tight budget for compensation, with a little-to-no wiggle room. This recruitment challenge becomes much more of a hurdle when you  hire Indian remote talent; along with regulations on taxes and benefits, companies usually fail to understand getting the market rates when hiring.
Understanding Regulatory Norms 
This is crucial when hiring Indian remote talent; many global companies plan their hiring funnel without keeping this point in mind- landing themselves in a pile of hiring problems. HR managers and recruiters need to grab this crucial information to offer the right perks, benefits, and compensation without knowing tax norms and saving rules- resulting in losses on both fronts. 
Onboarding and Retaining Talents 
"Companies think that once they hire a talent, it's done- only to see their employees quite-quitting and moving away"– Sr manager of a tech company. 
"Remote hiring has a lot of benefits; it is a whole component of inclusivity and diversity"- not understanding and bridging the cultural differences might result in your qualified talent leaping out for a better environment. 
How to Successfully Overcome These Hiring Challenges to Hire the Best Indian Remote Talent? 
Understanding The Shortage of Human-talent Worldwide and Finding a Solution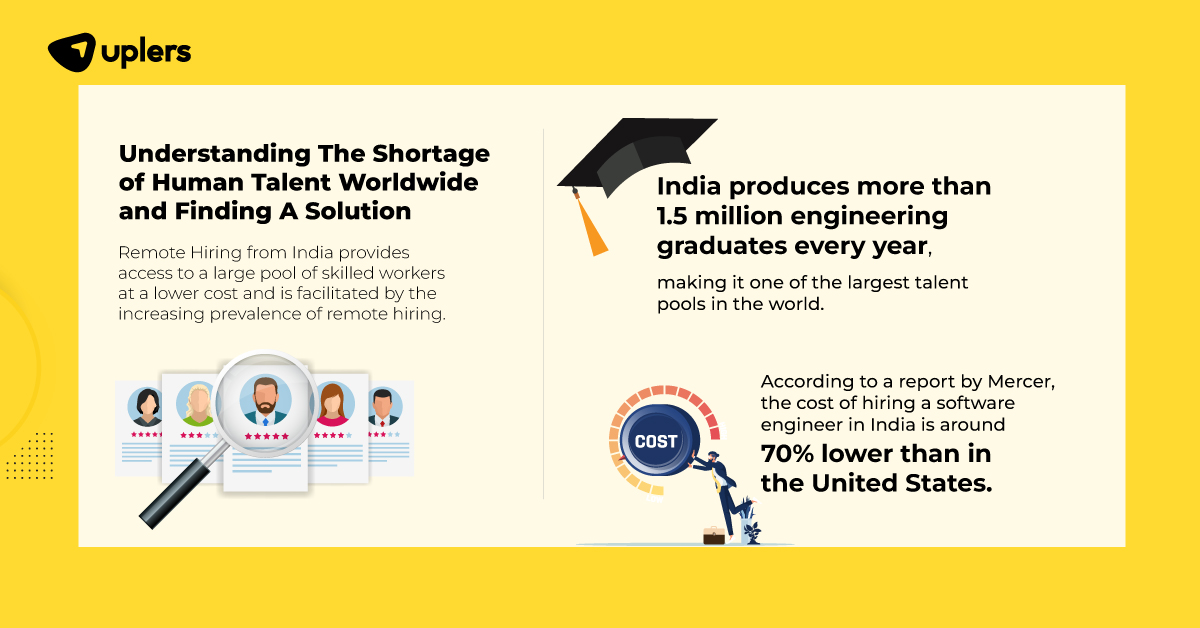 Studies on the world-human talent shortage also pointed out that India, with a surplus of 1 million high-skilled tech workers by 2030, could become the next tech leader. It is the leading contributor to Global Talent, which approximately sums up to 17.5 million Indians settled in various parts of the world. 
There has been a gradual upwards rise in the available employable talent pool from the Indian market, and turning out to be a solution for talent shortage recruitment difficulty. For Indian talents working on outsourcing projects or for global companies is not a new concept. It has been in the system for many decades, so adapting the remote culture for global companies is relatively easy on the talent side. 
To be prepared for the competition and other talents (native or from other areas), Indians are known to polish their skills to meet market standards. India has notably become a leader in housing many skilled workforces for Software Designers, Full Stack Developers, Marketing Professionals, Data Analysts, Cyber Security, DevOps, Cloud Infrastructure, and UI/UX Professionals. 
Finding The Right Talent For The Job 
Optimizing the job recruitment process can shorten the hiring cycle by 60% while improving quality. A poor JD can cost you your company's time, resources, and money by 20%. Or else, you can use JD creation tools to minimize the adverse effects of poor description.
 Knowledge and clarity of the right talent group are essential. Selecting suitable geographical locations, skills, experience, or salary expectation ranges would help you find the right talent for the job. Choosing the right talent for the job opening is difficult; working with an offshore recruiting partner can help ease this overwhelming process. 
Both recruitment problems and solutions are important to consider when hiring. With the current job market being extremely competitive, finding the right talent for your company can be challenging. However, by utilizing the right talent acquisition strategies  and solutions, you can overcome these challenges and find the best-fit candidates for your organization. 
Tip: Download our researched guide on hiring funnels and the common issues hiring managers face. Implement our tips, based on analyzed data, to improve your hiring process.
Screening And Vetting The Qualified Talent When Hiring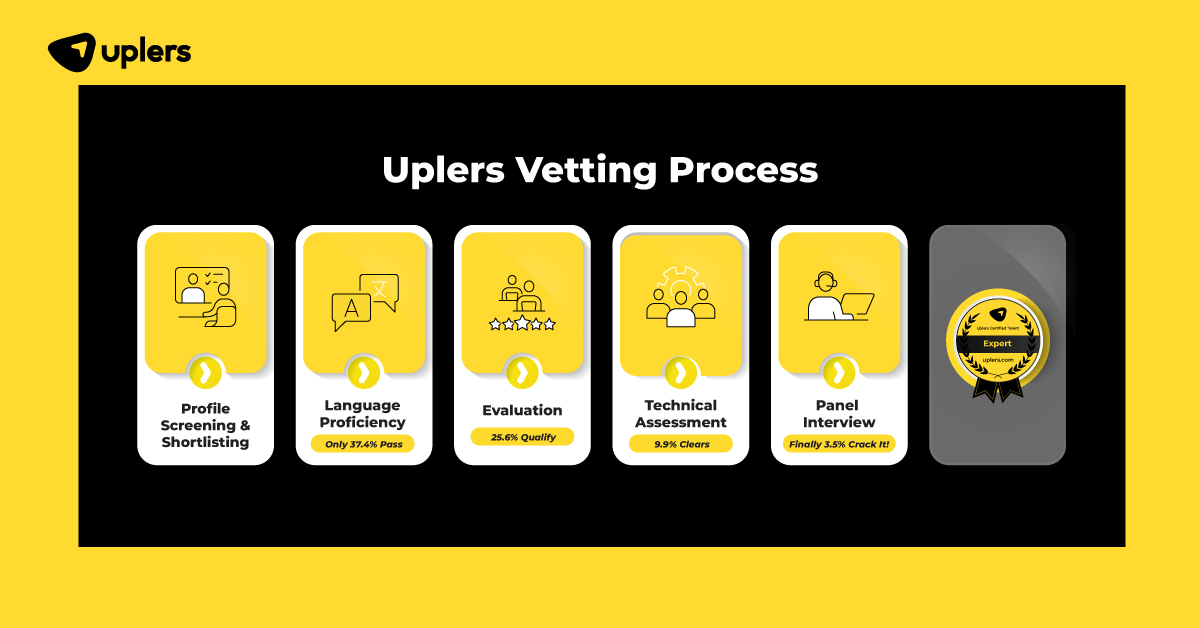 Vetting is crucial in the remote hiring process. It ensures the time and resources invested are well-spent on qualified and suitable talents. Vetting acts like a filter to eliminate unsuitable candidates and increase the efficacy of the hiring process. The vetting process provides insight into customizing the interviews and curating the areas of concern. 
The vetting process requires domain knowledge and proper screening of candidates to select only skilled and qualified candidates. Delegating the cumbersome process to a hiring platform that can handle it is a beneficial solution to key recruitment difficulties. The support of an agency or partner makes the process seamless. Poor candidate experience is a driving factor for dropouts. Curating a well-strategized approach can reduce such situations.
Do you know what causes a delay in hiring? There are multiple hiring challenges; the primary ones are a shortage of qualified talent and a flawed hiring process. Even if you tackle the first problem of hiring the right candidate, if the hiring process is shorter, often, the team might need more time to reach a conclusion in hiring the right fit. 
Ask yourself these questions; 
Is your hiring stage adequate? Are you skipping any important ones, or contrary, have too many qualified rounds for talent to go through? 

Is your JD appropriate? Are you sharing your job requirement on the proper channels? Is it optimized well? 

How well is your talent-screening structure? Look after the response time as well. 
On average, a recruiter/manager spends over 60% of their weekly hours screening and selecting the right profile for the job. The entire activity of screening and shortlisting profiles contributes to the time to hire variables. This is the stage where most organizations spend their time 
When you answer all the hard-hitting questions mentioned above, hiring a recruiting partner for all remote hiring needs becomes an effective option here.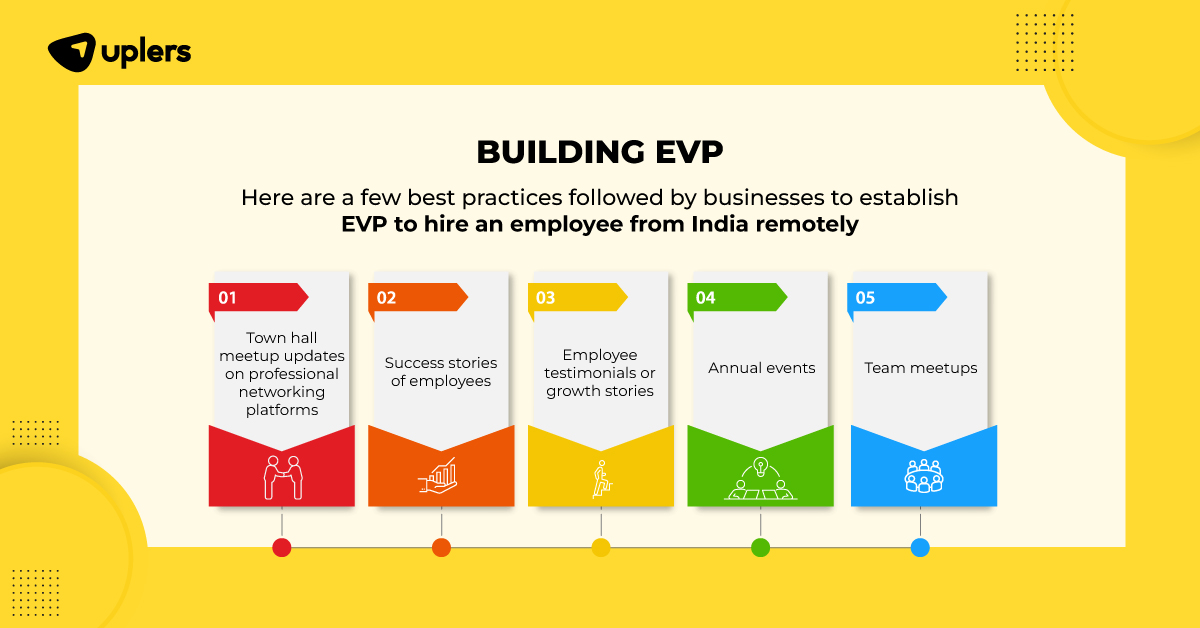 Create an employer branding strategy to add value for the employee regarding culture, growth, benefits, and compensation. Companies face up to a 50% reduction in resume quality due to a lack of digital presence, improper information, poor reviews, or insignificant space coverage, thus becoming a serious recruitment challenge. The talent should know about your company. All the basics (name, what you do, tentative employee count, environment, your digital presence), etc. 
Before applying, talent will do a digital sweep to learn about the company. A company must follow the basic hygiene of educating the talent about its brand value, positioning, and legitimacy. Brand perception is directly proportional to the efficacy of the job posting. The placement of the brand dominates the quality of the applications. Generating brand awareness through brand presence, regular updates on social media, and brand-building strategy helps build a strong EVP. 
Do Your Research, Be Flexible
Hiring decisions are based on expansion plans, specific skill-set needs, business decisions, and the career roadmap of the talent. Regardless of the driving force that has outlined the hiring decision, finding the right match to fit the requirements is a challenging learning curve. 
Compensate Them Correctly
One of the major hiring challenges in India is finding top talent within a limited budget. With a budget of $8000/month for a senior-level tech developer, on-site hiring may not be a viable option as the market rate in India differs. Therefore, it is advisable to explore alternative options, such as hiring Indian remote talent experts in their field and willing to work in your timezone. This approach can not only help you save costs but also give you access to a vast pool of talented professionals. The key here is to know your market and where you are hiring from. 
Understand Regulatory Requirements 
When hiring remote tech talent from India, navigating the complex landscape of employment and tax laws is crucial to ensure compliance. It is essential to take the time to understand the local labor laws and business culture.
To minimize recruitment challenges associated with hiring workers from other countries, it's advisable to prioritize corporate compliance and err on the side of caution. By following these best practices, you can successfully hire remote talent from India while minimizing legal and financial risks.
Onboarding and Retaining Talents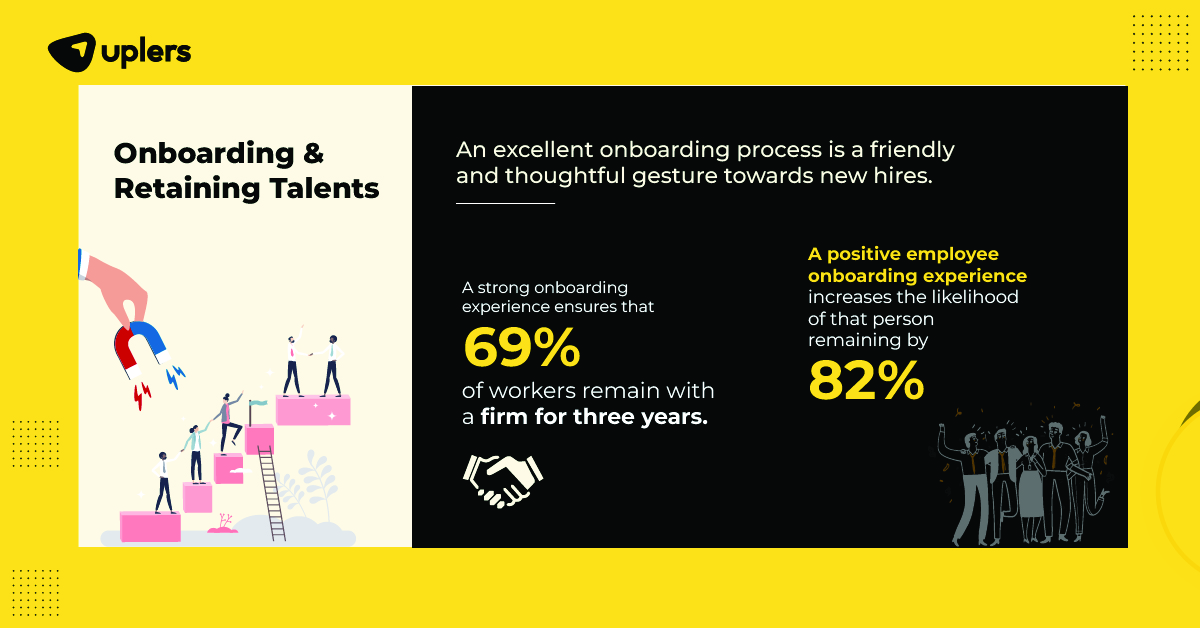 Remote Onboarding requires a good HR team to do an orientation and walk through the process. It is the first interaction to establish a lasting relationship with the talent. Using this opportunity to add a wow factor and make it a memorable experience should be the target.
Post onboarding, companies should work on creating a bridge that helps them to relate more effectively with the company's culture, adaptability of the different cultures, and more in-meetings with the team members creates more flexibility and adaptability in the talent for the company. 
Hire With Uplers to Successfully Overcome The Barriers of  Hiring Challenges
There are many challenges associated with every industry, and every situation requires customized solutions. Each step of hiring comes with a significant set of issues, and downloading this guide will help you to overcome them without causing any delay in hiring or hassle. 
Uplers, with this hiring manual, aims to set a benchmark on the hiring module for all the recruiting challenges that would present themselves during the process. This will make your hiring and onboarding process seamless with a remote-first setup and create a space for the talent to flourish, thrive, and collaborate with your traditional or Hybrid workforce.
As a company, we have curated a process for vetting and sifting out the top talent in the market. Uplers uses an intricate process to cull out global environment-ready professionals. 
Frequently Asked Questions (FAQs)
Why is hiring so hard right now in 2023?
There is a demand-supply gap in the talent market, where companies see disparity in the numbers. This makes the process of hiring extremely overwhelming and challenging. 
How do you deal with hiring challenges?
To hire Indian remote talents effectively, it is best to work with offshore recruiting platforms that match your hiring requirement to the right talent.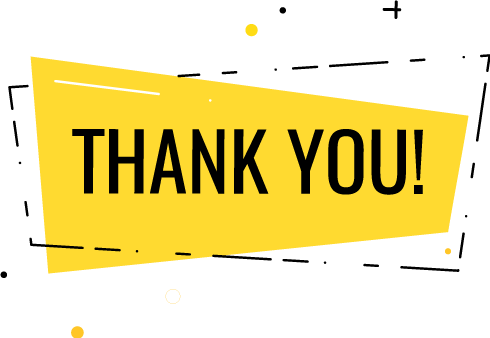 Thank you for submitting the details!
We will keep your information safe. Feel free to contact us with any questions at hello@uplers.com
Please check your email for next steps shared by Robert.