Building a Culture Fit Remote Team: Considerations When Hiring Indian Professionals
Ayushi Awasthi
August 16, 2023

5

Minute Read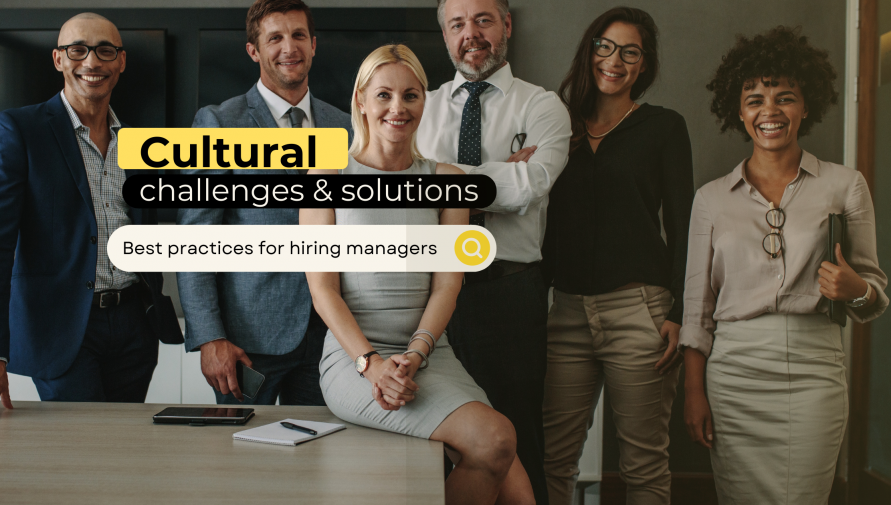 Managing a culturally diversified remote team is now a crucial skill for leaders. It's considered the most essential attribute, especially since employers are no longer restricted to hiring candidates or talents in the native location or even from the same country. An increasing number of tech and digital companies are incorporating remote tech talents from diverse cultures to tap into a wider pool of untapped skills. 
While diverse talents, who are a culture fit, bring a different viewpoint to the virtual workspace, creating a work environment that's respectful and inclusive can sometimes be tricky. 
Companies are incorporating processes and stages of screening in their hiring and onboarding process for a seamless integration. Hiring managers often relate a culture fit to someone with whom they can hang out and speak freely. This mistake leads to building a team with homogenous personalities where everybody thinks and speaks alike.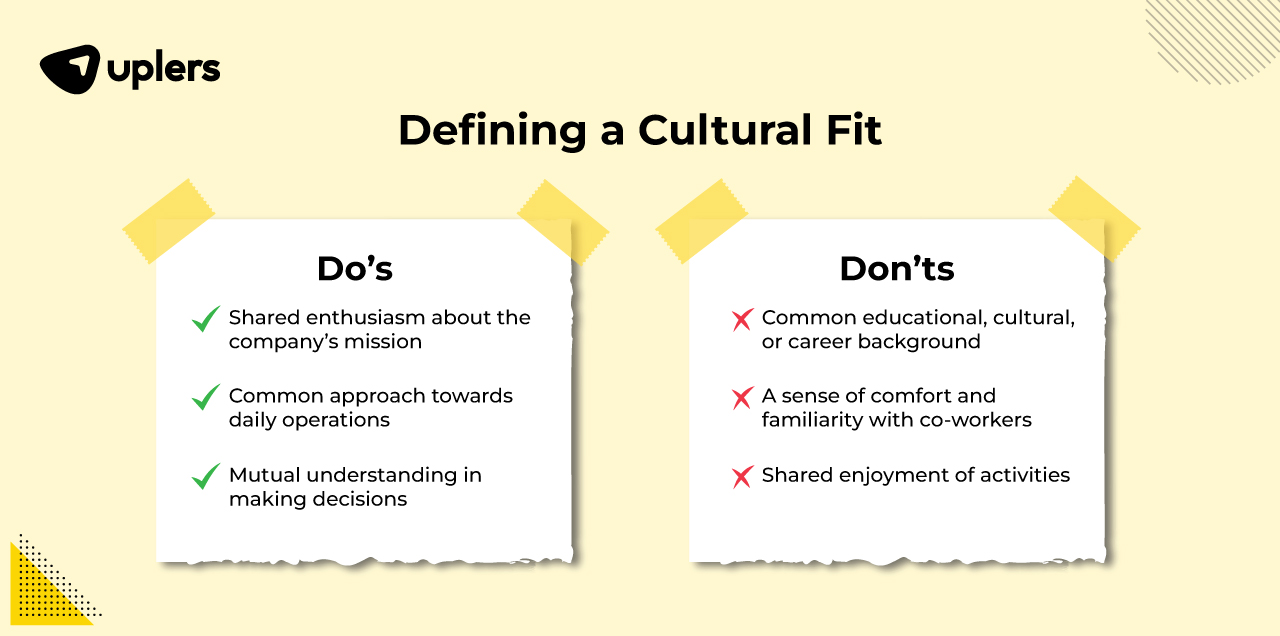 The above misconceptions are found very common in the hiring process, and they lead to building a team that lacks innovation. Hence, it is important that global employers understand its meaning before hiring for culture fit. In this blog, we will talk about the things you should know while building a culturally fit team in India and how Uplers is helping global employers hire culturally fit talents.
Uplers helping companies hire deeply-vetted Indian talents who are remote-ready and culturally adaptive 
Culture plays a big role when building a remote or hybrid team. It creates an identity for the organization, promotes healthy competition, and sets the tone for communication and respect. It also unites team members from diverse backgrounds and ensures cross-cultural sensitivity across all levels. A big step towards building such a culturally fit team is to stay aware of the challenges that come with uniting remote team members from different backgrounds.

Here are a few things about the Indian workspace culture you should know about while hiring for a culture fit remote team:
Context of communication
A typical Indian team communicates using several jargon which may not resonate with a global employer and prevent them from becoming a culture fit in the workplace. Phrases such as 'bandwidth' (working capacity), 'end of the day' (the closing hours of the office), 'kindly revert' (requesting a reply), and 'keep me in the loop' (keeping someone updated about the developments) are very common amongst Indian talents. These expressions are famously termed 'Indianisms', and global employers need to be aware of them to avoid misinterpretation.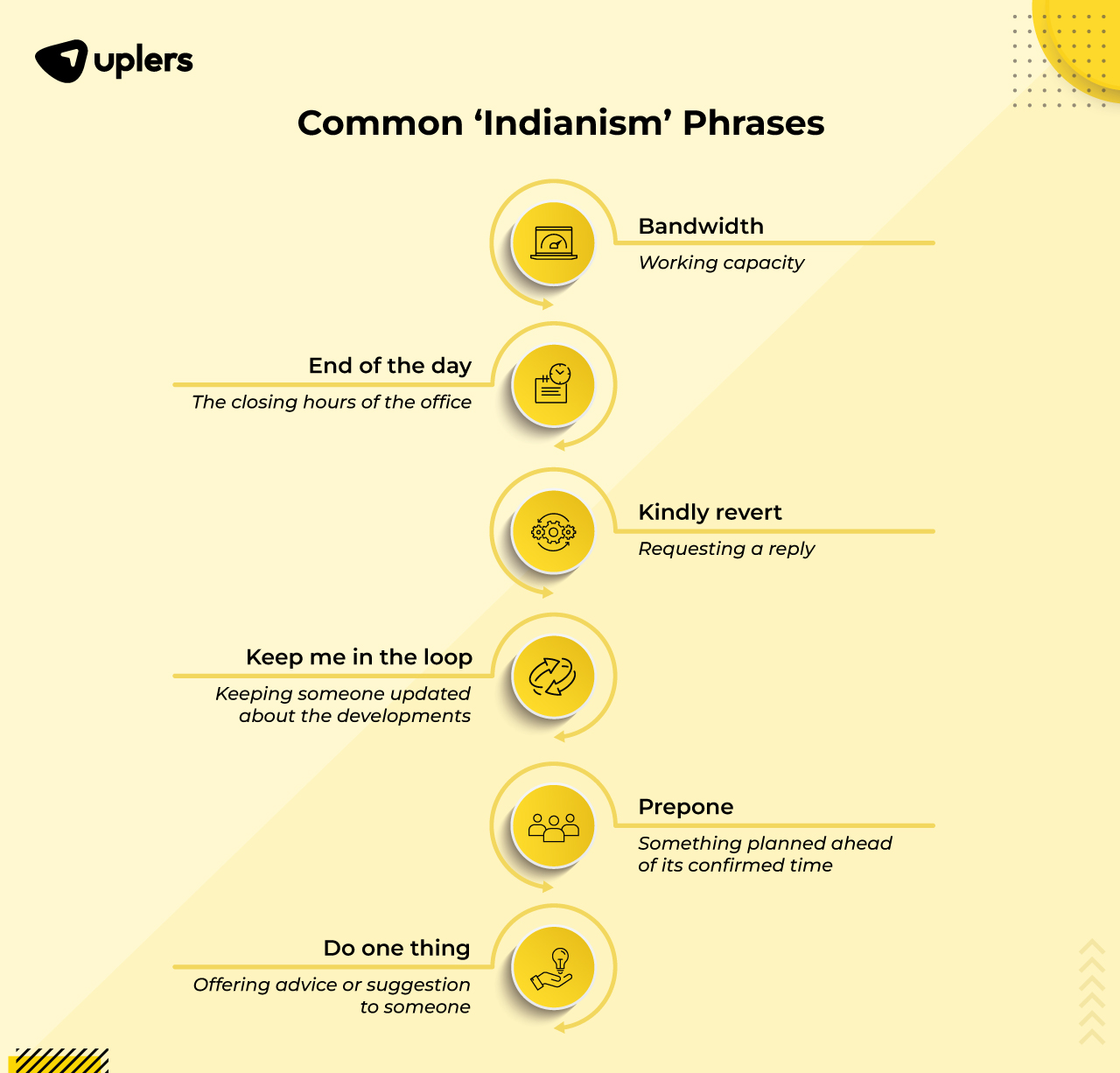 Contextual differences
High-context and low-context define the communication styles in the West and the East. In a low-context environment, such as the United States and Germany, there are more direct questions and answers to ensure clarity on any topic. However, the Indian work culture is very high-context, which means non-verbal cues, less intimidating language, and a lack of direct criticism. They also prefer discussing their opinions on a one-to-one basis to avoid creating a hostile atmosphere in the public domain. 
Global employers looking to hire talents in India must acknowledge these differences and adapt accordingly to build strong relationships and avoid misunderstandings.
Cultural values
Individualism, heavily followed in the West, emphasizes ownership and accountability of each employee and motivates them to outperform their peers. This concept promotes the personal growth of every professional to build a competitive environment. In contrast, in India, the cultural values in the workplace promote collectivism, wherein employees collaborate to reach business goals, and the focus is on building strong camaraderie within the group. In such an environment, success is a measure of the entire organization's performance, and not just an individual's.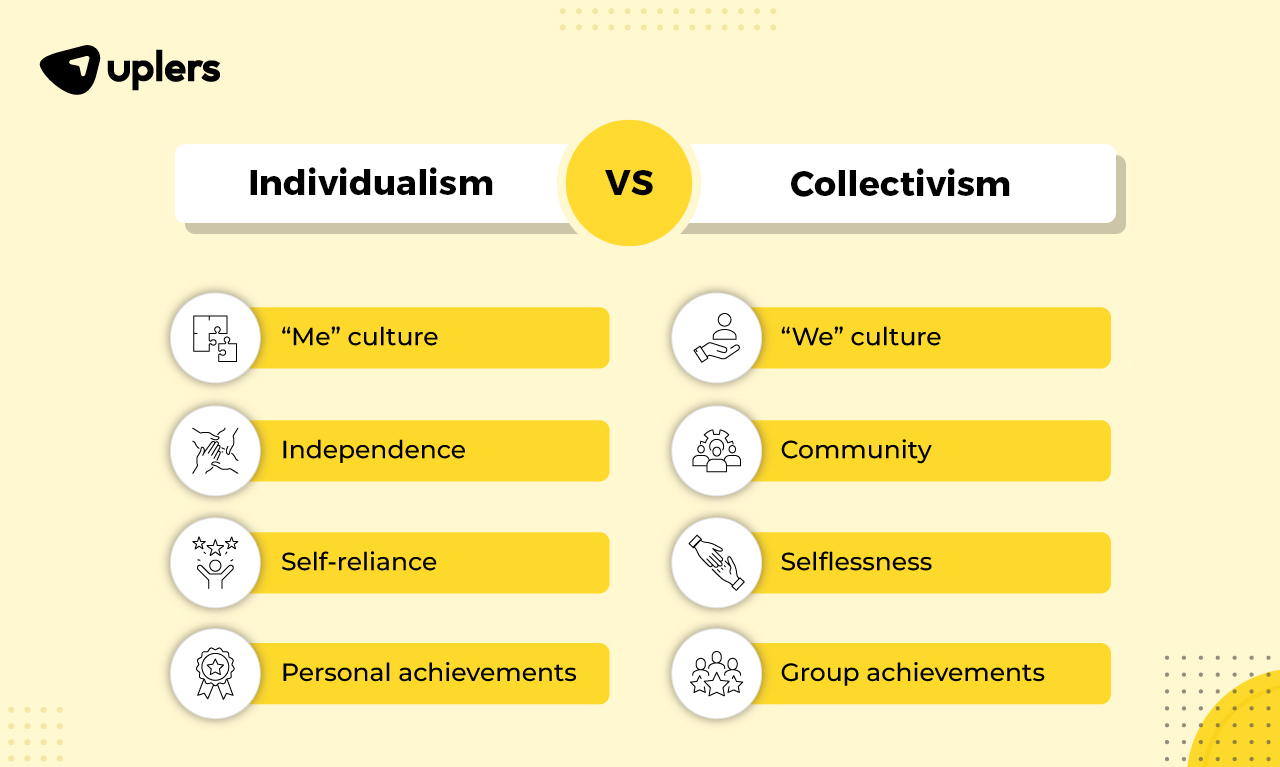 Pragmatism vs Innovation
Pragmatism in a workplace means getting results through perfect planning and execution, with no margins for error. While the world relies on pragmatism and its incredible impact, Indians are known for being innovative and getting the best results with the resources at their disposal. This innovation-based mindset has helped the country scale new heights, and it is what global employers expect from such a massive talent-rich region – new ideas that propel success.
If you want to find out more about how Indian work culture is different from the world, go through our ebook on Bridging Cultural Differences For a Remote Indian Employee.
How Uplers Facilitates Hiring For Culture Fit Indian Talents
A professional fit is fairly easy to find by evaluating their skills and experience, and you can find several such talents in India. However, a cultural fit in the workplace is someone who resonates with your organization's values and aligns with the goals and vision. To help global employers find their professional and cultural fit, Uplers relies on its stringent vetting process.
Uplers' 5-step deep vetting process efficiently identifies the ideal fit for your organization. We vet talents for their behavioral attributes that align to the client's organizational values and effective cross-cultural communications.
Uplers bridge the gap, ensuring that your process on hiring for a culture fit talent aligns with your organization's values. 
Managing Culture Fit Remote Indian Talents Post-onboarding 
Your responsibilities while building a culturally fit team do not end with the hiring process. Here are a few things you should do post-hiring to ensure a culturally-aligned workforce: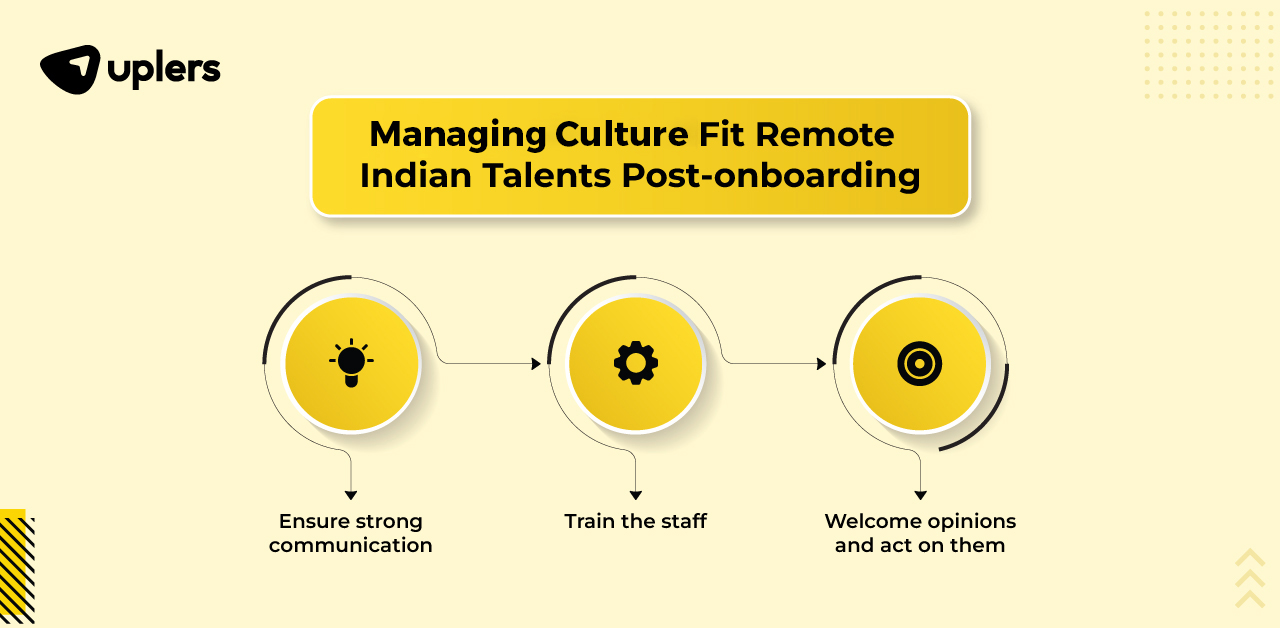 Ensure strong communication
Once you have hired your ideal candidate, keep checking on them about how they find the cultural values in the workplace and if they are facing any challenges. Keep an empathetic attitude and motivate the new hire to speak up and share any experience, positive or negative, that they encounter in their initial days. A channel of free-flowing communication will help build trust and verify if the candidate fits well into the organization.
At Uplers, we assign a Talent Success Coach (TSC) to the talent and an Account Manager (AM) to the client to establish strong communication and transparency between the two parties. This helps bridge any gaps between them and arrive at a middle ground of understanding and respect.
Train the staff
It is essential to train your employees to align with the company culture and develop a habit of sticking with it. Simply propagating the values on social media is not enough, you must walk the talk. Ask the team managers to uphold the company's value system in every step of the operation. This will help in inculcating the cultural values in the workplace so the entire organization can resonate together. 
Welcome opinions and act on them
If an employee is facing any issue while adapting to the company culture or understanding them, hear them out and address them quickly. Employees sharing their inhibitions and challenges regarding the culture will only build a stronger team and help you grow as an employer. You can also consider taking seminars to better propagate the culture points and remove any misunderstandings.
A culturally strong team can face any troubling tides and work efficiently like a sports team. If you are facing any issues while hiring for a culture fit remote Indian team, connect with us, and we will help you.
Finding it challenging to establish a connection with your remote Indian employees? 
Do you know diverse team outperforms homogeneous team by 35% and for that and 92% of remote talent link collaborative cultures to higher company success 
Our cultural guide has helped many companies bridge the cultural gap between India and the West, how? 
Implementing effective communication strategies to bridge this gap

Developing trust with your Indian remote employees
Mastering the art of overcoming cross-cultural barriers in the workplace for your remote Indian team members.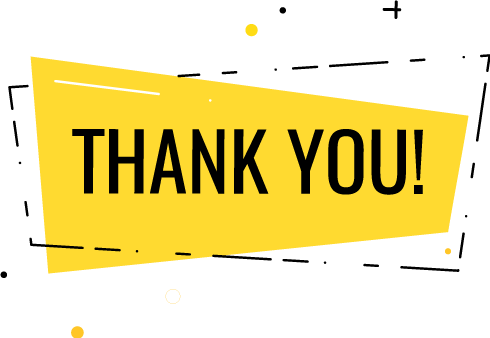 Thank you for submitting the details!
We will keep your information safe. Feel free to contact us with any questions at hello@uplers.com
Please check your email for next steps shared by Robert.