Effective Remote Team Communication Strategies: Guide for Global Companies Managing Indian Employees
Ayushi Awasthi
June 27, 2023

6

Minute Read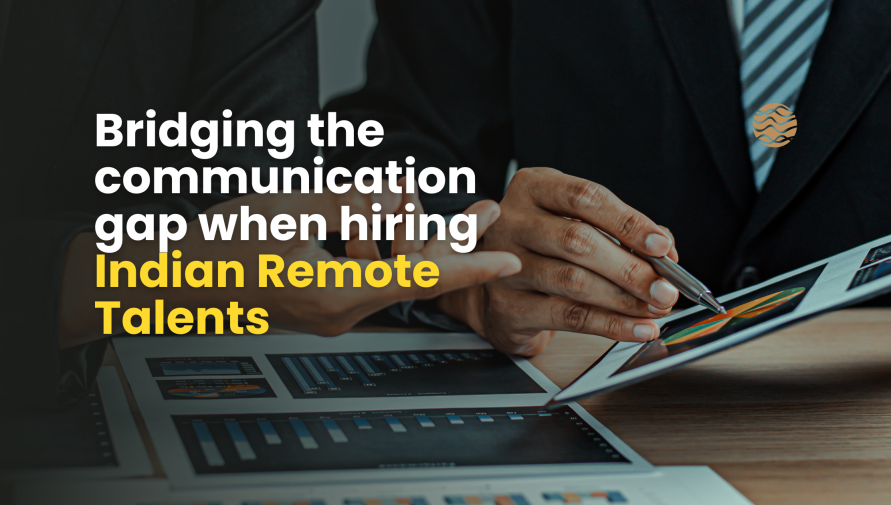 Effective remote team communication strategies are crucial for building a strong and cohesive remote culture. They help foster collaboration, enhance productivity, and ensure that every team member feels valued and connected, regardless of their physical location.
Recognizing the significance of remote team communication, we at Uplers go above and beyond to ensure the success of the Indian talents working with global teams.
Uplers Talent Success Coaches invest their expertise in the pre-vetted talents, equipping them with the necessary skills to grow in a remote environment while collaborating effectively with global teams.
In this comprehensive guide, we will explore 12 proven remote team communication strategies that empower companies to establish open channels, bridge gaps, and foster a sense of understanding within remote teams.
Effective Remote Team Communication Strategies To Connect With Indian Employees 
Here are some communication best practices for remote teams you need to consider when communicating with Indian remote teams:
1. Establish Communication Norms
First things first, setting communication norms is crucial to establish clear communication within remote teams. This includes encouraging active listening, utilizing appropriate remote team communication tools, maintaining collaboration with cross-functional teams, and fostering an environment where questions are encouraged. 
2. Use Common Communication Channels 
When connecting with Indian talent in a remote team, it is important to use common communication channels such as email, instant messaging platforms, and video conferencing tools. 
Here is the list of the best communication tools for remote teams: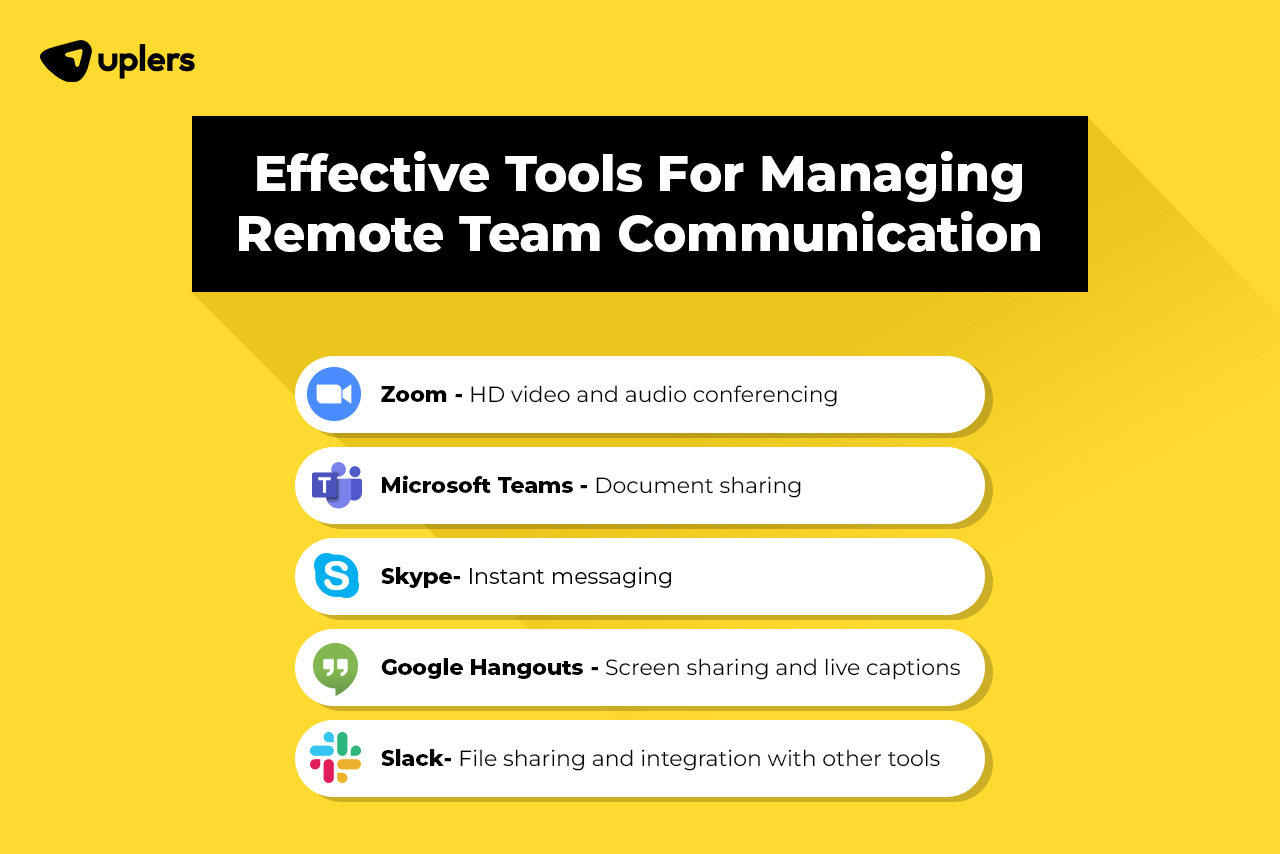 Zoom
Features:
HD video and audio conferencing

Screen sharing and annotation tools

Virtual backgrounds and filters

Recording and transcription options
Pros:
Easy to use and set up meetings

Large participant capacity

Excellent video and audio quality

Wide range of collaboration features
Cons:
Limited meeting duration for free accounts
Microsoft Teams
Features:
Chat-based collaboration platform

Audio and video conferencing

Document sharing and co-authoring

Integration with other Microsoft tools
Pros:
Seamless integration with the Microsoft ecosystem

Robust collaboration features

Extensive customization options

Integration with third-party apps
Cons:
Limited support for external guests
Skype
Features:
Instant messaging and video calling

Screen sharing and file sharing

Call recording and live subtitles

Integration with Microsoft accounts
Pros:
Familiar and widely-used platform

Good call quality and stability

Cross-platform compatibility

Free to use for most features
Cons:
Limited features compared to other tools
Google Hangouts
Features:
Instant messaging and video calling

Group conversations and chat history

Screen sharing and live captions

Integration with Google Workspace
Pros:
Seamless integration with Google services

Easy to use and accessible

Reliable video and audio quality

Good for small teams and casual conversations
Cons:
Can be less suitable for large-scale meetings
Slack
Features:
Channel-based messaging platform

File sharing and integration with other tools

Threaded conversations and mentions

Voice and video calls (with paid plans)
Pros:
Excellent for team collaboration and communication

Powerful search and organization capabilities

Integration with numerous third-party apps

Extensive customization options
Cons:
Can be overwhelming with a high volume of messages
3. Train Your Employees To Use The Tools
To effectively connect with Indian employees in a remote team, it is essential to train them to use different remote team communication tools. Uplers Talent Success Coaches diligently provide training to Indian talent to ensure they are proficient in utilizing communication channels for efficient collaboration and engagement.
4. Video Calls Are The Best
Video calls are indeed a highly effective remote team communication approach for connecting with Indian employees. It allows for face-to-face interaction, which helps build rapport and foster better understanding. Visual cues and non-verbal communication can also be easily perceived, improving overall communication effectiveness and reducing misunderstandings.
5. Say No To Unnecessary Meetings
Minimizing unnecessary meetings can improve communication for remote teams. To ensure productive meetings and avoid wasting time and resources, consider prioritizing essential discussions and utilizing communication channels as alternatives.
6. Welcome Friendly Communication in the Team
Encourage a culture of friendly communication within your team, where members feel comfortable expressing their thoughts and ideas. Foster a supportive environment that values collaboration, active listening, and empathy. This communication exercise for remote teams promotes stronger relationships, enhances teamwork, and creates a positive work atmosphere that enhances productivity and engagement.
7. Always Up For 1-on-1 Communication
Regular 1-on-1 communication with your Indian employees can also help in effective communication for remote teams overall. This allows for personalized discussions, addressing concerns, building rapport, and fostering a stronger connection. By prioritizing employee interactions, you can better understand their needs, provide support, and maintain open lines of communication to ensure a productive and engaged remote team.
8. Master The Art of Indirect Communication
Understanding how to communicate indirectly is crucial for remote teams to establish strong connections. This involves creating engaging messages that capture attention and using tone, body language, and persuasive language effectively.
9. Visuals Are Worth A Thousand Words
To effectively communicate with Indian employees in remote teams, it's important to minimize unnecessary meetings. Instead, use communication tools like email, instant messaging, and video conferences to share information efficiently. This remote team communication strategy will help improve productivity, save time, and accommodate effective communication in different time zones
10. Promote Asynchronous Communication
In remote setup, encouraging asynchronous communication can greatly enhance productivity and collaboration within a team. Here are a few strategies for effective communication for remote teams to promote this type of communication:
Utilize collaborative tools:

Tools such as Slack, Skype, Google Meet, and so on. will allow team members to communicate and collaborate at their own pace without the need for immediate responses.
Set clear response time expectations:

Managers can encourage team members to prioritize deep work and focus on their tasks without constant interruptions.
Foster a culture of documentation:

Managers should encourage team members to summarize important points from meetings or discussions and share them in a centralized location. This allows individuals to catch up on information and contribute asynchronously.
11. Feedbacks Are Important
Feedback is one of the crucial remote team communication strategies and connecting with Indian employees. Encouraging open and regular feedback channels, understanding cultural nuances, leveraging video conferencing tools, organizing virtual team-building activities, and adapting communication styles are essential for successful collaboration across borders.
12. Resist to Urge Micromanage
To effectively connect with Indian employees in a remote team, it is essential to resist the urge to micromanage. Trust your team members, provide clear communication guidelines for remote teams, and empower them to make decisions independently. Encourage open communication, establish regular check-ins, and foster a supportive work culture that values autonomy and collaboration.
Now that you've got 12 effective strategies on how to communicate with a remote team, let's dive into communication best practices for remote teams (Do's & Don'ts) that will really make a difference in the long run.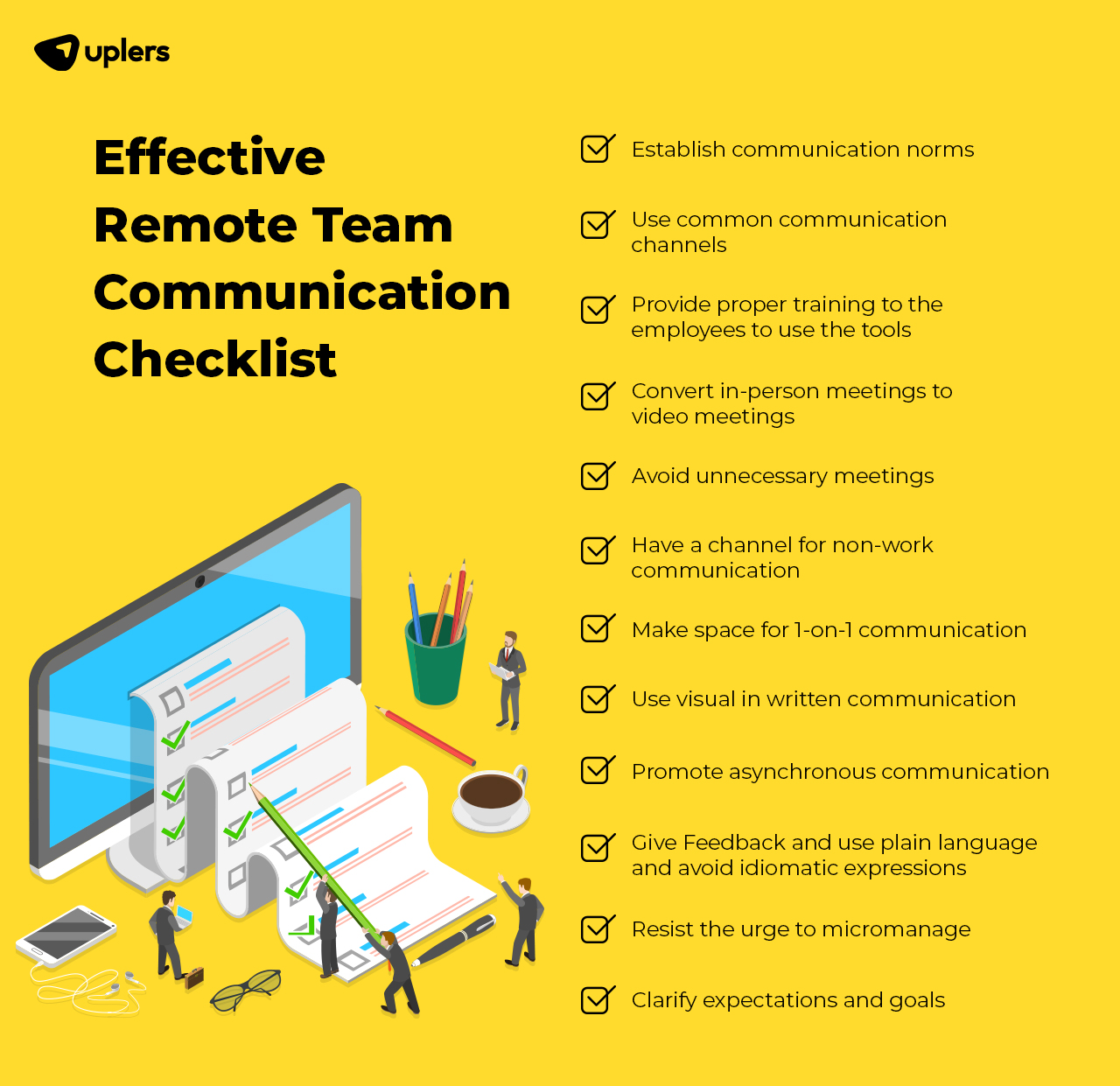 How To Build An Effective Remote Communication For Remote Teams: Do's and Don'ts 
Here are the do's and don'ts of remote communication – simple communication guidelines for remote teams to help you build strong connections with your team. Have a look: 
DO's of Effective Communication Culture:
Build personal connections:

Take advantage of internal messaging tools to connect on a personal level with remote teams. Share hobbies, and interests, or simply engage in casual conversations.

Practice empathy:

 It's crucial to understand and empathize with your remote team members' situations. Be supportive and understanding when dealing with challenges or personal matters.

Send messages:

Send messages that address specific topics, it will make it easier for everyone to follow up and take action.

Asynchronous communication methods:

Consider using asynchronous communication methods, like chats or project management tools to minimize disruptions and maintain productivity.

Use appropriate channels:

Different situations call for different communication channels. Use video calls for important discussions, chat rooms for quick updates, and emails for formal communication.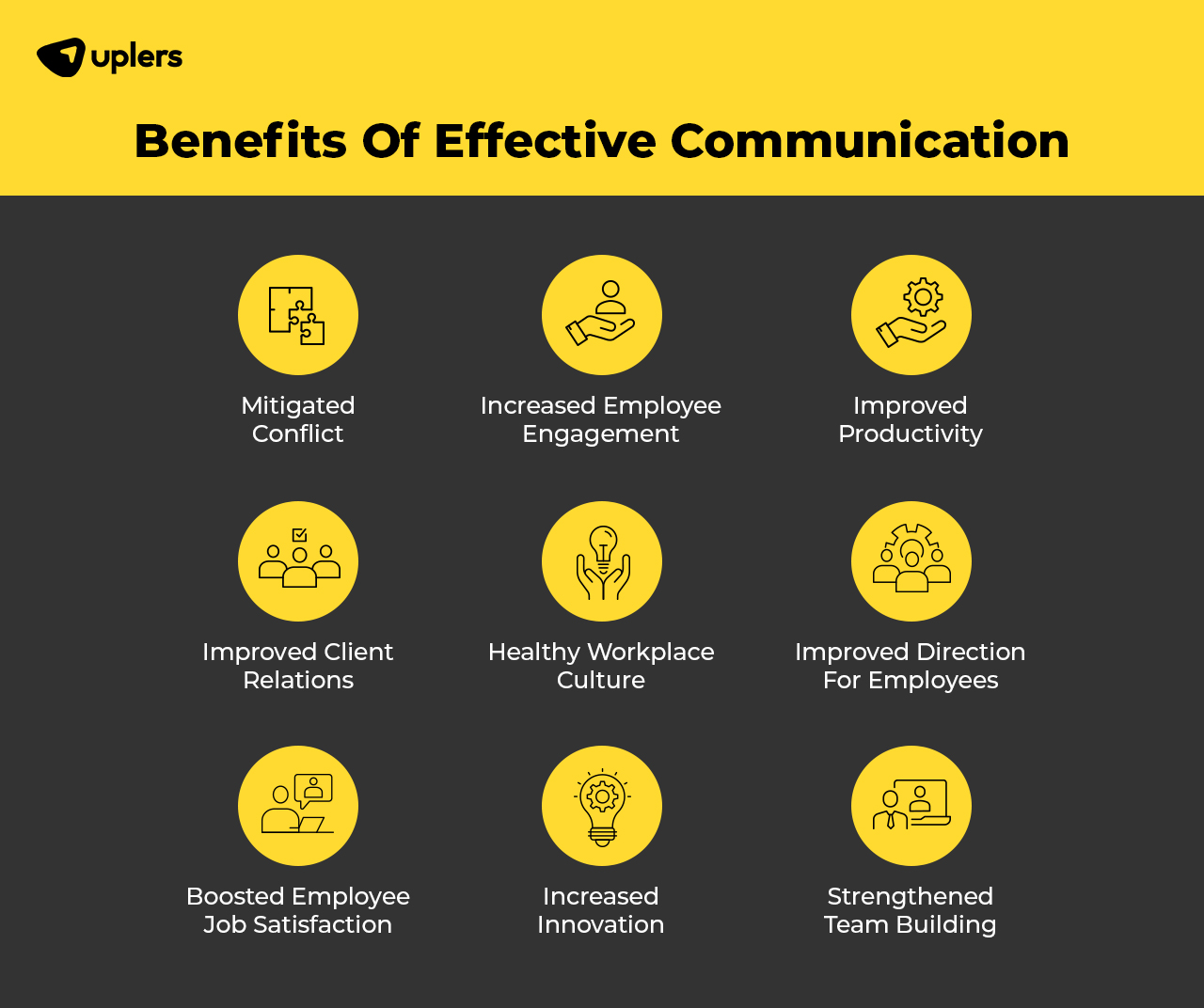 Don'ts of Effective Communication Culture
Micromanage:

Trust your

Indian team members

to deliver results by utilizing project management and to-do list applications to assign tasks and set clear expectations. Allow them the autonomy to excel in their roles.

Sacrifice clarity for brevity:

While concise communication is essential, be mindful of not sacrificing clarity for the sake of brevity. Find the right balance between being clear and concise to ensure your messages are understood correctly.

Constant communication:

Avoid overwhelming your employees with excessive messages, especially if you're repeating the same information across multiple channels. Prioritize the most effective medium and keep your communication focused and necessary.

Avoid constant communication:

Avoid mistaking constant communication for productivity. Instead, focus on efficient and purposeful communication that fosters collaboration, clarity, and progress toward goals.

Quality over quantity is key

.

Don't send useless messages:

Avoid sending unnecessary or irrelevant messages to your remote team. Prioritize meaningful communication that adds value and helps employees stay focused on their tasks and goals.
If you're wondering how you would overcome communication challenges on a remote team? Then, implementing these do's and avoiding the don'ts can help in promoting better communication, engagement, and efficiency within your remote team. 
"Effective remote communication is a key driver of success in the virtual workspace".
Ready To Winning The Remote Team Communication Game With Your Indian Remote Team?
Effective remote team communication in teams is an essential skill that can unlock success in today's globalized work environment. However, it's important to recognize that every company and remote team setup is unique and requires tailored strategies to connect with India's remote teams. 
That's where Uplers come in! With expertise in matchmaking Indian remote talents with global teams, Uplers ensures effective communication for remote teams by providing Indian remote talent that is trained to ask questions, handle conflicts, and collaborate seamlessly with cross-functional teams when working with global teams. 
With Uplers, effective and seamless communication becomes the catalyst for achieving unparalleled results in remote team management.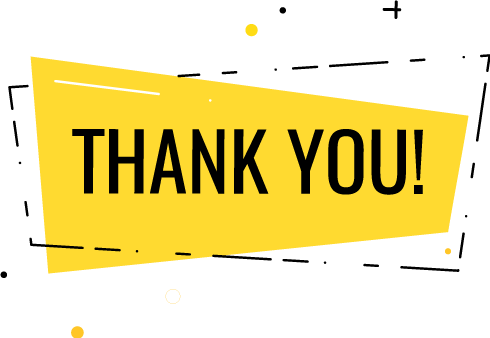 Thank you for submitting the details!
We will keep your information safe. Feel free to contact us with any questions at hello@uplers.com
Please check your email for next steps shared by Robert.