8 Features Of Facebook That Are Under-Utilised by eCommerce Stores
Aayush Gupta
March 10, 2019

5

Minute Read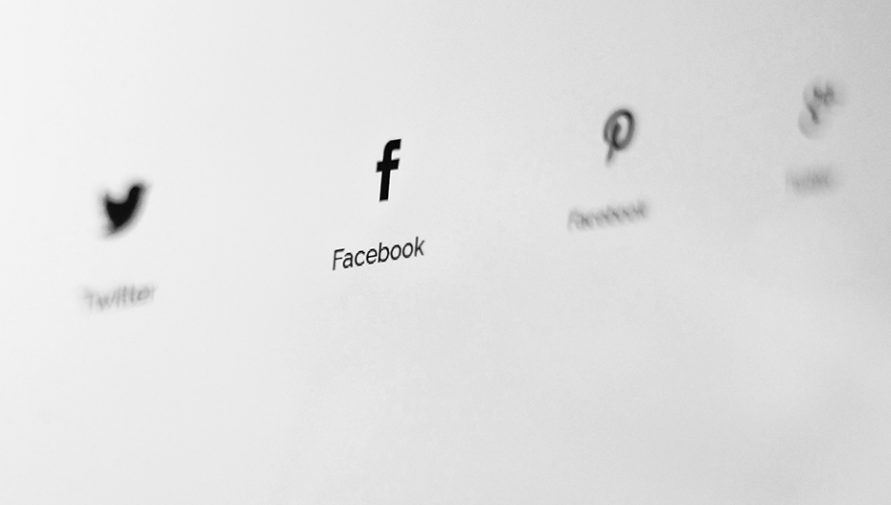 Facebook reached a mammoth 2.32 billion monthly active users by the end of 2018.
That means that over 30% of the world's population is on Facebook, and when you consider how many countries are third-world or in poverty, it's safe to say that a huge number of your target customers are active on this social network.
But are you utilizing Facebook to its full potential for your eCommerce business?
I hate to be the bearer of bad news, but most eCommerce businesses are only using a fraction of the functionality or opportunity of Facebook. Simply sharing a few GIFs and responding to customer service requests via Messenger doesn't cut it anymore.
Intrigued? Here are 8 features of Facebook that are commonly under-utilized by eCommerce businesses.
1. Stories
Did you know that Facebook predicts sharing via Stories will surpass sharing on the Newsfeed this year?
The reason for this is simple – users like to engage with short interactive content on the run and Facebook is rewarding that desire with prominence for the Stories functionality. For brands, the cool thing about Stories is that you have a story section for your Page too which you can access by clicking on your profile image: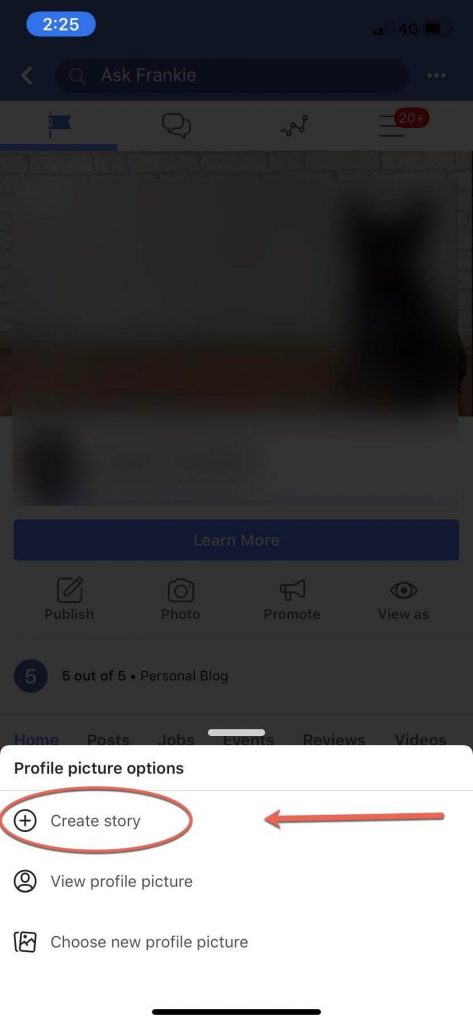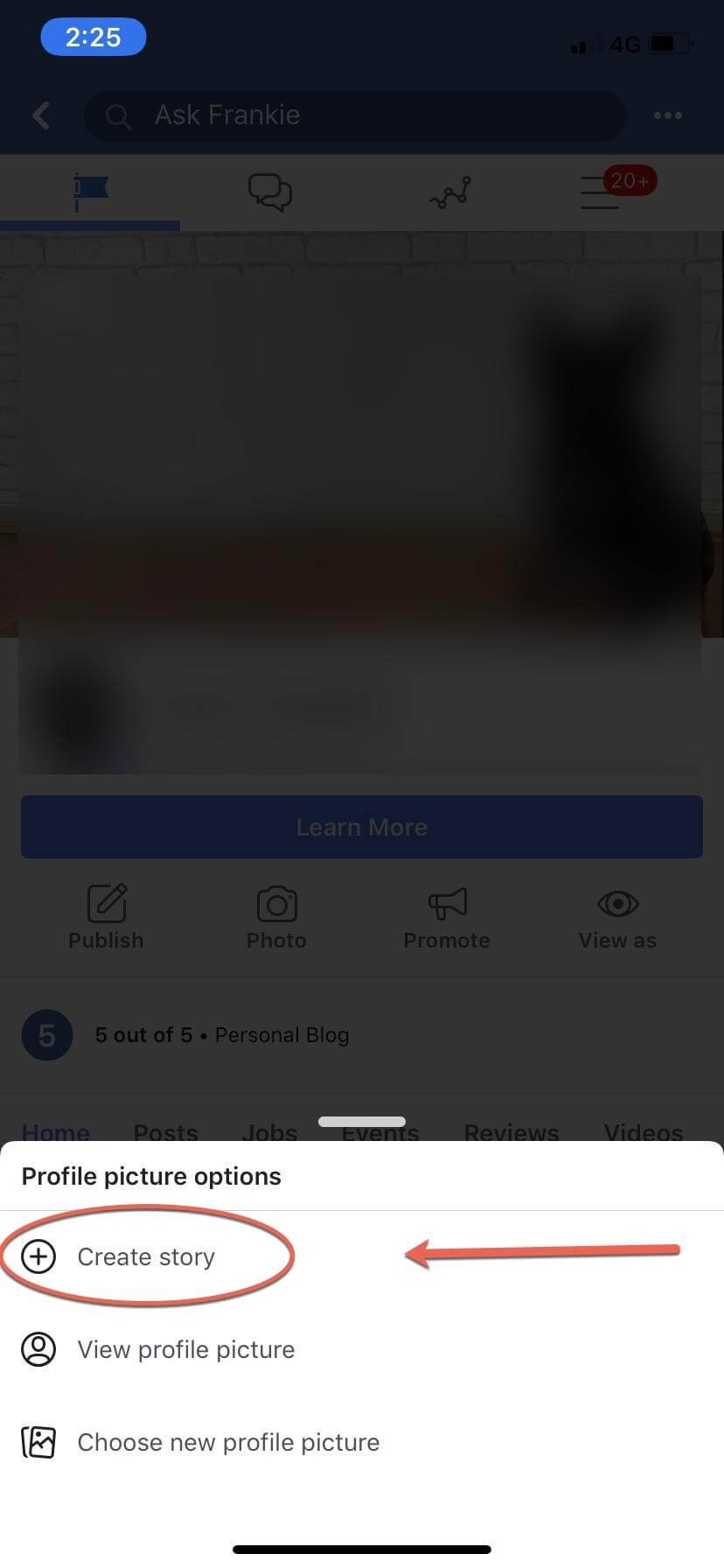 2. Facebook Shopping
You can add a "Shop" tab to your Facebook Page which enables you to list products, features, pricing, and payment options right on Facebook. This provides a new yet familiar platform for your customers to browse and shop for your products.
Here is a glimpse at this feature of Facebook – The Shop section of the Koala Mattresses page: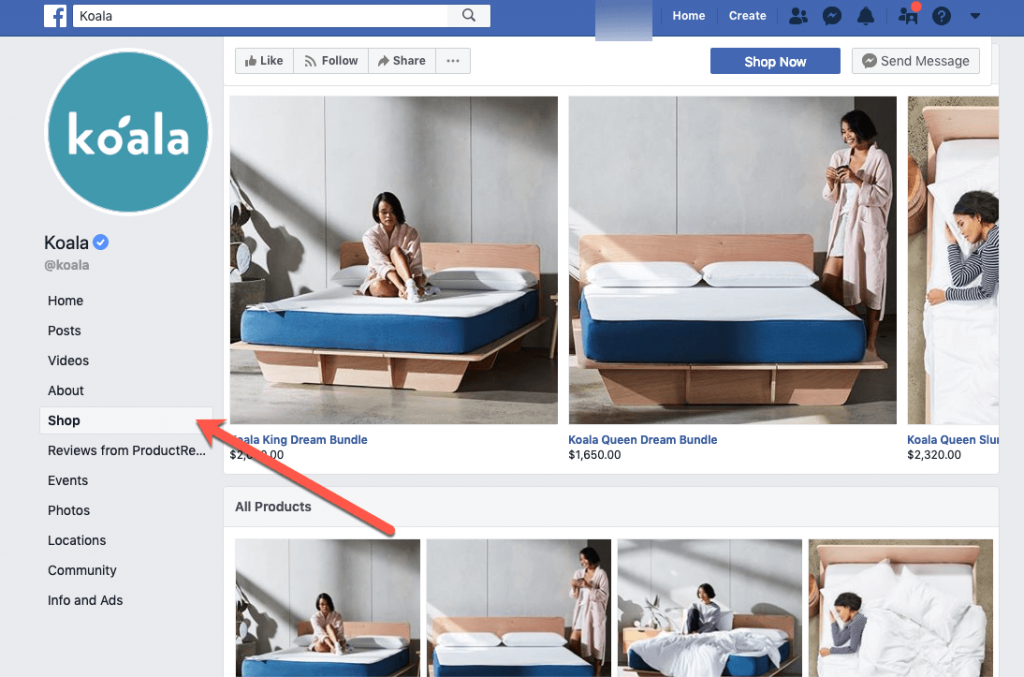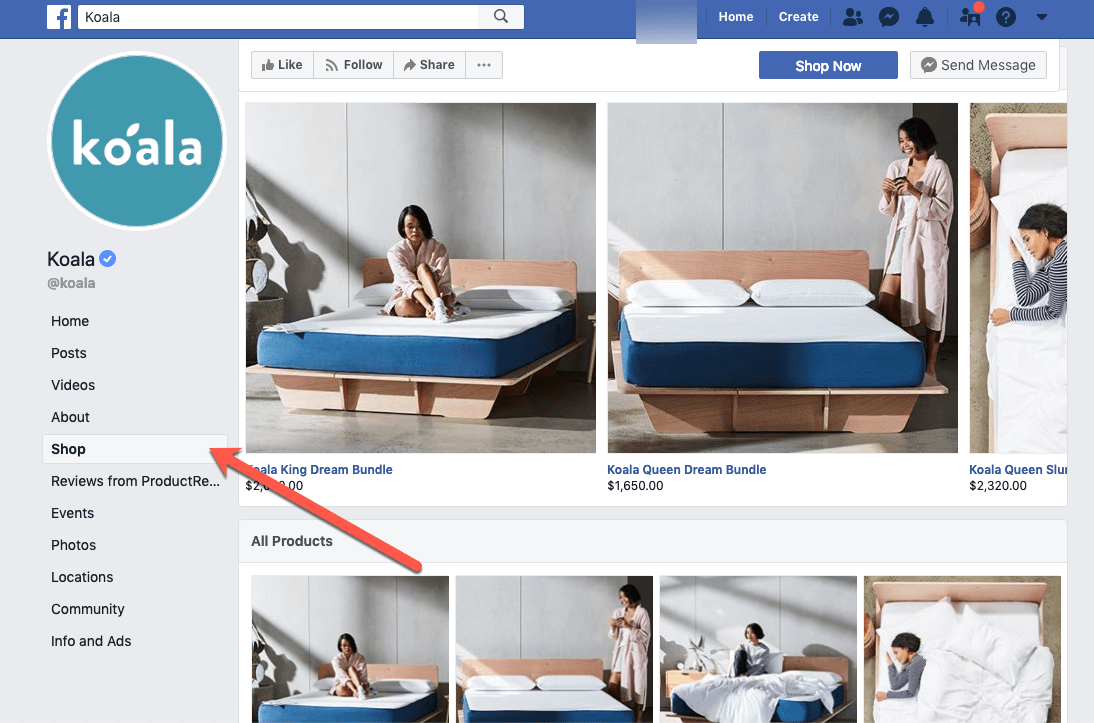 Then, when you click on one of the products a pop-up window is shown, where customers can make the purchase: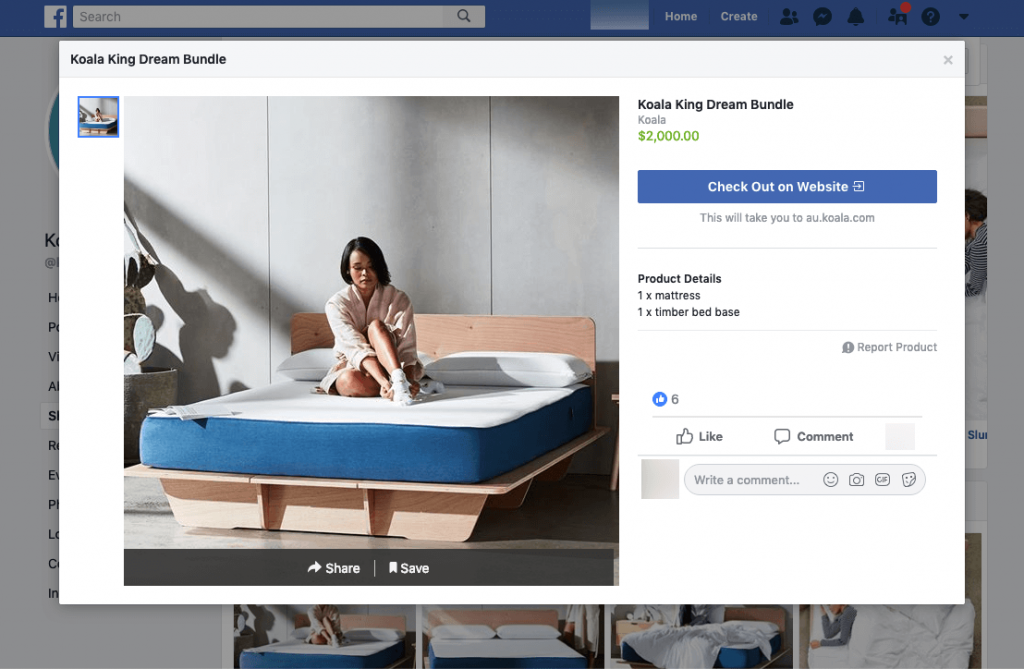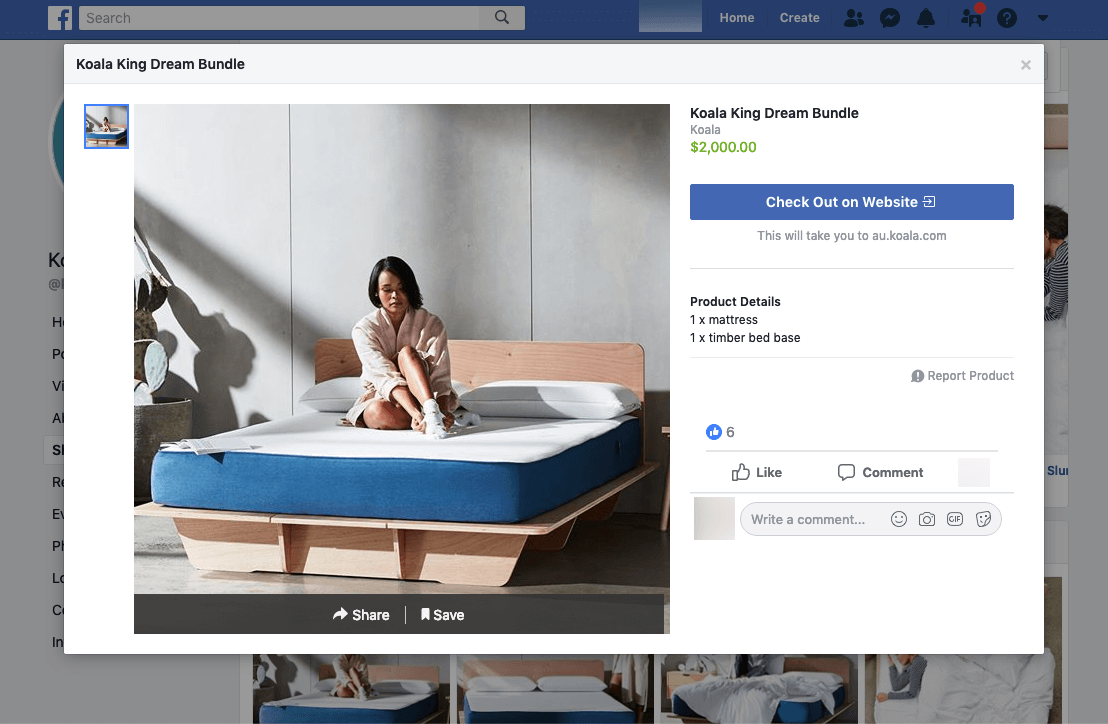 You can further customize your Facebook page according to your business requirements. Here are 12 uses of Facebook Buttons you might not know.
3. Private Groups
It's no secret that organic reach on Facebook for business pages has been steadily declining in recent years. Of course, Facebook has done this because they want to encourage you to advertise on their platform.
One area, which is greatly underutilized by Enterprise eCommerce businesses and still gets consistent and meaningful organic reach, are Facebook Groups. By creating a Group on Facebook with your ideal target customers, on a topic which resonates, you open up the opportunity to market your products to them at a future date.
For example, ASOS Australia has a group called Buy, Swap, & Sell with over 1,600 members: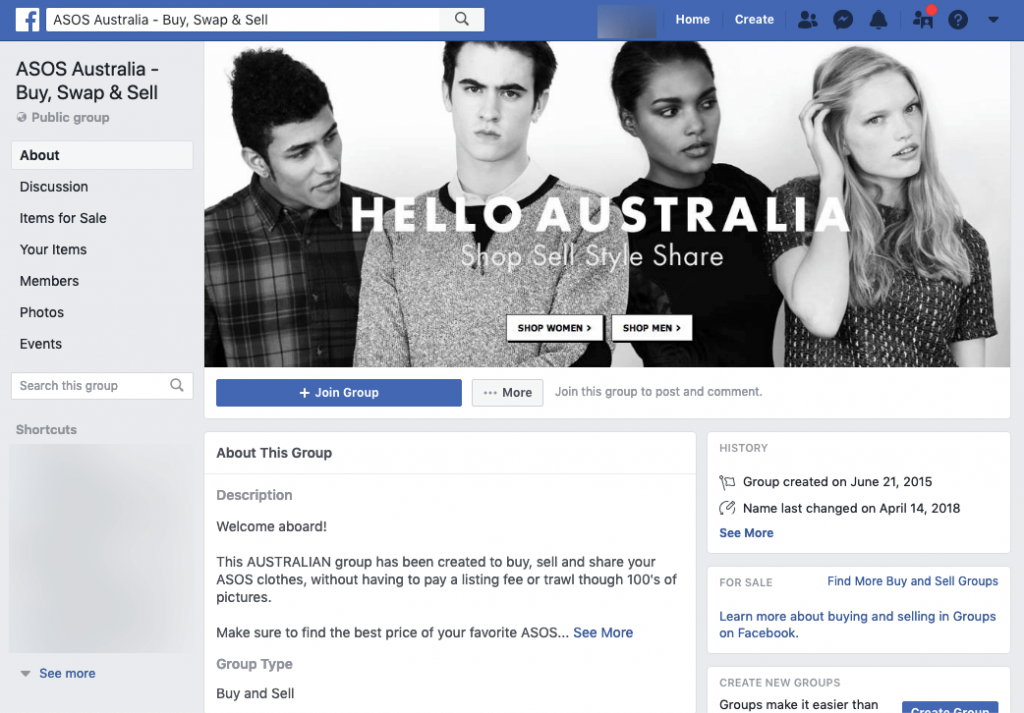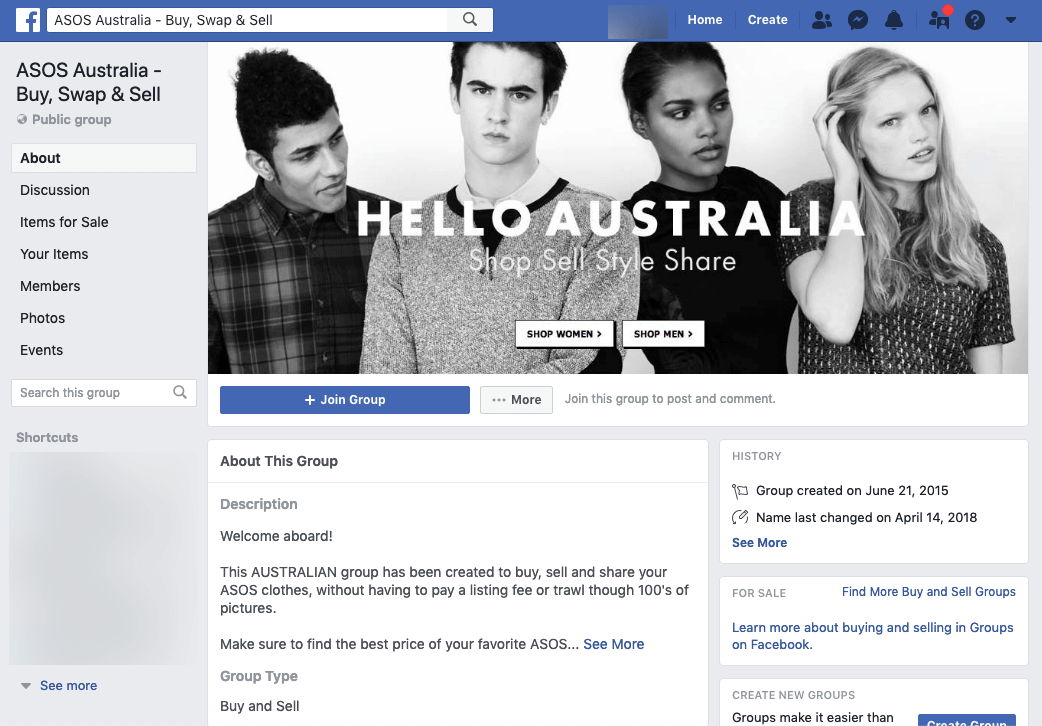 4. Live Video
Data from Facebook shows that Live Video receives 10x the comments of regular videos and is given priority in Facebook's Newsfeed algorithm.
eCommerce brands often use Facebook Live to launch a new product, give customers a behind-the-scenes look at their business operations, or to simply connect with their audience.
For example, Benefits Cosmetics is one brand that use Live Video regularly to engage with their audience:
5. Messenger Automation
The open and click-through rates for Facebook Messenger are currently better on average than you can expect with email marketing.
For eCommerce businesses who already use email as a form of audience engagement and sales generation, the tactics for Messenger work much the same. Basically, you are trying to grow a Messenger list so you can send them trust-building content, offers, and special deals.
To employ this feature of Faebook all you need to do is install a Facebook Messenger widget on your website to capture subscribers and set up an automated chatbot sequence to engage with your customers via this channel.
You can also set up an automated welcome message for visitors who visit your Facebook Page, as Petbarn do here: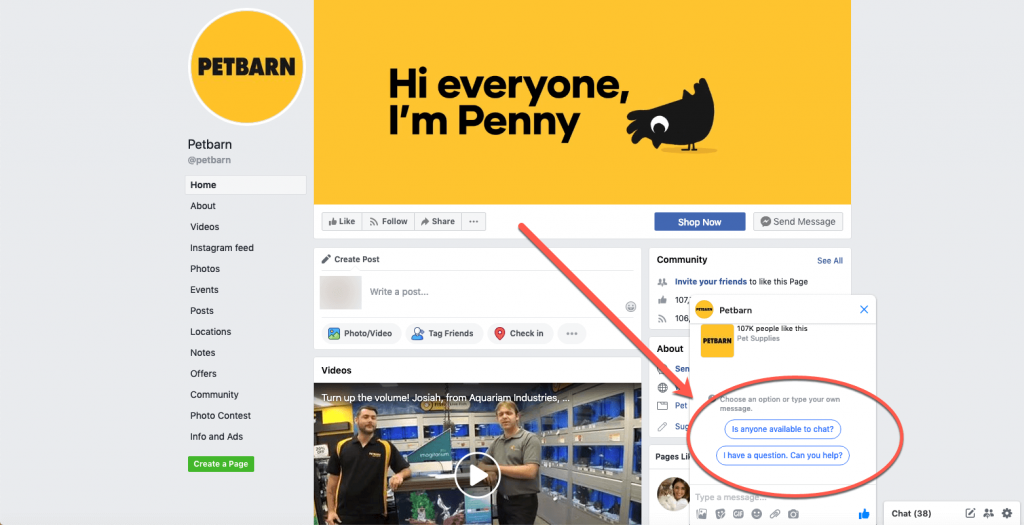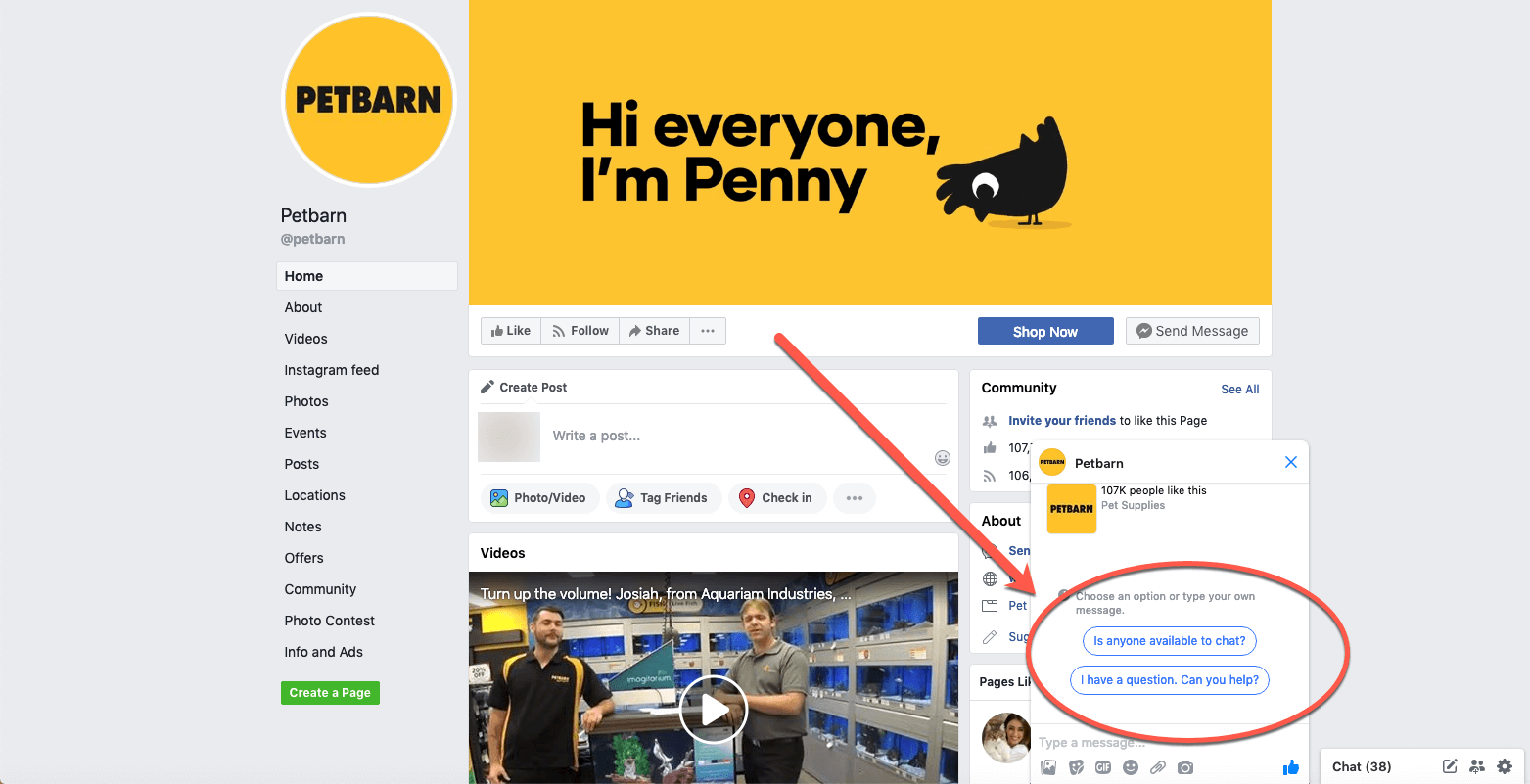 6. Reviews
As you may already know, online customer reviews are one of the best forms of social proof and credibility your business and its products can accrue.
As well as product review sites and Google My Business reviews, you should look to encourage happy customers to review your business on Facebook too. Your overall star-rating is shown prominently on your Facebook Page where visitors can see it: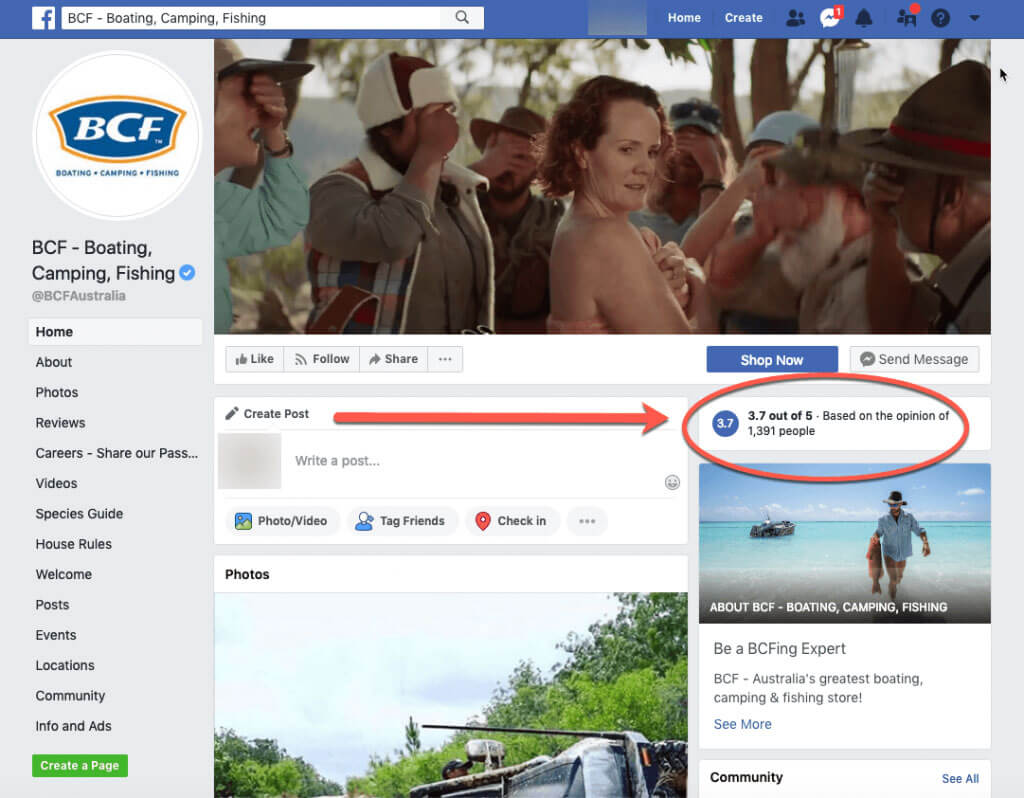 7. Audience Insights
The Audience Insights section of many eCommerce Facebook Ad accounts is rarely visited. Perhaps some people simply don't know it exists, or if they do are unsure of its powerful data.
This tab alone could revolutionize your marketing messaging by helping you understand intricate details about your audience and potential customers.
As well as critical demographic data such as sex, relationship status, education level, and common job titles, you can also get an insight into your audience's location, device preferences, and the type of pages they like. All this information will help you better target your ad campaigns.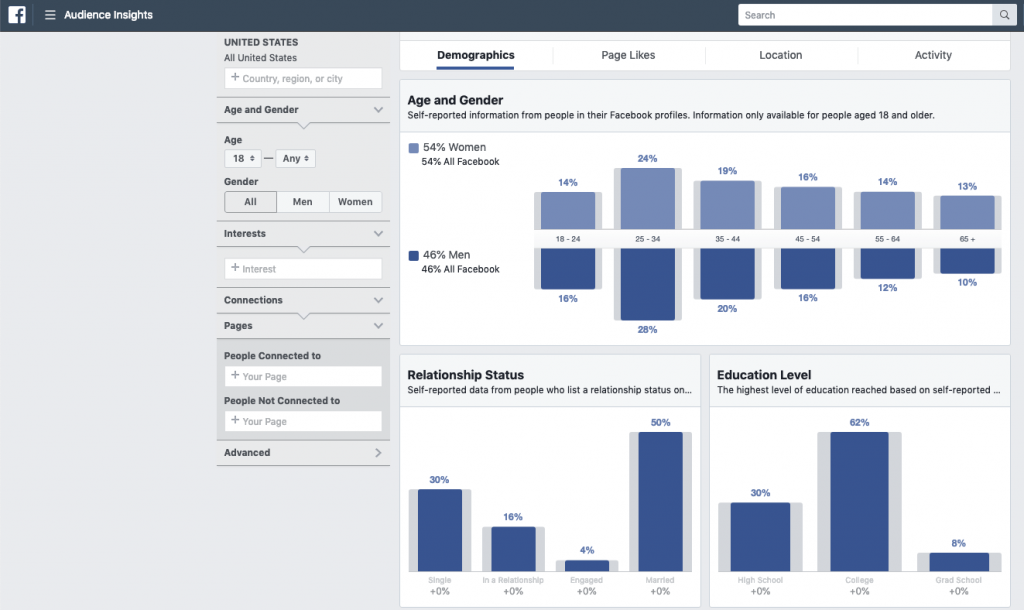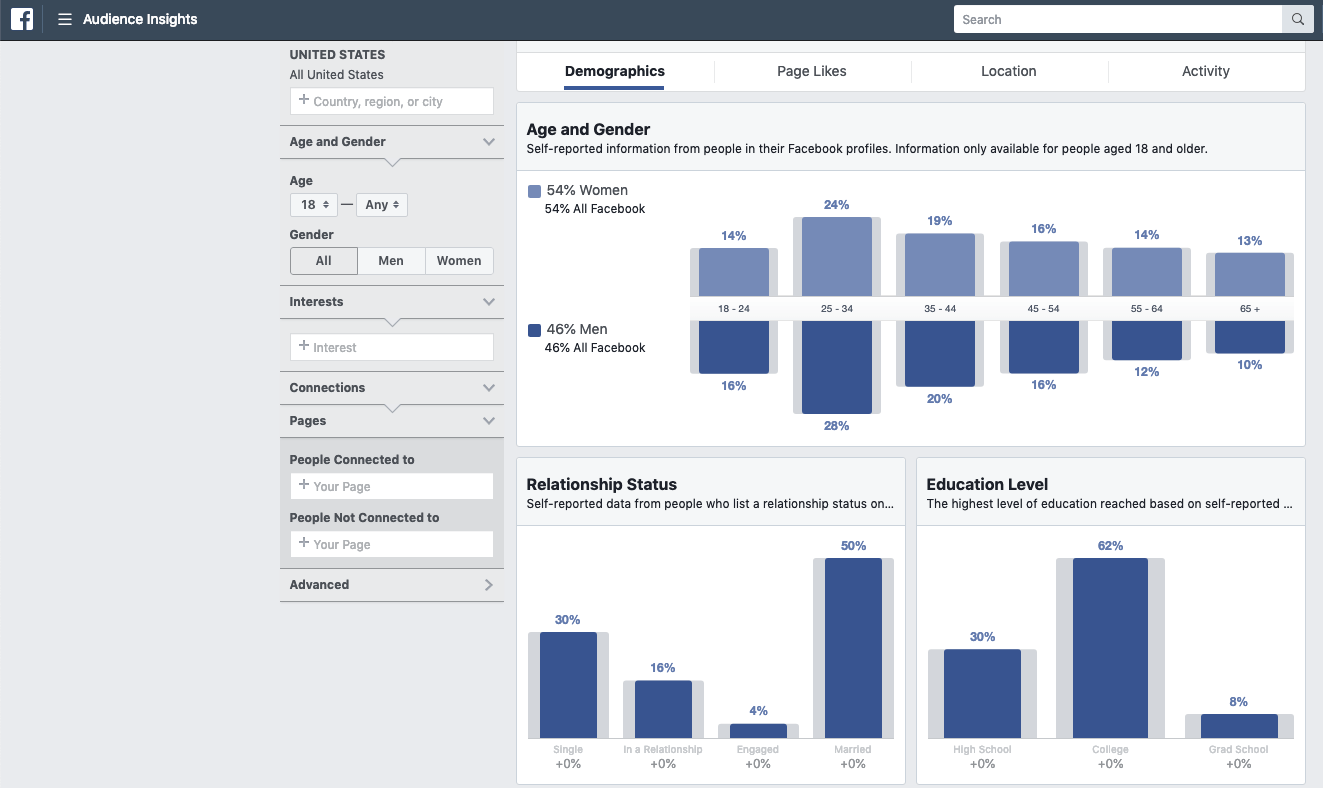 8. Image-to-Video Ad Creator
Last year another important feature of Facebook was launched for Facebook ads called the Video Creation Kit. Basically, this Facebook feature enables you to quickly turn a static image into a slideshow or moving graphic which will, based on statistics, get more engagement from your audience.
Facebook's Video Creation Kit has a library of pre-set templates you can use to create your moving images, and set up takes a few minutes at most.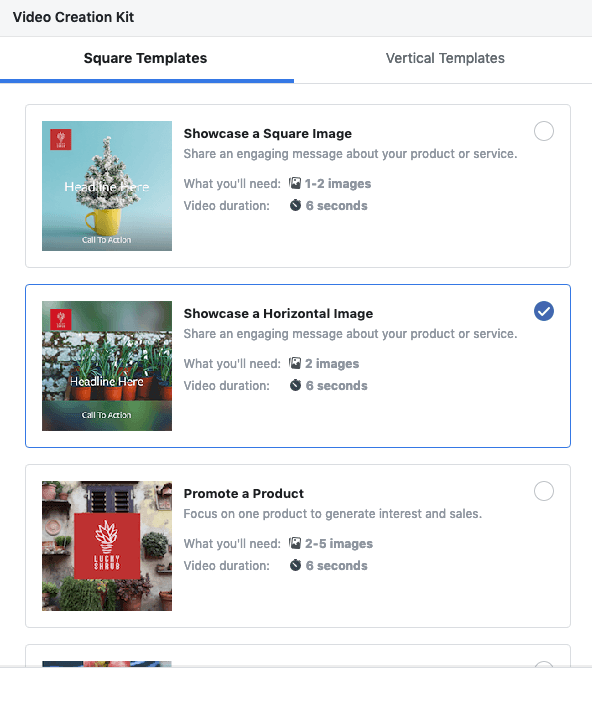 With so many of your potential customers actively engaging with brands on Facebook, it's time to make the most of this platform's array of powerful Facebook features.
Here is a brief summary of the key takeaways from this article:
Facebook, its algorithm, and its users, all of them love video content, so your eCommerce business should too Try out Stories, Live Video, and the Video Creation Kit to get started.
Your customers go to their friends and family to get recommendations on trustworthy brands and products – leverage the embedded trust of this social network by encouraging authentic customer reviews.
With such a crazy amount of data about their users, Facebook puts insights at your fingertips about your ideal customers. Use this information to your advantage.
Jump on board with new Facebook features that pop up and offer untapped marketing channels such as Groups, Messenger, and Facebook Shopping.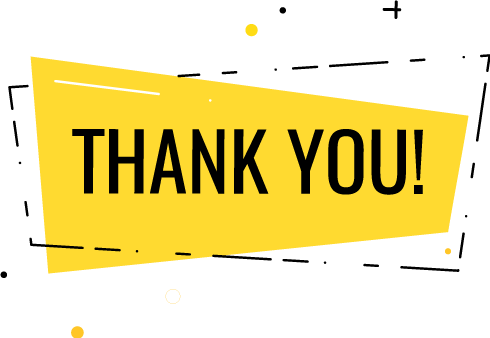 Thank you for submitting the details!
We will keep your information safe. Feel free to contact us with any questions at hello@uplers.com
Please check your email for next steps shared by Robert.