From Burnout to Happiness: Talent Success Story- Om Prakash Bharati
Guest Contributor
August 14, 2023

4

Minute Read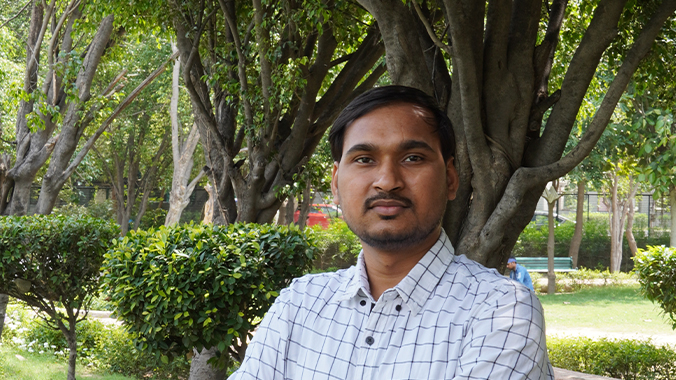 I grew up believing that a good job is everything. I had a promising career as an SEO professional, having worked in different IT and digital marketing companies in and around Delhi. I basked in the stability and routine offered by a nine-to-five job but then realized that each day was all about getting up in the morning, going to work, and coming back home exhausted. Not to mention, the mandatory punch-in and punch-out that meant I had little or no say over my life. 
I realized there was little happiness in devoting your entire life to a job for a paycheck at the end of the month! 
I had been in the grind long enough to want to break free. I am Om Bharti, and this is my story.
The 9-5 grind
I live in Delhi, the capital city of India, with my wife and two lovely daughters. I always had a busy life commuting to the other end of the city to my office. Traveling drained a lot of my time and energy. Add to it the eight-hour shift in the office, and I only had time to do something on weekdays. I hardly got to see my daughters, play with them, and think about upgrading my skills or knowledge. I firmly believed that learning never stops and that there is never really the right age to learn new things, but it was as if I was living my life on autopilot. Of course, I had the weekends to myself, but that was prioritized for relaxation and spending time with family.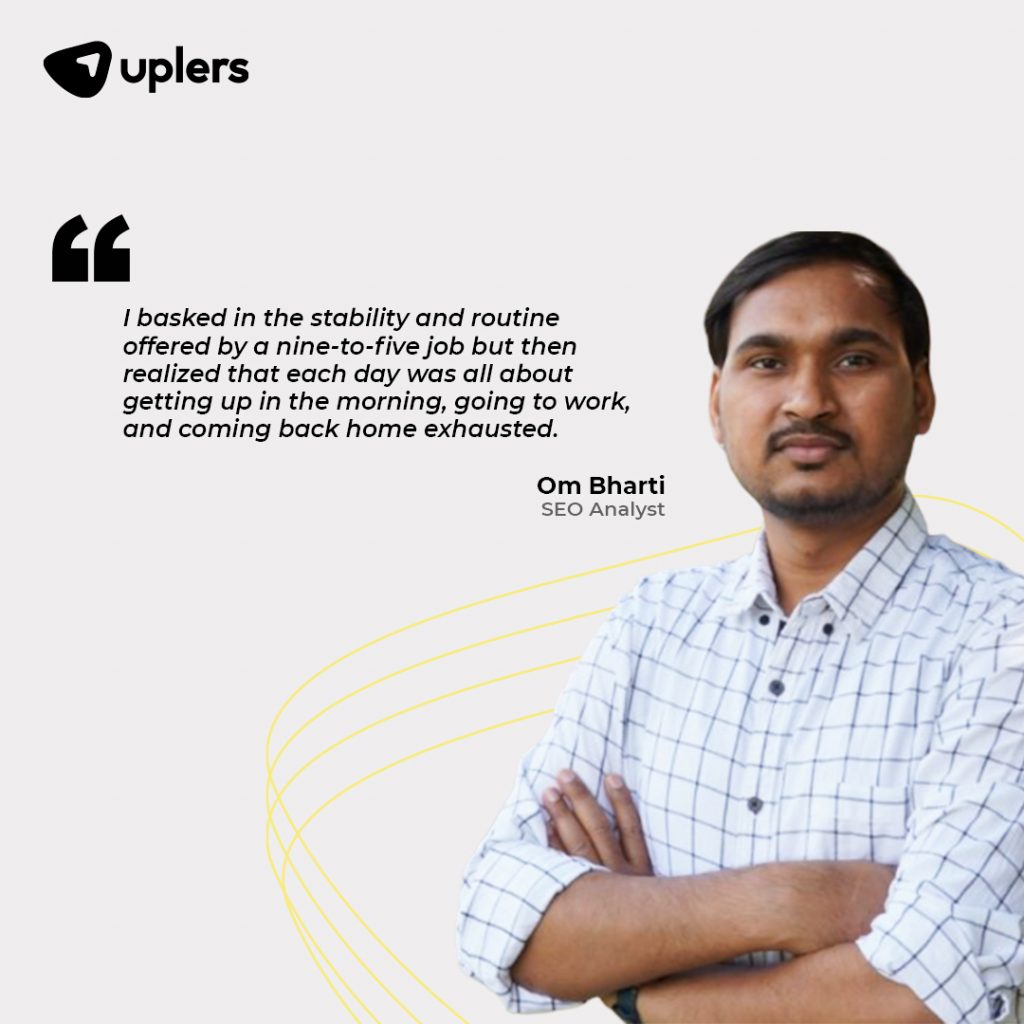 My elder daughter, who is six, was only three years old. I never got a chance to pick her up from school, talk to her about what she learned or even help her with her homework as I was always busy during weekdays. My wife was expecting our second child and needed somebody by her side. I knew I needed to change something about my routine but couldn't figure out where to start. That's when I learned about a fully remote role at Uplers through Linkedin. I immediately applied.
The Uplers assessment
After an initial interview with the head of talent operations, I underwent several tests on SEO, English communication, and aptitude. Thankfully, my knowledge and experience in SEO helped me clear these rounds without difficulty. It took me two weeks to remove all assessments and land my first client- the world's leading advertising agency as the SEO Manager. 
Wearing the SEO hat
As an SEO Manager, I am entrusted with the end-to-end management of SEO Campaigns of various projects and presenting the reports to the end client. My day-to-day job here includes everything from analyzing content strategies, technical SEO checks, competitor analysis, and measuring and tracking data on Analytics (both Adobe and Google) with the help of Google Tag Manager to keyword rankings and optimization. The nature of my job is such that I am required to communicate and collaborate with other digital marketing professionals, content writers, and even developers. So far, I have worked on leading for brands like Castrol, Coke Studio, VW, Audi, etc. The best thing about SEO is that every website brings its own set of challenges for SEO, and as you work on it to enhance its online presence, you improve your knowledge in the process. The one-size-fits-all approach needs to be revised here. Every challenge is unique, and so is the solution. 
Satisfied in life, satisfied at work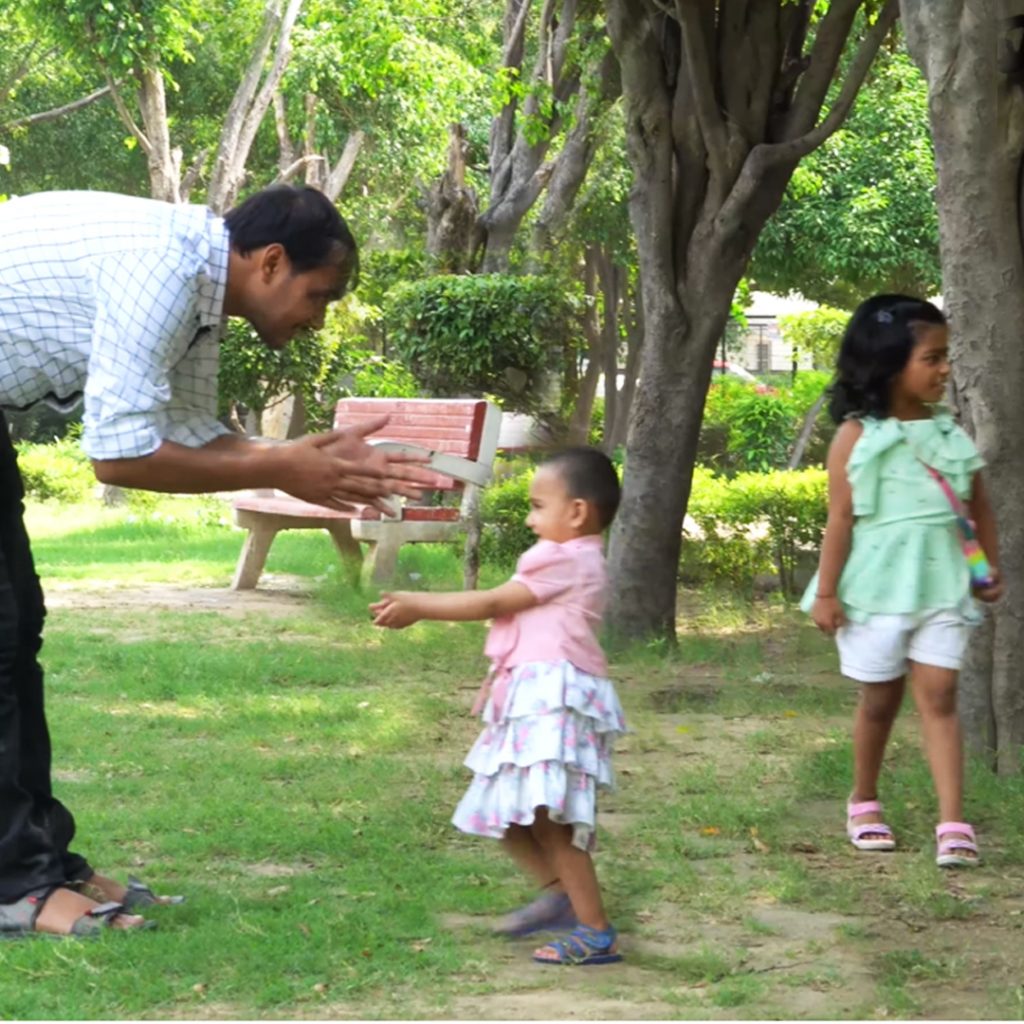 They say one should distinguish having a career from having a life, which is precisely the mistake I was making. I got so busy making a living that I forgot I had a life too! My inability to spend time with family triggered me to make this much-needed change. 
The freedom from everyday commute saved me a significant amount of time. I could now focus on upskilling myself and spending time with my family. 
I work 12 pm to 9 pm which means I have enough time in the morning to help my kids get ready for school, have breakfast with my family, spend some time reading about new technologies and updates in my field, and occasionally can even help my wife run some errands. Not to mention, working from home means that I can take breaks whenever I want to! Be it engaging in playtime with my daughters or helping them complete their homework. Nothing is more rewarding and fulfilling than watching your children grow and learn new things in this adventure called life. 
Wrapping up….
Today my life isn't just about prioritizing what's important at work but also scheduling my priorities. Be it my kids' PTM in school, sports day, or doctor appointments; I can rearrange my schedule without worrying about taking an off. Thanks to remote working, I am much more productive and healthier. Remember, work-life balance isn't something you get or find; it is something you create. After all, life is too short to do something that doesn't make you happy.