Top 5 WooCommerce themes handpicked exclusively for 2020
Kevin Oskow
December 16, 2020

6

Minute Read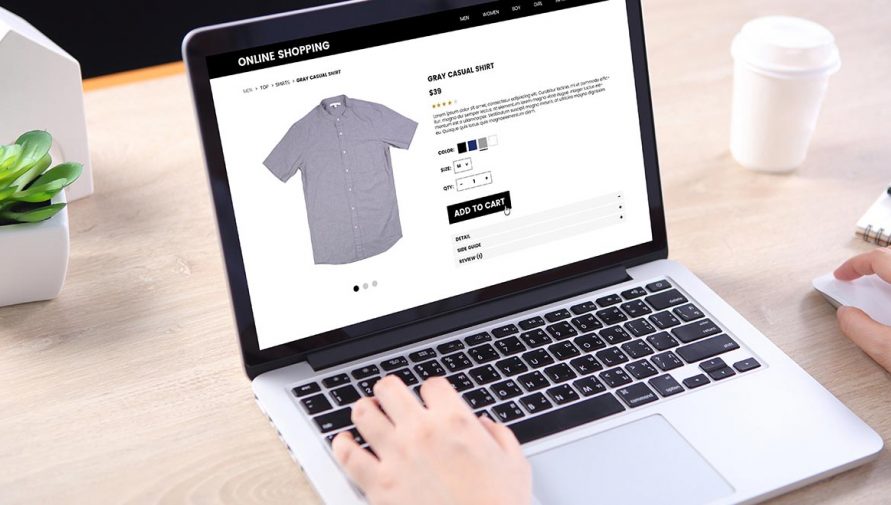 Before diving straight into the Top 5 WooCommerce themes, let us first understand why you should choose WooCommerce?
3,317,205 websites are currently using WooCommerce. That's more than 3 million thumbs-ups to WooCommerce, from business owners like you.
And these folks are no pushovers. Of the top 1 million websites, 22% use WooCommerce. Means most of these websites are supremely successful. 
Before you get tired of the numbers, we're going to sneak in one more. 93.7% of WordPress eCommerce websites are powered by WooCommere. This makes it one of the most popular eCommerce plugins for WordPress.
To make use of WooCommerce, all you need is a theme, to begin with. 
And the options are plenty. 
Themeforest alone has 1,267 WooCommerce themes. Add 979 themes available on WordPress Theme Directory, 217 on Mojo Themes, and 14 available from the WooCommerce website itself, and you have 2000+ options to choose from. And we haven't even considered all the sources yet.
Nonetheless, the choice is baffling. You don't have the time or expertise to judge each one of these options. And many of them aren't even a great pick for 2020, the year that has been everything but ordinary.
So, here we are here, straight to your rescue…
What makes a WooCommerce theme perfect for 2020?
Shop page layouts

– What good is an Ecommerce theme without the best checkout, shop, and product pages? The ideal site should have layouts for these pages. 

Customization options

– The ideal theme for 2020 would be the one that has robust customization options. You need to stand out today more than ever before, and customization options can help your eCommerce store stand out.

Performance optimization

– Slow load time directly translates to higher bounce rates. To avoid that, look for lightweight yet robust themes.
Other than these top 3 factors, also look for themes that are compatible with other plugins. 
There are 980 plugins for WooCommerce on WordPress, you'd want to make the most of those options too.
Responsive designs and SEO-friendly themes are also a must-have.
To narrow down your choice, we are mentioning the top 5 WooCommerce themes for 2020. All so that you can pick the most suitable option with ease
Top 5 WooCommerce themes
1. Astra WooCommerce Theme
A brain-child of the team Brainstorm Force, Astra is the only non-default WordPress theme in the official WordPress directory to reach the 1 million downloads mark.
It is a multipurpose theme with a simple and lightweight design. With a weight of just 50KB, it has a lightning-fast load time of as fast as 0.5 seconds.
And it is customizable with no need for coding and also highly flexible.
It also integrates well with Elementor and Beaver Builder to offer a seamless website building experience.

Standout Features: 
Infinite scroll

Gallery and Quick product view

Multiple checkout options

Grid settings and a product catalog

Translation ready theme
When 1 million are banking on Astra in 2020, you shouldn't be waiting to set up shop with this superb WooCommerce theme right away. 
Also, it is a 100% free theme. You can, of course, get a premium plan costing $59 per year for additional functionality.
** A lot of users have apprehensions about using Astra as it was recently suspended for 5 weeks by WordPress. The suspension was because WordPress found affiliate links in the theme, which goes against the WordPress policies. 
However, it was soon reinstated to ensure existing users get access to updates. Brainstorm Force also issued clarification statements. And for all existing and future users, Astra remains among the top choices. 
2. Divi
How could we miss Divi while shortlisting top 5 WooCommerce themes!
Divi has over 600,000 customers. And many of these are using this WooCommerce theme for WordPress website building.
With the Divi theme, you get over 100 WooCommerce layouts in the layout pack. When finding the most apt layout for your store, you won't be ever short on options with Divi.
It also has intuitive visual controls that make customization easy.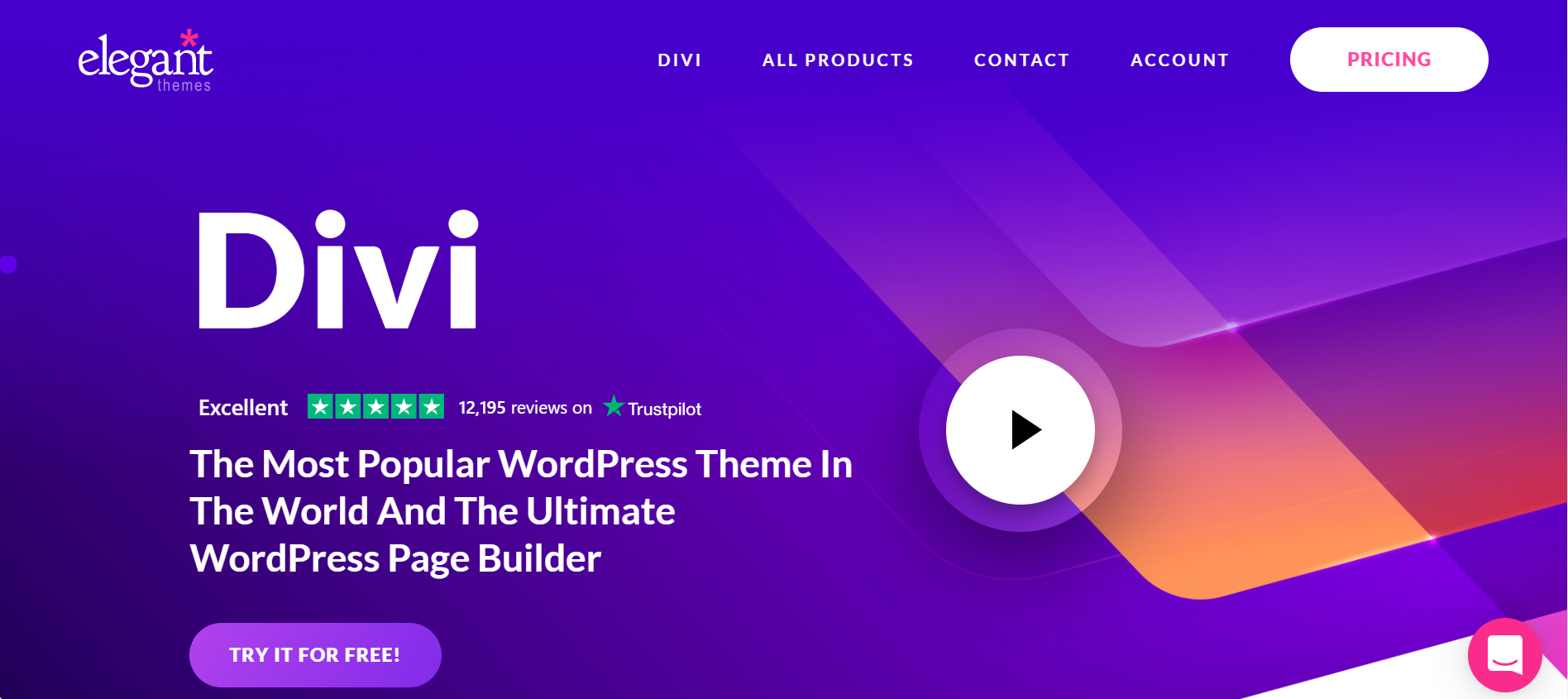 Standout Features
Inline text editing

Product filters

Options for background images

Code editing options for advanced users

Efficient premade designs for instant use 
Divi is a powerhouse theme when it comes to building eCommerce stores that want to stand out and offer a flawless experience to end-users.
Divi costs $80 per year. A decent enough price to pay for the wholesome packages of functionality, customization, and ease that it offers.
3. Ultra
Ultra is another powerful and multipurpose theme from Themify. Its USP is that it comes with a readymade WooCommerce website with demo content. 
You just have to add your content to the shop, product, and category pages, and you are ready to start selling from your store.

Standout features
Build-in addons

Pre Designed layouts

Sectional scrolling options
If you are looking for a no-nonsense option that can make sure you get your store up and running within minutes, Ultra is the fastest option.
Ultra has a per-site pricing plan. For every site you build using this theme, you'd be charged $59. 
4. Storefront
Storefront is a specifically designed eCommerce theme that works in perfect sync with WooCommerce and all of its many extensions. While you do have to use the standard coding practices for search engine and speed optimization, it is worth it. Also, it is nothing that can't be achieved if you hire WordPress developers.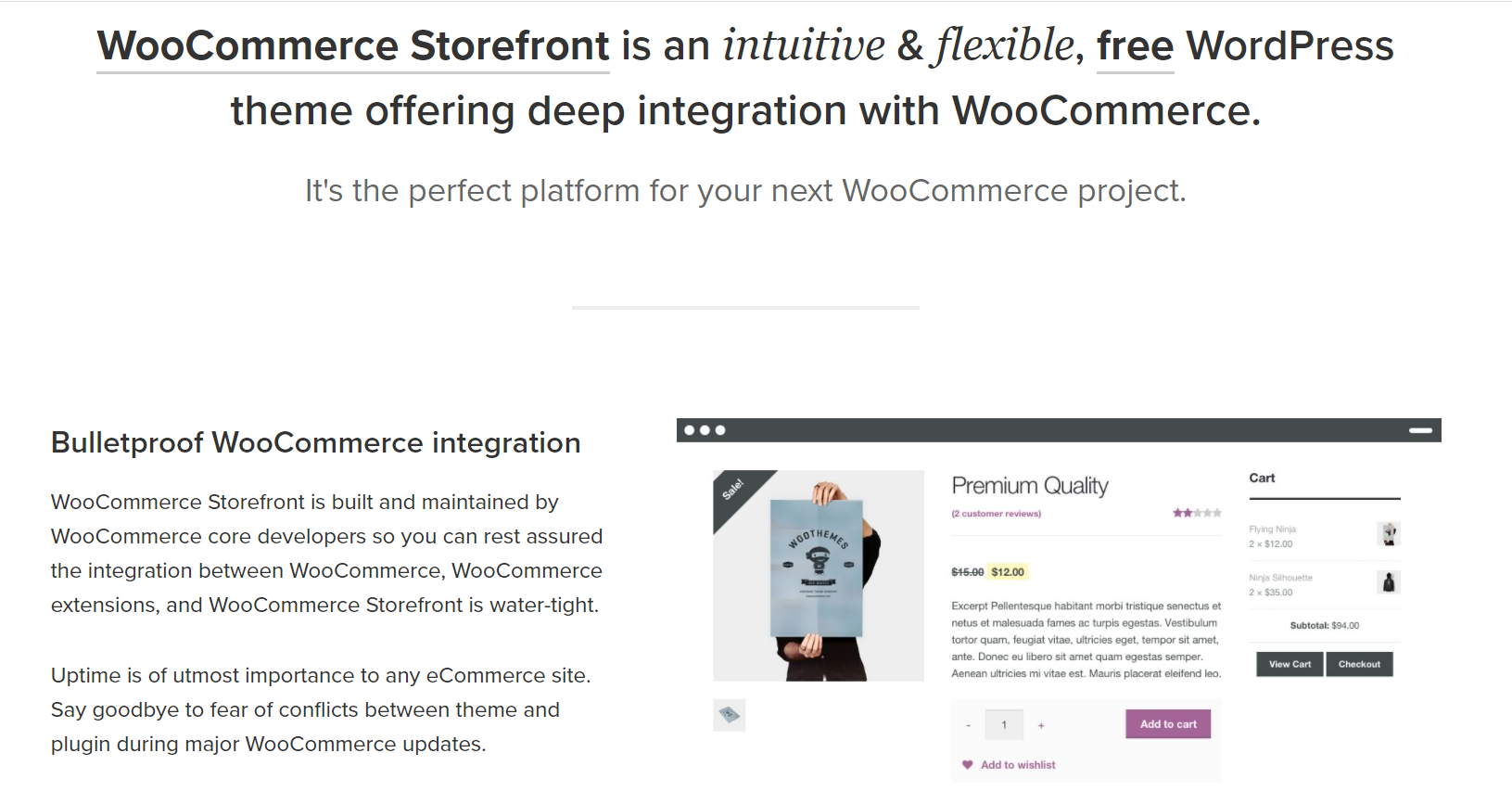 Standout Features
Real-time customization options

The contact form section is available

Compatible with other WordPress plugins too

A fully-responsive theme
Also, Storefront is developed by the same team that backs WooCommerce, so you can expect the best features and a seamless experience with Storefront.
Storefront has both free and premium options. The paid plans start at $69/site.
5. Shoppe
The last pick on our list is Shoppe, which is another multipurpose option from Themify. With just a few quick clicks, you can have your store ready to take orders. You get pre-made themes, and importing demo content is also possible with just a single click.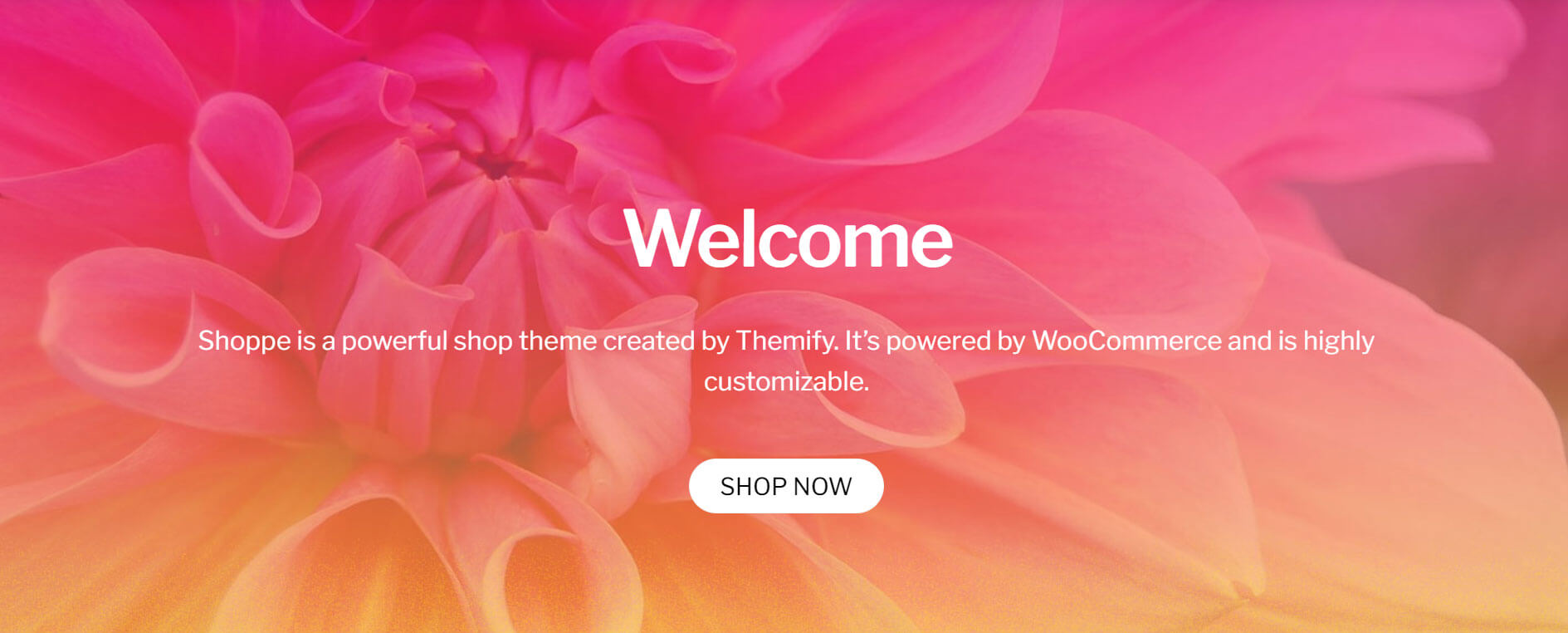 Standout Features
Wishlist options

Image zoom

Option to share products

Gallery slider

Flexibility in layout settings
With a responsive design, it isn't hard to use the multiple features of Shoppe to your best advantage. If you have expert help on hand, the sky is the limit. 
Shoppe offers a three months free trial. Shopee plus includes 11 plugins and 25 builder addons with 42 themes at $89.  
What to Do After Picking one among the top 5 WooCommerce themes?
So, that's our list of Top 5 WooCommerce themes. Okay, so; what to do now? I have picked my theme. Is that what you are wondering about? 
Now, if you are ready with a theme of your choice, you should start building a website. 
But, hey, don't go on your website building spree alone. Hire WordPress developers along the way.
Why? 
Here are not one but four reasons – 
No matter how small you are starting, you would want to scale in the future. That won't be possible alone. You'll need to hire WordPress developers then.  A better option?

Hire WooCommerce developers

from the very beginning. 

Themes get updates often. You don't want to understand the nitty-gritty of an update when you have a client on hold on a call. To save yourself from the trouble, hire developers for managing your site. 

You haven't built websites with WooCommerce, right? You don't have a certification, right? And in the highly competitive online world, experience and expertise matter a lot.

Troubles don't come after a knock on the door. And who can be ready to offer troubleshooting help at any time? Yes, you're right — WordPress developers.
If you need a truly custom WordPress website on WooCommerce, you should hire WordPress developers. 
How?
Head straight to Uplers.  
Is the best place to hire WordPress developers as they have a global talent pool of industry expert WooCommerce developers. Their reliable, robust, custom and affordable solutions can solve all your woes and get you a WooCommerce website that is just Wow!
Uplers can take the burden of handling the complexities that unfold once you actually start building a website with WooCommerce themes. With Uplers, you can focus on your core competencies and let experts do the website building.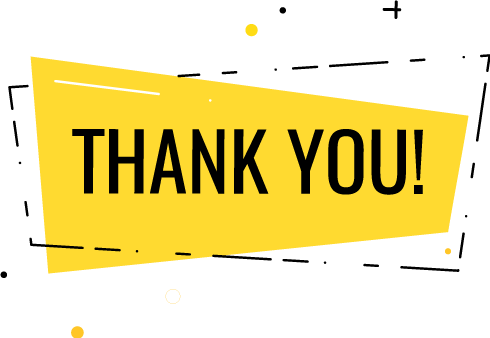 Thank you for submitting the details!
We will keep your information safe. Feel free to contact us with any questions at hello@uplers.com
Please check your email for next steps shared by Robert.