Hiring Dedicated Developers and Marketers in India – Possibilities and Solutions
Kevin Oskow
April 2, 2020

5

Minute Read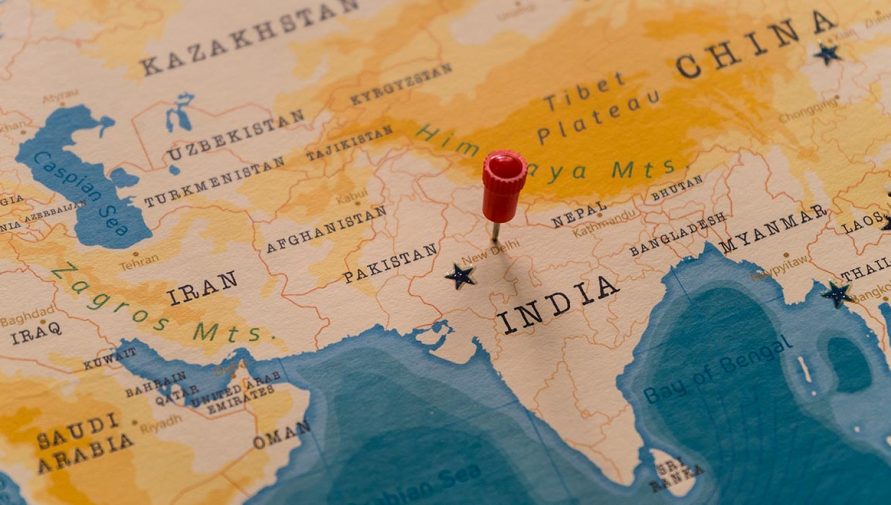 A successful business is a well-staffed business, but finding top talent can be costly. Hiring dedicated developers and marketers can cost thousands of dollars in direct expenses, like onboarding efforts, training, payroll, and benefits but also indirectly through lost productivity and turnover.
For many businesses, outsourcing represents a way to manage expenses and increase their bottom line without sacrificing talent and efficiency. Recent statistics show that it can be a powerful economic decision.

When polled, a full 82% of US-based companies said they preferred India as an outsourcing destination, particularly when it comes to software tasks. And by 2024, New Delhi India is expected to surpass the U.S. technical economy and become the home to the largest number of developers worldwide.
This rapid growth within the IT sector, and the skills and talent that come along with it, make India one of the best options when it comes to outsourcing marketing and development tasks to India.
India remains the preferred outsourcing option for U.S. businesses, despite opportunities around the globe.
$1.08 trillion spent in IT services space
2nd largest English speaking nation next to the U.S.
65% of all outsourced IT jobs are in India
English-speaking people, making
82% of US-based companies choose to outsource to India.
Why Companies Prefer Hiring Dedicated Developers and Marketers in India?
Nearly 8 in 10 businesses choose to hire Indian developers and marketers, some of the popular outsourcing providers in India include major corporations like IBM, Telstra, and BestBuy. Though lower costs are certainly one of the primary benefits of outsourcing to India.
In the A T Kearney Preferred Location list of 2019 also, India ranks first with a total index score of 7.06.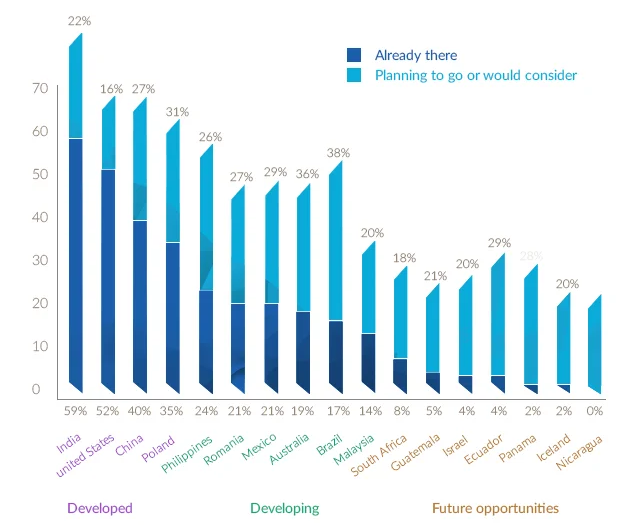 1. Skilled Workforce
Next to the United States, India is the second-largest English speaking country in the world, with over 125 million citizens proficient in the language. For business owners, this translates to a stronger experience for both employers and customers, as issues with language barriers are mitigated.
2. Young and Competitive Technological Landscape
One of the reasons India services as such a competitive technological landscape is because of the increasingly large portion of young, skilled web developers and marketers. Nearly 50% of the population is under 25, and many of them attend one of the 993 universities and 39,931 colleges. Of those attending college in India, annually over 1.5 million graduate from the engineering programs with degrees in STEM fields.
3. Cost-effective
Hiring dedicated developers and marketers in India can help you improve your bottom line by reducing payroll and benefits costs as well as costs associated with finding and hiring top talent. Typically, businesses that do outsource recognize cost savings between 20% – 30%. Below is the average cost of hiring developers from different locations across the globe.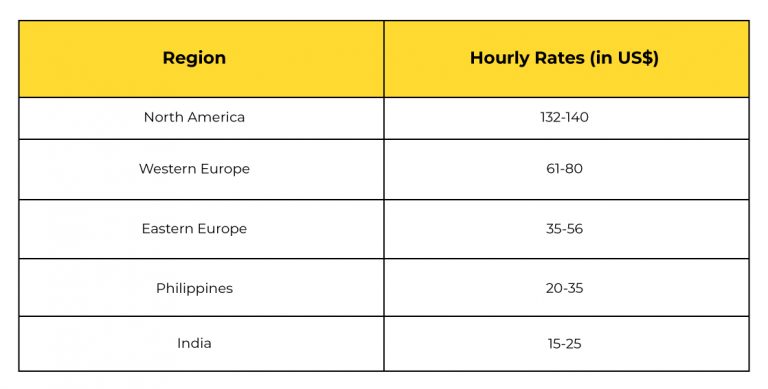 Strong presence in multiple industry sectors: When you outsource to India, you gain access to a pool of highly skilled workers across not one but multiple industries.
4. Around the Clock Service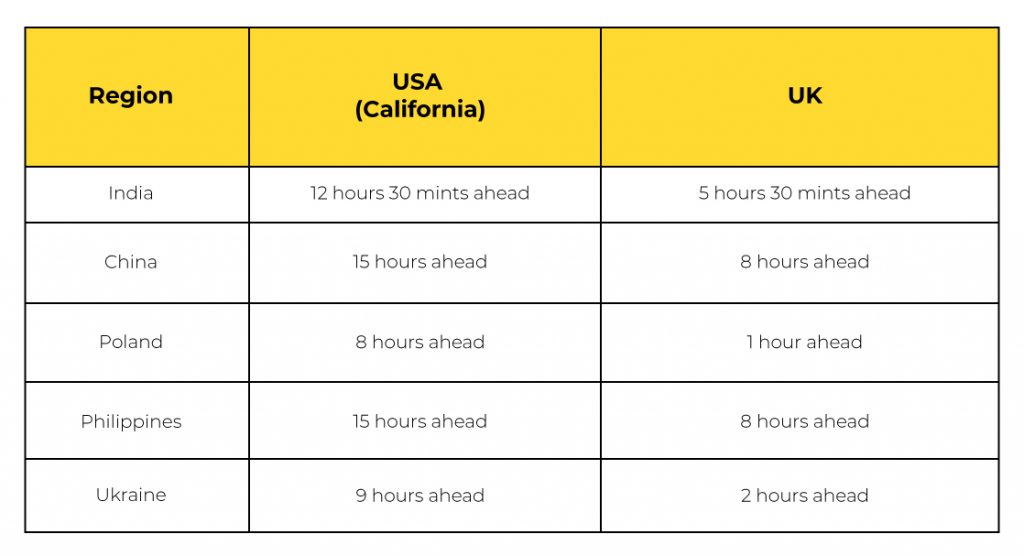 Since India is nearly ten hours ahead of U.S. EST, many U.S. businesses find that outsourcing to India provides their company and in some cases even their company with round-the-clock efforts. Meaning development pushes, project launches, and other potentially disruptive changes and updates can take place or be addressed while most U.S. consumers are sleeping. Flexible time zone adds another highlight to hiring dedicated developers in India.
How the Dedicated Team Model is Better Than Outsourcing
When considering offshore business solutions, one of the first decisions that most businesses face is how to incorporate the outsourced team. Traditionally, this is a choice between a project-based outsourcing structure and a dedicated team model.
Project-based outsourcing results in that true "third-party" relationship, where the day-to-day tasks and ownership of the project will largely belong to the outsourced team. That includes project management and QA responsibilities. This can surely free-up your internal team(s), but it can also leave your business vulnerable, specifically when it comes to miscommunications, project delays, or even branding.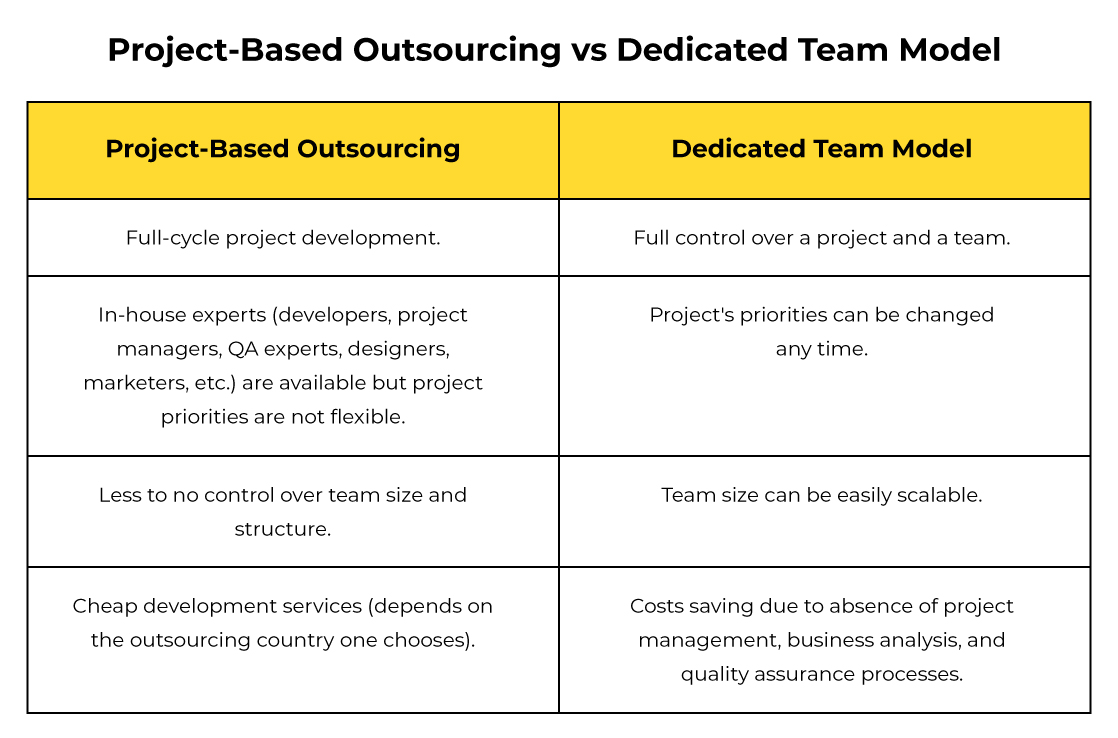 The dedicated team model, on the other hand, provides you with another full function arm of the business. You'll maintain control of the team, and your offshore development team will work alongside your existing employees to collaborate on and complete projects. This often means greater flexibility when it comes to everything from project requirements, costs, and last minute or unexpected changes.
Plus, because you aren't locked for the full-cycle of a project, the dedicated team model allows you to scale back or ramp up as needed. This can make it easier to manage project needs as well as financial concerns.
How to Hire the Best Dedicated Developers and Marketers in India
Outsourcing can help make long and short-term projects more manageable, but only if you hire the right team. Here are some tips to help you ensure that your efforts to higher marketers and Indian developers yield positive results.
Define your needs: Before you begin your search, define your company's long and short-term needs as well as the expectations and responsibilities of the role(s) for which you plan to hire.
Identify candidate requirements: Once you know what needs to be done, define the perfect candidate, including both hard and soft skill requirements.
Determine how you'll hire talent: There are many ways to hiring Indian developers and marketers. You can work to find independent freelancers and contracts or you can work with an organization to help you find the best team. Working with an organization that has experience and connection within the outsourcing community can make it easier to find skilled and reliable workers.
Review candidates: Work with your human resources department, department managers, and key decision-makers to review candidates.
Be ready for your new team: Once you determine who you'll hire, have an onboarding plan in place. This will limit disruptions and ensure that your new team is up to the task.
Conclusion
By hiring dedicated developers and marketers in India, your business will benefit from a highly skilled labour pool that can bring fresh ideas and an advanced understanding of the marketing and development landscape as it relates to multiple industries.
When you work with Uplers to build your dedicated offshore team, you can expect noticeable and measurable improvements. Our high-performing teams will help you bridge gaps in performance and maximize your company's potential, regardless of time zone and geographical boundaries.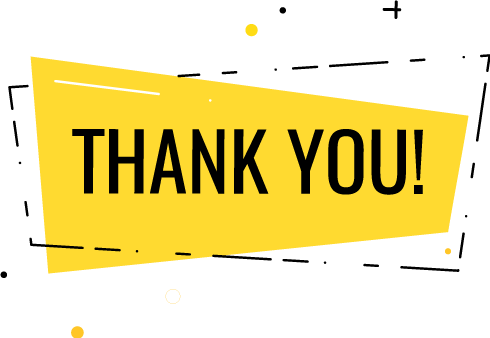 Thank you for submitting the details!
We will keep your information safe. Feel free to contact us with any questions at hello@uplers.com
Please check your email for next steps shared by Robert.