Uplers Guide to Managing Remote Teams – A Sure-shot Win!
Kevin Oskow
September 25, 2020

6

Minute Read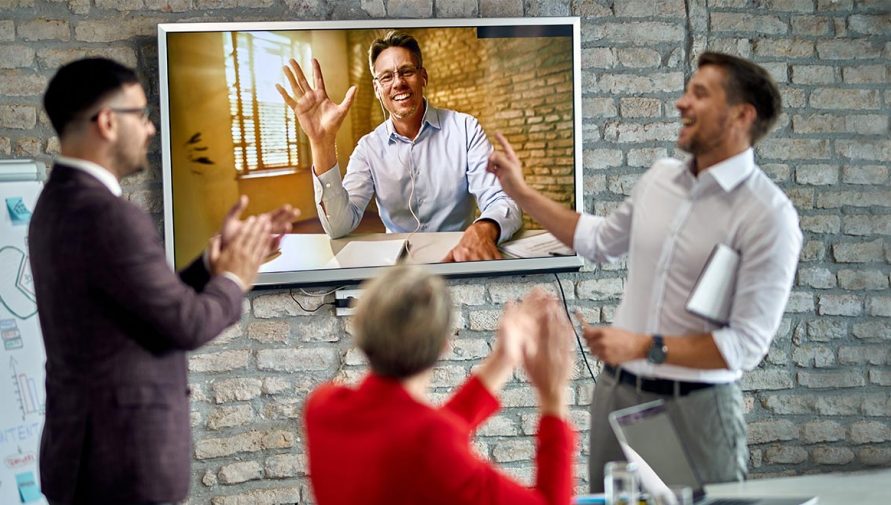 Many companies, such as Uplers, are 100% operating and managing remote teams.
However, despite the widespread usage of remote working models in the light of the COVID-19 outbreak, there is still not enough insight or resources into how to prepare your remote team for success.
If you are at such a crossroads, we are here to share our experience.
With a massive workforce of over 600 employees, Uplers sets the de facto standard for remote team management. Additionally, Uplers is at the front-line of discovering practical and implementable remote-first hiring trends that have helped 7000+ companies hire and manage a remote team.
We are remote, and we have helped business turn remote.
Our success has set such high standards that we often receive questions on how we have pulled it off. So, here is a look at –
How Uplers made Managing Remote Teams Effortless:
1. Establishing a Company Structure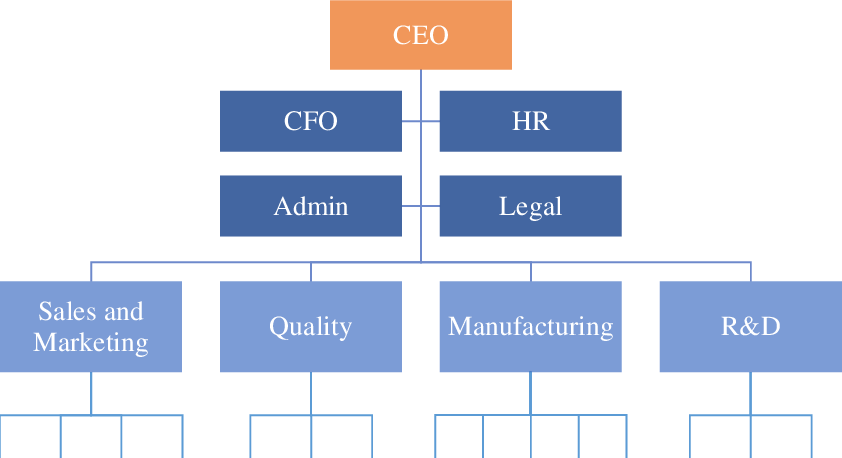 The company structure lays the foundation for workplace culture. For higher success, you need to find a remote employee who is a fit for your organization, and for that, you need a company structure.
Here is how you can develop structure:
Determine the nature of governance that you need for managing remote teams. It could be formal, informal, or both.
Identify the key leaders to coordinate, inspire, support, and refine the management part.
Outline and document a standard remote work policy for business operations.
Delegate and distribute monitoring activities to action committees and task forces.
Keep the feedback loop open for all inputs from the employees.
To make communication easy and free-flowing, you will have to adopt an informal company structure. However, you also need a formal company structure to back it up and hold your teams accountable. Hence, it's all about striking the fine balance.
2. Creating a Remote Team Onboarding Process
According to Gallup, only a mere 12% of companies find onboarding important. In contrast, consider the fact that onboarding your remote employees can lead to better outcomes such as increased productivity by 20-25%, along with a 25% drop in turnover rates.
You can onboard your old employees and new hires in a remote environment in the following ways:
Share a pre-recorded message or conduct a video conference to offer a warm welcome as part of the new hire welcome kit.
Ensure that remote employees have all the necessary equipment to do their job.
Start a buddy program and pair up new hires with experienced employees.
Communicate the remote work policy to minimize confusion and get everyone on the same page.
3. Using a Wide Range of Tools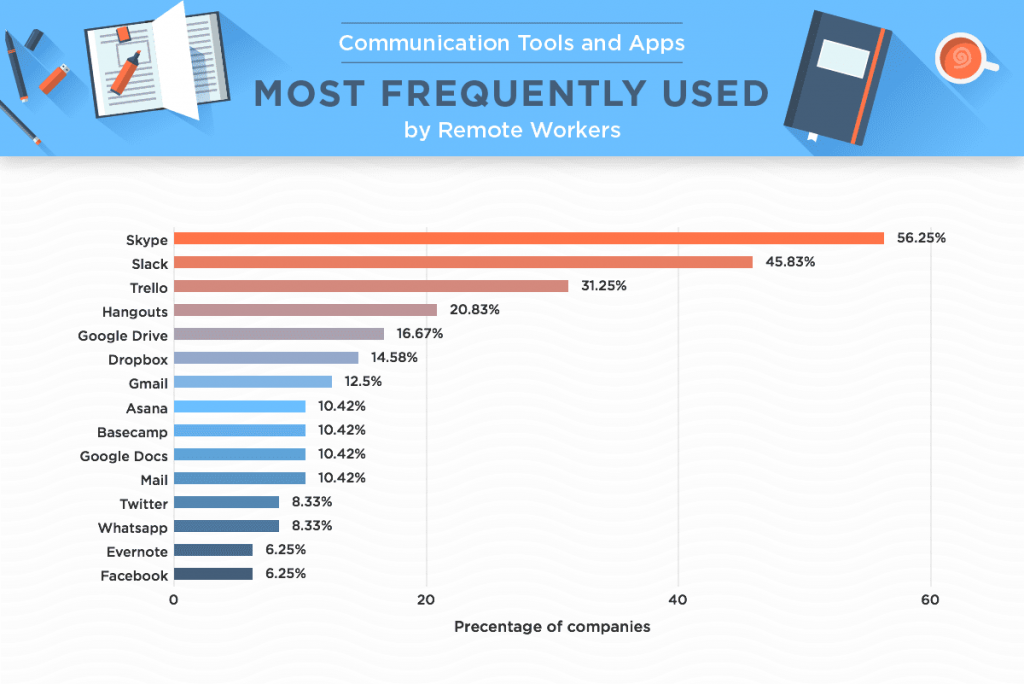 The demand for tools to manage offshore teams has shot up by a staggering 281%! The message is abundantly clear: you need tools for managing remote teams effectively. Whether you wish to communicate the completion of a task or manage the organizational workflow – tools will help you all the way.
Here is a round-up of all the basic tools critical for a successful remote team management :
Slack – Remote team communication
Zoom/Skype – Video conferencing and screen sharing
Google Drive/DropBox – File sharing, organization, and management
Loom – Screen recording
Trello – Project management
Toggl – Tracking remote team tasks.
Depending on the nature of your business and its process flows, you will need more niche tools including time-tracking software and time management tools to help manage your team.
4. Conducting Regular Online Meetings
You need to communicate and over-communicate at every step of the way. It ensures that everyone knows what is expected of them. Hence, online meetings will play a crucial role in managing remote teams effectively and keeping them on track. The trick is to keep the meetings interactive, straightforward, and frequent.
To make your online meetings more productive, follow these tips:
Identify the perfect meeting cadence and stick to it. Typically, conduct all-hands meeting monthly, departmental meetings weekly, and stand-up meetings daily.
Prepare an agenda and share it with the participants before the meeting.
In case this is the first time attendees are meeting each other, encourage them to introduce themselves.
Give everyone a chance to share their inputs and contribute to the meeting.
Leave room for casual conversations.
Follow up on meetings and communicate the next line of action, the proposed deliverables, etc.
Also Read: In-house Vs Remote Teams: Debunk Hiring Myths
5. Acknowledging High-performing Employees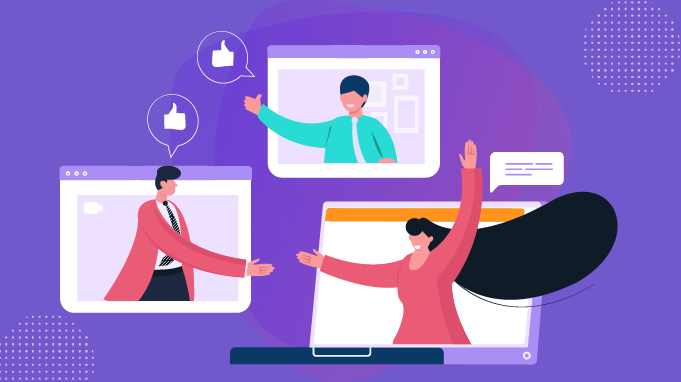 According to a Gallup survey, not appreciating your employees' efforts can decrease the engagement levels and spur the attrition rates. Rewarding and appreciating high-performing remote employees will play a pivotal role in remote teams' success.
The following are some excellent ideas for recognizing the efforts of your remote employee or teams:
Celebrate achievements over virtual face-to-face meetings to rekindle the in-office feeling.
Distribute gift cards to recognize and appreciate their specific actions.
Make the recognition public by sharing it over your company's intranet, website, or other channels.
Timely recognition will motivate employees even more.
Offer courses and training as rewards for nurturing the employee or team's professional growth.
6. Engaging Employees and Collecting Feedback
Rewarding and recognizing your teams or employees is one of the many tricks to keep them engaged. Employee engagement gives your remote team a sense of belonging and purpose, which pushes them to improve their performance. Interestingly, according to The Wall Street Journal, this sense of belonging may even trump the effects of reward programs!
Here are a few secrets for managing highly-engaged remote teams:
Communicate, communicate, and communicate. Communication should be at a team level as well as an individual level.
Managers must conduct one-on-one meetings with team members, especially if they sense mental health issues or register a dip in their performance.
Set clear expectations and communicate the KPIs and deliverables that govern the individual or team's performance.
Celebrate the achievement of goals.
Encourage personal or professional development through online learning.
Have informal events such as virtual parties, book club meetings, etc.
7. Following a People-first Approach
Remote working already follows a people-first approach. According to MIT's Quality of Life Survey, remote work delivers the following results:
90% noticed an improvement in family and personal life.
85% believed that it reduced their stress levels.
80% felt more engaged and displayed higher morale.
62% registered greater trust and respect.
93% reported better collaboration and teamwork.
However, managing remote teams also comes with its fair share of pitfalls, which you can overcome by:
Indulging in small talk to build rapport and combat isolation or loneliness.
Encouraging employees to unplug.
Measuring achievement of goals rather than the time put into it.
Using videos or video conferencing to improve engagement.
Gathering feedback from employees.
Using GIFs and animated emojis to communicate.
8. Holding Team-building Activities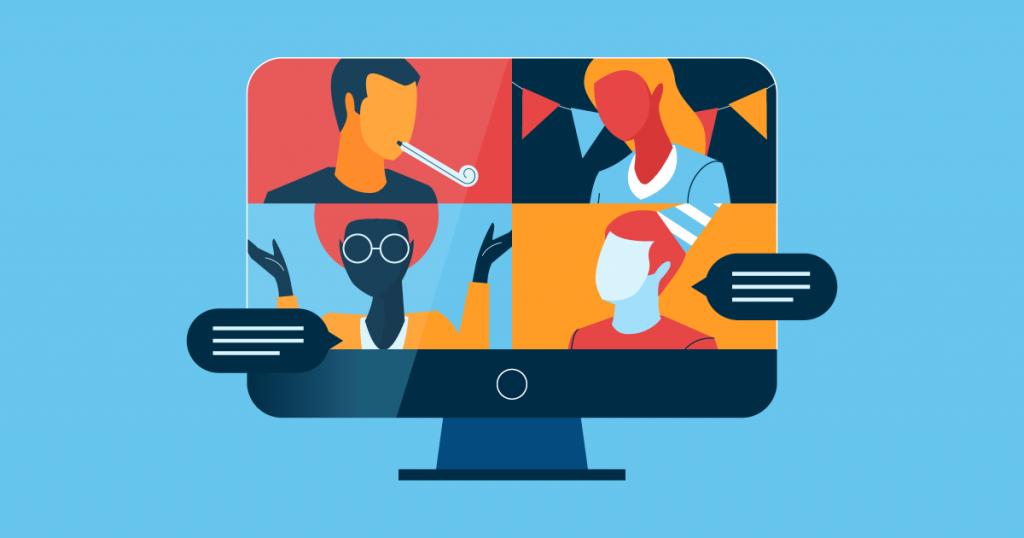 Your teams no longer enjoy the convenience of having in-person brainstorming sessions or exchanging gossip by the water cooler. However, that does not mean that it is the end of their social life!
Here are some team-building activities that we use at Uplers:
Weekly trivia (related or unrelated to work)
Online Pictionary
Life Story in 5 minutes
Two truths and a lie
Throwback pictures
Sharing bucket lists
Home tours
9. Giving Up on Micromanaging
Finally, and most importantly – avoid the temptation to micromanage.
When your employees know that they enjoy your trust, they will outperform and make remote teams management a piece of cake!
Key Takeaways
In these unprecedented times, remote working is paving the way for success. We, at Uplers, swear by these tried and tested strategies that make offshore team management easy. And now that you know how to manage a remote team effectively, you are on a journey to success! It is all about putting these plans into action.
Ready to fast-track remote hiring with pre-vetted remote professionals? Contact us now!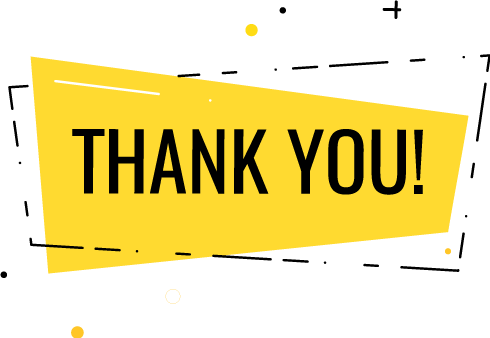 Thank you for submitting the details!
We will keep your information safe. Feel free to contact us with any questions at hello@uplers.com
Please check your email for next steps shared by Robert.