94% of Talents are Choosing Remote Jobs and Global Exposure Over Hybrid or On-site Setup- Startling Survey Report for Hiring Managers
Shreya Srivastava
August 25, 2023

7

Minute Read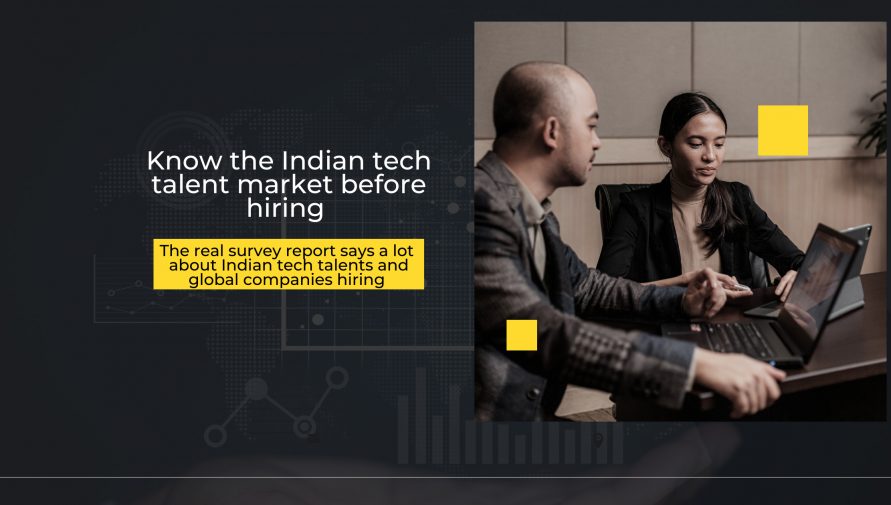 94% of talents choose remote jobs, if they get the opportunity to work on their desired skill sets
The demand for Indian talents has been increasing every year. The tech talent shortage and the economic slowdown have made a better case for Indian talents', as tech and digital companies are prioritizing skills, global-readiness and cost-effectiveness in talent acquisition. However, the hiring space in India is extremely competitive and requires significant preparation to land the top talents. And a crucial part of this preparation is to know what the talent wants.
In-office or remote, better benefits or higher salary, startups or MNCs? Which has a better chance to improve their value proposition and what motivates the Indian talents to join an organization?
This survey, conducted by Kaizen Market Research, an independent market research firm, discovers what top Indian talents are expecting from their employers. It gives valuable insights to global employers on everything Indian talents expect, which will help in hiring tech talent strategically in the current professional landscape.
For the survey, hundreds of tech and digital talents were interviewed, based on a statistically relevant sample size, with both qualitative and quantitative findings in mind. The sample size was represented by the following: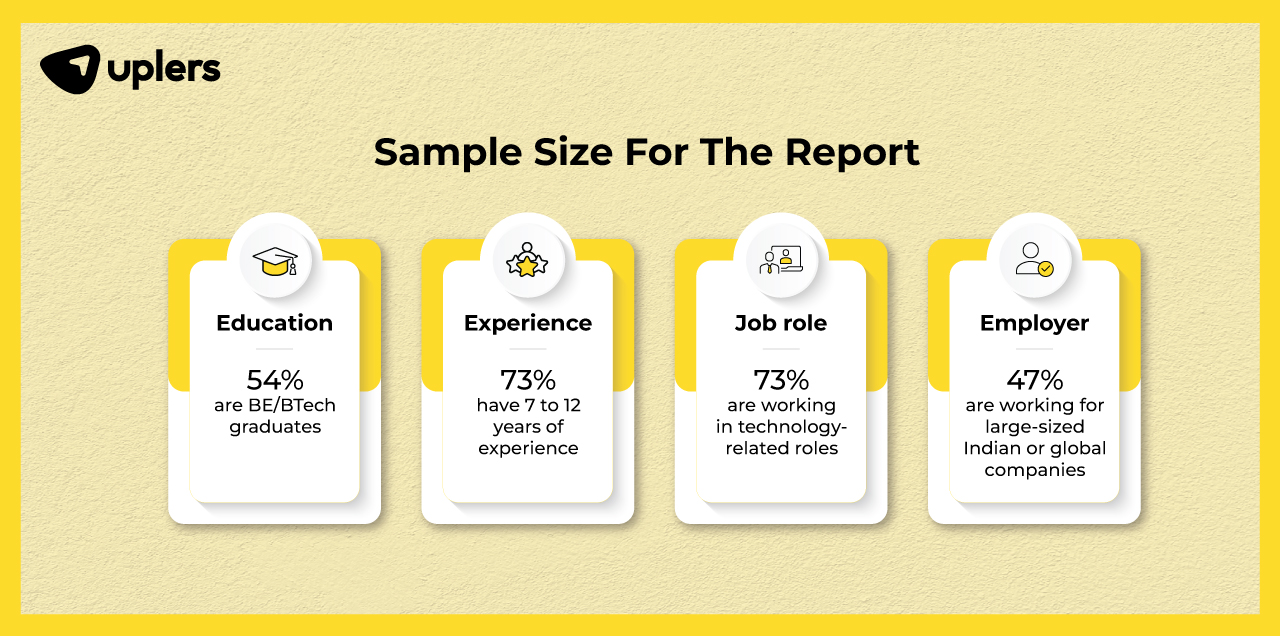 Now let us have a look at the key findings from the report.
Key Findings from the Survey
Working Style Preference of Indian Talent

Why Talents Choose Remote Work Over Hybrid/In-office

Talent Preferences and Job Offer Acceptance Trend

Full-time vs Contractual Engagement

Start-ups with direct client interaction vs MNCs with no client interaction

Why Indian Talents prefer Global Companies/Employers

Startups vs big corporations

Importance of high salaries

Workstyle preference as per experience
Working Style Preference of Indian Talent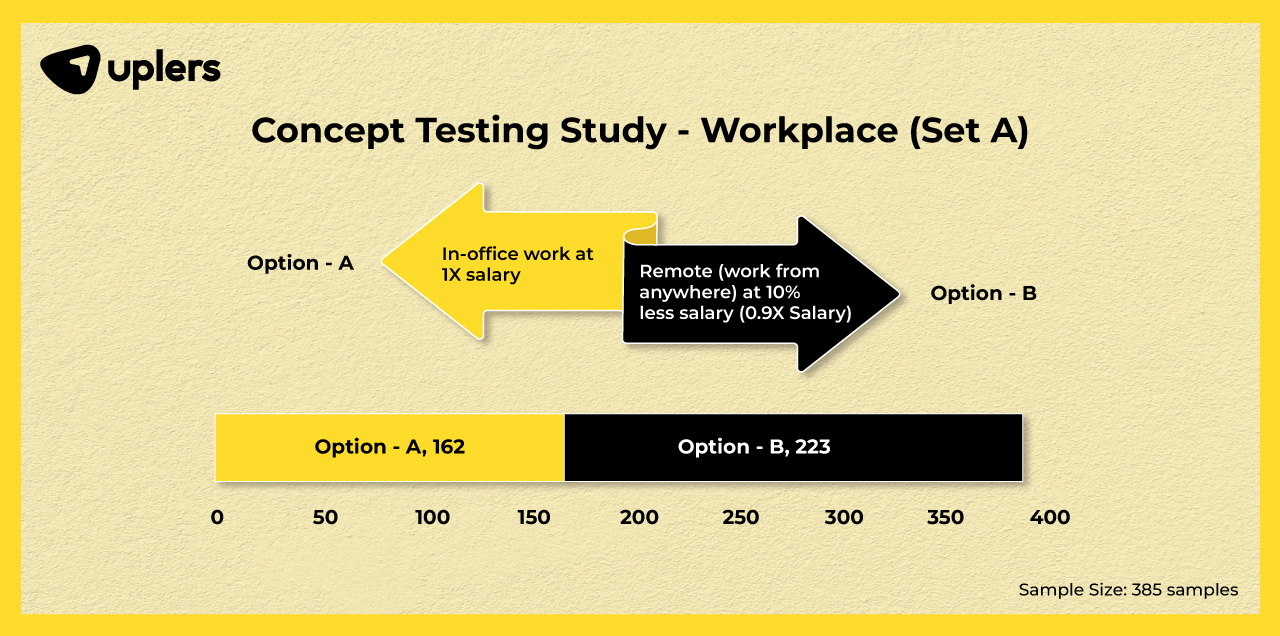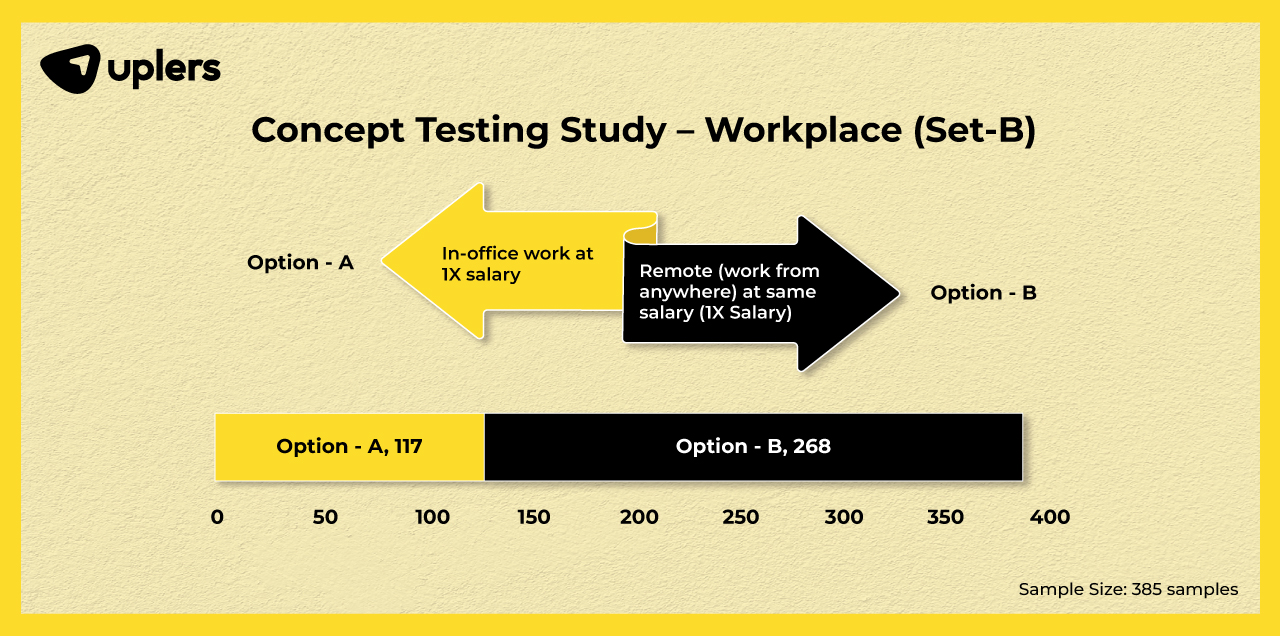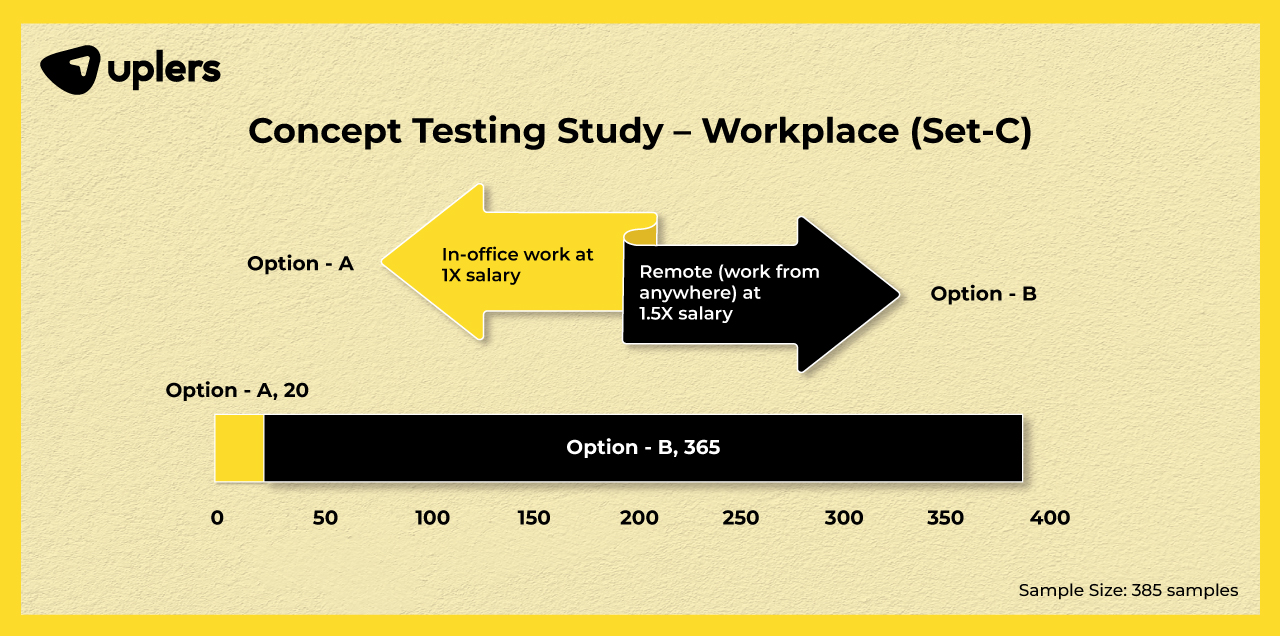 58% of talents prefer a remote opportunity even at a 10% lesser salary than an in-office job
61% of talents prefer remote work over in-office even for the same salary
94% of talents choose remote jobs at a higher salary, compared to in-office work at a standard salary
Implication:
As evident, salary does not play a crucial factor for talents while deciding between remote and in-office opportunities. Even at a lower salary, talents are willing to work on a remote basis. This is because talents value work-life balance and flexibility much higher, which motivates them to prefer remote work over in-office work. 42% of talent believe that remote work saves substantial time and cost in commute.
Strategy:
The message is clear – Indian talents highly value remote-first employers. Global employers looking to hire the right tech talent from India should offer remote opportunities for niche skill sets. Flexibility in regards to work timings and freedom to work from anywhere will go a long way in attracting top talents.
Why Talents Choose Remote Work Over Hybrid/In-office
95% of talents prefer remote work due to the opportunity to work on desired skill sets, career growth, and learning opportunities they get from the workstyle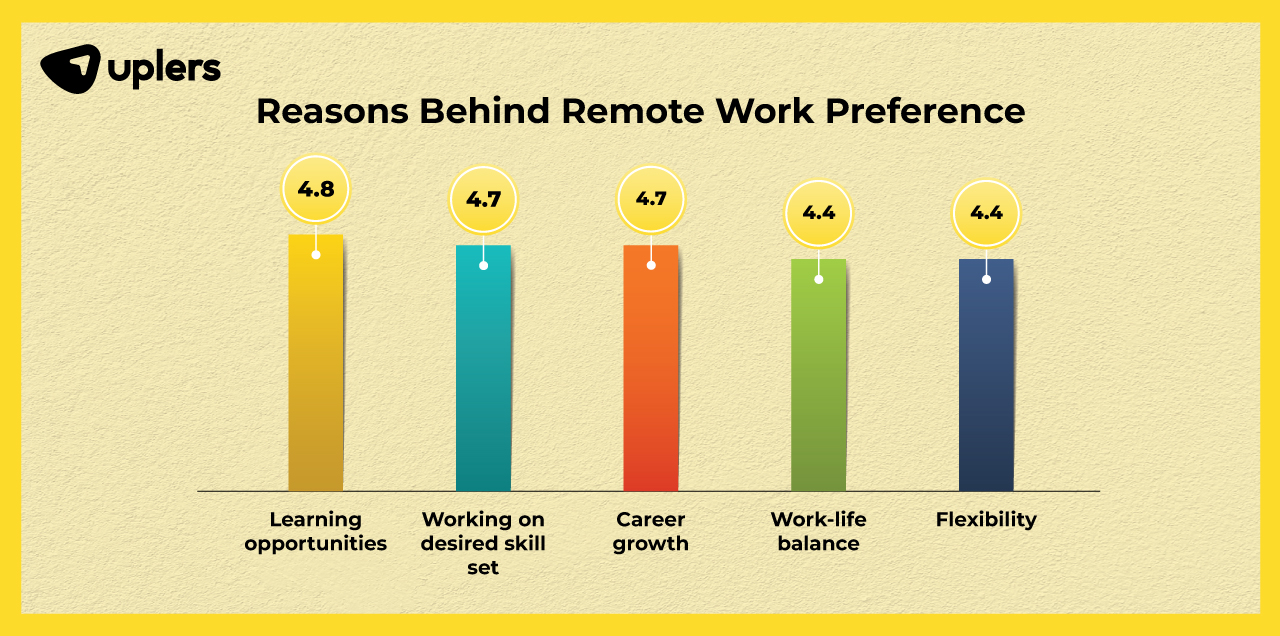 Implication
Indian talents prefer remote work much higher than hybrid or in-office opportunities. The reason behind this preference is the argument that remote work offers much more flexibility and learning opportunities to the talent. Furthermore, talents believe remote work in their preferred skill set will help in developing their career.
Strategies
Global employers offering remote work will have a better chance of hiring top tech talent from India, as evident from the above statistic. In addition to remote work, upskilling programs and hands-on experience with innovative projects will also appeal to the talents.
Talent Preferences and Job Offer Acceptance Trend
97% talents reveal higher salary, learning opportunities, and career growth as the top three priorities while selecting their employers.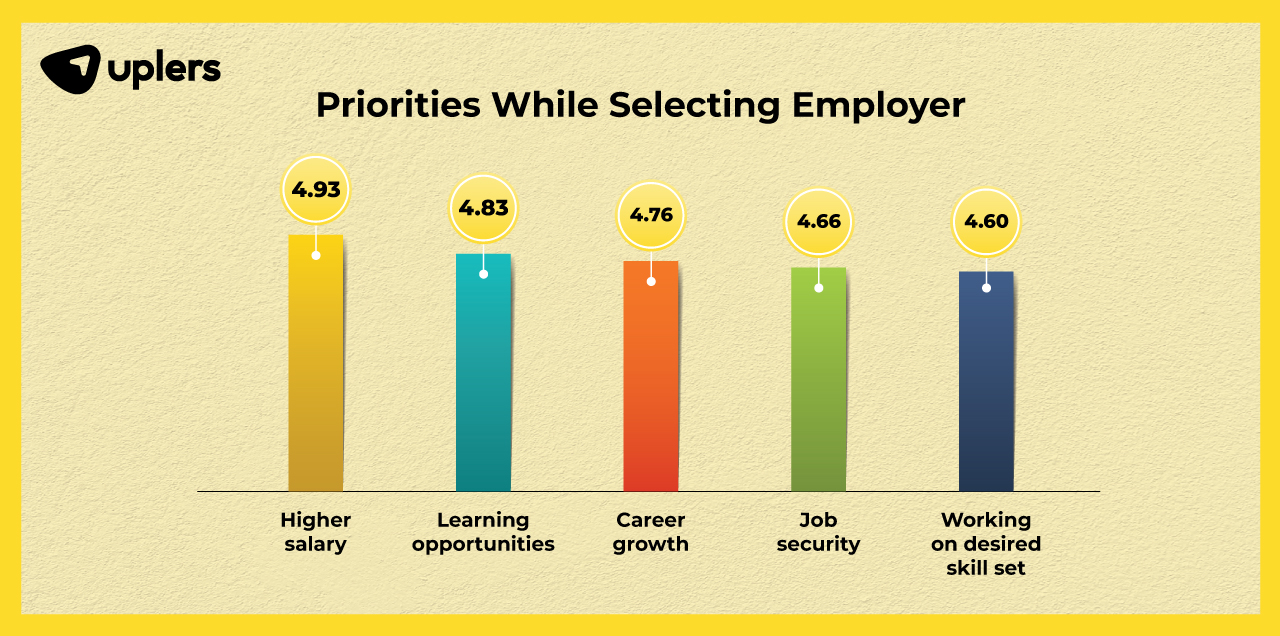 Implication:
Indian talents are concerned about their long-term career while choosing an employer. These concerns are visible in their priorities, as they look for a workplace which can help them learn more about their field, help them grow as a professional, and offer competitive salary.
Strategy:
Global employers must build an environment centered on nurturing talents and providing them with growth opportunities. If a talent sees themselves evolve as a professional in your organization, they will easily agree to onboard.
Start-ups With Direct Client Interaction vs MNCs With No Client Interaction
60% of talents prefer working in a global start-up with the opportunity to interact directly with clients, instead of working in global MNCs with no client interaction.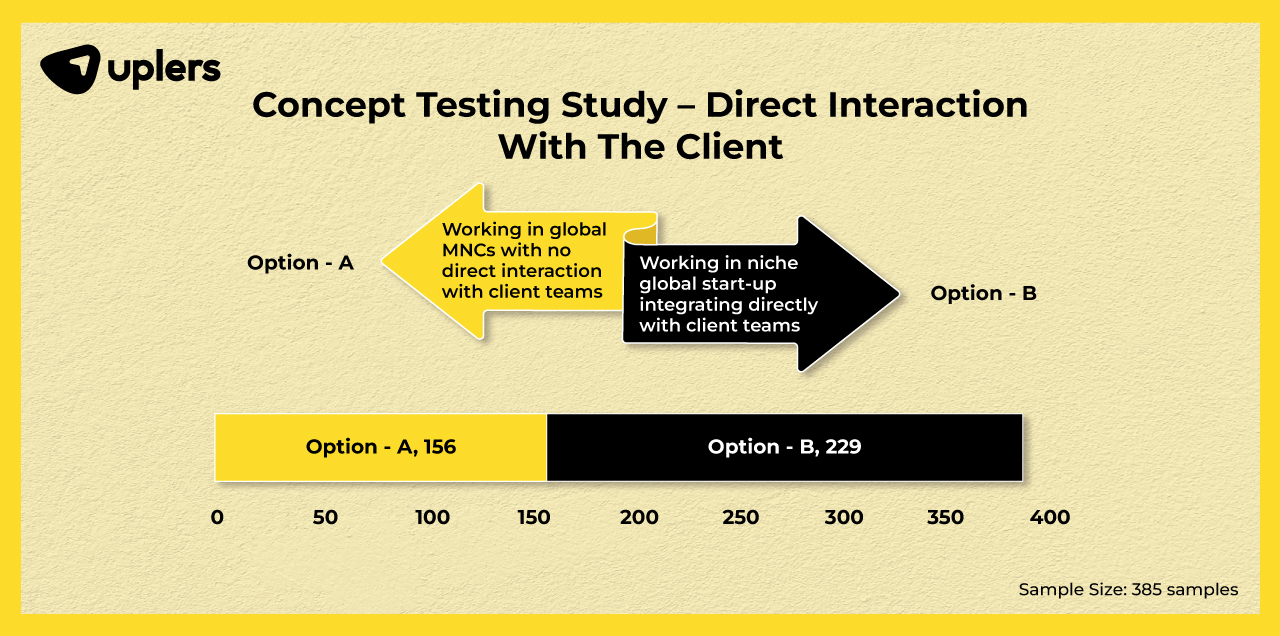 Implication:
Talents prefer to interact with clients as it helps them in understanding the industry landscape and the quality of work the client expects. This proactiveness helps the talents in molding their careers and developing soft skills which will help them climb to senior positions.
Strategy:
Indian talents are looking for job roles where they can interact with clients. So global employers hiring senior tech talents should create such opportunities and allow them to use their strong communication skills. 
Why Indian Talents Prefer Global Companies/Employers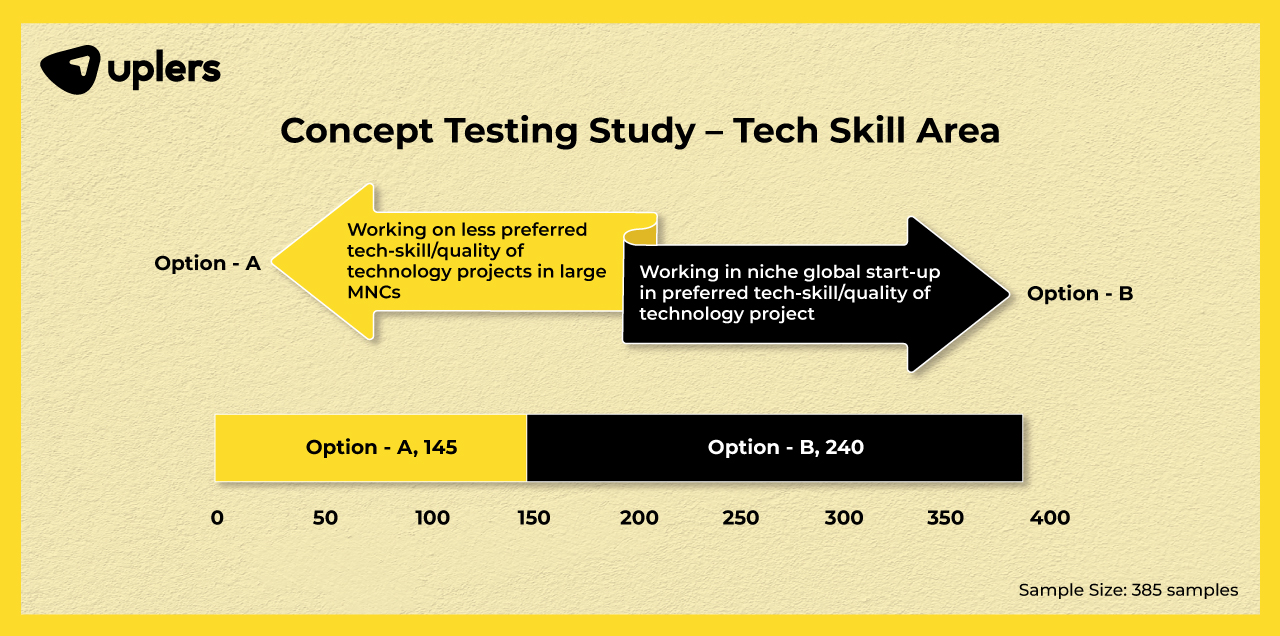 62% of talents prefer to work in global start-ups which utilize their niche skills, versus large MNCs offering a role in less preferred tech skill
Implication: Indian talents prefer to work in global companies rather than established Indian companies. This is because the talents are dedicated to upskilling and improving their value addition. Over time, higher skill levels will help them earn bigger roles and play an integral part in the company's success.
Strategy: Global employers are already more favored by Indian talents, so that's good news. However, the employers should ensure they are working in the forefront of next-gen solutions and offer talents the opportunity to create something substantial. Indian talents appreciate working on core tech roles that utilizes their niche skills and creativity. Therefore, global employers should create such demands that leverage Indian talents' capabilities and build a growth-centric environment for effective tech talent hiring.
Startups vs Big Corporations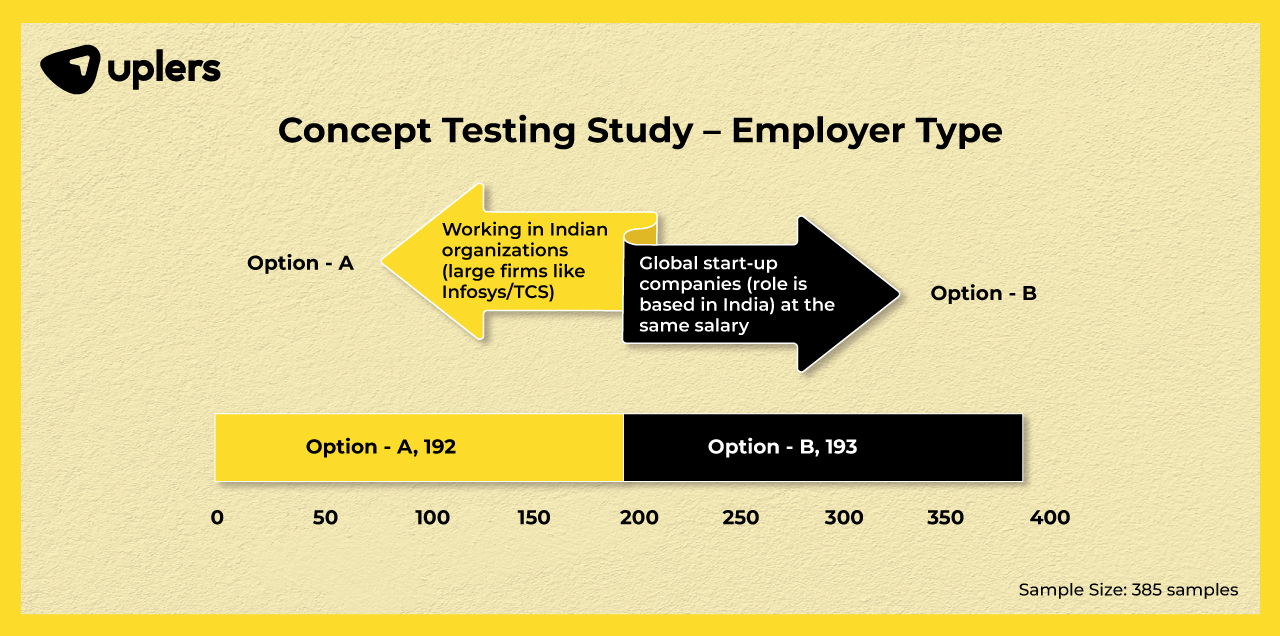 51% of talents prefer to work at global start-up companies instead of Indian established corporations, for the same salary
Implication:
This is because global companies and start-ups offer the opportunity to work on next-gen technologies, which might not be available in India. Hence, the talents can stay on top of industry trends and build innovative solutions by working for global companies.
Strategy:
Since salary is not a crucial part in this decision, global recruiters should focus on presenting job opportunities that demand innovation and use of new technologies. The incentive to work with a forward-looking company will fuel the talent's interest in joining your organization and help in hiring top tech talent.  
Importance of High Salaries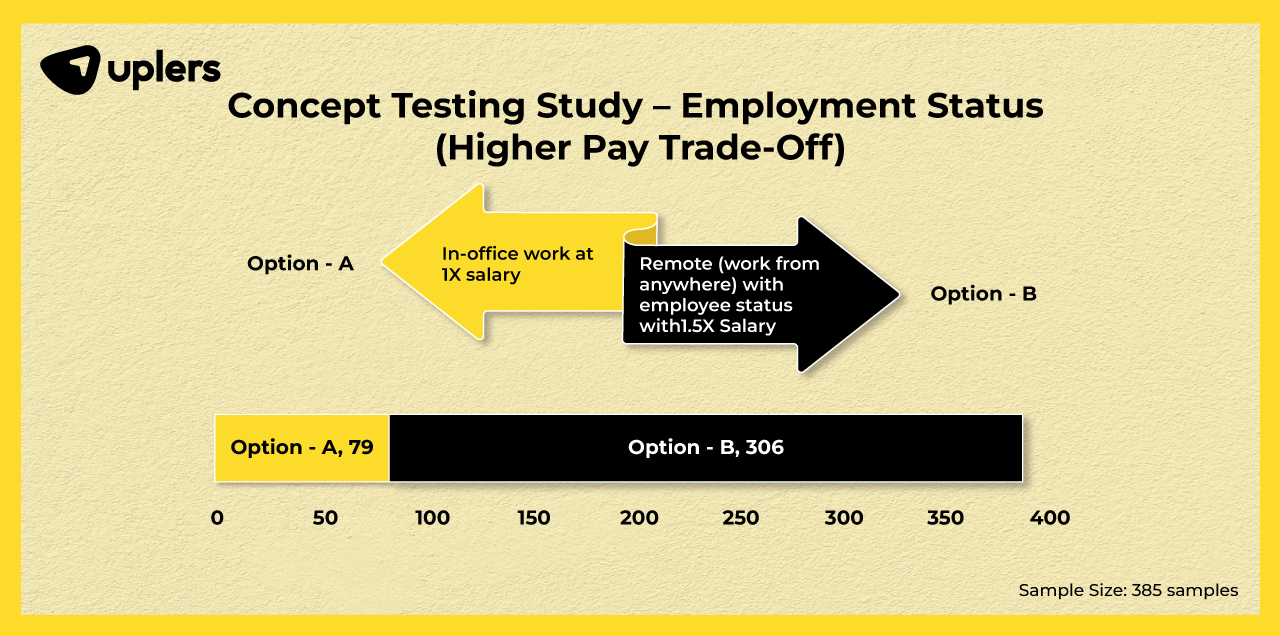 A high salary is one of the most important factors while deciding an employer
For a higher salary, a significant 80% of talents are willing to opt for remote work
Implication:
Indian talents will choose to work remotely if it pays better than an in-office opportunity for the same role. The talents value the benefits of remote work and want to earn better while working in their relevant field.
Strategy:
As Indian talents are eager to work remotely, it is wiser to offer them remote roles with competitive salaries. Doing so will help global employers in hiring tech talents quickly. Furthermore, the talents will get global exposure and flexibility in work timings and place.
Workstyle Preference As Per Experience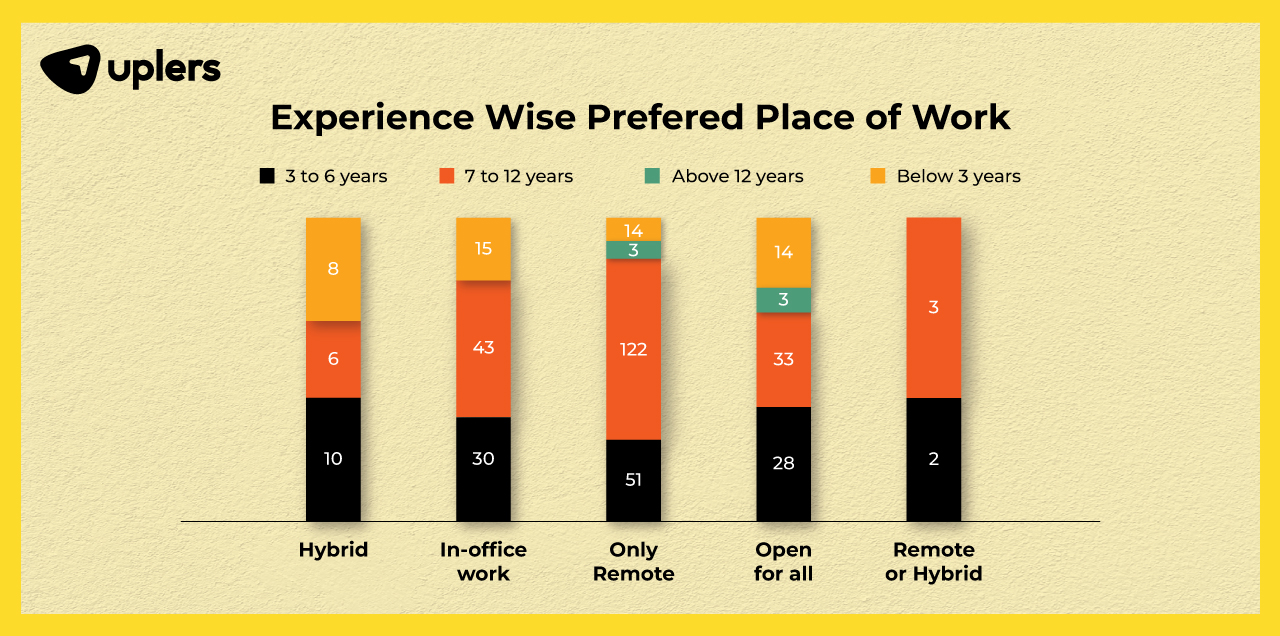 85% of mid-level (3-6 years) and senior (7-12 years) employees prefer remote work
Implication:
The choice of workstyle remains unaffected with growing experience. As two levels of employees prefer remote work due to its comfort, productivity, and flexibility. This makes remote the clear winner against hybrid and in-office opportunities.
Strategy:
Global companies should avoid offering even hybrid roles, as remote is the preferred choice amongst Indian talents. Recruiters hiring tech talents from India for both mid-level and senior-level talents should offer more remote opportunities and allow flexible work timings and the freedom that comes with the workstyle.
Conclusion
Essentially, our report reveals the following tips on hiring tech talent from India: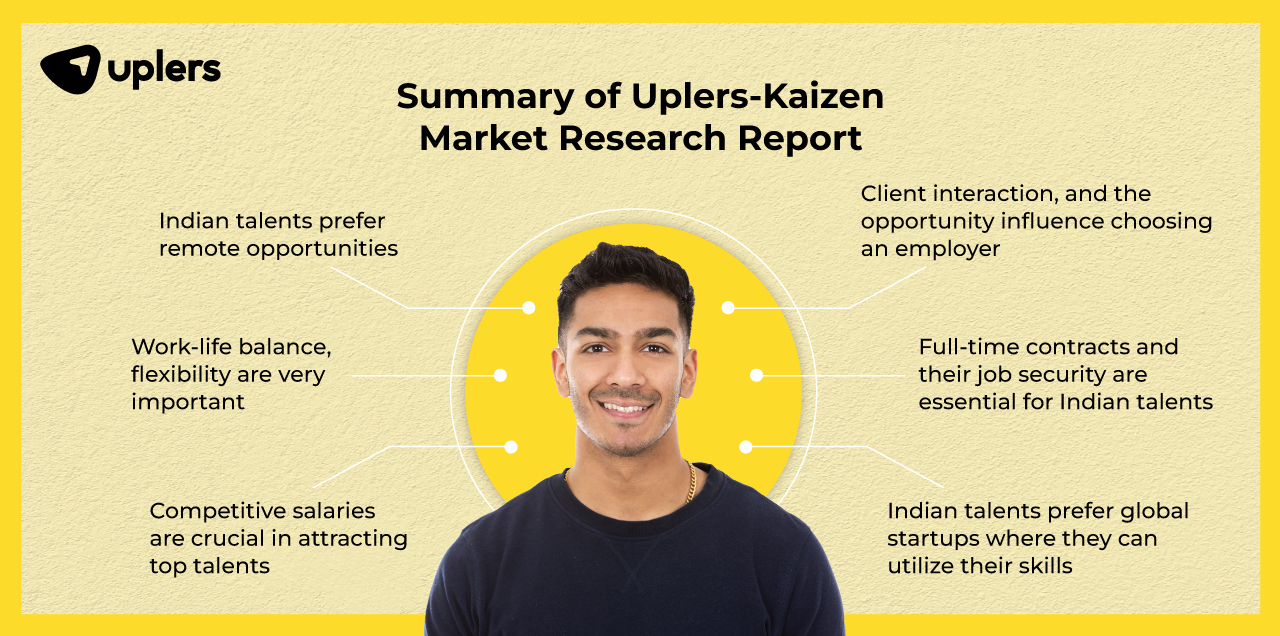 Hiring Indian tech talents can be overwhelming without a reliable hiring expert. This is where you need Uplers' digital platform, that matches global employers with their ideal talents. We source talents from our massive network of 500,000+ prevetted profiles across 100+ skill sets. Our vetting process comprehensively evaluates the talent on the basis of their technical skills, communication abilities, cultural adaptability, and remote readiness. We are the one stop shop solution when it comes to hiring the best talents from India remotely.
Book a discovery call with us and find out how we matchmake the ideal fit for your company.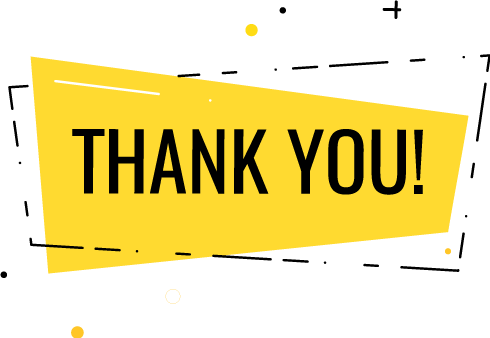 Thank you for submitting the details!
We will keep your information safe. Feel free to contact us with any questions at hello@uplers.com
Please check your email for next steps shared by Robert.