The Secret to India's Tech Talent Network and Building an Efficient Remote Team – A Discussion Between Uplers and Remofirst
Raunak Jain
August 7, 2023

7

Minute Read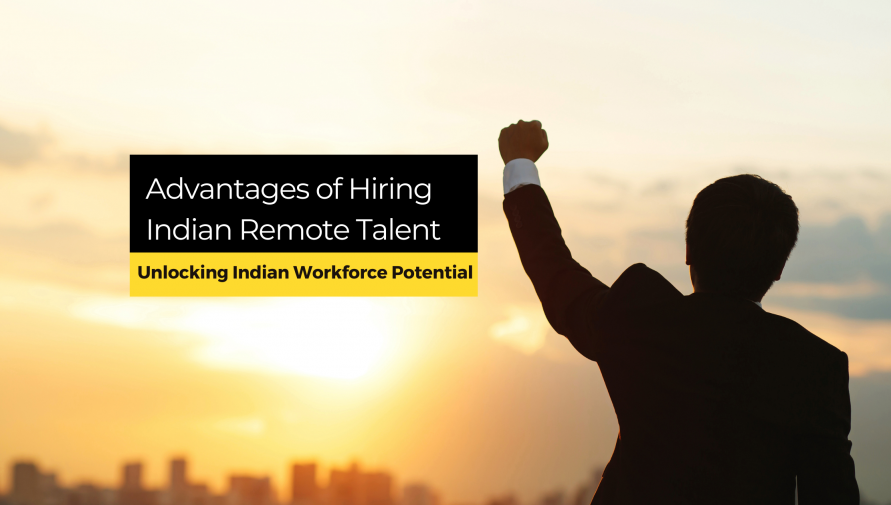 "In the last three years, global companies have started to hire aggressively from India to fuel their business development and support their talent acquisition strategies". To deep-dive into this development and find out more about India's proposition as a tech talent source, Jaymin Bhuptani, CEO & Founder of Uplers, was invited by David Hughson, CRO of Remofirst, a leading EOR company, to an insightful webinar on 27th July 2023.
The webinar, titled 'How to Hire & Manage Remote Teams in India', focused on how the country's tech talent became the apple of the eye of global employers. The webinar explored a range of topics:
India's potential as an economic giant and tech talent source

Common misconceptions surrounding Indian talent

Reliable strategies for setting up remote teams in India

Success stories of global employers who leveraged Indian talent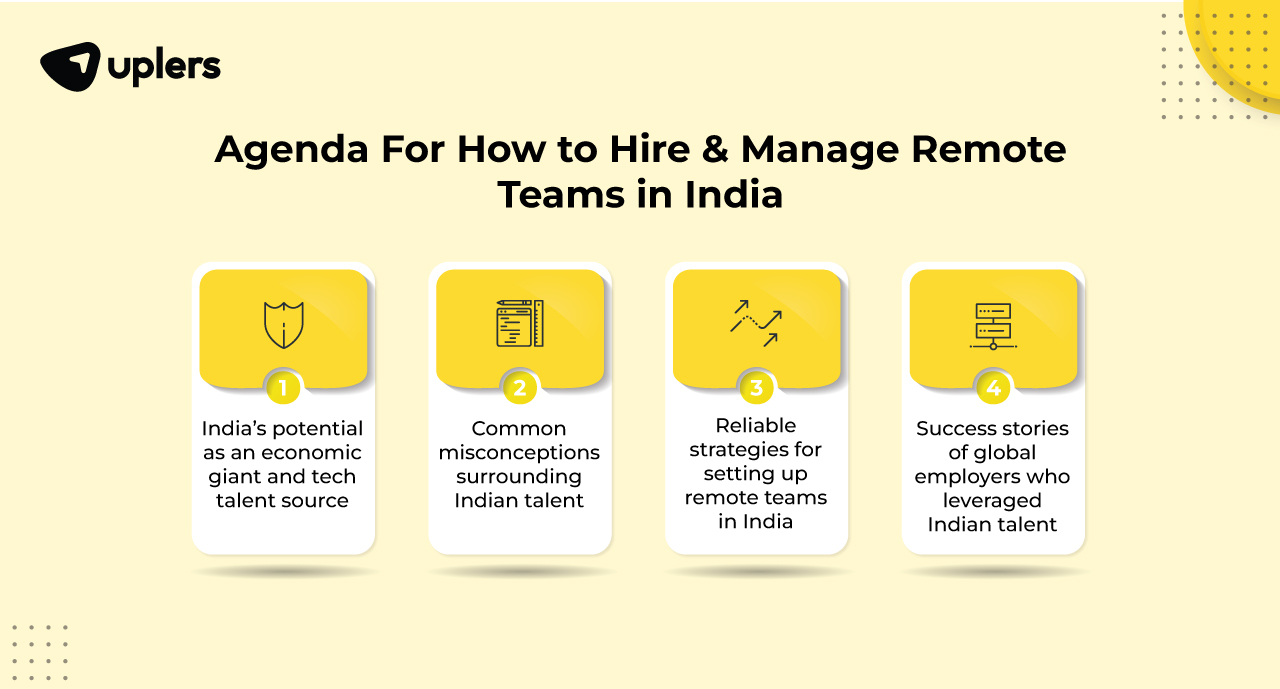 Let us discuss the major takeaways from the webinar which you must know.
The Growth of The Indian IT Industry
The secret of India's massive tech talent pool traces back to the beginning of the IT industry back in 1980. In those days, the major companies in the industry were Tata Consultancy Services and Infosys, who started their operations on the back of software development, and their biggest supporter was the Indian education system. 
The growth of technology-focused institutes generated local talents in large numbers for Indian IT companies. Today we have 4,500+ engineering institutes producing around 500,000 graduates every year.
Another important aspect of the Indian IT industry is the startup ecosystem. The startup culture started way back in 2008, and today India has 25,000 startups, out of which there are 100+ unicorns (startups valued at $1 Bn or more). They are solving complicated technology problems within India and many of them serve global companies, such as Zoho, Freshworks, etc.

The Success Of India as a Tech Talent Source
India is known as the world's most populous, youngest, and fastest-growing country. But what is it about Indian talents that entice global employers? Well, there are two main reasons – the availability of skilled talent in large numbers and the cost-effectiveness.
In 2021, India became the largest tech talent network in the world with 6 million professionals in the IT space. With consistent production of tech talent every year, the network will grow to 8 million by 2025.
Today, 1700+ global organizations are leveraging Indian talent for developing software and emerging technologies, such as Artificial Intelligence (AI) and Machine Learning (ML). These include large-scale tech companies like Facebook, Oracle, Salesforce, Microsoft and startups like Epsilon and Event Right.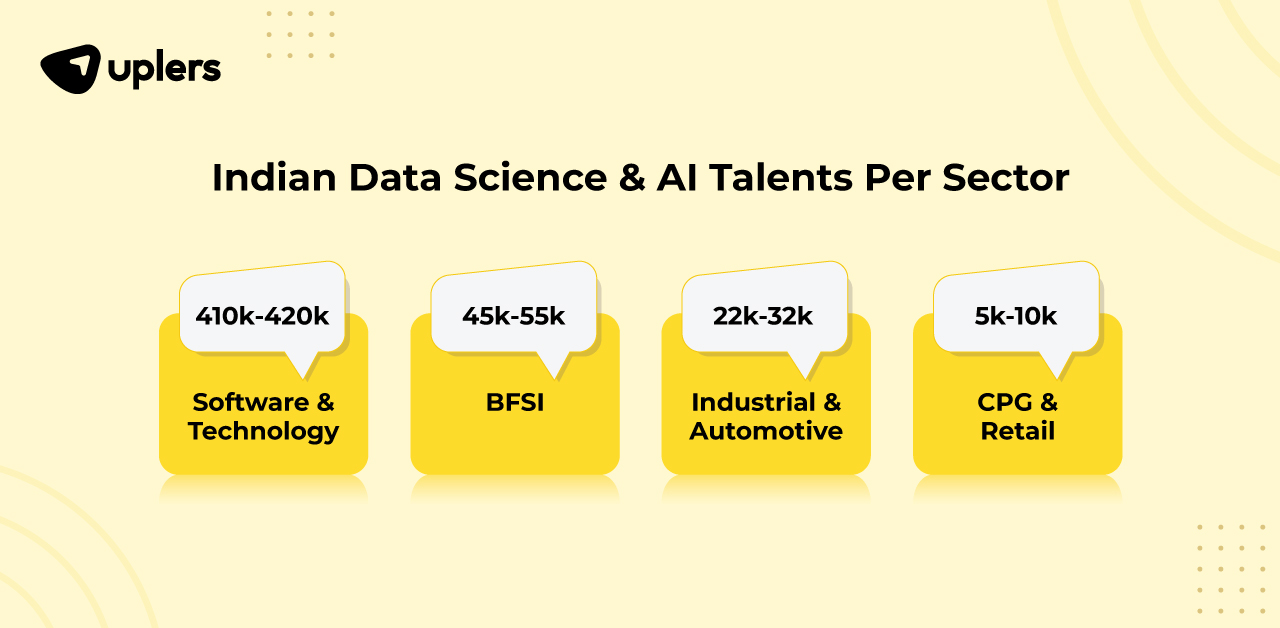 The second point is cost advantage, which is another crucial factor for global employers, especially during challenging economic conditions. As the cost of living in India is much lower than in the US, UK, or major European countries, employers have to pay lower salaries to Indian talents compared to others. Hence, India helps global employers upscale their workforce with reasonable compensation and within a reasonable budget.
As more Indian talents are becoming solution-oriented, thanks to the startup landscape, they are solving bigger problems. This trend has been apparent since the last decade, as the skill sets of Indian talents have evolved to solve complex problems.
Misconceptions Surrounding India and Indian Talents
While global employers are excited to hire from India, there are three glaring misconceptions regarding the country and its talents that must be debunked: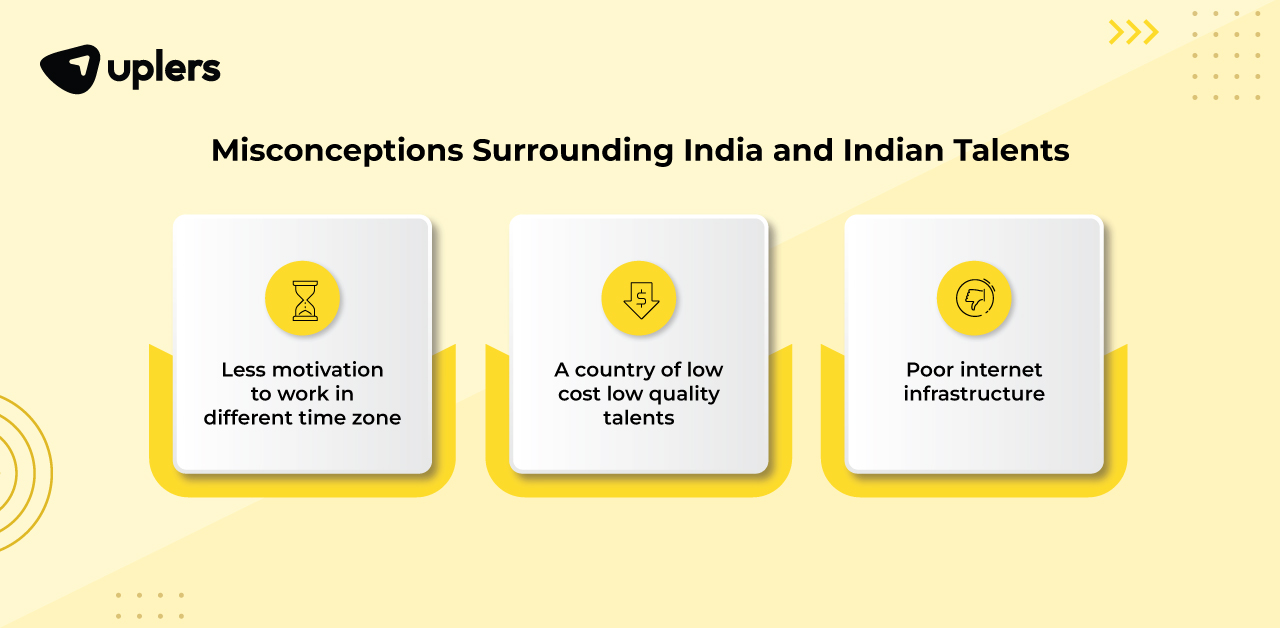 Less motivation to work in a different time zone
Indian talents are driven by their motivation to succeed in life. The fact is that Indian talents are open to working in different time zones. As long as Indian talents get to work in a progressive company, good work culture, better pay, and remote opportunity, they are happy to work even at night shift timings.

A country of low-cost and low-quality talents
There is a perception that India is home to low-cost and low-quality talents. This is not the case anymore. It might have been the case two decades ago, but today Indian talents have the highest standards and are trusted by several global employers. The skill sets, communication, global readiness, and positive approach of Indians make them the most valuable talents.
Poor internet infrastructure
India's infrastructure has grown by leaps and bounds in the last couple of decades, and the population now has access to high-speed internet and 5G connectivity. With a national average broadband speed of 70 Mbps, internet infrastructure is no more a barrier to remote opportunities.
How is Indian Work Culture Unique?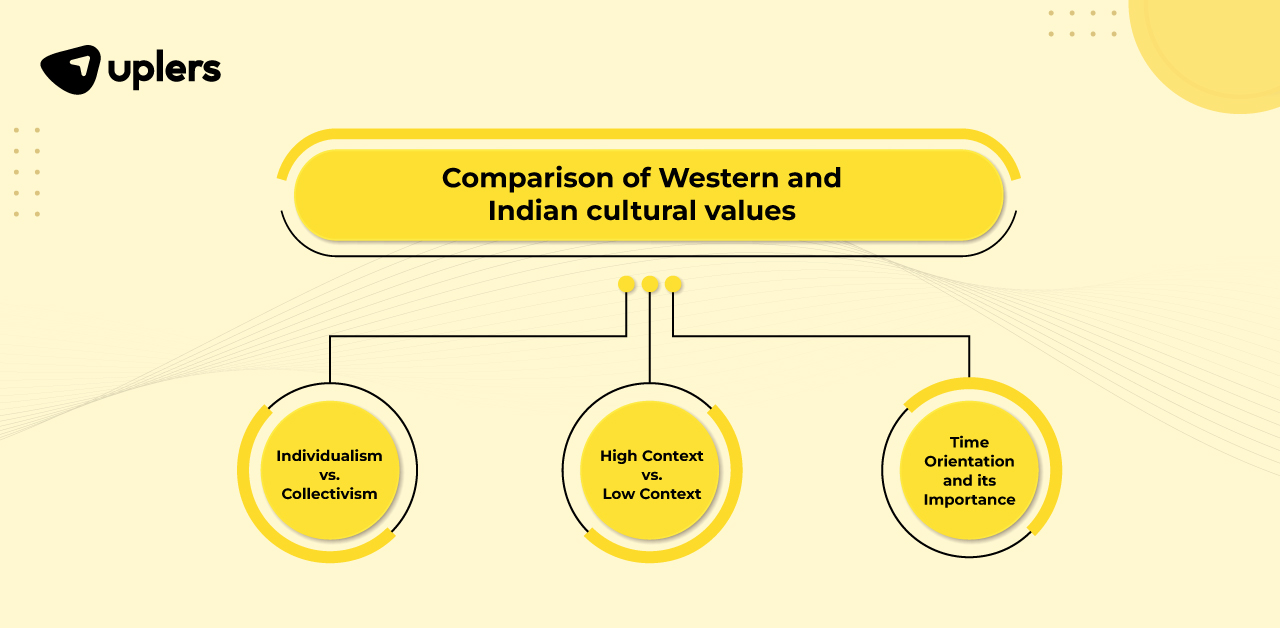 Work culture is divided into two types: high context and low context. In low context cultures, people rely on spoken and written words and express themselves clearly. The communication is direct and concise, leaving no space for confusion and miscommunication. This practice is highly prevalent in the United States and Germany.
India falls into the high context culture where communication goes beyond words. In an Indian workspace, interpersonal relationships, facial expressions, and reading between the lines dictate the communication style.
The awareness of Indian work and communication culture is extremely crucial when hiring Indian talents. Global employers who are used to a low-context environment must understand the nuances of a high-context culture. This will help in developing a strong relationship with the Indian talent and establishing a middle ground where both parties understand each other.
In the Indian work culture, talents are also averse to saying "No". This does not necessarily mean that they are yes men. Instead, Indians believe that saying "No" to someone might be considered rude; therefore, constructive criticism is only provided in an appropriate scenario. To promote open-minded communication and a candid approach by Indian talents, global employers must take important steps to build a nurturing environment.
Success Stories of Global Employers Finding Their Perfect Indian Remote Talent

Uplers has helped several companies leverage the global talent ecosystem to achieve their business goals. And it is indeed true that the first hire is like the first step you take toward your goal.
Brill Media, a performance marketing agency based out of L.A, California, faced issues finding skilled performance marketers within their budget. As soon as they finalized their first talent from Uplers, it took them little time to build a team of 10 professionals. And now, they are looking to hire more to tap into the Indian talent network.
Tanium is an end-point security management platform headquartered in Austin, Texas. They were planning to launch a new module in the cybersecurity market and needed talents to support their objectives. The challenge was to build a team of 17 top talents in four weeks. With Uplers' massive network of talents and fast hiring process, Tanium built its team within the required time frame. 
Reliable Strategies for Global Companies to Hire Remote Indian Talents
The objective of hiring is not just to add a job profile but to achieve business goals. This is what motivates employers to find the right talent. Global employers need to adopt the following strategies to hire the right remote Indian talent: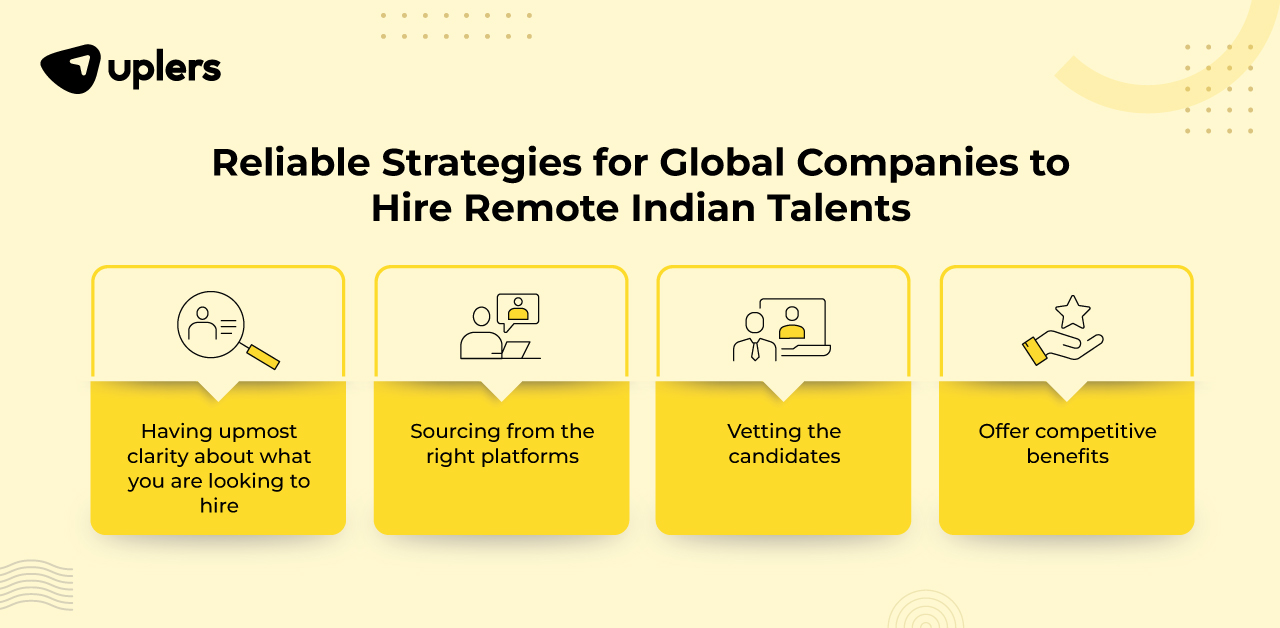 Having utmost clarity about what you are looking to hire
Spend some time analyzing the team structure, which profiles you want, and the possibility to hire that profile from India. Getting this clarity before hiring is half the battle won.
Sourcing from the right platforms
There are several websites that can help global employers find Indian remote talents, such as LinkedIn. You can also look at job boards like Monster, Naukri, and many more. There are also numerous staffing agencies that can fetch you several applications. Apart from these, there are hiring platforms, like Uplers, that can help you source, vet, and onboard the ideal candidate for your organization.
Vetting the candidates
Remote jobs in India will attract a lot of applications. Uplers' survey shows maximum talents prioritize remote jobs over in-office opportunities. This blessing comes with the challenge of finding the right talent from a bunch of profiles. To overcome this challenge, employers must vet the candidates comprehensively. There are several tools in the market that can help in filtering the candidates to a smaller number of suitable profiles.
Global employers should vet their candidates on the following parameters:
Technical abilities

Functional abilities

Cultural adaptability

Remote readiness
Uplers relies on its international standard 5-step vetting process that efficiently identifies the best candidates for the job. With this process, Uplers does the heavy lifting of matchmaking the right profiles with the right employer in a 10x faster hiring cycle.
Offer competitive benefits
Every talent expects attractive incentives, leave policies, insurance, and other benefits of working in a global organization. To hire the top remote talents from India, it is essential to compile an enticing compensation salary, including these benefits. Read our ebook on salary guides for remote talents to better understand the levels of competitive salary in India.
Find Your Ideal Professional and Cultural Fit Without Breaking a Sweat
Uplers helps global companies hire the best Indian remote talents and tackles the challenges that come with remote hiring. As a global employer, you only have to share a job description with us and let our digital platform source, vet, and match make the best candidates for the job role.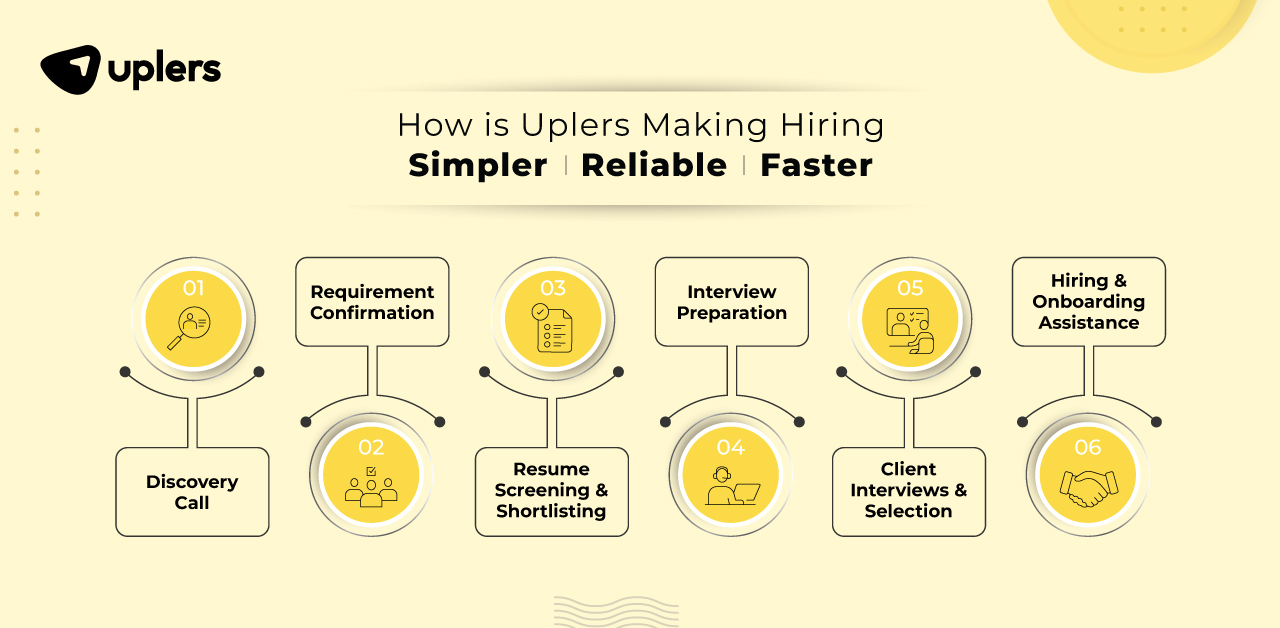 And this is how Uplers ensures 10x faster hiring with no room for guesswork or vagueness. We find the perfect candidate for your organization within a 5-day hiring process and our post-deployment policies ensure we stand by our promise. Our massive network of 500,000+ prevetted talent means you do not have to do the heavy lifting in sourcing profiles. When it comes to vetting, only 3.5% of all applicants pass our rigorous screening tests. Finally, we matchmake the most suitable profiles with your requirements and provide post-deployment support.
Once an Uplers-certified talent is onboarded to the client organization, we assign a dedicated Talent Success Coach to the talent and an Account Manager to the client. This helps us in establishing smooth communication and understanding between the two parties. Perfect matchmaking and confident hiring, that's Uplers.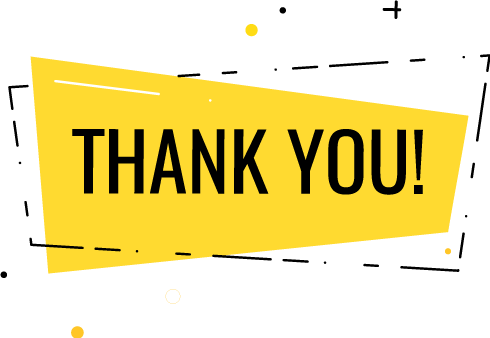 Thank you for submitting the details!
We will keep your information safe. Feel free to contact us with any questions at hello@uplers.com
Please check your email for next steps shared by Robert.