UI UX Job Description: Key To Finding The Ideal Designer
Shreya Srivastava
October 12, 2022

8

Minute Read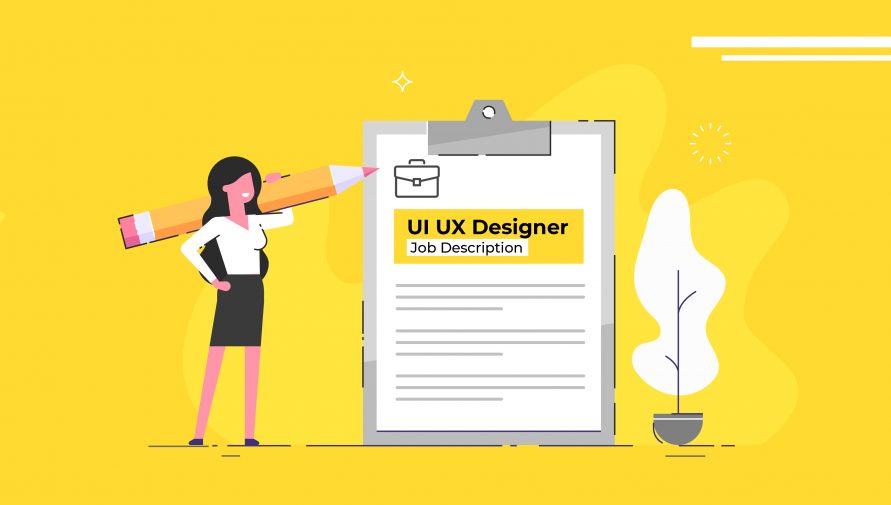 Step into the shoes of your users and ask yourself what it is that seizes your attention on a web page. Is it just the tangible design elements like buttons, icons, etc., or is it just a seamless user experience, or is it both?
Most of you will say both, which is why hiring the right UI UX designers has become the need of the hour. A quick search on Glassdoor shows that there are 4,526 jobs for UI UX designers in the United States. This number becomes 3X on LinkedIn with over 12,000+ job postings.
But, the elephant in the room is finding the perfect candidate for the job in the densely competitive recruitment market. The key to this is preparing an enticing UI UX designer job description that compels job seekers to choose your company over the competitors. An ideal job description can help you hire a skilled professional better aligned with your job requirements and thus curtail the employee turnover rate and recruitment costs. 
On that note, lets discuss the key components of job description of a ui/ux designer.
1. What Does a UI UX Designer Do? – Key Roles 
A UI UX designer is someone who needs to handle the responsibilities of both the User Experience designer and the User Interface designer (yes, they are two different things). Here is a quick list down of what does a UI UX designer do: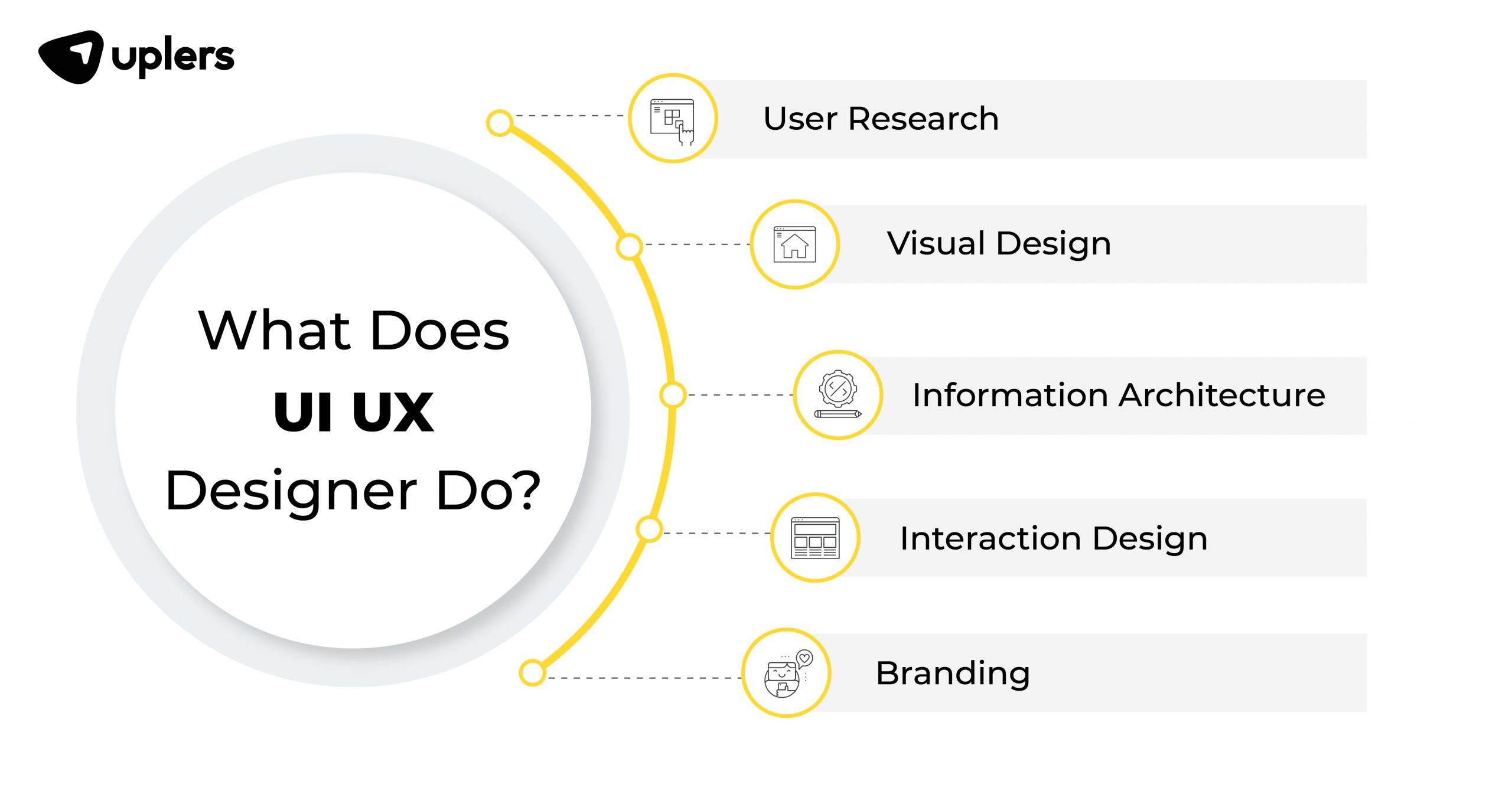 | | |
| --- | --- |
| Sr.No.  | UI UX Designer Roles |
| 1 | Create the user interface of products such as an app, website, or any other interactive media |
| 2 | Research the user's needs at the project's beginning, including conducting user interviews, engaging in prototype testing, driving competitive analysis, etc. |
| 3 | Understand the project's goals  |
| 4 | Create relevant and data-backed user persona and journey maps |
| 5 | Effectively outline the project's scope concerning the required features and functionalities |
| 6 | Design digital user interface elements (such as the ones on the screen) |
| 7 | Clearly define the navigation and information hierarchy |
| 8 | Create wireframes and high-fidelity prototypes |
| 9 | Test the design to see what's working (and what's not) |
| 10 | Build intuitive, easy, and functional user experiences |
| 11 | Understand and preempt the user's requirements for the product and makes changes to the design accordingly |
| 12 | Ensure that the product is working properly at all times |
| 13 | Incorporate user feedback as needed |
2. UI UX Designer Responsibilities – At a Quick Glance
In this section, we will understand the core day-to-day UI UX designer responsibilities. These include the following (but are not limited to):
| | |
| --- | --- |
| Sr.No. | UI UX designer responsibilities |
| 1 | Identifying the various UX design needs for a brand's digital assets |
| 2 | Collaborating seamlessly with product managers, engineers, marketing team, other UI UX designers, and so on |
| 3 | Collecting and analyzing user requirements by way of driving questionnaires, field studies, interviews, etc., and running analytics on the same |
| 4 | Conducting research on the latest web/mobile usage analytics and designs and keeping tabs on the latest trends |
| 5 | Conducting observational research by studying how a sample user interacts with the product |
| 6 | Leveraging the insights gathered for making powerful and ROI-driven design decisions |
| 7 | Conceptualizing UI/UX design strategies that are better aligned with the user's needs |
| 8 | Understanding the brief for new projects effectively |
| 9 | Illustrating design ideas through the strategic use of storyboards, sitemaps, flow diagrams, process flows, wireframes, prototypes, etc. |
| 10 | Designing the user interface important elements such as menus, tabs, widgets, and so on is another key part of ui ux designer roles and responsibilities |
| 11 | Building navigation components such as buttons, search fields, etc. |
| 12 | Building user interface mockups as well as prototypes that clearly demonstrate how the site will function (and look) |
| 13 | Driving presentations on working drafts to internal team members and external stakeholders |
| 14 | A/B testing UX UI elements such as banners, CTAs, images, page flow, links, page design, and more |
| 15 | Incorporating user feedback on previous design/product changes with agility and accuracy |
| 16 | Ensuring that the brand's style standards and guidelines are adhered to across every product and design; maintaining and updating a style guide to ensure consistency |
| 17 | Constantly learning about new design strategies, tools, and best practices |
3. Key UI UX Designer Skills To Screen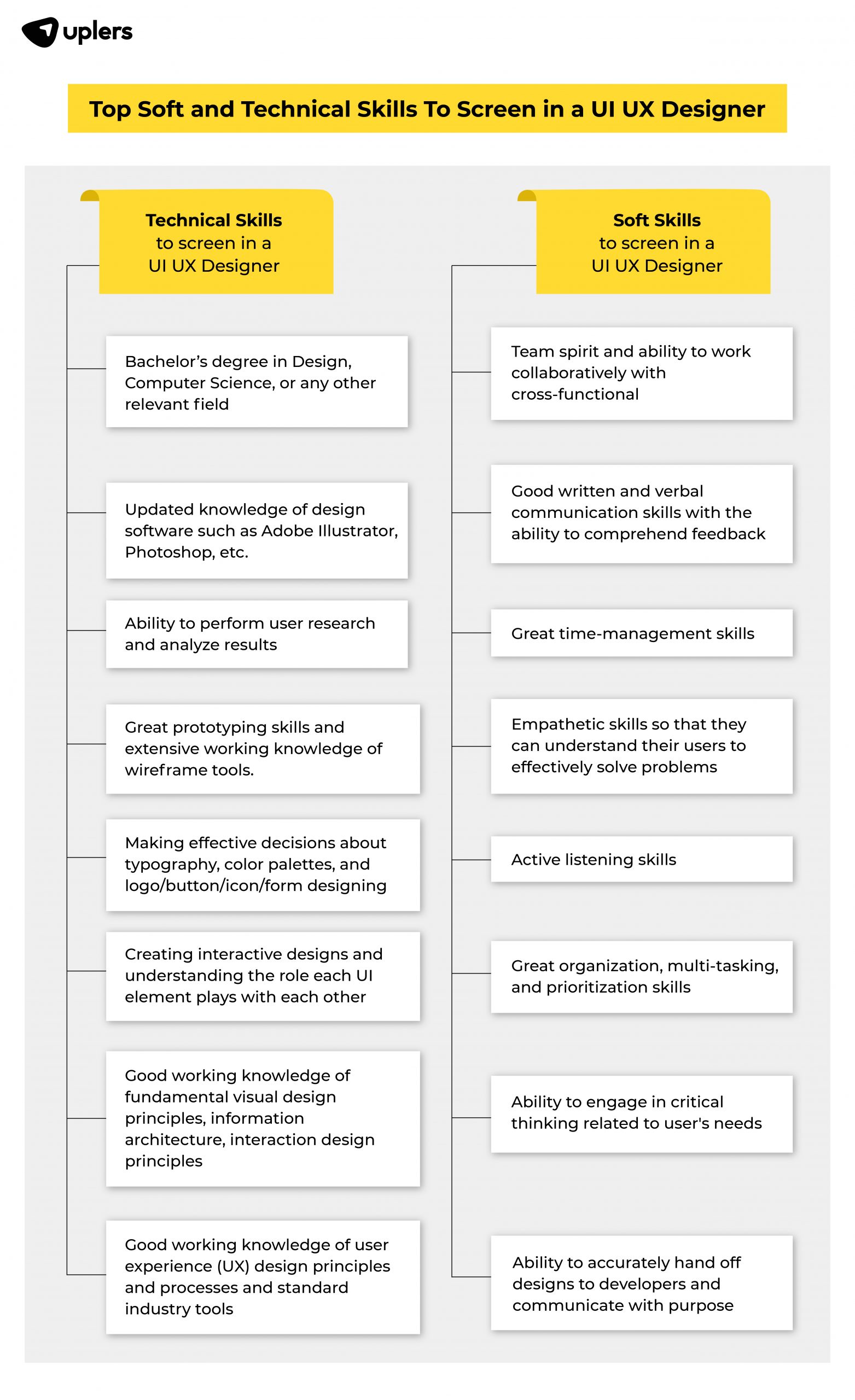 4. UI UX Designer Job Qualifications 
It's crucial to understand what UI UX designer job qualifications of a junior and a senior ui/ux designer before hiring.
UI UX Designer Job Qualifications For A Junior Designer 
To start with, the ideal candidate must have a BSc/Bachelor's in Design or any other relevant field. According to the Nielsen Norman Group report, around 82% of UX designers possess at least a bachelor's degree. Plus, around 31% have or are pursuing a master's degree.
One one hand, having a bachelor's degree is a lucrative plus for hiring managers. However, instead of a university degree, your ideal candidate may have an industry-recognized UI UX certification from a reputed industry leader (such as the  Google UX Design Professional Certificate, for example) which demonstrates that they have the required knowledge and skills to get the job done right.
UI UX Designer Job Qualifications For A Senior Designer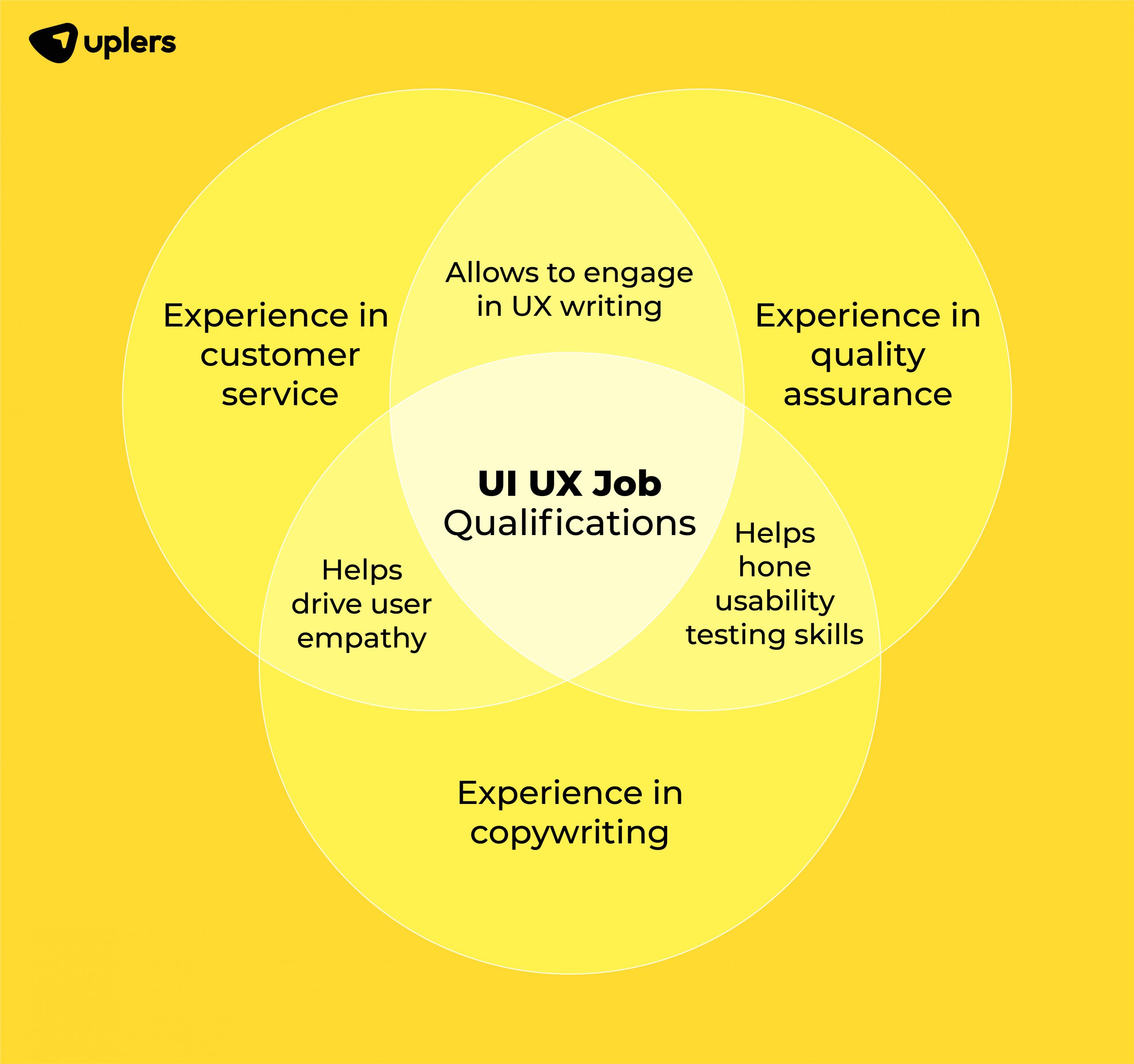 When it comes to hiring senior designers, a greater emphasis is placed on the experience rather than their degree. Your ideal candidate must have substantial relevant experience in the field and focus on getting hands-on experience on transferable skills such as:
Experience in customer service > helps drive user empathy

Experience in quality assurance (QA) > helps hone your usability testing skills

Experience in copy writing > allows you to engage in UX writing
Key Takeaway: Remember that a UI UX designer's job is not merely restricted to 'designing' but also encompasses maximising customer satisfaction, boosting the ROI, understanding your customer's psychology, and problem-solving issues in real time.
5. UI/UX Designer Salary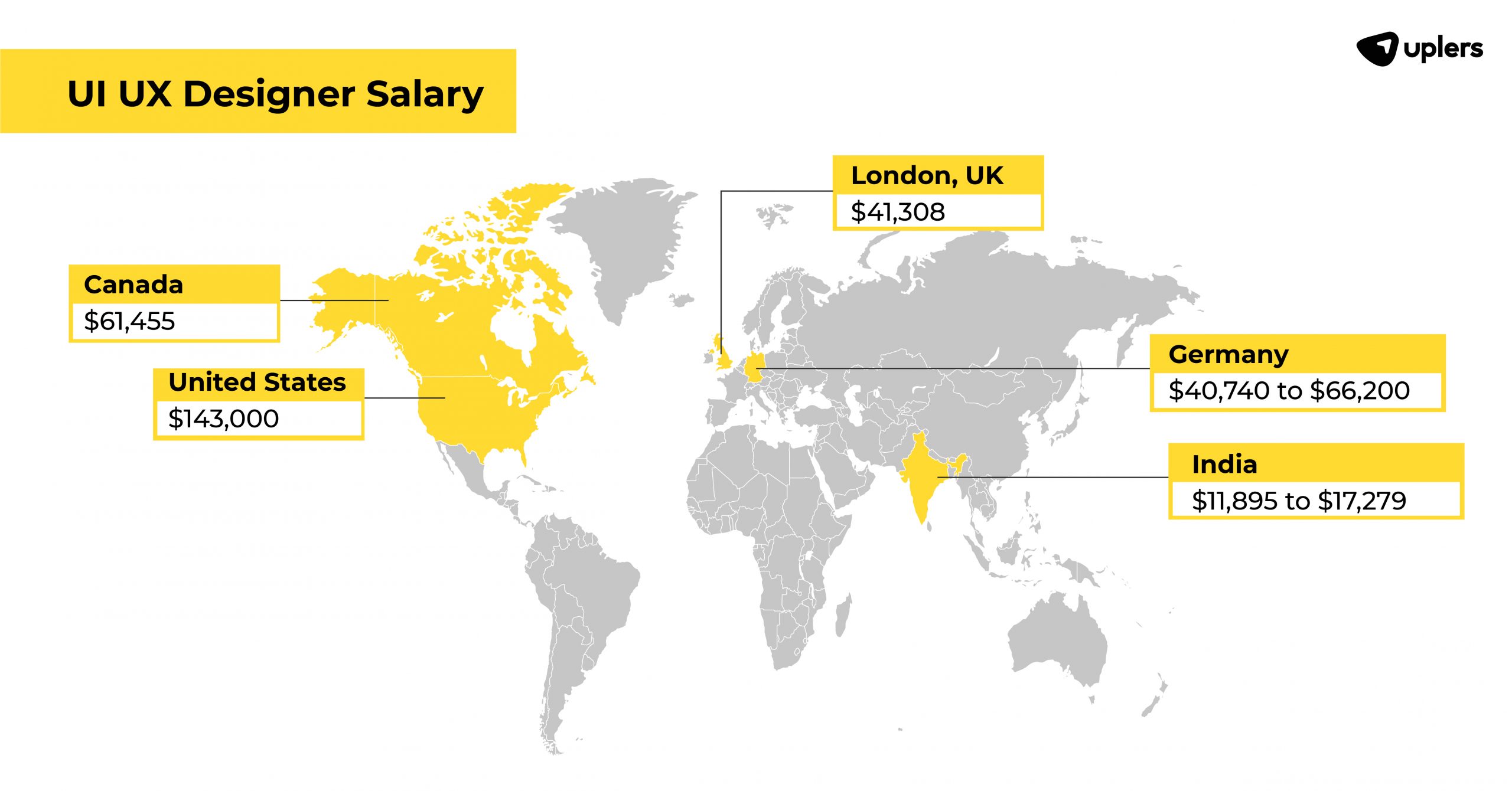 With the basics of the job description of a ui/ux designer in place, let's now understand their salary structure across various countries to provide clear understanding to the hiring managers for what to pay. With the skyrocketing rise in the usage of digital platforms, the need for UI UX designs has grown exponentially, thus, they are well paid globally. Here's how much UI UX designers are being paid across different countries:
Country
Salary
India

According to estimates by Glassdoor, the average UX Designer salary ranges between $11,895 to $17,279 a year. 

United States

According to

LinkedIn

, the average LinkedIn UI/UX Designer earns $143,000 annually, which includes a base salary of $130,000 with a $13,000 bonus.

Germany 

As per

data

, UX UI Designers in Germany earn normally around $56,000 a year, with the salary ranging between $40,740 and $66,260 a year.

Canada

As per

Glassdoor

, the national average salary for a UI UX Designer in Canada is $61,455.

London, UK

According to

Glassdoor

, the average salary for a UI UX Designer based out of London is $41,308 a year.
Many big brands today are choosing to hire UI UX designers remotely from India owing to the extremely talented professionals and relatively lower recruitment cost. Uplers is helping such hiring managers to recruit top talents remotely without all the hassle of tedious recruitment processes!
At this point, lets discuss how the salary of a UI/UX designer varies between India and USA for different roles: 
Their current role:

The salary will depend on the current role of the employee (aka whether they are doing UI responsibilities or UX responsibilities or both):
| | | |
| --- | --- | --- |
| UI Role | Average Salary in India (Yearly) | Average Salary in the US (Yearly) |
| 1. Senior Visual Designer | $10,212 | $66,310 |
| 2. Interaction Designer | $10,680 | $103,359 |
| 3. UI Artist | $4800 | $83,000 |
| | | |
| --- | --- | --- |
| UX Role | Average Salary in India (Yearly) | Average Salary in US (Yearly) |
| 1. UX Strategist | $50,000  | $85,201 |
| 2. UX Architect | $21,577 | $99,495 |
| 3. UX Analyst | $8400 | $85,000 |
The level of experience

: Here's the salary breakdown for UI UX designers based on level of experience:
Level of experience
Average salary in India (Yearly)
Average salary in US (Yearly)
1. Junior-level UI UX designer
$2532

$46,900

 

2. Mid-level UI UX designer
$10,400

$114,329

 

3. Senior UI UX designer
$22,740

$1,19,724

 
A Ready-to-Use UI UX Designer Job Description Template
A UI UX template allows hiring managers to save valuable time and hire the best candidates. Here's an easy and ready-to-use UX UI designer job description template you can use and customize based on your specific requirements. Just make sure that the template is precise, clear, and personalized to your specific needs:
Job Description of a UI/UX Designer
We are on the lookout for a passionate, creative, and user-centric UI/UX Designer to join our team. We want to create visually-appealing, functional, easy-to-use, and innovative products in a dynamic and fast-paced environment. This means that your work will have a direct impact on boosting customer success and loyalty! If this sounds like something you'd be interested in, we'd like to meet you.
As a prerequisite, ensure that you have experience in designing software as well as wireframe tools. We would like to see a portfolio of your professional design projects. Please include work related to both web and mobile applications.
Primary Responsibilities of a UI/UX Designer
Your core responsibilities will include:
Planning and creating user-centric designs by analyzing business requirements

Optimizing existing designs by understanding and implementing user feedback

Building user flows, prototypes, wireframes, and mockups

Creating requirements-aligned style guides, design patterns, and user interfaces

Designing UI elements (think: input controls, informational components, navigational components)

Creating authentic conceptual, and original images, designs, sketches, and tables

Effectively identifying and troubleshooting UX problems

Collaborating with different teams such as product, engineering, and management

Integrating customer feedback, KPIs, and usability findings into the design and by extension, the user experience
UI UX Designer Job Requirements and Qualifications
Degree/diploma in Design, Fine Arts, or related field

Prior experience and a strong portfolio of related projects effectively showcasing the hands-on experience gathered

Proficiency in prototyping tools as well as up-to-date knowledge of Adobe Creative Suite, including Illustrator, InDesign, and Photoshop

Attention to detail and design proficiency

Excellent communication skills with the ability to clearly articulate ideas and designs

Team player with excellent collaboration skills
Added bonus: Basic HTML5, JavaScript, and CSS3 skills
Concluding Remarks
An ideal UI UX designer job description template is one that strategically outlines the core requirements and responsibilities related to the role. To attract the best of the best from the extensive community of UI UX designers, you must draft a precise, concise, and easily understood job description. 
In the end, remember that UI/UX designers help create and iterate user experiences for your end-user. If your UI UX design requirements are accurately and comprehensively spelled out, as recruiters, you'll be able to discover skilled candidates with relative ease.
If you don't wish to engage in the grunt work and want pre-vetted and high-quality UI UX designers for hire that can perfectly understand (and preempt) your needs, consider Uplers as a great starting point.
With research by  Forrester indicating how a good UI can raise a website's conversion rate by up to 200% and better UX design can raise the conversion rate by up to 400%, you really can't put a price on how invaluable a UI UX designer can be for your brand and customers at large. Agree?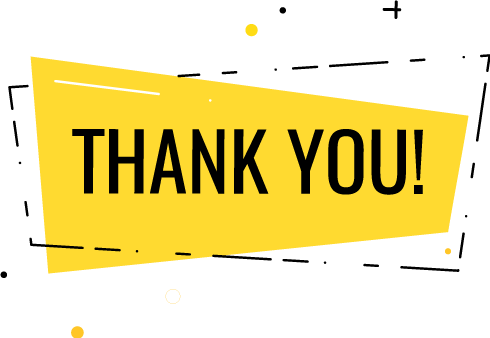 Thank you for submitting the details!
We will keep your information safe. Feel free to contact us with any questions at hello@uplers.com
Please check your email for next steps shared by Robert.