Top Event-Based WordPress themes for 2021
Aayush Gupta
March 23, 2021

6

Minute Read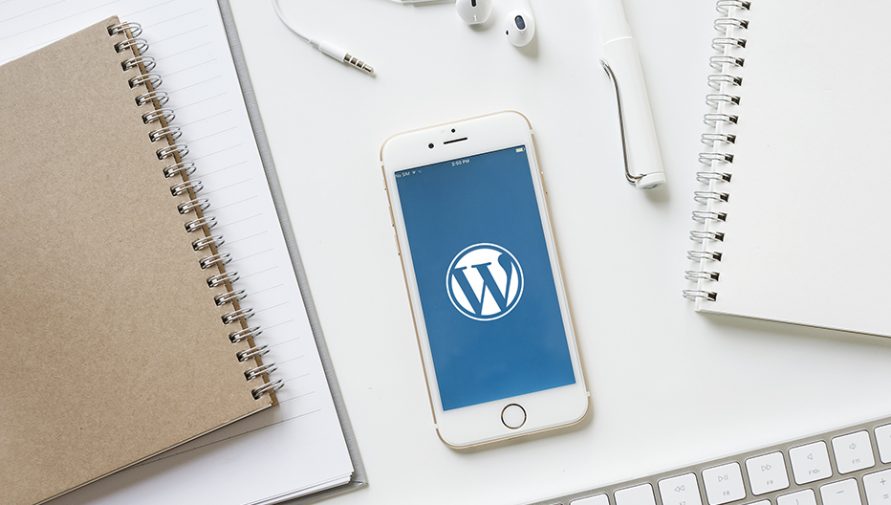 First impressions matter!
You could be running a business of any scale or hosting and promoting any event. But the first impression will always matter the most. And 94% of first impressions regarding your website are design-based. Well, in that case, you'd want to make sure that your event-based WordPress theme creates good first impressions on your clients or the attendees of the events.
Therefore, it is important to find the right template.
You have already taken one right step by choosing WordPress. The most popular CMS and website builder, WordPress keeps you in control. While also giving you enough options to get started in a jiffy.
And now, we'll help you take the next right step.
We deep-dived into the ocean of event-based WordPress themes and found the best options for you.
Here are our top seven picks –
1. Voelas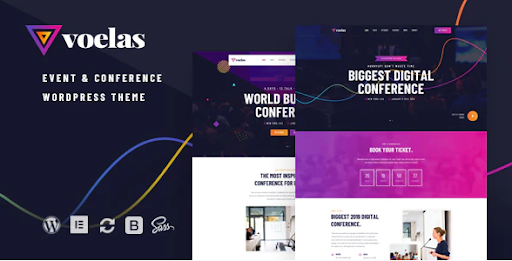 Price: $75
Starting from a blank canvas would take you an awful lot of time to create a beautiful and functional event-based website. But thanks to Voelas, you can jump straight to the pre-made layouts.
It is built using Elementor, the easy drag-and-drop builder. And that is what makes it extremely convenient to customize the layout as per your needs.
Some of its top features include –
Pricing table.
Event schedule.
News section.
The Slider Revolution plugin is already included.
The contact page comes with Google Maps.
Moreover, the template is 100% responsive, which guarantees perfect performance across devices.
2. Lifevent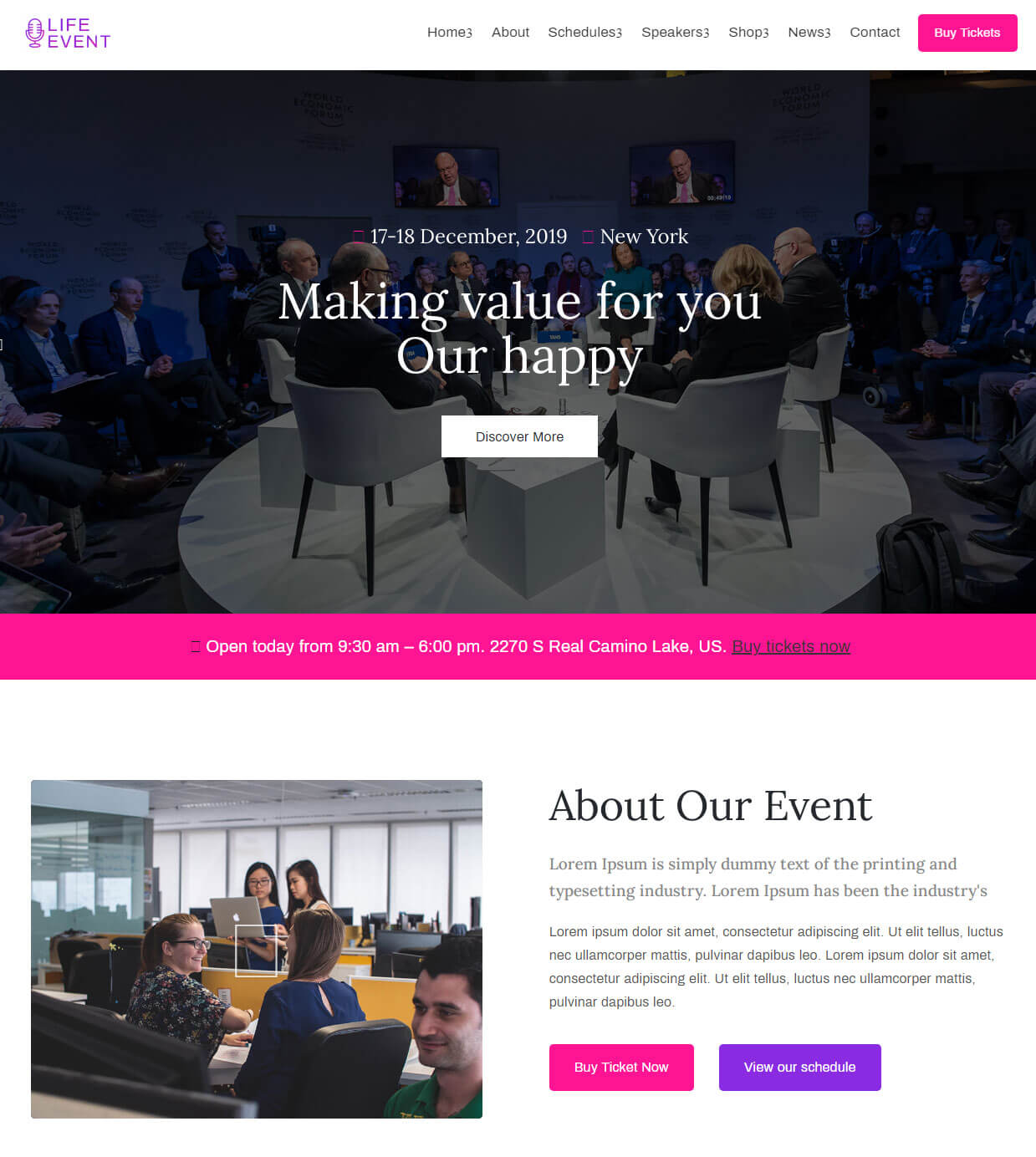 Price: $49
You don't have to move mountains to create a website. And Lifevent takes that philosophy to heart. By just dragging and dropping elements, you can create all the necessary pages you want for your event-based website.
Some of its top features include –
A catchy schedule section.
Countdown timer.
WooCommerce compatibility. (For when you want to sell something other than your services, like tickets to an event or event planning goodies).
Animated statistics.
A lot of header and footer layout options.
Lifevent is also a search engine optimized and mobile responsive theme out of the box. .This frees you from the hassle of carrying out SEO or optimizing the website for mobile viewing. And you can easily focus on your event while the theme handles the rest for you.
3. Uncode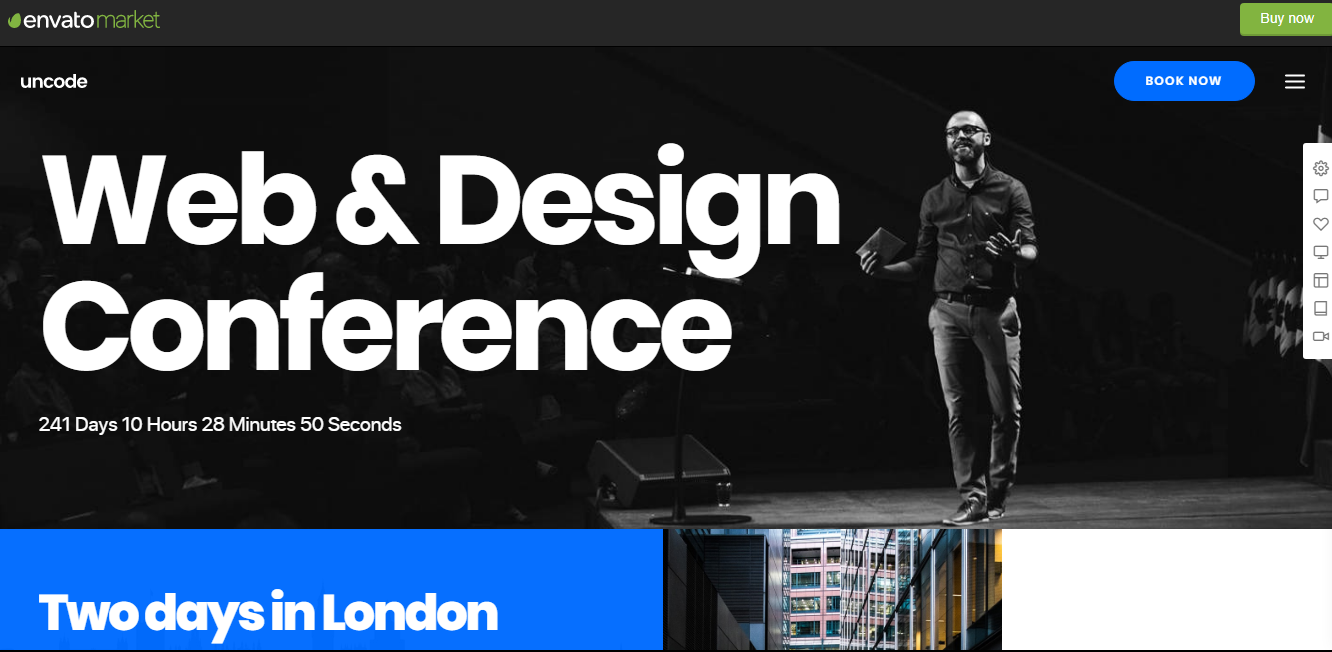 Price: $59
A powerful multipurpose theme, Uncode is a great pick for event-based websites. It comes with plenty of features that make it easy to manage events and promote them online. And even get more clients for your event management business.
Some of its top features include –
You get plenty of demo design templates. And with the one-click import option, you can get started with your website. You also get 70+ layout options.
No code customization with the drag-and-drop builder.
Slider Revolution, Layer Slider, and Visual Composer plugins come bundled with the theme.
It is a high-performance theme that loads fast.
WooCommerce compatibility.
With Uncode, you can create multiple pages suiting your event-based business needs. And you can also keep your guests updated with notifications and engaged with stunning images in the gallery.
4. Eventica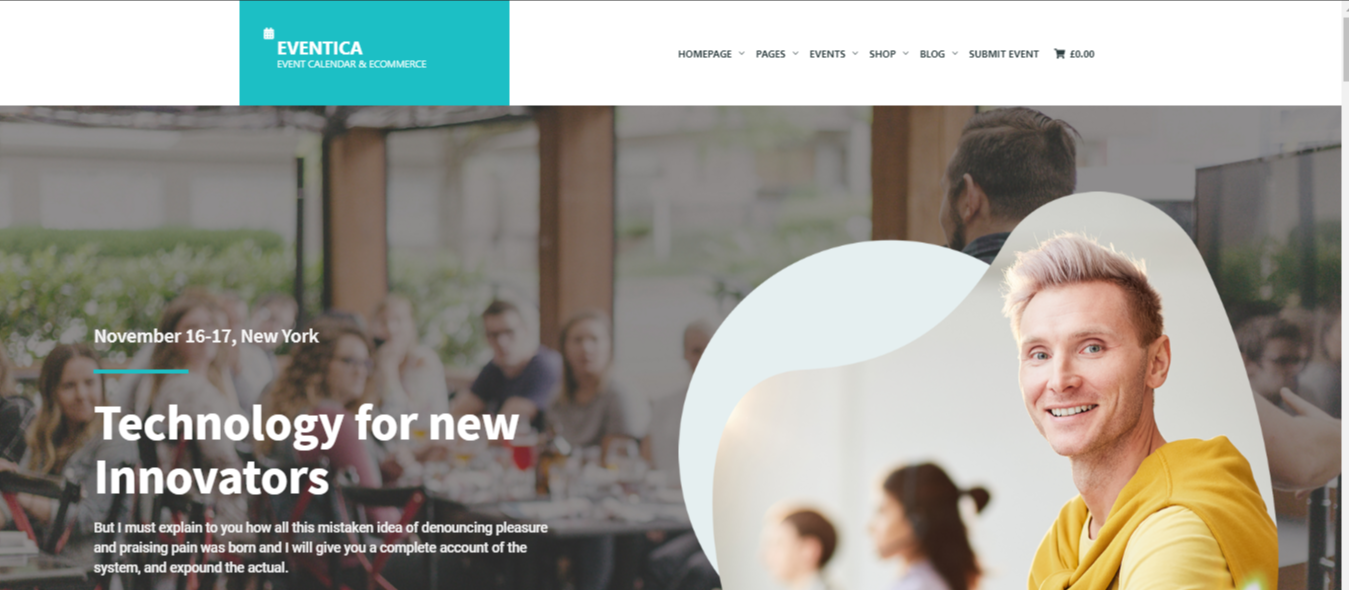 Price: $30
Would you like to sell tickets to an event online? Want to sell goodies using the store on your event-based website? Eventica lets you do both.
Though it is specially designed for event-based sites, the options are plenty, and it also works as a multipurpose website theme. This means you don't have to limit yourself with Eventica.
Some of its top features include –
The Event Calendar plugin comes bundled with the theme.
WooCommerce compatible page templates and features.
Rich options for complete customization control.
Interactive elements and options to keep your audience entertained.
Impressive media content options for sharing information in a visually-appealing way.
If you need to offer your audience a smooth and seamless experience, your website made with the Eventica theme will make it possible.
5. Fudge 2.0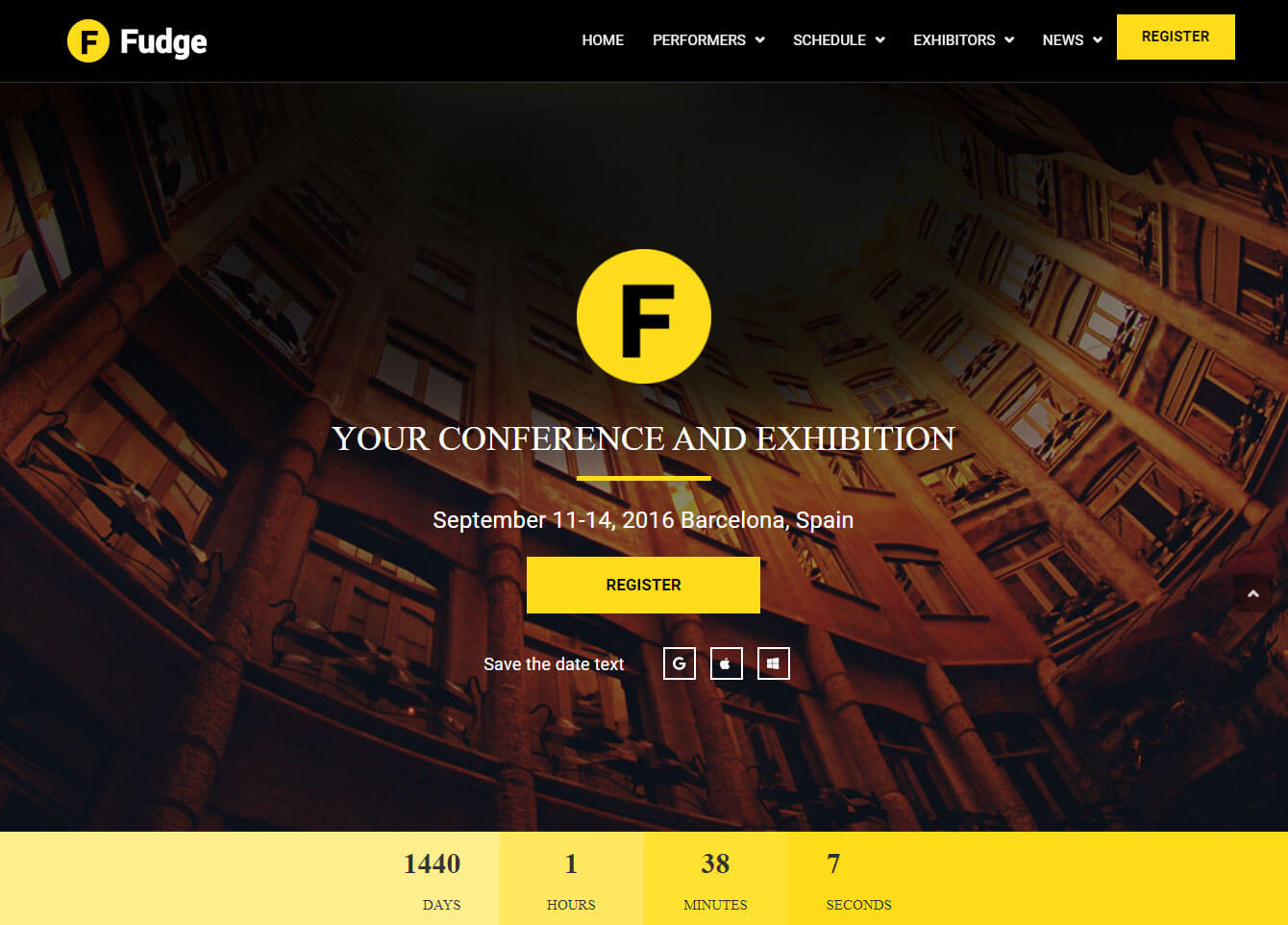 Price: $89
If you organize conferences for different clients or for yourself, you'd know that it takes a lot of special prep. While you are busy organizing the event, your website won't be a headache. With Fudge 2.0, you get robust conference-related features. And your visitors will get all the details right on the home page.
And you can also create different pages for each speaker so that the audience knows them beforehand.
Some of its top features include –
You can share your event location on the website.
Ticketing system for the easy sale of tickets for the event.
Image gallery for the perfect display of visual information and multimedia content.
The theme is mobile, browser, and operating system responsive. You will never encounter resizing issues with Fudge 2.0.
The theme caters to a multilingual audience as it can be translated into eight languages.
If you are hosting a conference, you can trust Fudge 2.0 to look after everything you'd need from your website. Also, it is WooCommere compatible. So if you ever want to sell event merchandise, you can do that too.
6. VW Event Planner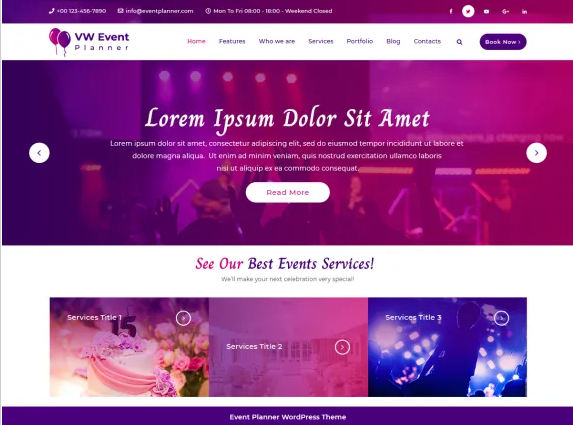 Price: Free
If you want a cool event-based website, you cannot go wrong with VW Event Planner. A colorful theme and is instantly attractive.
And you can not just use this WordPress theme for sharing information about your event. But you can also use it to create a booking system and accept online bookings.
Some of its top features include –
Multiple theme options and a responsive design for perfect display across devices.
A dropdown menu for a clutter-free way to show all that you (and your event) have on offer.
Featured slides and thumbnails.
The header can be customized according to your needs.
Translation option to appeal to a local audience.
With an event-based WordPress theme like VW Event Planner, you can make sure you get a perfect site, and your audience has a beyond ordinary experience. And all this is available for free.
7. Folie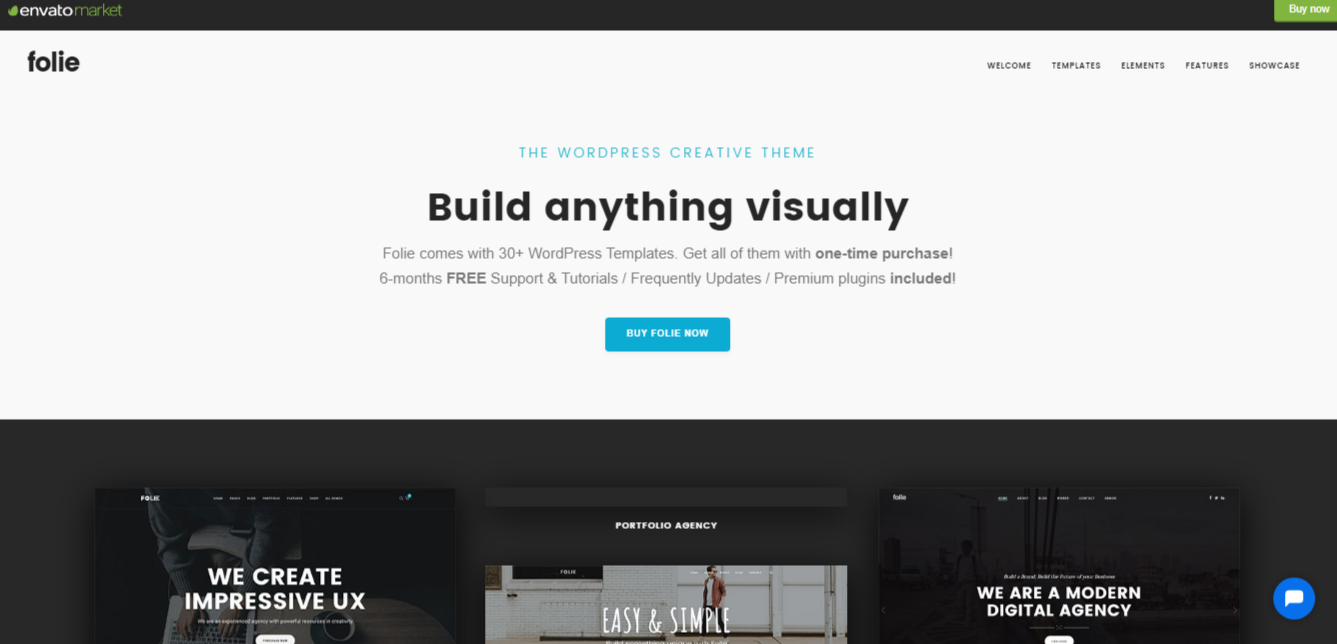 Price: $59
Another feature-loaded multipurpose event-based WordPress theme, Folie, comes with too many features. And each one adds another layer of uniqueness to your event-based WordPress site.
It is simple to use, it looks beautiful, and makes sure that your visitors have no issues.
Some of its top features include –
A front-end editor that lets you add and adjust elements right on the page. No need to keep switching between the live and preview mode.
Custom header designs can be made using the live header builder.
You can import any of the 25 demo templates with the one-click import process.
Visual composer and Live Slider premium plugins come bundled with the theme.
The theme is WooCommerce compatible.
With so many features, it won't take you long to create pages specifically suited for your event and your business needs.
Now that you know what event-based WordPress themes you can choose from for your WordPress websites, it is time to get started.
What To Do Next?
75% of website credibility comes from its design. And you won't want to go wrong with that, right? So the best option is to hire experts.
Just like you are event planning experts, you need website design and development experts to get the best results.
And with agencies like Uplers, which offer bundled services that include SEO, digital marketing, content creation, and more, it is a proposition that you cannot put down.
Their experts have several years of combined work experience. They will be able not just to help you zero in on the best template but also get your website up and running in no time.
Create stellar first-impressions with the right theme and Uplers experts backing you up.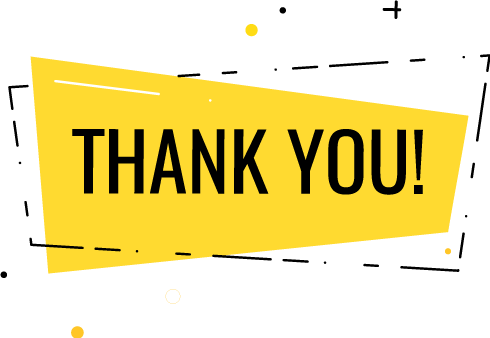 Thank you for submitting the details!
We will keep your information safe. Feel free to contact us with any questions at hello@uplers.com
Please check your email for next steps shared by Robert.