How Agencies can Draw Maximum Benefits from Outsourcing Projects
Kevin Oskow
May 14, 2020

11

Minute Read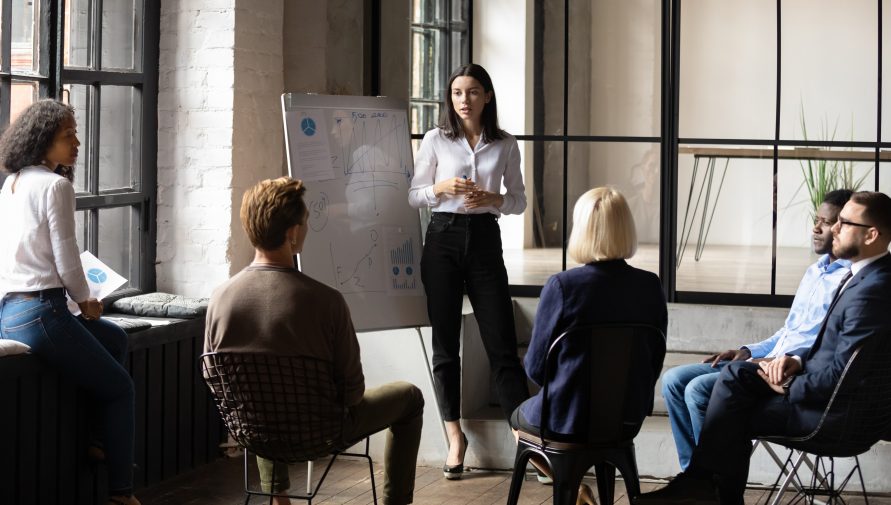 Outsourcing has emerged as a services industry by itself: Global Business Services (GBS). Its market value in 2019 was US$92.5 billion. Information technology outsourcing (ITO) contributed US$66.5 billion of that, with business process outsourcing (BPO) generating US$26 billion. 
There are factors you need to consider to optimize your outsourcing decision. We've researched deep and wide to collate the parameters that matter. Read on to maximize the ROI from your outsourcing projects and draw the utmost benefits of outsourcing.
The contents of this article include:
Why Businesses Outsource
Accessing Global Business Services (GBS) no longer remains confined to big businesses, or even to medium ones. A recent survey reveals that 52% of small businesses intended to outsource specific business tasks in 2019. 
The most commonly outsourced tasks are as follows:
Digital marketing solutions

Software development

Accounting services and tax management

Hiring and recruitment processes

Procurement and delivery (particularly for giant online marketplaces)
The top two reasons for outsourcing projects include:
To increase business efficiency by accessing relevant expertise and talent.

To increase competitive advantage by cutting costs.
Other benefits of outsourcing that agencies consider are: 
Increase time for core business tasks.

More effective use of in-house teams by outsourcing time-consuming and tedious tasks.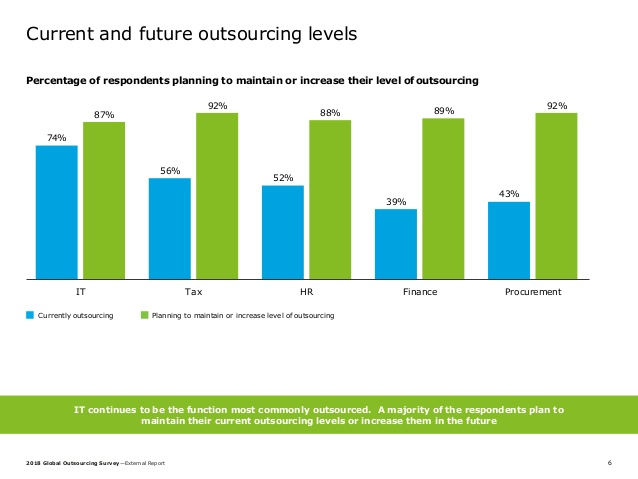 Deloitte's Global Outsourcing Survey 2016 informs that 59% of the respondents mentioned cost reduction as the principal advantage of outsourcing projects. 
According to 57% of the respondents, more time to focus on core business areas was the chief benefit of outsourcing. 
Solving capacity gaps was the key advantage for 47% of the respondents. 
The Importance Of Choosing The Right Outsourcing Provider: Slack's Success Story
Slack, the popular project management software that has been growing steadily, offers a remarkable story of outsourcing success. 
Launched in 2013, Slack was making little progress in attracting users. Then they outsourced their design concept and reappeared with a remodelled logo, an overhauled app, and a redesigned commercial website. 
The graph below clearly reflects how Slack has grown since then.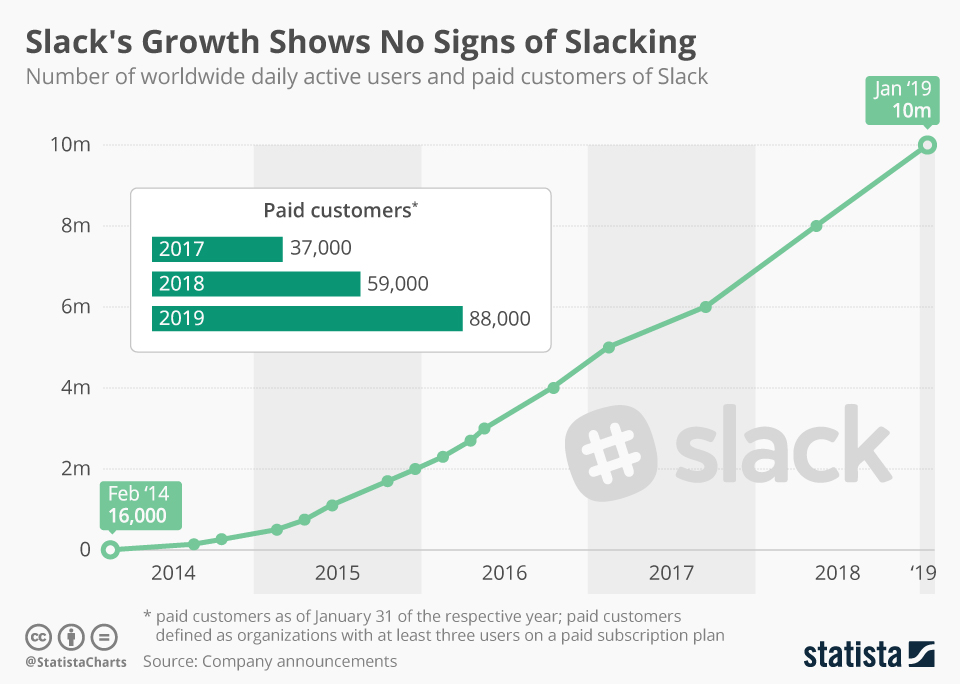 (Paid users = a minimum of three users on a paid subscription plan)
To replicate the Slack success story of outsourcing, you need to be careful in choosing your outsourcing provider.  
6 Tips Critical to Grow your Outsourcing ROI (Return on Investment) 
Rigorous research on actual outsourcing experiences combined with hardcore numbers informs our suggested indicators.
Tip 1. How To Choose The Right Outsourcing Provider
Invest the same amount of time and energy in selecting your outsourcing partner as when you recruit an in-house team member. Do your research to identify agencies and shortlist them before you begin the interview process. 
Don't forget to run your background checks. 
Here's a checklist to facilitate your pre-interview stage work: 
1. Check For Domain Expertise
In the world of technology and digitization, there's no one size fits all. 

Look for companies that have worked for clients from your specific sector. 
Or else, look for the versatility of their clientele. A company with the experience of serving diverse sectors clearly has the ability to adapt their strategies to varying industry needs and deliver great benefits of outsourcing.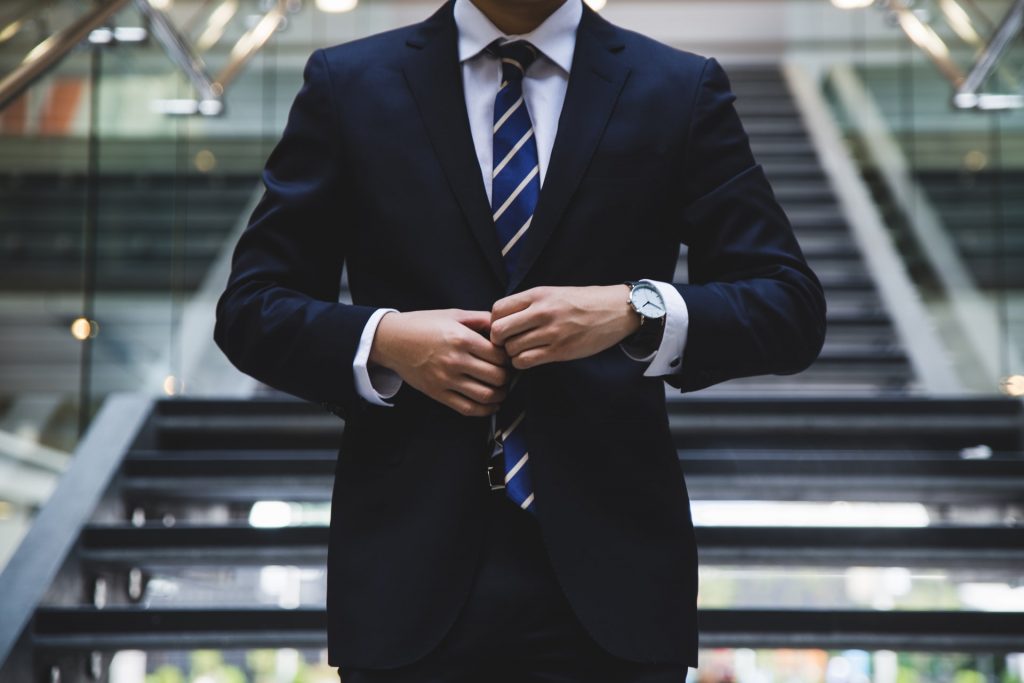 2. Check Company Stability
Imagine getting stranded midway in a high-revenue project because your outsourced partner goes bankrupt. Definitely not a situation you'd want to encounter. 
In

Deloitte's 2018 survey

on global outsourcing, the outsourced agency's resilience and performance emerge as a major area of concern, with 45% of the respondents marking that.

It is a good business practice to check a company's stability when you shortlist it as a potential outsourcing provider. 

Check for how many years it has been in business. That's a marker of stability. 

Have they survived through any economic downturns? That's the best indicator you can ask for. However, the reverse isn't true. Not facing an industry slowdown does not mean a company lacks financial stability. 

Ask for the annual audit reports once you shortlist some companies. Company balance sheets offer evidence for stability and growth. 
3. How Experienced Is The Company?
Outsourcing your projects makes sense when you can access creative and cutting-edge technological solutions to your business problems. 
A company that's been around for some years gains valuable insights. 

Insights are as important as technical skills. 

Technical skills and experience together give a company a competitive edge. 

Check for the right balance between experience and innovation. 
It is never an either/or between experience and the grasp of the latest technology. It has to be a combination of both. 
4. Check Reviews By Past Clients
Do not limit yourself to the client reviews you find on the company website. 
Ask your shortlisted agencies for the contact details of their past clients. 

Do reference calls to find out the real experience. 

The refusal to facilitate reference calls to past clients is a cause for concern. 
5. Quality Control Mechanisms Are Critical
A Harvard Business Review article stresses that internal quality control is particularly crucial for the services sector. That's because the poor quality of services may affect the clients more than the company itself. 
Checking the internal quality control mechanisms of a company.

Ask for a demonstration of the company's internal quality assurance framework. 

Have a discussion on how you will collaboratively set up the quality control framework for the tasks/project you outsource. 
6. Check The Security Control Measures
You will have to share vital business data with your outsourcing teams, irrespective of which services you outsource. Processes they have in place to keep your business data protected are vital. 
In Deloitte's 2018 survey, 68% of the respondents mentioned data security as a core concern area. It makes good business sense to be over-cautious about security measures of your outsourcing provider.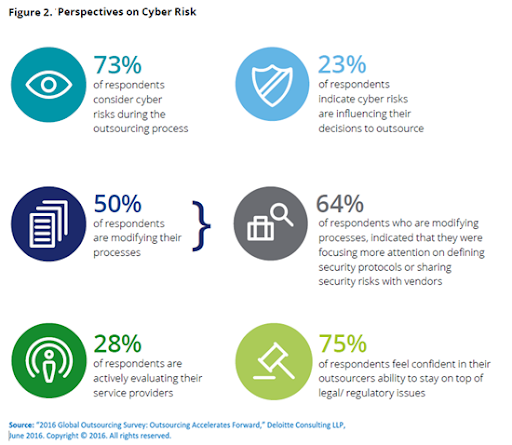 7. Is The Company Transparent Enough?
In the 2018 Deloitte survey, 39% of the respondents mentioned this to be an area of concern with reference to the outsourcing teams' transparency. 
There are different yardsticks to judge a company's transparency: 
The readiness to show audit reports constitutes one. 

The willingness to share contact details of past clients and facilitated reference calls is another. 

Their compliance with the relevant international and national laws, regulatory procedures, and statutes is another critical area in this context.
Tip 2. Choose The Right Location For Outsourcing Digital Services
Cost-cutting is evidently one of the key drivers of outsourcing decisions. However, if you make that the only criterion in your selection of your outsourcing agency partner, you may be in trouble later. 
The cost of a poorly executed project or the failure to meet the deadline may prove costlier in the end.

Balance quality with pricing. The agency offering the lowest bid may also be the least efficient in terms of quality. 
This is where your choice of location can prove important. We present important information on the top 7 countries for outsourcing digital services.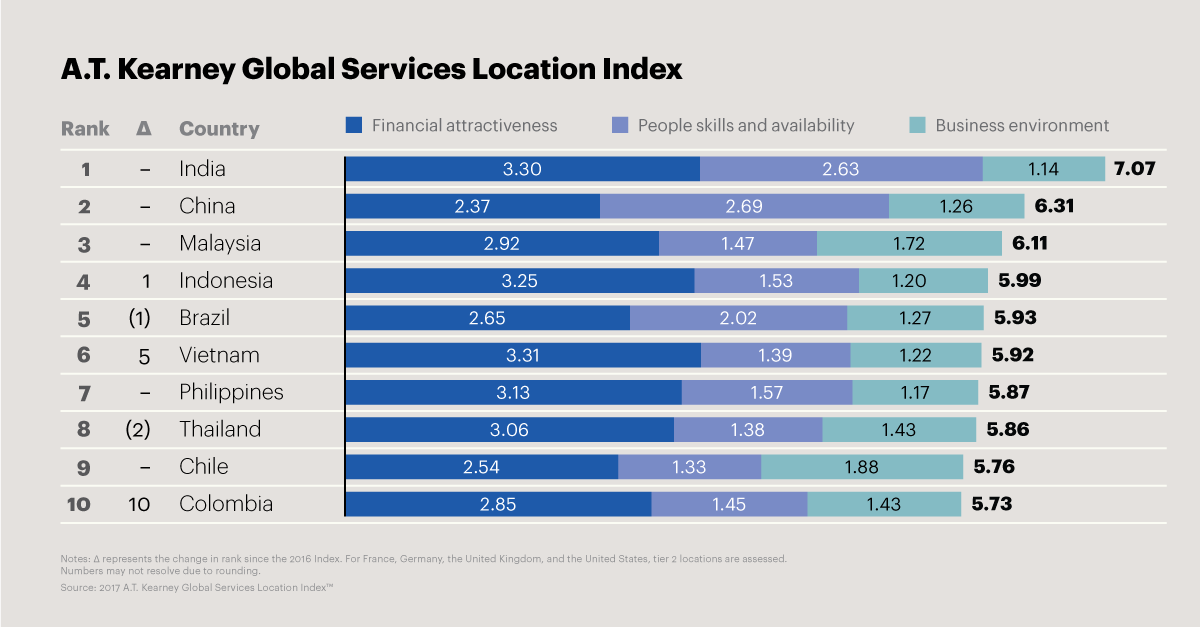 As this graph clearly demonstrates: 
India has the highest overall scores because it presents the best combination of cost, skills, and business environment. 

China scores marginally higher in skills and business environment. However, it has substantially lower scores in financial attractiveness. If you choose to outsource to China, you end up paying more. 

Countries with substantially lower skills rating than India also do not have higher financial attractiveness scores.

The only country scoring higher than India in financial attractiveness if Vietnam. However, the availability of skills is nearly half of India's. If you choose Vietnam, you may spend less, but the quality will remain a major concern. 
Among all the location-based outsourcing models that exist, offshoring is the show stopper. No other models offer the right balance of costs and skills.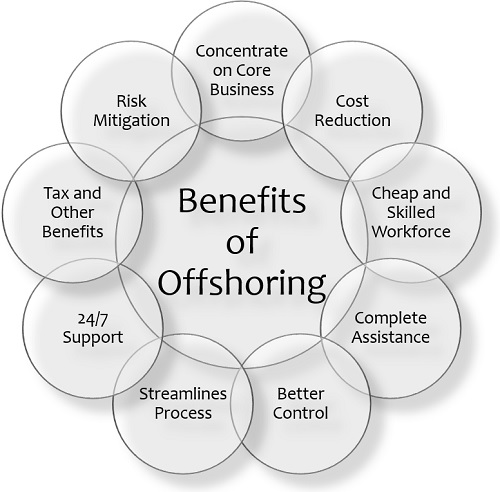 There is enough

evidence

in academic research to indicate that outsourcing projects offshore improves a company's overall performance. 

The benefits of offshoring transcend just cost-cutting and positively impact a company's access to specialized skills and the ability to concentrate on core business tasks. 

Offshoring yields high ROI on both cost and productivity. 

Onshoring and nearshoring has negative cost implications, especially for U.S. based companies. 

Offshore outsourcing is the only rational means of meeting the skills gap that exists in the U.S. in the sphere of digital capacities.
Also Read: Outsourcing Tips for Digital Agencies: What to Outsource and What Not To
Tip 3. Choose The Right Model of Outsourcing
There are different models of the client-vendor relationship in outsourcing. It is important to choose the model that best suits your purpose.

1. Project-based Model
If you have a short-term need for just one simple, fixed-time project, this model may suit your needs best. In this model of outsourcing, your outsourcing provider handles most of the responsibilities. The contract is on the basis of fixed deliverables for a fixed price within a fixed timeline. 
Pros
You get rid of most of the responsibilities

You can access expert services for your needs 

Cost-effective
Cons
You have no control on the team deployed for your project

You can't supervise day-to-day progress

Scaling may prove difficult in case of sudden changes in project needs. 

The loss can be significant if the outsourced agency misses the deadline or delivers something not up to the mark.
2. Shared Team Model
When you outsource following this approach, the project tasks are divided between your outsourced partner and members of your in-house team.  
Pros
Optimized utilization of both in-house and outsourced expertise

Cost-saving
Cons
Coordination may become a nightmare

Scaling the outsourced partner's team for sudden needs may prove difficult.

Your in-house team standards and the outsourced partner's standards may not match

Last moment discovery of any delay or failure of the outsourced tasks can jeopardize your entire project
3. The Dedicated Team Model
Also known as staff augmentation, this model is the best option for long-term ongoing support needs. You hire a team of your choice from your outsourced partner to provide the services that you require. You retain full control over the team structure and its functioning. 
Also, you do not need to spend on any overheads as the team will continue to work in your outsourced partner's office. 
Pros
Access to the required expertise without investing in the entire process of recruitment and hiring.

Your outsourcing agency partner cannot change the team of your choice without your prior permission. 

You know exactly how the project progresses as you monitor the team on a regular basis. 

Easy scalability as per need.

You save costs on salaries and overheads. 
Cons
May be more expensive than the project-based model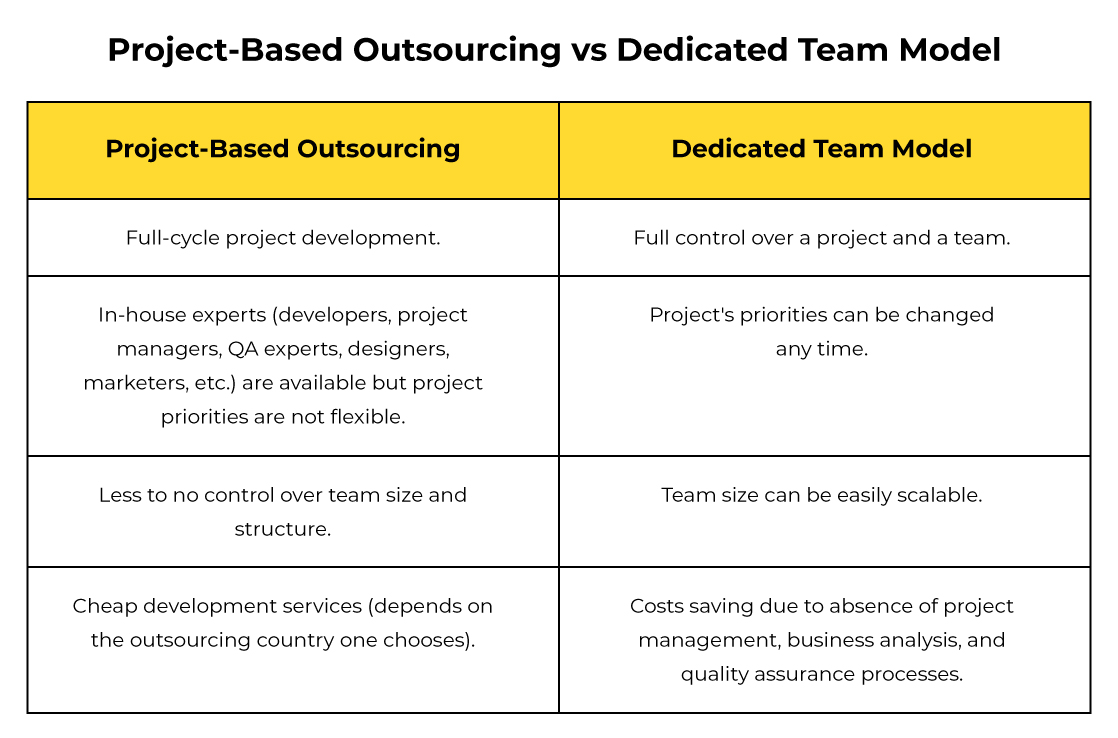 Tip 4. Pay Attention To the Contract Document of your Outsourcing Project
Whichever model of outsourcing you choose, you need to make the contract document as detailed as possible. Listing out terms and conditions in as much depth and detail as in the case of hiring an in-house team member is necessary to avoid any sudden shocks. 
Ensure including the following in your contract document: 
The scope of the project in details

Duration and timeline

Costs and payments structures and schedules

Product warranty

Agreements at the service level: especially when the project involves ongoing service needs

Ownership transfer agreement

Intellectual property protection agreement

Non-disclosure agreement

Subcontracting clause: either complete prevention or setting limits to subcontracting

Indemnity clause

Dispute resolution mechanism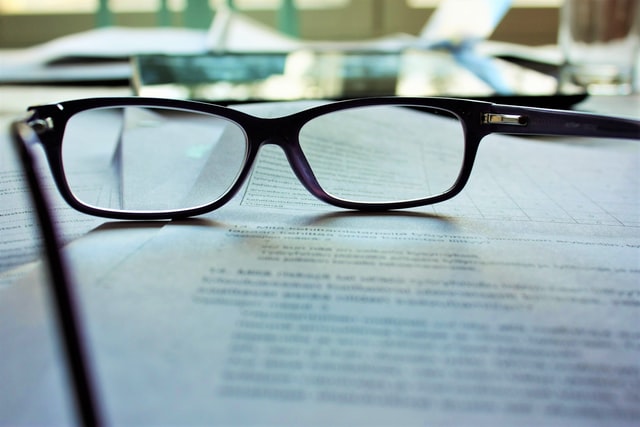 This is especially critical in the case of project-based and managed team approaches. In the case of the dedicated remote team approach, a long-term relationship with your outsourced team builds a degree of trust and dependability. The contract document does not remain the only binding factor when you desire to gain the maximum benefits of outsourcing. 
Tip 5. Structured Communication is the Key to Maximum Benefits of Outsourcing
Regular and structured communication is an essential part of effective management. The need is the same when you outsource some of your business needs to a third party. 
Do not ignore this need in case of the short-term project-based model of outsourcing. That will be your only way of gaining some knowledge of how your project is progressing since you have no control over the daily activities of your outsourced team. 

A structured communication schedule is also crucial in the managed team approach. Coordinating the two teams and keeping their standards and progress in sync would be impossible without such a schedule. 

Work out the mode and schedule of communication carefully when outsourcing projects offshore, taking into account the time difference. 

When using the dedicated team model, the approach should be the same as in the case of one central office managing teams in different locations. 
Below is a list of preferred remote communication tools you can use, in addition to communication options built into project management tools.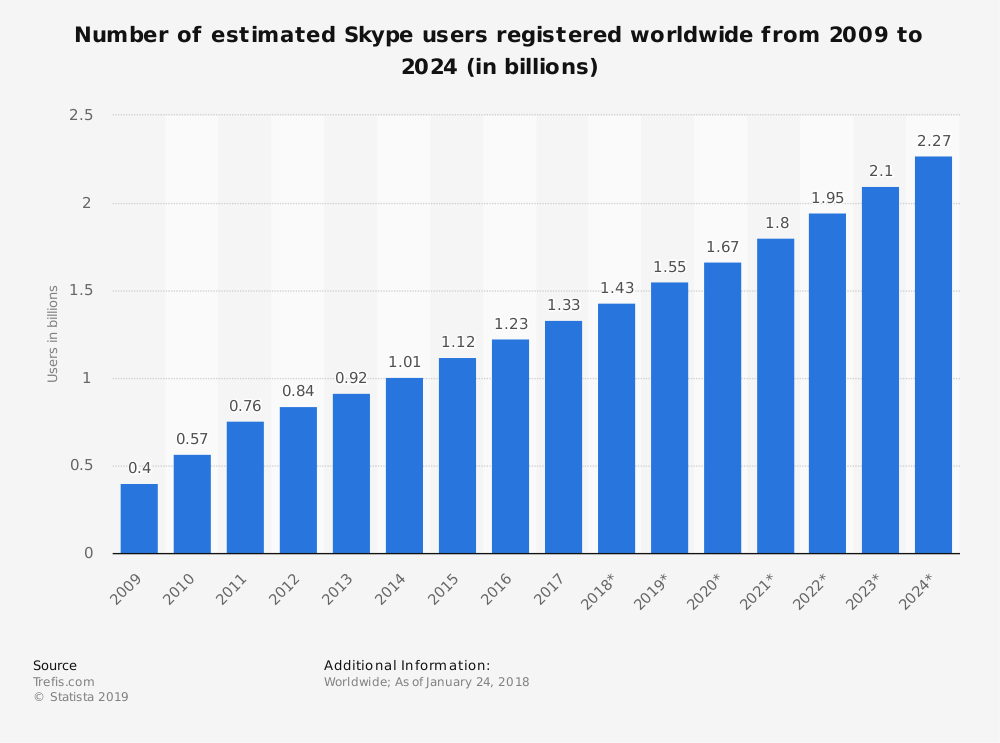 Tip 6. How To Ensure Effective Management When Outsourcing Projects Offshore
The most important task for the effective management of an offshore remote team is the adoption of an online project management tool. Each digital project management tool has its pros and cons. However, the most popular tools are as follows:
Remember that the adoption of an online project management tool is effective only when you ensure that all project-related information sharing happens on that platform.  
Add-on Factors to Consider When Working with an Offshore Partner:
Get beyond the client-vendor relationship – treat your offshore outsourcing company as a strategic business partner.

Respect diversity – be careful of cultural differences. It is critical to remember that your offshore remote team members are human beings, not robots.

Remember that your offshore remote team brings in skills and talent in a cost-effective manner. Treat them as equals.

Set up a structured communication plan, accommodating the timezone difference. Use any of the popular tools we have mentioned.

Develop and apply your monitoring framework. You can develop your monitoring parameters collaboratively with your offshore partners. That works best.
Avoid These Common Mistakes When you Decide to Offshore: 
Do your homework to decide the best destination and the model that suits your needs best. Utilize the cues we have shared. 

Do not compromise quality for cost-cutting. The cheapest is not necessarily the best. Rather, it may prove considerably costlier in the long run, if the product or service does not meet the required quality standards. 

Do not ignore the need for due diligence when hiring. Use the pointers shared here. 

Do not ignore the importance of the contract document. It is critical to integrate all the aspects we have spoken about.  

Do not offload all your responsibilities. Retain overall monitoring and supervision. It often seems tempting for overworked and multitasking CXXs. But there are dangers involved. 
You may discover too late that the project is progressing slower than planned. Or that there are quality lapses. 
When you retain the overall monitoring and supervision authority, you protect yourself from such rude shocks at the last moment.
Do not micromanage. Firstly, it will be counterproductive since it will take too much of your time. Also, it may typically lead to other complications as in any case of micromanagement. 
Your offshore partners may lose their own drive and initiative, thinking that they are obligated to work only under orders from you. That is never the way to get the most from a team. 
That may actually lead to missing out on the range of skills and expertise your offshore remote team can bring in your project. 
Also, the timeline could go haywire when you do not have time to micromanage and your offshore remote team suspends work because you are unavailable.
The Key Takeaways
The 2016 Deloitte global survey on outsourcing mentions that 78% of the respondents are happy with their outsourcing experience. We believe that the remaining 22% encountered some problem or the other because they slipped somewhere in following the tips we have shared with you. 
To ensure you witness the maximum benefits of outsourcing, follow the tips we have shared here. 
We also want to emphasize that the global experience with outsourcing clearly demonstrates that offshoring to a country like India works best from all the parameters. It extends your access to the required skill-sets in a cost-effective manner. 
Finally, for all your long-term and ongoing support needs, the dedicated team approach works best. It allows you to enjoy the benefits of accessing an extended talent pool without incurring the costs of overheads and monthly paychecks even when there is no work.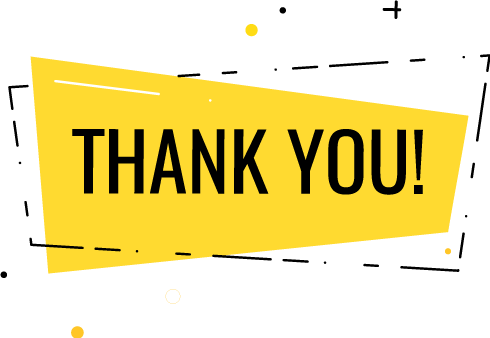 Thank you for submitting the details!
We will keep your information safe. Feel free to contact us with any questions at hello@uplers.com
Please check your email for next steps shared by Robert.