Staying Connected While Working Remotely: Useful Tips
Niharika Sinha
May 26, 2023

4

Minute Read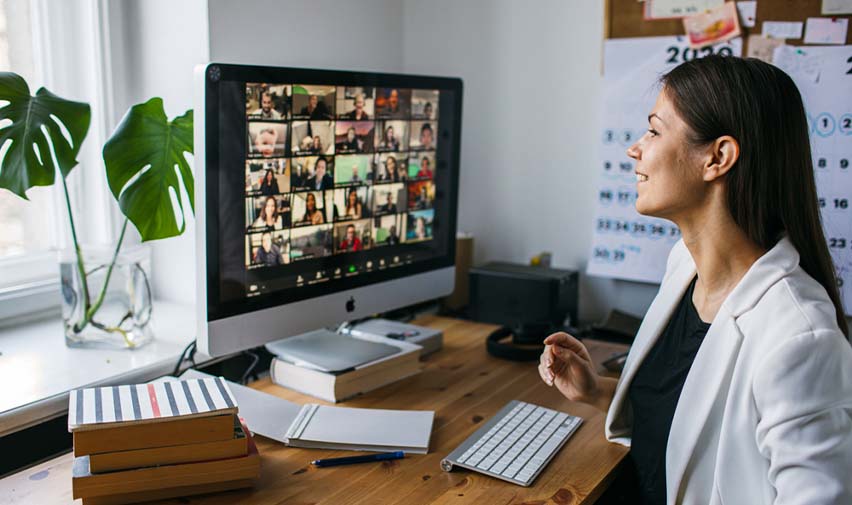 A Flexjobs survey revealed 65% of respondents wanted to work remotely full-time, while 32% prefer a hybrid work environment.
A Goodhire survey revealed that 85% of Americans prefer to apply to jobs with remote work options. 
People around the globe love remote work. A good work-life balance, flexibility, zero commutes, and no distractions are some benefits people associate with working remotely. But that does not negate the fact that remote work comes with its own set of challenges. 
Communication is the number one challenge associated with working remotely. You can no longer walk over to your colleague's desk for clarification or read facial expressions and body language to understand what they are trying to say. 
From choosing the wrong medium and words to a lack of trust and misunderstandings, there may be numerous challenges when working with people from different locations, geography, and even time zones. Effective communication is the lifeblood of any organization. This blog discusses some tips to stay connected with your colleagues in a remote environment and thrive as a remote worker.
Staying connected with your team while working remotely
Here are some of the things you can do to stay connected with your remote colleagues:-
Connect beyond work
Just because you aren't physically located in the same office space doesn't mean you cannot talk to them about things outside work. Nobody thinks about work all day. Make it a point to connect with them casually occasionally, where you can talk about anything from how they spent their weekend to their favorite movie or just about things in general. Virtual coffee sessions or fun Fridays are a great idea to get to know people beyond work and establish a connection with them. 
Get on video calls
Video calls are the best alternative to in-person meetings in the office. After all, putting faces to the names you talk to daily is always good. It's always a good idea to keep your camera on during meetings as it tells people that the other person is actively listening to what we have to say and is alert and engaged. Without the camera, people wouldn't know if you are listening, as you could be talking on the phone or finishing other tasks. It is a mark of respect for the person speaking and helps people feel together. Working remotely doesn't mean you are alone.
Prioritize documentation
Gone are the days when you could walk over to your colleague's desk or go into your boss's cabin to seek clarification. You're dealing with colleagues in different parts of the world, working in multiple time zones. Asynchronous communication is the key. Create documents and spreadsheets for everything: status updates, communicating your ideas, or brainstorming. Documentation ensures everyone is on the same page. Write down everything you want to convey to the other person, and you will be thankful later. You could even use online whiteboards to discuss or brainstorm ideas with your colleagues. Be vocal about your thoughts; if you do not understand something, make sure to speak up or put forth your point of view.
Be active and make yourself visible
 It is easy to spot people when they are in office. You pass each other by in the hallway or during lunch, but that isn't the case in a remote setup. Be active even when you are working remotely. Active means participating in discussions and letting people know what you are working on. Just a simple message to your colleagues or teammates:' Hey, how are things? What you are working on is enough. You could even let your manager know what you are working on! Simple etiquette like prompt replies, seeking feedback on things you have done, etc., strengthens your bond with colleagues and helps you stay fresh in people's minds. 
What's the key to getting remote work right ?
Remote work isn't for everyone. From distractions from family to responsibilities on the home front, there are unique challenges that remote workers encounter. Not to mention the isolation and boredom that can set in from working alone and being confined to the same place. Working in a remote setup successfully requires specific planning and commitment. 
Set proper schedules
People think sitting at your desk, working until evening, and finishing everything is easy. That's easier said than done. Even if you manage to do it for a day or so, you will feel stressed and exhausted. Remote working requires some discipline. Taking breaks is essential. It helps you recharge your brain and focus better. How you want to do it is entirely up to you. While some may prefer to break away from the screen for 5-10 mins every hour or so, some may prefer working for a couple of hours and then taking a good 15-20 mins break. Identify what works best for you and stick to it. Just because there are no set lunch or coffee breaks, remote workers find themselves working more hours. This can result in burnout. Feeling bored working from the same place? How about heading to the nearest coffee shop and working from there? The beauty of remote work is that it gives you the power and flexibility to create your schedule.
Focus on your health 
Just because you are at home all day doesn't mean you cannot have a routine. Take time out to go to the gym, take a walk, or go for a swim. It is essential to have that momentum in your life. Have a routine incorporating everything from work to workouts and leisure time to following a proper sleep and diet cycle. Doing so will help you stay and boost your productivity. 
Draw a line between work and personal life
When we work from home, the lines between work and personal life can get blurred. Home and work-life merge into a never-ending identity as we check work emails and respond to messages just before bed. The key to thriving as a remote worker is to know how to unplug. Set clear working hours and stick to them. Refrain from checking emails or messages after that. Spend time with kids, play with your pets, or go out with friends. Let your managers or colleagues know clearly when you are available and when you aren't so they know and don't disturb you barring emergencies. 
Final thoughts
Remote or hybrid work isn't going away anytime soon. While not everyone is cut out to work in a solitary environment, it is something that we must get used to, considering the new normal we are in. There are strategies out there for everyone. From using the right tools and technologies to developing effective work-from-home habits that help you thrive as a remote worker, remote work doesn't have to be an obstacle to overcome. All it needs is a little patience, self-control, and discipline, and it could be your answer to having complete control over your life and a fulfilling career.