A comprehensive guide to building successful Ecommerce WordPress site
Kevin Oskow
July 26, 2021

16

Minute Read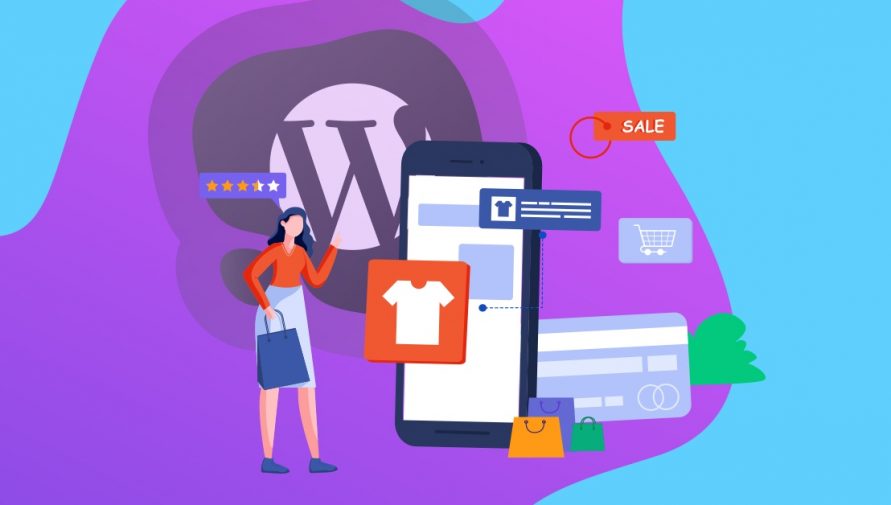 During the last five years, ecommerce has grown rapidly, and it's in a continuous ascent. And it seems like you're finally doing it too. This is the moment you're turning your entrepreneurial dreams into reality and starting an Ecommerce website. Your plan is to create an online store online, and you choose WordPress to do it. WordPress is used by 30% of all websites – no surprise there. We have all the information you need to build your Ecommerce WordPress Site.
What is an Ecommerce store?
Ecommerce has been around since 1994, when Phil Brandenberger purchased the first product online – 'Ten Summoner's Tales" by Sting. Fast forward to 2021, an estimated 27.2 percent of the world's population shops online. 
Ecommerce, or electronic commerce, refers to transactions conducted via the internet. Every time individuals and companies buy or sell products and services online; they're engaging in ecommerce. 
Transactions of money, funds, and data are also considered Ecommerce. These business transactions can be done in four ways: Business to Business (B2B), Business to Customer (B2C), Customer to Customer (C2C), Customer to Business (C2B). The standard definition of Ecommerce is a commercial transaction which happens over the internet. Online stores like Amazon, Flipkart, Shopify, Myntra, eBay, Quikr, Olx are examples of E-commerce websites.
Websites that sell goods and services on them can be considered ecommerce. It can follow any of the above ecommerce business models. Here are some common online ecommerce sites to illustrate how broad the potential range of ecommerce is.
Common Types of Ecommerce Websites
Physical Goods Ecommerce Website: Retailers who have brick and mortar stores can host their store online to sell to a broader audience. Online sales are a great option for retailers who don't wish to invest in physical stores but want to increase sales.
Service-based Ecommerce Website: Online services, such as freelance work, have become a huge trend recently, with websites serving as a liaison between service providers and potential customers.
Digital Products Ecommerce Website: Companies that sell digital products like software or video games don't need physical stores to sell their products as it only involves the customer downloading the product.
Dropshipping Ecommerce Website: In contrast with physical goods stores, dropshipping involves merchants selling products on their website, but not keeping any inventory themselves. The businesses that want to sell goods do so by finding a supplier, waiting for customers to order the products, and then the supplier fulfills the customer requirements.
Due to the pandemic, people have avoided going into physical stores, increasing e-commerce growth. Since many brick-and-mortar stores are returning to normal, many of their websites have been redesigned so that customers can conveniently shop online.
Ecommerce selling Statistics
The future of eCommerce is looking very bright, based on collected stats from 2019 to 2021. More and more people are buying products and services online. That's why many businesses, corporations, and small companies are now putting extra effort into their eCommerce stores.
Take a look at the stats below, and see what we mean. eCommerce is the future.
 In 2021, ecommerce sales are expected to account for

18.1 percent

of retail sales worldwide.

According to Statista, the number of people buying goods and services online in 2021 will be over

2 billion

. It is expected that these numbers will lure more companies into the e-commerce sector.

The largest group of digital buyers in the US were millennials aged 25 to 34 years in 2020.

33.6 percent

of shoppers look up price comparisons on their mobile devices while in a physical store.

By the year 2040, it's estimated that 95% of all purchases will be through eCommerce.

The eCommerce industry is growing 23% year-over-year, yet 46% of American small businesses still don't have a website.

Online stores with a social media presence have an average of 32% more sales than those that don't.

The eCommerce market is expected to generate over $4.5 trillion in 2021, and those numbers will continue to increase in the future.

Around 50% of people say they'd purchase something from a website's chatbot using

conversational marketing

. (Drift)

Multi-step forms in WordPress

can lead to 300% more conversions. (

Venture Harbour

)

Ecommerce is one of the

fastest-growing industries in the global economy

that grows by nearly 23% every year. And it is projected to be a $27 trillion industry by the end of this decade.
Popular Ecommerce Platforms
A few popular ecommerce platforms rule the world when it comes to their frequency on the entire web.
Well, WooCommerce is the most popular content management system available worldwide. The incontestable leader is WooCommerce store having a usage distribution of 26% in the top 1 million websites. It occupies the top in the market shares, followed by Magento, OpenCart, and Shopify. 
According to statistics, WooCommerce is the most trusted online shopping platform, holding 26% of the entire market.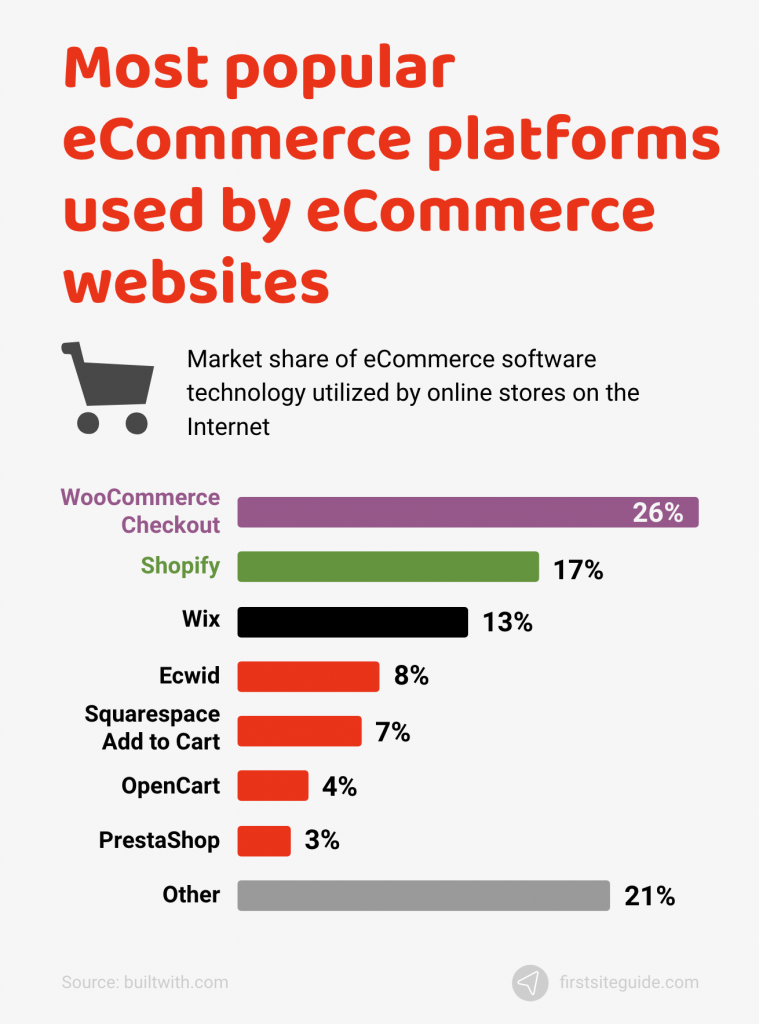 Why is WooCommerce the Leader in the market?
WooCommerce is probably the first eCommerce platform in the world, and you are probably wondering now what makes it special. WordPress.com runs WooCommerce, the e-commerce extension of WordPress, the most popular content management system, powering 25 percent of all websites.
WooCommerce is widely used by WordPress users as a means of running online shops. They are more trustworthy due to their features, capabilities, and convenient user interface. Let's find out about more such benefits of the WordPress website.
Why should you build an Ecommerce WordPress Site?
If you choose WordPress to create a website, you join the almost 455 million other businesses worldwide that use this largest content management system. But WordPress is far more than just personal blogs. Nearly 60 million Ecommerce sites exist on WordPress, from local sellers to fortune 500 companies alike. Why do so many choose WordPress for eCommerce, and why is it the right choice for your online storefront?
Pros:
It's free.

Great content management features

Highly scalable and stable

Solid Security

Lots of themes/designs to choose from (both free & paid) 

A range of plugins for extending the functionality of the system.

Exceptional customer support community.

Functions on all devices

Variety of customization options available

You can add as many products and attributes as you want.

All devices are supported.

Once installed, you're free to do with it as you wish. Several customization options are available, and they are easy to work with. There is no limit to how much control you have over your site.

It's effortless to install and to use. It provides an intuitive interface, and you don't need any coding skills to manage it.

It comes with user reviews and ratings, which means that you can give your customers the freedom to rate your products.

This is more like a bonus. People who already use WordPress will have no trouble switching over.
Although WordPress isn't specifically an Ecommerce platform, it meets all the requirements of being suitable for ecommerce websites. Below, we'll discuss four key reasons why it's an excellent choice!
Security Is a Priority
When your shop operates online, you have access to sensitive data that customers provide, such as credit card information, residential and office addresses, and more. This trust is essential, and you need to do all you can to keep their information safe.
When you create Ecommerce site with WordPress, plenty of features can help lock that information uptight. Despite frequent updates and a plethora of security features, WooCommerce for WordPress is one of the most secure available, as a plugin. In addition, WordPress core updates contain security features that keep your website as safe as ever.
Your host should provide its safety features, too. You should find a host that offers things like SSL certificates (if you do not already have one), delivers updates directly from the WordPress core, and monitors your website for malware. Even the most seasoned hackers would think twice about attacking the Jetpack-enabled fortress when there are all the other features that come with it.
WordPress Is an Affordable Point of Entry
It's likely that you have a small budget (or none at all) when starting an e-commerce store. Thanks to this platform, a high-quality solution can be found at an affordable price. You will have to spend less on WordPress than you would on other platforms.
Listed below are the essentials for setting up a website:
About $10 to $12 a year for a domain.
Web hosting costs roughly around $30/month.
The WordPress platform is free to download and use, and won't cost you even a penny.
You don't need anything else to build your e-commerce website. However, spending money on other options is also a choice. If you want to improve your security further, for example, the cost will likely increase. Considering getting a dedicated e-commerce theme and trying out some premium e-commerce plugins could also prove to be beneficial.
Scalability
Scalability refers to the degree to which WordPress can adapt to the growth of your eCommerce site. Based on your business requirements, WordPress can expand to any size and scale as a content management system (CMS).
It is important to note that the scalability of your site is affected by the web host you are using. If you use a small shared platform for your blog, it will run smoothly even with moderate traffic. The platform is challenging to manage, however, if your blog gets a lot of traffic.
The key is to use a high-quality host in conjunction with a platform that you will be able to put to good use. If you take a look at the WordPress Website Showcase, you'll see that it's packed with many very high-profile sites, such as The Village Voice and TechCrunch. Platforms like this offer you support, regardless of your goals.
Support from WordPress
WordPress has certainly proven to be a powerful platform that allows you to create an eCommerce site with all the features you need. A WordPress website can be created easily, but running a successful eCommerce site is not. You may need to familiarize yourself with some technical or conceptual information. There is, however, no problem with finding a solution when using a WordPress site.
Previously, we mentioned that WordPress has a very active community that always helps newcomers. If you have never used WordPress before, you can get support from these sources:
Support site for WordPress

Quickly learn WordPress using WP Apprentice and Lynda.com 

YouTube channels like WPBeginner and WPCrafter

Support forums for different themes and plugins (e.g., the WooCommerce forum)

Q&A forums

Community support
How to build an Ecommerce website using WordPress?
In order to begin the website building phase, you must first complete a few preliminary steps that provide the basis for getting started.
Create your brand.

You must first work out the basic details of your brand before starting an eCommerce business. Your eCommerce website construction decisions will depend heavily on the decisions you make at this stage, so do this first.

The steps involved in creating your brand are as follows:
Selecting your products
Which products do you plan to sell on your eCommerce WordPress website? Your website will sell handmade items or wholesale products you buy and resell? Prepare an inventory plan that will become the basis for your website, and figure out what you want to sell.
Be sure to make a throughline in everything you choose when choosing your products. Selling skateboarding t-shirts alongside dinosaur toys would be a weird mix. Identify inventory that is suitable for grouping together under one brand. It's easy for Amazon to sell a huge variety of products now, but they began as a bookstore and expanded over time.
Researching competitors
For determining your brand positioning and price, it is important to conduct competitor research. Additionally, it can serve as a useful source of inspiration for strategies and approaches to increase marketing effectiveness. Your competitors have already done the research and have tested what works for them so you can borrow some of their insights and start out in front of the competition.
Choosing a name
You're starting a business; what will you call it? Choose a name that is easy to remember and you enjoy the sound of. The description should convey what your company does and include a popular keyword associated with it. Combining this step with step #2, choosing your domain will maximize your results.
Developing your unique value proposition (UVP)
What makes you unique among your competitors is your unique value proposition. This statement summarizes what you provide customers and why they should choose you instead of other available options. A good UVP serves as the foundation for the rest of your website and marketing.
2. Score your perfect domain name
Your domain name is basically your website's unique address. It's the part after the 'www.' in your URL.

You can buy a domain name from sites like ClanCult. If you're lucky, you'll find the one you want is free and selling at the standard low rate ($10 – $20/year). If you're not so lucky, your dream domain name could be unavailable or available via resale at a much higher rate – sometimes several hundred or even thousands of dollars. This is only for the first year, though – even the priciest domain names will renew at the standard rate ($10 – $20/year) after that.
It's generally a good idea to keep your domain name as close to your brand name as possible and to keep it short and memorable.
3. Sign up for web hosting
You will also need a hosting provider, a service that will host your website on the Internet. By having a dedicated hosting provider, you're assured that your website will load quickly and not suffer from extended periods of downtime.
You have the option of a shared or dedicated host. Your website is on the same server as several other websites with a shared host, which is cheaper. Still, it often provides you with less control over your website and potentially smaller storage and bandwidth availability. Meanwhile, a dedicated host is more expensive but gives your website a whole server exclusively for your use and gives you a wide degree of control, storage, and bandwidth.
eCommerce web hosting plans cost around $5-$20 a month. When choosing your provider, look for a company that promises consistent uptime, compatibility with WordPress, and reliable customer service. In eCommerce, how accessible your website is tied directly to how profitable it will be. A provider with inconsistent service will cost you lost sales. 
4. Install WordPress
After snagging your domain and host, you can now install WordPress, and there are two ways to go about it:
One-click WordPress installation
As you might expect, the first option is definitely the easiest and is the option we'd recommend. When you're choosing a hosting provider, look for those offering the perk of 'one click' installs – check out the providers on our list of the best WordPress hosts to see a selection of the best. 
Once you've signed up with a hosting provider which offers this kind of installation, basically all you have to do is go into your hosting dashboard and hit a button that says 'Install WordPress.' Here's our guide to installing WordPress with Bluehost, and you'll find the process pretty similar with most hosting providers. 
Manual WordPress installation
If your hosting provider doesn't offer one-click WordPress installation, it's a question of downloading WordPress to your computer, then uploading it to your hosting dashboard. It's easy enough; it's just not as easy. Check out this WordPress guide on installing the software yourself. 
5. Install the best ecommerce plugin for WordPress
Once you've chosen an Ecommerce plugin for your WordPress Development, it's time to install it through your WordPress backend. For convenience's sake, the following steps assume that you chose the WooCommerce platform:
Log in to your WordPress dashboard.

On the sidebar, go to the Plugins section and click "Add New."

Source

In the search bar, type "WooCommerce" and hit Enter. Click "Install Now" on WooCommerce by WooThemes.

Source

After a few moments, this button will turn to a blue one which says 'Activate'. Click this. 
If you're still at the stage where you're looking for a hosting provider, you may want to check out Bluehost's partnership with WooCommerce. Bluehost offers an all-in-one solution for WordPress Ecommerce setup, which includes a domain name, WordPress with WooCommerce pre-installed, and SSL certification to keep your online store secure.
6. Setting up the Product Pages
Now that you have your plugin set up, it's time to start adding products and their product pages.
Begin by entering your WordPress admin panel, then select "Products" on the sidebar and select "Add Product." WooCommerce allows you to add both physical and virtual products to your store.
The following tips ensure that your products are attractive to customers and can be located easily either from your storefront or through a search engine.
a) Don't forget your titles!
Your product should always be named in the title bar when you add a product to your store. You should also use SEO tools such as Yoast to determine the best possible title for your product based on SEO.
b) Create catchy product descriptions.
Don't copy descriptions from the product's manufacturer. Be unique and creative with your descriptions. Also, use very specific, long-tail keywords that will ensure your product appears in search engine results. Finally, be short—limit descriptions to 150-250 words.
c) Mind the quality of your images.
Use a square-shaped featured product image to conform to WooCommerce standards. Also, use large, high-quality images to attract more customers.
b) Categorize and tag accordingly.
Place your products under categories and tags. The effect is twofold: Customers will have an easier time browsing for them, and Google will also consider them similarly to keywords.
7. Payment Options
The next step is to set up the payment method. You can either choose to integrate Stripe or PayPal with your store.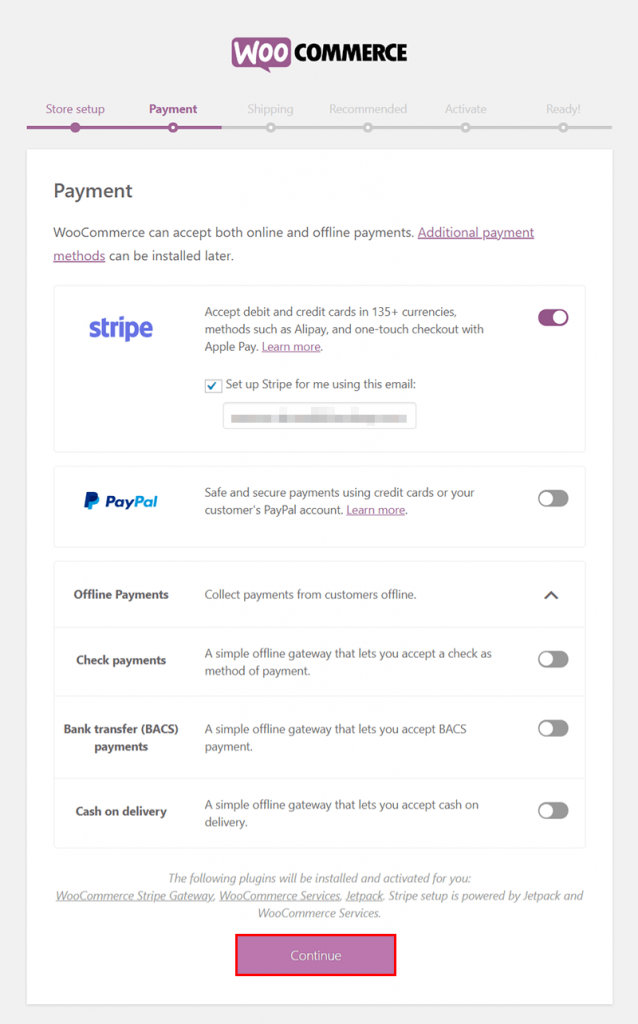 As Stripe and PayPal are both popular options, we'd recommend you enable both. You can add your accounts at a later date if you don't have them set up yet.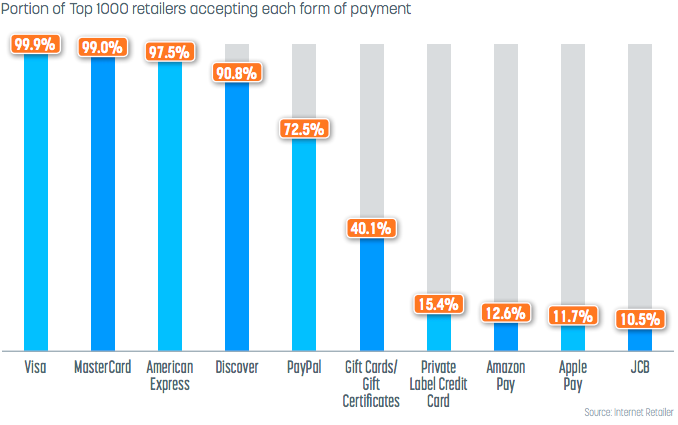 8. Shipping
The third step is to enter shipping information. WooCommerce bifurcates shipping into two zones. You also have to select the Shipping Method and the pricing model, such as free or fixed shipping costs.
9. Choose your WordPress Ecommerce Themes
The next stage is to decide which 'recommended' plugins to take forward to your store and whether you want to opt for WooCommerce's own theme.
When perusing themes for your website, make sure you find one that's compatible with the WordPress plugin Ecommerce you chose, responsive, and well suited to the website you have in mind. If you work with a graphic designer to build your website, they'll likely have favorite themes to recommend.
Popular WordPress Ecommerce Themes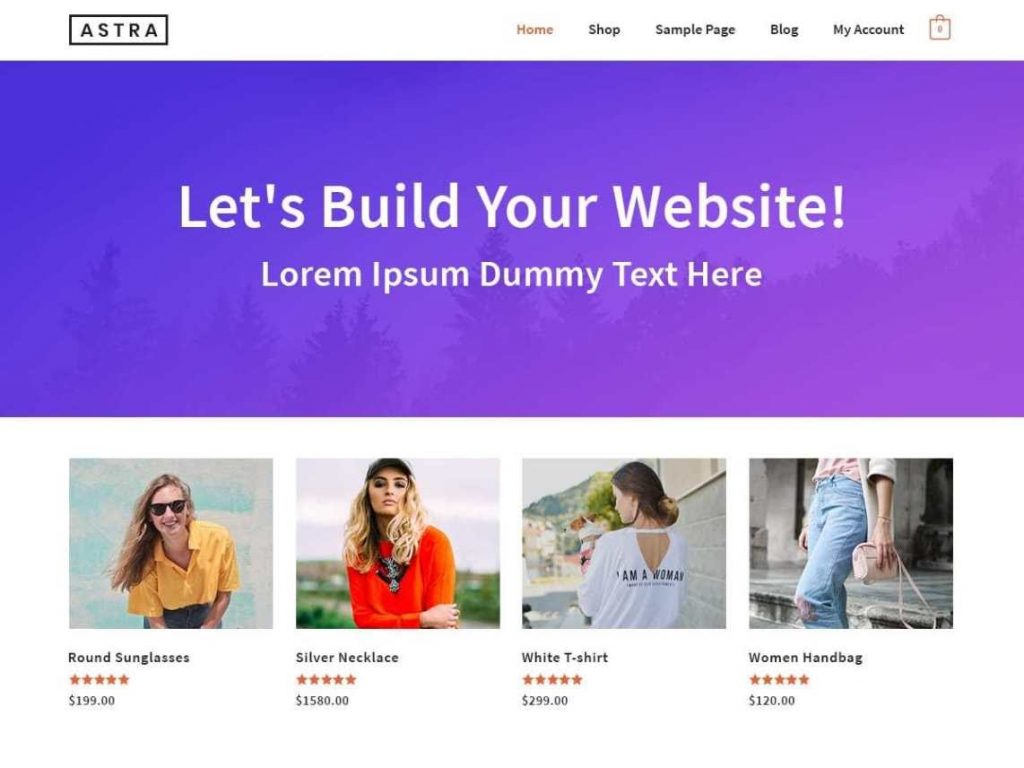 Astra is one of the most popular WordPress eCommerce themes currently available. The Astra theme has a perfect 5-star rating, with over 2,000 votes from users. It's WooCommerce compatible along with many page builders, including Elementor, Visual Composer, and Beaver Builder. and touted as the "fastest-growing theme of all time."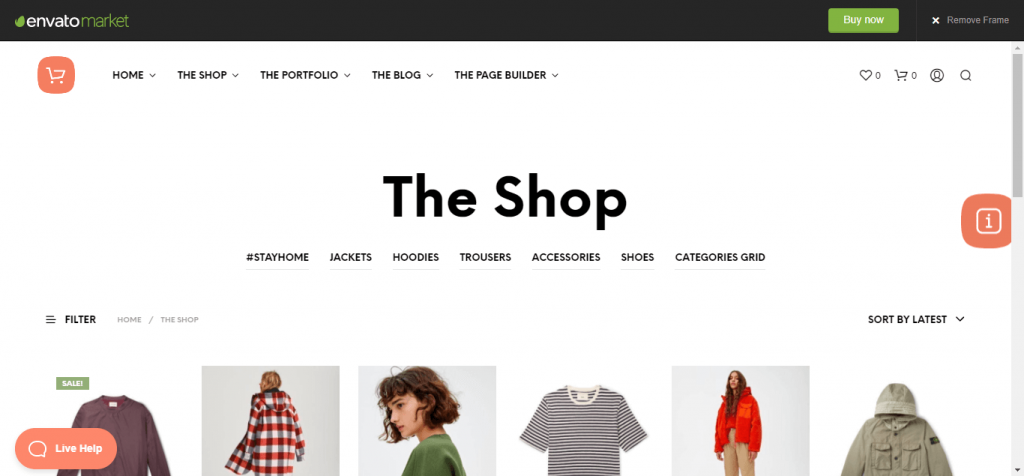 Shopkeeper is a fun ecommerce theme that allows you to create gorgeous-looking online stores. One of the reasons why Shopkeeper is so popular is because it is very easy to set up. The Quick Setup feature allows you to launch your store quickly with minimal hassle.
You can create wonderful image galleries for all of your products, and the theme also includes a plethora of demos that you can use to get your site off the ground. There are also customizable light and dark options for your website.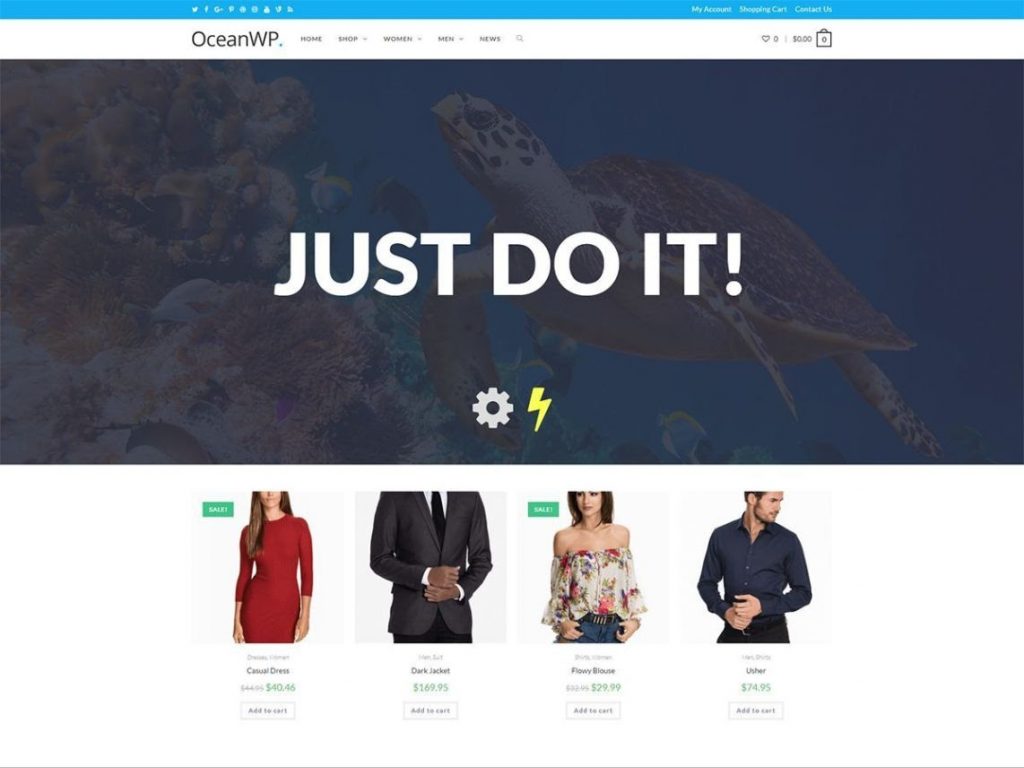 OceanWP can cater to any industry as it has outstanding built-in eCommerce features that can be a great asset to any online shop. This WordPress theme is WooCommerce-ready and is compatible with eight different page builders.
OceanWP theme is also incredibly fast, fully responsive, and retina-ready – qualities that can significantly improve the user experience.
You can enhance the customer's buying journey by using features like a Floating Add to Cart Bar and an ever-present Add to Cart button.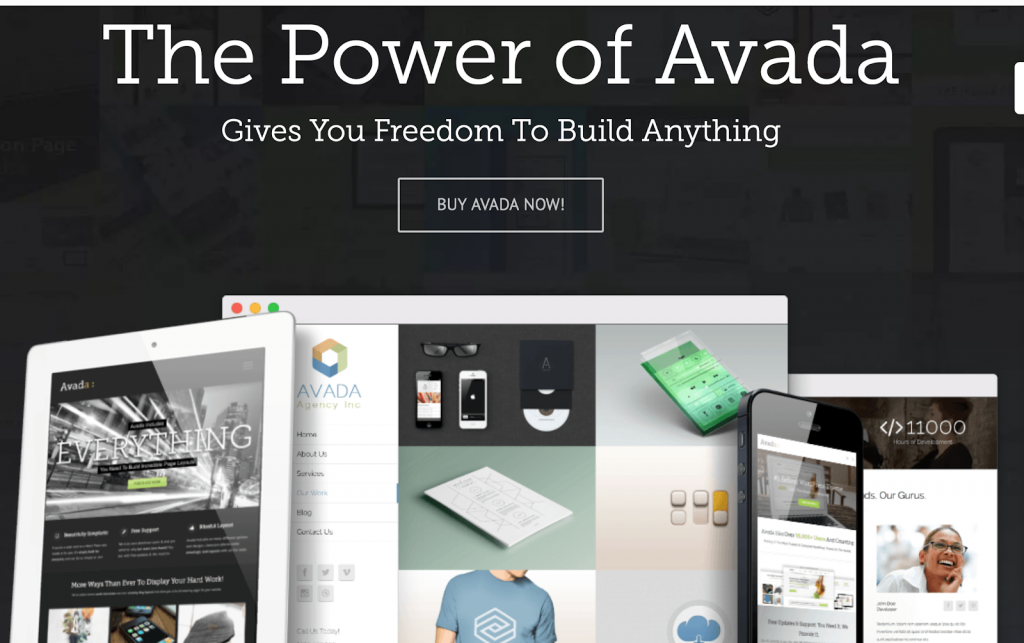 Avada bills itself as the #1 selling theme of all time. While it's not exclusively for eCommerce websites, it can absolutely be put to that use. It comes with a number of pre-made web page designs and a website builder that makes customization easy.
Those are a tiny sampling of the many eCommerce themes available, so if they don't meet your needs, get out and do some browsing. But if you're overwhelmed by all the options available, they're a good place to start.
10. Install additional Woocommerce plugins
Adding plugins to your site is super simple: 
Log in to your WordPress dashboard.

Head to 'Plugins,' then 'Add New.'

Use the search bar in the top right-hand side to search for specific plugins or the general feature you're looking for.

When you find the one you like the sound of, look at its reviews and ratings to check it seems trustworthy.

Once you're happy with your choice, hit the 'Install Now' button.

As WordPress has finishes downloading the plugin, you'll get a completion message and be prompted to click 'Activate Plugin.'

Next, head to settings to configure your plugin – each one will have a different process for this but should have instructions in the plugin description.
Here are three plugins we really rate for online stores:
1. Yoast for SEO guidance
Having the best online store in the world won't mean a thing if nobody can find it! Enter Yoast SEO – the handy plugin that will help you climb the search engine rankings, giving you the best possible chance of securing a spot on page one. SEO stands for search engine optimization; it's all about making small changes to your site to help search engines 'read' and 'understand' your content better and to 'prioritize' it well as a result. 
2. Securi for security
When you're dealing with card payments on your site, the security stakes are much higher. While there are free security plugins available (such as Wordfence), we think this is an area that's worth spending a little extra on. Securi plans start at $199/year, and you'll need to install the free plugin from the WordPress directory to enable it.
3. Site Reviews for reviews
It has been consistently proven that social proof is one of the most important factors for getting users to take the desired action – in this case, that means buying your products. Installing Site Reviews will enable customers to leave a review on your site.
11. Launch your Ecommerce WordPress Site
Once you're basically happy with how your site works (remember you can always 'Preview' pages to see how they'd look live), it's time to make it public.
This is the easy part!
Go to 'Settings', then 'Privacy'. Once you've uploaded your privacy policy, you should see the option to turn your site 'Public'.
Once you publish your eCommerce store to the web, making it successful means committing to a whole new list of steps.
Pro tips:
Stay on top of WordPress updates – Both WordPress itself and most of its plugins release new versions every so often. These usually provide security updates, as well as new features. Make a habit out of updating every time a new version's available to protect your website. You may seek help from WooCommerce Developers to stay ahead of the game.
Do price testing – Pricing is one of the hardest parts of a new eCommerce business to get right. But there are a few different testing strategies you can try out to see what pricing level produces the most profit.
Figure out the best shipping options – In the age of Amazon, finding the right shipping strategy is also important. If your shipping costs look too high to customers, it can lead to cart abandonment. Test out different shipping options to find the right combination of affordability and speed that keeps customers buying, but still leaves profit margins.
Create an online marketing plan – Selling online is competitive. People will only find your website if you do online marketing. Put together a strategy using tactics like SEO, PPC (pay per click), social media, and content marketing to ensure your website reaches the right people.
Provide customer support – Making the sale isn't the end of your job—you want that customer to keep coming back. Make it easy for customers to get in touch when they have questions or problems and hold yourself to a high standard for customer support.

Use your analytics to improve – A great benefit of eCommerce is that it's easy to track things online. Regularly check Google Analytics, along with the analytics of any marketing tools you use. Use the insights they provide to improve your website design and refine your marketing strategy.
Wrapping Up!
Being an entrepreneur used to require a much more significant investment in upstart capital. The rise of eCommerce, combined with the accessibility of tools like WordPress and WordPress online store extension- WooCommerce, has lowered the barrier to entry.
That doesn't mean running a successful eCommerce business is easy. You have to be willing to do your research and put in the work required to get your new business off the ground, then keep it successful over time. But if you have the nerve, work ethic, and at least a little money to invest to start with, you can build an eCommerce website with WordPress and start selling.
As you can see, WordPress is a fantastic choice for your ecommerce store. Using WooCommerce as the default WordPress ecommerce plugin (or any other for that matter), and customizing the store with an appropriate theme, is a fantastic way to take your business off the ground.
Because WordPress is so customizable, you can always introduce more changes to your website and continue to develop it along the way. It's one of the best choices for people who don't have any technical coding knowledge and still want complete control of their ecommerce store.
Moreover, this article has walked you through every step of building your online store on one of the biggest platforms on the Web- WordPress. You've learned how to choose your hosting provider, decide what plugin to use, install your plugin of choice, add your very first product, and set up a payment gateway for your site.
And when you finish reading this, you should have a fully functional, albeit barebones, Ecommerce site that you can continue to expand and improve as your needs require.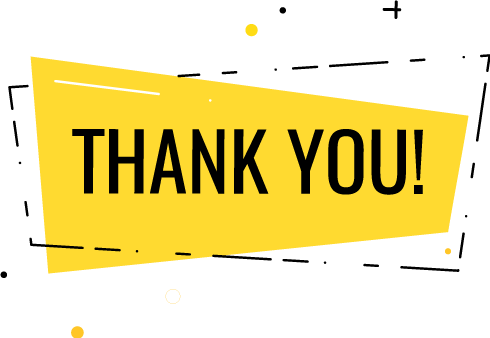 Thank you for submitting the details!
We will keep your information safe. Feel free to contact us with any questions at hello@uplers.com
Please check your email for next steps shared by Robert.