How to create awesome websites with Visual Composer
Aayush Gupta
October 3, 2016

6

Minute Read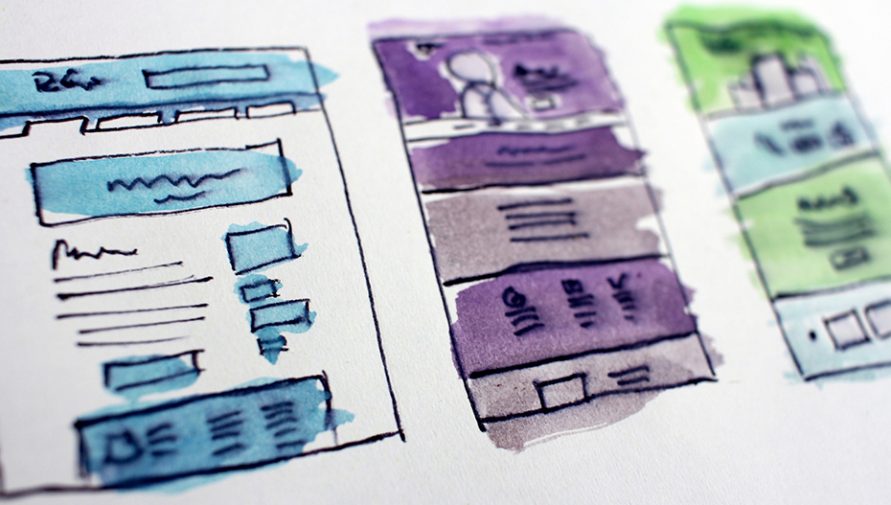 7WordPress is awesome and yet we fell in love with the drag and drop site builder Visual Composer. It has made site building process easy, fast, and incredibly awesome. A custom build website is what you need to target all your customer demand at one place. There are thousands of plugins available with WordPress that makes web development easy and incredible. Your website is the front face of your business, take a full control on it and spruce it up to mark a lasting impression.
Inspired by creativity and innovation Visual Composer (VC) allows you create awesome website for your business or any other purpose. Visual Composer is an award winning responsive page builder plugin by WP Bakery. The only plugin that has two separate editors- backend editor and frontend editor. The two separate editors makes web development easy as you can create impressive layout design in backend editor and manage content on the frontend editor. The prodigious plugin makes it simple and quick to develop a website simply by drag and drop process.
"Great web design without functionality is like a sports car with no engine."
Let's dig deeper into the different features of VC to know more how you can leverage maximum by utilizing this plugin to create stylish content and unique pages on the web.
Frontend Editor & Backend Editor
The No #1 WordPress page builder and only plugin in the entire WP plugin repository that has two separate editors- frontend editor and backend editor. You can create and update content on the front end editor with a great selection of easy to style content elements. The frontend editor allows you quickly switch between devices to check the content, how it appears on different devices. Create responsive pages for your website that run smoothly on any device with the latest responsive design controls. To help you with incredible web development process, two separate interfaces makes it easy to manage between content and design for the website.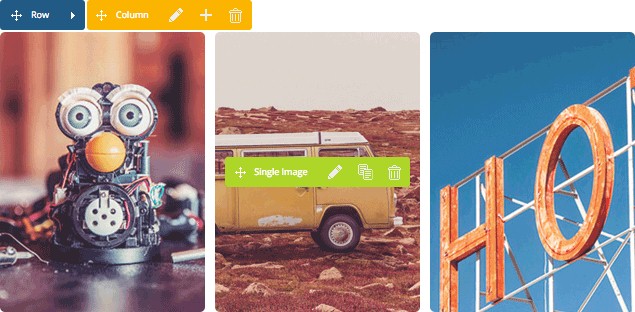 The plugin helps in creating stunning and beautiful pages with drag and drop interface right on your WordPress dashboard in the backend editor without having any programming knowledge. Quickly build layouts with different elements and highlight them in different colors for improving navigation and hence user experience (UX). You can easily check how your website appear in preview mode before updating it, that's how you'll get what you see.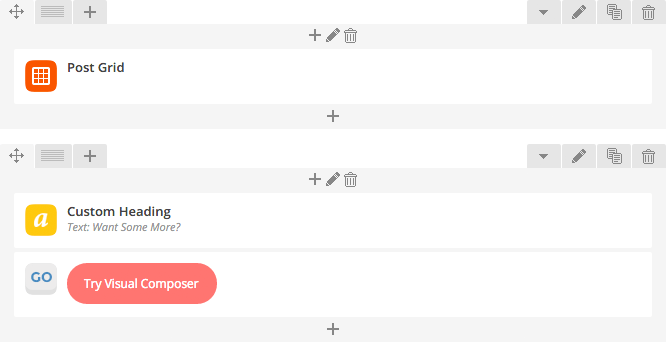 Furthermore, the plugin recognizes your previous content and wraps in in Visual Composer format. So if you're going to update your old website, no need to worry about data and formatting issues. Visual Composer manages it all in a simple style quickly.
Page Builder
Every website design needs to be unique and most importantly the process to build it should be simple, easy, and fast. Visual Composer plugin works with any WordPress theme and allows you to create any type of layout on your theme. There is no need to fear about losing your data as it stores the data in standard WordPress content field.
Furthermore, the plugin recognizes your previous content and wraps in in Visual Composer format. So if you're going to update your old website, no need to worry about data and formatting issues. Visual Composer manages it all in a simple style quickly.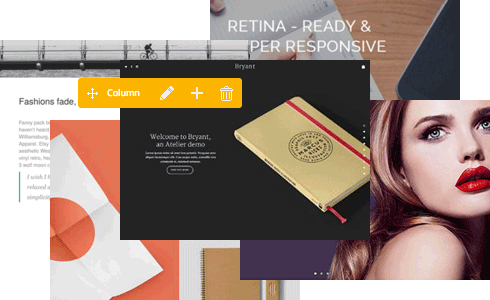 Just install any chosen theme, activate Visual Composer plugin, and start building a stunning website that has capability to impress viewers.
Templates and Presets
You can save WordPress layout as a template with the help of Visual Composer template manager. This means you can directly start with the template, which actually saves a lot of time as you need not to start from the scratch. You can also access from 60+ predefined templates to give a desired look and feel to your website. Also, you can change the setting of content element to set them as a preset or as a default. Start styling the content with different elements in an attractive way. Let's create unique pages/posts and publish in style to attract visitors on your website.

Skin Builder
To change the visual appearance of your website Visual Composer has a built in design options panel. Visual Composer skin builder is the easiest way to customize overall look of your WordPress website. You can play with the element styling to match with your corporate and brand identity. Combine your theme with the custom Visual Composer powered skin and allow yourself to customize WordPress website in a unique way. And still if you think it's not enough to customize your website as per requirement, choose from the 200+ addons with more content elements.

Grid Builder
To display post, media, and portfolio in a beautiful style VC comes with a hidden treasure of grid builder and grid elements. The advanced grid building plugin consists 40+ grid element styles and content elements. However, to make your website designing journey easier VC has divided grid elements into following groups:
Post Grid
Post Masonry Grid
Media Grid
Media Masonry Grid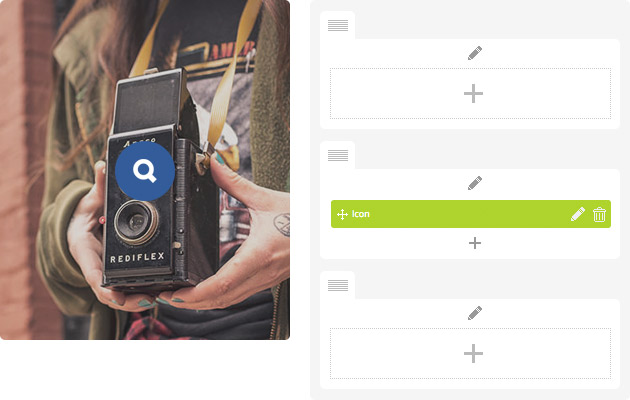 Moreover, you'll find out working with grid builder is quite similar to the backend editor. Modify predefined grid elements, add custom colors, remove content elements, add custom shortcodes, and even create your own custom grid elements to style your website in your very own way.
You can watch this Video to know more about the different feature and capabilities of grid builder. We're quite sure this will make your website development easy, exciting, and quick.
Woo Commerce
Visual Composer is great to take your Woo Commerce on a next level. The plugin offer 100% compatibility and hence it is an opportunity to transform your Woo Commerce website. It facilitates you with Woo Commerce shortcodes to add and edit your post/products on the go.
All in all, we can say that it ensures full compatibility with the most popular eCommerce plugins and it is suitable for eCommerce websites.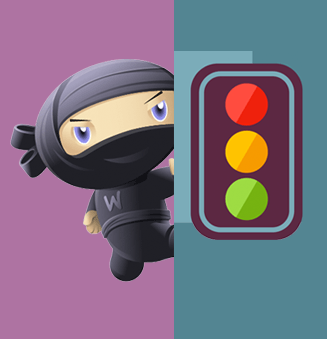 Content Elements
Go beyond the traditional publishing by getting access to 40+ built in content elements available to craft your imagination on the web. Visual Composer offers all the controls that you need to spruce-up the content, add, edit, duplicate, remove or create presets. The plugin has many content elements like text block, message box, post slider, video player, custom heading, pie chart, Google maps, post grid, separator, buttons, image gallery, post grid, raw HTML, icon, masonry media grid, accordion and many more. Let's create content in style with these content elements and make your website stand-out from the rest.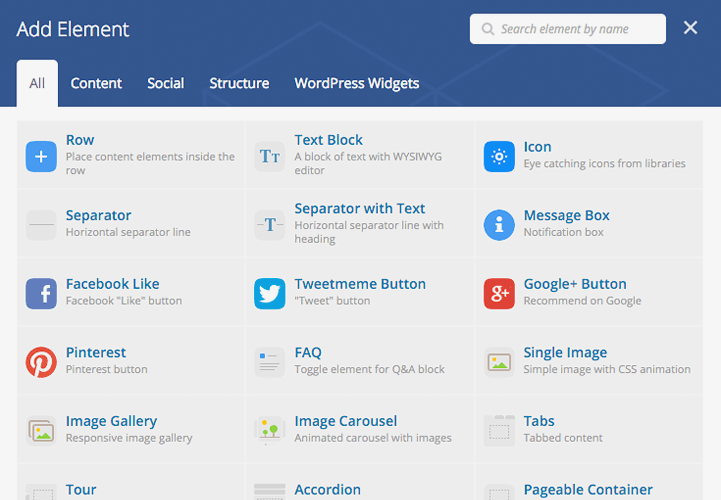 SEO Compatibility
To get well indexed in search ranking is one of the main purpose of having a website for your business. Thus, VC plugin is fully compatible with Search Engine Optimization (SEO) to ensure complete indexing of your website with major search engine like Google, Yahoo, Bing, etc. VC follows best SEO practices it is fully compatible with the most popular SEO plugin for WordPress- SEO by Yoast. You just need to create a post, style it up with different content elements and media, and then publish it on your website. Rest things will be taken care by Visual Composer.
Professional Support
To keep track on your productivity and to resolve any development issue Visual Composer offers a highly dedicated professional support assistance. You can get this support on any working day from Monday to Saturday. Also, you'll get the access to knowledge base from where you'll get answers to many of your questions.
What else?
Visual Composer includes other features such as WordPress role manager, social plugin support, custom CSS supported, work with multi-site network, content forms, native WordPress, etc. In the end, we can summarize that this ultimate page builder plugin can make your web development easy, effective, and incredibly AWESOME.
You may not like to create a website from the scratch. Visual Composer offers 60+ predefined pro like templates to get start with your web development project.
Monks love WordPress and yet we fell in love with Visual Composer. Let's build an awesome website and start creating awesome experiences from your website.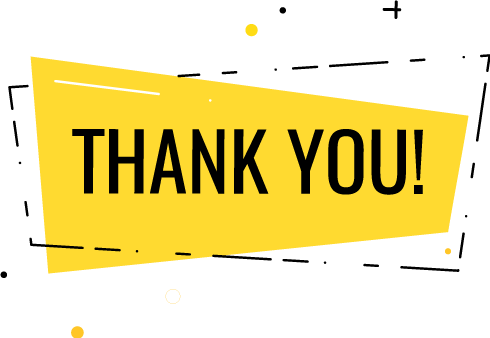 Thank you for submitting the details!
We will keep your information safe. Feel free to contact us with any questions at hello@uplers.com
Please check your email for next steps shared by Robert.