Top 4 Demanding IT Skills You Must Outsource to India
Kevin Oskow
May 25, 2020

5

Minute Read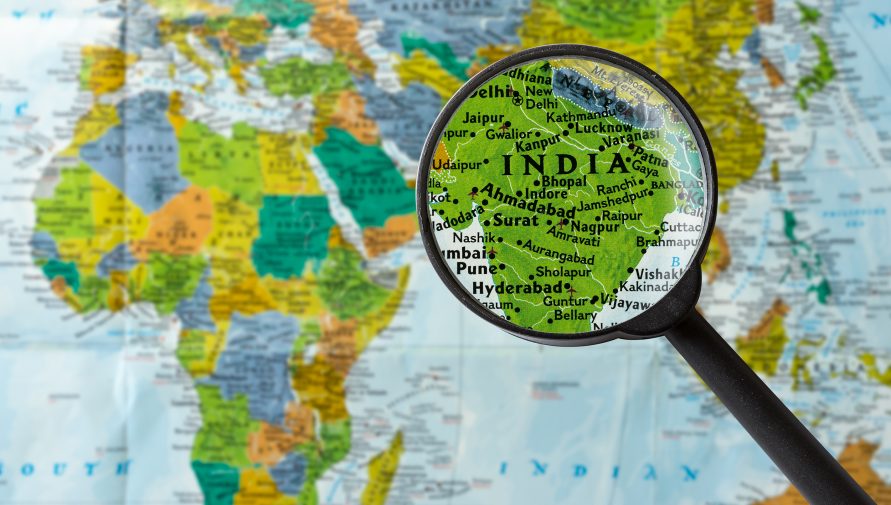 In today's hyper-connected world, you are no longer limited to your city or country for sourcing the right talent for your work. With remote working slowly emerging as the new norm, the outsourcing industry is all set to experience a further boom, owing to its multiple benefits like reduced costs and access to a larger talent pool. There are top Demanding IT Skills You Must Outsource to India. 
Why Companies Outsource?
Deloitte reveals that 59% of businesses outsource to reduce costs, 57% use outsourcing to return focus to the core business, while 47% use it to solve capacity issues.
Talking about the preferred destinations for outsourcing, India remains a leader in the space, with 80% of European and US outsourcing firms ranking India as their number one outsourcing destination. NASSCOM also confirms that up to half of all Fortune 500 companies outsource their software development to Indian firms.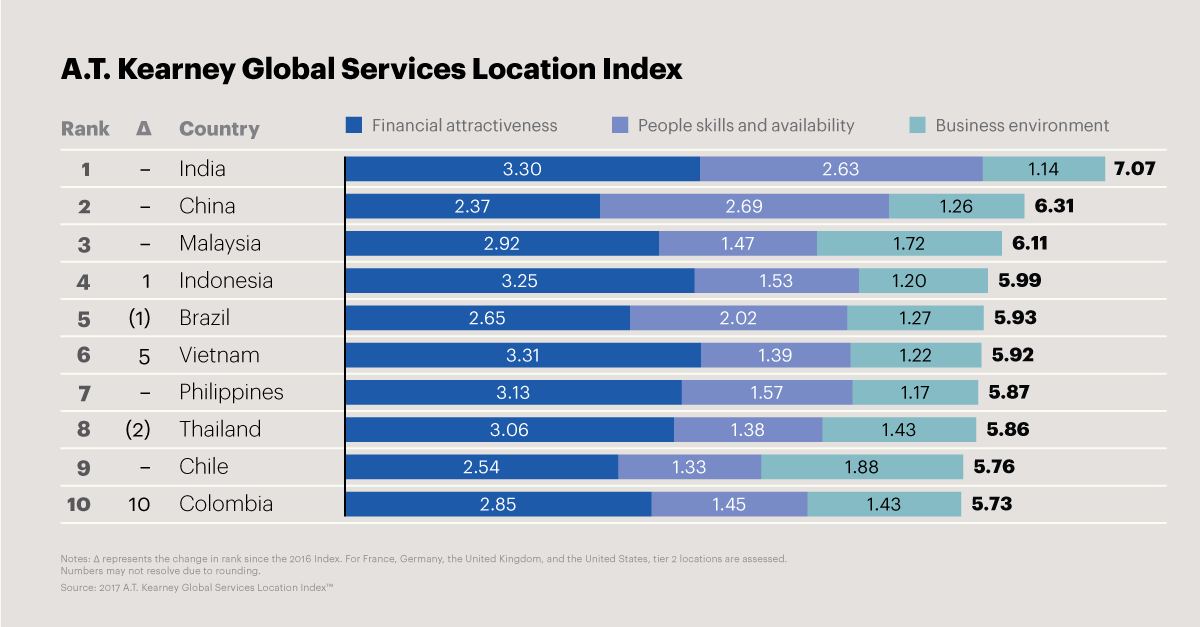 India's popularity as the preferred outsourcing destination is also confirmed by the Global Services Location Index shared above. One can see that India has the highest overall score, which is owing to the best combination of cost, skills and business environment. China scores higher in skills and business environment, but it has a much lower score in financial attractiveness – meaning you would end up paying more if you choose to outsource your work to China. 
Vietnam can be seen as the only country that is financially more attractive but possesses less than half of India's skill level. Thus, outsourcing to Vietnam would certainly be cheaper but also lead to poor quality work.
Why is India The Top Choice for IT Outsourcing?
PwC identifies three main reasons for India's leadership position in the IT outsourcing industry:
India has a large talent pool for IT/ITeS industry with over 100 million English speaking people

Diverse skill base to support IT/ITeS services across industry verticals

Hassle-free transaction with flexible policies around taxation and investments and government support to the sector
At present, the industry is valued at $150 billion – cementing India's position as the topmost provider of high-quality, low-cost technology skills. It is also noteworthy that a majority of large IT services companies and global in-house /captives have "established or spun off their digital capability into a digital CoE / digital labs" in India.
Top IT Skills you Must Outsource to India
According to McKinsey, India is the fastest digitizing economy after Indonesia, and this change is reflected in the country's job market, as identified in LinkedIn's 2020 Emerging Jobs Report India. 
Below, we have identified four key roles that can be suitably fulfilled at a much lower cost by outsourcing to India.
Front-end Developers
We are living in an experience economy, and there's nothing more integral to your success than crafting impeccable and outstanding customer experiences. Front-end Developers help you achieve that by influencing the digital experience of your viewers. 
In addition to IT skills like HTML, CSS, JavaScript, etc., when looking for a Front-end Developer, you are also looking for soft skills like good verbal and written communication to make sure your instructions are understood and executed properly. 
At Uplers, we compared what efficient Front-end Developers charge across the world and found Indian developers to be one of the cheapest in terms of cost. The average hourly rate charged by Front-end Developers in India ranges between $20-70. Front-end Developers in Indonesia and Philippines charge even lesser – but outsourcing to India is a popular choice because of friendly government policies and proficiency in the English language. To get an idea of how much you can save, Front-end Developers in the USA may charge you anything between $160-250 for an hour's work.
Digital Marketing Specialists
Every business needs customers to survive and thrive. And, at a time when most customers rely on the Internet to find information, it is essential to market well to ensure your digital identity is not lost in the clutter. Hiring a digital marketing company in your city is an option, but in times of remote working, you can gain the same benefits at a lower cost by outsourcing your digital marketing to an expert in India. 
By hiring a digital marketing agency in India, you don't burden your HR or invest in any new tools or technology. Besides, digital marketing being an emerging career in the country, there are experts available in plenty to get your business the edge it needs in the market.
Another advantage, especially if you are US-based, is that you are no longer subject to the American labor laws. And can enter into a negotiable contract with an Indian firm. The time-zone difference is an added benefit in terms of 24/7 support.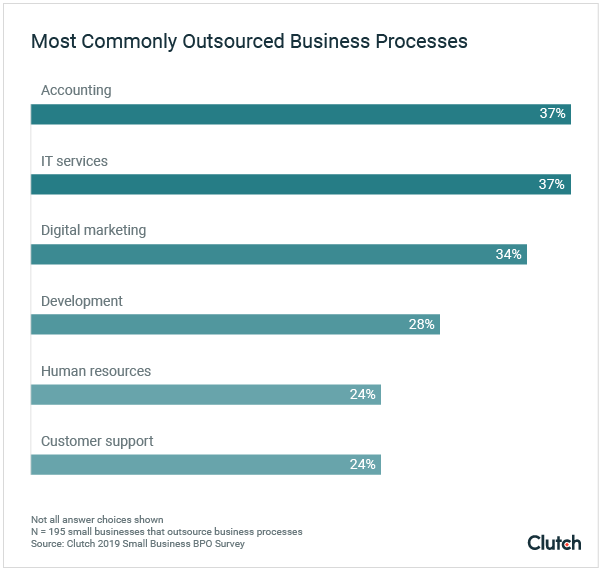 Full-stack Developers
Most start-ups today are looking for all-rounders in their teams, such as software developers that are not just coders but also good designers and solution architects. In other words, the demand for Full Stack Developers is on the rise but a 'Master of Trades' does not come cheap, making it pertinent for start-ups to look for Full Stack Developers in developing countries like India that are bustling with talent and offer lower rates due to high competition in the sector. 
According to a career website, a Full Stack Developer in the US earns upwards of $100,000 annually. In India, on the other hand, the average salary of a Full Stack Developer is about INR 600,000 per annum, which is a little less than $8,000 annually. 
ReactJS Developers
ReactJS is a popular JavaScript framework for creating attractive and user-friendly interfaces. However, being introduced less than a decade ago, ReactJS developers are hard to find or already hired by forwarding companies. Unsurprisingly, ReactJS developers are paid handsomely across the world. 
In the US, the annual average ReactJS developer salary is $72,681 while it can go up to INR 10,00,000 or $13,000 (approximately) in India for a senior position. The reason for this cost difference is the high competition in India, which is due to the availability of a large number of skilled professionals. Thus, if you are looking for expert ReactJS developers, offshoring your requirement to India can give you the two-fold advantage of cost reduction and access to a larger talent pool.
The Best Among Equals
If you are looking for tech experts, to scale your business, outsourcing to India will:
Lower your costs

Give you access to a larger talent pool

Save you time to focus on other business goals

Let you take advantage of the difference in time zone (if any)
However, to reap the maximum benefit, you must know how to optimize your ROI when outsourcing to India and consider other factors like client testimonials, market presence, communication skills, etc., before onboarding anyone. At Uplers, we offer you the services of dedicated experts for your ongoing needs with the possibility of scaling up or scaling down according to your requirement, leading to further cost reduction. Get in touch to know more.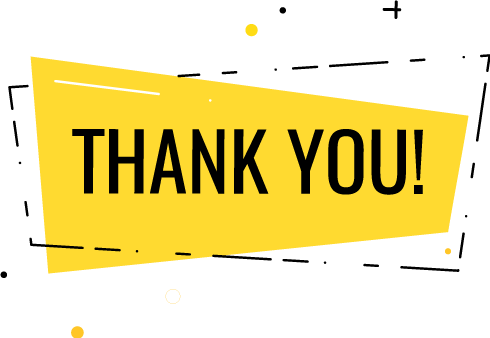 Thank you for submitting the details!
We will keep your information safe. Feel free to contact us with any questions at hello@uplers.com
Please check your email for next steps shared by Robert.