5 Best Outsourcing Countries for Web Development: Cost & Time Difference
Kevin Oskow
March 26, 2020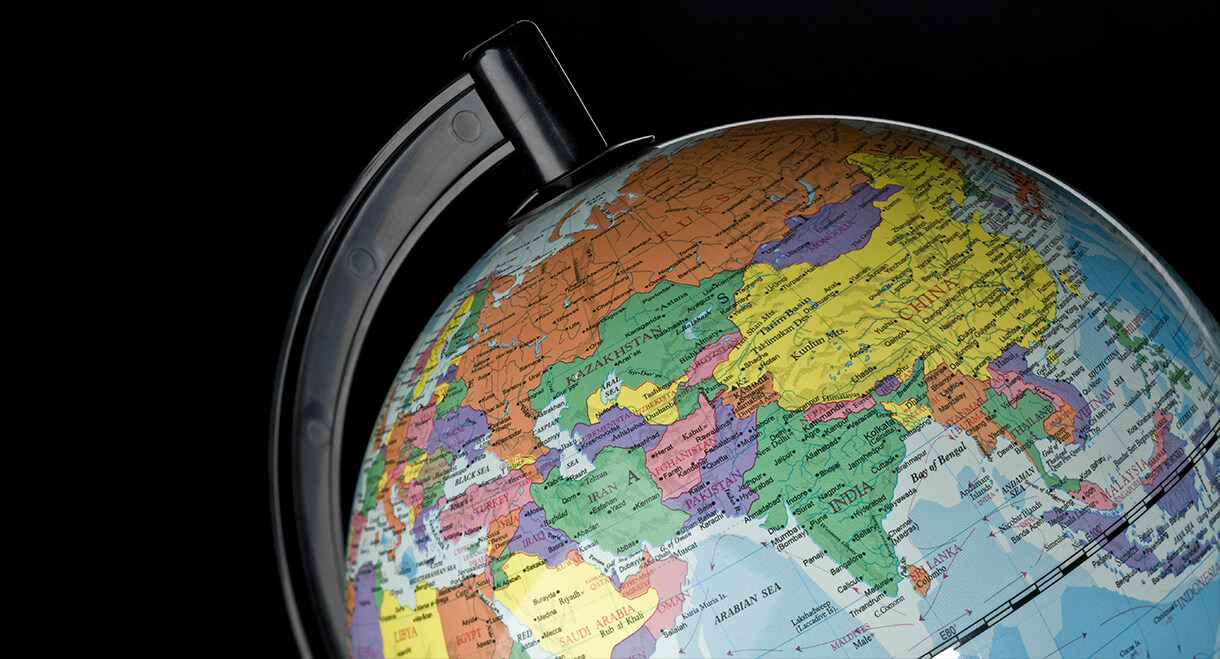 The proliferation of IT outsourcing across the globe hints a dynamic move towards outsourcing more important business operations like web development and marketing strategies. Brands are hiring professional strategists offshore to grow their marketing efforts, as well as agencies, are building offshore development teams. According to Statista, The Global outsourcing market size was $92.5 billion in 2019.
According to a Clutch, even 37 % of small businesses outsource IT services. In recent years, the extended role of web development inked a different niche of market fundamentals. The decision to choose outsourcing services for your web development encompasses a different factor. Among various, geospatial information about outsourcing service predicts the productivity, quality, and accessibility during the pre and post-development phase.
Here, a question pops up. Which are the best outsourcing countries to outsource web development? You, need to get your head around this.
Contents:
1. The Top 5 Countries to Outsource Web Development
India
China
Poland
Philippines
Ukraine
2. Factors to Analyze the Best Outsourcing Countries for Web Development
Time-zone Differences
Cost of Outsourcing
Table of Pros for Each Country
Table of Cons for Each Country
Innovation Index
3. Conclusion
The Top 5 Countries to Outsource Web Development

1. India
The outsourcing industry in India witnessing multi-dimensional development. In 2019, A.T. Kearney's 2019 Global Services Location Index, declared India as the first choice for outsourcing.
Comprising detrimental factors India is the best among all outsourcing countries when it comes to web development services. Deloitte study shows, 59% of companies around the world outsource to India. The promising facts about India as a preferential option for outsourcing cements an opportunity for to outsource your web development work.
Web Development Skills
India has evolved as one of the greatest hubs of skilled web developers and the outsourcing industry in India has transformed into an innovative and cost-effective value-creation model.
The web developers here are adept in employing technologies such as ASP.NET, Codeigniter, ZenCart, Joomla, AngularJS, ReactJS, WordPress and Magento.
2. China
China, tops the emerging economies in the world. The availability of financial, human and physical capital makes it an effective medium of outsourcing.
China ranked first in a hypothetical assessment of all countries, for participating in the programming Olympics. by Hacker Rank.
Web Development Skills
China is progressively centered on employing the latest technology for delivering client excellence. Due to consistent updates, the outsourcing services in china, efficaciously design and develop the client's pretensions.
3. Poland
Poland IT industry geared up for a new state of maturity like other Western European countries. According to the statistics, Poland lists third for highly skilled programmers all around the world.
Web Development Skills
Polish web developers are great with project management skills and countries can easily find experienced level developers.
Polish developers ranked 3rd by Hacker Rank on their skills in languages, databases, security, or algorithm.
4. Philippines
Though, the Philippines is in the nascent age of outsourcing economy. The dedicated and hardworking developers are producing effective results for global clients.
The Philippines is being treated as a low-cost alternative to global companies. In 2019, it was ranked 95th in parameters of ease of doing business.
Web Development Skills
The Philippines is named for its talented workforce for maintaining well functioned and quality development projects. Outsourcing web development teams is leveraged with programming skills like PHP, .NET, Ruby, HTML.ASP, Java, C++, Python and many more.
5. Ukraine
When exploring skilled web developers to outsource project development, Ukraine outplays many other countries.
In 2019, IAOP shows, 21 companies of Ukraine listed in the top 100 outsourcing companies in the world. The quality-focused process of development makes it a viable option for outsourcing.
Web Development Skills
Some of the Ukraine outsourcing agencies work on the BOT (Build-operate-Transfer) model. The developers reach for an existing team and R&D facility and begin the project with no delay.
Ukrainian developers own competence in JavaScript, C3, java, PHP, Python, Xamarin, ASP.NET, Ruby, GraphQL and many more.
Factors to Analyze the Best Outsourcing Location for You
Here are some factors to decide your potential outsourcing country:
1. Time Zone Differences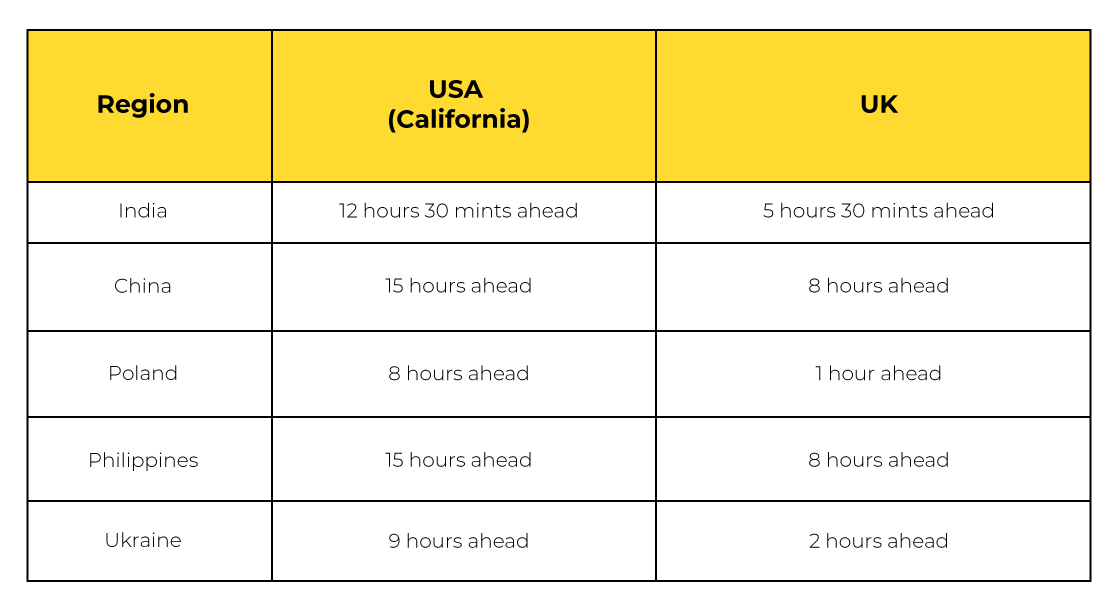 When it comes to outsourcing, the time zone difference fetches substantial attention. Here, India has got an edge. Due to the compatibility of time zone differences, companies outsource work to India.
The 10 hours difference between GMT and IST, never be a problem for the companies outsourcing work to India. The outsourcing service provider in India arranges 24*7 shifts as per the need of the companies.
To coordinate work while web development outsourcing becomes challenging with time zone differences. China has a single time zone.
In a competitive global market with 24*7 work schedules and overnight transatlantic travel, it makes it more convenient.
The advantage while choosing Poland as an outsourcing destination is nearly non-existing time difference. For US-based companies it may depend on the location but for Western European countries there will be no time difference.
The Philippines adapted the 24*7 working culture so promptly. So, web development outsourcing to the Philippines would end up in constructive project development.
Ukraine provides a certain advantage over detrimental time zone difference. It is 2 hours ahead of European countries while 7 hours ahead in the case of the US. So, outsourcing your web development project will never dissemble intricacies.
2. The Cost of Outsourcing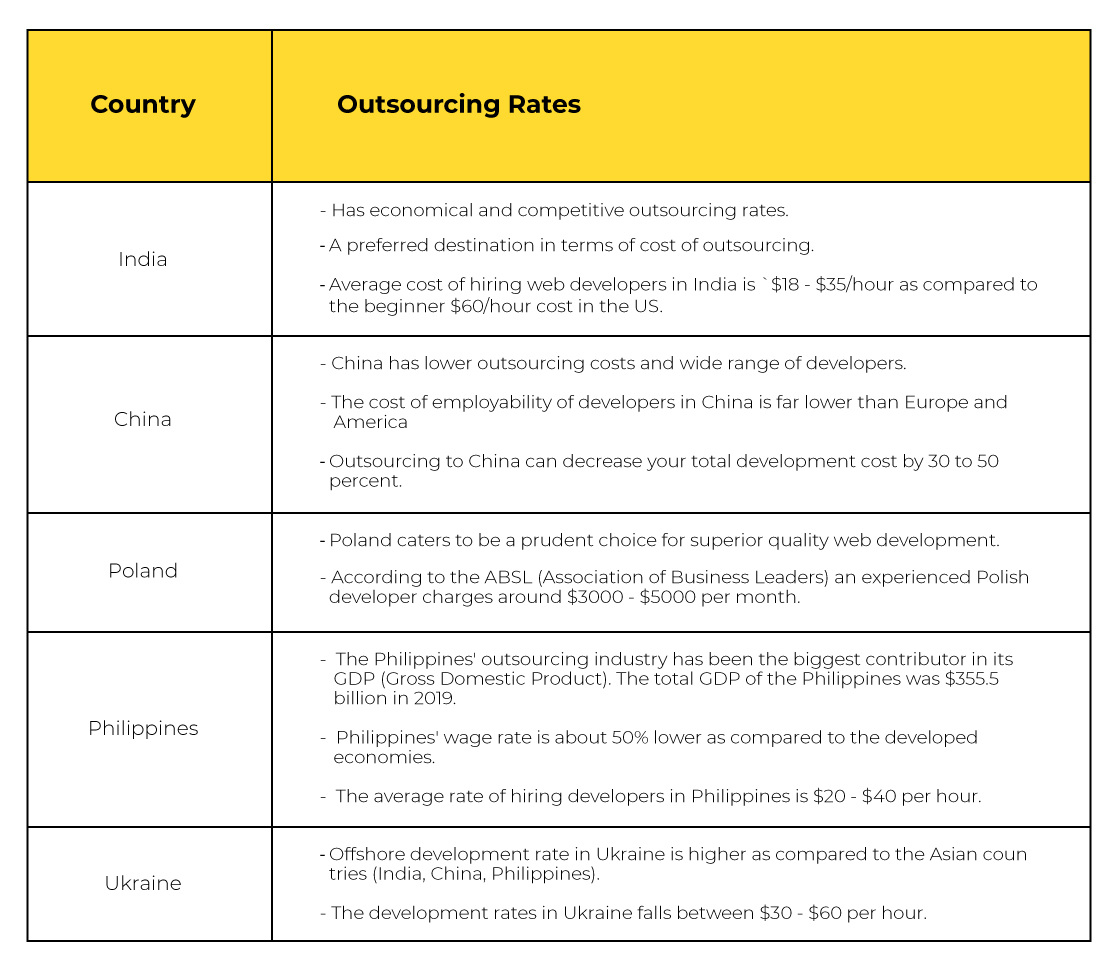 3. Table of Pros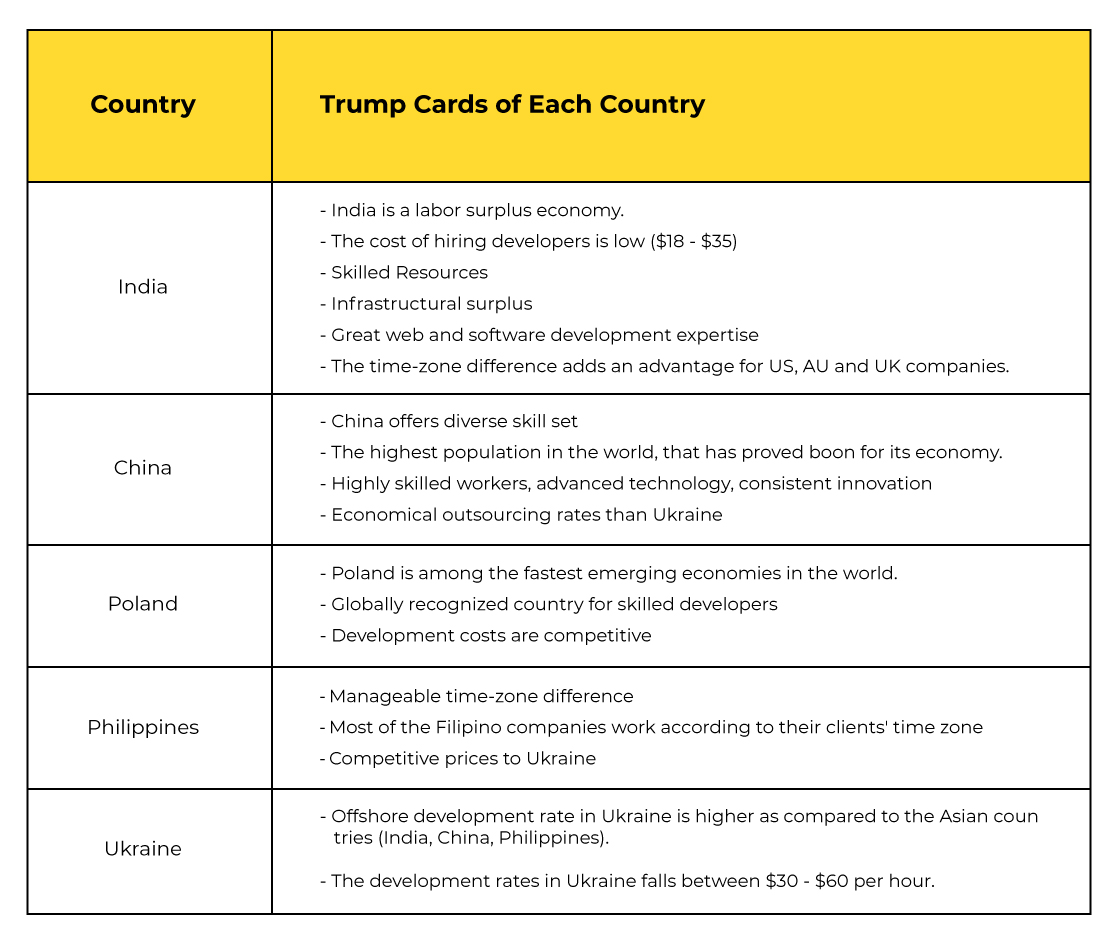 4. Table of Cons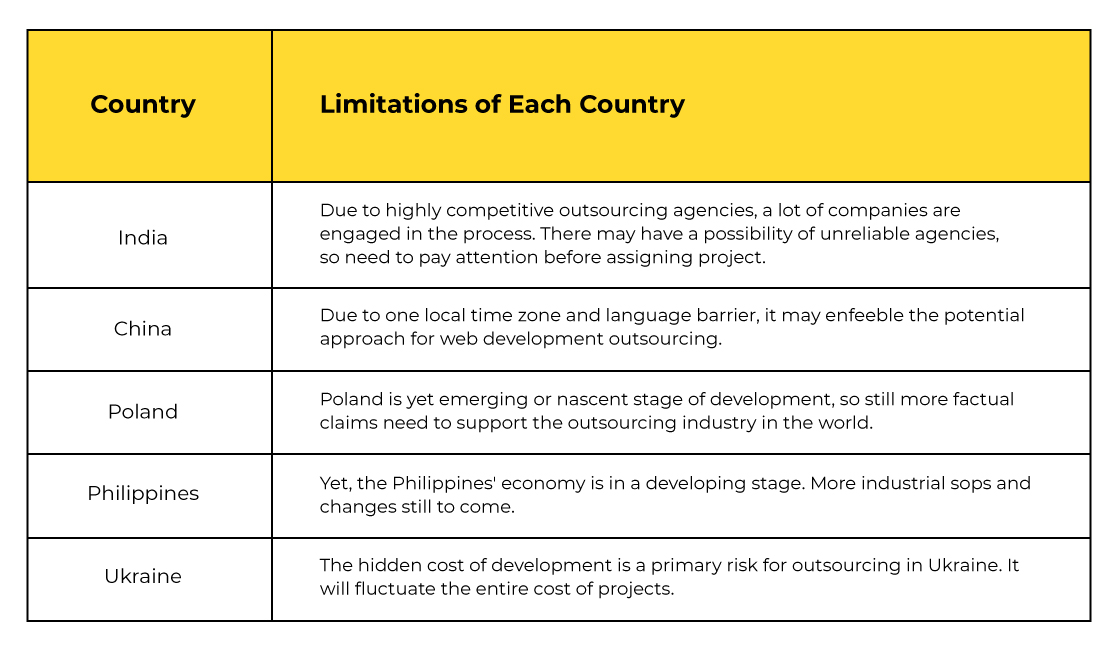 5. Innovation Index
India has contributed a streak of dedicated R&D in the global economy. The digitization in India has accelerated the deliverance of competitive projects to the global market.
The persistent improvisation and innovation enunciate the active participation of companies in digitization. Hence, the role of outsourcing companies in India would be far better than others for your web development.
China, as a popular outsourcing country, credits innovations to play a keen role in its growth. In the last few years, China has transfigured its role from manufacturing to a center for innovation.
According to the Global Innovation Index 2019, it ranks 14th in the world. Furthermore, According to a report, the total spending on technology in China has been $256 billion in 2019.
There are more enormous changes coming in, as the EU designated Poland as a " moderate" innovator. The blend of innovation and research system will be portraying soon a constructive effect on productivity, quality, and cost of IT sector.
The Philippines' economy is nurturing with digital transformation and Artificial intelligence development. Here technological innovation bolstered up the outsourcing industry.
Yet now, the IT outsourcing industry contributes 15 % to an occupational structure while 10% to the country's total GDP (gross domestic product)
Ukraine is heading towards becoming a leading outsourcing destination owing to its tech ecosystem and large talent pool.
Consistent developments in development solutions, AI, Big Data, other emerging disciplines extend the role of Ukrainian developers.
Summing Up
The decision of outsourcing lingers upon effective development projects, and companies need to be entrusted about web developers they are outsourcing.
For prolonged advantage, skilled developers, expertise, global recognition, and cost factor turns out to be a detrimental aspect. So, the adopted working methodology in India will benefit the companies under with pre-determined process. Uplers can help you outsource web development and digital marketing services in India along with helping you hire dedicated experts offshore.