Best Tools for Better Collaboration in Project Management
George Mackenzie
April 5, 2017

7

Minute Read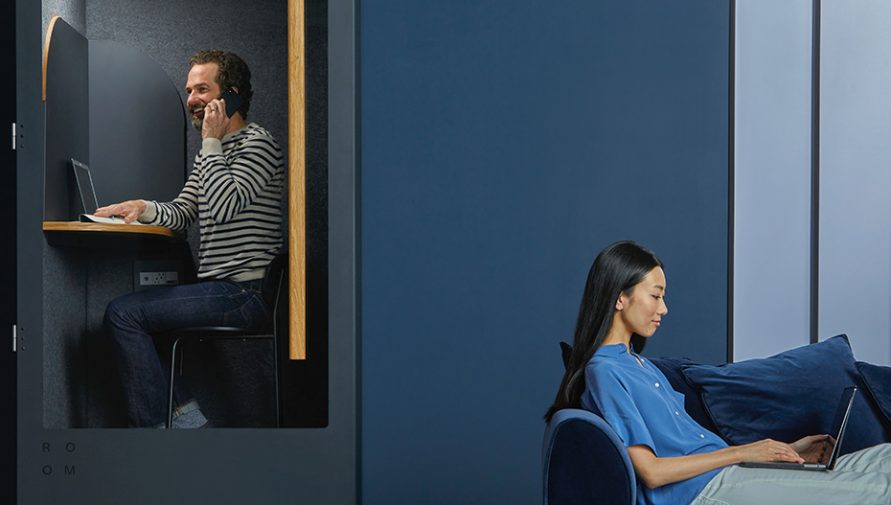 Wouldn't it be so damn easy if a designer could just sit by the developer and explain everything face to face? Well, since that's possible only in the rarest of the rare cases in outsourcing world, we have other options as well – collaboration tools.
There are certain tools that will give you a relatively similar feeling of sitting right by the developer and explaining everything while he would hitting some keys. But again, these tools are categorized as per requirements and here, we are going to tell you why we use one particular tool and why we recommend one as well.
Team Collaboration Tools
#Slack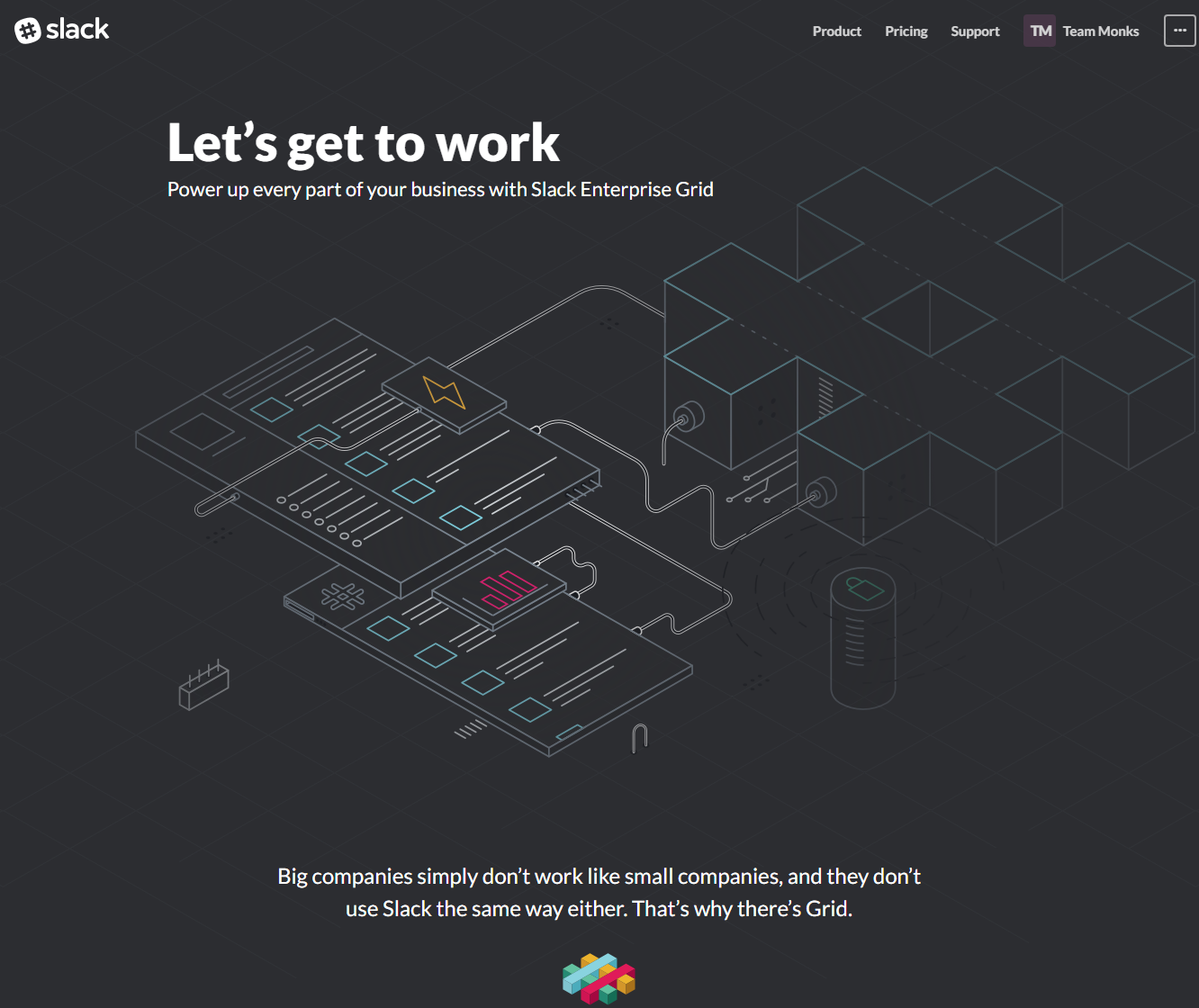 Slack was started out by Flickr and is kind of similar to Twitter when it comes to using '@' to mention someone or grab their attention to a certain post.  This team collaboration tool will eradicate out the unnecessary elements and will provide various security features. It not only provides you the freedom to play switcheroo between various Slack Teams, but also gives you various features like video calling, integration of third party applications like IFTTT, Google Hangouts, and Dropbox etc.
Key Highlights of Slack:
@ symbol usage
Security features
Unnecessary element eradication
Third party integration
#Visme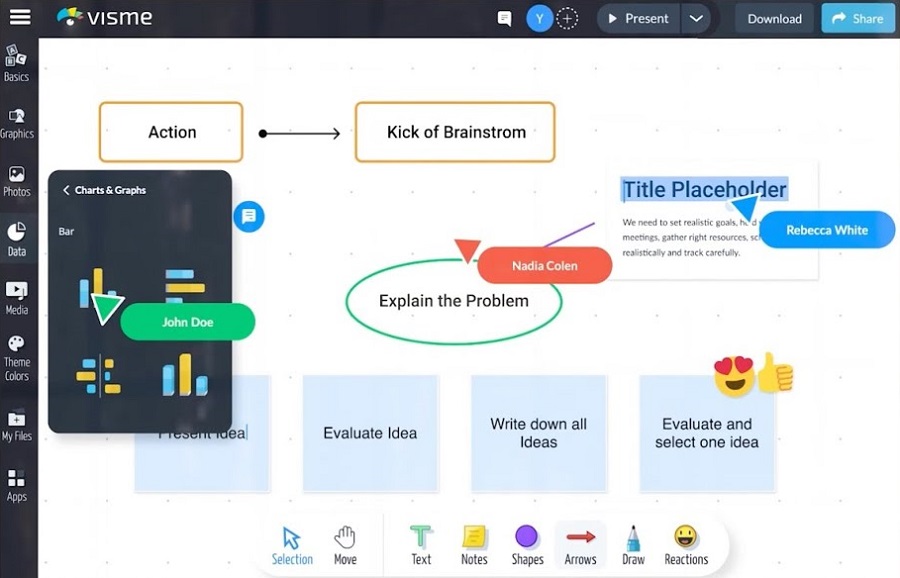 Visme comes with a user-friendly online whiteboard tool to collaborate with colleagues, brainstorm project ideas, share outlines, and everything in between. To get started, you won't have to create anything from scratch – just pick a ready-made template and customize it to your needs. There are templates for basically any purpose you may have on your agenda – mind mapping, app development, user journey, stand-up meetings, and more. When your brainstorming session starts, you and your colleagues will be able to make edits and comments that will appear on the whiteboard in real time.
Key Highlights of Visme's Whiteboard Tool:
A large collection of professional whiteboard templates

Lots of customization options (characters, shapes, icons, emojis, arrows, animations)

Save as JPEG, PNG, PDF, HTML5 or shareable link for analytics tracking

Integration with HubSpot, Google Drive, Slack, etc
Project Management Tools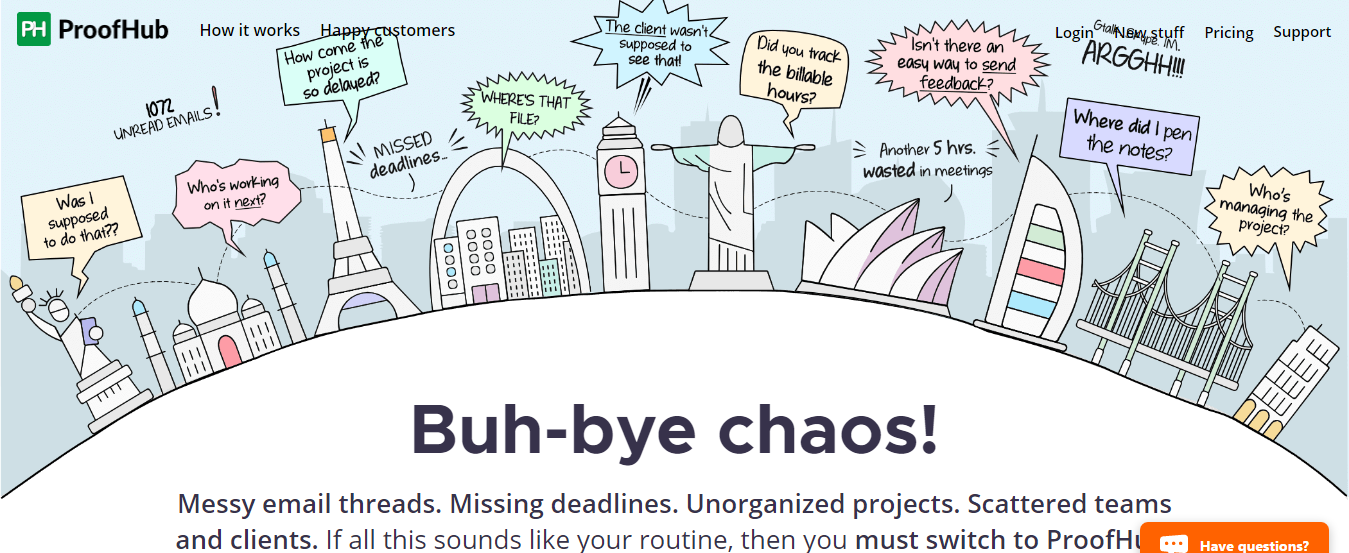 ProofHub is a project management tool that we use and the main reason we use it is because we provide 100% white labelled services and thus this tool helps in keeping the developers' identity and the clients' identity hidden from each other. It is easy to manage projects via TASKS, run projects, teams, updates and collaboration through DISCUSSION TOPICS, organize the entire information through FILES AND DOCUMENTS, seamless conversation through GROUP CHATS.
Key Highlights of Proof of ProofHub:
100% confidentiality
Easy project management
Easy collaboration
Seamless conversation
#Asana
This project management tool doesn't even need an email. Though it just acts as a mailbox, the ability to add due dates, likes, stars etc. are all available at one place. Asana is being used by famous companies like Uber and Mashable and it lets you create custom themes and shortcuts. Asana lets you differentiate between projects with different priorities by letting you color code or highlight it. It is web based and also gives you the facility to sync tasks to your Google calendar.
Key Highlights of Asana:
No requirement of email
Customize themes and shortcuts
Prioritize projects by using color code
Sync files to Google calendar
#BaseCamp
BaseCamp is a simple project management tool helps to track projects and tasks via the to-do list. It is also used to host the written discussions, embed various media files etc. and it takes all the email chains in one particular task, strings them together and sends an email notification only if that particular email will be relevant to you.
However, access control is given out to admin, team members, clients and visitors. Backups can be created to Google Drive or Dropbox. Tasks can be viewed and responded to by emails and then it can even be synced to your calendar.
Key Highlights of BaseCamp:
Host discussions
Track projects
Receive only relevant mails
Access control to admin, team members, clients and visitors
Create backups in Google drive or Dropbox
Sync tasks to Google calendar
#Trello
Trello is a basic project management tool that can be easily thought of as a dashboard with the features to add as many visual notes as you possibly could. This tool will let you use images and everything while discussing ideas or brainstorming online.
The layout is pretty much basic and links can be shared to boards and outside members can be invited to view or collaborate. The boards can be printed in a PDF format, making it easy to have a downloadable version when required. The drag and drop functionality and stickers will add the attractive touch to your board.
Key Highlights of Trello:
Unlimited visual notes
Print dashboards in PDF format
#TeamWork
You can set priorities, milestones and invoices while tracking other projects. A desktop timer is also provided that helps you track hours by project and task and then there are task templates for easy re-creation of projects and creation of new independent tasks. The entire database can be exported to a MySQL file.
Moreover, it can be integrated to other apps like Gmail and Dropbox and it has applications for android and iPhone.
Key Highlights of TeamWork:
Set priorities and milestones
Track projects
Database export to MySQL
Third party integration
Design Prototype Tools
#InVision

We use InVision app because it gets notifications directly into Slack Channel and we are able to keep a track of the project from the beginning to the end. The InVision app has options for projects like workflow, assets, comments etc. and will let you switch the prototype from List to Block. You can scatter the edit view and the prototype mode in the same screen.
InVision tool LiveShare will allow group collaboration in real time. As a designer, it will let you sort the prototypes into folders and comment directly on the prototype via emails. Other than that you can also directly write or sketch something on the prototype.
Key Highlights of InVision:
Real-time Collaboration
Sort prototypes into folders
Direct commenting on prototype
#MarvelApp
Marvel will let you play the prototype without having to enter the project. It has added a tool called Canvas for designing the interface inside the app and it provides the Sketch plugin that will help designers in doing 90% of the app designing work there.
This tool will keep the original screen in view while linking to another screen, to let you add multiple hotspots easily. It actually lets you duplicate out the hotspots so that you don't have to manually add them to each and every page and it will let you have a preview of the layer positioning and opacity as you set up your layer.
Key Highlights of MarvelApp:
Prototyping without entering project
View original screen and linking screen at once
Add and duplicate multiple hotspots
Preview of layer positioning and opacity
#ViewFlux
ViewFlux lets you communicate visually with clients on the designs. Hotspots can be placed on the design which would eventually lead on to comment threads and you can even tick off the comments and feedback after they have been worked upon.
ViewFlux allows you to do design versioning and will give you immediate access to previous comments and older versions of the design prior to having been worked on. ViewFlux will let you send the finished project without being drawn under the limitations of email attachments and spam filters and other than that, it gives you the provision to upload unlimited files.
Key Highlights of ViewFlux:
Hotspot placement on design
Immediate access to prior comments and feedback
Design versioning
Send projects with no limit on file size
Post Delivery Tools
#TrackDuck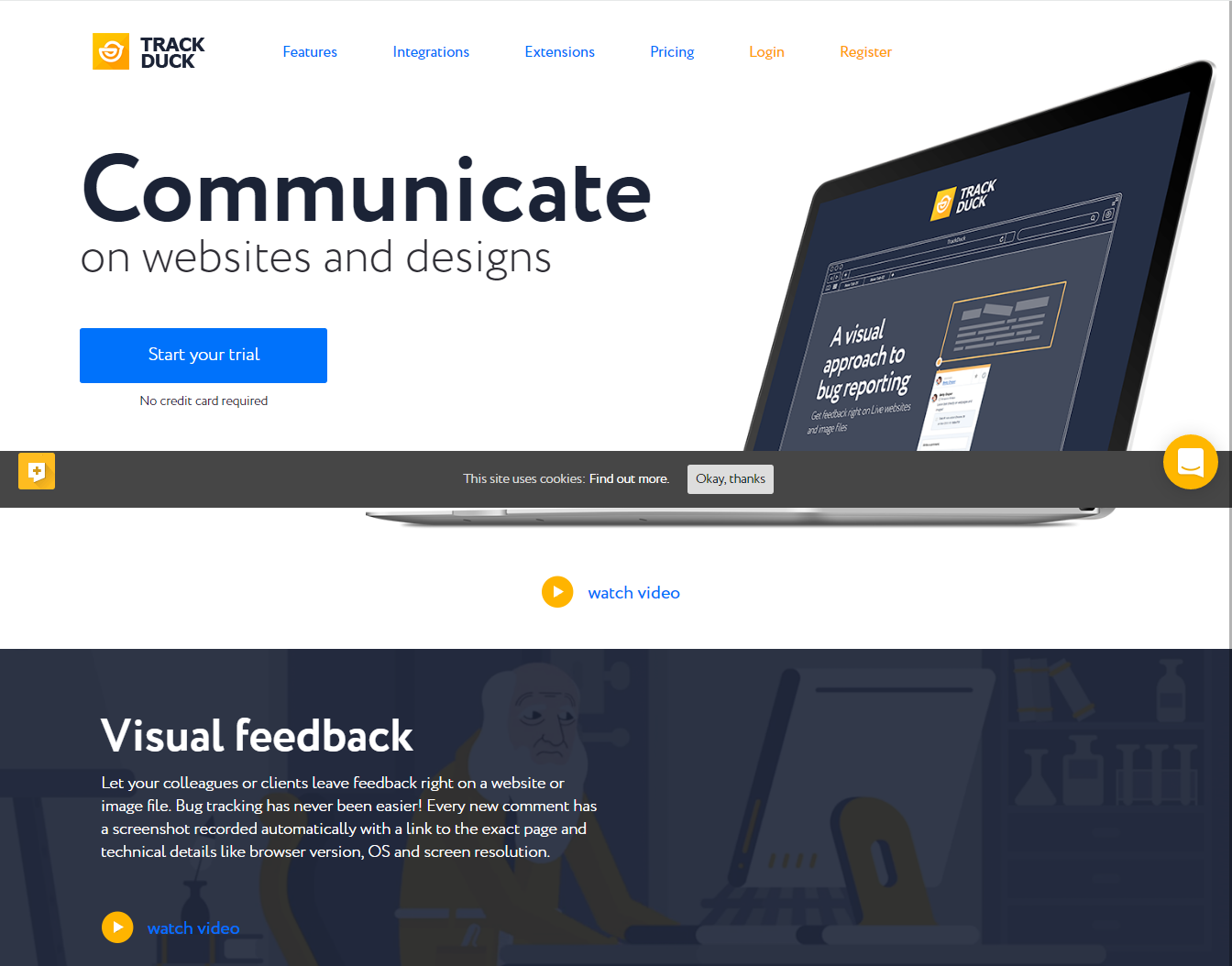 The main reason why we use TrackDuck is because it helps our team in reproducing the reported bugs based on the attached screenshot. TrackDuck has the provision for anonymous feedback and can accommodate unlimited team members.
Other than that, it has the cross browser provision and the technical details are collected automatically. The plus point is it works real time with web sockets and it doesn't require extensions.
Key Highlights of TrackDuck:
Reproduction of bugs
Anonymous feedback
Cross browser
Collection of technical details
Real time web sockets
No extensions
#BugHerd
BugHerd is a bug tracking tool to say the very least. It automatically grabs a screenshot of the page while logging a bug which is then attached to the bug so that the developer gets to see what the client might have seen while reporting the issue. A client can see the status of the bug.
Other than that they will also be given the complete overview of the build process, page by page, simply by navigating their site.
Key Highlights of BugHerd:
Screenshot the page and send it to developer
Let client see status of bug
See complete overview of build process, page by page
#UserSnap
UserSnap will not only let you change the color of your label but will also allow you to organize your lists with labels. It will capture and send screenshots of any website to your dashboard. It provides you with the negative search feature that will help you figure out bug reports and display only general feedback.
Also, it provides you with the option to use keyboard shortcuts for chrome extension and feedback widget. It will let you change the widget language and limit the feedback widget for specific IP addresses. Moreover, you will be provided with the option to permanently hide the UserSnap feedback button and create custom ones.
Key Highlights of UserSnap:
Use different label colors
Organize lists with labels
Negative search feature for bug report
Keyboard shortcut for chrome extension
Feedback widget for only certain IP addresses
Create custom widgets
We highly recommend using the Asana project management tool, InVision design prototype tool and the TrackDuck post-delivery tool out of the various tools mentioned above. However, we would love to know your recommendations as well so that we get a glimpse at your point of view.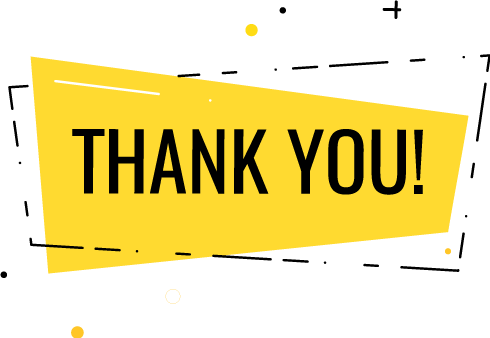 Thank you for submitting the details!
We will keep your information safe. Feel free to contact us with any questions at hello@uplers.com
Please check your email for next steps shared by Robert.