Google Shopping Is Back with Free Product Listing – Good News for Struggling Retailers
Gajendra Singh
April 28, 2020
2012 brought in shocking news for advertisers across the globe when Google decided to transform Google Shopping from being a free CSE (Customer Service Engine) to being a 100% paid product. That's when Product Listing Ads (PLA) were introduced to advertisers and brands.
On 21st April 2020, Google announced that they will now once again let any businesses list products on Google Shopping for free. Google shopping ads are one of the most lovable products so far among all e-commerce brands and advertisers. Usually, an e-commerce operation would need to pay for ad placement on Google Shopping but now the company has announced that they will let anyone who operates a website or manages a store on a marketplace platform can list without paying. That's indeed great news for all small businesses.
With the introduction of the free listing, it brings some quite needed relief to the retail and small business ecosystem but Google still plans to charge companies for top placement as promoted listings.
How It Will Work
The good news for the existing customers is that they will now be able to list their full inventories where they were only paying to promote some products on the platform. New users can now apply to place listings for free through Google's Merchant Center.
If you are already investing in Google Shopping ads then you don't have to do anything to take advantage of the free listings however for new users of Merchant Center, Google is streamlining the onboarding process over the coming weeks and months.
According to Google – "If you're an existing user of Merchant Center and Shopping ads and you've already opted into the surfaces across Google program, you might already be eligible to show your products in what Google's help center describes as "the unpaid experiences", and no further steps are necessary to participate."
You can view your unpaid clicks in the new performance report for surfaces across Google in Merchant Center by selecting "Performance" and then "Dashboard" in the left navigation.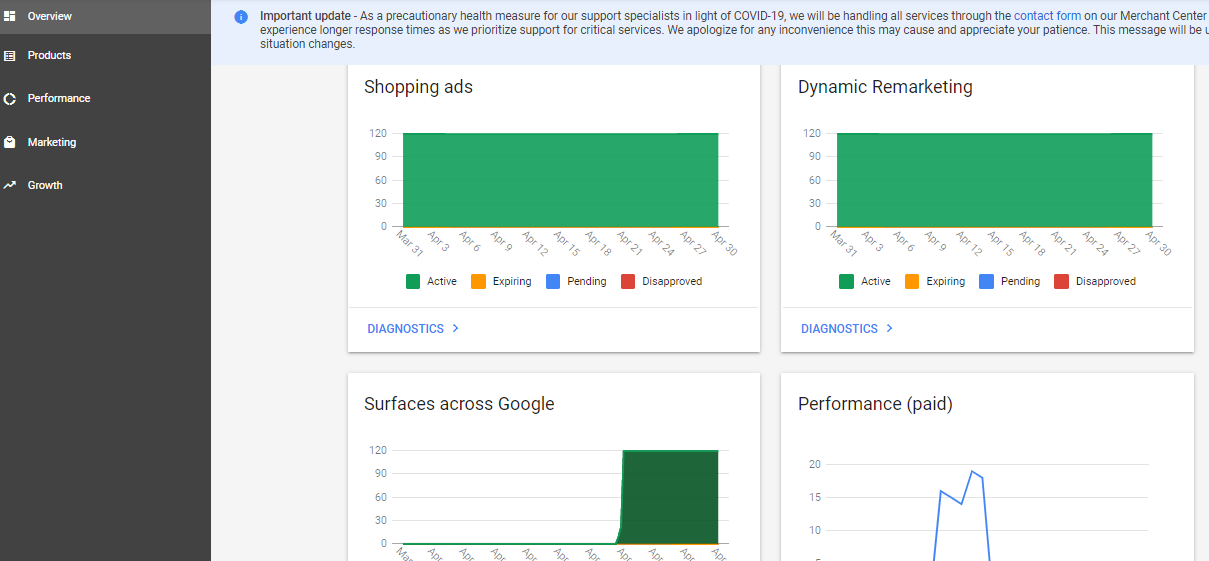 To opt-in for the program, login into the merchant center dashboard and navigate to the Growth tab on the right-hand side panel and then go to "Manage programs" on the left navigation menu and select the "surfaces across Google" program card. You can also add products to your product feed, to make more products discoverable in these free listings.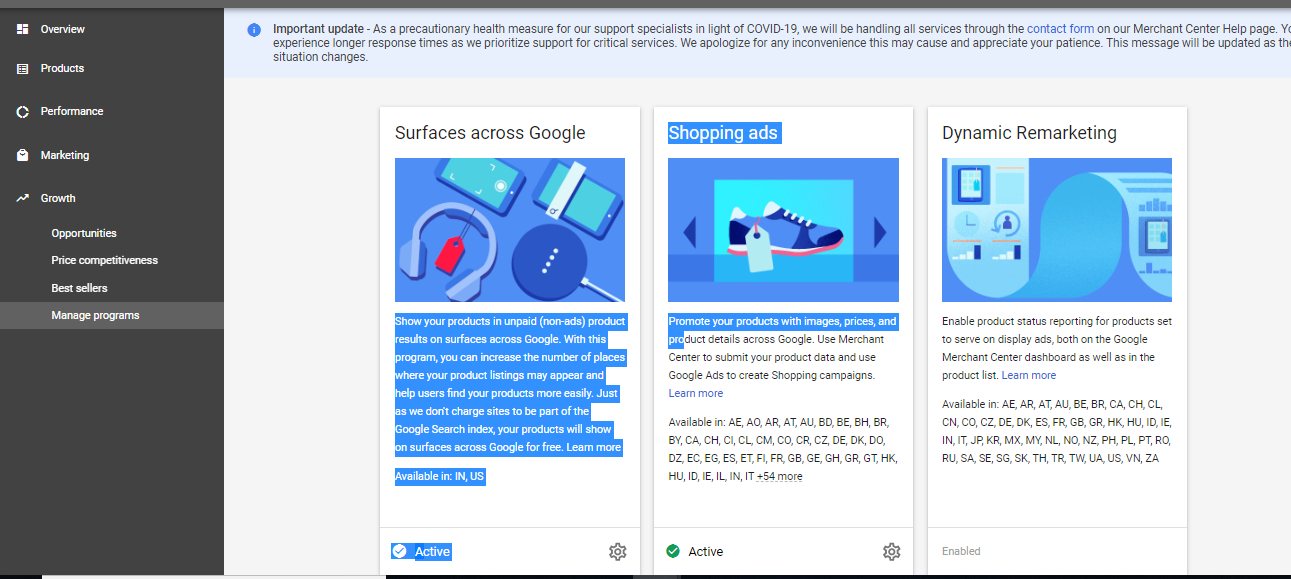 What's in it for Google?
Google Shopping has been around for nearly two decades as an integrated part of the company's search engine. Since the last decade, it has grown as an alternative to standard e-commerce giants like Amazon, eBay and the websites of traditional retailers like Best Buy and Walmart by letting retailers list their direct website links and driving traffic to their own brand asset. Thus, removing the commission for any middlemen and letting customers search for individual products and price match.
The Google Shopping platform was also the center of a historic €2.4 billion fine from the European Union in 2017 over Google's prioritization of Shopping links in search results over competing price matching services. Finding it had systematically given prominence to its own shopping comparison service in results while also demoting rival comparison shopping services.
Why is it a Smart Move from the Tech Giant?
This recent announcement, however, should make Google Shopping more accessible at a time when many small & mid-size businesses around the world have been forced to shut down brick-and-mortar retail stores and move everything online.
While the tech giant is packaging the change as a gesture to help cash-strapped retail businesses during a time of economic crisis, there's no doubt that Google is also spying a strategic opportunity to expand its role in e-commerce in the midst of a coronavirus-shaped boom. With this move, Google is planning to divert the majority of product searches happening on marketplaces like Amazon, eBay, Flipkart, etc to its search engine and then leverage that diverted traffic for its own business expansion. With that being said, Google is smartly outranking its competitors in the e-commerce space.
In India consumer retail witnessed a big drop in sales by 46 percent and 55 percent fall in the number of customers per store from March 17 to 25, which is expected to drop further in the coming weeks due to the ongoing nation-wide lockdown. (source – Economic Times)
Retail sales across the US plummeted by 8.7%, from $529.3 billion in Feb to $483.1 billion in March (source – Commercial Observer). While the sales drop was recorded as 5.1% in the UK (source – BBC News)
Businesses like Urban Company (formerly Urban Clap), BookMyShow, and Nykaa are among those that have seen business plummet and are bracing for a tough FY 2020-21. However, making Shopping listings free for merchants is one way the tech giant is looking to support struggling retailers through the COVID-19 crisis.
The expansion of free listings is slated to be completed by the end of April with the beta launch in the US only and then will be rolled out globally before the end of the year.
With almost all the people across the globe stuck at home, and physical stores closed or with heavily restricted access, online shopping has seen huge uplift and with this Free Listing feature, many other offline businesses will also be encouraged to go online with their product listing on Google.
It Would be No Wrong if We Say that Froogle is Back.
This pandemic crisis is an opportunity for the search giant to grow its share of shopping traffic and grab listings clicks from shoppers who might otherwise run product queries directly on Amazon. If Google Shopping can start returning better results for products with the new free product listings feature then it will be a value add "carrot" – to encourage advertisers to (keep) paying it for ads.
With this change, retailers will leverage free exposure to millions of people who would be coming to Google every day for their shopping needs, and on the other hand shoppers will have options to choose more products from more stores. For advertisers, this means paid campaigns can now be augmented with free listings
Users will still see paid product listings slotted into the top of Google search results whenever they will search for product keywords, as well as into the top of the Shopping tab. So Google isn't giving up all product ad revenue.
What's Next?
Google is collaborating with PayPal to speed up the merchant onboarding process to help bring more merchants onto the platform faster by letting them link their existing accounts for accepting online payments. 
In addition to that, Google is also working with e-commerce inventory management companies like Shopify to ensure companies that operate mostly through their own websites can quickly shift to selling on Google Shopping.
The tech giant is also focussing on existing partnerships to help merchants manage products and inventory, including those with Shopify,  WooCommerce and BigCommerce, etc. to provide a seamless experience to its users. 
Kudos to Google for this really big and bold move to capture maximum market share, let's see how it goes.
Let's Talk
Not sure how you can leverage this new Google Shopping update to grow your retail sales? Get in touch to know the next steps!