How to Create A Google Ads Expert Job Description: A Guide For Hiring Managers
Shreya Srivastava
May 30, 2022

11

Minute Read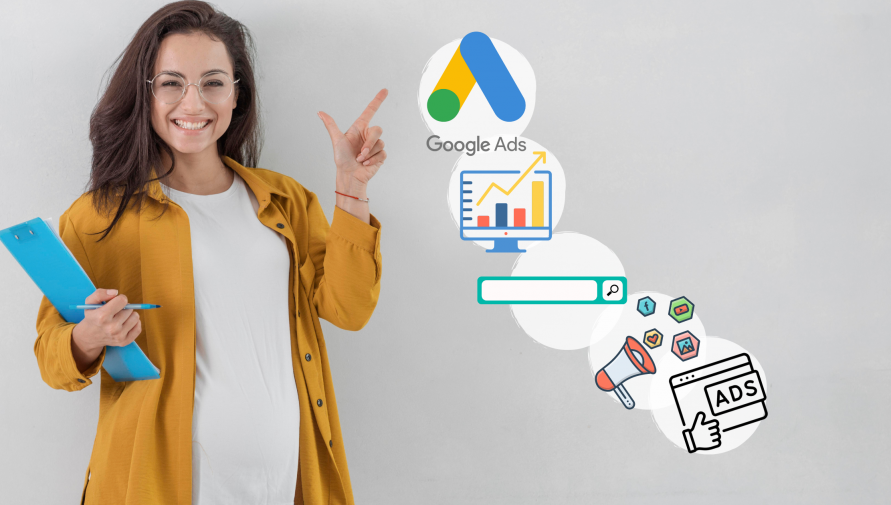 An expert Google Ads specialist manages and optimizes Google AdWords campaigns. They are responsible for creating, updating, monitoring the ad copies, adjusting the keywords, finding the suitable bids, and other important aspects of an organization's online marketing strategy. 
So, before you venture out for a profitable campaign, hiring the right Google Ads specialist is essential. And before hiring them, one must know the job responsibilities and required skills of a Google Ads specialist. 
They should be well-versed in digital marketing practices 

Expert in creating compelling ads to catch the right audience's attention that drives conversions. 

They should know to manage the budget effectively to maximize the ROI on every spent. 
Inclination on Paid Advertising
Most organizations now rely on paid advertising to get immediate leads and conversions. To target clients and increase ROI, 70% of businesses rely on Google AdWords. Because of the rising demand for Google ads, this field now has a lot of job opportunities. Instead of being limited to a particular job profile, Google advertising covers many occupations. 
Job Portal and their statistics
The LinkedIn portal alone shows more than 9000 jobs for PPC only, followed by 1000+ jobs on indeed.com and 100+ jobs on recruitment portals. To cut short, the demand is high; VERY HIGH.
But everything narrows down to if the organization's revenue is directly 2x proportional to the money they spent; the risk value is high, and Google AdWords specialist in the market is scant. 
People are thriving and hustling to become a Google Ads Expert; and this is why you need to understand the skills, market requirement, and their salary in detail before you hire one. 
But first, we start with PPC, which is the basis of Google Ads. PPC, or pay-per-click, is a form of online advertising where an advertiser pays a fixed fee every time their ad is clicked from the source, which is mainly the search engine result page (SERP). So basically, you are buying each visit to your website.
To run a PPC campaign on a search engine like Google, PPC experts bid for a spot to place their ads among the search engine's sponsored links. Thus, when a user searches for specific keywords or related terms, these ads show up towards the top of Google results.
This is a great way to increase online visibility and brand awareness among your target audience. PPC ads can be run with the help of several online tools. Google Ads is arguably the most popular and useful among them.
What is Google Ads used for?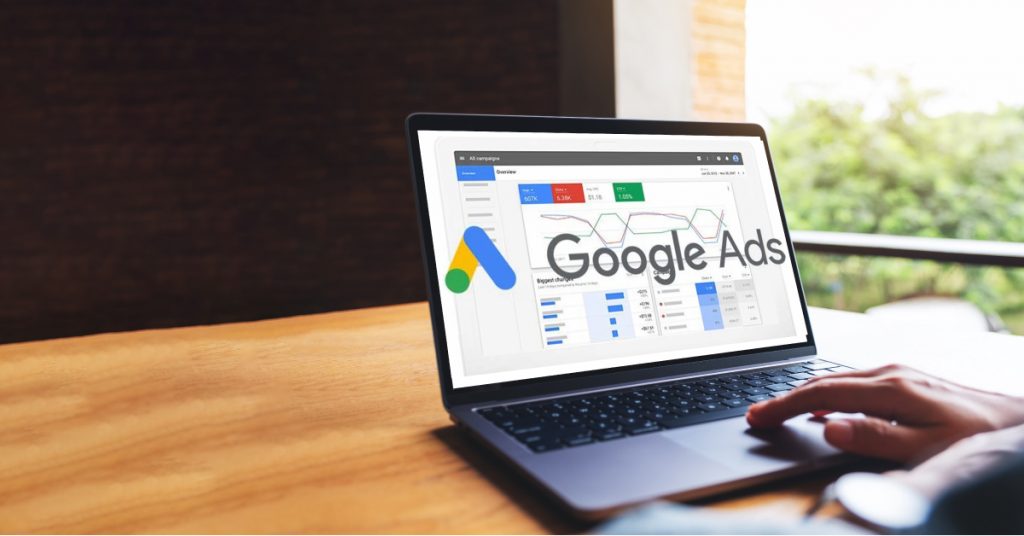 Google Ads uses cookies and keywords to place ads on relevant search result pages. Each time a user clicks the ad from these pages, the Google Ads Specialist has to pay a fee to Google. Ads can be local, national, or international, based on the bid.
Some important features of Google Ads are:
The Keyword Planner for relevant keyword data based on Google searches
AdWords Express for automatic management of keywords and ad placements for small businesses
Google Ads Manager Accounts to manage multiple accounts under one ID and dashboard
Google Ads Editor for bulk changes to ads and tracking ad performance
Ad extensions to add extra information with ads, such as contact details, website link, or sale campaigns of the business
The Reach Planner for forecasting the extent of ads across Google's video partners like YouTube
Since Google Ads involves so many technical aspects, it needs an expert to create and manage ad campaigns effectively. You can become a Google Ads expert with the relevant qualifications, experience, and knowledge.
In this blog, we will discuss the basics of hiring a Google Ads expert and the skills and salary structure associated with this job profile.
Who is a Google Ads Expert?
A Google Ads expert is one who manages and optimizes campaigns of Google Ads. They have to have extensive knowledge of how a pay-per-click campaign works and technical skills to create, manage, and optimize high-performing advertisements.
Typically, the Google Ads expert job description includes activities related to creating ad campaigns, doing keyword and industry research, updating and monitoring the ad copy, handling bids, and taking care of other associated marketing aspects.
To excel at this job, you must have a quick turnaround time, attention to detail, insights into current industry trends, and a knack for choosing budgets and keywords. Only then can you do satisfactory work for a client and target the desired audience for more views.
Why Hire a Google Ads Expert?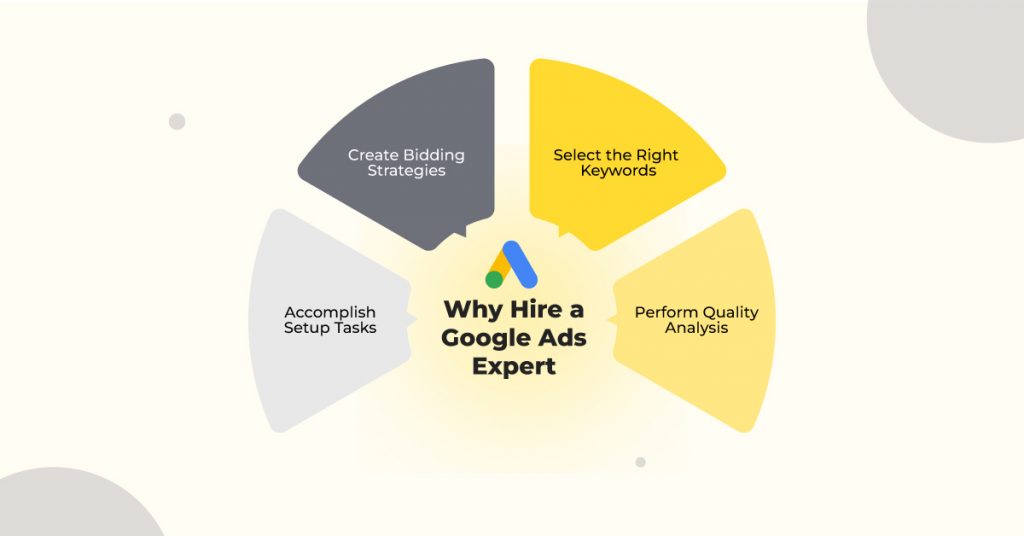 Business owners often choose to run ad campaigns through tools like Google Ads on their own. This tool even has a self-service dashboard with easy controls. However, Google Ads is much more complex than how it initially appears.
And although you can run campaigns without expert help, you will only get its full benefits if you hire a Google Ads expert.
Instead of struggling to master the tool, you can simply get professional help to make your campaigns more effective and successful. Here are some major reasons why you should hire a Google Ads expert.
To Accomplish Setup Tasks
Setting up a Google ads account is not just about signing up and starting the campaign. It involves several tedious tasks like:
Connecting your account to analytics
Tracking lead calls
Tracking conversions
Searching for effective keywords
Bidding on keywords
Creating or applying an ad structure
Writing ad copies
Targeting the right audience
Studying competitor data
Performing all these tasks regularly may use up resources and hinder business-crucial operations. It is easier to hire a Google Ads expert instead.
To Create Bidding Strategies
Bidding strategies are specific to your goals and industry. There are several strategies on Google Ads that seem equally effective at first glance. However, you must choose the right bidding method based on your campaign type, target audience, and end goal.
The end goal can be increased conversions, impressions, clicks, or sales. If you do not choose the right bid type, you may end up losing valuable customers. That's why you need an expert.
To Select the Right Keywords
Let's say you run a digital printing studio. Now, there can be so many keywords or phrases that users would search with if they are looking for printing options. The obvious ones are "digital printing studio" and "digital printing studio near me".
More specific searches can be "laser digital printing in Arizona" and "colored digital printing for business cards."
Depending on the content of your ad and the competition for each keyword, you must choose the right keyword to bid on. Choosing effective keywords is basically at the top of the Google Ads expert job description because wrong keyword decisions can make a campaign less effective.
For instance, people often make the mistake of relying on a very common keyword or picking the most popular ones, which can reduce your ad's visibility.
To Perform Quality Analysis
Google assigns quality scores to ads based on keywords, ad copy, landing page, and website UX. A Google Ads expert can analyze your PPC ad and ensure you maintain a quality standard, which can reduce your cost-per-click as well.
A specialist also analyzes your ads regularly to identify changing trends in similar ads, fluctuating ad performance, and any obsolete information.
If you do not analyze and improve ads, your campaign will sink even though it was performing well initially.
Google Ads Expert Job Description: Required Qualifications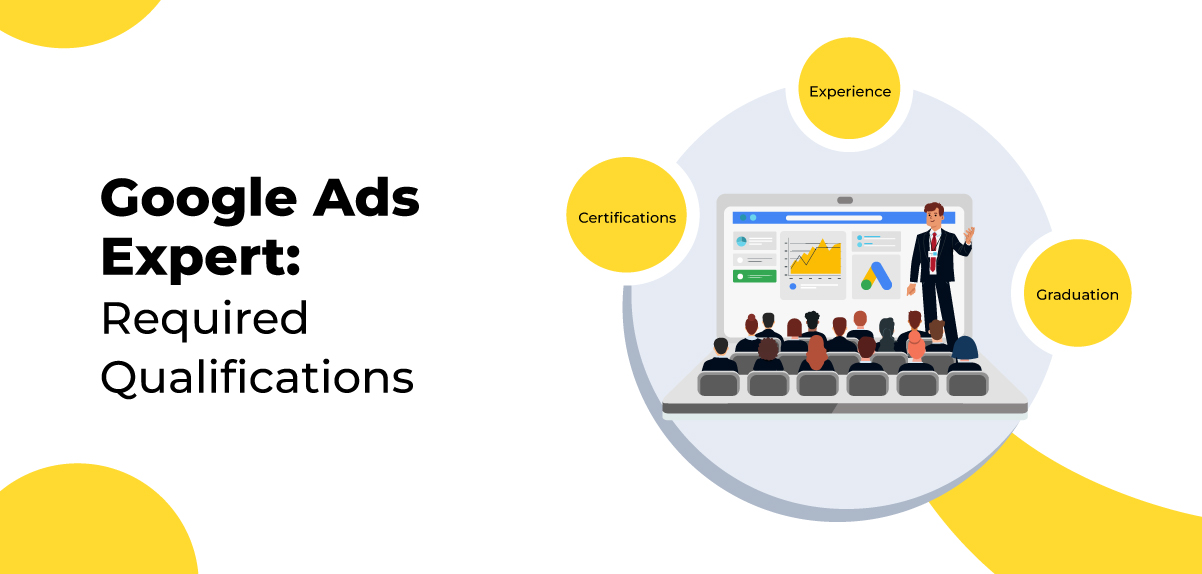 In the present market, Google Ads is the biggest provider of search advertising, with more than 2 million Google Ads accounts. And most companies prefer to bring in paid experts for their advertising needs.
Hence, you must be aware of what qualifications this role should possess. This information is relevant if you want to make a hiring decision and also if you want to become a Google Ads expert yourself.
A Google Ads expert job description involves a lot of things, as we mentioned. So the required qualifications are not very rigid, but must include certification or experience in the marketing field. Based on how qualified or experienced you are, the Google Ads expert salary may vary.
To start with, a Google Ads certification really helps. Google conducts tests on your knowledge and execution within the platform to offer a certificate. Most companies look for a candidate with this certification and also a degree in marketing or advertising.
However, if you are someone from a different college background but still want to work as a Google Ads Specialist, a bachelor's or master's degree followed by experience in the marketing field will do the trick.
Smart companies care more about the experience than education, so they won't shy away from hiring candidates with internships in the advertising field or relevant work experience with marketing.
Google Ads Expert Job Description: Roles and Responsibilities
Studies say that 80% of all companies use Google Ads for their PPC needs. So, the Google Ads expert salary is also one of the most competitive in the industry.
Although their roles and responsibilities may vary from business to business, there are a few common responsibilities that come under every expert's pay grade.
A Google Ads expert typically starts by interacting with clients on their preferred outcome. The client's goal may be to bring in traffic, drive up sales, improve brand visibility, or boost engagement. Understanding this aspect helps to create more focused campaigns.
The next step is trying to understand the targeted audience. You must make sure the right demographic is being reached with the ad.
The budget of the campaign must also be determined, which will help set realistic goals and expectations. As a Google Ads expert, you also would not want to overshoot the client's budget and put them in a tough spot.
After getting clarity on the goal, target audience, and budget, you have to determine an effective strategy to reach the goal. This also includes understanding the product or service of the client and choosing a campaign accordingly. Campaigns can be location-specific or search topic-specific.
Once the campaign is up and running, you are responsible for monitoring its performance and making adjustments based on results. You may lower budgets, update the ad copy, target different keywords, and make changes to the landing page for better results.
Google Ads Expert Job Description: Skills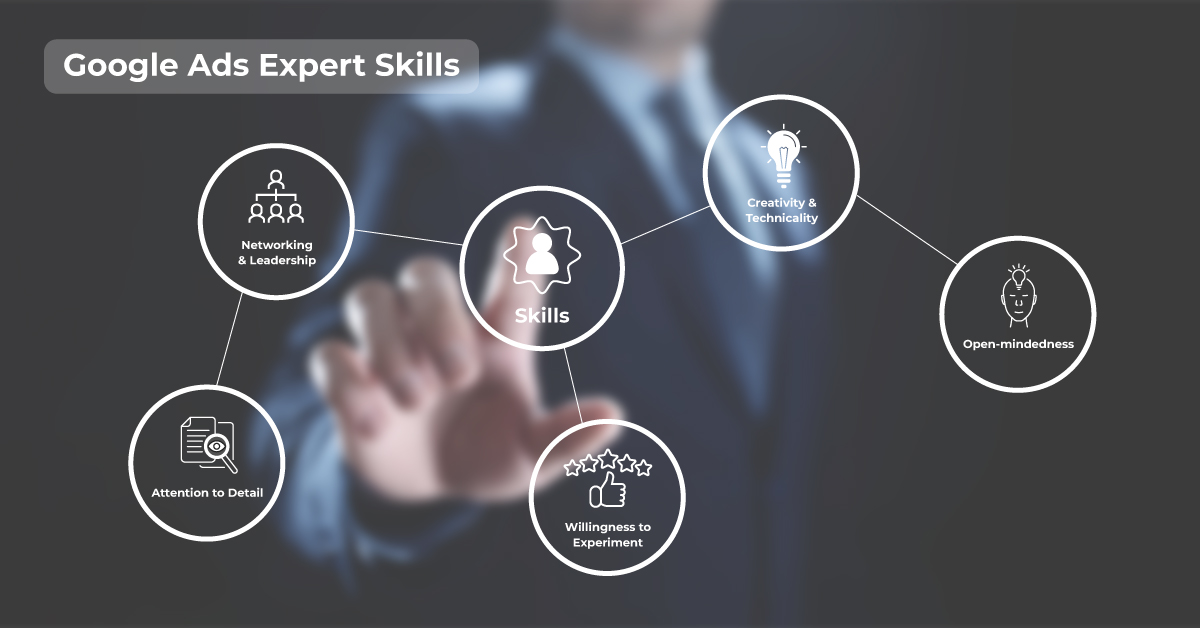 Skills, in this context, differ from qualifications in the sense that qualifications imply degrees and work experiences, whereas skills refer to the knowledge or qualities that an individual possesses.
To become a Google Ads expert, you must have specific hard and soft skills if you expect even to be paid the Google Ads expert minimum salary for your efforts.
Hard skills for this role include:
Background or experience in marketing and advertising
Knowledge about search engine marketing and marketing automation
Familiarity with the Google Ads platform (Excel knowledge is an added advantage)
Ability to operate and comprehend data analytics tools
Copy writing knowledge and experience in the marketing domain
Soft skills, on the other hand, involve several aspects:
Creativity and Technicality
Creating an ad copy and optimizing the landing page requires both creativity and technical knowledge. Your ad must be aligned to the product or service you are selling; otherwise, users will leave without conversions.
Thus, it is important for clicks to have a creative and unique ad and equally essential for conversions to have a technically-sound landing page for the PPC campaign.
There are candidates who are experts in their field, and some pushing the boundaries to becomes a Google Ads expert; but one must ensure when hiring, all accounts should be taken into consideration before finalizing on one.
Open-mindedness and Attention to Detail
A Google Ads Specialist must be open to suggestions and inputs from the client. After all, they know the business better and can provide valuable information to make campaigns more effective.
You also need empathy to identify with their hurdles and find effective ways to overcome them.
Another soft skill is attention to detail. PPC campaigns run on various details like bids, targets, keywords, analytics, etc.
Your daily work will include tracking figures and numbers and studying reports on campaign performance. Identifying little details is important here.
Networking and Leadership Skills
Although networking does not come under the Google Ads expert job description, a strong network within the industry is highly beneficial for prospects.
It gives you early access to inside news, trends, and competitor strategies. Reach out to industry leaders, similar profile-holders, and consultants to always be in the loop.
Also, develop your leadership skills by honing your craft, getting managerial degrees,  and learning to manage multiple campaigns on your own.
Being in charge of your tasks helps to build confidence in your clients and gives better results.
Willingness to Experiment
Risk-taking is a key part of working on Google Ads. Emulating old campaigns can only take you so far. If you do not run unique strategies, you will always be stuck fighting tooth and nail with competitors.
To elevate your performance, be brave and take risks. If you fail, you can always adjust the campaign and go for more conventional ways. But if you are confident about your approach, do not shy away from trying out new ideas.
Google algorithms anyway keep changing and evolving, so your strategy may pay off and set new standards for the client.
Google Ads Expert Job Description: Salary Structure
Learning the skills relevant to this field only makes sense if you are satisfied with the Google Ads Expert salary structure. Here is a rough estimate of the average salary for this role. Any performance bonuses can be additional.
Salary Variables 
According to several salary comparison websites, the typical compensation for a Google Ads specialist in the United States is $48,250 and $76,437 with the Google Ads expert minimum salary being around $20 hourly or $45,000 yearly.
The following are the average base wages for Google Ads professionals as of March 2022: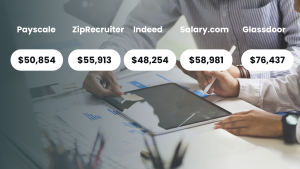 What factors go into determining a salary?
According to their experience, location, and the size of the company they work for, Google Ads Specialists can earn a wide range of incomes. Let's take a closer look at how these variables influence earnings.
Years of practical experience
Salary increases are usually linked to your level of experience. In general, the longer you work as a Google Ads professional, the higher your salary will be. 
Generally, a certified Google Ads specialist gets paid the highest salary in this industry, followed by Facebook Ads specialists and marketing experts.
The figures also depend on a country basis and can be negotiated to an extent.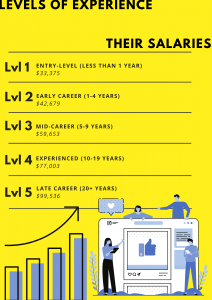 Some factors that influences the salary figure are:
A Master's degree and Google Ads certification
Good performance in the interview and demo session
Location and industry of work
Number of years of relevant work experience
Level of the job role
Nature and responsibilities of the job role
The ideal Google Ads expert minimum salary should not be less than $15-18 an hour for you to make good use of your skills.
Google Ads Expert Job Description Template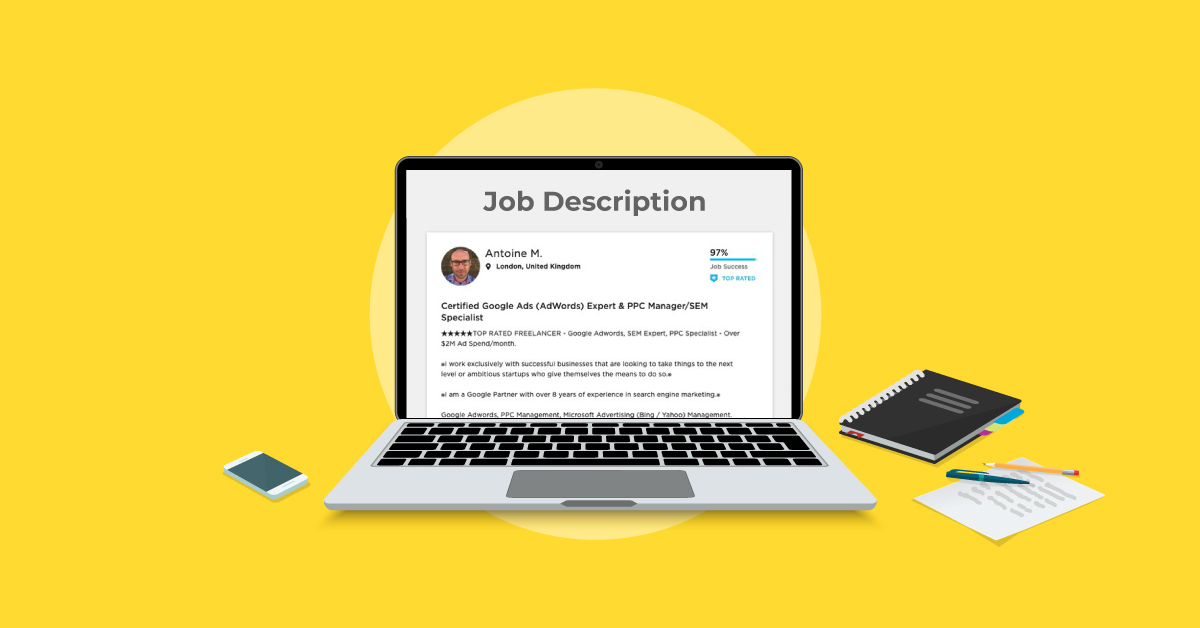 The job description of this role can help you understand how to become a Google Ads expert so you can set out on the right path and achieve success.
A perfect job description template must include the job overview, level, and experience required, desired qualifications, and responsibilities for the role.
Below is a sample template for a Google Ads expert job description.
Job Overview
We are seeking a Google Ads Specialist to help us create successful PPC campaigns on Google Ads and associated platforms. The ideal candidate must have a working knowledge of the Google Ads and Google Analytics platforms, along with 2-5 years of experience in the relevant field.
Your primary responsibility will be to formulate ads from marketing data, maintain our Google Ads account, analyze results of new and existing campaigns to identify low-performing areas, improve the efficiency and profitability of the campaign, boost our PPC ROI, and provide insights into the usability of our products and services.
Responsibilities
Below are some of the responsibilities associated with this job role:
Managing all aspects of the Google Ads campaigns
Creating and optimizing ad copies and landing pages
Analyzing campaigns to increase return on investment
Managing a variety of PPC campaigns across devices
Developing ad strategies to achieve company goals
Conducting a keyword research for efficient bids
Managing marketing budgets
Performing AB testing with different ad copies and headlines
Tracking key performance indicators (KPIs) to monitor ad performance
Producing reports for campaign insights
Making suggestions on marketing-related issues
Job Qualifications and Skills
A degree in digital marketing or a relevant business field
Experience or certification in similar fields
In-depth knowledge of Google Ads and Google Analytics
Familiarity with search engine optimization (SEO) techniques and search engine marketing
Google Ads certification preferred
Proficiency in Word, Excel, and PowerPoint
Based on the specifics of the company and the job role, you can add or remove points from the template to make it your own.
Conclusion
Google Ads expert jobs are in high demand presently as companies are realizing the importance of online marketing and PPC campaigns.
In the coming years, this demand is expected to grow, with higher salaries and more fleshed-out job roles in traditional companies.
Thus, it is a good time to analyse required Google Ads skills and hire paid campaign managers to future-proof your business.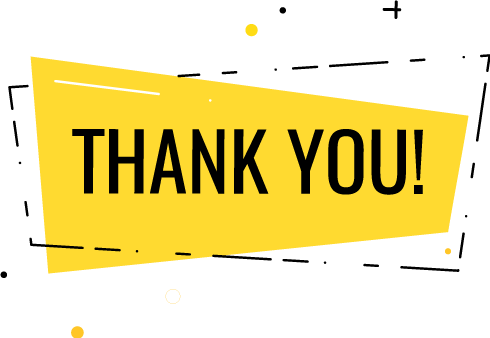 Thank you for submitting the details!
We will keep your information safe. Feel free to contact us with any questions at hello@uplers.com
Please check your email for next steps shared by Robert.