Impact of Covid-19: Revealing Key Learnings for Digital Agencies
Aayush Gupta
June 6, 2020

5

Minute Read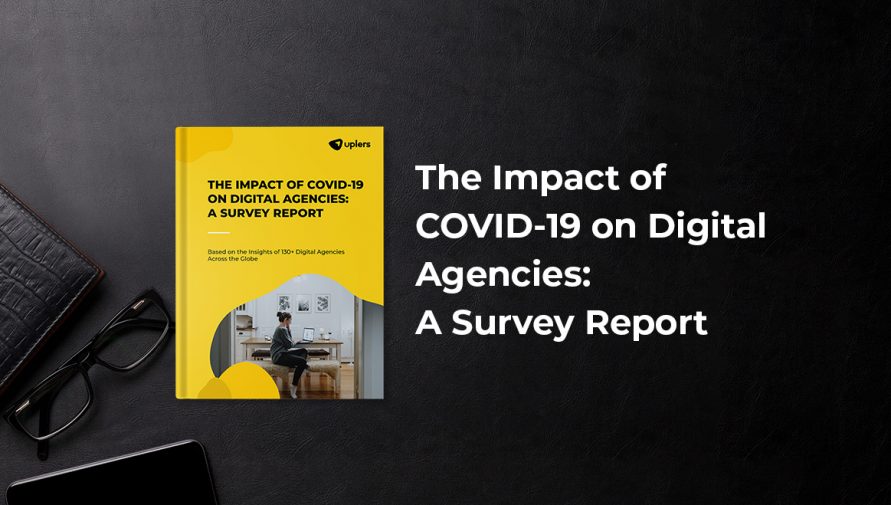 It's clear by now that, with the current pandemic, we're zooming into a new age of remote working, virtual training, and new business strategies. There is a huge Impact of Covid-19 on digital agencies. Let's find out.
This is the new normal, and the sooner all of us adapt to it, the better.
At Uplers, we partner digital agencies of all shapes and sizes. We wanted to create valuable insights for our agency clients and others by leveraging this network.
It is our hope that this will help everyone navigate through this unparalleled time.
Who Participated in the Survey
A total of 130 digital agencies from all over the world responded to Uplers' request to participate in the survey.
These are based in the UK, the US, and Australia, among other countries, with an employee strength ranging from 1-5 to 25-100.
They willingly shared their experiences, insights and learnings in order to help the larger agency community.
The responses from our survey clearly show that all have been impacted by the COVID-19 in one way or another. The crisis will have ongoing and far-reaching consequences.
The agencies also shared valuable advice on coping, adapting, and succeeding in this brave new world.
The Key Survey Findings
Duration of the impact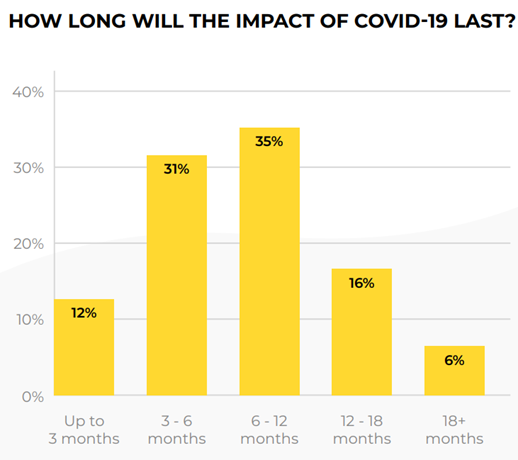 The results of our survey showed that most agencies believed COVID-19's impact would last anywhere between 6 – 12 months.
It seems clear from this that there is going to be a new way of working for the foreseeable future, and agencies need to adapt.
57% of the agencies felt that the impact of COVID-19 would last for more than 6 months. Among other geographies, Australia and New Zealand that were the most positive in their outlook.
43% of Australian agencies expect the impact of COVID-19 to last 3 to 6 months.
40% agencies in the USA expect the impact to last for 6 to 12 months.
Janelle Strickland of Little Bird Online Marketing commented: "A financial downturn can affect agencies in waves, so if you are not impacted in this first wave, it may come later down the track – especially if this impacts the economy for 6+ months. So stay focused on what you're doing, continue to watch costs, and adapt as the market requires."
Impact on revenue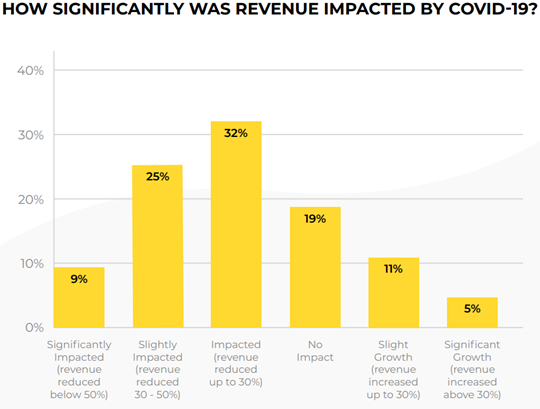 While 66% of agencies experienced a decrease in overall revenue so far, 16% actually saw an increase. Smaller agencies with under 25 employees were the most heavily impacted.
Among sectors, it was technology that saw the most growth, with a rise of 16%. This reflects the common perception that claims the use of technology has risen in these times.
eCommerce and healthcare were close behind, at 15% and 14%, respectively.
Among the sectors negatively impacted were consulting and legal services, at 6%, and manufacturing, at 5%.
Impact on Leads
Expectedly, 66% of the agencies surveyed experienced a fall in marketing leads. However, 14% actually saw an increase.
Clearly, the agency clients were negatively impacted by the pandemic. For the agencies, it is a challenge to make up for the downturn by winning new business.
What's interesting, though, is that 90% of the agencies whose leads increased were actively spending on marketing, across multiple channels. They were able to capitalise on new openings in this way, by taking advantage of reduced competition.
For many others, as Allison Duine of Intersection Online, Inc put it: "I think this is an opportunity for businesses to embrace downtime to update design and marketing initiatives."
How Agencies Countered the Situation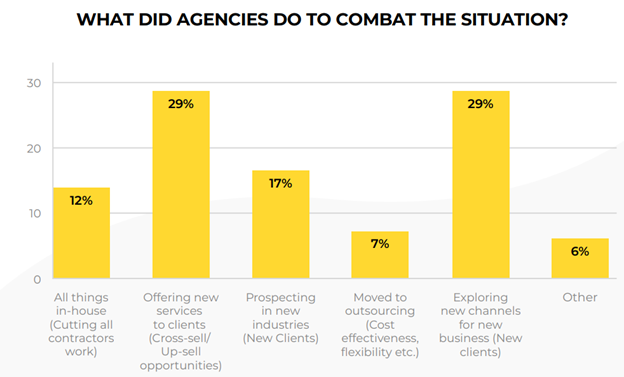 The word most commonly used to describe the current situation is "unprecedented". Thus, there is no single rule book to approach it with.
Agencies took a variety of approaches to combat the crisis. 29% said they would explore new services for their current clients. And an equal number said they would explore new channels for new businesses.
Among the approaches were:
Doing all work in-house for cost reductions
Offering new services: cross-selling and up-selling
Prospecting for work from new clients as well as industries
Explored outsourcing for cost-efficiency and flexibility
In a nutshell, agencies expanded their offerings and added new digital marketing services to their skill set in order to secure new business opportunities.
In pursuit of this, the most recommended digital marketing channels to clients were:
Email Marketing (15%)
Web Development (13%)
Blog content (13%)
Paid Social (13%)
A full 35% of agencies recommended new marketing messages, and 34% urged their clients to increase digital marketing spends.
Flexibility in Relationships
Another important aspect that emerged from the survey was that agencies were open to a greater degree of flexibility in client relationships.
Over half offered flexibility in contract terms and 28% actually reduced fees.
In terms of region and size, 31% of UK/Europe agencies offered the most price reductions. And mid-sized agencies provided the most flexibility in the contract terms.
Approaches to Outsourcing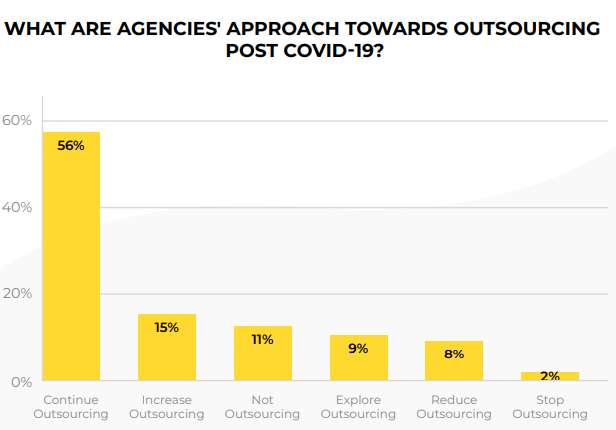 When asked about their approaches to outsourcing during this period, a staggering 80% of the agencies said that they would either explore, continue or increase outsourcing.
In fact, 80% of the agencies who saw above 30% growth in their revenue are outsourcing.
This is because outsourcing offers agility and flexibility and increases cost-efficiency. Another advantage is the ability to scale teams up and down, depending on demand.
The Big Picture
Digging through the statistics and the varied responses, the picture that emerges from the survey is that all agencies have been affected by COVID-19 in some way or the other.
The crisis will have a continuing impact and will shape agency operations into the future.
The three main takeaways for agencies are:
The new normal has arrived, and we're living in it. This is the time to adapt, not to wait.
Services and skills need to be expanded, and clients offered a greater menu of services than ever before.
The option of outsourcing ought to be explored more thoroughly because of its flexibility and risk-management abilities.
As one of the contributors to the survey put it: "The world will change after COVID-19, so business will have to change too. There is a new norm upon us all and those who have the pedigree in business with digital at the core will not only survive but will thrive."
Get Informative & Insightful Articles delivered to You Monthly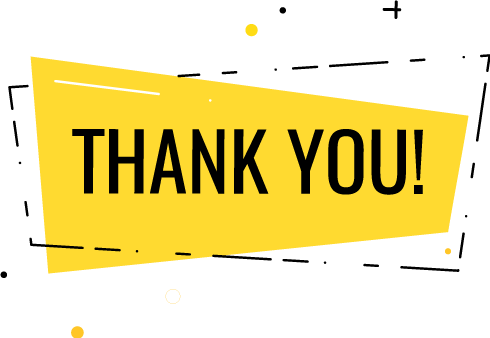 Thank you for submitting the details!
We will keep your information safe. Feel free to contact us with any questions at hello@uplers.com
Please check your email for next steps shared by Robert.