Outsourcing Tips for Digital Agencies: What to Outsource and What Not To
Sara Al-Bakri
April 21, 2020

7

Minute Read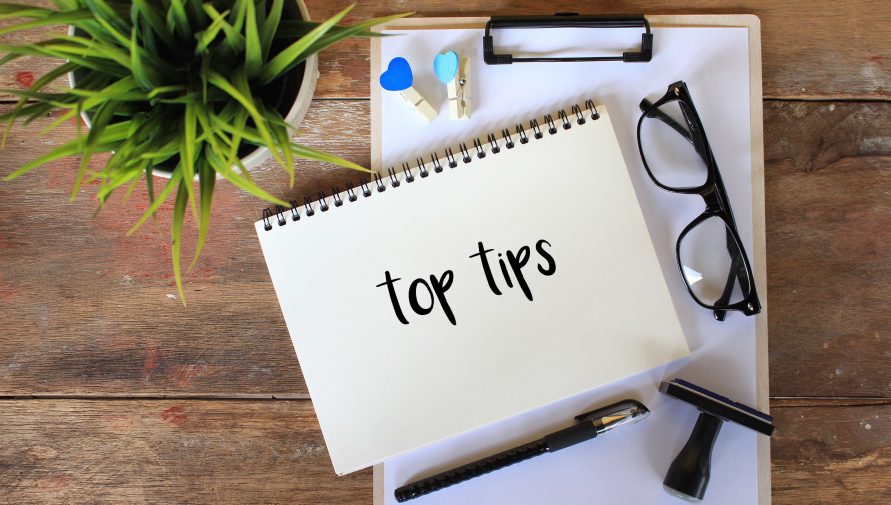 This is not about why you should outsource your digital marketing needs to digital agencies. It's the other way round this time. Our focus here is on tasks that digital agencies can and do outsource. And tasks that they never should. So the article will cover some outsourcing tips for digital agencies.
Do Digital Agencies Outsource At All? 
Entry-level digital agencies are more the destinations for outsourcing than the source. Small digital agencies begin on the basis of their in-house talent. However, as digital agencies become bigger, the benefits of outsourcing become too big to ignore for them.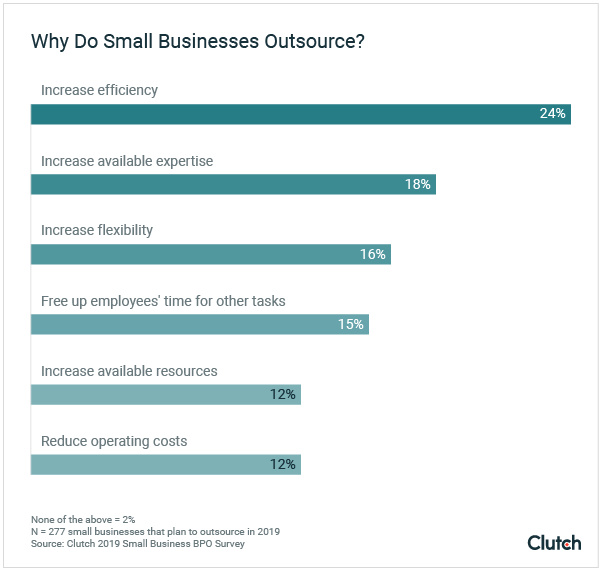 Medium and large-sized digital agencies outsource regularly. The bigger the agency, the higher the chance of outsourcing some of their tasks. 
Why Do Digital Agencies Outsource?
For the exact same reasons that big companies outsource much of their business processes and IT requirements. For some tasks, digital agencies can save resources by outsourcing them. Save costs, get things done faster, and save their human resources for core business tasks. 
Another major reason for outsourcing by digital agencies relates to the efficient handling of workflow fluctuations. Business for these companies is of a fluctuating nature. A sudden rush of business may prove to be too much for the in-house human resource to manage.
To ensure that they maintain deadlines in such situations without compromising on the quality front, outsourcing is a good practice. To have an ongoing relationship with freelancers or small startups is a facilitating factor in such situations.
By the way, the trend of outsourcing some of their business tasks is higher among digital agencies in the global North, than elsewhere in the world. But again, that is a quantitative variation. We are not saying that digital agencies located in the global South do not outsource at all. 
Which Tasks Do Digital Agencies Outsource?
That really depends on the in-house skill-set available to an agency. However, our research tells us that there are some common trends. Below is a list of tasks that digital agencies should outsource to benefit the most.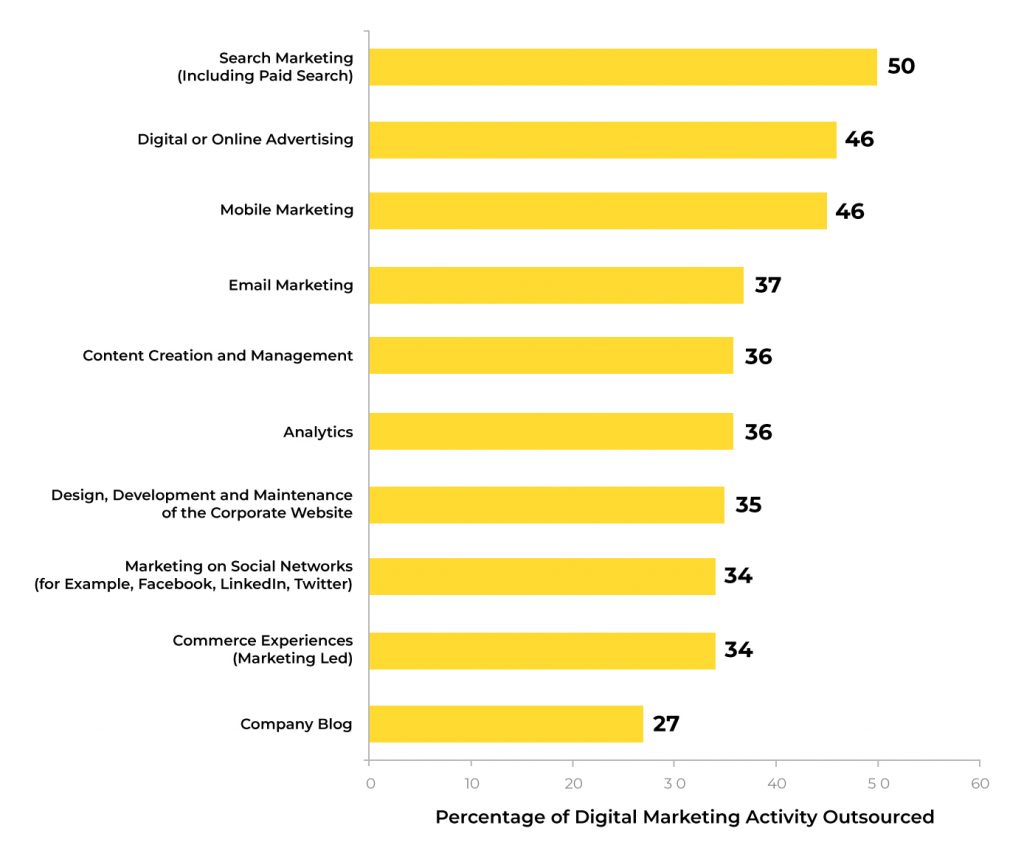 1. Search Engine Optimization (SEO)
There are several elements packed into the umbrella term SEO. It involves (among many other tasks):
Keyword research

SEO focused copywriting

Creating SEO analytics dashboards and extracting reports

Competitor research

Running A/B tests 

Submitting NAP (name, address, place) to directories for local SEO

Link Building

Technical SEO audits
Many of these are tedious, time-consuming tasks that need little more than meticulous concentration. It is critical for digital agencies to retain their SEO strategizing, of course. But the rest can easily be outsourced to save time for core business tasks. 
There are actually two sides to SEO services outsourcing. It will normally involve a digital agency outsourcing SEO for its own needs. However, big digital agencies also outsource SEO services for their clients. 
SEO Service Outsourcing Tips
In the case of a multidimensional contract for comprehensive digital marketing services, digital agencies can gain from a faster turnaround time by outsourcing time-consuming tasks like SEO services. As an outsourcing tip, SEO services can be a prudent outsourcing choice.
2. Search Engine Marketing (SEM)
As in the case of SEO, SEM also involves a number of components. Agencies spend thousands of dollars a month for themselves and for their clients, on web advertisements across Google, Bing, Facebook, Linkedin and other platforms.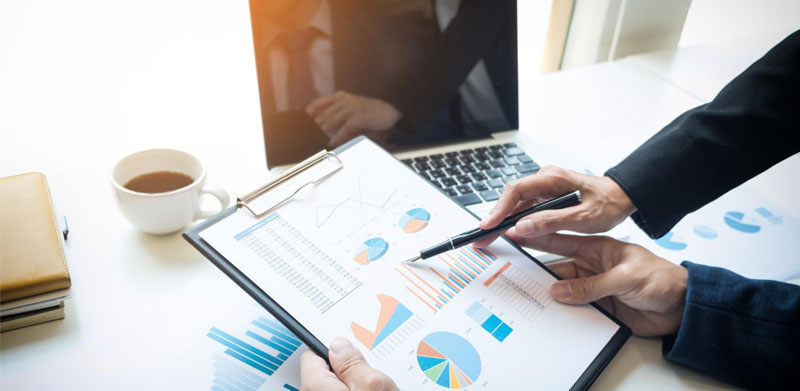 Many of the SEM activities can be outsourced to a digital services provider. These include:
Track website analytics 

Handle PPC initiatives

Manage campaign budgeting

Reconciling discrepancies in spending

Optimize landing pages for paid search 

Enable keyword discovery
Google Ads Outsourcing Tips
It benefits large and medium-sized digital agencies to retain the strategic part of SEM and outsourcing the rest. Digital agencies make great profits by outsourcing PPC management services to white label services partners.
3. Email Marketing
As in any other marketing initiative, there is a core strategy part of email marketing. However, there are several other elements such as deciding the subject line, personalization, timely release, running analytics and preparing reports on open rates, click through rates, and response rates, etc.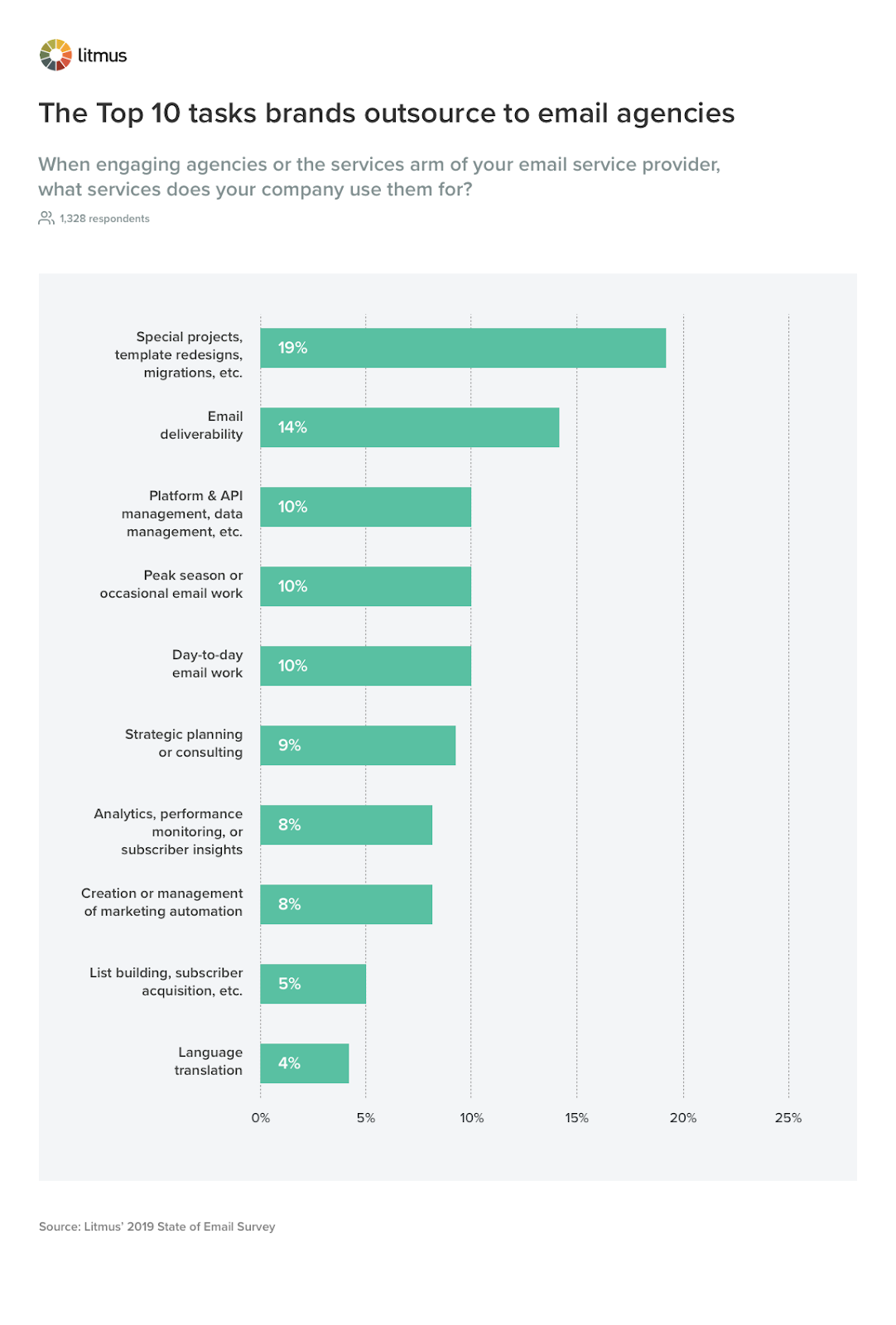 Once a digital agency finalizes its email marketing strategy, it can gain significantly by outsourcing the rest of it. However, according to a smart outsourcing tip, it is important to retain control over the content and distribution channel.
4. Web Development
Many digital agencies prefer to focus on the creative part of web development, outsourcing the technological part of it. Normally, the task of website maintenance is part of the outsourced kitty. 
As a fact, 71% of companies outsource web development including software development.
Very often, these are creative ad agencies who have had to embrace the digital world to survive. However, their killer skills lie in the design elements: graphics and copy. They can deliver the most amazing web designs by outsourcing the technology part of it. 
4. Front-end Development
This is one of the areas that big and medium-sized digital agencies outsource the most. Outsourcing front-end development tasks is a great saver of money and time. Also, outsourcing allows more flexibility in terms of scaling up or down as per need. 

Front-end development outsourcing is one of the most rapidly growing sectors in the present times where COVID-19 has compelled businesses to adopt remote working. As an outsourcing tip, India has grown as a promising location for outsourcing front-end development projects and leverage great expertise at best competitive rates.
Also Read: How Much Salary you should Pay to a Decent Front-end Developer?
5. UI/UX Development
Sometimes digital agencies outsource just the UI/UX development part of front-end development. It is one of the most preferred areas for outsourcing since it saves the inhouse team from hours of focused research. 

It saves time and valuable human resources to outsource these tasks to smaller agencies specialized in UI/UX development as part of their front-end development expertise. A majority of companies that outsource web development consider cost as a major parameter for decision-making. 
6. WordPress Development
For digital agencies that do not have in-house WordPress development skills, it is one of the most easily outsourced services. Big and medium-sized agencies more focused on digital marketing strategy development for their clients find it more profitable to outsource the WordPress development component. 
If you are considering what not to outsource, it is the strategic part or the roadmap of your website. However, you can always discuss the project scope of your website with your offshore development team.   
7. Business Analytics
Digital agencies often outsource the business analytics needs for their own agencies. Even agencies offering business analytics services to other companies sometimes outsource their own business analytics to a freelancer or a small startup. 
That allows them to concentrate on other aspects of their own marketing where their core skills lie. 
What Digital Agencies Should Never Outsource
Your business or campaign strategy. You should never think of outsourcing the strategic part of anything at all. The cue is, you can outsource tasks that need special skills. But how those skills need to be utilized and why is part of the strategy.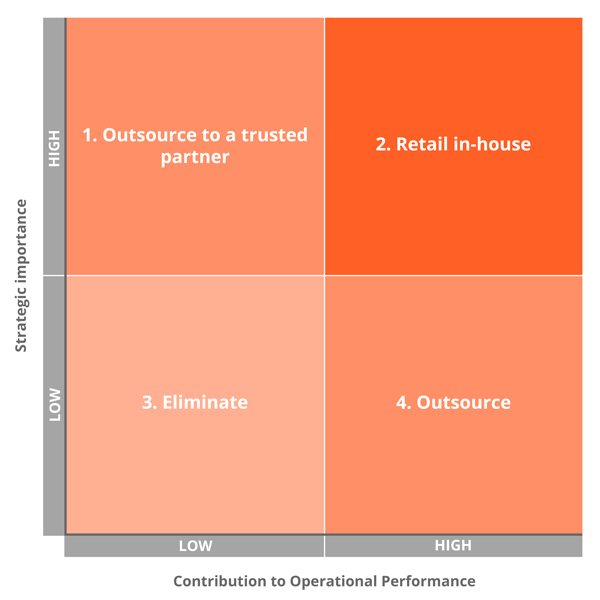 Even to decide what to outsource and to whom, you must get your strategy worked out first. The same applies to the planning part of it. 
Plan your campaigns in-house. That is a core skill area for digital agencies. A number of digital agencies offer digital strategy development and planning as part of their service package. 
Strategy and planning involve the element of control, which a digital agency should never outsource. 
A Rhetorical Question
Should a digital agency outsource its client relationship management? 
The answer, obviously, is a resounding 'no'. 
Outsourcing client relationship management may make sense for a large retail chain. Certainly not for a digital agency. That is a core business function for digital agencies and any thought of outsourcing that is suicidal.
The Long & Short of It
Whatever is not a strength-area of your in-house team, and you need to use those skills only for some clients, or some projects – it makes sense to outsource those. That will save you overheads many times round.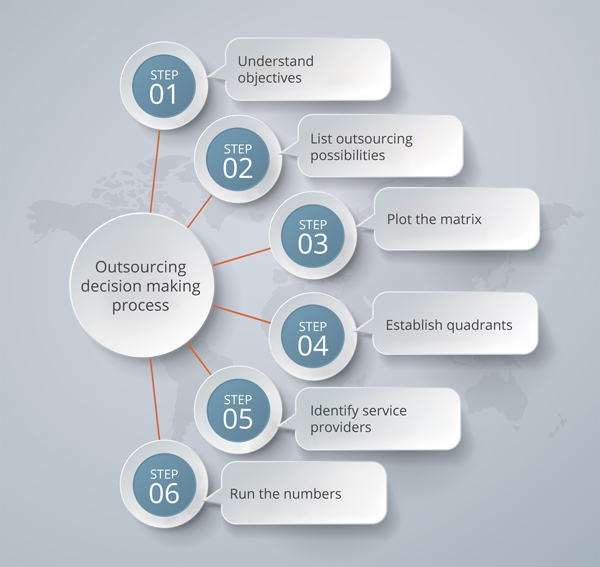 It will save you much more than just monthly salary checks. As an outsourcing tip, think about the time you'd need to spend recruiting and training. Outsourcing will give you a faster turnaround in such cases. 
The ultimate decider is: does it save resources to outsource certain tasks, or not? Wherever the answer is yes, choose to outsource. Except for your core business areas, of course. 
Also, if any of the tasks that you outsource becomes a recurrent need over a longish period of time, you may need to do that cost analysis afresh.
If you wish to outsource white label services or build a dedicated offshore team in India, feel free to connect with us.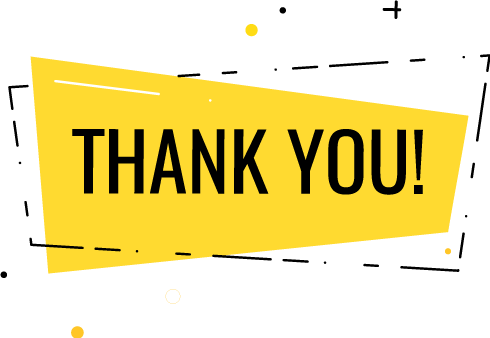 Thank you for submitting the details!
We will keep your information safe. Feel free to contact us with any questions at hello@uplers.com
Please check your email for next steps shared by Robert.