If you're looking to create an online store, you must choose an online platform that is stable and secured. By far, you must have come across a few different names. But only two terms must have caught all your attention: Shopify and WordPress. In addition to being famous for the debate Shopify vs WordPress, they make great sites for building websites. 
And at some point, you might also wonder: Which one out of Shopify vs WordPress is more suitable for your business? 
In addition to their ability to build successful online stores, both these platforms are very different from one another.
Let's explore these two options and determine which is suitable for your online store project.
What is Shopify?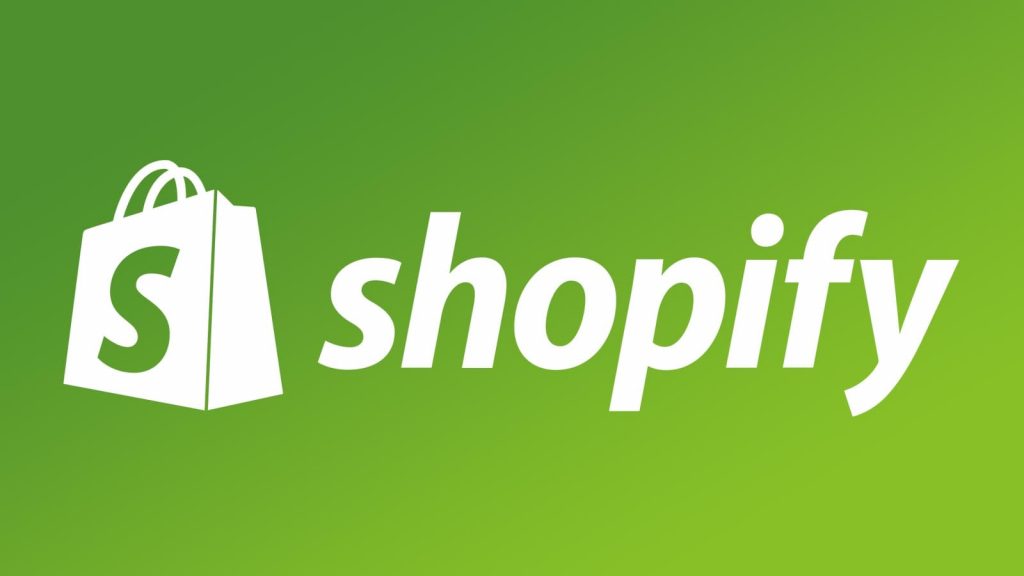 People who are relatively new to the concept of website creation can use this tool. For using this, the person does not have to be tech-savvy. It provides online retailers with a service suite, including marketing, payments, delivery, and customer experience tools, to simplify the operation of small merchant online stores.
It provides a range of templates that can be customized to meet individual businesses' branding requirements, and it allows the sale of both physical and digital goods.  
With Shopify stores, you will have access to all the excellent features it has to offer for a fixed monthly fee. Even though it is very convenient and easy to use, it also has a drawback. You have minimal control over your website since Shopify handles everything on your behalf. 
Pros:
You can choose from over 100 different online store designs.

You'll have access to 24/7 support.

Shopify has a clean and easy to use interface

Being an E-Commerce platform, Shopify is already a hosted site and thus possesses more robust security.

There are several excellent points of sale options.

Your store comes with a wide variety of analytics features, including tracking customer behavior, stock levels, and conversions. 
Cons: 
It is imperative that you use Shopify's payment gateway to collect payments from your customers; otherwise, you have to pay extra transaction fees (0.5%- 2% per transaction).

As a paid tool, Shopify development may not be an ideal choice for small businesses.

In the event of platform migration, Shopify may not be the most favorable option.

If you choose to switch themes, you will have to reformat your content.

You have less control over the site with Shopify.

It lacks an email hosting facility. 
What is WordPress?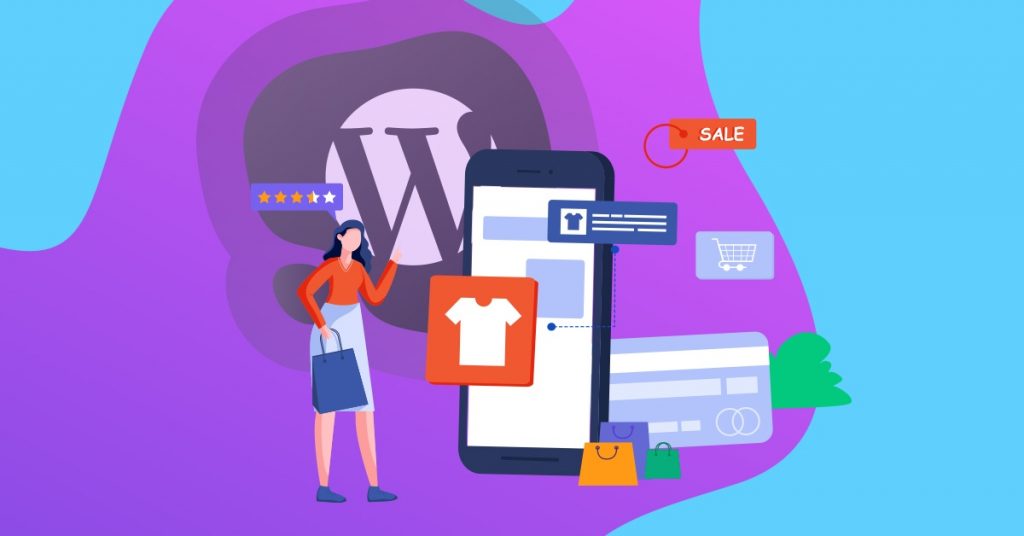 WordPress is a widely used platform for building websites. Nearly 40 percent of all the websites on the internet today are running on WordPress. This platform is entirely self-hosted.
An open-source content management system that relies mainly on PHP and MySQL was initially intended to serve as a blog management tool but has now been expanded into a versatile CMS. Businesses have taken a great deal of interest in WordPress development to create a blog, website, and mobile applications. Today, it is also possible to integrate WordPress plugins into creating an online store.  
Pros:
WordPress offers the flexibility that no other website builder can.

The WordPress software is free. To use it, you need to

choose a web host

and buy a domain name. When all is put together, you can get started with WordPress for about $5/month.

There is no direct support but a very helpful support community.

Since WordPress is an open-source solution, it is an economical option for small and medium-sized businesses.

This software is primarily designed for larger markets, and its admin interfaces are friendly and convenient.

More powerful and flexible than Shopify, allowing for total customization.
Cons:
It is your responsibility to take care of things like hosting, security, maintenance, etc.

WordPress is slower than Shopify because developers have to go through different platforms and internal configurations to build the eCommerce supporting functional platform. 

For this platform to function effectively, you will need some level of technical knowledge.

It lacks some of the essential advanced features that could make store management more effortless.

It is not exactly beginner-friendly.

As it offers minimal maintenance support, you have to rely on online forums for solutions.
Shopify vs WordPress: Detailed Comparison
Pricing:
A primary consideration when developing an eCommerce site is pricing. You will have to determine the total cost of the entire project, which includes the fee for the website builder and any required add-on services if any.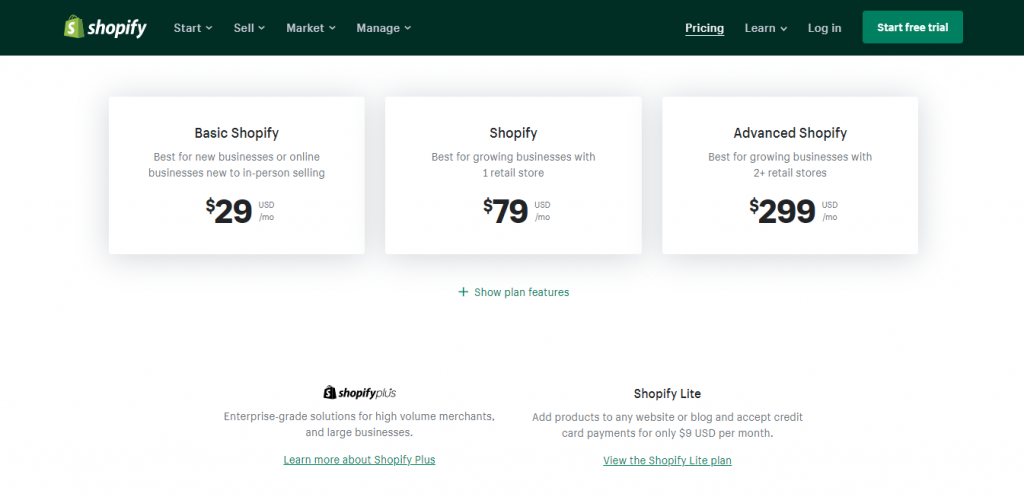 Shopify provides five pricing plans:
Lite

: $9 per month.

Basic

: $29 per month.

Shopify

: $79 per month.

Advanced

: $299 per month.

Plus

: starting at $2000 per month.
There is a free Shopify trial available for 14 days, and you can select from any of the above plans based on your requirement for features.
On the other hand, WordPress is free to download and install. However, it's considerably harder to say how much a WordPress web design costs to build – that's because there are quite a lot of variables involved. It comes with other additional things that you have to pay for.
Customer Support:
Using these platforms can cause some problems just like any other software, and the support offered by the website builder plays a vital role in deciding whether to choose the platform.
Support is an area where I think it's fair to say that Shopify beats WordPress, particularly if you are building your site yourself. 
Providing full 24/7 support and a wealth of community support, Shopify has a robust community backing its e-commerce platform.
When you buy a Shopify plan, you get support bundled with it. Live chat, email, and phone support are included on all plans, except for the 'Lite' one (which limits support to live chat and email). 
It means if something goes badly wrong with your store, there is somebody you can turn to.
When it comes to WordPress, you might have to look for help all over. A huge open-source community like WordPress has millions of contributors. If you get stuck, just post your query in the community. You will receive plenty of solutions in no time.
Control over your content
Generally, WordPress users can put whatever they want on their site. Shopify users, however, need to be aware and follow their acceptable use policy, or they're highly likely to remove the entire site.
A hosting company has the authority to take down a WordPress site if it doesn't like the content on it – but in that case, you have more options, such as switching to a more liberal provider.
On a related note, it's easier to get content out of WordPress than Shopify, thanks to built-in export tools that facilitate the export and backup of the content.
Shopify allows you to export product data in CSV format but not static pages and blogs – these must be manually copied and pasted, which seems old-fashioned.
Ultimately, WordPress allows users more control over their content than Shopify, and depending on the nature and size of your site, this issue should not be overlooked.
Ease of Use:
When it comes to Shopify vs WordPress, the most significant difference is coding. 
Shopify platform was created keeping both developers and non-technical users in mind. You do not need exceptional programming skills to use this platform. Hence, it does not have a high learning curve because you can manage everything without writing a single line of code.
The WordPress platform requires some coding knowledge, even if it's only at an elementary level, to use it. This also isn't naturally set up to sell online, so you will need to install a plugin to make your website eCommerce ready.
Many eCommerce plugins are available, including WooCommerce, Ecwid, and BigCommerce. It's important to research each one before choosing which to use.
WordPress has its centralized dashboard where you can manage your website. Because WordPress is such a vast platform, it can get a little overwhelming as there are so many tools and options.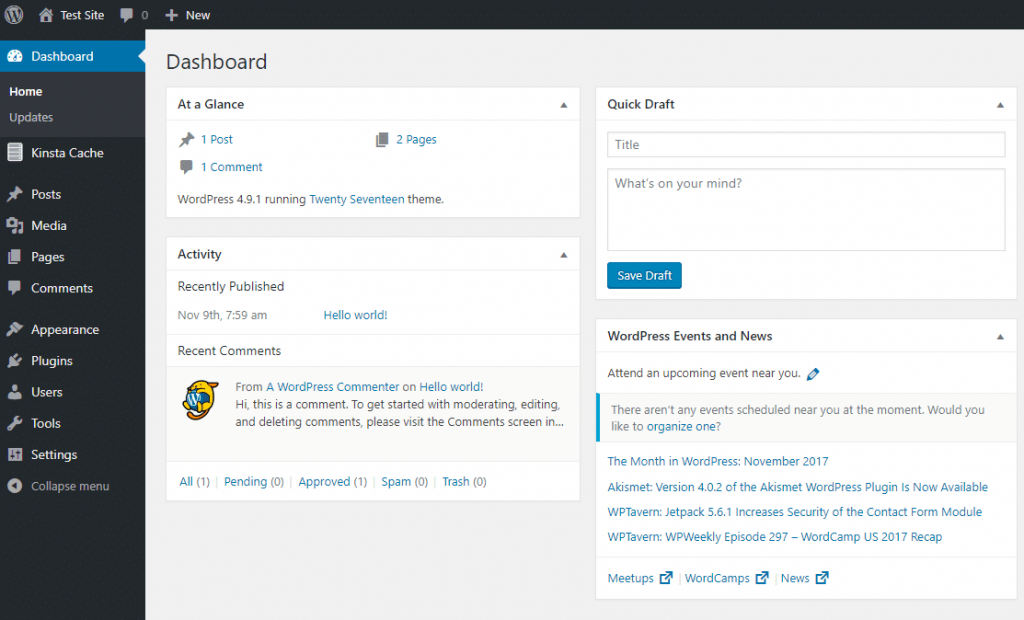 Shopify vs WordPress: When to choose one over another?
When to use Shopify for Ecommerce?
If you don't have a website yet, you can use Shopify to launch an eCommerce store with ease.

Use it if you don't have experience in website design, programming, or coding and do not wish to hire a specialist to set up your eCommerce store.

To have your online store integrated with an offline store, this is the tool you need.

Use it when you're looking for an eCommerce platform with 24/7 customer support.
 
When to use WordPress for eCommerce?
Use it if you already have a WordPress site and you're familiar with the interface. For instance, WooCommerce uses the same admin panel organization for your products and orders, so there's no additional learning curve.

You can use it if your site is already on WordPress and you wish to avoid investing more money in a new eCommerce platform.

Consider using it if you don't mind experimenting with source code periodically.

Use it if you can cope without any fast-reacting customer support.
One cannot simply choose between Shopify and WordPress for eCommerce as each has its advantages. In the end, it all boils down to your specific needs and requirements. 
You have to keep all the elements of your ideal online store in mind. You must make the right pick; only then will you provide a hassle-free experience for your customers.