2024 Latest Edition: Global Company's Crash Course on Cross-cultural Effectiveness Before Onboarding Indian Remote Talents
Aabha Tiwari
November 17, 2023

5

Minute Read
A 2022 survey reveals that 56% of global companies hired remote talents from India, and 42% of them experienced cultural differences while managing them.
Global tech and digital companies have now realized that they need to build a good working relationship with their Indian remote talents to retain and maximize productivity. To do so, they need cross cultural training to understand the talent's background, culture, values, and their communication style.
"I've had a great experience with Indian talents because truly they are skilled but as I move further with offshore remote hiring, the cultural differences and lack of cross-cultural knowledge, it was a setback for me and the organization as we're losing those talents- affecting productivity and retention" – says the hiring manager of a US-based tech company
At Uplers, we have helped 100+ tech and digital companies hire their right fit from our massive network of top Indian remote talents. From our experience, we realized that both employers and talents need cross-cultural understanding and alignment for a strong working relationship. As a part of our process, we always prioritize talents who are remote-ready and adaptable to global organization's work culture. However, companies entering the Indian job market for the first time to offshore remote hire without any prior cross cultural training or expertise, have no idea about this core requirement. They need to know about the importance of bridging cultural differences before building a team with a diverse background.
Several organizations brainstorm ideas internally and come up with activities that celebrate diversity, which is not enough. Indian remote talents want a work environment that understands their culture and communication style. To help global businesses better understand their Indian remote talent for better retention and productivity have collaborated with Cheryl Obal, an expert in cross cultural communication training with 20 years of work experience working with many global companies who have diverse teams. 
This blog emphasizes the importance of knowing your Indian talents' culture and the basics of cross-cultural effectiveness.
What Should Global Hiring Managers Know About India?

A lot of companies fail to retain their offshore talents because:
They do not know about the culture in the offshore region

They do not receive

cross cultural training

to guide them through the process

They lack intercultural competence

Their management lacks experience in the new region
As Cheryl delves in the video series on India's cultural diversity, literacy rate, time zone differences, their skills, and tech expertise, and how these factors contribute to many positives of working with Indian talents in the global landscape. 
She talks about the can-do attitude of the Indian employees and their ability to handle pressure. With that, the client-focused approach of Indians makes them resourceful to any business.
This sets the platform for global hiring managers to understand Indian talents in cultural context and gives them a panoramic view on cross-cultural aspects which gives them better clarity on managing and retention. 
How To Get Your Working Relationship Get Started On The Right Foot
When global companies hire Indian talents,  hiring the right fit is just the start. The core lies in retaining, upskilling, and leveraging their expertise while maintaining productivity.  To do that, the company needs to know their culture, and make them feel part of the team. Frequently, employees from diverse cultural backgrounds encounter challenges in assimilating, making it incumbent upon companies to grasp this critical aspect when hiring. This only further emphasizes the benefits of cross cultural training.
Smooth communication is key to understanding and managing your remote talents. India leads as the country with a high number of people who can speak English at 265 million. However, you do need to know other aspects of their communication style, such as accent, context, and phrases, which are very different from US/UK/AUS style of communication.
Cheryl also explores the following concepts that define the contrasting communication styles of India vs the West: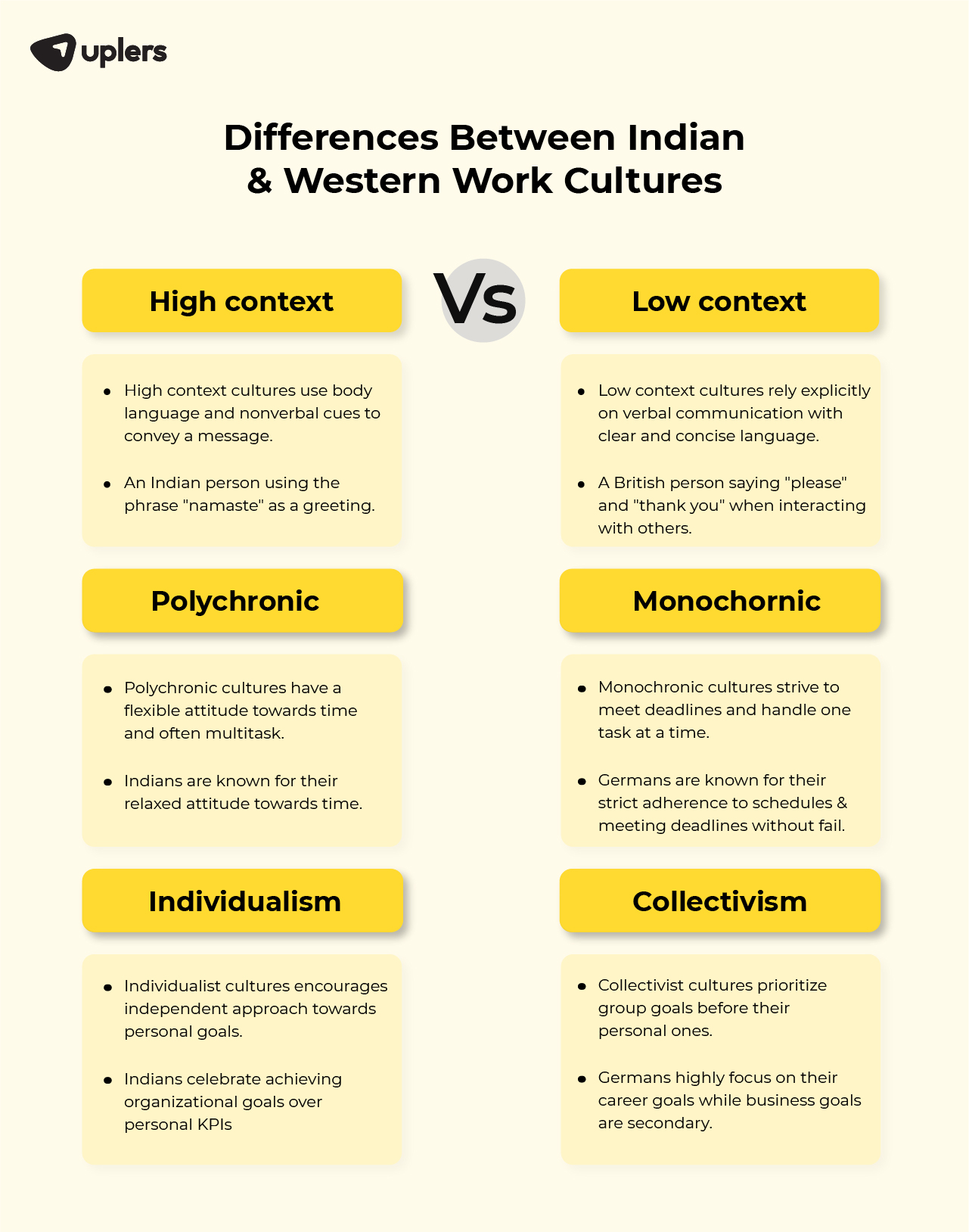 These concepts will help you determine the thought process of your Indian talents with regards to the business goals, deadlines, and hierarchy in the organization.
How To Build Rapport and Share Feedback With Your Indian Remote Talent Working in a Global Setup Like Your Company?
Cheryl shares cross cultural training activities and other best practices for communicating effectively with your Indian remote talent – 
Setting up a communication routine

Promoting a face-to-face conversation over video calls, and using a project management software to keep track of the daily schedule 

She also emphasizes the importance of setting clear expectations from the beginning and communicating in structured messages such as lists and bullet points for ease of understanding 

It is also advised to share notes after meetings so the talent can refer to important discussion points whenever required
Managers also need to decide how to communicate during urgent scenarios or issues. For example if the system crashes during work or there is another task that requires immediate attention, what is your preferred choice of communication – email, SMS, WhatsApp, or any other channel? This cadence will help the talent understand how you expect the communication to flow.
A good way to establish rapport with the talent is to keep checking up on their work experience and challenges 

Try giving an impromptu call and ask the talent if everything is going smoothly in their workflow and if they are running into an obstacle 

Make the talent comfortable so they can share their thoughts freely with you
Indian talents are always dedicated to the company's goals and respect the hierarchy. For the same reasons, they develop a habit of saying "Yes" to almost every task even if it means working overtime. They avoid saying "No" to avoid any confrontation, however, this move can backfire as they may not speak their mind out and share about their challenges, if any. To get out of this Yes/No trap, you should rephrase your questions that compel the talents to explain better.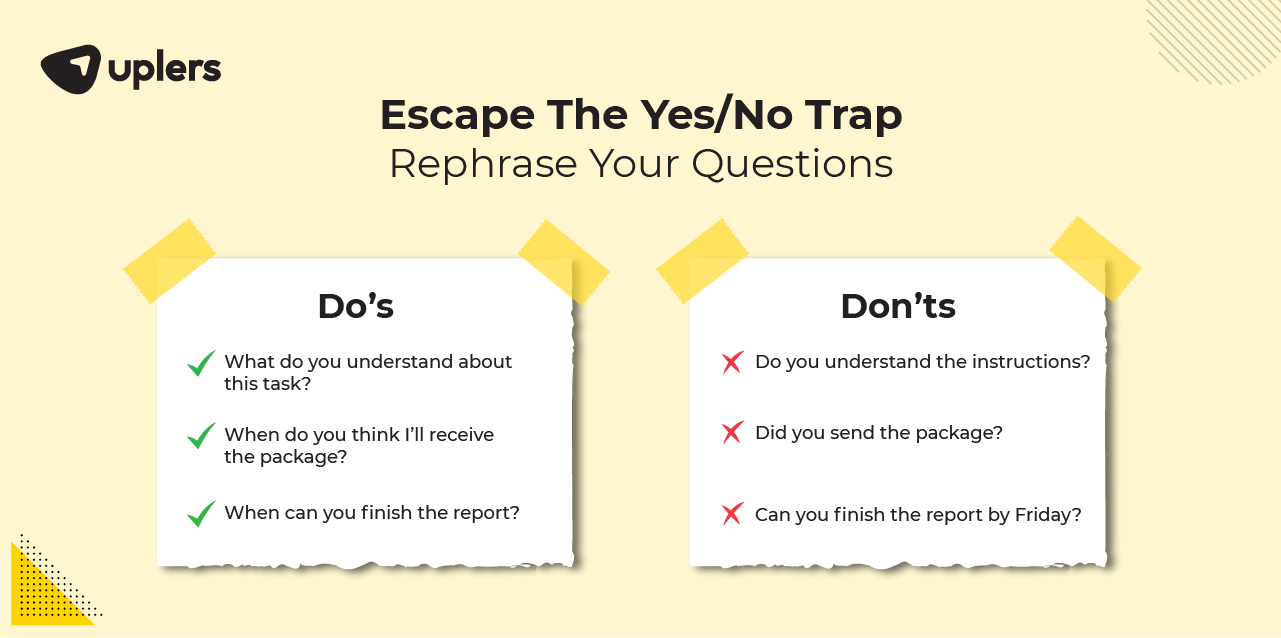 When you are about to share your feedback with the Indian talent in a way that does not feel disrespectful and send a clear message, you can always rely on the Hamburger method. 
In this method, you first share a positive comment or express your gratitude for working with them, followed by constructive feedback, and then another positive comment or gratitude. be sure to avoid strong language while sharing negative feedback or pointing out mistakes, be as specific as possible, and explain your thoughts clearly.
Why do global companies need
cross cultural training
?
In the last few years, Uplers has helped several businesses hire and manage their ideal remote talent in India. Our vetting process identifies the right technical and cultural fit for any organization and we also assign dedicated Talent Success Coaches (TSCs) and Account Managers (AMs) to facilitate smooth communication between the two parties.
We fully understand how tricky it is for a global company to manage remote talent for cross cultural effectiveness, so we offer this course for free. We believe that managing a talent should not be a trial-and-error method, rather a systematic way of bridging differences. At the end of this course you will know the approach towards managing Indian remote talents, you may also realize the mistakes you might have made in the past and how to resolve them.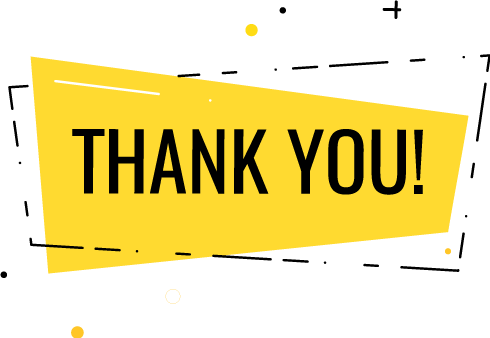 Thank you for submitting the details!
We will keep your information safe. Feel free to contact us with any questions at hello@uplers.com
Please check your email for next steps shared by Robert.