Top 10 Facts About Offshore Development Centers Across the World
Kevin Oskow
May 19, 2020

5

Minute Read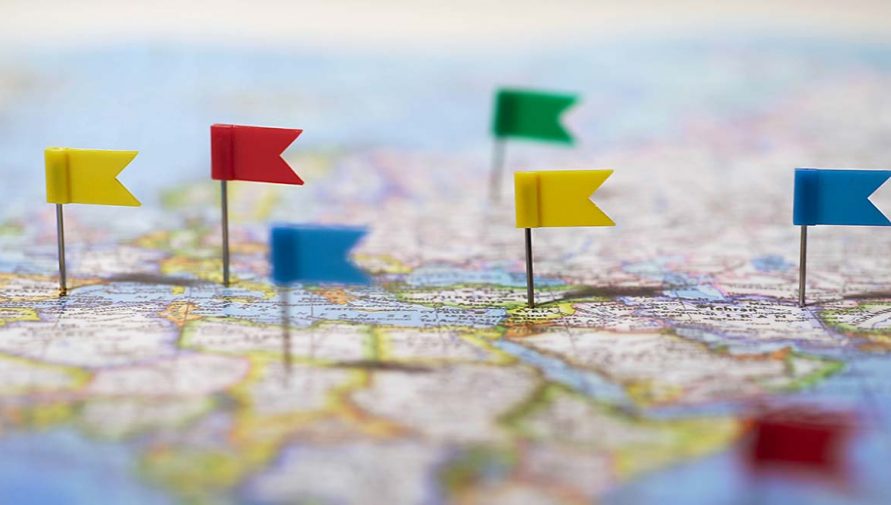 Rampant globalization and raging competition due to the accelerated digital proliferation has promoted an era of outsourcing the world over. Offshore Development Centers or ODCs lie at the heart of this practice, helping companies get instant access to talent pools.
It is empowering to do so since, more often than not, offshore remote teams are hand-picked in a way that they complement the client's culture and requirements. If you are thinking about offshoring anytime soon, here are 10 important facts to give you a gist of the industry:
1. India Remains as the Best Offshore Development Center Location
According to the Global Services Location Index (GSLI) of 2019, India remains the top offshoring destination for organizations around the world, especially for web development services. In fact, a study from IT giant Deloitte claimed that around 59% of the participating companies in its survey outsource to India, with a further 22% planning to do so soon.
This seems to driven by a rich and growing pool of engineers and web developers in India that can bring a variety of talents in technologies such as ASP.NET, ZenCart, Joomla, AngularJS, WordPress, Magento, and ReactJS.
2. India Clocks the Lowest Operating Costs Amongst ODCs
If we compare the average cost of developer salaries around the world, India again emerges as the frontrunner with the lowest costs (refer to the graph below).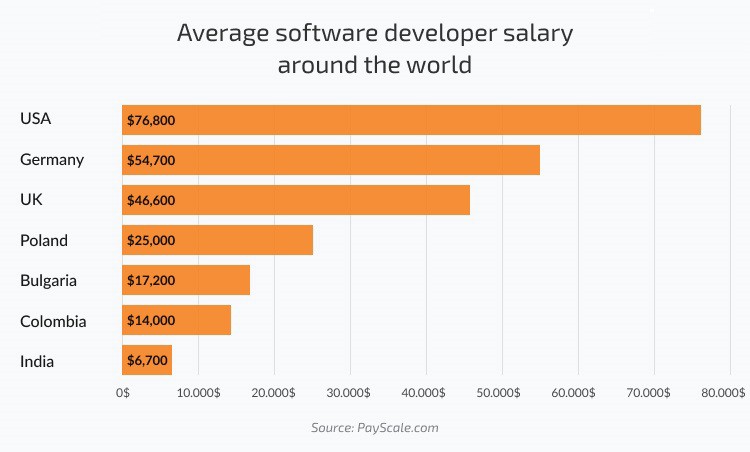 This is even less than the average developer salary in the Philippines, which stands at USD 8,138.32. Combining all statistics, the top 3 offshore development centers in terms of costs come down to be: India, Philippines, and Columbia.
3. China and India Remain the Biggest Seas of Talent Pool
A study from the Institution of Engineering and Technology has found that the shortage of engineers in the US has constantly been growing. On the other hand, there is a profound availability of talented engineers and STEM graduates (science, technology, engineering, and maths) at the other end of the world.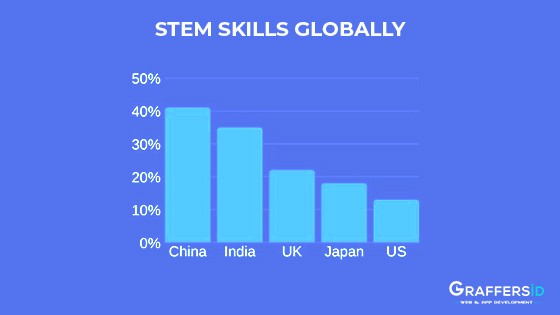 China leads the way with the biggest talent pool, followed by India as a close second. Throw in the fact that India gives more importance to the English language than China and India, again, emerges as the preferred choice for most organizations.
4. China Leads the Way With the Highest Growth in the Past Decade
Over the past 10 years, China has seen an increase in revenue from $1.38 billion to $106.46 billion. This pegs it as the ODC that has clocked the most growth. In the same time period, the technology service industry of India has grown from a revenue of $4 billion to $58 billion. Alternatively, the valuation of Ukraine's offshore development centers stands at $5 billion today.
Although it is also important to note that the majority of China's growth is contributed by manufacturing offshoring.
5. India Holds a Major Chunk of Global Technology Sourcing Market
As reported by the Ministry of Electronics and Information Technology, India is responsible for 7% of the global technology sourcing market. This includes both software and hardware shares in the industry. One of the major driving forces for this is the average hourly wage for Indian developers, which is $15 as compared to $100 for an American Developer. All this and more means that India remains the top outsourcing destination for some of the greatest technology companies around the world. This also brings us to our next point…
6. Major Technological Organizations That Are Outsourcing to India and China
India remains home to some of the largest tech companies around the world, including Microsoft, Oracle, Dell Cisco, Alphabet, and IBM. In fact, more than 15,000 of the foreign companies are outsourcing to India today. Out of these, 1000 are large organizations.

Contrastingly, China remains as the outsourcing hub for companies such as Apple and Google, with a manufacturing capacity of 500,000 iPhones per day.
Also Read: Top 5 Things To Consider Before You Hire Offshore Developers
7. ODCs Save Companies Tremendous Amounts of Money
It is a well-known fact that ODCs save outsourcing organizations a lot of money. To put this into perspective, Offshore Development Centers in India alone have helped to save organizations an estimated $200 Billion. In costs in the past 5 years itself (cost-reduction of around 60%).
Other ODC locations have also been known to bring down their development costs by up to 60%. In terms of overhead salaries, employee benefits, and infrastructure.
8. Increasing Focus on Data Security is Putting China at a Disadvantage
Data security has been a long-standing concern for offshore development processes. This has been one of the biggest challenges being faced by China today. Intellectual property (IP) protection remains an issue with as many as 61% of the companies that are outsourcing to China. To consider software piracy as the leading issue, following by unauthorized usage, rebranding, or redistribution. This primarily due to the poor enforcement of IP rights in China, which is lagging behind Its enactment of laws.
9. Poland and Philippines Remain Lucrative Alternatives
As per industry reports, Poland remains the 4th and Philippines as the 5th best country to outsource software development requirements (behind India, Ukraine, and China, respectively). Developers in Poland have been known to be skilled in project management along with proficiency in languages databases and security.
The Philippines is known for its programming skills with proficiency such as PHP, .NET, Ruby, HTML.ASP, Java, C++, and Python.
10. India Leads the Way As a Global Innovation Leader in its Region
If we look at the top 3 innovation economies by region, India regained its position as the leader. This is followed by Iran and Kazakhstan. As published by the Global Innovation Index of 2019 report, this is regardless of the economic slowdown which seemed to have no effect on the innovation scale.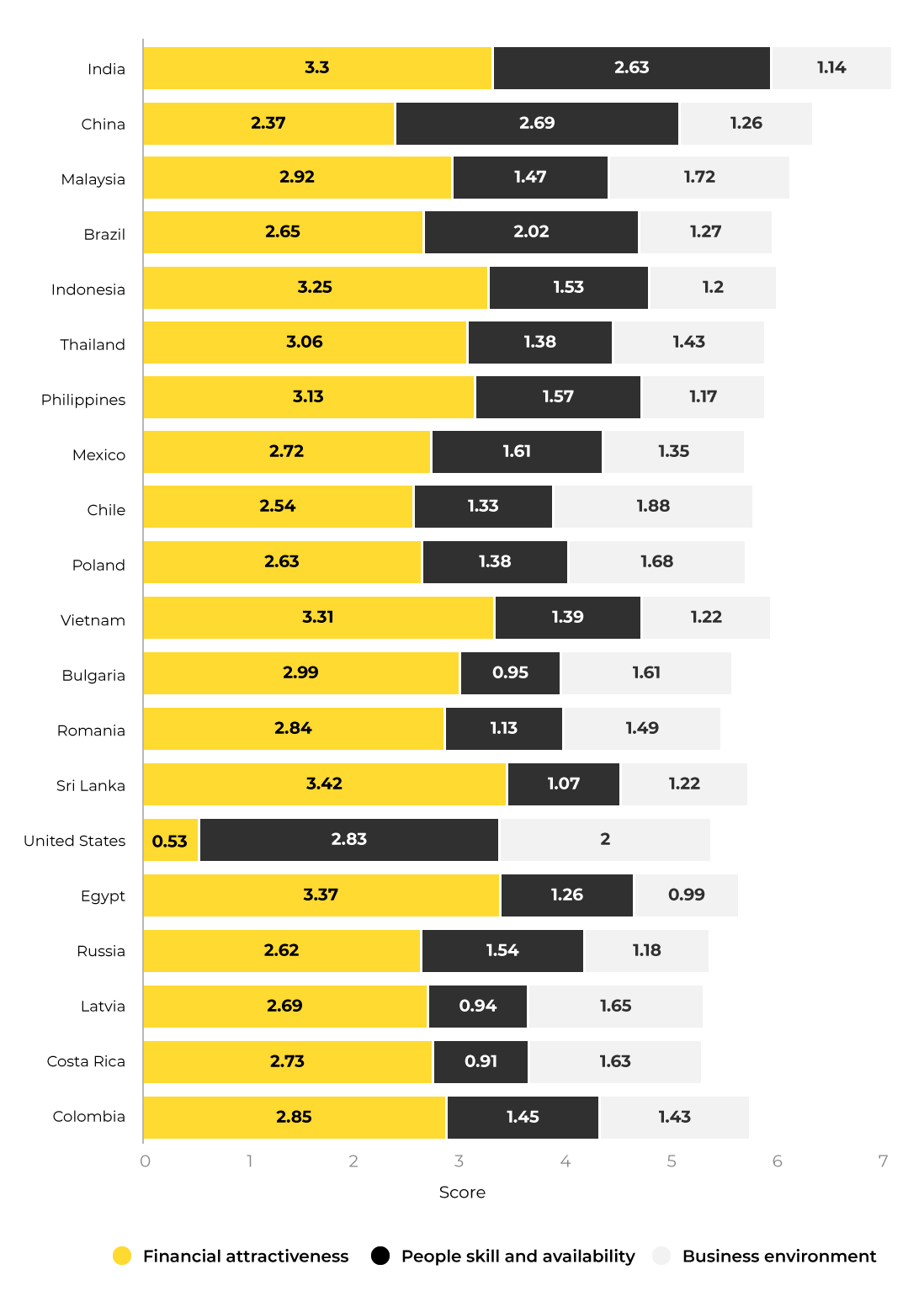 Rounding It Up
Major factors to analyze the best offshoring country for you include Time zone differences, cost of outsourcing and innovation index. When we look at all of these, India naturally emerges as the best outsourcing destination. At Uplers, we can help you successfully outsource both web development and digital marketing services in India. Get in touch with us for a free consultation today.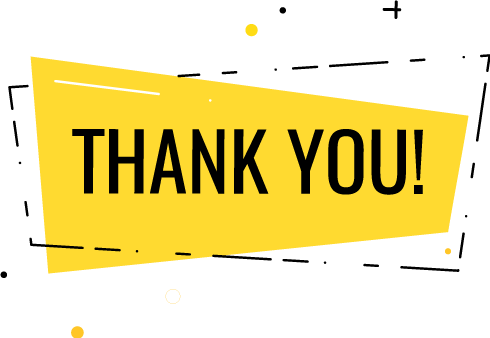 Thank you for submitting the details!
We will keep your information safe. Feel free to contact us with any questions at hello@uplers.com
Please check your email for next steps shared by Robert.